Are you being disturbed and distracted by annoying ads and you are looking for the best ad blockers to help you block ads? Then you are on the right page as we would be recommending some of the best ad blocker for Chrome, Android, iOS, and the Safari browser.
The Best Ad Blocker to remove Ads & Popups for 2022
---
Top Ad Blockers in the Market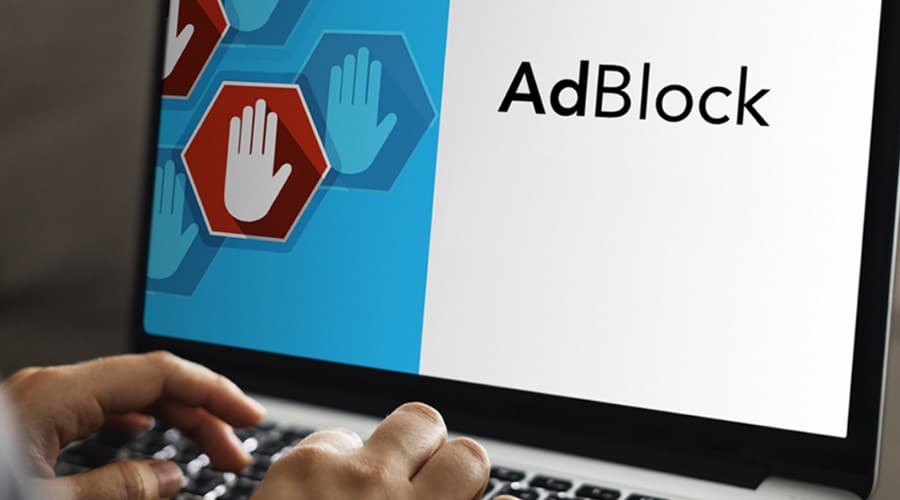 I do not know about you — but I so much hate intrusive ads. I do know that most of the free websites on the Internet depend on ads to make money and as such, I do not hate ads. In fact, ads have helped me discover services and tools I wouldn't have known that are still helpful to me till date.
However, this does not mean I should allow all ads to show as most of them are intrusive and annoying. Some of the websites also display too many ads that ads become the focal point on the page and not the content you are interested in. It is for these reasons that ad blockers were introduced — to prevent ads from showing on web pages so you can focus on your interest on pages you visit.
However, when it comes to ads blockers, you need to know that they are not created equal as some ads blockers are more effective than the others since ads companies are also trying to evade detection so that their ads will still be displayed even against your wish.
With this in mind, you should only use ads blockers that are effective and secure with no malicious intent. In this article, we would be recommending some of the best ad blockers in the market that you can use with no hassle.
---
1. AdblockPlus – Best Ad Blocker in the Market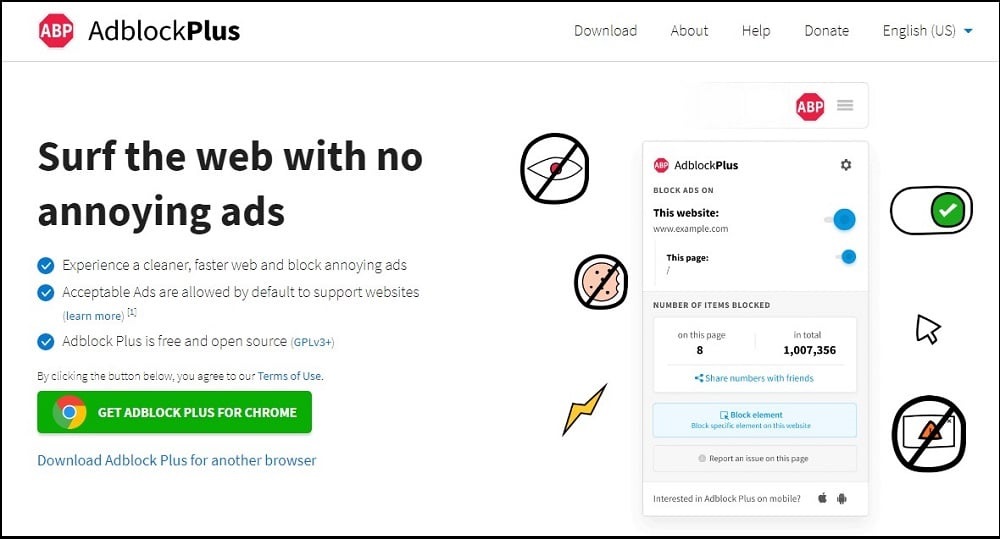 The AdblockPlus tool is arguably the best ad blocker in the market right now. This software is cross-platform and has support for the popular browsers and mobile OS. The supported browsers include Chrome, Safari, Firefox, Edge, and Opera. It also does have support for mobile OS such as Android and iOS.
The ad blocker is offered as a free tool and open source, which means that the code used is available for anyone to read and discover if any malicious code has been injected. This makes it transparent and as such, loved by many.
This ad blocker can help you enjoy a fluid and uninterrupted experience as you surf the Internet and stream your favorite videos. However, it does have support for showing acceptable ads by default.
---
2. AdBlock — Best Free Ad Blocker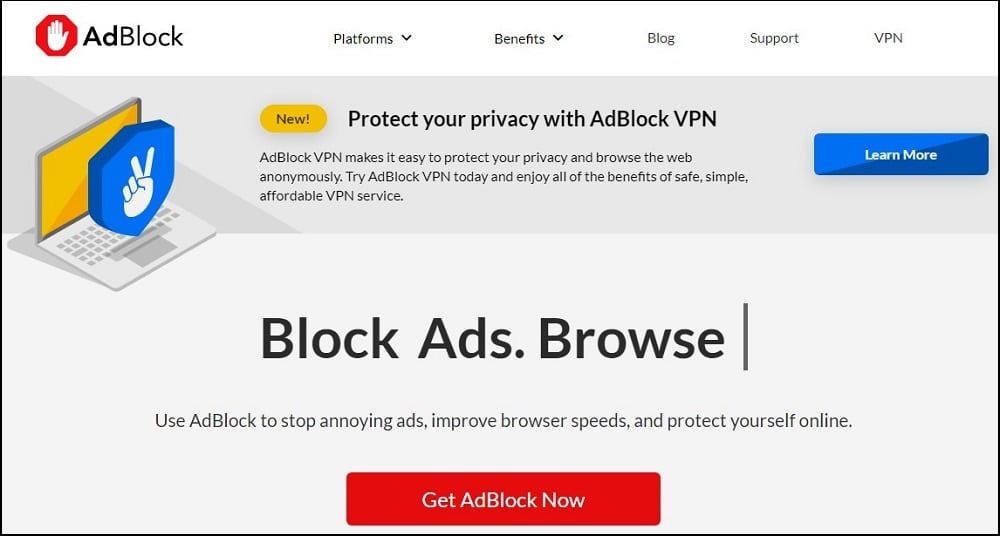 Looking for a way to block ads and browse faster? Then the AdBlock tool is here for you. The ad blocker is a free tool that comes with advanced features to make sure annoying ads are not shown or displayed to interrupt you while accessing the content of interest and at the same time, it protects you from tracking which is becoming the norm nowadays among ad companies.
AdBlock also protects you against "cryptojacking", a type of cryptocurrency mining by malicious websites without you knowing. According to the information on its website, this ad blocker has been used by over 65 million users worldwide and available in 40 languages.
In terms of platform support, you can use adBlock on Chrome, Safari, Firefox, and Edge. It also offers you protection on iOS and Android too.
---
3. AdGuard — Ad blocker with Premium Features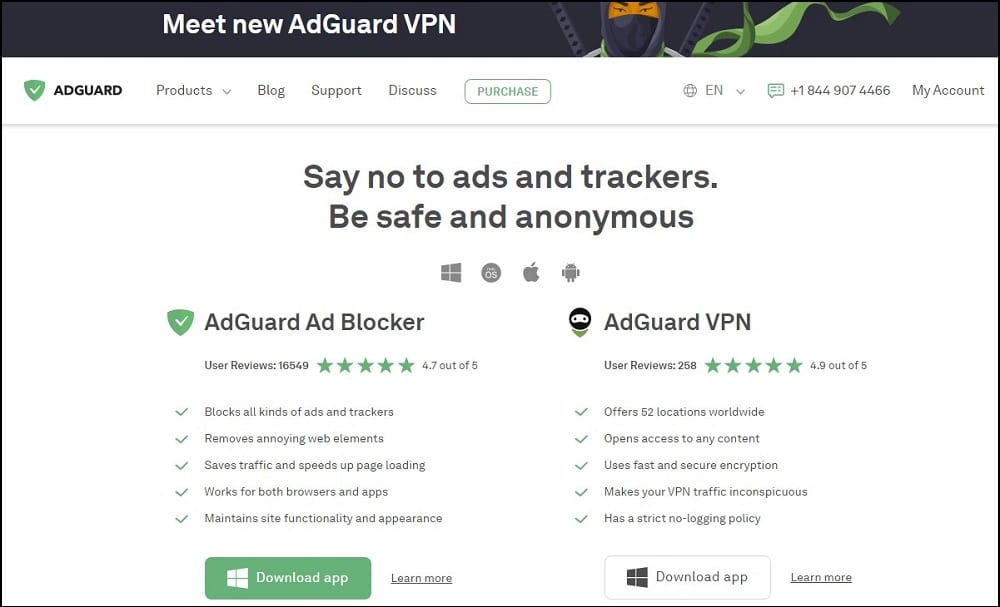 Another top option out there for ad blocker is the AdGuard service. Unlike in the case of the above that are free, AdGuard comes with a price tag on it.
However, when you pay for the price, you are not getting access to their ad blocker only, you also have access to their VPN service which is available for all of the Operating Systems (OS) that the ad blocker supports. AdGuard does not target browsers as the other two above do.
Instead, it targets OS, and it has got support for Windows, Mac, Android, and iOS. With this ad blocker installed on your computer or smartphone, all kinds of ads and trackers, including other annoying web elements will be removed. Even with these, all site functionalities and appearance will be maintained even while saving traffic and increasing load speed.
---
4. AdLock — Ad Blocker for Preventing Crypto Mining Scripts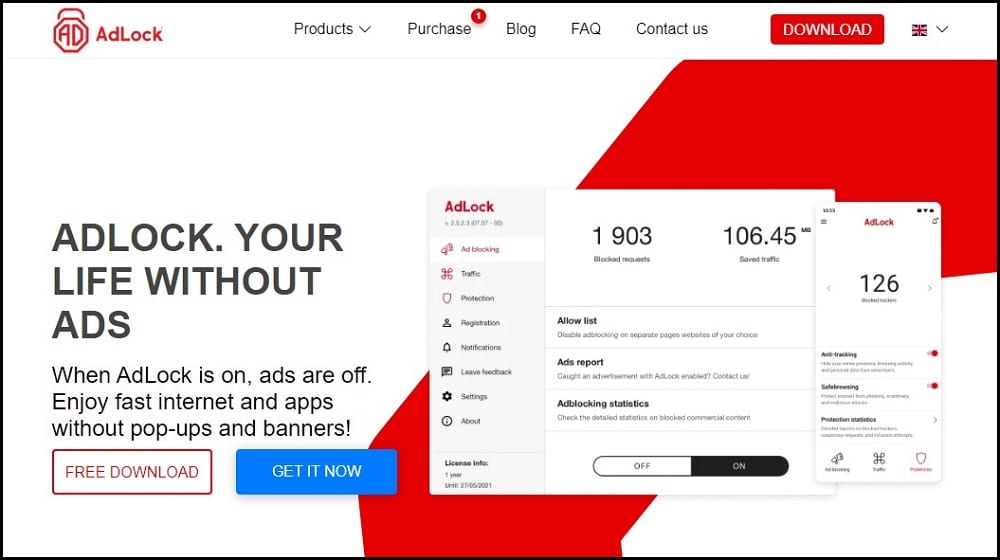 AdLock does show ads on its site — but that's by the way. The ad blocker offered by AdLock is one of the best you can use in the market right now. This ad blocker will put away annoying ads from showing on web pages you access using your devices.
Aside from protecting you against banners, pop ups, and video ads, the ad blocker also protects against malicious crypto mining. The tool also checks links to help you flag malicious links, trace spyware and bugs, as well as hide your data from trackers.
It saves battery/power and data while presenting the functionalities and appearance of sites as they are. Over 2 million users make use of the AdLock service daily, making it one of the popular paid options out there. In terms of platform support, it does have support for Windows, Mac, iOS, and Android.
---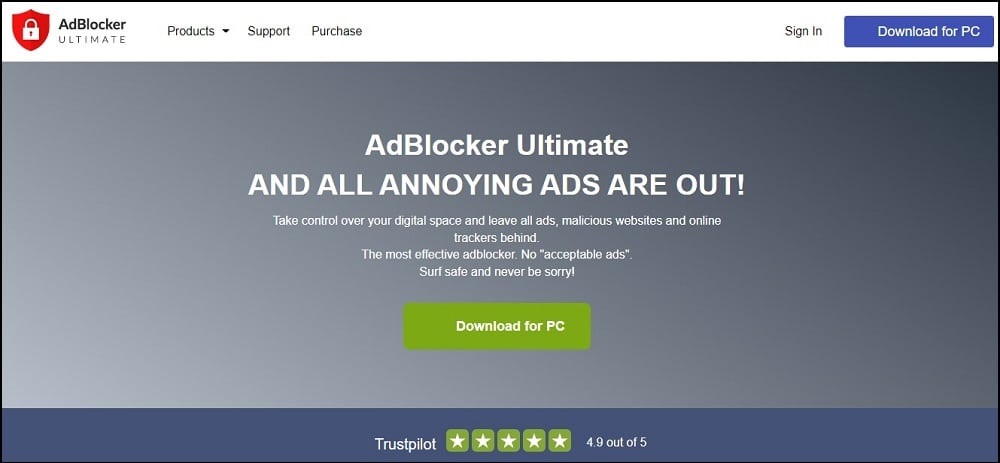 The Adblocker service has proven to be one of the best ad blockers in the market right now. Its tagline is, "And all of the annoying ads are out". And if you take a look at its functionalities, you will agree with that. The tool does not only protect you from known ads service, it also skips sponsored content, protecting you against malicious websites and trackers.
This ad blocker also does not believe in the acceptable ads mantra as it blocks all ads it comes across provided it is able to detect the content as an ad.
However, even though it does not manage a list of ads for you as acceptable ads, you can create your own list of whitelisted websites to serve as your own acceptable ads website where the tool will not block ads.
The tool is installed on over 10 million devices with over 2 million daily users. It has got support for Windows, as a browser extension, as an Android and iOS browser.
---
6. Opera Ad Blocker — No Need of Separate Installation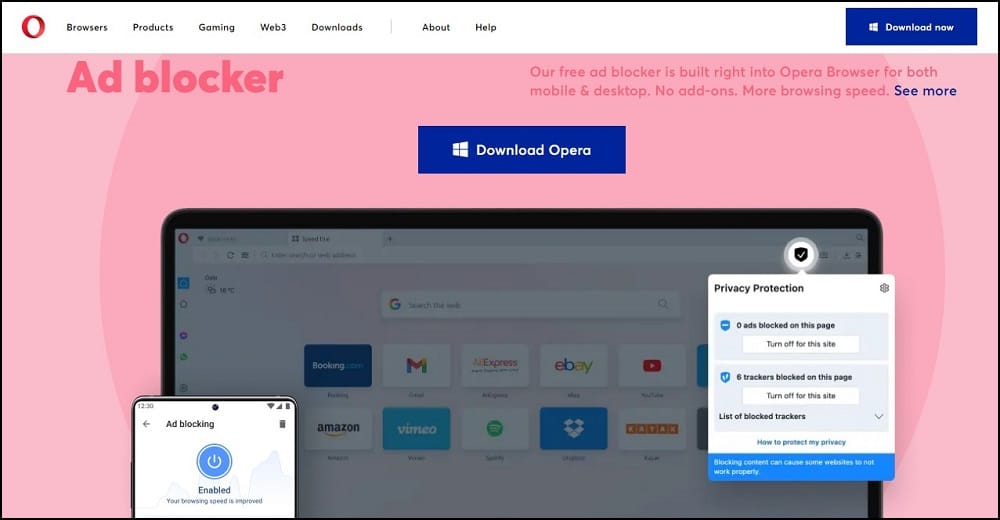 Opera is one of the browsers that care about the security and privacy of its users. It is one of the browsers that protect the privacy of its users IP addresses. This browser also has an ad blocker which comes preinstalled on both PC and mobile — no need to install any extension.
Even though this ad blocker comes for free with the installation of the browser, it is one of the top ad blockers in the market that you can use with no hassle. It helps you avoid distractions and annoying pop ups while surfing the web, also you can use free proxy websites to hide your IP for Anonymous Web Browsing.
Interestingly, it gives you some level of control, which makes it possible for you to whitelist certain sites you will want to see ads on as a way of supporting good sites. Because of the way it is developed, it gets pages to load faster.
---
7. UBlock Origin — Best Resource Management Ad Blocker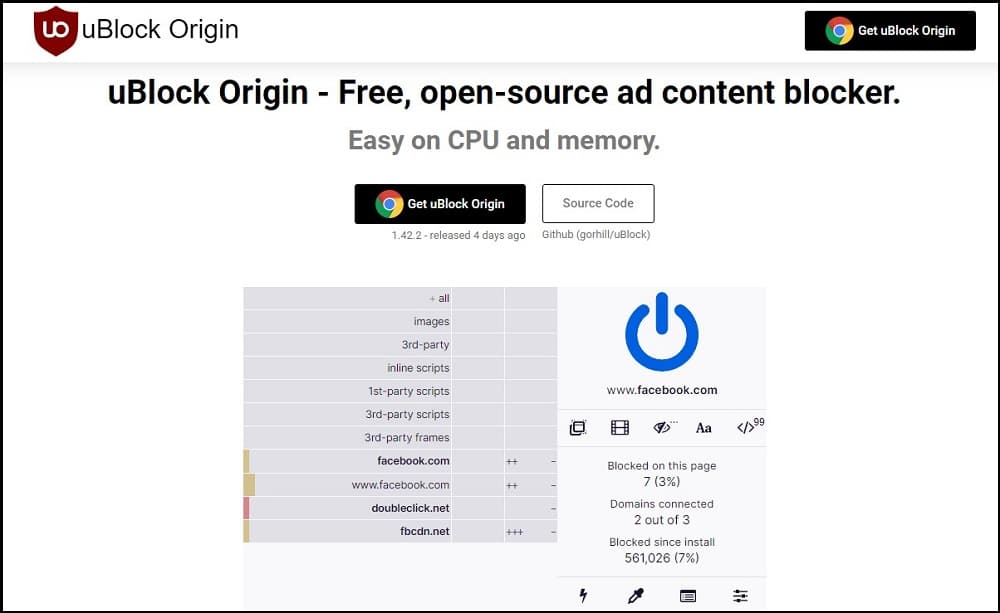 UBlock Origin prides itself to be a different kind of ad blocker as it is not just an ad blocker but a content blocker with CPU and memory efficiency as a primary feature. The ad blocker is a free ad blocker that is available as an open source tool with the code publicly available for anyone to see.
It is also cross platform as it is available as extension for the popular web browsers including Chrome, Firefox, Edge, Opera, and Safari browsers prior to version 13. The tool comes with a list of sites ads should be blocked by default.
It also has a similar list for privacy invasive sites that have trackers and a list also for malicious websites. There are also some lists available which you can activate to get some sites and ads blocked. You can also create your own list of sites and ads you want to allow.
---
8. Ghostery — Ad Blocker for Speed Optmization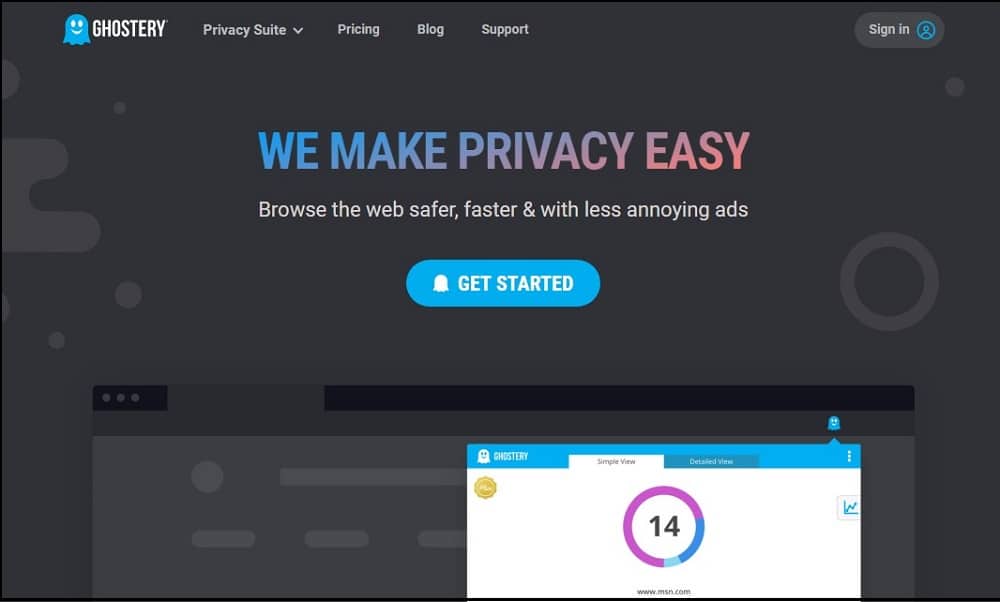 It is no news that web trackers and ads are some of the things that keep some websites slow. Take away these and the website performance will improve in terms of response speed. Ghostery is one of the ad blockers available to you that you can use to avoid seeing annoying ads and popups while keeping your track private as it deactivates trackers on websites you visit.
The ad blocker is powered by  WhoTracks.Me, a service that keeps a comprehensive list of trackers and ad companies. Aside from this list provided by WhoTracks.Me which it uses to block ads and trackers, you can also make a submission if you find one that is not covered by WhoTracks.Me. You can whitelist certain ads and trackers with the tools granular control support.
---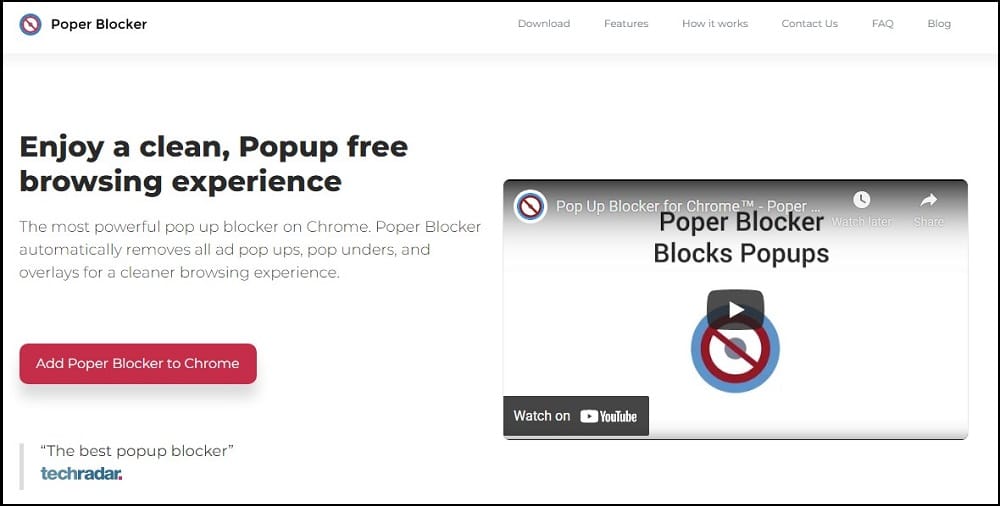 Almost all of the ads blockers described in this article focus on regular ads. If you have been disturbed by popups or overlays and that is what you want to block, then the Poper Blocker is the ad blocker for you. The Poper Blocker automatically blocks all popups ads, pop under, and overlays so that you have an uninterrupted browsing experience.
In fact, some describe this ad blocker as the best popup ad blocker in the market. This ad blocker is easy on CPU and memory and does have support for community contribution in terms of flagging websites.
It is a free tool and available only for Chrome. If you are using a different browser that is not Chromium based, you wouldn't be able to make use of this. However, for Chrome users, it is the recommended ad blocker for popups, pop under, and overlays.
---
10. 1Blocker — Best Ad Blocker for Apple Ecosystem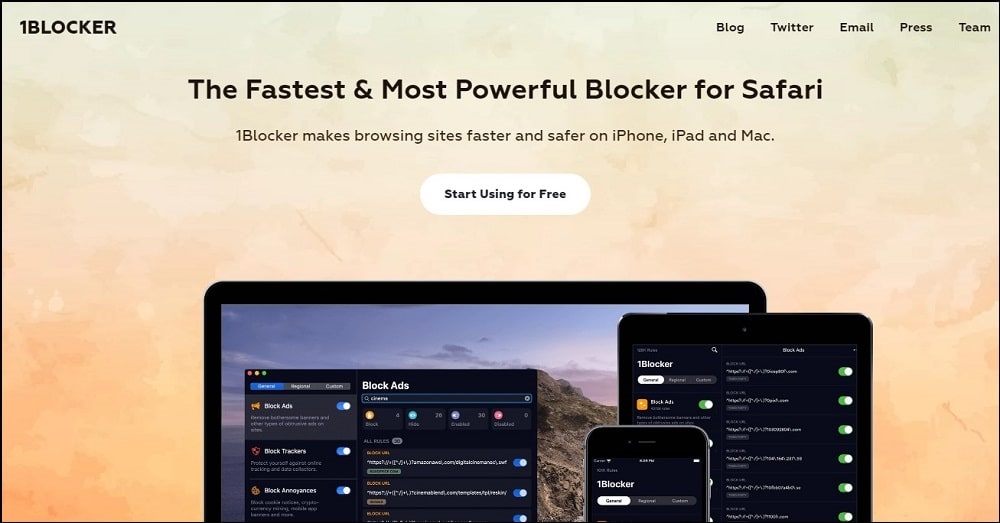 The 1Blocker is arguably the best ad blocker for Apple devices and yes as you might have guessed — it is paid. The blocker is a native app for blocking ads on Safari. It is available for iPhone, iPad, and Mac.
The ad blocker is secure, fast, and reliable at not only preventing ads from showing but also preventing you from trackers on the web. 1Blocker also comes with support for blocking widgets such as the share button and other widgets you do not want to see on social media.
You can also block comments if they aren't the primary focus. Simply put, 1Blocker is more than just an ad blocker. It is a content blocker that helps you stay focused as you browse the Internet and engage with others on social media platforms.
---
11. Stands — Flexible Ad Blocker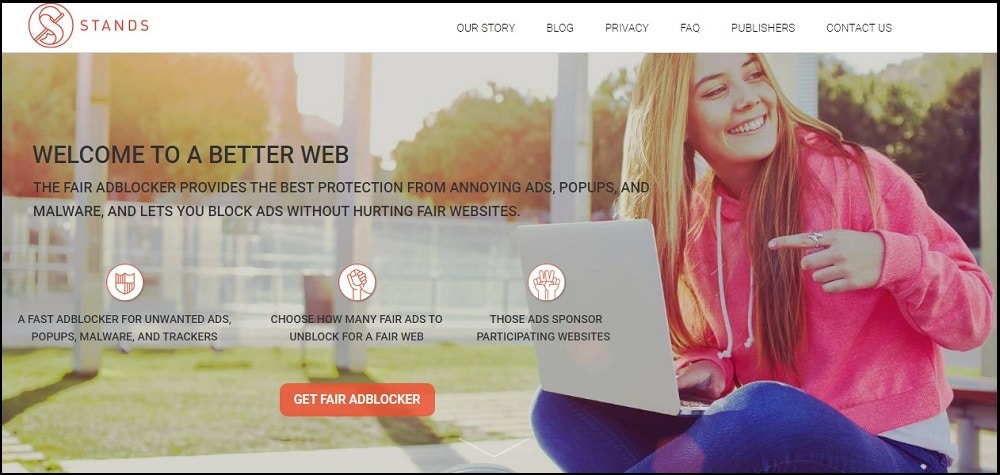 The Stands Fair Ad Blocker is a fair ad blocker. We use the term fair ad blocker not because the service claims to be one but because it is actually fair in its approach as it allows you to keep a list of websites you want to view ads as a way of supporting them. Stands does not only protect you from ads and popups, it also provides you protection against malware on the Internet as well as trackers that track you as you move around the web.
The ad blocker is one of the most effective ad blockers in the market and does its work perfectly. Unfortunately, Stands Fair Ad Blocker is available only as a Chrome extension which makes it unusable for users using a different browser.
---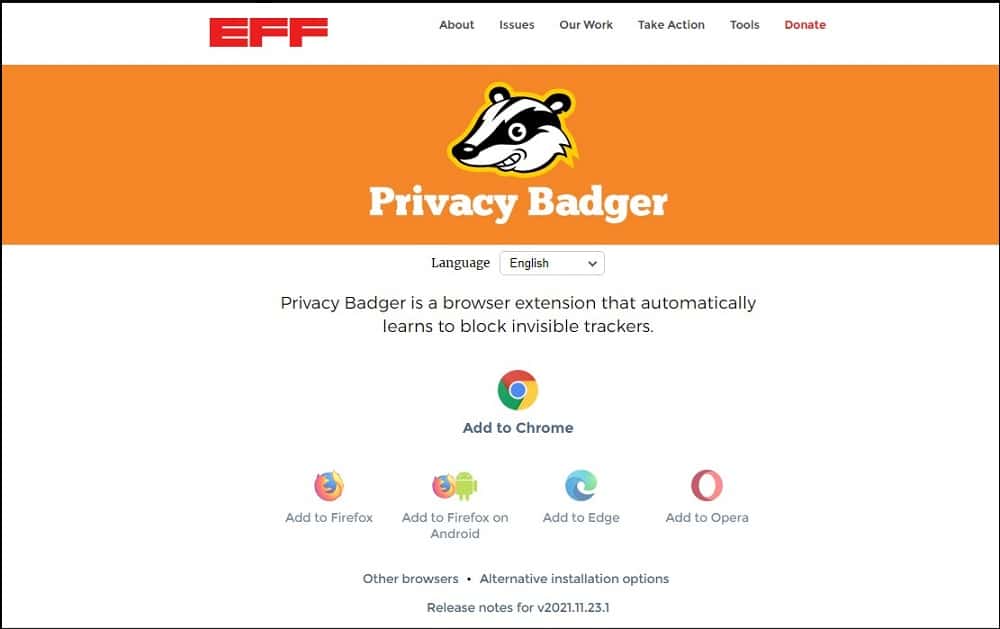 The Privacy Badger is one of the unique ad blockers on the list. This is because it wasn't created primarily as an ad blocker. It was developed as a tool to prevent trackers from tracking you. It does this by disabling trackers on web pages you visit.
Interestingly, most ads are not just ads as you might think — many ads have trackers attached to them. So, because the trackers are not active, the ads won't be able to show.
Any ads you see before but you no longer see actually doubles as both an ad and a tracker. According to the Privacy Badger FAQs document, nothing in the code of Privacy Badger is meant for blocking ads — ads block themselves because of their malicious intent of tracking you.
---
13. No Script — Ad Blocker for the Paranoid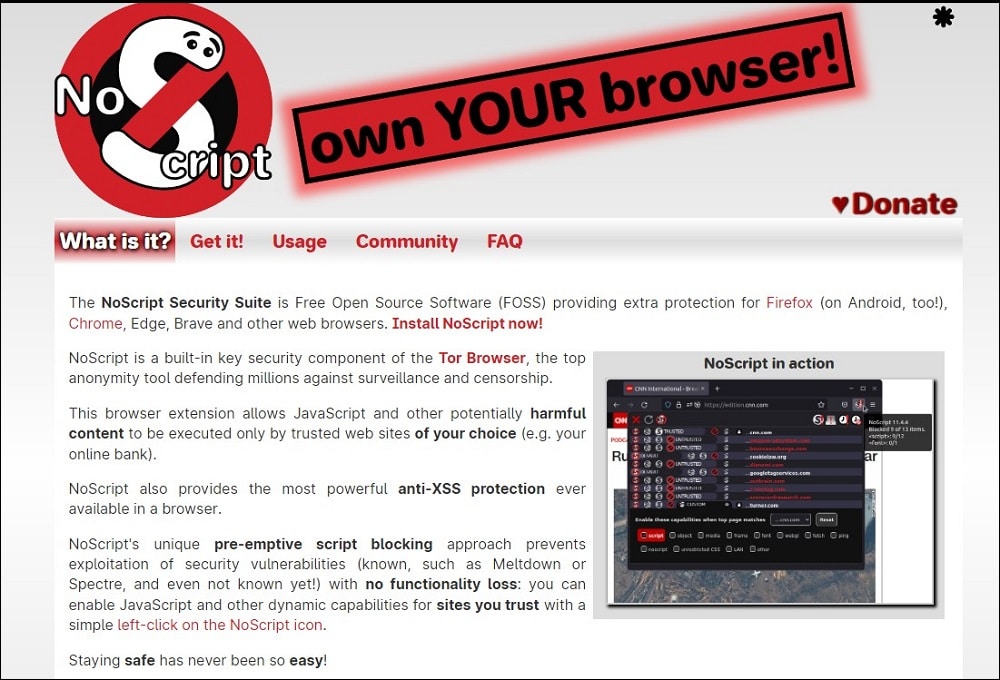 This is the option for the paranoid — the kind of Internet user that trusts no site and does not want to leave any stone unturned. This tool is actually included as an extension in the Tor browser. However, it does have support for Firefox, Chrome, Brave, Edge, and others.
With this extension installed on your browser, all JavaScript and other elements with potentials to compromise your privacy and security are stopped from working until you turn it OFF for trusted sites. It is that simple to use — just click on its icon to turn it ON and OFF.
No Script currently is still one of the best tools in terms of protection against XSS attacks. The downside to using this tool is that unlike the others that functionality of the site is preserved, No Script tempers with functionality as Javascript doesn't run.
---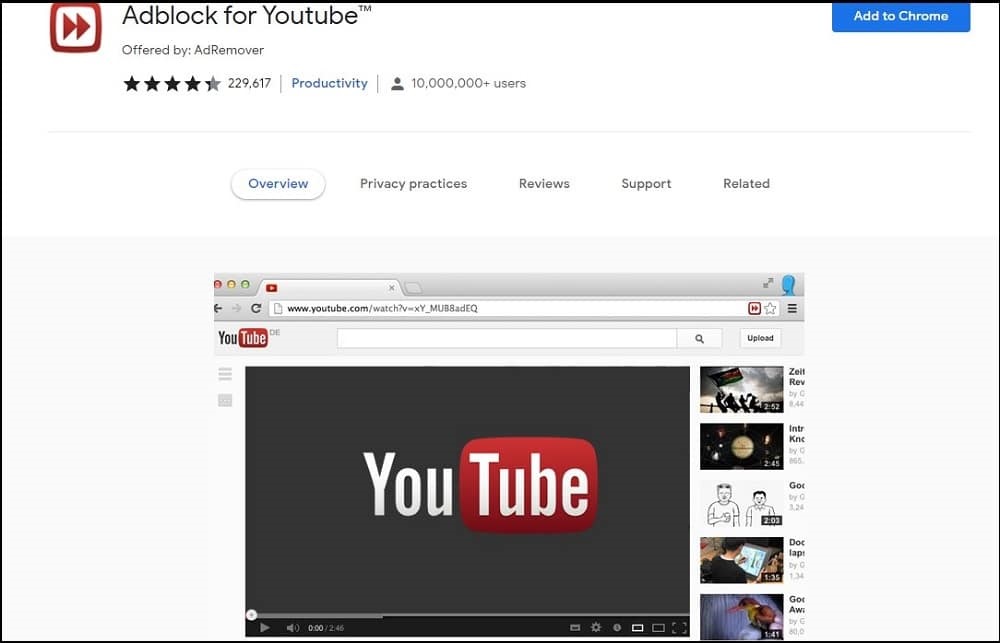 The Adblock for YouTube is a Chrome browser extension meant for blocking ads only on Youtube. As you already know, unless you are a premium YouTube user, you cannot avoid seeing ads. This ad blocker has been developed specifically to help you watch YouTube without dealing with ads. This ad blocker will block pre-roll ads, banner ads, and even popups, among others.
You can also remove annotations from videos and music. With this ad blocker, what you will have is a faster YouTube where videos load faster and you are not interrupted with those repeated annoying ads. Adblock for YouTube is quite popular with over 10 million downloads and ratings from over 200K users.
---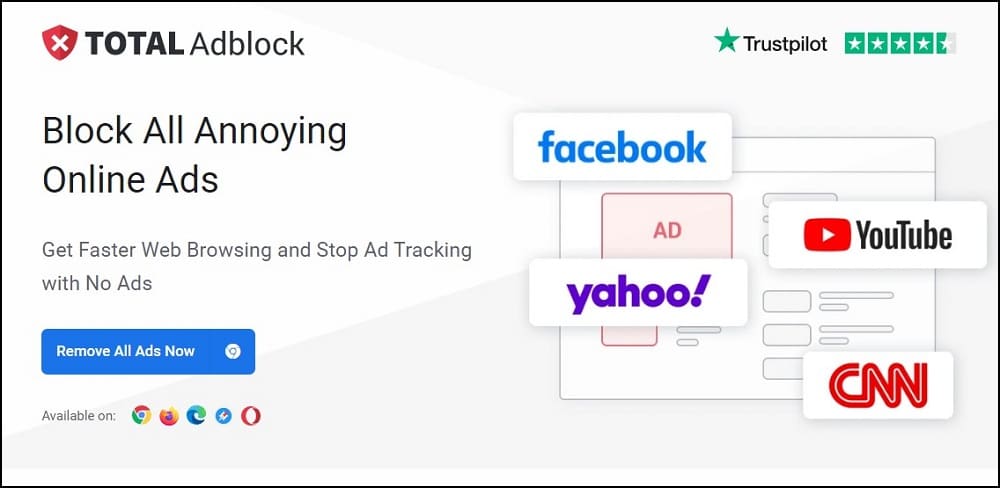 From the name of this ad blocker, you can tell that it blocks all identifiable ads. Unlike some that do have acceptable sites as default, Total Adblock will block all sites by default, giving you back control over your privacy and allow you to enjoy a fluid experience while surfing the Internet devoid of annoying ads you are not interested in.
Also important is the fact that Total Adblock does offer you protection against tracking as it also prevents trackers on the pages you visit from accessing the details which it will use to track you across the internet as in the case of Google AdSense and others such as the Facebook beacon, and their likes.
This ad blocker is available on 5 popular browsers including Chrome, Firefox, Edge, Opera, and Safari.
---
16. Wipr — Best Ad Blocker for macOS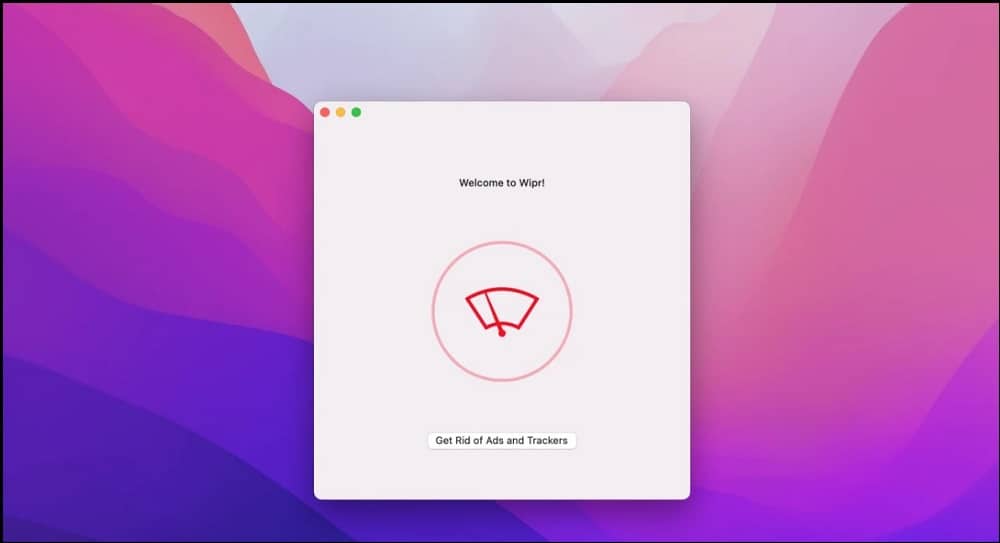 The Wipr is available only on Mac and it comes as a paid tool. With $1.99, you get access to an ad blocker that is designed never to fail and answerable to only you. It does not have a list of "acceptable ads" which is obviously a gimmick by ad blockers that have been paid — if you want to see ads on a site, you will be the one to set it — no default setting for that. Wipr helps make browsing fast — thanks to its utilization of the Content Blocking Extensions.
The ad blocker does not only deal with ads but also protects you from trackers online. The tool is not only fast, but also helps you save data and help your battery last longer. It has international appeal as it has blocklist for a good number of languages aside from English Language.
---
17. AdAway — Open-source Android Ad Blocker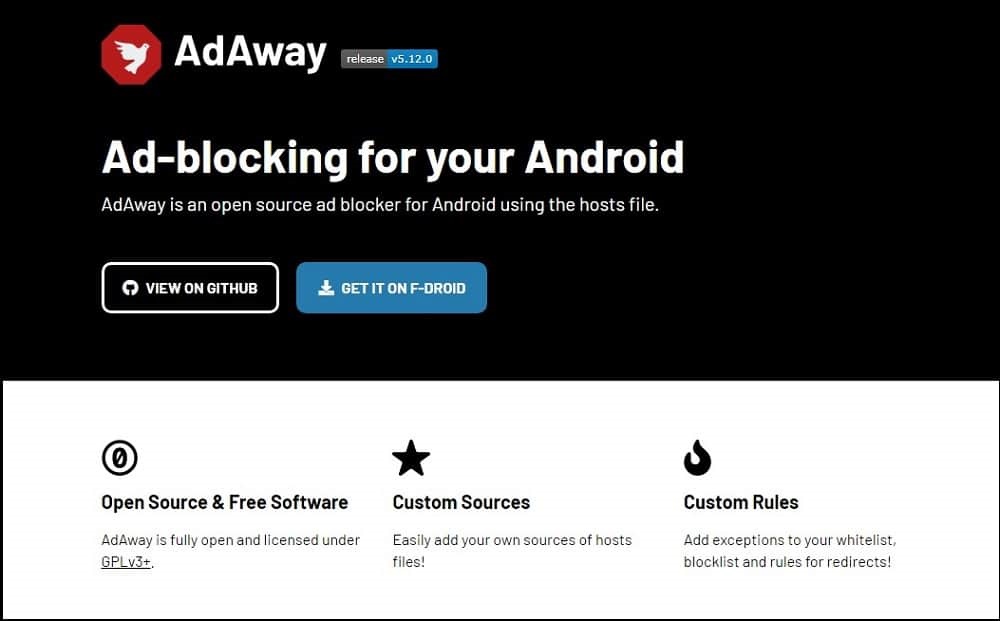 The AdAway is also one of the top ad blockers you can use to stop seeing ads as you browse web pages on the Internet. This ad blocker is available only on Android and is available as a free ad blocker. It is also an open source software with the code available on GitHub, which makes it a trusted solution as it becomes difficult for the developers to sneak malicious code into it since other developers could detect such and report that.
While it does have its own host file, it does have support for adding a custom host file. For this ad blocker, you will do better by making use of proxies and it even does have support for IPv6.
---
18. AdClear — Ad Blocker Across Native Apps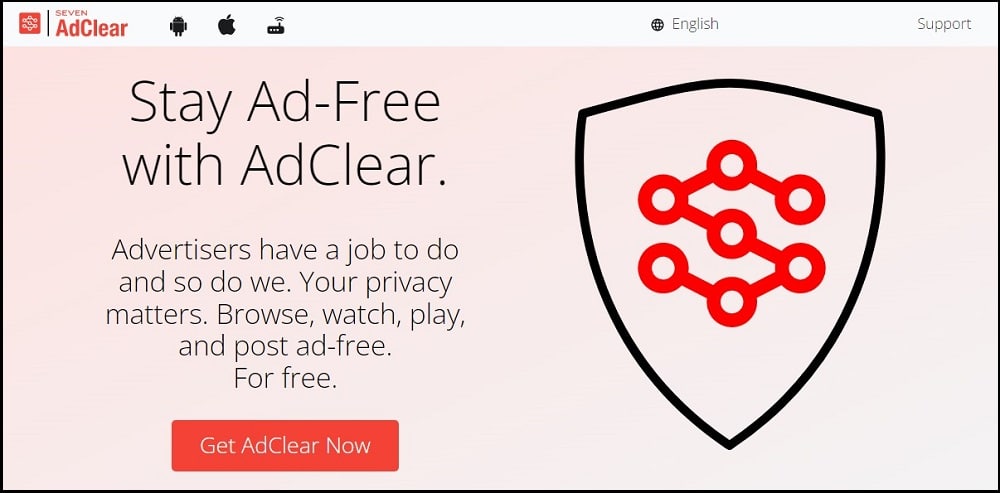 AdClear is another ad blocker with focus on mobile devices. It is available on both iOS and Android and unlike some of the ad blockers that only work on browsers, the AdClear does protect you from ads even on other apps.
With this ad blocker, you are protected from malware-infected ads that will not only be shown to you but also track you or carry out other tasks with your consent which could be a privacy or security breach.
Also worthy of mention is the DNS protection which provides you with enhanced security giving you the freedom to select from a popular list of DNS servers or choose your own. No doubt, the AdClear content blocker is one of the top ad blockers for smartphones.
---
19. Firefox Focus — Best Free Mobile Ad Blocker with real Incognito Mode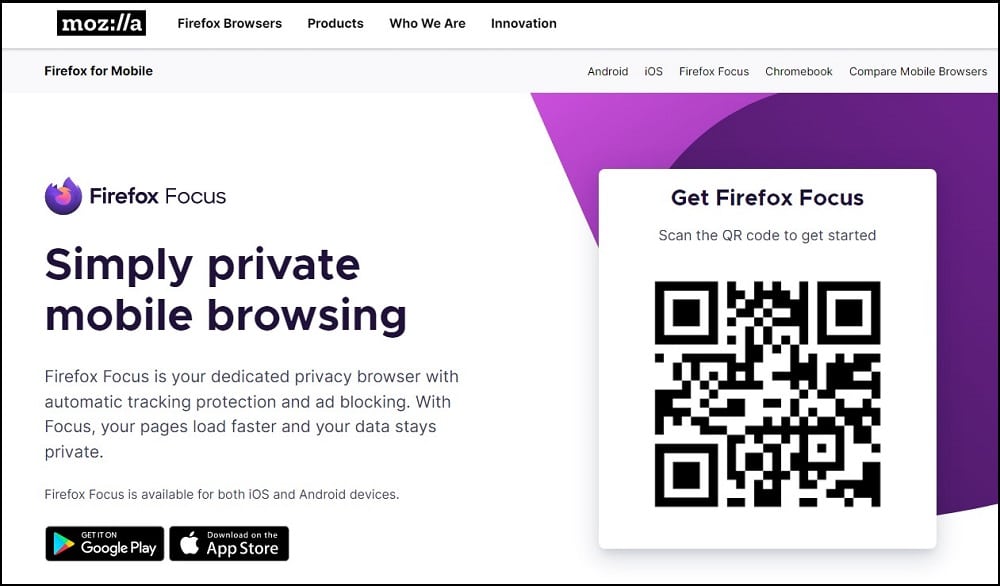 The name of this Firefox browser rightly captures what it is meant for — helping you to focus on the content you are interested in without being distracted by annoying ads. The Firefox Focus browser is developed by Mozilla, the team behind the popular Firefox browser.
This one is a mobile browser developed only for Android and iOS. This browser helps you automatically block ads and tracking scripts or elements, getting pages to load faster while saving for data and helping your battery last longer.
You can see Firefox Focus as an alternative to the Opera browser as it also comes with an ad blocker by default. This is also one of the browsers that the Incognito mode or private browsing mode is truly private.
---
20. Decentraleyes — Local CDN for Preventing Tracking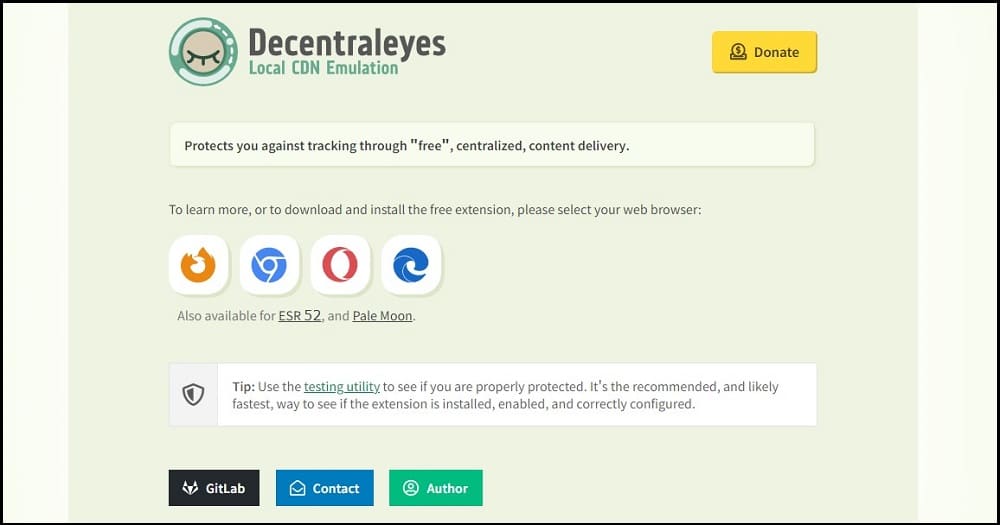 The Decentraleyes is a free tool that was developed to prevent tracking but will also end up protecting you against ads served on web pages. The working mechanism is quite different from every other ad blocker described in the article. This one makes use of an emulated Content Delivery Network (CDN) to prevent you from tracking.
How it does this is simple: it has a local CDN network which keeps most of the Google-hosted libraries as well as libraries of other known trackers. When your web browser sends a web request for these libraries, instead of the requests to hit these tracking targets, Decentraleyes pull the requested file from its local CDN and presents it to you. By preventing your requests from getting to the likes of Google, it becomes difficult for you to be tracked.
---
Update: AdSweep has been closed and is not providing updates, you can still download it on Cnet.
AdSweep – Enjoy an ad-free web browsing
The AdSweep  is a browser extension that blocks ads and trackers. AdSweep is a small addon that aims to hide advertising from the web pages you visit like Adblock. In technical terms, AdSweep is a user javascript that defines CSS rules based on the website you are visiting to hide elements of the page that show advertisements.
AdSweep is designed for standard-compliant web browsers such as Opera, Google Chrome, Mozilla Firefox 3.1+ or Apple Safari. It works better and faster with Opera. It is a work in progress, more and more websites are added over time, and if you have basic CSS skills, you can take part and help make the web a cleaner place.
Adsweep offers several benefits to its users:
A faster browsing experience with no distractions from ads or other content
The ability to block all unwanted content from websites, including trackers and malware
---
FAQs
Q. What are Ad Blockers?
Ad blockers are basically software developed to prevent ads from loading and displaying on web pages and apps we use. Initially, they started as browser extensions that help prevent ads from showing on a page.
However, ad blockers are much more than just tools to block ads from appearing on a web page. Some of them are available as native apps which prevent ads from appearing on any software — not just limited to web browsers.
Ad blocker also now has support for preventing tracking as well as blocking other contents such as popups and overlays, among others. Some even come with support for VPNs and proxies nowadays.
Q. How Do Ad Blockers Work?
Unlike in the past when ad blockers were pretty basic and as such, the working mechanisms were fairly the same across board, things have changed considerably and some ad blockers now use a different approach. However, the basic working mechanism of a typical ad blocker is simple. An ad blocker holds a list of sites and scripts that are known to generate ads.
When you make a web request, the ad blocker comes in and checks the request list, and filters out anyone that is captured in its database of ad scripts or elements. For ads that get loaded because they aren't generated by a script but returned as part of the web page of interest, ad blockers can identify and remove them from the page.
Q. What are Acceptable Ads?
If you read the above carefully, you will observe the use of the term acceptable ads? What does that mean and who makes an ad acceptable? It turns out that some ads abide by criteria specially developed for and by ad-blocking users. These ads are respectful, non-intrusive, relevant and are known as acceptable ads. There is an acceptable ads committee set up to draw out the criteria of acceptable ads.
Acceptable ads help creators and website owners make money from their free work. If all ads were to conform to the standards, there won't be the need for an ad blocker. It is because a lot of the ads on the Internet care less about standards and wouldn't mind annoying you — and that is why ad blockers were introduced.
Q. Should You Use an Ad Blocker?
There is an ethical side to this. Sites cost more to set up and maintain and if ads are the way they generate money, blocking ads will stop them from making money and this will even get them to fold up and get out of business. For this reason, you might not want to block ads on some websites.
However, if a site places ads with no regard for user experience and the ads become irrelevant, obstructing, or even annoying, then making use of an ad blocker is recommended. Interestingly, most ad blockers do have support for acceptable ads and you can add your own list of sites to that.
---
Conclusion
Looking at the above, you can see that there are a good number of ad blockers available to you. Some of them are free, others are paid. It is important you know that someone must pay for an ad blocker — it is either you pay for it or someone else does as in the case of free ad blockers that accept donations.
The likes of Firefox Focus does have Mozilla behind it. If you are using an ad blocker you do not know how it generates money for the developer and the team behind it is sketchy, you might be the product.