Apple Watch Series 7 has just been released. Have you ever thought that besides the heart rate sensor monitoring your body, Apple Watch can also be used to play games at a dull moment?
Did you know that you can play games through your apple watch? Well, you can! Games help make you focus better, improve your concentration, be ready for challenges, and test how you handle some life challenges.
At the end of the game, you will be in a better position than before. These are some of the best apple watch games that I highly recommend. Take the challenge and try them. They are reasonably priced for the fun you will be getting.
---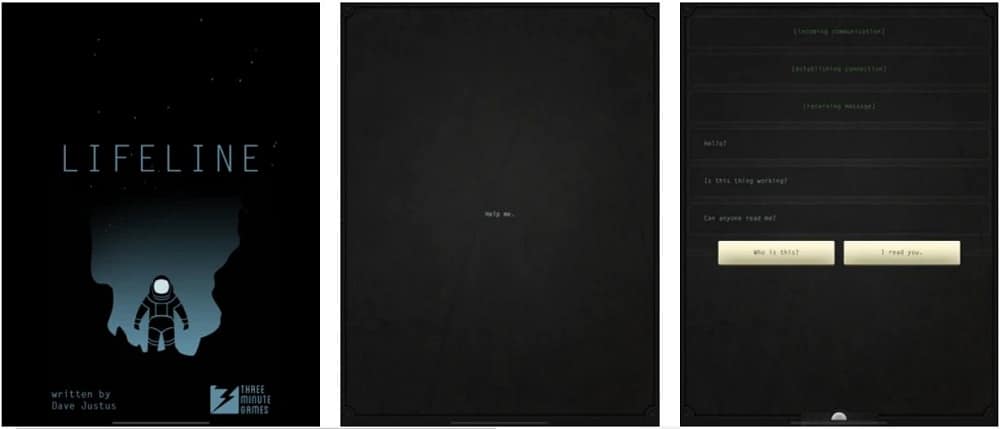 The gameplay of Lifeline 2 is the same as that of lifeline 1. It is an interactive fiction game, but this time it doesn't continue to tell the story of Taylor but opens a new chapter.
In Lifeline 2, the player needs help to avenge his parents. Arika, who has a deep obsession, wants to find her long-lost brother. In this crisis-ridden adventure, your decision plays an essential role in life and death. If you are lucky enough to survive, you will still face another one at the end – A battle of fate.
---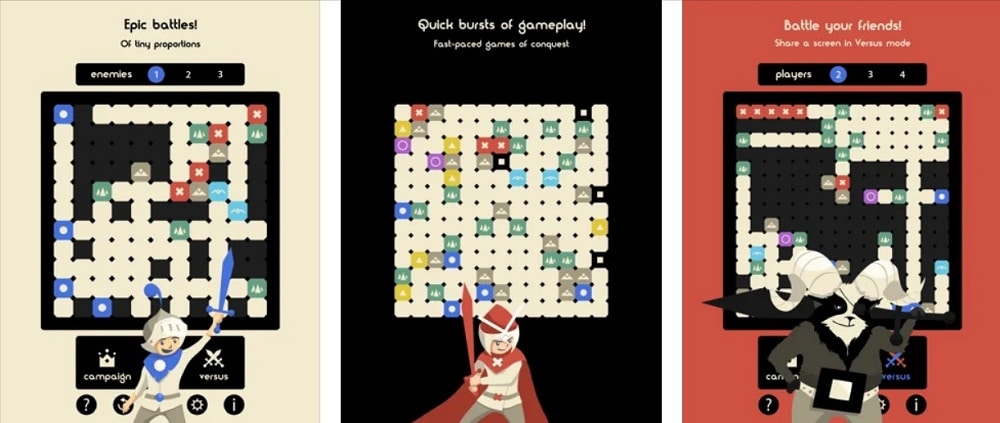 This is another perfect apple watch game. It is a fast-paced game of conquest. You are required to conquer the enemy and encounter the lakes, mountains, and forests. If you are alone, you can play a solo game, but if you many, battle your friends face to face.
Make the best of the game! It is designed for iPhone, iPad, Apple Watch, and iMessage. It is a fun game that you can't get tired of playing. Make use of your free time by playing this game. You won't regret it.
---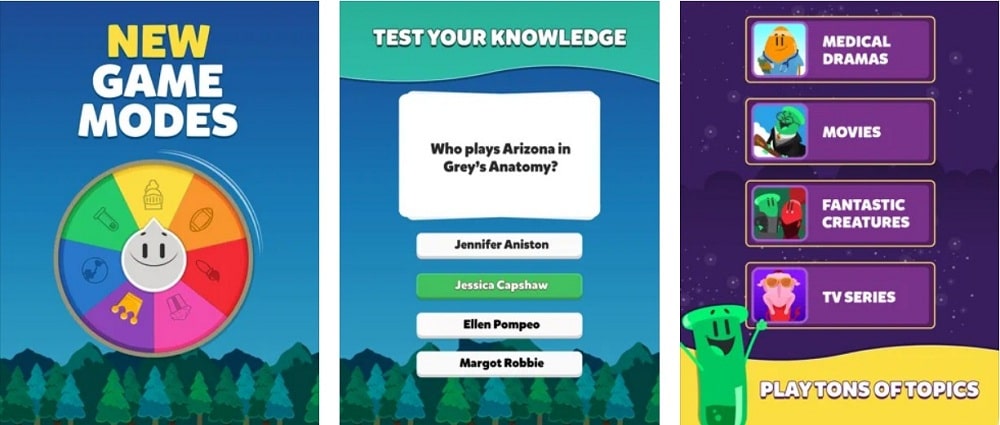 Guess what? You finally landed on a trivia game. This is the perfect apple watch game to play with your friends. The spinner wheel selects which questions you will answer from six different categories.
The game has thousands of exciting questions. It allows you to create your questions in the factory, access over 20 game languages, and chat with your opponents. Play with your friends to see who is more knowledgeable than others!
---
The game is basically about looting. It is a fast-paced puzzle game for the apple watch. You can use the crown to move and vibrations to find the best combination. Each successful heist you achieve gives you a treasure. It would help if you had an apple watch to play the game.
It has some beautiful and stylish visuals. Surprisingly, you need to pay once and play forever. In the game, use the digital crown to move the cursor. When the apple watch starts vibrating, you are on a good number; you can then touch the apple watch to validate the number. If it's a good number, the same opens, and you win a treasure.
---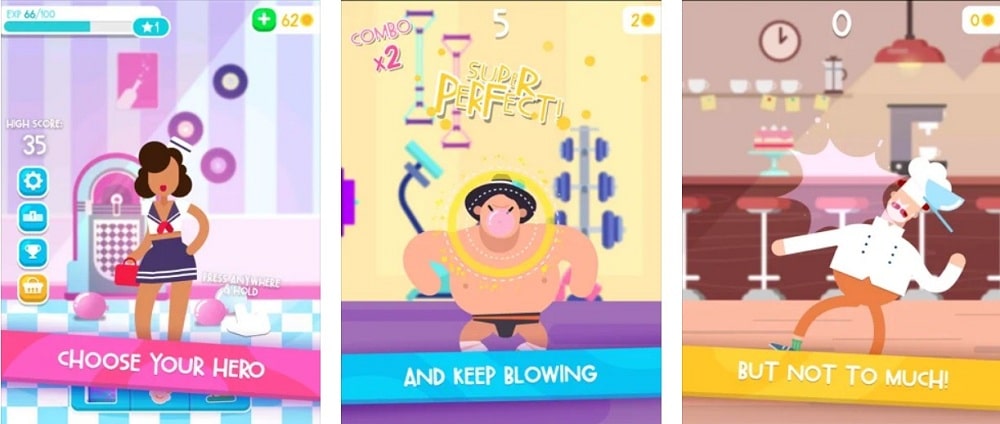 The main goal of the game is to make the right bubblegum balloon size. The balloon size needs to be moderate. If it is too large or small, it may have consequences.
In the game, there are a wide variety of heroes to choose from. You will feel the excitement of the game when you use different heroes. Gums are the essential items in the game – each of the gums has another name, flavor, and skin.
---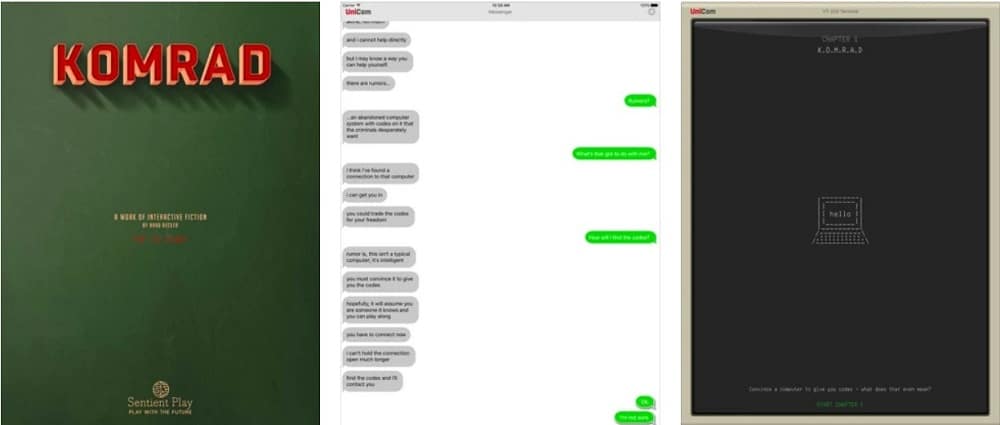 Are you looking for an ideal apple watch game? In this game, you get to chat with an A.I. from 1985 that has been training in the dark for thirty years. However, it doesn't know the cold war ended. When the Soviets shut down a secret project in 1985, they forgot to turn off the computer.
Now you are the first person to connect to this advanced AI that has been training for 30 years, unaware that the cold war ended. You will be amazed by the script and story.
---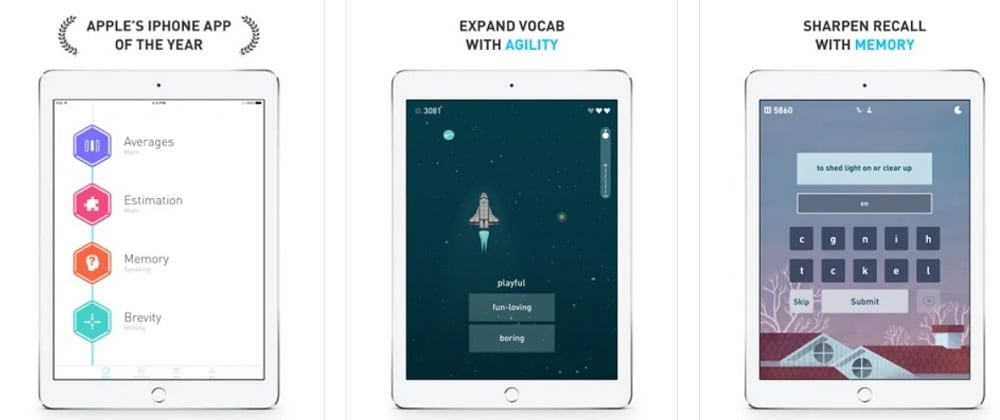 This Apple watch game trains the brain to focus, retain memory, and improve communication and other cognitive skills. It is like a personalized training program.
If you have issues with concentration, this is an ideal game that you should consider playing. You will experience an improvement in your cognitive skills. You will become a better person and be able to face the world courageously.
---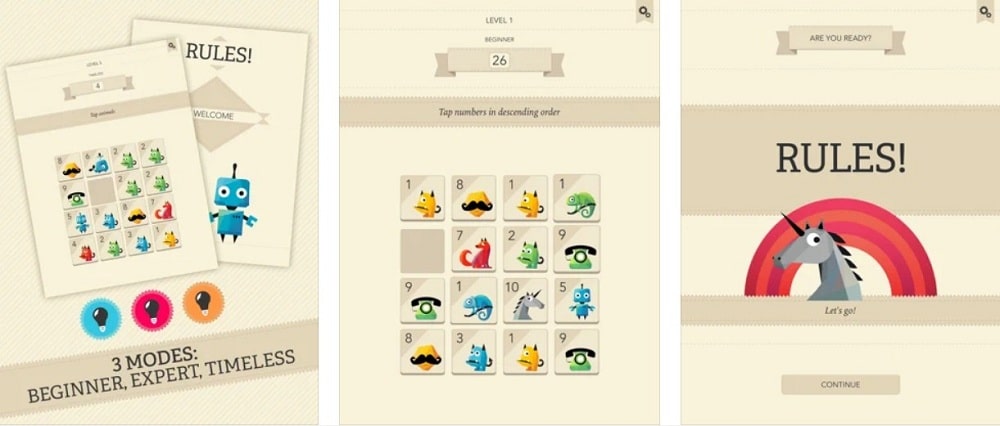 This mobile game has won awards over time. It is a cute puzzle game that is challenging, fast-paced, and fun. You get to choose your type of game depending on how good you are at playing. It is a great memory test that increases complexity and appeal as you progress.
It features a multi-touch interface that will leave you so pleased. You can't encounter any issues because of the color perception assistance mode. As you progress, you will encounter new game mechanics.
---
It is a great adventure game for the Apple watch. You get to win battles, gain gold, acquire a magical runeblade, and obtain certain artifacts. It is more enjoyable when played on an apple watch.
In the game, awaken the arcane runes on your blade, cast magical spells, and gear up with magical artifacts. This game is crafted to provide the optimal gaming experience on a smartwatch. The gods awaken and turn corrupted – determined to destroy the world. Your major role is to fight against evil.
---

It is a great game that allows you to play chess online with millions of players worldwide. Additionally, you can enjoy free unlimited games and improve your chess rating over time.
The game features 50,000 tactic puzzles, interactive lessons, and videos. You get to play with a powerful computer opponent, challenge your friends, chat with opponents, and adjust to your skill level.
---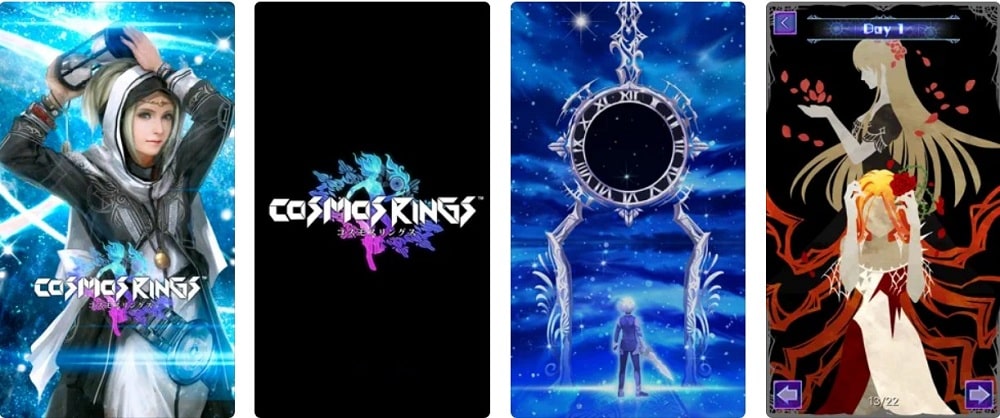 This game is specifically made to be played using the apple watch. It is based on a dark and timeless world. In the game, the goddess has gone, and time has stopped. Now it's up to you as the player to transverse the Rift to save the goddess of time.
The graphics used are mixed up to tell an unforgettable story. You will get an experience like no other. It is worth playing.
---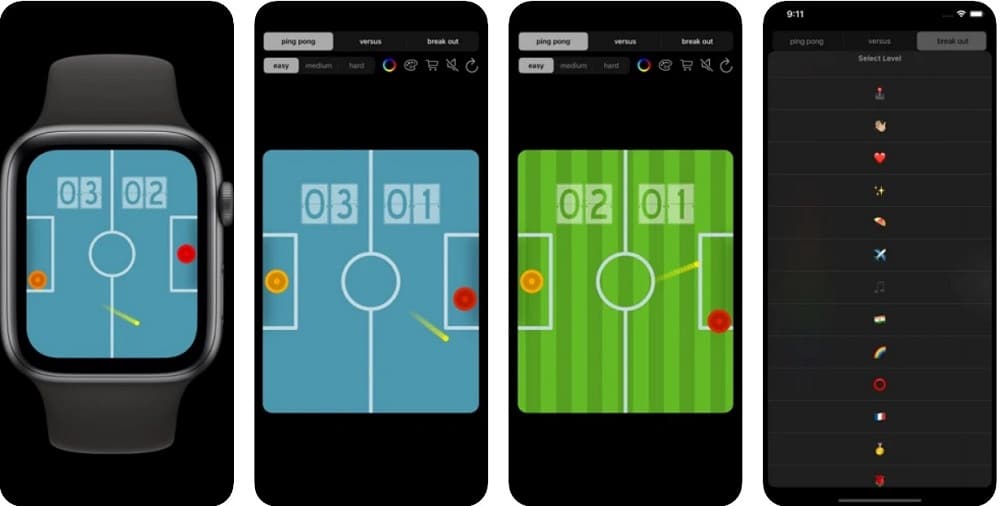 This is another perfect apple watch game. Try and play on your iPhone, then rate when playing on your Apple watch. You will enjoy the apple watch experience more.
You get intuitive control by simply turning the digital crown. Additionally, unlock all levels of difficulty and the classic arcade game. Moreover, it has a theme selector in the customizer.
---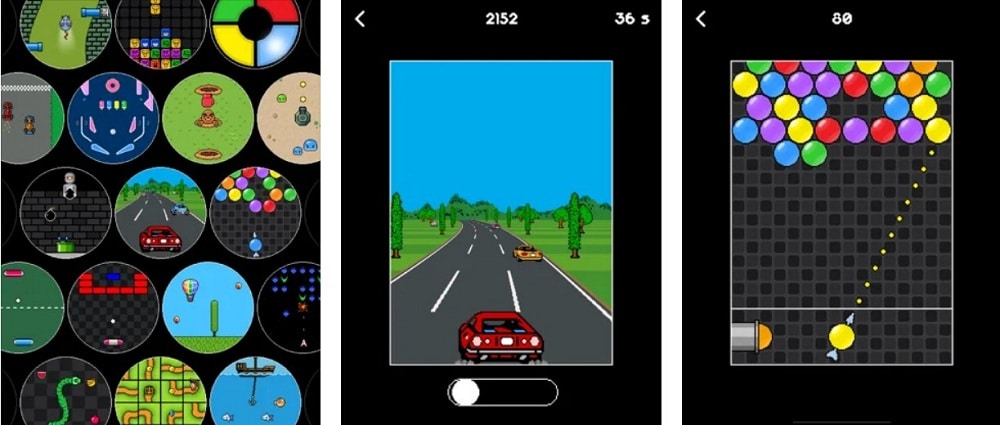 This is a collection of 18 arcade games. It can be played on the apple watch, iPhone, iPad, and Apple TV. The available games include brick, fast run, fruity snake, candy ball, Indiana GP, Bubble Mania, Badaboom, treasure map, crazy balloon, brick-out, galaxy invaders, replay, ping pong, bounce, sewer rat the claw, eliminator, and Tap a mole.
It doesn't feature any ads or user tracking. It also offers iCloud storage. If you are color blind, the color blind mode will suit you best.
---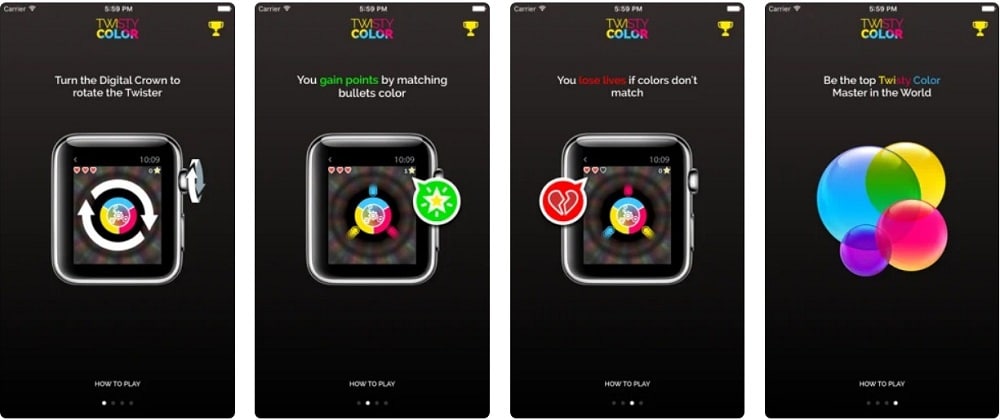 Have you tried twisty colors? You are missing out! Your primary role is to collect balls and place them on the Twister.
This apple watch uses the digital crown of your apple watch to rotate the twister so that you can enjoy an improved game experience. However, try not to cover the screen with your finger. Get to match the arrow color with the color on the wheel.
---
How to install games on the Apple Watch
Step 1: First, open the app store on your apple watch.
Step 2: Turn the digital crown to browse the featured apps. Alternatively, you can search for a specific game by inserting its name.
Step 3: To get a free app, tap Get or the price to buy.
Step 4: When installed on your apple watch, prepare yourself to play.
---
Play the games over and over again
You can never get enough of playing these apple watch games. Even though they are accessible through your iPhone, try playing on your apple watch to get the best experience.
Relax your mind from all the hiccups of your day-to-day activities. However, try your best not to forget your responsibilities while playing.
All the best were gaming!