Shopify is an all-in-one eCommerce platform that makes it easy to launch your dream business and start selling to your customers. Shopify is an eCommerce platform that runs online and offline for building a website that contains your online store.
It's a powerful software-as-a-service solution. It meant operating on a professional level with multiple moving pieces like payment processing and others. Tobias Lütke and Scott found Shopify in 2006. Shopify has grown from 5 people in a coffee shop to over 10,000 across the globe. With millions of products listed on the platform. It has become a go-to platform for a merchant to scrape data for competitive research.
The scraped information can be used to carry out competitive analysis and discover new products. Similarly, you can monitor your competitor's pricing and how they change over time. Armed with the needed business information, you can make an informed business decision. If you are looking for a way to scrap data from Shopify. Whether you need a point-and-click user interface or you want to write a bit of code. Here is a list of Shopify scrappers for you.
---
Shopify Scraping — an overview
[toc]
Shopify is one of the best eCommerce platforms powering millions of businesses worldwide, with its unique advantage of doing the heavy lifting, making it a go-to platform for most businesses. With Shopify, you can get your online store up and running within a matter of minutes.
Yes, it is that simple. Shopify, like other websites, is a bit easy to scrape because of its uniform layout. Although it has an anti-bot, it does not stop scraper from getting the information needed from the platform. Essentially Shopify is web scraper friendly due to its weak anti-bot.
Essentially, Bot protection blocks known bots from your checkout at best. It can slow down bot activity so that your customers have the opportunity to make purchases during flash sales, according to an official source. Only customers with Shopify plus can access the advanced protection feature for their online store.
Another weak link in Shopify anti-scraper protection is the availability of the products.json file. This file can be accessed, all you need is the address of the store plus the product.json extend, and you are in. Similarly, Shopify is always trying to improve its anti-bot protection on the one hand, while web scraper tools are also advancing.
---
Best Shopify Scrapers in the Market
There are many web scrapers you can use for scraping Shopify. Below are some of the best options out there that you can use that work perfectly.
---
1. Data Collector  — Overall Best Shopify Scraper
Pricing: Starts at $350 for 100K page loads
Free Trials: Available
Data Output Format: Excel
Supported Platforms: web-based
The World's number one Web Data Platform. For data collection infrastructure to ready-made datasets. Bright Data allows you to retrieve the public web data you care about. It scrapes Structured public web data on demand. With it, AI algorithms seamlessly clean, match synthesize and process data. it structures the unstructured website data before delivery. It Collect scraped & parsed data from Shopify using Data Collector.
It is infinitely scaleable – collect as much data as you need quickly. And completely fully compliant with industry best practices and privacy regulations Bright Data's hosted solution offers ready-made functions and coding templates making it easy to develop a web scraper quickly and at scale. It exports the structured data to a spreadsheet. It is the Overall Best Shopify Scraper.
---
2. ScraperAPI — Best Scraping API
Pricing: Starts from $49 for 100K Credits
Free Trials: 5K Free Credits
Data Output Format: HTML and JSON
Supported Platform: API
scraperapi.com make Web Scraping easy. Easily scrape any site with JS rendering, geotargeting or residential proxies. Whether you need to scrape 100 pages per month or 100 million pages per month. ScraperAPI can give you the scale you need. Built with developers in mind ScraperAPI is not only easy to integrate, it is even easier to customize.
It has anti-bot detection built into the API. Its automated scraper takes care of CAPTCHAs. With ScraperAPI rotational IP addresses each request by the user as a new IP address. Scraperapi essentially can also be used to scrape Shopify with ease. It can crawl thousands of Shopify pages. With its unique rotational IP signature, you should not worry about Shopify CAPTCHAs.
---
3. Apify — Best Shopify Scraper For Nodejs Developers
Pricing: Starts at $49 per month for 100 Actor compute units
Free Trials: Starter plan comes with 10 Actor compute units
Data Output Format: JSON
Supported OS: cloud-based – accessed via API
Apify is a one-stop shop for web scraping and data extraction. Automate anything you can do manually in a browser. Automate monitoring prices on the most popular solution for building online stores and selling products online. Crawl arbitrary Shopify-powered online stores and extract a list of all products in a structured form, including product title, price, description, etc.
Export scraped data in machine-readable formats like JSON or CSV. Best Shopify Scraper For Nodejs Developers. Apify lets you seamlessly integrate with your existing Zapier or Make workflows, or any other web app using API and webhooks. The Apify platform and delivered solutions can easily scale to hundreds of millions of web pages per month and terabytes of data processed.
---
Pricing: Starts from $10 monthly
Free Trials: 160 products free
Data Output Format: CSV
Supported Platform: Chrome Extension
Shopify Scraper is a powerful Shopify product exporting tool. Shopify scraper is one of the best Shopify. This favorite nanny of Shopify millionaires lets you export products from any Shopify store in CSV format with blistering ease and speed. The Provide One click to export all products to a CSV file. Similarly, with Shopify Scraper, you can select a specified collection to export.
Also, you can select the specified products to export with Shopify Scraper. Furthermore, you can search for the specified products to export. Show detail of the specified product. Shopify Scraper has a free plan. Similarly, its premium plan starts at $10 per month. This Shopify should be your choice because it is relatively cheap.
---
5. Scraper Shopify Scraper — Best Free Browser Extension for Scraping Shopify
Pricing: Free
Free Trials: Freemium
Data Output Format: CSV
Supported Platform: Chrome Extension
A chrome extension to download your twitter bookmarks. Scrape and download all products of a Shopify store as a CSV file in a single click. They process all product data on your local computer. It never goes through our web server, and no one knows what you have discarded. Shopify Scraper is free. You can get basic functionality and upgrade to get more functionality.
You just visit any Shopify store website, and the extension does the rest. It will instantly scrape all products from the store and save them in a nicely formatted CSV file. It is the Best Free Browser Extension for Scraping Shopify. The chrome extension is easy to use. It does not require coding.
---
6. Octoparse  — Best Visual Scraper For Shopify
Pricing: Starts at $75 per month
Free Trials: 14 days of free trial with limitations
Data Output Format: CSV, Excel, JSON, MySQL, SQLServer
Supported Platform: Cloud, Desktop
Octoparse is everything you need for automatic data extraction. Quickly scrape web data without coding and turn web pages into structured data with clicks. Click any web data to extract – Octoparse applies an advanced machine learning algorithm to accurately locate the data at the moment you click on it. Open a website in the built-in browser and start a scraping task by clicking and dragging.
Best Visual Scraper For Shopify. Octoparse handles all the messy work behind the screen for you. No more worries about high-cost hardware maintenance or network interruption. Octoparse's Cloud Platform allows for 6 to 20 times faster data extraction, running the extraction task 24/7. It scrapes and stores data in the Cloud and is accessible from any machine.
---
7. Webharvy  — Reliable Shopify Scraper
Pricing: Starts at $139 for a single user license
Free Trials: Not available
Data Output Format: TXT, CSV, Excel, JSON, XML. TSV, etc.
Supported Platforms: Desktop
Using WebHarvy, you can easily scrape Text, HTML, Images, URLs & Emails from any website. It saves the scraped data in various formats. Incredibly easy to use. WebHarvy can scrape data from any website, handle login, and form submission. Similarly, it can scrape navigation, pagination, categories & keywords. Supports proxies and scheduled scraping. It is Reliable Shopify Scraper.
Scraping Shopify is easy with WebHarvy's point-and-click interface. There is no need to write code or scripts to scrape data. WebHarvy automatically identifies patterns of data occurring on web pages. For scraping a list or table of items, emails, prices, etc. from a web page, no extra configuration is required. If data repeats, WebHarvy will scrape it automatically.
---
8. Shopify Scraper  — Reliable Specialized Shopify Scraper
Pricing: Starts from $9.95 monthly
Free Trials: 100 products free
Data Output Format: CSV
Supported Platform: Chrome Extension
Shopify Scraper tool for scraping Shopify. With a five-star rating. It is the Best Shopify scraper for dropshipping. It Exports all products from the store with one click. Shopify Scraper is a smart Shopify product export tool. You can extract products from any Shopify store to CSV/Excel with one click. It is a specialized Reliable Shopify scrapper. it is a point-and-click user interface.
It does not need the knowledge of coding. It has super chrome and edge extension. With Shopify scraper, you select the specified collections to export. Furthermore, it enables you to search for the specified products to export. And it gives you to select the specified products to export. It also shows detail of the specified product.
---
9. Helium Scraper  — Advanced Visual Web Scraper
Pricing: Starts at a $99 one-time purchase
Free Trials: 10 days free
Data Output Format: CSV, Excel, JSON, SQLite, etc.
Supported Platforms: Desktop
Helium Scraper Is A General Purpose Web Scraper That Can Be Set Up To Extract From The Web. Virtually Anything You Can Point Your Mouse At. It has an Advanced Visual Web Scraper. Helium scraper can be used to extract data from Shopify. It can inject and run custom JavaScript code on the Shopify website.
Helium is Fast Extraction: Automatically delegate extraction tasks to separate browsers. It is good with Big Data: SQLite database can hold up to 140 terabytes. It generated table relations based on the extracted data. Helium scraper can quickly join and filter tables for exporting or inputting data. It automatically detects lists and table rows on websites. It exports data to CSV, Excel, XML, JSON, or SQLite.
---
10. Shopify-spy — Shopify Intelligence Tool
Pricing: Starts from $89 monthly
Free Trials: Available
Data Output Format: CSV
Supported Platform: Web
Shopify Spy scrapes products from Shopify-powered stores and saves them as an Excel document. Spy-Spy scrapes products from Shopify-powered stores and saves them as an Excel document. It can extract thousands of products within minutes and filter by a specific collection. It does not require excessive permissions. Shopify Spy has Chrome and Edge extensions.
It can handle the title Description and Created date and time. It can scrape Vendor, Product Type, Tags, and Max price Min price. It can scrape 5 product variants, including title, price, and discount price. Free up to 100 products Email support. It scrapes data that can be saved as XLSX. It scrapes proper data types with dates and prices.
---
11. ScrapeHero — best data service
Pricing: Starts at $150 for up to 10K pages
Free Trials: No Free Trial
Data Output Format: CSV, Excel, JSON
Supported Platforms: Web
ScrapeHero is a full-service provider of data. you don't need software, hardware, scraping tools, or scraping skills.  They do it all for you. ScrapeHero transforms billions of web pages into actionable data. They build custom real-time APIs for websites that do not provide an API. Or have rate-limited or data-limited APIs so that you can integrate the data into your applications. It Scrapes eCommerce websites such as Shopify. To extract product prices, availability, reviews, prominence, brand reputation, and more.
Monitor your distribution chain, and analyze customer reviews to improve your products and profits with this data. Similarly, it Scrapes Real Estate listings, Agents, Brokers, Houses, Apartments, Mortgages, Foreclosures, and MLS. It provides the best data service.
---
12. Datahut — Alternative to scrapeHero
Pricing: Starts at $40 for up to 10K pages
Free Trials: No Free Trial
Data Output Format: CSV, JSON
Supported Platforms: Web
Datahut is one of the best data service providers. It takes the chaos out of web data extraction. So that you can focus on growing your business. Their team & Q&A process ensures 100% data integrity. They Get data as CSV / JSON files or use their APIs to pull data. The guaranteed Clean data, or money back. Their scarping technology is capable of extracting data from extremely complex websites.
Essentially they make extracting data from Shopify like work in the park. They can scrape data such as product prices and availability from Shopify without stress. Their team of experts will work directly with you to make sure that you get what you asked for. No Trade-offs. if you are looking for an Alternative to ScrapeHero they should be your choice.
---
13. Proxycrawl  — Specialized Shopify Scraping API
Pricing: Starts from $21 for 10K Regular Pages
Free Trials: Free Credits
Data Output Format: HTML, JSON
Supported Platform: API
Proxycrawl Scrape while being anonymous and bypassing any restrictions, blocks, or captchas. it gets data for your SEO or data mining projects. Without you worrying about worldwide proxies or infrastructure. It Scrapes Amazon, scrape Yandex, Facebook scraping, Yahoo scraping, Linkedin scraping, Glassdoor scraping, etc. similar, it scrapes reviews, prices, and other product information from Shopify.
So even if the page is built using only JavaScript, React, Angular, Vue, Ember, Meteor, etc., they can crawl it and provide you the HTML so you can easily scrape it. Thanks to their knowledge, artificial intelligence, and their team of engineers, we constantly tweak and change our algorithms to avoid blocks.
---
14. Zenscrape — Affordable Scraping API
Pricing: Starts from $30 for 250K Credits
Free Trials: Free Credits
Data Output Format: HTML, JSON
Supported Platform: API
Zenscrape API is a web scraping API that can extract data at scale and without being blocked. It automatically handles all problems that are related to web scraping. it makes Website HTML extraction so easy. Their API is among the fastest you will find in the industry. It scrapes Shopify and exports data to a CSV file. It Seamlessly integrates with PHP, Node.js, and proxy.
It supports IP Rotation, Geolocating, CAPTCHA solving, and Javascript Rendering. It renders requests in a modern headless Chrome browser. Your website is then rendered in the same way as real browsers would do it. You can focus on code-parsing while they take care of data aggregation.
---
15. Oxylabs Scraper API — Reliable and Stable API for Shopify Scraping
Pricing: Starts from $500 monthly
Free Trials: Free Credits
Data Output Format: HTML, JSON
Supported Platform: API
Oxylabs is a leading global provider of data scraping solutions for large-scale web data extraction. Three Scraper APIs can help quickly get data from most e-commerce marketplaces or JavaScript-heavy websites. Oxylabs can Scarpe Shopify for product collection, review, and pricing.
It supports IP Rotation, Geolocating, CAPTCHA solving, and Javascript Rendering. Seamlessly integrates with Ghost Browser, Puppeteer, Selenium, Octoparse, and Incognito. It has enterprise-grade solutions that are ready to use straight away.
You can Start extracting in minutes and get parsed data delivered to your preferred storage solution. Oxylabs Datacenter Proxies are fast and have high uptime, which ensures quick and smooth website crawling.
---
How to use Octoparse to Scrape Shopify
From the above, you can see the options available to you. And to be frank with you, the steps for using each can vary depending on the type. In this section of the article, we'll look into how to make use of one of the web scrapers for scraping Shopify. We'll use Shopify as the scraper of choice here.
Step 1: Download and Install Octoparse on your computer.
Step 2: Run Octoparse on your computer and enter the URL into the search bar.
Step 3: Click the "Start" button, the page will be rendered in the Octoparse built-in browser. Expect to see the annoying pop-up. This happens when you try to scrape a website. find the "browse" button and turn it on. With the browsing mode on, you can close the pop-up as you do in the browser.
Step 4: Click it once again to go back to scraping mode.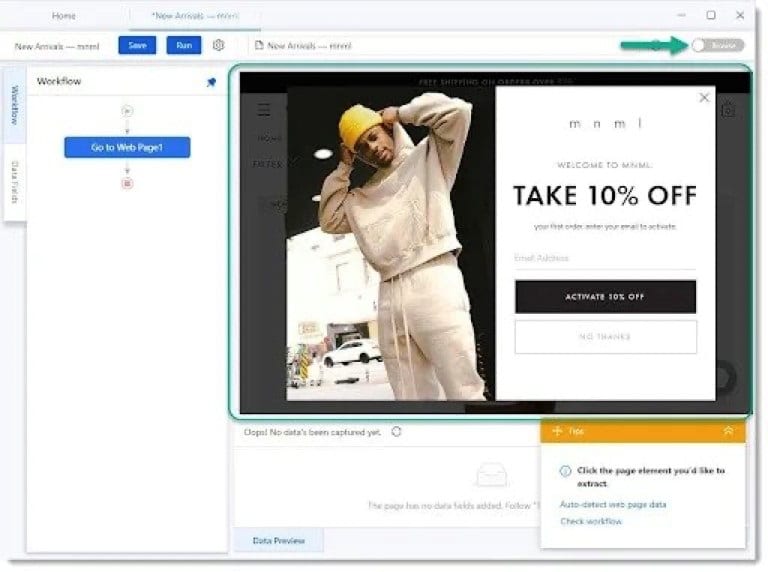 Step 5: In the Octoparse user interface, you will find an orange panel – the Tips Panel. The option "Auto-detect web page data" is a command to let the robot scan through the web page and offer sets of data that you are very likely looking for. As the auto-detection completes, datasets are shown in the preview section.
Step 6: Confirm and generate the scraper By clicking "switch auto-detect results", you can choose among different sets of detected data.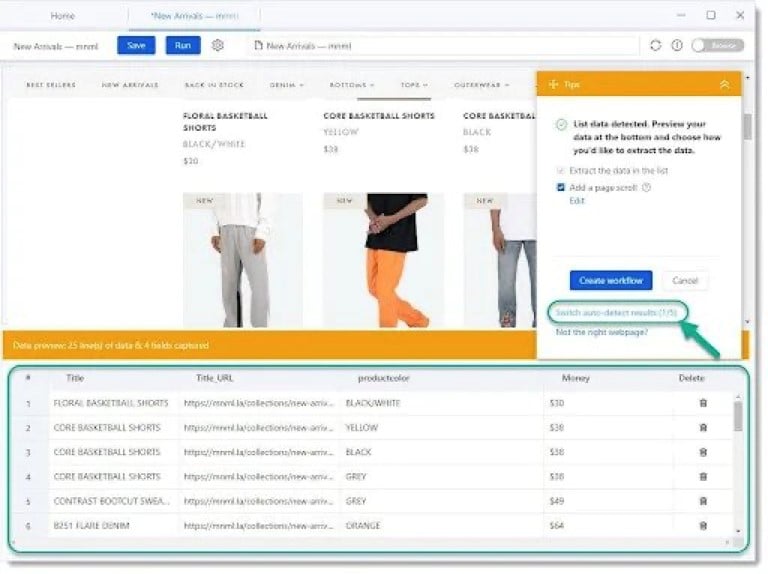 The algorithm is developed to detect different forms of structured data, such as product listing data, data in a table, long-form articles with titles, author and publish date, etc. Generally, in a well-structured web page, the HTML code of this data shows some patterns and Octoparse can parse them intelligently for our users. Moreover, you are free to delete any redundant data field and leave whatever you would like to extract from the page. And you can always pick up the correct data manually if the fetched data does not match your needs 100%.
Step 7: As you have picked the right set of data, click the "Create workflow" button, and then the workflow will be automatically generated on the right-hand side. That's right! You have just built your own Shopify scraper.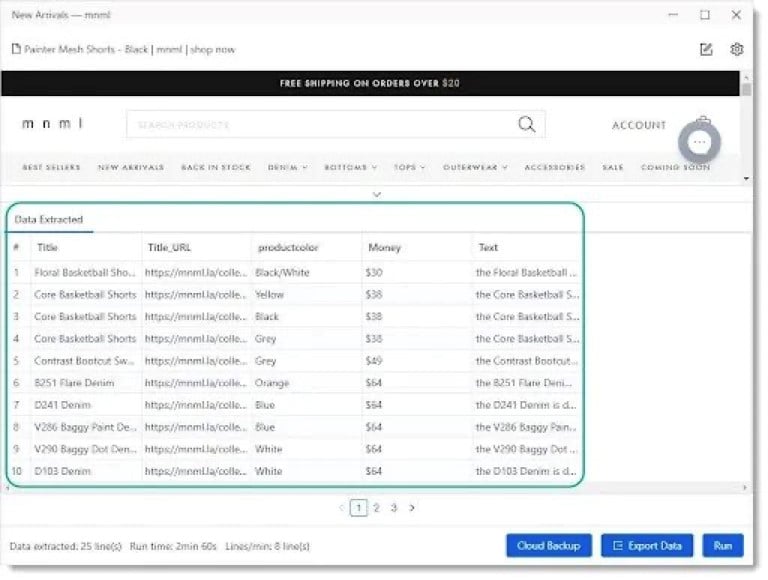 Step 8: Run the task and download Once the workflow is well built, click the "Run" button on the right upper corner above, and Octoparse will gather the product data for you. If you are a free user, you are confined to running your task locally. If you have subscribed to our plan, a cloud scraping service is available. In the meantime, you can schedule the task to run weekly, daily, or hourly.
---
FAQ
Q. Can You Scrape Shopify?
Yes, you can scrape Shopify with Shopify scraping tools which are readily available. There are several ways to do this, but the most common is to use a web scraping tool like listed above. On Shopify, you can scrape sales data, shipping statuses, competitor data, marketing, and social media. With the tools listed above, you can easily extract data from Shopify websites without having to write any code for non-programmers. While for a programmer, you can still make do with the list.
Q. Is Shopify Product Scraper free?
Yes, scarpering Shopify product is free in most of the tools listed above. You can upgrade to the premium package. Which requires you to pay for more functionality. You can crawl important product data such as product prices, categories, descriptions, images, and videos. Even product reviews can be scraped for free. Most of the tool allows you to export product data into CSV file for free. Similarly, the data give clues to a better business decision when you dig into it through market analysis and product research.
Q. Is Shopify scraping illegal?
No, Shopify scraping is legal as long as the data scraped from information is already available for public consumption. Scraping data from public sites is perfectly legal. This refers to the data on websites that is obtained without the need to log in or authenticate one's identity.
Shopify does prohibit the scraping of their content in their terms of use, although they will always try to block scrapers. Furthermore, knowing what kind of data is legal, illegal or somewhere in between will help your decision-making. And help you avoid any unintended and unnecessary consequences.
---
Conclusion
If You Are Looking For Stores That Rock the Market, Shopify is the store. Your days and even weeks searching for the right products, the right descriptions, and images are over. With the tools listed above, it reduce your days of hard work into minutes of seamless.
Capture Data from Shopify has to be made easy. The data can be used to analyze competitor products and monitor prices. Hence giving you that competitive edge. Now that you know how web scraping can help improve your business.
For business owners and merchants who want to scrape Shopify, the list above is a great place to start. Similarly, even if you are a programmer or know nothing about coding, this list got you covered.