Shovels may be used in various ways in Animal Crossing: New Horizons. To start digging and planting on your island, you'll need to understand the many types of shovels and how to get them. None of the recipes are simple to acquire. A golden tool in Animal Crossing shows your progress and playing experience. Golden Tools are superior to all other tools in the game and can last up to 200 uses. They break like all tools. This tutorial will show you how to get a shovel in Animal Crossing. Continue reading for more information.
The shovel is one of the five fundamental tools in Animal Crossing that you may use to collect objects and modify the environment. In addition to digging fossils, the shovel allows you to mine or break rocks, uproot trees, and plant flowers. However, getting your first shovel in New Horizons takes some time despite its value. Even then, one must try hard enough to get it. You can be sure it's not a straightforward task, but once you get the hang of the process, getting your shovel in Animal Crossing becomes pretty easy. So, how can you get a shovel in animal crossing? Here is how………
---
How to Get Your First Shovel
The technique for obtaining a shovel is somewhat different at the start of the game. To acquire your first shovel, you must give five fish or bugs to Tom Nook. This will prompt Tom to have Blathers offer you the crafting recipe for a Flimsy Shovel. After speaking with Blathers, he will give you two DIY crafting recipes: one for the Vaulting Pole and another for the Flimsy Shovel.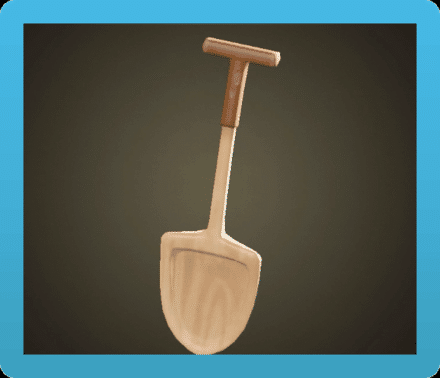 Depending on how much time and money you're ready to invest, you'll need a specific type of shovel. Some shovels are more durable than others, while others are more fashionable. In addition, certain shovels can be crafted, while you can only buy others. Read on for more details.
---
How to Craft a Flimsy Shovel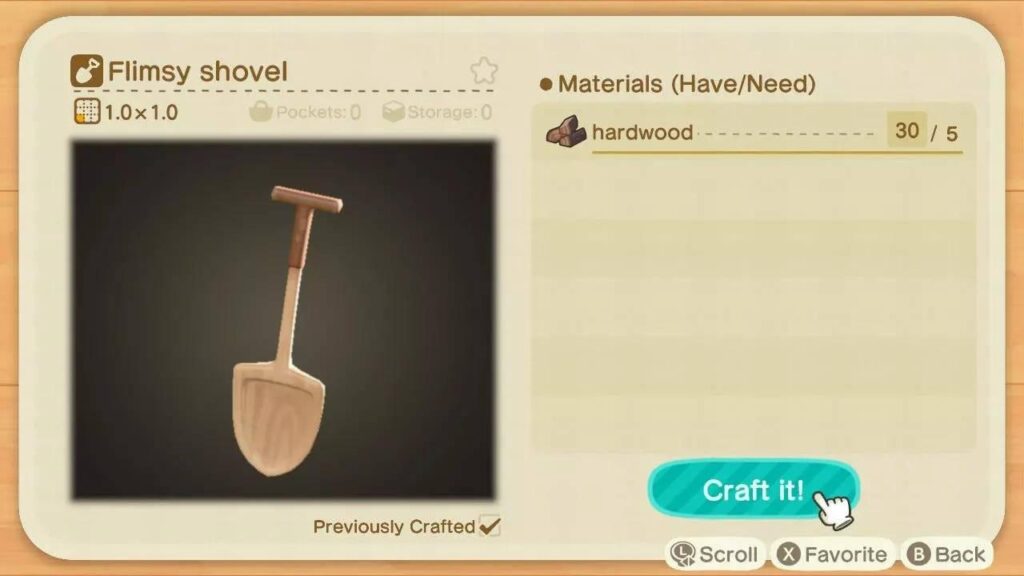 You'll require 5x hardwood to create the flimsy shovel, so use the flimsy axe to harvest wood from trees (don't worry, it won't cut down the trees). Once you'veaccumulated enough, you can craft a flimsy shovel at any DIY bench. The light shovel will break after a few uses. You can get a new one from Timmy and Tommy, make one out of 5x hardwood, or use the more durable standard shovel.
---
How to Upgrade Your Flimsy Shovel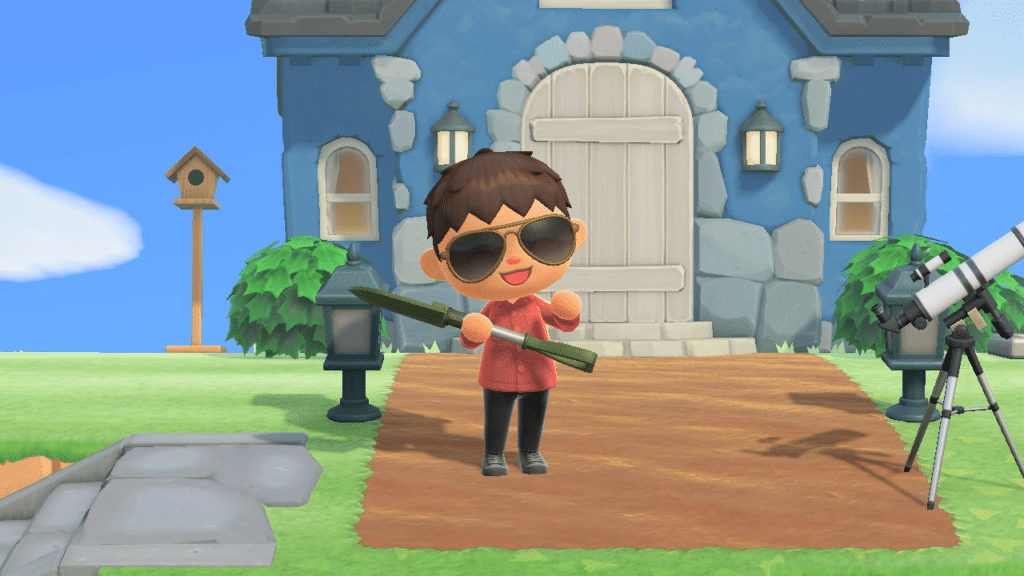 Like other "Flimsy" tools, the Flimsy Shovel is very delicate and can only be used about 40 times before breaking. If you want something that will endure longer, you should upgrade it to a Shovel. You can obtain the Shovel crafting recipe at the Nook Stop kiosk at Resident Services. If you purchase the Pretty-Good Tools pack for 3,000 Nook Miles, you will receive DIY recipes for all the upgraded tools. One Iron Nugget and one Flimsy Shovel are required to make a Shovel. Every shovel you craft will have a lifespan of around 100 uses, making it far more durable than the Flimsy version. Unlike Flimsy Shovels, regular Shovels cannot be purchased at Nook's Cranny, at least not at first.
---
How to Purchase a Shovel in Animal Crossing
When you first set up Nook's Cranny, they will only sell flimsy equipment. But if they upgrade the shop enough, they will be able to sell Outdoorsy, Colorful, and Printed products that are just as durable as upgraded tools. You must reach certain milestones to access these tools at Nook's Cranny. Nook's Cranny must be open for a minimum of thirty days, and you must spend or earn 200,000 Bells in the store. Mabel must at least once open her shop in front of Resident Services.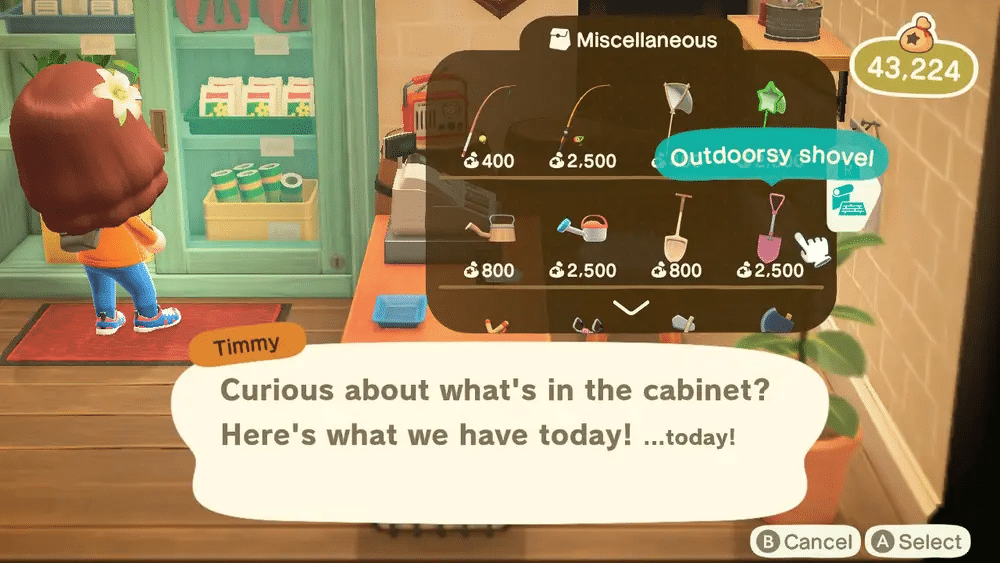 This last prerequisite may be quite unclear. Timmy and Tommy meet with the seamstress Mabel when Nook's Cranny is initially constructed. Following that, she would randomly sell clothing once every week in front of the Resident Services building. She must visit in this manner at least once to improve Nook's Cranny.
After completing these objectives, Isabelle will declare that Nook's Cranny is undergoing renovations. Once the repairs have been done, you can purchase an Outdoorsy, Colorful, or Printed-design Shovel for 2,500 Bells.
The only differences between these three shovels are their colors and names. Nook's Cranny offers an inexhaustible supply of each item but will carry a different one daily. Again, these shovels have a lifespan of around 100 uses, the same as those you craft.
---
How to Get a Golden Shovel in Animal Crossing
The Golden Tools were rare equipment in past Animal Crossing games that you could only get after doing a major task. For instance, in Animal Crossing: New Leaf, you had to purchase 50 bags of fertilizer from Leif's Gardening Store to acquire the Golden Shovel. Each saved file was limited to one reward.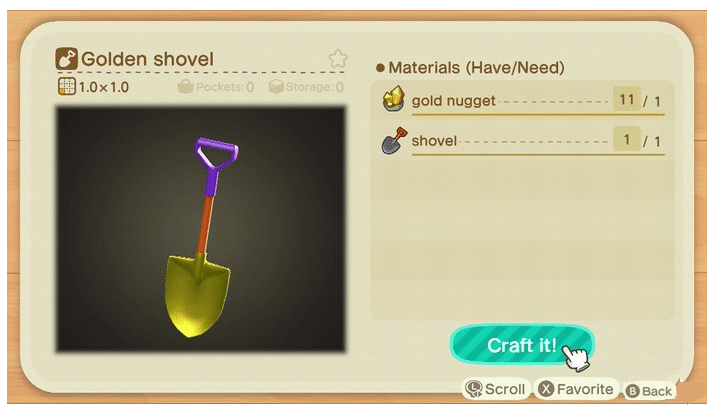 To get the Golden Shovel in Animal Crossing New Horizon, you must first assist Gulliver, who has washed up on your shore at least 30 times. After you wake him up, he'll ask for your help locating 5 Communicator Parts so that he may fix his NookPhone. These components are usually discovered by digging in the sand along the beach.
Before receiving the DIY recipe in the mail, you must successfully assist Gulliver 30 times. It is worth noting that if you like Time Travel, Gulliver is said to wash up on your shore every ten days.
---
How to Craft the Golden Shovel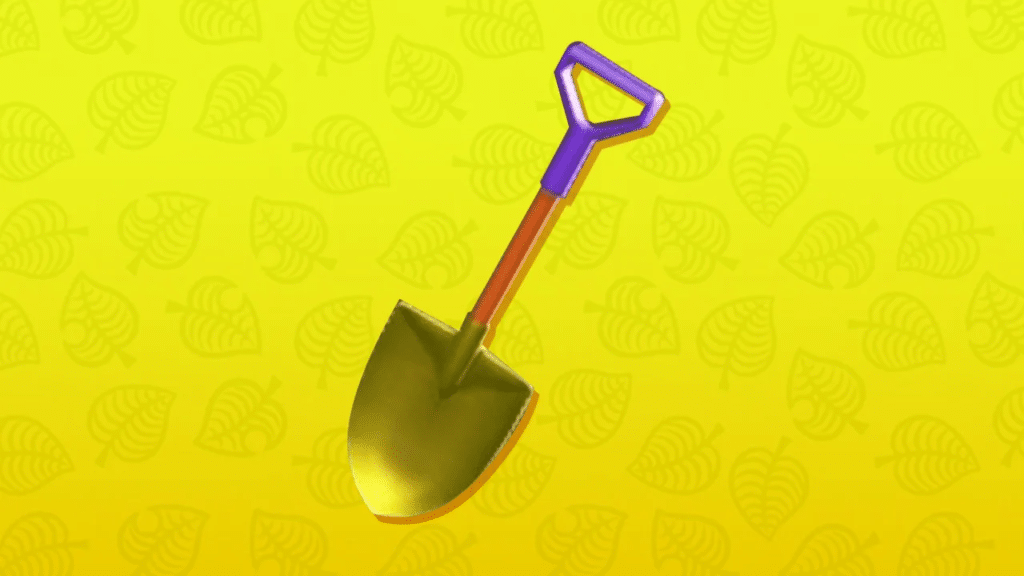 After unlocking the Golden Shovel recipe, you will need the following components and tools to craft it:
Remember that a rare Gold Nugget is necessary to make a Golden Shovel. Ensure you know how to get one of them before crafting the Golden Shovel.
---
Conclusion
The shovel is one of the tools in Animal Crossing and is crafted like any other. None of the recipes is simple to acquire. A golden tool in Animal Crossing shows your progress and playing experience. Golden Tools are superior to all other tools in the game and can last up to 200 uses. They break like all tools.