Can you guess that one item of clothing can transform any outfit's look in minutes? Yes, we're talking about ties! A tie can instantly elevate any simple ordinary suit to business-appropriate attire or formal black-tie events. Whether it's formal or casual, you can keep the difference with the help of a tie and still show professionalism and seriousness.
If we speak about the professional settings and meetings, neckties are one of the required accessories. So if your office atmosphere is more traditional or you wear suits to your work meetings, don't forget to add a tie.
Apart from formal events, mens ties can also be worn on galas, dinner parties, weddings, receptions, or funerals. Ties are available in various varieties, including multiple sizes, colors, and patterns.
You can get a tie in any color or pattern, from classic solids and stripes to polka dots and ties inspired by flora and fauna. There are so many best ties available in many styles and types out there. You can buy ties by picking the patterns and colors you like the most for the upcoming event.
Do you also want to buy ties? If yes, keep reading!
Today in this post, we're going to tell you about different types of ties, fabrics, and the top ten tie designs that are evergreen. From classic solids to fun wool ties, we've included various styles so that you can get the right tie for the right event.
Let's begin.
---
Different Types of Ties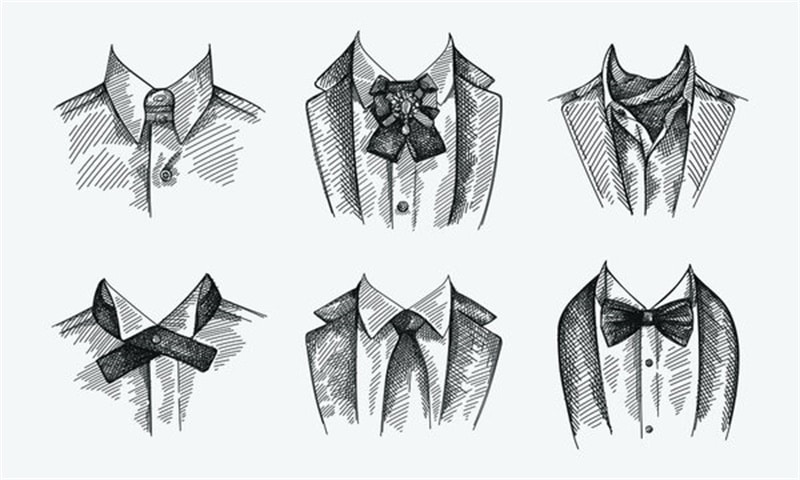 You can go with a tie in gray, navy, blue, and neutral color options for formal settings. And for casual settings like when you're going shopping or brunch with friends, you can try different colorful fun options. No matter what tie you select, make sure that it blends well with an outfit and complements it.
Here are eleven various types of ties available today:
Neckties
Bow Ties
Skinny Neckties
Apron Neckties
Cravat Neckties
Ascot Ties
Kipper Ties
Western Bow Ties
Neckerchiefs
Bolo Ties
Clip-On Ties
---
Materials
However, while buying ties, there is one more thing that you should look for material. Always check the tag or online description for the fabric content to know whether it is good quality.
Below are some of the most commonly used fabrics to make ties:
Cotton
Silk
Polyester
Linen
Wool
Acetate
Rayon
Nylon
---
The 10 Best Ties For Different Occasions
There are many options in ties, from dynamic colors and bold designs to playful patterns and modern silhouettes. You can explore them and get the ones with high-quality luxe fabric. These ties will add a sophisticated and classy touch to your entire outfit.
Whether buying for yourself or gifting to someone, ties are always best! Below is the list of some of the best ties. From floral prints to solid colors, you can get ties in every style, design, and pattern on the list. Take a look!
1. Classic Solid Necktie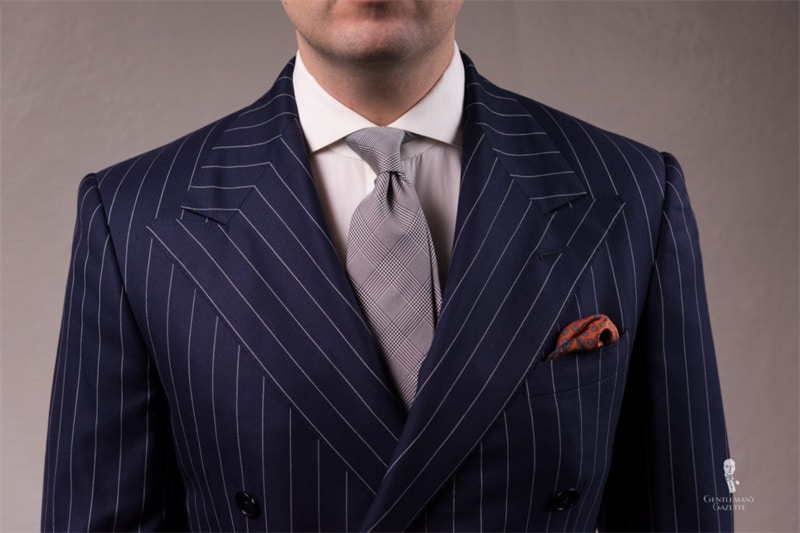 Solids are evergreen and never go out of style, and this is a fact! That's why every man should at least have one solid-colored necktie in his wardrobe. From classy navy blue to beautiful burgundy, you can pick anyone. These solid ties work with most outfits for different occasions.
2. Mini Dots Tie
Another sophisticated and not-so-basic tie option is a mini dot tie. These ties are also a must accessory for all the working professionals. These ties have a solid base color with a tight polka dots pattern. This doesn't look too plain or bland and will elevate your workday look.
3. Solid Black Tie
Are you going to a black-tie event? If yes, don't think much; grab a black-tie! There is nothing more sophisticated and elegant than a skinny black tie. You can go with a plain solid black tie or minimal motifs or designs.
4. Slide Stripe Tie
Add a little bit of fun to your outfits with a striped tie. For a refreshing look, try ties in neutral strips. Match the colors of stripes of ties with the suit, shirt, or accessories, and you're ready to head out!
5. Silk Black & White Floral Tie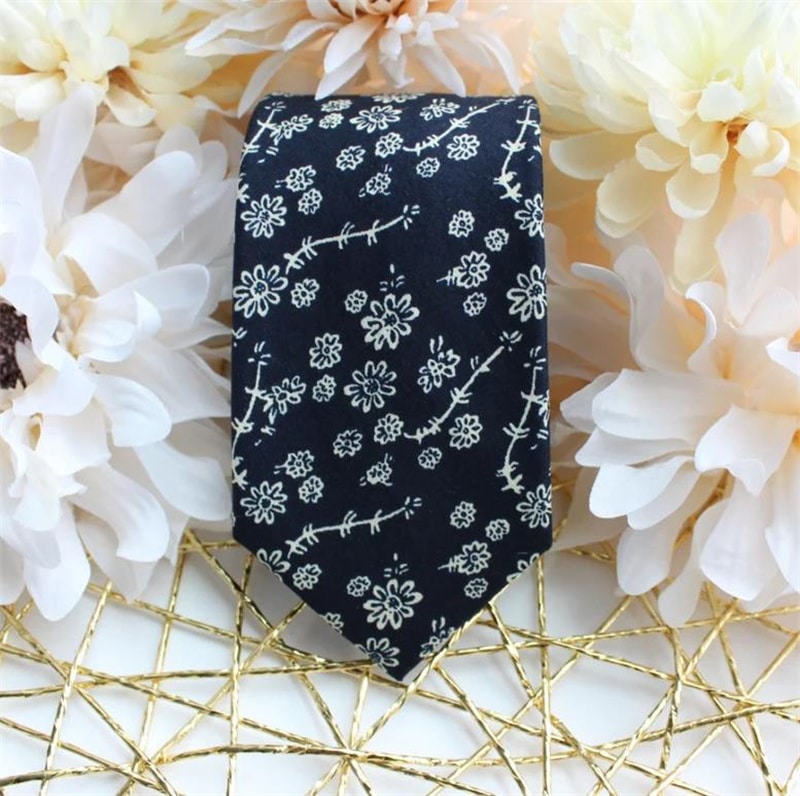 Are you looking for something playful yet sophisticated? A tie with a floral pattern will be best for you! These black and white ties with floral-inspired designs are great for spring and summertime events.
6. Silk Knit Necktie
This may be new to you, but knit ties are more casual than silk ties! You can wear them with both office wear or casual outfits. The cool knitted texture will make you stand out from the crowd.
7. Printed Necktie
Printed ties are a great way to add drama and fun to any outfit. From little designs to big motifs, you can buy ties in any print or design. These ties are perfect for both the office and casual gatherings.
8. Knitted Wool Tie
Wool ties are best for winter season occasions. You can try a knit tie with a chevron pattern or a tie with a wool texture. This will create a more subdued look with a classy touch.
9. Formal Velvet Tie
Velvet is such a luxe and classy material. So next time when you're going to any formal event, get a tie in this unexpected fabric. Everyone will be surprised by your little velvet tie.
10. Paisley Silk Tie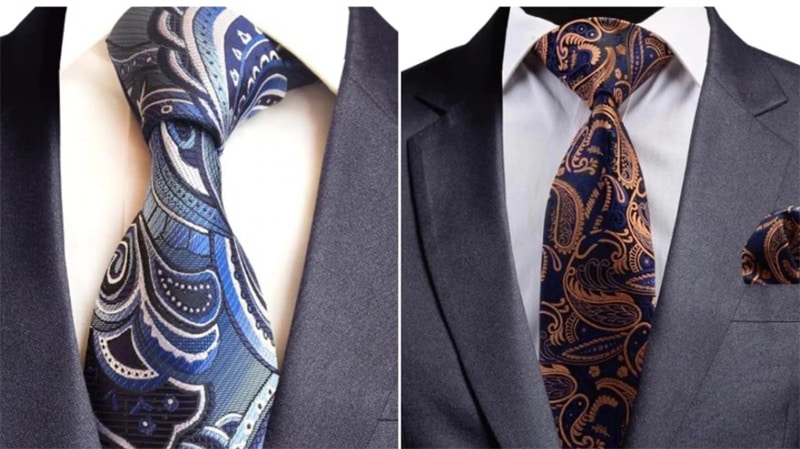 Another great pattern in the tie world is the paisley! You should always own a paisley silk tie in your closet.
---
The Bottom Line
So this is all about ties. Now you know all the different types and styles of ties and what kind of fabrics are used to make ties. You can buy ties according to this or whatever color or pattern you like but always make sure that your tie compliments your outfit.
So, next time you're going to any formal or casual event, wear a tie and make a statement look!