If you are a fan of League of Legends, you should consider using any of these LOL name checkers to see a username's availability. It is an interesting game that you shouldn't miss out on.
League of Legends is one of the best games in the world. It is also commonly known as LOL. It is a team-based game that has over 140 champions. This makes it one of the most popular games in the world.
You will have different experiences in each challenge you partake in a while playing. There are many epic-looking skins that you can choose from. The player controls the character with a set of unique abilities.
As a champion, you gain levels by accruing experience points. Items are purchased through a shop menu available to players only when the champion is in the team's base.
---
What is a Summoner's Name Checker
These are websites that you can use to check whether a particular username is already in use. The websites normally have the most up-to-date databases of names that have been taken by other players.
The process is much faster, and you won't be stranded when trying to open an account since you will already know an available username. Try your luck and find the best username to use in the League of Legends game.
---
Do you know a username you can use while playing League of Legends? Well, if you doubt your creativity level, then you can consider using the LOL names website to search for a good username to use on LOIt would help if youYinputput a name that you think will suit you and check whether it is currently in use. However, it would help if you were specific about the region to ensure you don't share the name with someone else in the same area.

 You can also consider using the LOL name checker to see whether a certain username is suitable for use in your LOL game. You must input a favorable name in the "Summoner's name" search box and choose a region.
The system will then check whether the name is available for use. It would help if you chose an appealing name that will attract many players to want to be part of your team. It is accurate, and you won't miss out on anything. Prepare to battle against other champions effortlessly.

This is another LOL name checker you can use to find the ideal username and nickname for your LOL account. Like the other name checkers, you need to input a name in the Tapnets LOL Name Checker search box and check for its availability.
A username is a powerful way of identification. LOL has many players, and you need to stand out. You can choose a moderate or crazy name to use on  LOL. Choose wisely.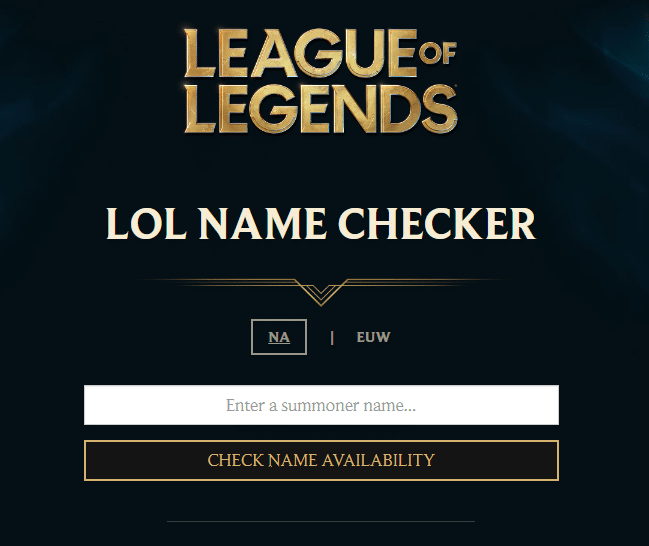 ---
Get The Best LOL Summoner's Name.
These are the best platforms that you can use to find out whether a username can be used on League of Legends. It can be hard to use your official name as your username since many people own that name globally.
Therefore, try to find a unique name that you can use to represent yourself while playing the games. Also, remember the crazier the name is, the better. Just have a list of names you like and see whether they are available for use. All the best as you play League of Legends. How far can you get?