Nowadays, mobile games are generally designed for single players. Even if you play with friends, you are connected to the Internet. Try to experience these games that can be played by multiple people on your mobile phone to increase the relationship between you.
1. Fortnite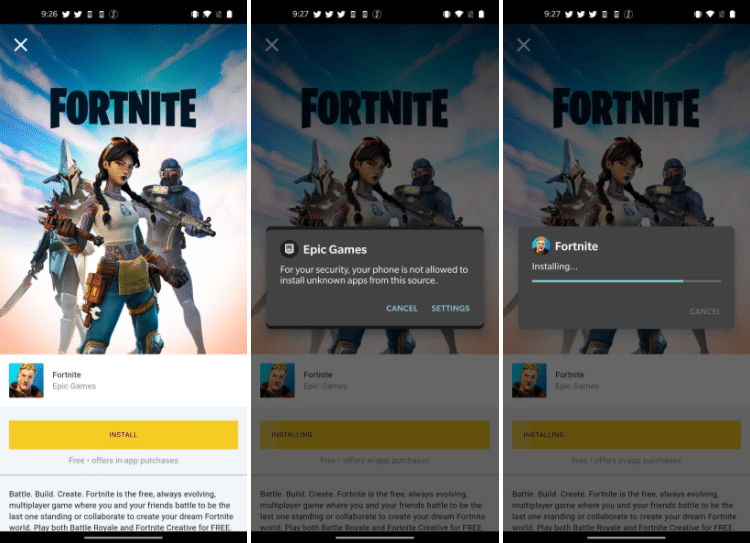 The Battle Royale genre became popular after the release of PUBG, and because of that, many companies have used this opportunity to create similar games. FORTNITE is a completely successful game.
Unlike PUBFG, the graphics are cartoonish rather than realistic, making the game more appealing to those who appreciate the style.
In Fortnite, players can play solo or in teams, loot and destroy buildings, build different structures for their advantage, and use popular references as emotes.
Download:  
---
2. Pubg Mobile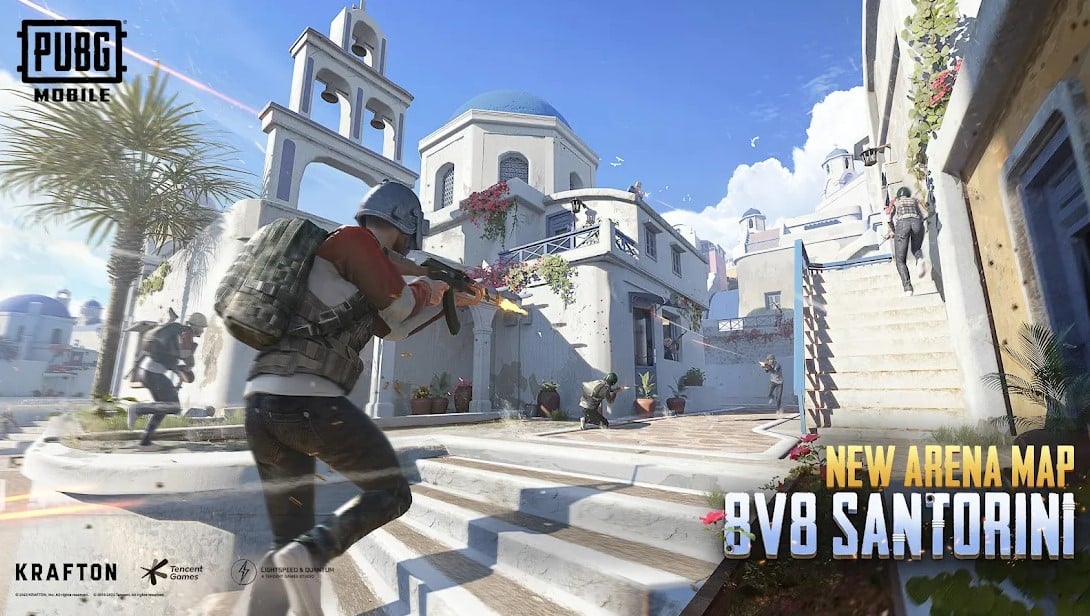 Player Unknown's Battlegrounds is the first-ever Battle Royale game to become trending worldwide. The game puts 100 players in a huge plane and drops them on an island.
Inside the island, they have to fight each other for survival by looting weapons, armours, health kits, and other helpful equipment.
However, they also have to be careful of the danger zone that closes into the center of the map; that way, all players will eventually have to fight. The last player or group surviving becomes victorious!
Download:
---
3. Call of Duty: Mobile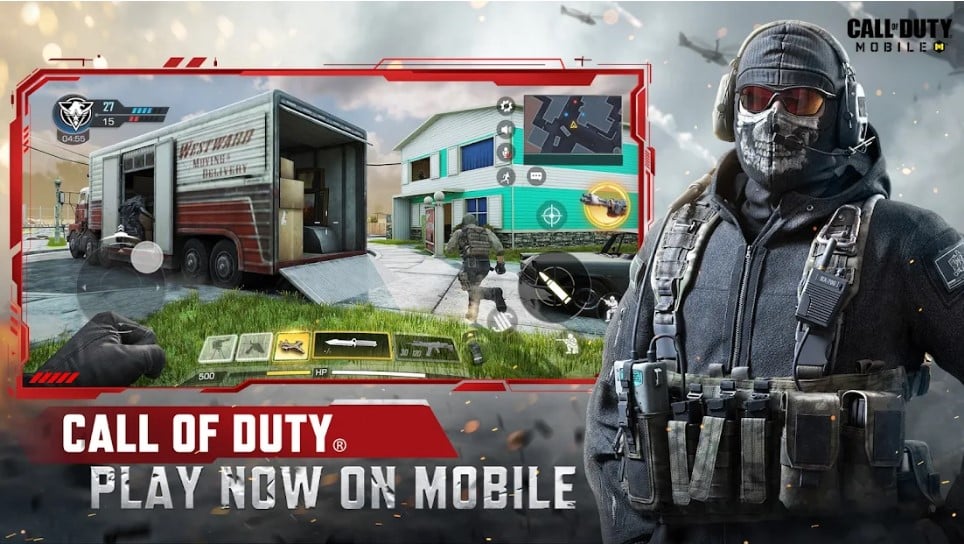 One of the best-selling video games has finally arrived on mobile phones. Following the success of the Battle Royal genre, CoD: Mobile was released with plenty of features from its previous franchise implemented on mobile and its new mode, Battle Royale.
Customize your equipment in an action-packed multiplayer mode or join the fight against tens of other players in the ultimate survival mode, Battle Royale. Ride vehicles, use your parachute, and locate the best loot to find the best shot on your enemies.
Download:
---
4. Clash of Clans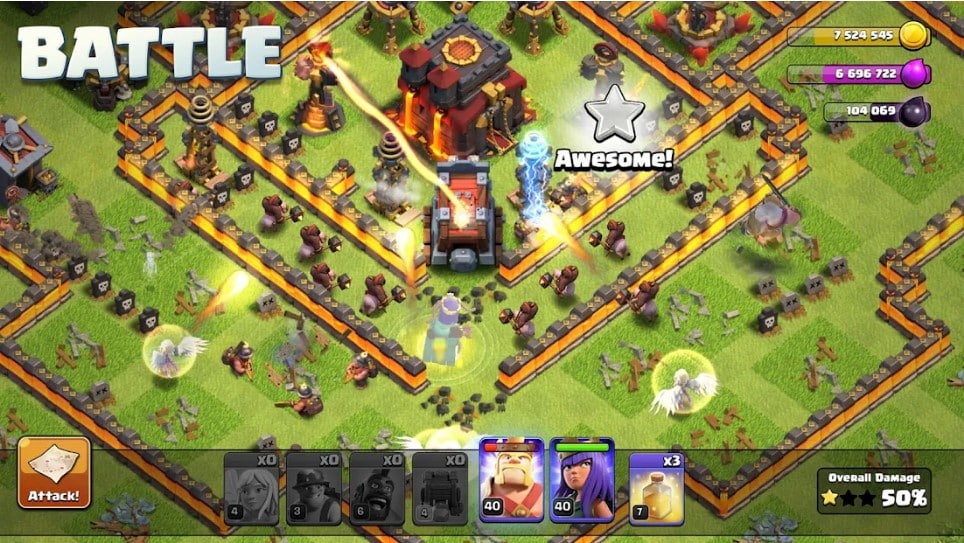 One of the most popular mobile games of all time. Clash of Clans is a game about creating your settlement. You start with a small number of people in a specific location and help them rise to become strong warriors. You can upgrade your settlement into a village, a huge town, and eventually a castle with formidable force.
Fight against or team up with other players as you get involved in huge wars. Get to understand strong tactics and use them to win battles, collect resources, discover all available units and enjoy the battles of Clash of Clans.
Download:
---
5. Clash Royale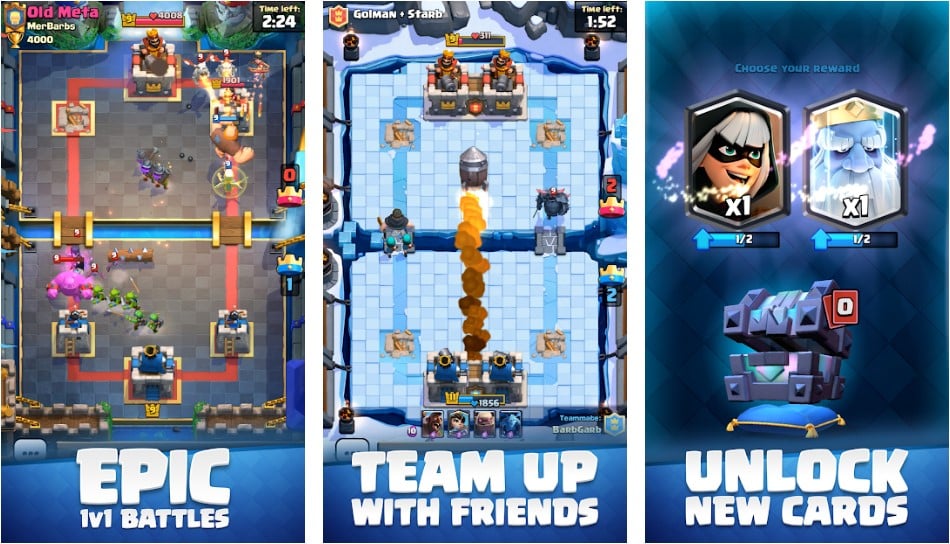 Enter real-time PvP battles against other players inside an intense arena. Customize your army by selecting various strong unit cards to use on board when the match begins. Your goal is to knock down the enemy's king or princess, who is technically the player controlling their army while defending yourself simultaneously.
Choosing which unit to attack and when to send them is vital to gaining victory. You will also have to take down towers before reaching the player's character, making the game more challenging!
Download:
---
6. League of Legends: Wild Rift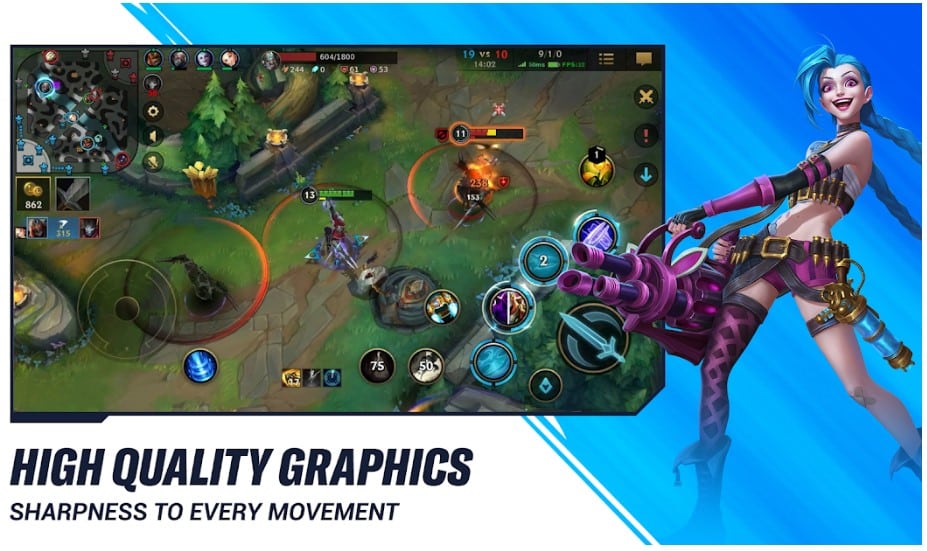 League of Legends is one of the most successful MOBA games. Celebrating their 10th Anniversary, they announced the release of the mobile version called WILD RIFT. Enter summoner's rift as you play in a team of five players against the other team.
Choose the role you prefer; whether it's Top, Jungle, Mid, or Support, you will have to work with your team to take objectives and eventually kill the enemy nexus. Discover unique champions and their different abilities, and ready yourself to become a one-trick pony as you climb the ladder rank!
Download:
---
7. Genshin Impact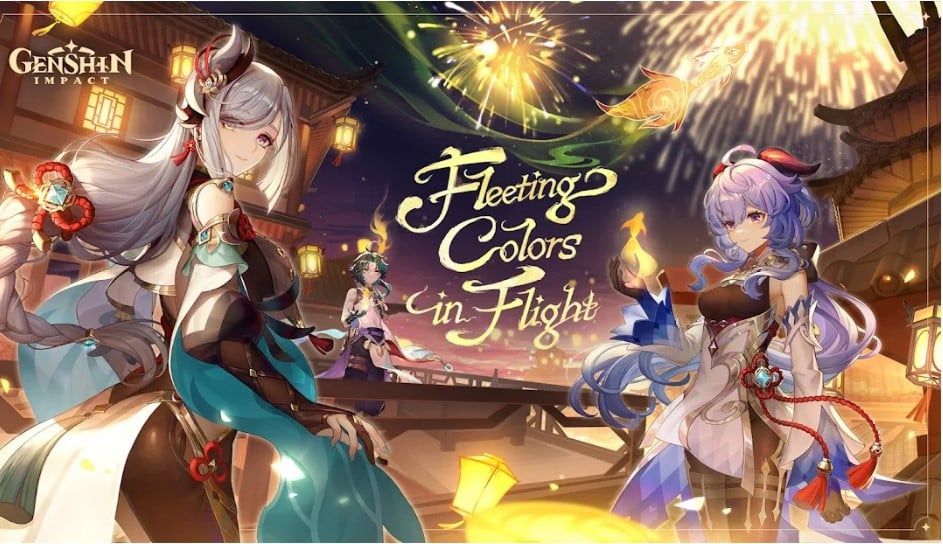 Arrive in the open world of Teyvat, a place full of energy and fancy elements. Begin your story as a foreigner from a different realm who ended up separating from their sibling and working to find them. Become accompanied by Paimon as your traveling companion, and get introduced to so many characters as you understand the story of this world.
As a player, you will have the features to play all different characters and use their abilities to create insane combos! As well as combining Genshin Impact's unique features of elements, like freezing foes with water and ice.
Download:
---
8. Hearthstone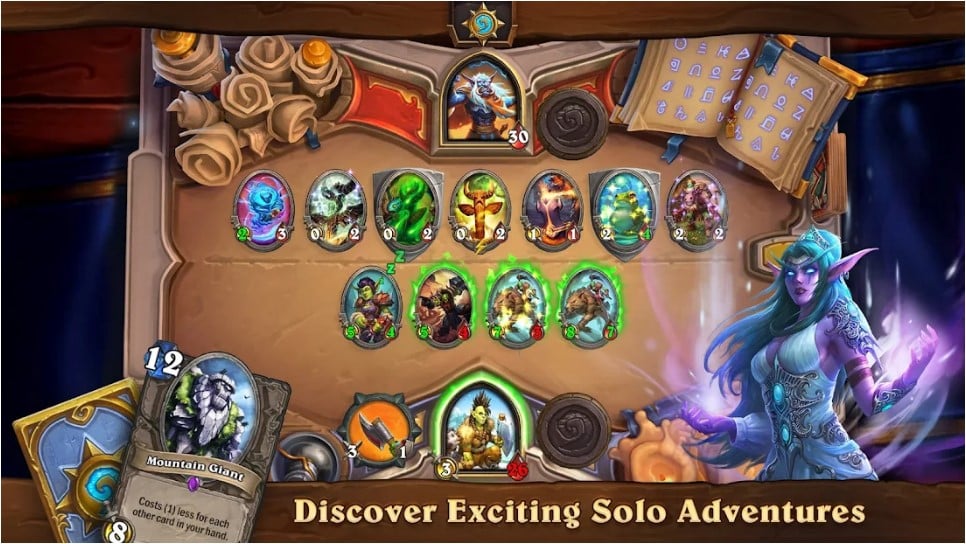 Are you a fan of card games? Well, even if you're not, Hearthstone is a game you should try! Before you begin your matches and battles, you must study your Deck first and explore all the unique cards available. Customize your Deck for a strategic build and win your PvP and PvE battles. Unlock new different cards and observe how they bring life to the board.
Explore your missions and complete them for unique rewards that always give you advantages in your next fight. Look out for Hearthstone's different modes and make sure to give them a try as you duel for victory.
Download:
---
9. UNO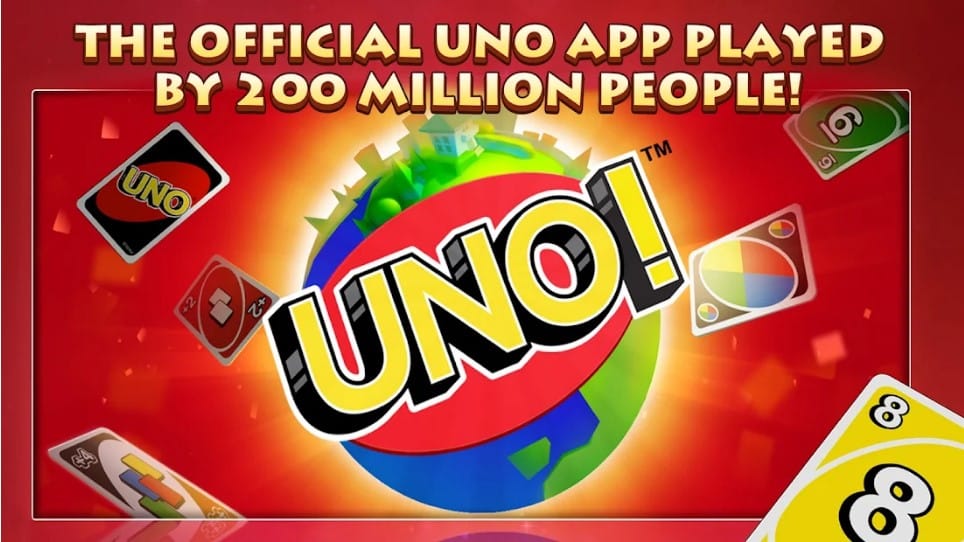 Who doesn't know the popular card game UNO? If you never got the chance to play it in real life, then here is your opportunity to play it online! Play One vs. One, Two vs. Two, or free for all in a group of Four! Enjoy the various effects and particles thrown at everyone whenever you put down a card. Play different modes that add special cards which do special abilities.
Try not to lose your friends as you put down +4 on board. Remember! To win the game, you must empty your hands from all your cards, but don't forget to say UNO once you have one card left!
Download:
---
10. Asphalt 9: Legends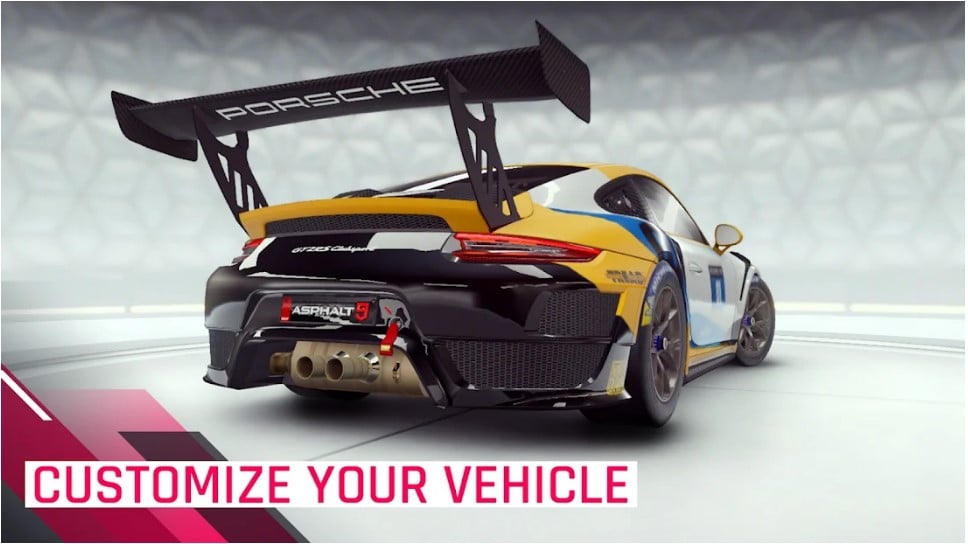 All cars and racing fans buckle up for a fantastic fast-paced racing gaming! Start your racing career through multiplayer matches. Discover the different tracks and racing roads chosen by the game. Learn new shortcuts to gain an edge over other competitors.
Build your car and customize it to your liking. Show off with different racing tricks and car flips as you reach the end of the line. Choose between Auto and Manual racing controls for a better racing experience.
Download:
---
11. Real Racing 3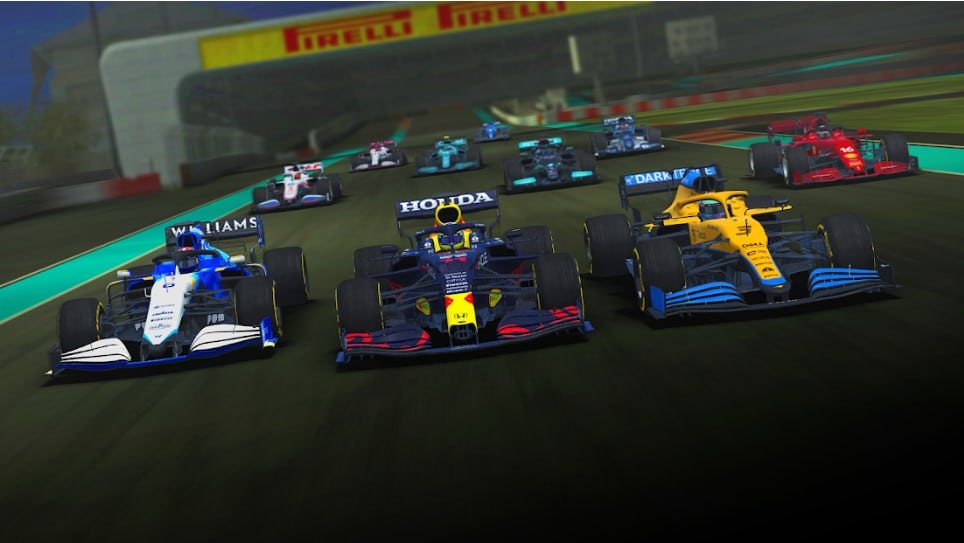 Real Racing 3 features 19 different racing tracks located in the real world! Just like the name of the game suggests, Real Racing is always trying to implement realistic features and details that are found in real life. Choose from 300 different racing cars from famous brands like Ford.
Enter multiplayer games and race against your friends or randoms in intense racing competitions. Join the various events made by the game and buckle your seat belt for the Real Racing Primer Cup, where veteran players compete to be the best.
Download:
---
12. Sea Battle 2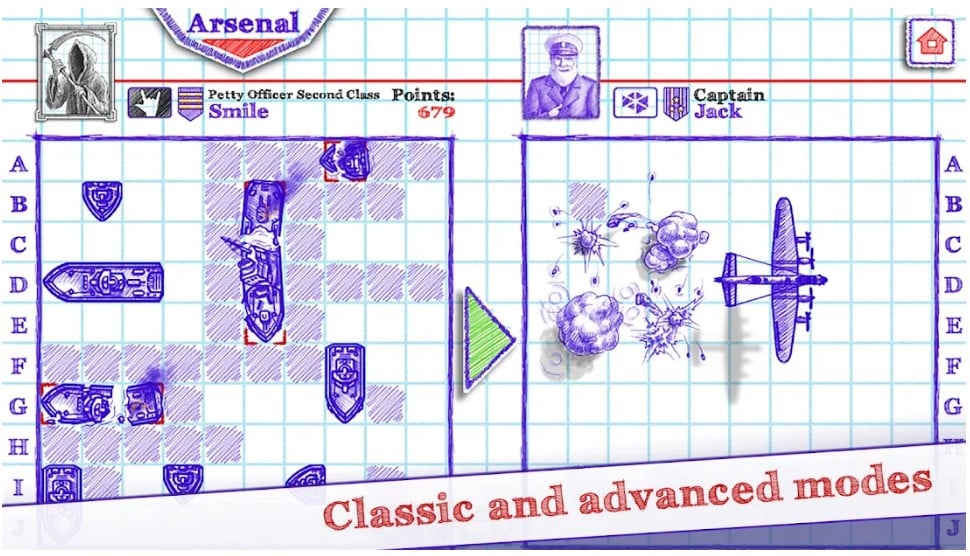 Sea Battle 2 is a board game with unique graphics. Instead of bringing a realistic look to the game, Sea Battle 2 presents drawings and sketches on paper for their design and UI, which worked out very well. Fight against other players or your friends and rank up to play against better opponents.
Use your battleships, airplanes, and other vehicles to attack the enemy. Use various types of attacks to sink your opponent. Build your city and upgrade your buildings as you customize your army and fleet to your preferences.
Download:
---
13. Minecraft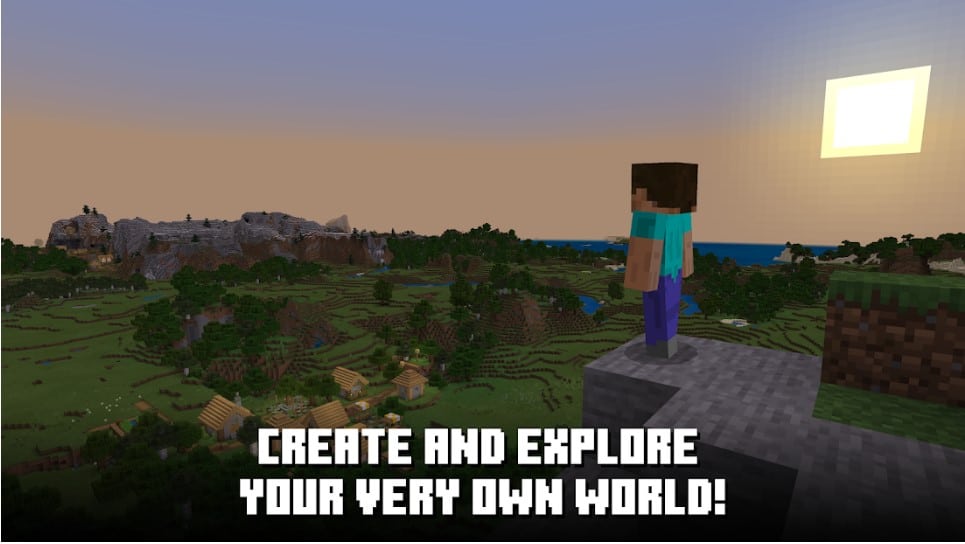 The ultimate sandbox game and one of the most selling video games in history. Minecraft: Pocket Edition is an open-world survival game. Play as Steve or Alex, or a custom skin by your liking, in a beautiful yet dangerous world. Fight for survival by collecting loot, crafting tools, building shelter, and fighting mobs.
Join other players' worlds and help each other beat the final boss of the game, the Ender Dragon! You can also join different servers with various amusing minigames. Pocket Edition also allows you to crossplay with friends on Xbox or PlayStation.
Download:
---
14. Words with Friends 2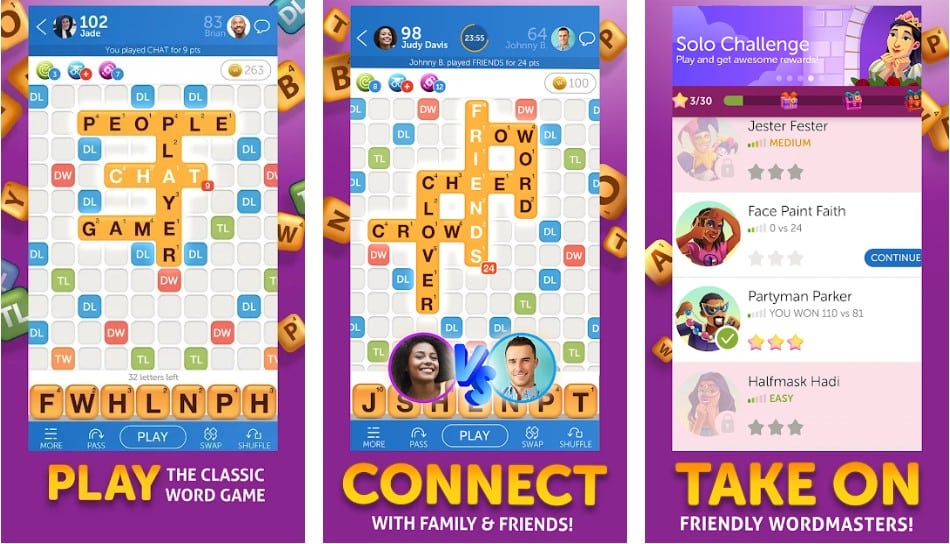 Words with Friends 2 is a smart game where you have to use your brain to combine words from scattered letters. Compete in multiplayer games with friends or other players, and try to solve the puzzle before earning points.
Get rewarded for your smart and fast thinking with in-game features, or get rewarded when you lose by learning new words in the dictionary. Enjoy this knowledge board game which brings both educational content and entertaining content.
Download:
---
15. GWENT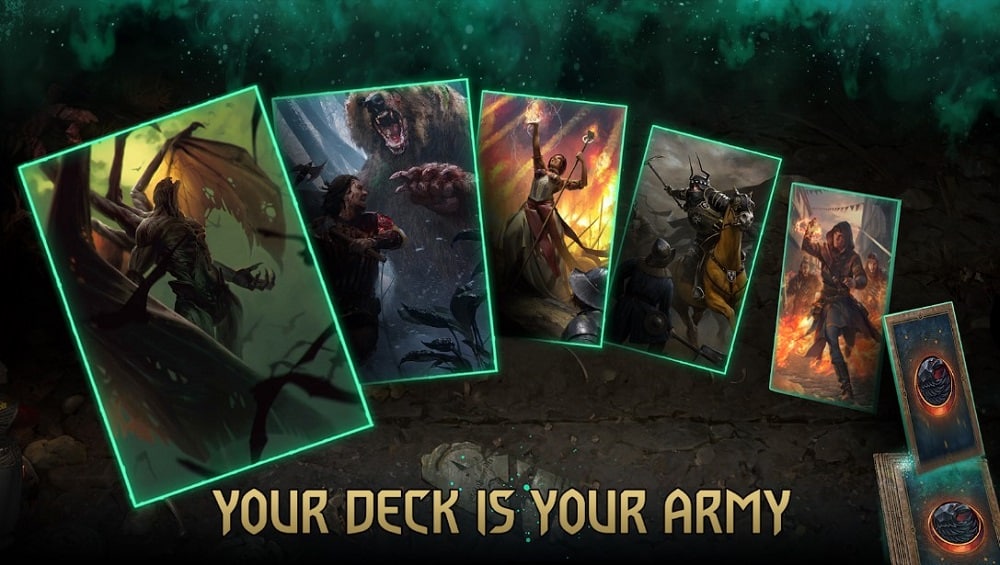 Coming from the famous franchise of The Witcher, play GWENT! A Card-based game where you compete against other players using unique and various units selected from your Deck. Invest in the Witcher's World and learn about the different nations and their traits implemented into their units.
Adjust your Deck to your strength, whether with clever tricks and strategies or with direct brute force. You will start the game with 10 cards, and from there, you will decide on the best path to victory.
Download:
---
16. Mario Kart Tour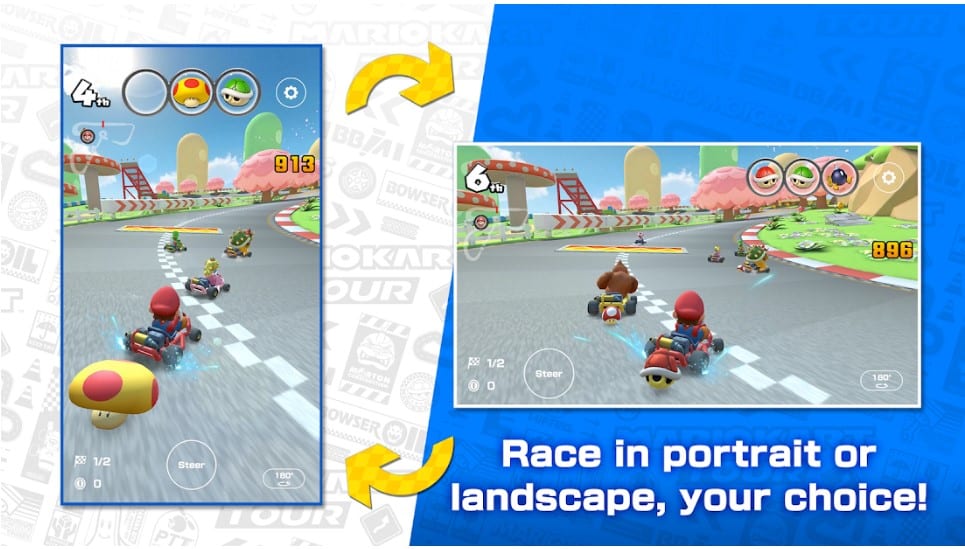 Finally! You can play a Mario game without needing to use a Switch device! Available on Android and IOS, play the famous Mario Kart with all your favorite Nintendo characters. Mario, Luigi, Princess Peach, and many others are available for selection.
Play with friends nearby in a 7-players based racing match. Collect power-ups on the racing tracks and use them for your advantage or to sabotage other players. Enter the competitive side of the game in the Online Rank mode. The more races you win, the higher your rank will become.
Download:
---
17. Brawl Stars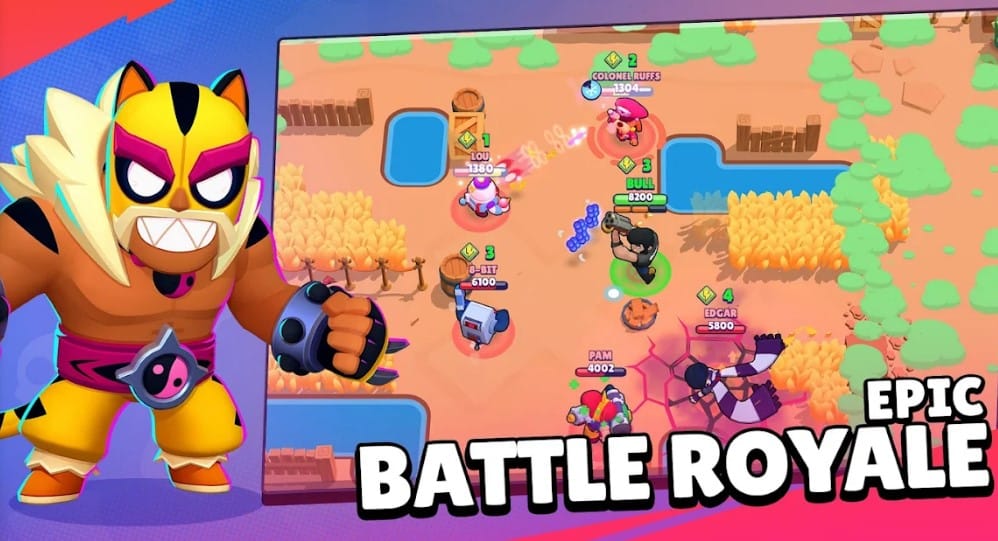 Do you want to brawl?! Then Join the Brawl Stars game that features different game modes and characters to brawl with. Enter a 3vs3 match with your friends or with random online players. Use the terrain to your advantage, like hiding in the bush and surprising your enemies.
The game has a top-down 3D yet 2D feel. Work with your team to destroy the opponent by combining your skills for strong combos. Play games and unlock brawlers, each having unique skills and abilities to be tested on the field.
Download:
---
18. Mobile Legends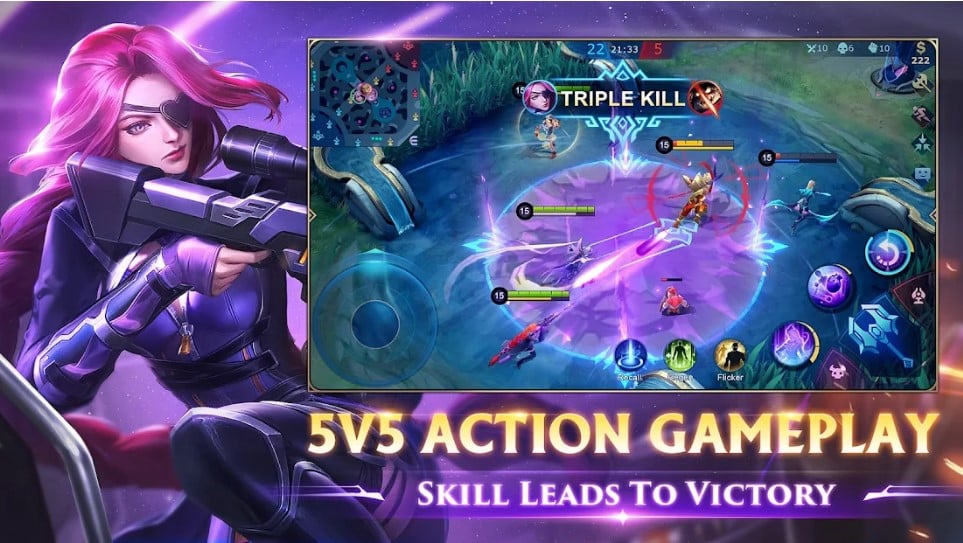 Although many claims that Mobile Legend is a League of Legend rip-off, we all have to consider that League of Legends itself is a Dota Rip-off. But, putting those bold statements aside, Mobile Legend did an incredible job of bringing the MOBA genre to the mobile platform.
Fight with your team in a 5vs5 match. Select your roles. Farm for gold and buy items as you keep fighting different players simultaneously. There are countless legends to try, each having its skin to be customized. Mages, Tanks, Assassins, and Marksman are all available in Mobile Legends.
Download:
---
19. Kartrider Rush+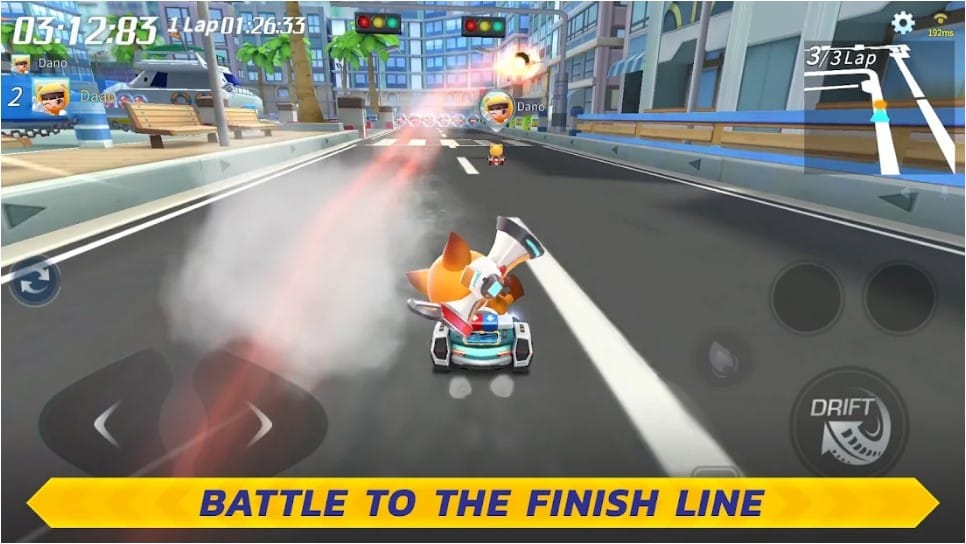 Another kart racing game on the list is KartRider Rush+ which is a feature-rich game with everything you need for a kart racing game. There are many cool, cute, and intimidating Racers available to choose from or unlocked with your racing grinds.
You can customize your karts to your liking, select an Epic set of customization or a silly shopping cart as your racing kart; besides the unique pets you could bring, enjoy the thrilling racing experience on the tracks and play against other players in multiplayer mode.
Download:
---
20. Teamfight Tactics
Teamfight Tactics, also known as TFT, is a board game made by Riot Company. It is heavily inspired by the League universe and by the characters in-game. The best part about TFT is that it will never get boring. Each set introduces new characters or the same characters with different looks, abilities, and features.
Play HyperRoll, Double ups, or the average 8 players match. Play around your strength and weakness and choose the best board as you combine champions that synergize with each other, activating traits and becoming stronger.
Download:
---
21. Garena Free Fire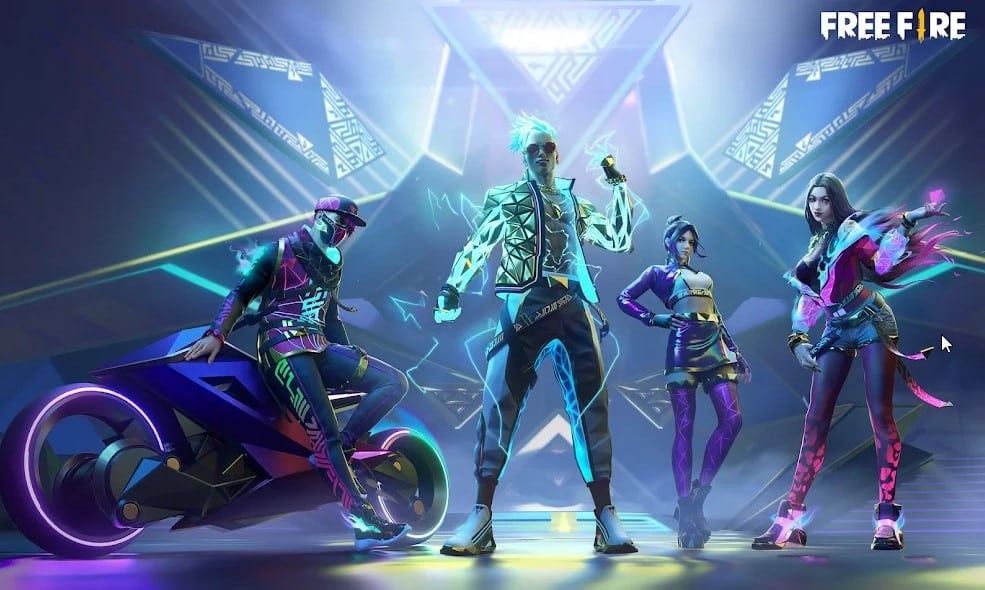 A survivor shooting game where you're placed on an isolated island alongside 49 other players. Basically another Battle Royale game but with unique features. Garena Free Fire brings different feels and mechanics, making a game worth being on this list.
Each game consists of 50 players, and each game lasts approximately 10 mins, allowing for a fun and thrilling short game. To win, you must be the last player standing. So look for weapons and select the areas with better loot to gain an edge. Play solo or squads with your friends and customize your character to stand out.
Download:
---
22. Old School Runescape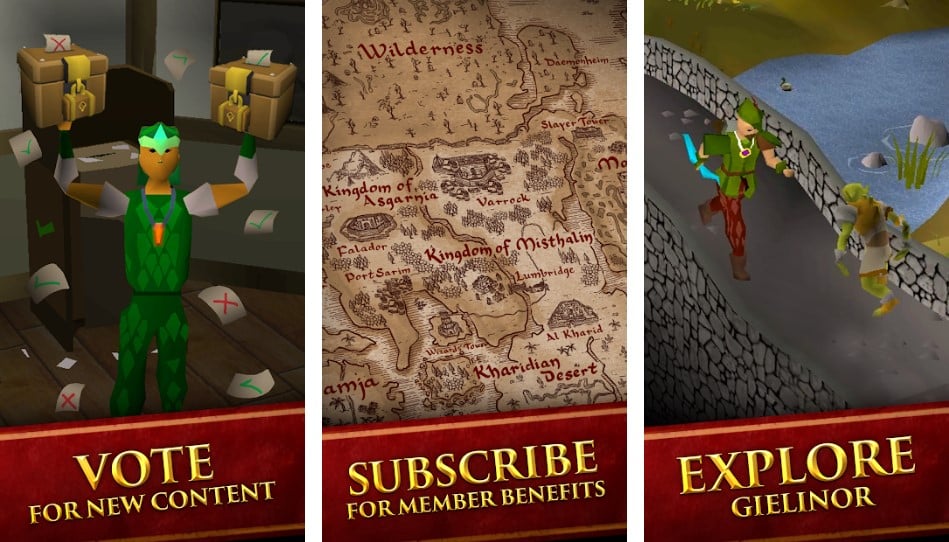 An Open-World Fantasy MMORPG game based on the game RuneScape from 2007. Old School RuneScape is a mobile game that brings the old 2007 game to our phone devices. Although the graphics are ancient, this doesn't remove the joy and features the game had back in the day.
Start your adventure and choose your path, select the class you wish to be and learn all different abilities to increase your skills and level. Complete quests, earn rewards, fight fearsome bosses, and explore the open world.
Download:
---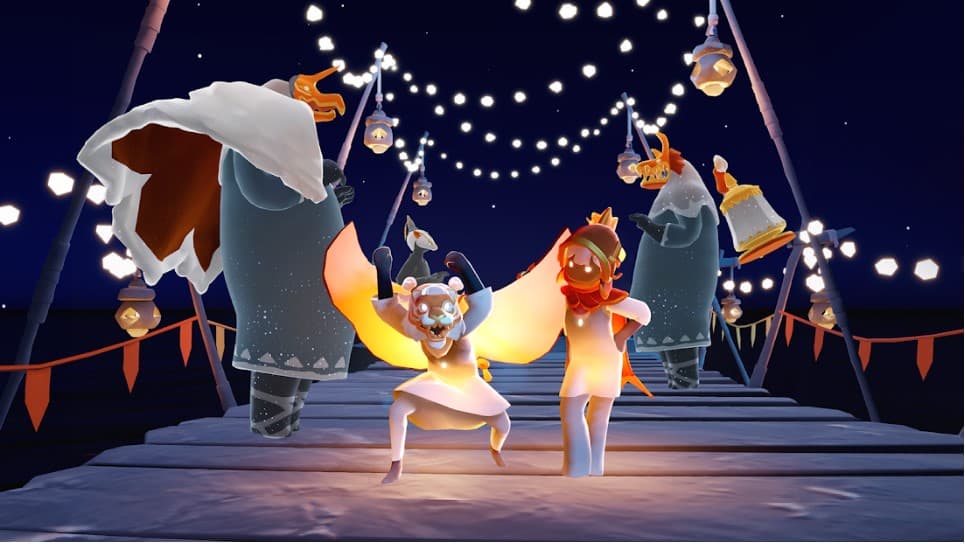 If you want to play a relaxing and heartwarming game, then SKY is the game for you. Journey through different realms as children of the light. Discover other stories and different entities as you learn about their backgrounds.
Learn to help them and create a better world as you sink into the amazing atmosphere of SKY. Play with your friend and work together to unlock items, skills, and other features available inside the open world of SKY.
Download:
---
24. 8 Ball Pool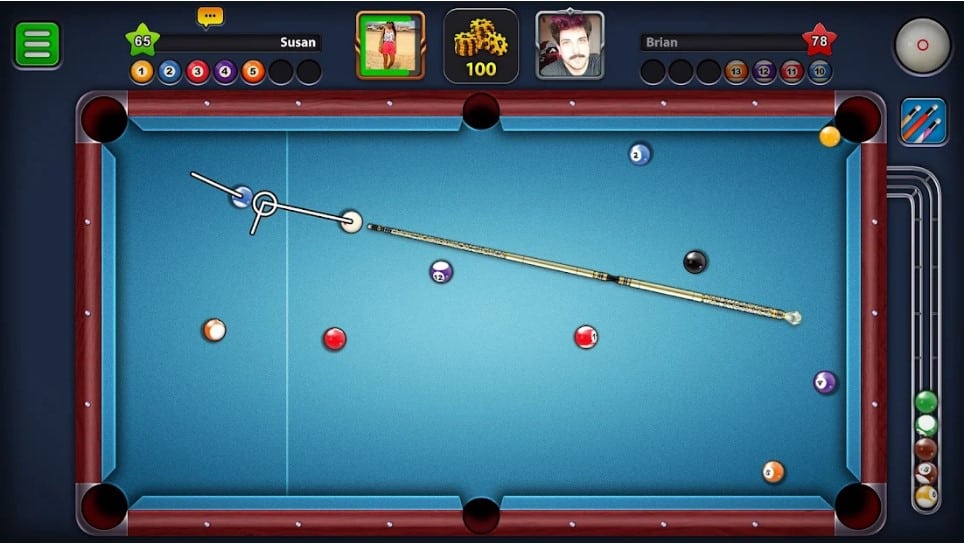 Ever got the chance to play Pool games in the real world? Well, even if you had your share of experience playing in real life, you can get that to use inside the 8 Ball Pool game, a virtual game where you compete against other players. Play with different match modes. Win to earn rewards and unlock legendary customizations.
Brewery, however, when you play against other players, you are putting your coins at stake! Giving you more reason to try and win the game.
Download:
---
25. Boggle With Friends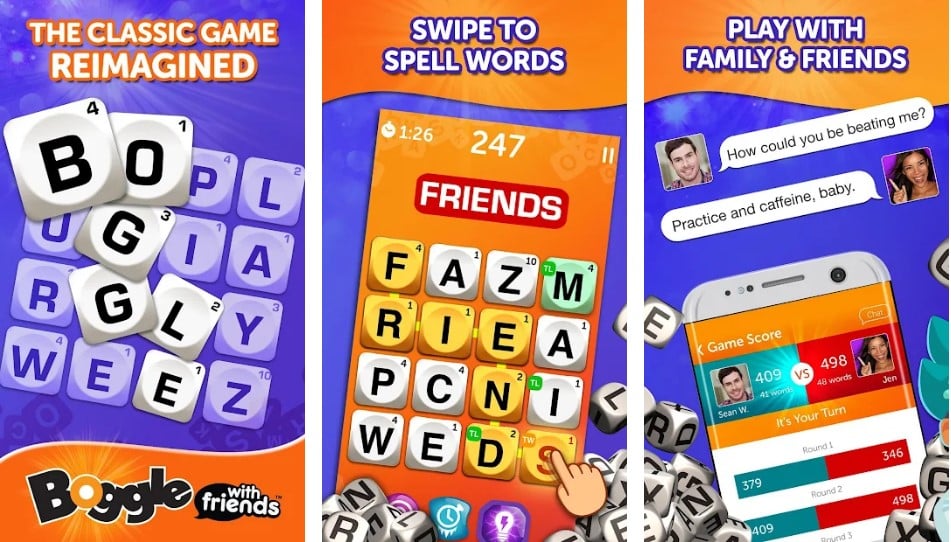 A word search game meant to strengthen your bond with your friends or improve your vocabulary against other players. Boggle is a puzzling game that requires you to act smart and fast to win matches.
Use letters presented on board to form a word that makes sense in 9 different languages available from your liking. Play every day to complete daily missions and to earn prizes.
Download:
---
26. eFootball PES 2021
Are you a football fan or a soccer fan? Do you wish to play your favorite team and score goals with your favorite players? You can now do that in PES 2021. eFootball is made to keep up with the changes in the Football world, meaning players transfer from one team to another should be already present. Play against other players online.
Prepare your Football team formation to be used during the match. Join tournaments and play to win the ultimate clubs in PES 2021.
Download:
---
27. Glow Hockey 2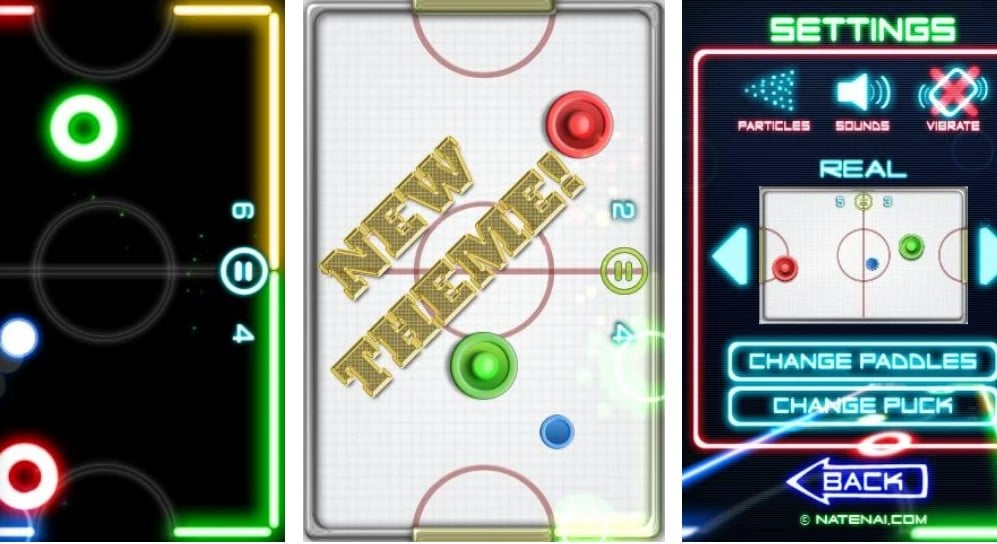 Compete in a One versus One match of Hockey on your phone. Enjoy the glowing borders and glowing hockey that leave a bright trail as they move around. Play against your friend or an AI.
Unfortunately, you can't play this game online; your friend will need to use the same phone screen to control his hockey. Nonetheless, this game has a smooth and nice feel, making it a great experience to pass the time and have fun.
Download:
---
28. BombSquad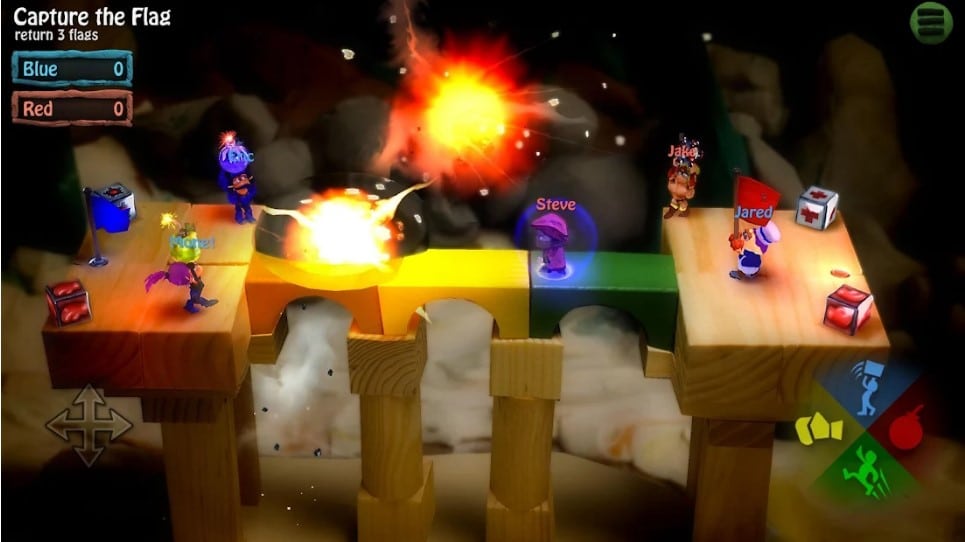 Compete in various miniGames using explosive bombs! Whether it's racing, flying, scoring goals, or something else, you will need to use your bombs to earn an edge against the enemy team.
Capture the flag and blow everyone up to see their body turn into a ragdoll, leaving itself to the mercy of the game's funny physics.
Customize your characters and make their appearance stand out from all other players. Play online or with your friends for a better experience.
Download:
---
29. Terraria
A 2D survival sandbox! Terraria is one of the famous games that are similar to Minecraft but feels completely different. Discover the open world of Terraria collect resources by digging, mining, chopping wood and killing monsters. Craft tools, furniture, and weapons.
Build a house and shelter inside it during the night when monsters mainly spawn to hunt you down. Explore the very last edge of Terraria's special biomes, where special bosses await for you to defeat. Play alone or with your friends to share the experience.
Download:
---
30. Spaceteam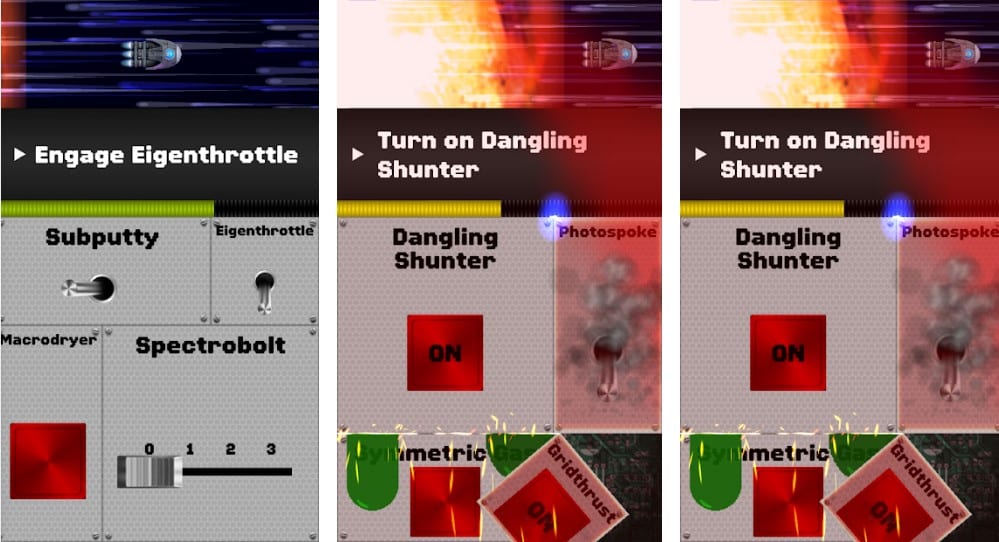 Spaceteam is one of the interesting games that requires teamwork and cooperation from your friends… In Real Life! Yes, this game requires you to be in the same spot as your friends to play it properly. Each must have their device to play the game. Each player will have a random interface with instructions meant for each other.
To win, you must communicate with other players, but that usually never goes right when your friends start shouting and spitting gibberish, and that is where the fun begins!
Download:
---
31. Hearts.land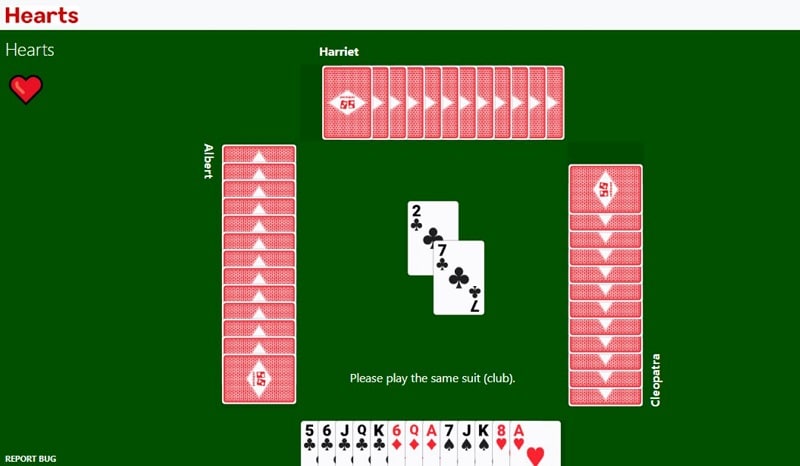 Hearts is a trick-taking card game where the objective is to avoid acquiring certain cards that carry penalty points. Players aim to have the lowest score by the end of the game, with each Heart card carrying one penalty point and the Queen of Spades carrying thirteen.
The highly popular game is a great choice for multiplayer gaming because it requires strategy, anticipation of opponents' moves, and teamwork to avoid penalty cards.
Visit Hearts.Land (Mobile-friendly)
---
32. Spades.co
Spades is a classic card game where players form partnerships and aim to accurately predict the number of tricks they will take in each round. The spade suit always trumps, making its cards the most powerful in the game. The strategic gameplay makes this a perfect multiplayer game for those looking for an entertaining, yet challenging experience. Additionally, Spades.co features a helpful guide explaining the rules of the game for newer players.
Visit Spades.co (Mobile-friendly)