Are you looking for the fastest proxies to use in the market for your Internet marketing operations or for entertainment purposes such as online gaming? Then read the article below to discover some of the fastest proxies you can use in the market right now.
Overview of Fastest Proxies in the Market
Residential Proxies
Datacenter Proxies
Proxy-Seller: Pool size undisclosed – <starts from $1.77 per proxy> – Extensive location support for a datacenter proxy service
BuyProxies: Pool size undisclosed – <starts from $2 per proxy> – Premium Private Proxies
MyPrivateProxy: Pool size undisclosed – <starts from $2.49 per proxy> – Fastest Proxies in the Market
Blazing Proxies: 300K IPs in Pool – <starts from $2 per proxy> – Offers Rotating Private Proxies
Highproxies: Pool size undisclosed – <starts from $2.60 per proxy> – Good Alternative to MyPrivateProxy
Have you ever wondered why you need fast proxies? It is not difficult to answer as fast proxies will save you time and cause you less stress It might interest you to know that the time of free and unrestricted access to information online is long gone. It is now an unrealistic dream to think you can access all websites and domains without restriction.
In fact, most websites, including SERPs are geo-based. Meaning you will have localized results based on your locations when you run a query on search Engine rooms.
The fastest proxies are the game-changers of the internet where IP addresses are the criteria for restriction. These proxies create legal loopholes and outsmart the restricting web. If all proxies can hide IP addresses, then why is high-speed an important feature to be considered when buying a proxy service?
With a high-speed proxy, you would get projects done faster and you can have a repetitive action done within a short time. Below is a list of proxy providers you can get high-speed proxies from.
---
6 Fastest Residential Proxy Networks
While datacenter proxies make use of data proxy infrastructures, residential proxies on the other hand, make use of devices of real Internet users. Their IPs are assigned by ISPs and, as such, are difficult to identify as proxies. However, because the infrastructure being used is from regular Internet users, the speed can be slow compared to what is obtainable with datacenter proxies. Below are the best options out there.
---
1. SmartProxy – Fastest Residential Proxies
IP Pool Size: Over 40 million IPs
Locations: 195 countries
Concurrency Allowed: Unlimited
Bandwidth Allowed: Starts from 5GB
Cost: Starts from $75 monthly for 5GB
This proxy is nicknamed 'Fastest response speed proxy'. Imagine having a response speed of fewer than 0.3 seconds. That can be likened to opening a book page with your hands. You will be granted access to a pool of rotating IP addresses of up to 40 million, where you will enjoy a speedy service with unlimited thread.
This support over 190 countries across different continents. Smartproxy residential proxies are rotating proxies but you can maintain sessions for up to 30 minutes. The service is really affordable for both small markets and big-scale ventures. It is as cheap as buying 5GB bandwidth for $75. There exist 24/7 hours of customer support services.
---
2. Bright Data  – Most Advanced Proxy Service
IP Pool Size: Over 72 million IPs
Locations: All countries and major cities around the world
Concurrency Allowed: Unlimited
Bandwidth Allowed: Starts from 1GB
Cost: Starts from $15 monthly for 1GB
Bright data is arguably one of the best residential proxies. It boasts of ensuring unrestricted services of data sourcing across the world. The speed of this proxy is of course the selling point. They have wide coverage of 195 plus countries. This implies there is hardly any country in the world not supported by Bright data.
It has the undisputable highest number of IP addresses after Oxylab proxy. A huge pool of 72 million and more! And looking at the tools in its toolbox together with its arrays of features unrivaled by others, it is the most advanced proxy service in the market.
This Israeli proxy company is way beyond its counterpart when proxy infrastructure is discussed. No wonder it has an above-average pricing plan. For a trial, Bright data has a 3-day free trial for prospective buyers.
---
3. NetNut: – Fastest Gamin Proxies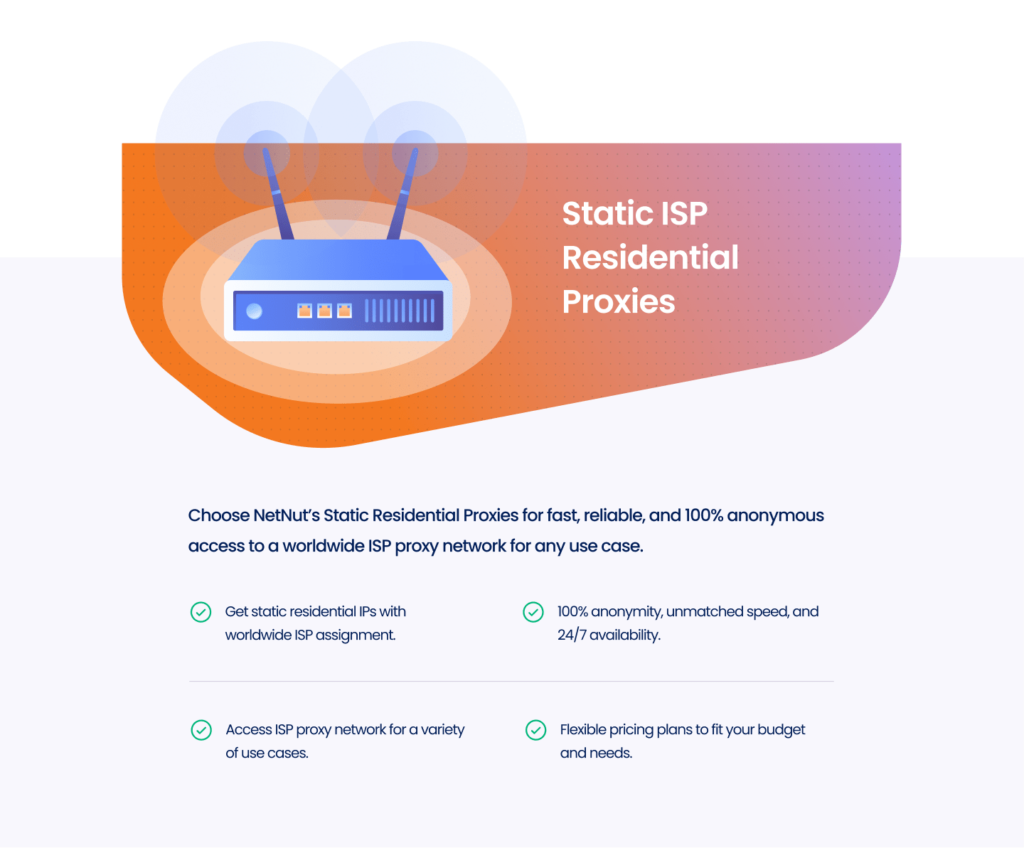 IP Pool Size: 52M+ Residential IPs
Geo Targeting: Global
Permitted Concurrent Connections: Unlimited
Allowed Bandwidth: Starting from 20 GB
Free Trial: 7 Unlimited Days
Cost: Starting at $350/month
When it comes to a fast and cost-effective proxy service, NetNut has everything you need. For 2023, this provider with over 52 million residential IPs worldwide is one of the most popular and reliable in the market. One of the strongest points of NetNut's residential proxy service is its guaranteed speed.
Global coverage allows NetNut to offer high-quality rotating residential proxies, enabling data extraction from anywhere in the world without geographical restrictions. The sessions offered by NetNut are unlimited, and IPs rotate automatically after each request.
Unlike other proxy providers, NetNut's proxy service is considered one of the fastest, as it doesn't pose a problem for browsing speed. These proxies are generally considered the fastest and most functional in the market.
NetNut's plans for their fast proxies are flexible and fair. You can choose a plan suitable for your needs and budget, starting at $350 per month for 20GB of bandwidth. Similarly, if you need greater bandwidth, you can request it.
Not fully convinced? You can access a 7-day free trial from NetNut with no limitations or restrictions to understand how their fast residential proxy service works.
Advantages of NetNut:
Unmatched speed and guaranteed connectivity.
24/7 availability.
100% anonymity.
Affordable plans for any budget.
7-day free trial.
Disadvantages of NetNut:
Inadequate API integration documentation.
---
4. Soax – Clean Proxy Pool
IP Pool Size: Over 5 million IPs
Locations: Over 100 countries
Concurrency Allowed: Unlimited
Bandwidth Allowed: Starts from 8GB
Cost: Starts from $99 monthly for 8GB
Soax is one of our favorites because of how clean its IP pool is. The service regularly checks its pool and removes bad IPs so that customers will experience fewer blocks and issues. This UK-based company is one of the latest in the proxy market. It was introduced in 2019. Though the speed is not as high as those mentioned earlier, it does work excellently. While it maintains an IP for as long as it is available, this proxy allows you to target all locations supported by city and ASN.
It will interest you to know that Soax supports locations in up to 100 countries across different continents with 8.5M IPs. It does have mobile proxies as well. Interestingly, there is a 3 days trial with 100MB for $1.99. However, the standard pricing sits at $99.0 for 8GB. You are guaranteed a technical support team at any time of the day.
---
5. Shifter – Unlimited Bandwidth Support for Residential Proxies
IP Pool Size: Over 31 million IPs
Locations: All countries supported
Concurrency Allowed: Unlimited
Bandwidth Allowed: Unlimited
Cost: Starts from $249.99 monthly for 10 special ports
The list of good residential proxies will be incomplete if the shifter is not mentioned. This is because all of the residential proxies described above have one major flaw that Shifter addresses. While they all come with limited bandwidth, Shifter does allow its users to enjoy unlimited bandwidth. This is an excellent proxy provider in the market.
Based on our research, Shifter has a 31 million pool of IPs. It does have support for over 100 countries including the US, UK, France, Germany, Australia, and many others in southern America. Amazingly, the IPs are non-sequential with multiple subnets. This array ranges from dedicated and shared proxies The customer support team is indeed worthy of mention. To wrap it up, they have a 3-day money-back package.
---
6. Oxylab – Best Residential Proxies for Crawling and Scraping
IP Pool Size: Over 102 million
Locations: All countries supported
Concurrency Allowed: Unlimited
Bandwidth Allowed: Starts from 20GB
Cost: Starts from $300 monthly for 20GB
Oxylab undoubtedly has the largest proxy pool in the market. It has over 100 residential IPs in its pool with support for all countries around the world. This proxy has a super-high response of 0.6 sec. Only a few proxies come close to that. That makes it a perfect choice when speed is of concern.
It has millions of IPs in major locations like the USA, Germany, China, Japan, Austria, Canada, France, and the United Kingdom. It does have datacenter proxies, ISP, mobile proxies, and more importantly, residential proxies. As with the Bright Data service, Oxylabs does offer some tools and features not provided by others.
It is important for you to know that Bright Data and Oxylabs are in a league of their own and are the big contenders in the market. The service does offer dedicated account managers to provide a more personalized customer support service at all times. However, the prices which are based on bandwidth are considered expensive. This starts at $300 monthly.
---
5 Fast High-Speed Datacenter Proxy Servers
Data centers are basically the fastest proxies as they make use of data center infrastructures. The IPs are sourced from hosting services. While they are the fastest, they are easily identified and as such, shouldn't be used on sites with unforgiven strict anti-spam systems.
---
1. Proxy-Seller — Private Proxy Provider with Good Location Support
Locations: over 40 countries supported
Concurrency Allowed: Unlimited
Bandwidth Allowed: Unlimited
Cost: Starts from $1.77 per proxy monthly
Another topper of the fastest proxy list is Proxy-seller. This company sells dedicated proxies. They have 2 major proxies; IPv4 and IPv6. Both proxies are compatible with HTTP, HTTPS and SOCKS connections. As mentioned above, IPv4 proxies have up to 100 data centers with 300 subnets. These proxies are usable in close to 40 countries.
On the other hand, IPv6 proxies are accessible in 8 countries.  These locations span from selected European countries, the United States, Canada as well as Kazakhstan. This Ukraine-based proxy provider has a flexible but country-based pricing plan.
That notwithstanding, the prices are reduced with increasing blocks of proxies and longer rental periods. 24/7 technical team support is another fascinating feature of this proxy company. So, in a condition where you have difficulty in getting a task done or a technical problem, the live chat feature is always there to help.
---
2. BuyProxies – Premium Private Proxies
Locations: over 6 countries supported
Concurrency Allowed: Unlimited
Bandwidth Allowed: Unlimited
Cost: Starts from $2 per proxy monthly
Buyproxies is a long dealer in the market of proxies. It has come to attain this position on the list of fastest proxies with its consistency in quality proxy services since 2011. Through the course of 11 years, it has successfully served and still serves more than 50k clients across the globe.
This high-speed proxy server has a variety of proxies ranging from dedicated to semi-dedicated and shared proxies. They have servers from different locations. Majorly USA, Canada, France, Germany, UK, the Netherlands and many more countries. All these ranges of proxies servers are compatible with Mac, Windows, Linux, iOS, and every HTTP and SOCKS proxies accepting program.
On top of the extraordinary speed ensured by these proxies, the bandwidth is also unlimited. The affordability of the service is enticing too. Furthermore, customer service support has tracking records on their homepage to indicate how responsive the team has been. And again, there is a 24 hours money- refund package on any of the proxies purchased by the customer.
---
3. Myprivateproxy – Fastest Proxies in the Market
Locations: US and EU only
Concurrency Allowed: up to 100 threads
Bandwidth Allowed: Unlimited
Cost: Starts from $2.49 for one proxy monthly
Myprivateproxy otherwise shortened as MPP is the best data center proxy out there. When the speed of proxies matters, MPP has the fastest speed among its data center proxy peers. From our research and test, these proxies have a 1.58sec response time.
In addition, MPP supports multiple locations with 16 major cities in the US and 8 major European locations. Though being only a data center proxy, it has limited geographical coverage.
Your proxy with MPP is instantly activated after purchase. There exists a super-elite filter that makes your real IP anonymous. These proxies allow you to enjoy up to 100 threads. The amount of bandwidth you can use is unrestricted. You have the liberty to choose either a private or a shared proxy.
One more interesting attribute of MPP is a fast-responding customer care team. The team is well equipped and always at your service day and night. Should you be unsatisfied with their services, they have a money-back refund package.
---
4. Blazing Proxies — Offers Rotating Private Proxies
Locations: over 27 countries supported
Concurrency Allowed: Unlimited
Bandwidth Allowed: Unlimited
Cost: Starts from $2 per proxy monthly
Blazing Proxies is a US-based proxy provider which was established in 2015. It is a dedicated datacenter proxy service with proxies in other categories such as ISP and residential proxies in recent times. Blazing is waxing strong on the list of fastest proxies. Our research confirms it runs on a 1GBps line with unlimited threads unlike the 100 limit of MPP.
Blazing boasts of having over 300k datacenter IPs in its pool from 27 locations. For IP diversity, it does have support for over 20K subnets and 9 ASN. Most sites block a particular ASN after multiple attempts.
Blazing proxies ASN diversity solves that problem. Once one is blocked, it is automatically replaced with another. That's amazing. Aside from their dedicated proxies, they also offer rotating proxies which are quite good for automation.
---
5. Highproxies – Good Alternative to MyPrivateProxy
Locations: US and EU
Concurrency Allowed: up to 100 threads
Bandwidth Allowed: Unlimited
Cost: Starts from $2.60 per proxy monthly
Highproxies is another giant on the list of fastest proxies. The providers are proud of their services running on a 1Gbps line. These proxies have been introduced into the market 5 years ago. Over time, it has pulled more than 55k consistent and satisfied users. They have a pool of data centers.
In terms of location support, this provider has got support for over 11 countries. All these are added to their unlimited bandwidth. Highproxies also offer social media and classified ads proxies aside from their dedicated proxies from which a prospective buyer can choose.
You have flexible price plans to choose from with Highproxies service providers. These plans are up to 7. To sum it up, they offer a speedy and quick response team to attend to customers' needs and queries.
---
FAQs
Q. Can Proxies Increase Your Internet Speed?
Proxies naturally reduce the speed of your Internet access. This is because of the rerouting of your web traffic via proxy servers and what happens there before your traffic hits its target server. For this reason, no proxy server will improve your speed. Instead, it reduces it.
However, there are some proxy servers that are so powerful and fast that the bottleneck introduced is so small that a considerable speed decline is not experienced. These are the kind of proxies the market refers to as the fastest proxies and many of the proxy services described above meet that requirement.
Q. Why Are Datacenter Proxies Faster than Residential Proxies?
If you take a look at the above, you will see that we rank datacenter proxies ahead of residential proxies. This is not unconnected to the fact that datacenter proxies make use of data center infrastructures that are high-powered and offer high performance and speed.
On the other hand, most residential proxy network depends on P2P networks which are made of slower devices. This together with the additional routing and rerouting when using residential proxies, make them considerably slower compared to datacenter proxies.
Q. Should You Use Datacenter Proxies or Residential Proxies?
Datacenter proxies are the fastest. Why then should you use residential proxies? You see, there are some tasks in that speed is less of an important factor than being undetectable. If you need to web scrape a website with an effective anti-bot system, your success will come from being undetectable rather than being fast.
In such a scenario, speed is overrated, and as such, you will want to make use of residential proxies that are fast enough to get your job done since datacenter proxies will be detected and banned before they even get started. On the other hand, for tasks that require high speed, such as online gaming, datacenter proxies are the recommended proxies if you want to avoid blocks.
---
Conclusion
Conclusively, while the list above is not exhaustive of the varieties of proxies we have in the market when you are to make a choice of proxies with wonderful speed and response time without compromising other features, you will be doing yourself a great deal of favor by considering one of the proxies listed above.
However, it should be noted that as these proxy products vary in features and prices, you might have to consider a specific one to carry out a particular task. Take, for example, the geo-targeting feature is not a generic feature for all of the products listed above. Take a shot at any of them and give us feedback.