Geogusser is a geographic guessing game that requires you to find an accurate location of the place you're distributed as an answer. But it's already charging, so we found the best Geoguessr alternatives
To do that, you will have to analyze the landscape around you, study the culture, the environment, and vegetation. On certain occasions, you will find yourself near signs; you can try to guess the location based on the language written on those signs.
After submitting your guess, the game will inform you how accurate you were or how far your guess was from the actual location. Not only can you increase your geographical knowledge, but you can also enjoy the scenery of various countries without leaving your home.
---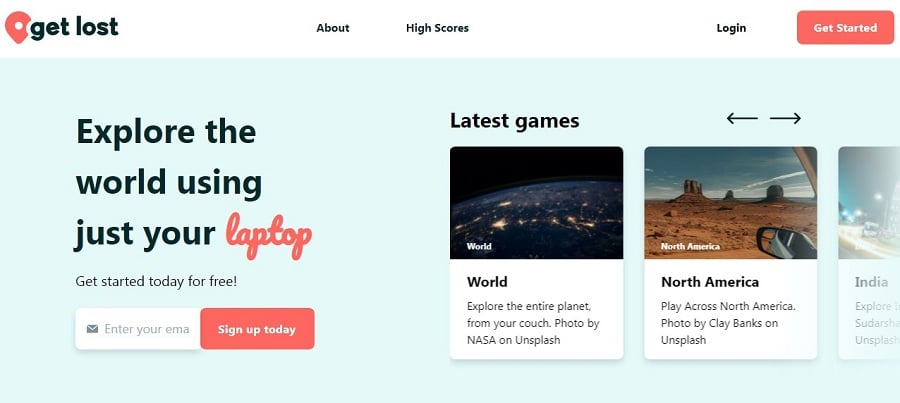 Get lost is a geographic discovery game. The game will put you on a random street-side map from different parts of the world. You can easily change the region you would like to participate in, however.  There will be five additional rounds that each take place in different locations.
You will have to guess where you are on the world map; depending on how close you're to the location, the game will measure your accuracy and accumulate your score that can be maxed up to 5000 points. Put your geographical knowledge to the test and start playing now!
---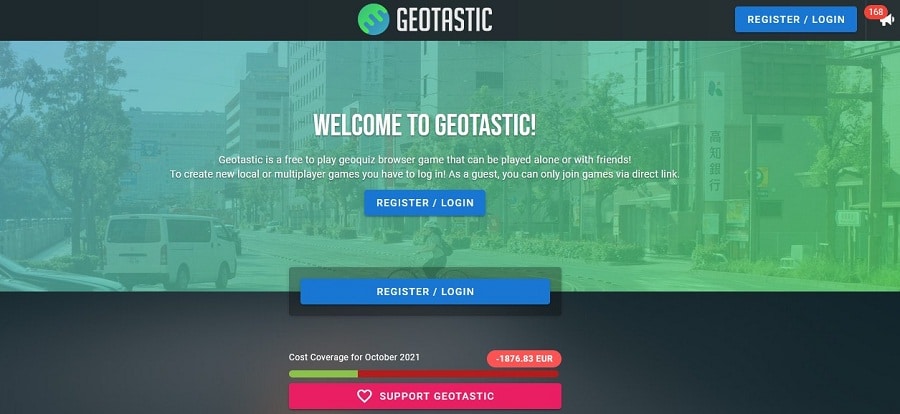 Geotastic is a free-to-play geography quiz that is available on the browser. You can start Geotastic alone, with friends, or against other people online. Geotastic offers three game modes, Pinpoint, Landmark, Country Streak. Pinpoint is the standard guessing mode where you will attempt to guess the location based on the streetside map; your point will be earned depending on how close your guess was.
The famous Landmark that includes 314 different countries is about a renowned landscape or structure like the pyramids. Control the number of rounds, timer limit, and difficulty to your preferences, or try out challenges from other players with competitive settings!
---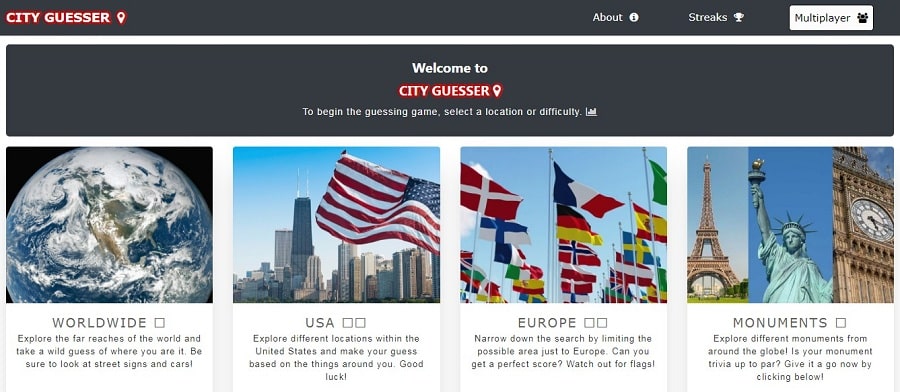 Another alternative is City Guesser, which is another geography-based browser game. Start by selecting the region of the countries/cities that you wish to guess. You can choose from all around the world or limit it to specific continents like Europe.
City Guesser allows further emphasis on cities rather than guessing the country in general. Different maps for specific categories like Fast Food, Busy Places, Visible Flags, or a city like Tokyo have to pinpoint the exact location!  Explore the world by yourself but make it more enjoyable with friends in a multiplayer mode! Create a private server and invite them for double the fun.
---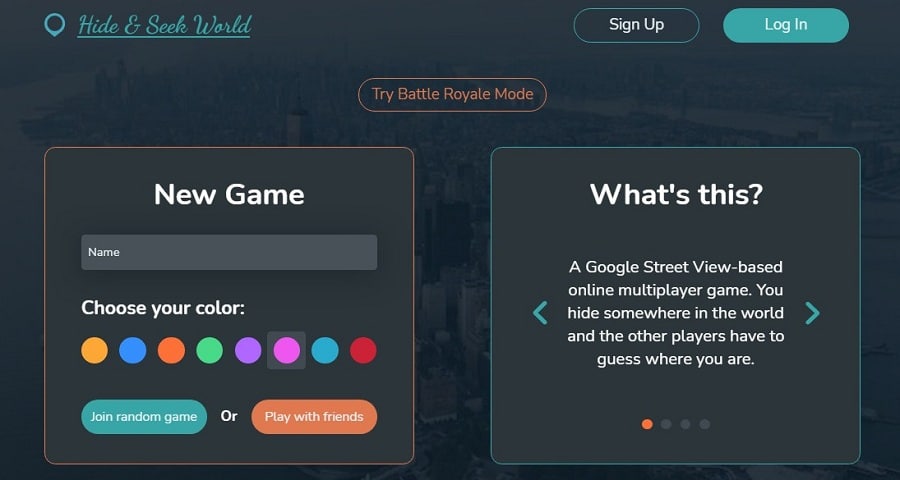 Hide & Seek World is a browser game with the same concept as Geoguesser, except the fact that it made it much more intriguing and creative to play! Hide & Seek is an online multiplayer game; the way it works is by having one of the players hide in a specific location in the world and have the other player find him based on the hiding player's streetside map.
Suppose you get to be a hider. You can choose anywhere on the google map to hide. Afterward, all you have to do is wait for the other players to submit their answers. Each game consists of several rounds, and each band can only have one hider while the others seek.
---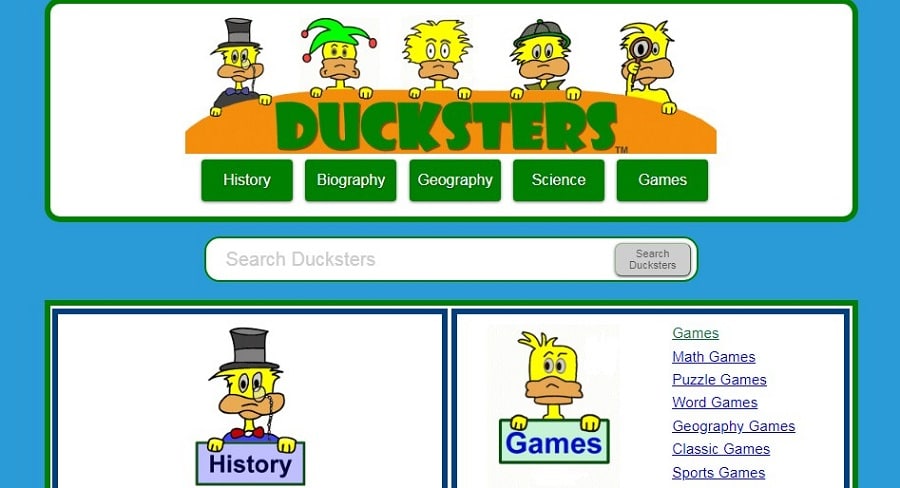 Ducksters is a website that generally includes different quizzes for many other subjects. Math, Biography, History. However, it is still a good alternative and a fun website to play geography games! Ducksters will cover different regions of the world that will seek to improve your geographical knowledge as you play the game.
The game will ask to locate a particular country, and you will attempt to guess by clicking on the map presented to you. Choose from different continents and test your knowledge before moving to other kinds of geography-related puzzles, like Crosswords and Word Searches.
---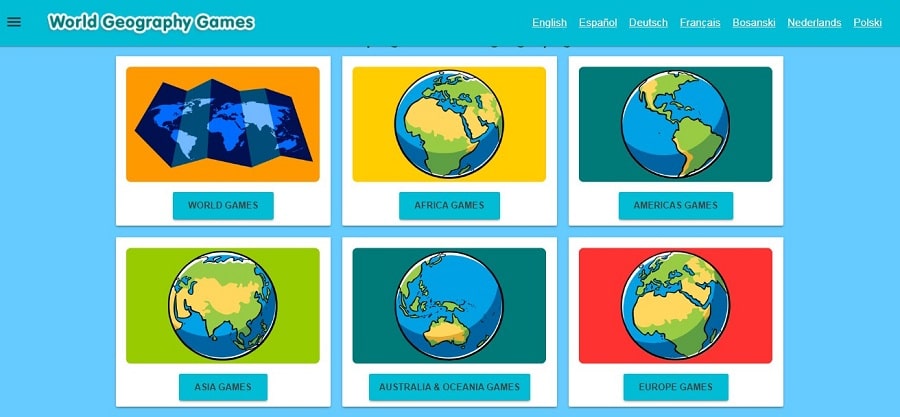 Are you able to locate different countries on the map? Do you know where Luxembourg is? How about Malaysia? World Geography Games is a website that will help answer all those kinds of questions! It is an entertaining game to improve your familiarity with World Map and its countries.
Inside the website, you will find quizzes about not only countries but also their capitals and flags! Different terrains and landscapes, like deserts, mountains, volcanoes, rivers, islands, seas, lakes, and others! Once the game starts, it will show you the number of attempts that indicate wrong answers. Your answer will be based on what the game asks you to locate.
---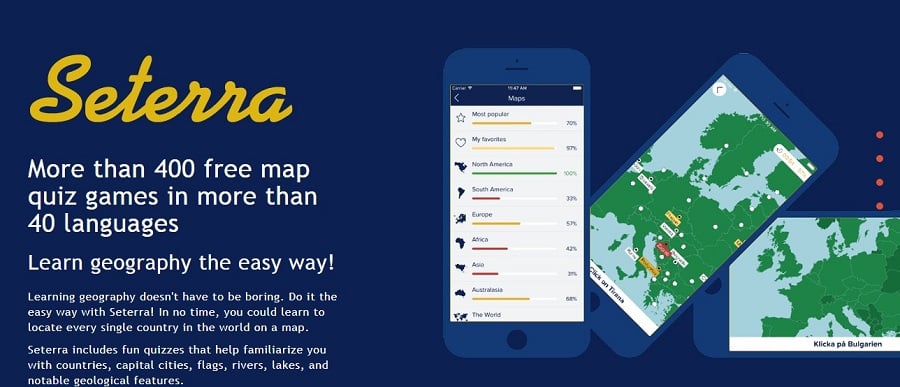 One of the most global geography-based games, featuring over 40 languages for more than 400 maps! Each is having their quiz. Seterra is an online game that can be used to study more about the world map.
Learning geography shouldn't be boring; Seterra's quizzes are similar to the others. You have to locate what the game is asking for by clicking somewhere on the map, whether it's all around the world or region-restricted, allowing for free customizable maps. Seterra has nine different game modes, and a voice feature that will enable you to listen to the way locations are pronounced.
---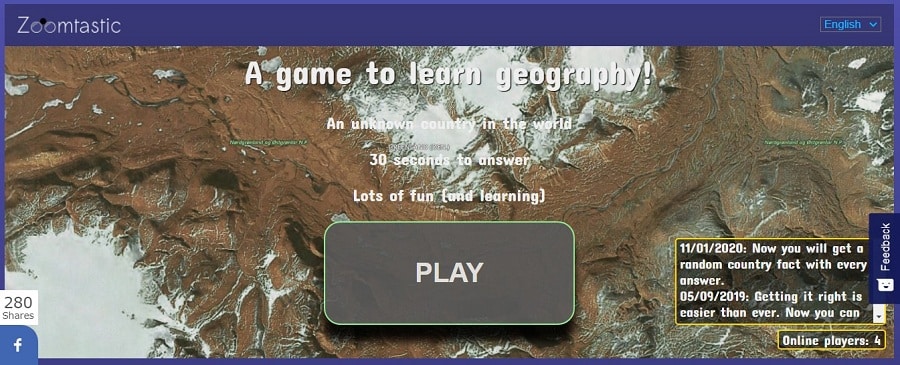 Another alternative game, Geogusser! Zoomtastic aims to learn geography and learn about countries that you probably never heard of before! With every correct answer, Zoomtastic keeps things interesting by giving a random fact about that country. With each question, you will have 30 seconds to answer!
When the game begins, a map will appear, and it will slowly start zooming out. The more it zooms out, the more clues you will get for that location, but the less time you will have, making things intense. You will have four answers presented for that question. If you play perfectly, you will get a chance to be displayed on the leaderboard panel!
---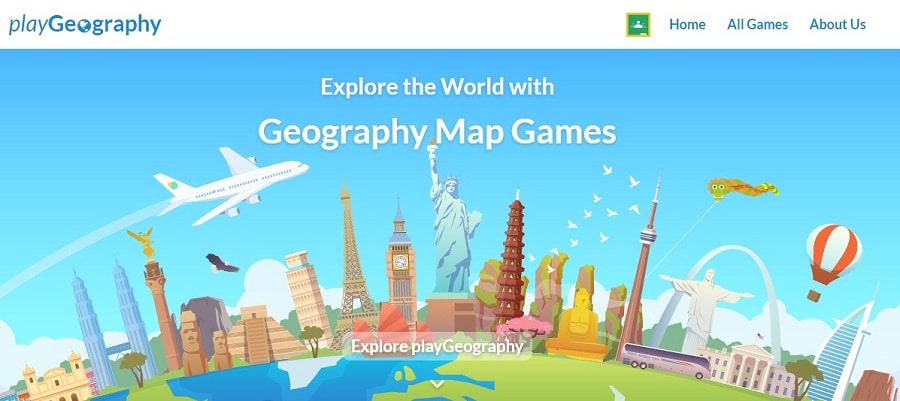 It has always been a problematic approach to learn about the vast world we live in. Even still, the desire to know more about the countries won't let that obstacle stop us from learning. That's why PlayGeography presents an exciting method to learn geography! That being the sole reason to get created.
PlayGeography is an online website game that lets players discover the world. There are many places covered on PlayGeography; you will find yourself answering for them in the different quizzes in the game. After spending time in the game, you will name many other countries and pinpoint their locations on the map with ease!
---

Using Google Street View, start exploring the world directly from your home and let Mapcrunch take you to random places all around the world. Enjoy the sight of various imagery taken by Google in many different countries.
Allow the astonishing scenery to addict you as Mapcrunch adds the best shots taken from people all around the world every day! With a simple click of a button, you will witness many of the beautiful Street Views on your screen. You choose the countries from the panel available or the map.
---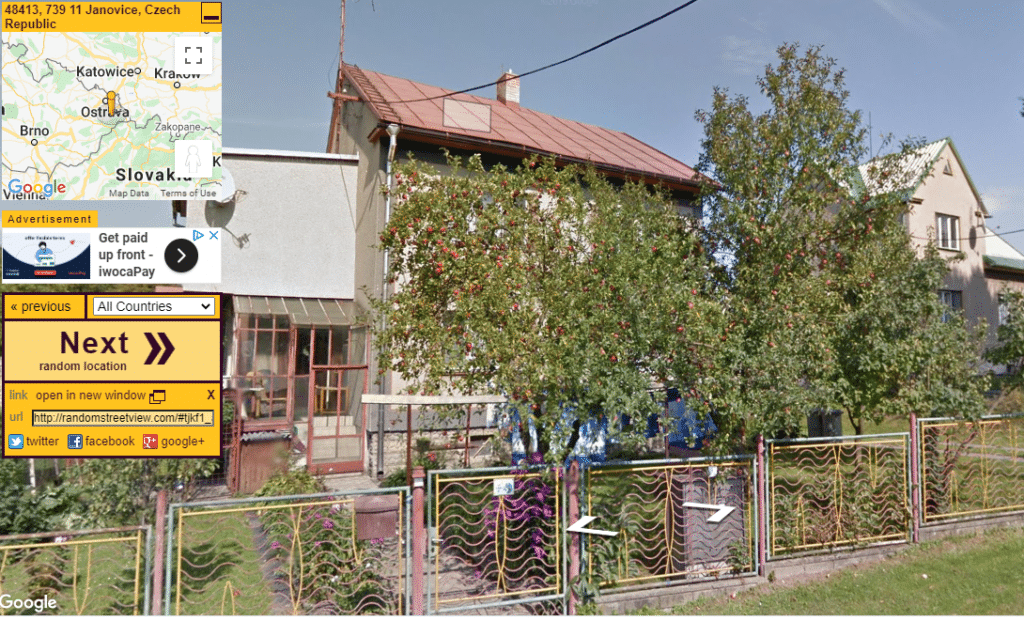 Do you love traveling? Then why not try traveling using the Random Street view website. Once you access the website, you are transported to a random location. You can then navigate to your preferred location.
It features a large database of location images from around the world. You can visit your preferred tourist destination and survey the area. This will make you be prepared when you physically go there.
Money constraints should not limit you from seeing the world. In addition, you can save any random views and share them on your social media networks.
---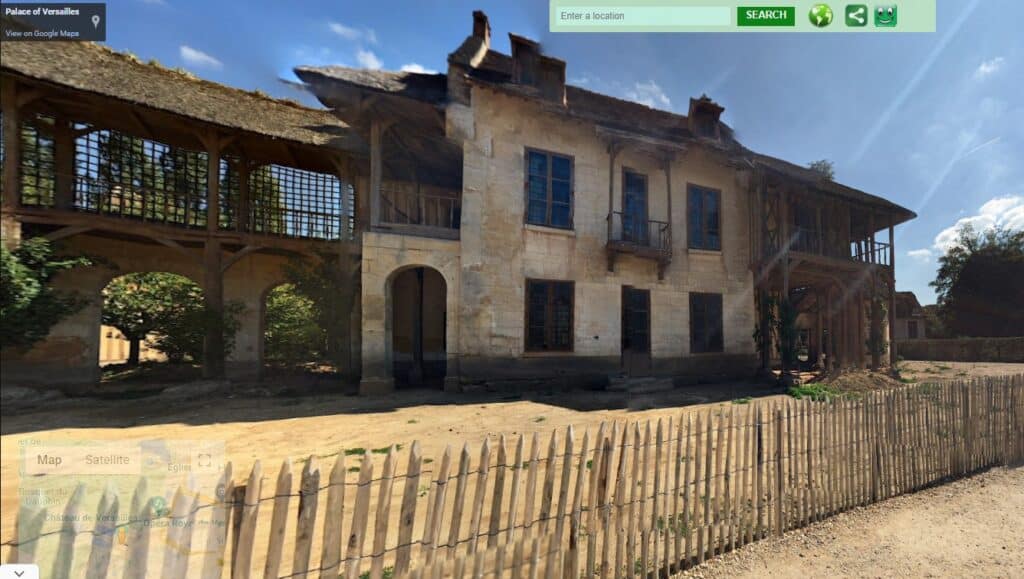 Just like most GeoGuessr alternatives, once you access the website, you are directed to a random place. However, on the top, you can see a search bar that you can use to find a specific destination.
Let's say there is a place that you have always wanted to visit, take the chance, and visit using the fast street-view platform. You can explore and share the different locations with your friends and family.
However, there is some bit of limitation on where you can visit through 360-degree, panoramic, or street level. Travel the world using fast Street View.
---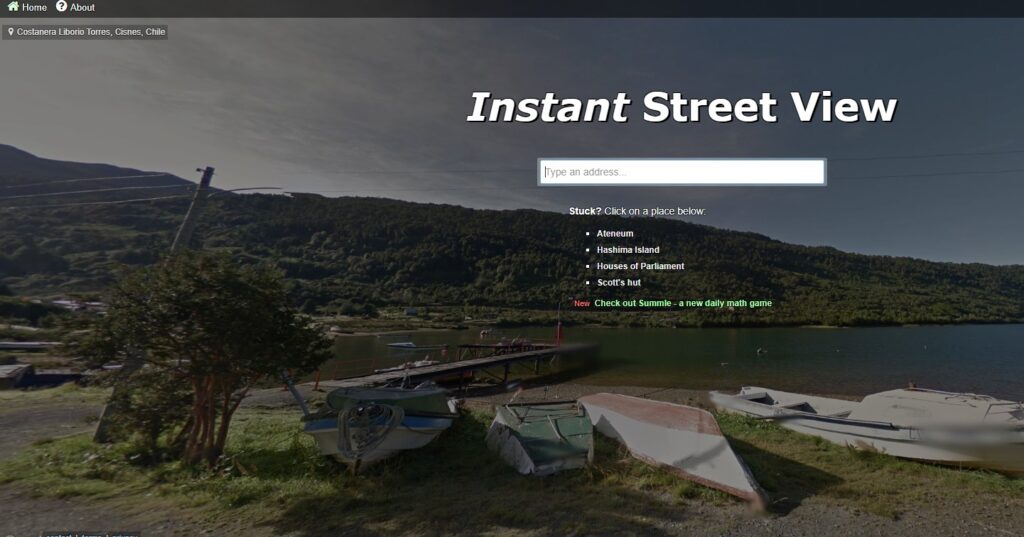 Instant Street View has one of the most user-friendly interfaces that will please you. All you need to do is insert a certain location and search for it on the map. One of its best features is the auto-complete capability.
Simply, start typing in the location, and the Instant street view platform will complete it for you. You can discover new places in that way. The platform predicts what you are searching for accurately and produces the result instantly.
It is ultra-first to ensure you travel the world in a few minutes. You can even share the locations with people on social media or bookmark them.
---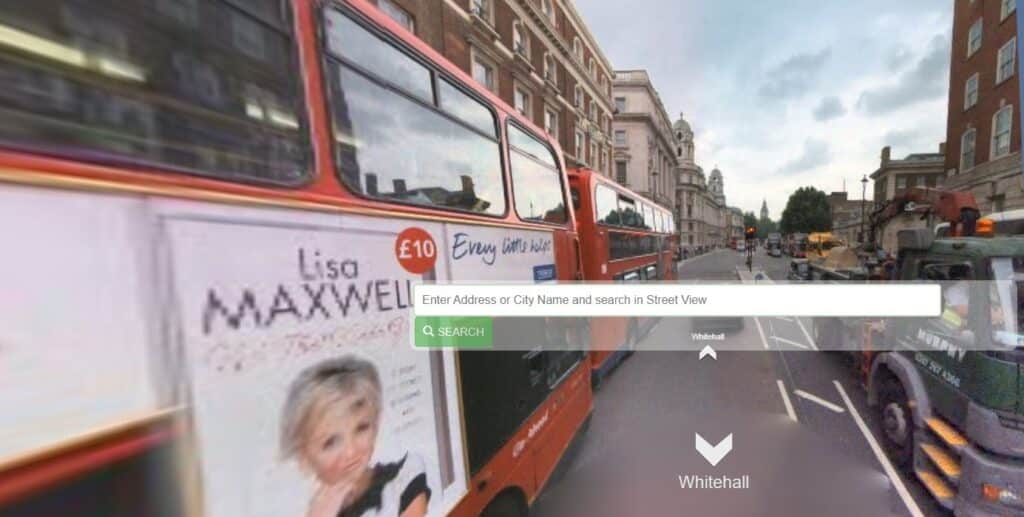 Map street view is another ideal GeoGuessr alternative. Not only can you search for the various areas, but also see some other alternative places you can visit near the area. This makes it unique among the best Geoguessr alternatives.
In addition, you can travel the world to experience some tourist attractions from your comfort. Therefore, even if you aren't sure of places to visit in the area, MapStreetView will guide you. Furthermore, you get directions on how to reach a certain place in the map view.
---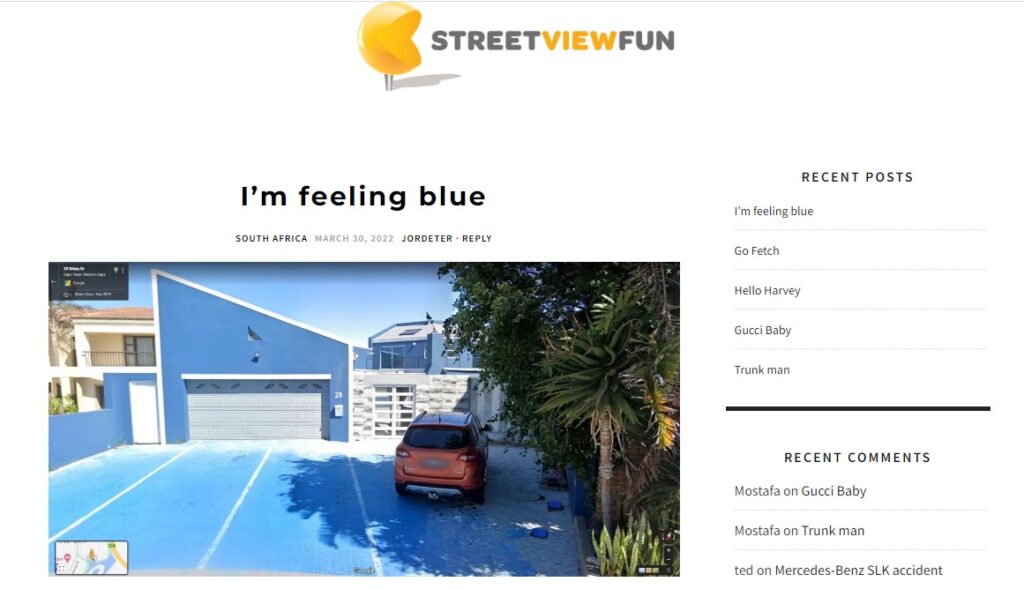 Streetviewfun is a bit unique from other map websites. It has an interface that closely relates to a blog. To use it, you simply need to click on a specific option, check the image, and see where the specific location is.
It shows some interesting and entertaining images that will spark your interest. Through the platform, you can see impressive images published by Google Maps.
Some images are even hilarious to look at, and you won't be able to control your laughter. There are different categories and a section named, "the top 100" that showcases some top-rated and most viewed images.
You even have the freedom to submit images to the platform. However, it shouldn't be threatening to anyone. Check it out and get some entertainment!
---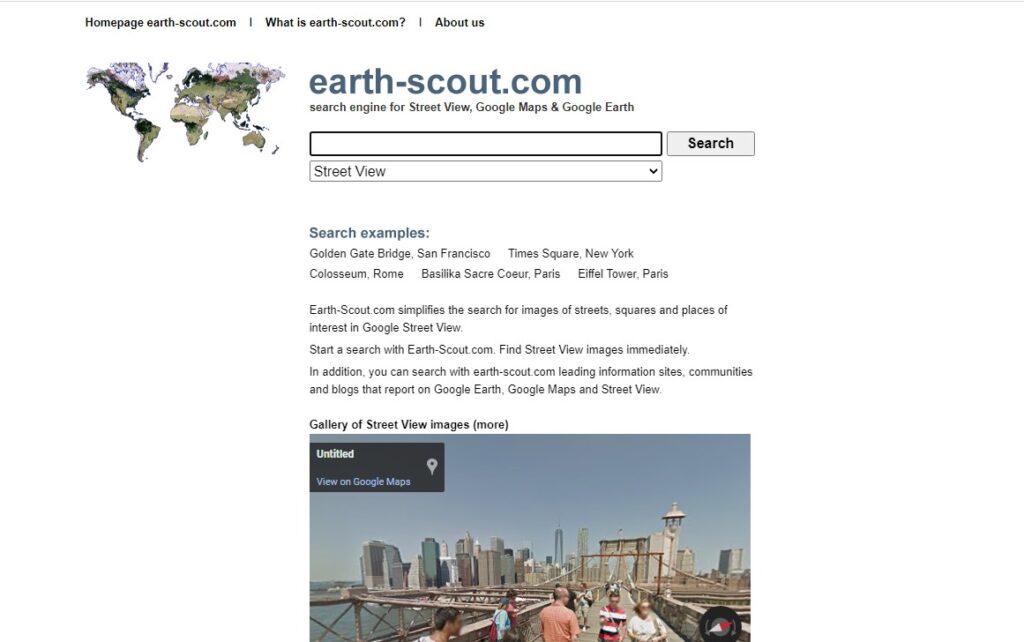 Earth Scout is another platform that you can use to search for streets, squares, and places. You then get a street view of the specific area.
It is available in over 38 countries, and you can find different places effortlessly. On the platform, you can also search for leading communities, information sites, and blogs. Use Earth Scout to get accurate location views.
---
ShowMyStreet is one of the easiest websites that you can use to find specific areas. You just need to have a starting point, then navigate to the different regions. To use the platform, you can either navigate through the map or search for a specific location.
Also, use the pointer on the map to move to different places. If you love exploring new areas, you shouldn't miss using this user-friendly site.
You can see the street views and satellite images right from the screen. You can also share and save your favorite locations for later viewing.
---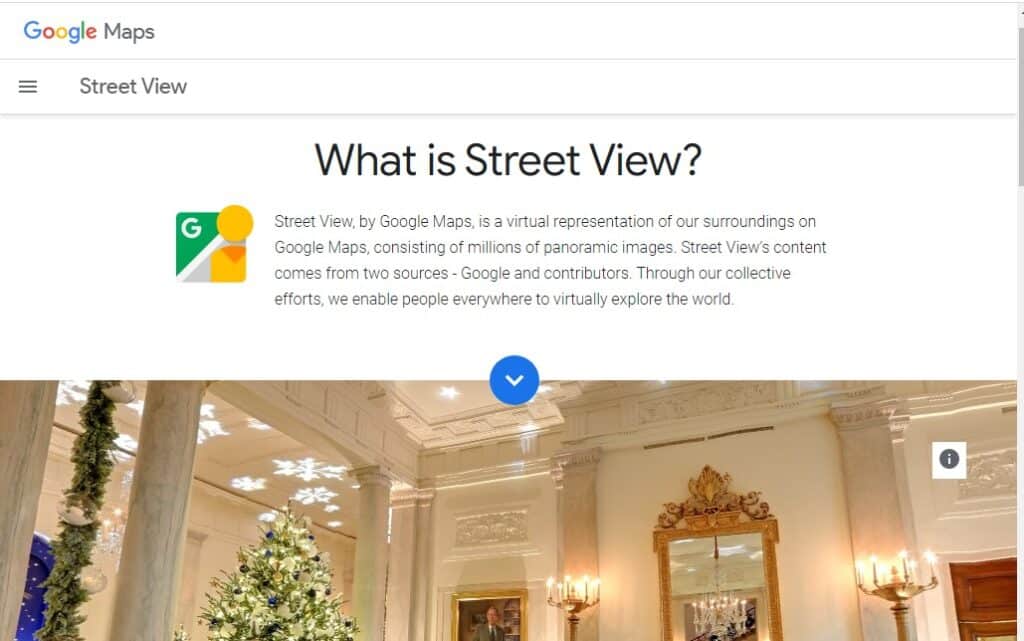 This is one of the most popular Geoguessr alternatives of all time. You can virtually explore the world with a click. It is one of the most popular street viewing services globally. Most street-view websites also source data from Google Street View.
Therefore, it is a trustworthy website. In addition, you can see major landmarks, natural wonders, parks, museums, transport hubs, and much more. Get to your destination in the comfort of your home.
---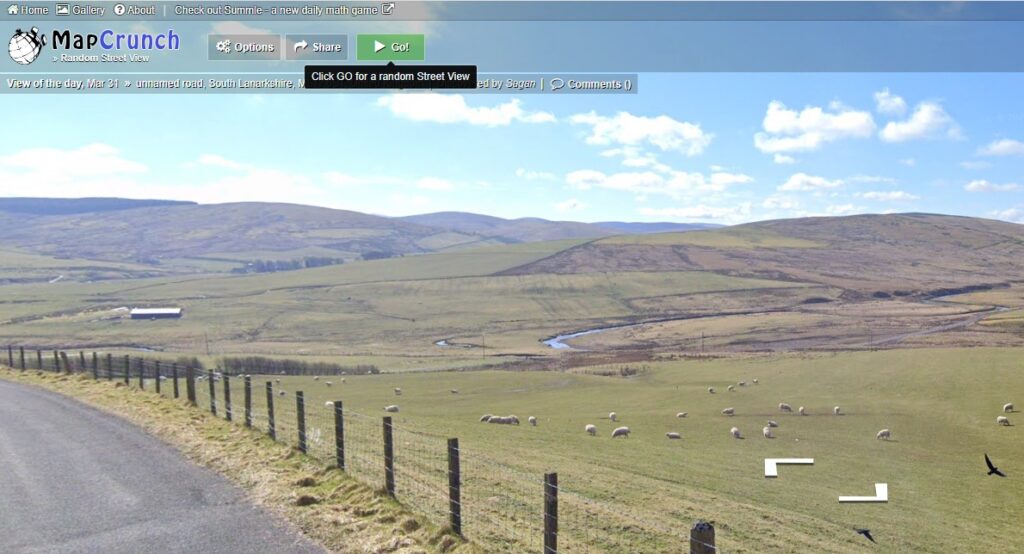 Are you interested in going to different areas? Then use MapCrunch to see the different scenery. You can use it to view the streets and other locations. Once pleased, you can even share the places with your friends on some social media platforms.
While perusing through the images, also check the neighboring surroundings to see other landmarks. This works best if you want to travel somewhere and are not sure whether a hotel or place that you have booked is in the good surrounding.
On the options tab, you can choose a country and narrow it down to a specific location.  Use your free time to explore the world.