Are you looking for the best must-have apps for Android to achieve several purposes on your Android Phone? This post will take you through some of the best must-have apps for Android.
Numerous apps are available for Android users waiting to be downloaded and installed from Google Play Store. These apps are different in style and purpose. But there are certain apps that you have no choice but to have due to the purpose they serve. Some of these apps help improve the quality of life. These apps cover different areas such as entertainment, productivity, news, security, and many more.
It is not easy to choose the best apps for Android users, as there are many of them. For these reasons, we decided to put together a list of some must-have apps available to Android users. You would find their features, strengths, and weaknesses too. Most of these apps are free, and you can find them on the Google Play Store.
---
1. Your Phone Companion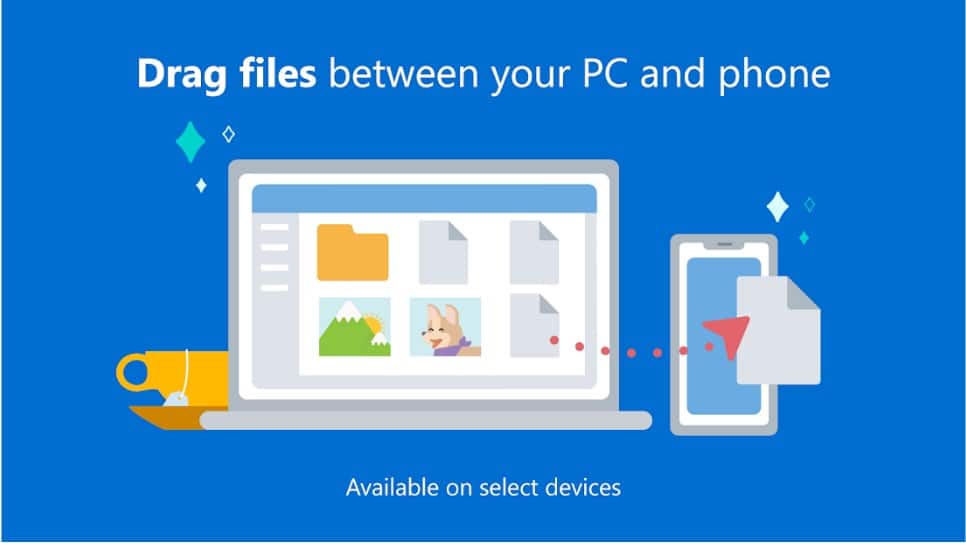 This android app allows you to sync your phone's data to a PC or laptop. Once this app is installed, you can access the phone's data from your Windows 10 PC. By signing in to your Microsoft account on Your phone Companion and linking with the app on your Windows 10 PC, you can do this.
After linking the phone, you can access your phone's notifications and even reply to messages directly from your PC. Your messages can be accessed too. You can even send messages, adding emojis, gifs, and photos. Other things you can access include your phone's photos, calls, and applications. This uniqueness and versatility are why Your Phone Companion is regarded as one of the best applications you should have. The app is available for free download from Play Store.
---
2. Wallcraft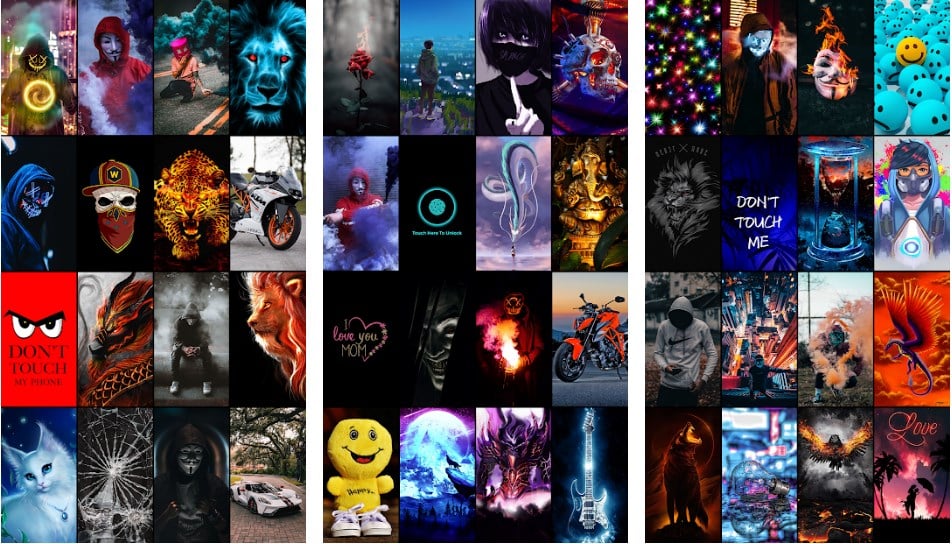 Here is an app that originated in Russia. If you are looking for an app that can add beauty to your android phone's screen, none will do a better job than Wallcraft. This application boasts more than 10,000 Full HD wallpapers, 5,000 wallpapers for 2K screens, and more than 1,000+ 4K wallpapers for Android phones.
Wallcraft goes as far as making things easy by displaying only wallpapers that would fit your screen size. And their wallpapers are known to be of top quality. The app also offers Parallax wallpapers, which are very attractive. Wallcraft has a pro version to enhance your experience with the app. This upgraded version gives you access to exclusive and more wallpapers, Parallax wallpapers and eliminates ads. Wallcraft is available for free download from Play Store.
---
3. TunnelBear VPN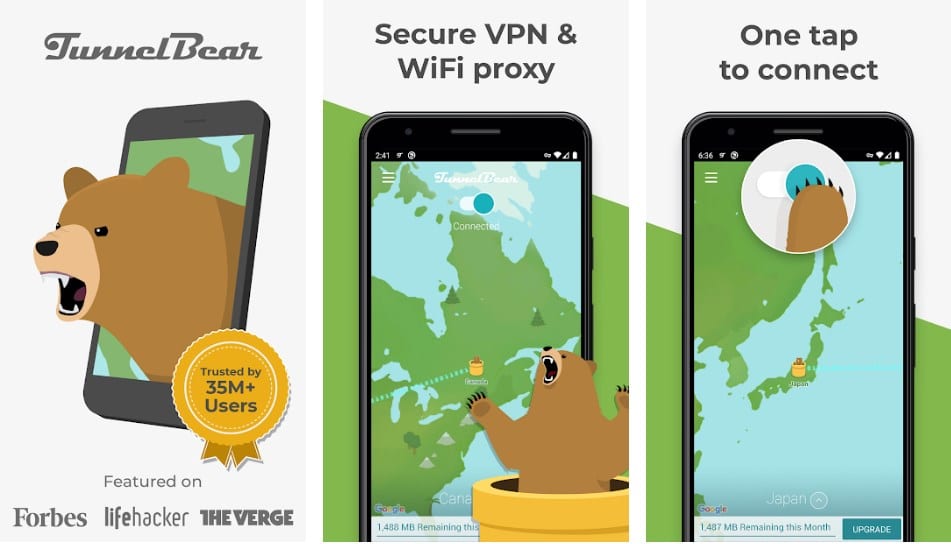 TunnelBear is an app for Android that originated in Canada. If you are looking for one of the best VPN apps to ensure your online privacy when using the internet, TunnelBear should be your first choice. TunnelBear is a free VPN app that lets you browse your favorite websites with your privacy intact. This app rewards you with free 500 MB monthly, great internet speed, and access to countries like the United States, United Kingdom, India, and Australia.
TunnelBear also offers unlimited plans. Subscribing to any of these plans gives you enhanced features, including unlimited secure browsing, five connected devices, priority customer service, a dedicated account manager, and centralized team billing and management. TunnelBear VPN is available for free download from Play Store.
---
4. PicsArt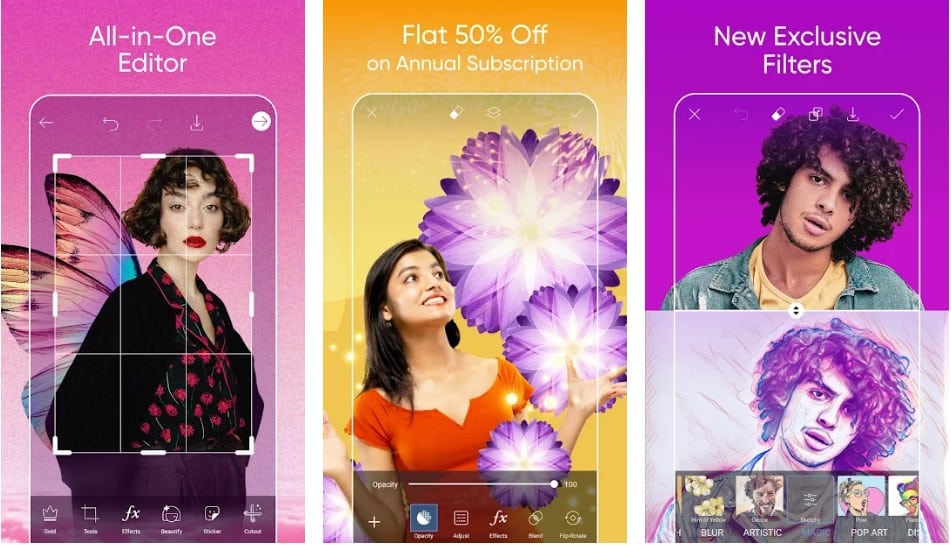 PicsArt is regarded as one of the best Android apps for photo editing. This photo editor has all the important features that any modern photo editing app should have. PicsArt has a lovely and user-friendly interface. The app is in such a way that it is easy to navigate and assess all the features that are easy to comprehend. The app's typical tools include rotate, crop, contrast, and saturation. The app's effect tool includes sketch, blur, artistic, glitch, and many more. The "Beautify" feature also allows you to make slight facial modifications such as face fixes, wrinkles elimination, skin tone alteration, and hair color change.
Other interesting features you may find handy in this app include lots of stickers, royalty-free images, video editing, collage maker, and change image ratio to fit on Instagram, Facebook, YouTube, Twitter, and Pinterest. You can also find little features like drawing, adding lens flare, shape mask, and frame. The PicsArt Gold is the app's pro version, which gives you further access to features including unlimited brushes, 100+ filters, a video editor, tools, and the elimination of ads. PicsArt is available for free download from Play Store.
---
5. LastPass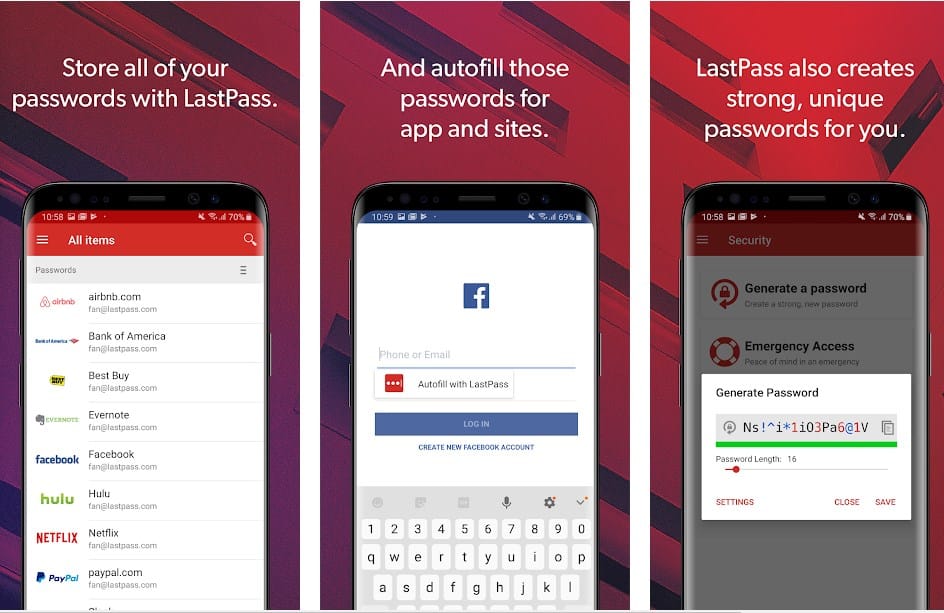 If you easily forget passwords for different sites and apps, LastPass will prove to be very useful in this regard. This Android app helps to store your passwords and personal information in a secure library. When opening an app or site, the app will grant you access by automatically filling in your login data. The way this app work is that it has its password, which is the master password. When you remember this master password, the app will auto-fill your login details whenever you want. LastPass can also help you generate passwords when signing up on sites or apps.
Although the free plan gives you a lot of safety features, the premium plan has more to offer. The premium plan gives you access to 1-gigabyte encrypted file storage, desktop fingerprint authentication, unlimited sharing of passwords, items, and notes, premium multi-factor authentication, and priority tech support. The app is available for free download from Play Store.
---
6. Transparent Clock & Weather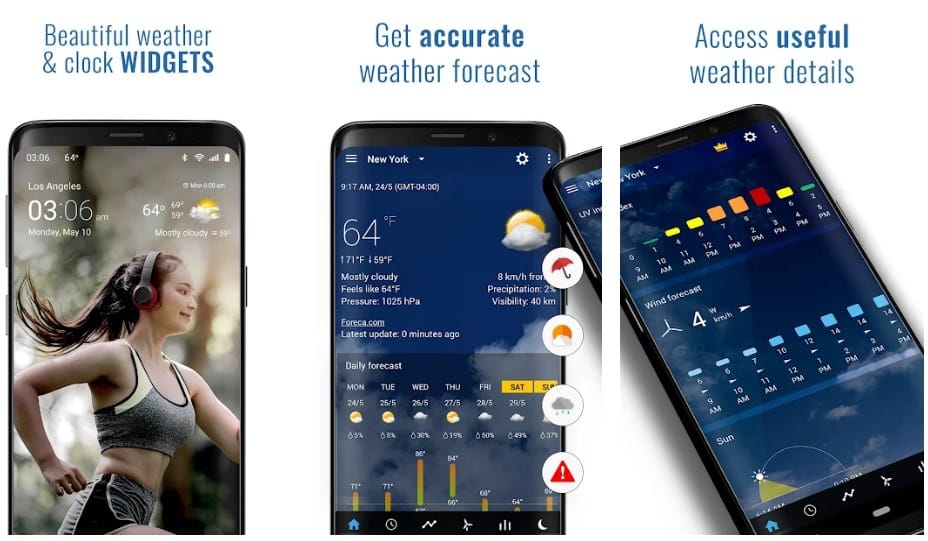 Transparent Clock & Weather is a nice Android app that originated in Cyprus. This app gives you an accurate and detailed weather forecast. The app also boasts amazing widgets which come in different sizes. And when you add them to your phone's home screen, they look amazing.
These widgets can be customized as much as you want. You can change features like widget skins, weather icon skins, time fonts, font sizes, font colors, and so much more. These widgets can display location, next alarm, wind speed, humidity, next event, and system information.
---
7. Files by Google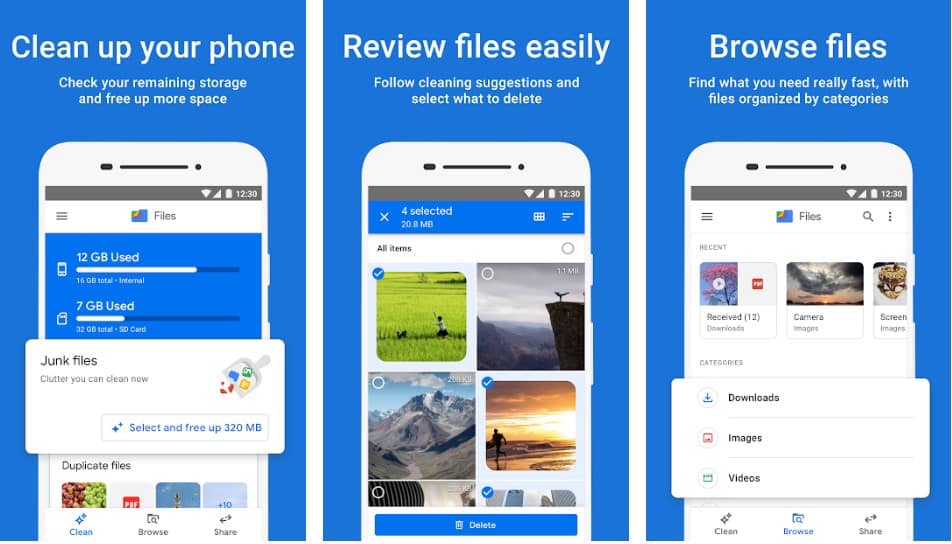 Google Files is a free file manager app for Android phones. This tool helps to organize your files so that you can easily assess them. Google Files can also show any concealed file and give clean-up ideas. These suggestions will help remove unwanted files that may harm your phone. Google Files can also help you with file sharing. Thus, you don't have to start looking for another file-sharing app that may consume more space.
The app is well-equipped with useful features, and there are no ads to contend with. Google Files is available for free download from Play Store.
---
8. Microsoft Office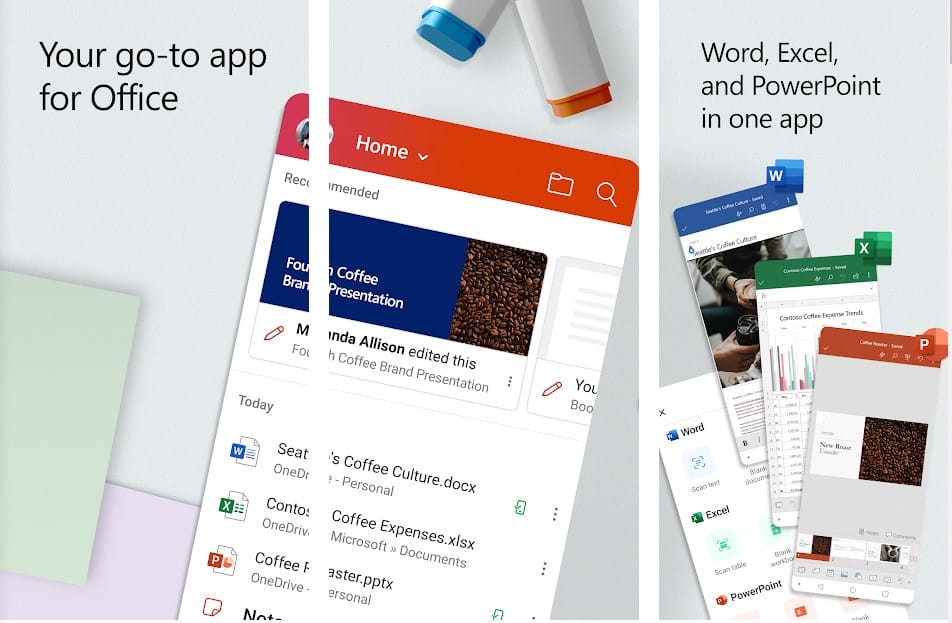 Another must-have Android app. This app allows you to use features like Word, PowerPoint, and Excel to create documents and sheets. You can create office files that you can share with others. The app allows you to transfer and receive files from other phones and computers.
Microsoft Office also has many other features that include creating, editing, and sharing notes; extracting text from images; extracting a table from images into excel; converting a document into PDF and vice versa; and scanning QR codes to open files or links. Microsoft Office is available for free download from Play Store.
---
9. YouCut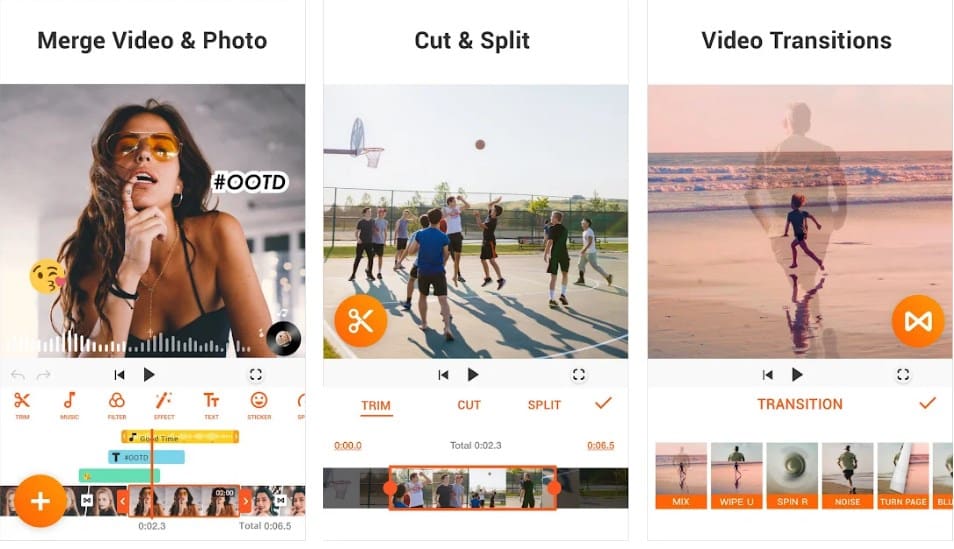 YouCut is a free Android App for Video Editing and one of the best. The app has an excellent interface that is easy to use and contains features typical of most modern video editing apps. These features include trim, split, crop, filters, effects, and stickers. You can also alter the video's ratio to fit into social media platforms like Instagram, YouTube, and TikTok.
This app also allows you to edit videos properly and keep them in 4K resolution. Surprisingly, YouCut adds no watermarks to videos despite being a free video editing app. YouCut's ease of use and no inclusion of a watermark sets it apart from the rest. YouCut Office is available for free download from Play Store.
---
10. TempMail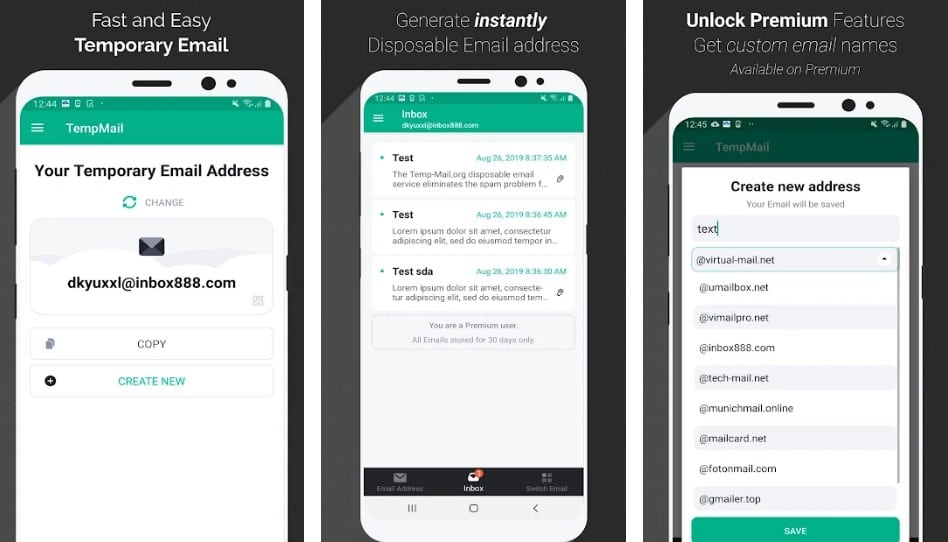 TempMail is another good app for Android. This app originated in Israel. The app provides you with a temporary email address. This service is very important in the sense that you may find some sites or app that demands an email id, and if you are not so sure of your security, you can use the temporary id generated by TempMail.
This app allows you to safeguard your primary email id from spam mail, advertising, and email hacking since it helps you generate new email addresses without any trouble.These awesome features are cost-free. However, the app has a premium plan with enhanced features such as custom email names, multiple mailboxes, In-app email view, premium domains, extended email storage, premium support, and eliminations of ads. TempMail is available for free download from Play Store.
---
11. MX Player
MX Player is a video player app that originated in Singapore. The app is regarded as one of the best video players for Android. MX Player comes with a lot of features that make watching videos a good experience. This app allows you to play videos of almost all formats and directly download subtitles while watching a video.
MX Player can also act as a music player, directly access online web series, movies, popular tv shows, sports, and more. The only downside is that the video player allows ads, although they are few. There is also where you can play games and earn coins, which you can use to watch important movies. MX Player is available for free download from Play Store.
---
12. Nova Launcher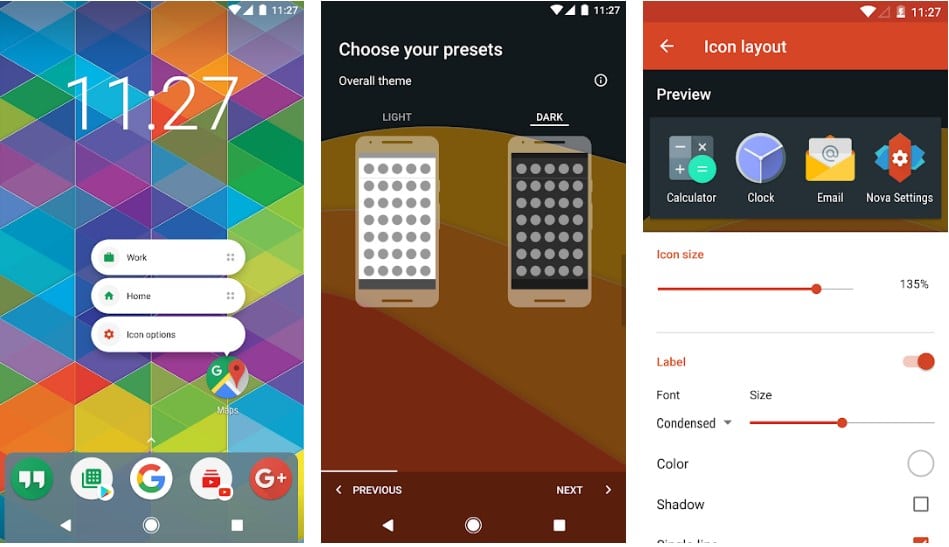 Nova Launcher is regarded as one of the best launching apps for Android. This app allows you to make changes to your home screen and its numerous features set it apart from other launcher apps. With this app, you can customize your home screen and make changes to folders, icons, animation speed, and many more.
Nova Launcher also has the night mode feature, altering the search bar, app drawer, drawer icon, and folders to a dark theme. The paid version of the app gives you enhanced features such as double-tap to lock, hide apps, and notification badges. Nova Launcher is available for free download from Play Store.
---
13. Spotify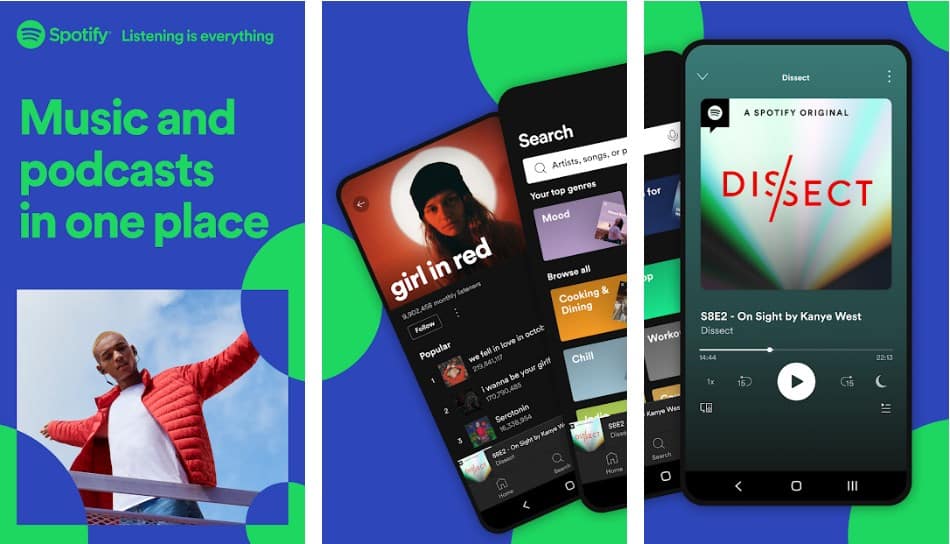 When it comes to free music apps for Android, none beats Spotify. This app is equipped with a simple and easy-to-use interface. The playlists are numerous and can be customized based on your tastes. You will find different types of songs and genres that you would love.Spotify provides you with the lyrics of any song you are playing. That means you don't need to start looking for the lyrics of a song online. The app is further equipped with numerous radio stations which you can listen to and podcasts as well.
The problem with this music app is that features are limited, and ads keep making the experience unsavory. However, these problems can be solved by subscribing to a premium plan. This plan gives you access to enhanced features such as downloading music for free and listening offline, extreme audio quality, and ad restriction. Spotify is available for free download from Play Store.
---
14. Google Keep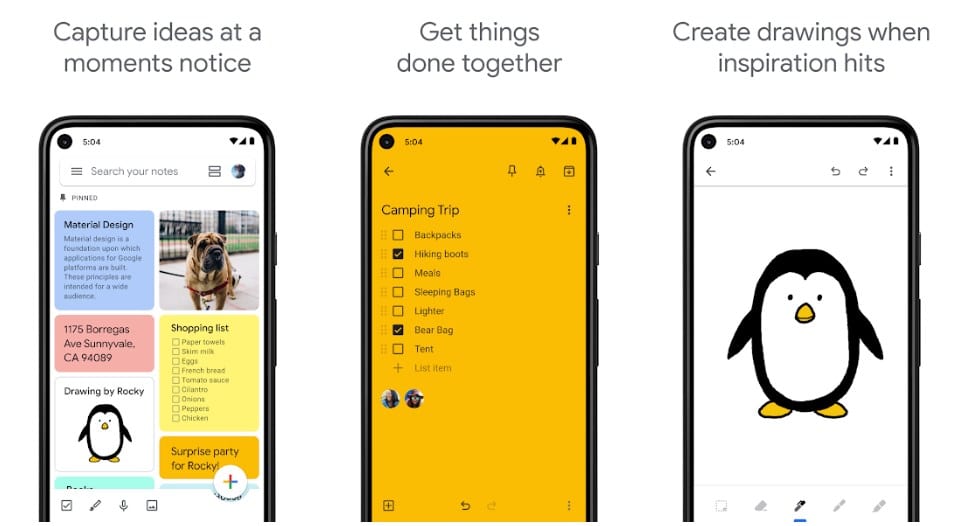 Google Keep is another free Android app that is highly regarded. This app acts as a form of reminder. Thus, if you easily forget or are too busy with several duties, you will find this app very helpful. And one good thing about this app is that you can access your notes across different devices. Google Keep allows you to add items such as pictures, voice notes, and illustrations.
The app can help you set reminders such as birthdays, anniversaries, and other important events. Google Keep has a cool, user-friendly interface and can sync your phone to your PC or other devices. Google Keep is available for free download from Play Store.
---
15. DuckDuckGo Privacy Browser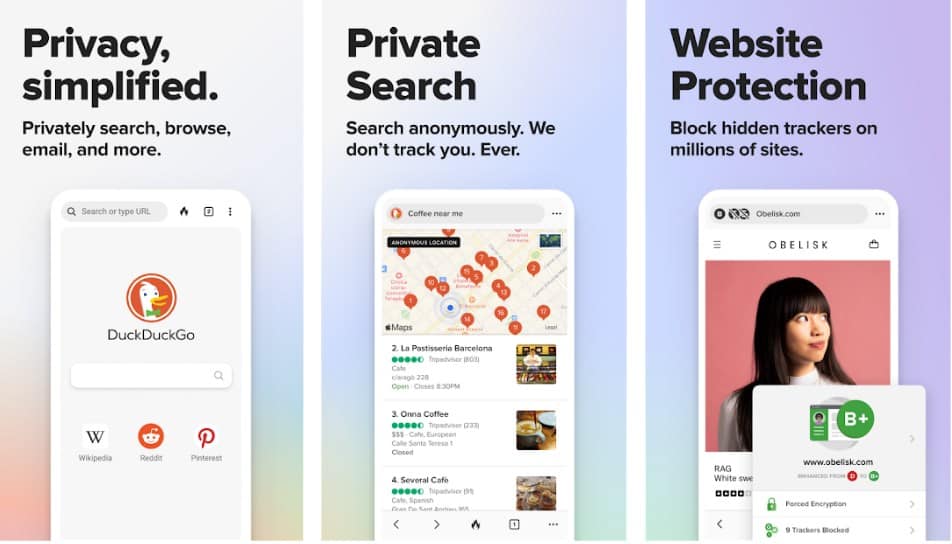 DuckDuckGo Browser is regarded as one of the best Android browsers around. The app boasts automatic clear data, one tap to clear all tabs & data, dark mode, and block Ads & trackers. This browser is popular when it comes to protecting the privacy of users.
DuckDuckGo browser has a unique approach to securing the privacy of a user. The app uses a rating strategy to grade any site you visit by showing a Privacy Grade rating (A-F) in the Address Bar. This feature will tell you how safe you are on a particular website. The only downside with this browser is that it does not allow you to change the browser's search engine from DuckDuckGo to something else. The app is available for free download from Play Store.
---
16. Google News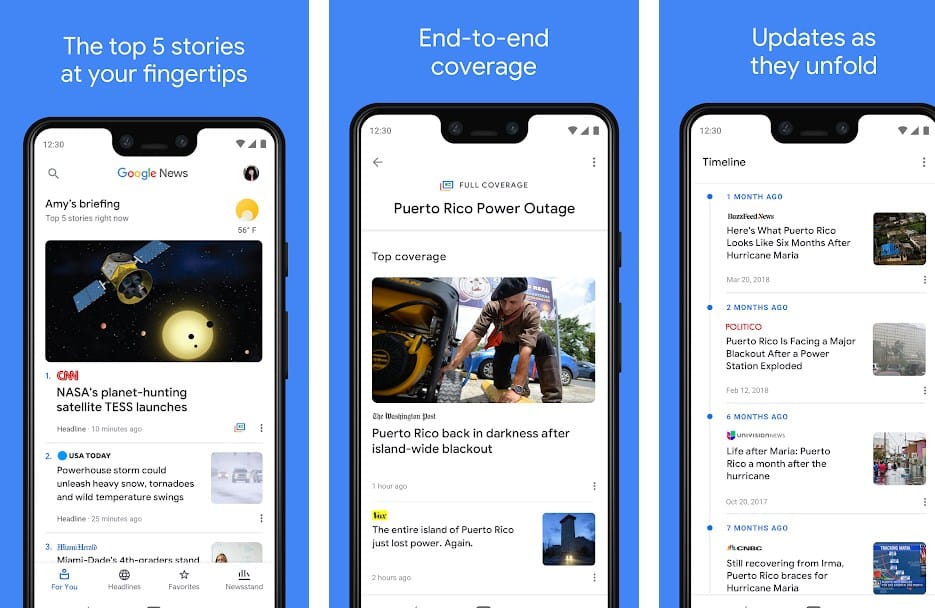 Google News is regarded as one of the best free Android Apps for News. The app serves you with news from various parts of the globe and covers a vast range of topics and interests. Google News will pay attention to your habits and give you news recommendations based on observations.
This news app allows you to keep tabs on your favorite publishers, writers, and areas of interest. You can restrict news content from some sources if you wish to and save your favorite articles for offline reading. Google News app is available for free download from Play Store.
---
FAQ
1. Which must-have Android app should I try?
All the applications we have listed above are capable of working efficiently on Android. But some are more sophisticated than others and have certain features that you may not find elsewhere. Thus, you should know what your preferences are before choosing any application.
2. Can the apps above help me achieve several purposes on my Android Phone?
All of the apps we have given above work well on Android devices. Thus, they can help you achieve several purposes on your Android Phone. The only thing is that each app has different features, modes of operation, and packages. Thus, you have to find the one that suits your needs the best.
3. How can I eliminate ads when using some of the apps?
Some of these free apps come with ads. But once you upgrade to paid versions of these apps, ads are automatically eliminated.
4. Do these apps work offline?
Some of them don't. Take, for instance, a browser. Thus, you would need a data subscription or WiFi to make some of these apps work efficiently. But others do not rely on any internet connection to work efficiently.
---
Conclusion
There are numerous exceptional applications that you can use to achieve several purposes on your Android Phone. Thus, it isn't easy to know which one to pick. Most of these apps have similar but wide-ranging features and modes of operation. That is why we decided to make this list of must-have apps for Android users.
Most of these apps come with both free and paid versions. Features are often limited in the free versions, and there is the issue of annoying ads in some apps, which you would have to put up with. But most paid versions come with enhanced features and an ad-free seamless experience. We are certain that you will find the best set of apps that suits your taste the best from the list given above.