Each League of Legends account is worth a certain price that might surprise lots of players. Evaluating what the account is actually worth depends on the amount of skins it has and the quality of the skins, the number of champions unlocked, blue essence and riot points.
However, accounts can also be sold without having any of the mentioned above; accounts that are level 30 can be used to start climbing in ranked in a fresh new MMR; this can help smurfs rank up the ladder much higher than they can do on their main accounts.
---
Calculating how much your LoL account is worth
The above website helps you calculate your League of Legends account in an easy process. To have an accurate calculation, the website will need you to specify input fields. First, one is your rank; the higher your level is, the more valuable your account becomes.
Secondly comes your region, the server your account is made on. League of Legends is a region-locked game, meaning you can't just use your account to play on any other server like in other games. Then you will come across five more fields to fill; they are the number of champions you have, the number of skins you own, your Riot Points, Influence Points (Blue Essence), and lastly, Rune Pages.
Afterward, all you have to do is click on the "Calculate account now" button, and the website will estimate your account value.
---
How much money did I spend on League of Legends?
The amount of money players have spent inside their accounts can be calculated through Riot's special webpage.


The webpage above will help you find out exactly how much money was put into your account. All you have to do is click on the login button in red and enter your account username and password, which is the one you wish to evaluate.
After that, the page will refresh, and a new button will appear "Show me the money." After you click on it, you will see how much you spent on that account.
---
Is it legal to sell my League of Legends account?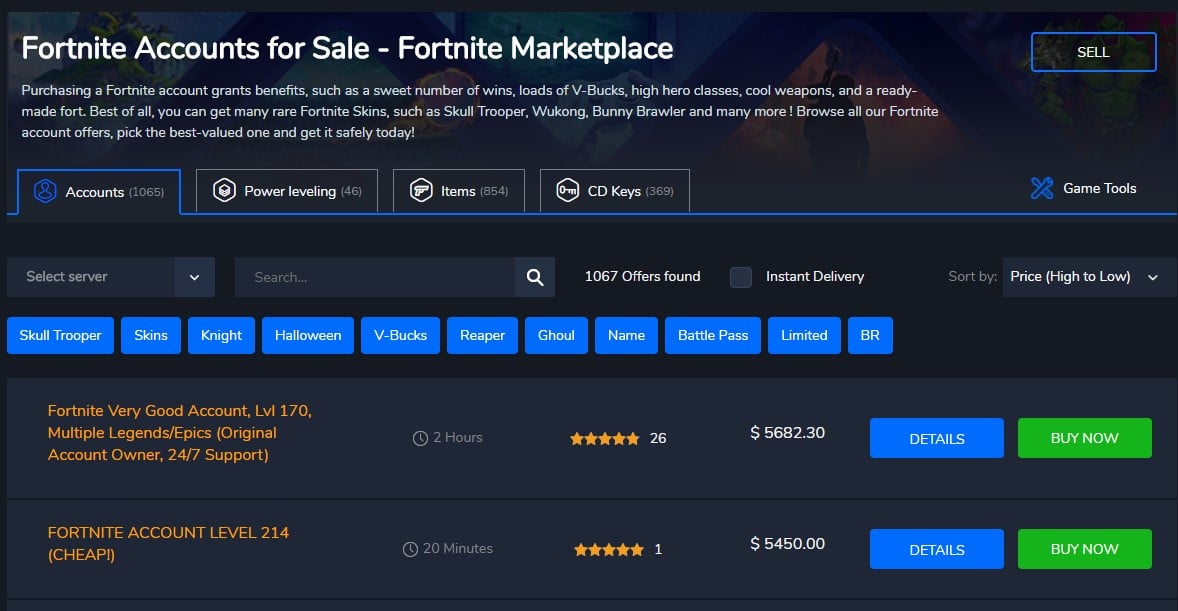 Riot prohibits players from selling their accounts. Fortunately, some websites can help you turn your gaming account into money. It is recommended to look for the most secure and reliable website.
---
Where to Resell My League of Legends Account
PlayerAuctions is a website that allows you to sell and buy League of Legends accounts. To start things off, you will have to register on that website for free; it's how they can confirm their users to be legit. Afterward, you can choose how to get paid by three different methods, the first one is PayPal, the second is Skrill, and the third is Payoneer.
To create an offer, you will have to go to your account center and create a new offer; there, you will have to describe the product you're selling, which in our case, is a game account. After waiting for a buyer, your account will be bought and sent via email through PlayerAuctions. Once the payer confirms the delivery, you will get paid.
Accountwarehouse is another website that sells various game accounts. You can safely sell your league of legends account after filling the fields included in the webpage above. You will have to write down your email and other LoL account-related information, like summoner's name, champions available, skins owned, Riot Points, etc.
Accountwarehouse supports only 7 regions for LoL accounts. After submitting your account information, a manager will review your account information. Your submission will be emailed to you with instructions for putting it on final sale as well as an offer for your account. After accepting it, you will get paid, and you won't have to wait for a buyer to buy your account.
G2G is another website listed here that you could use to put your LoL account on sale. Go to G2G main page and click on "Sell on G2G", Select the type of product you're selling, which in our case is a League account, then fill all the required fields presented; you will also have to agree on their terms of service.
After you finish, your account will be submitted and available on the listing inside the G2G website. You can find a guide on account proof delivery, which is a requirement before getting paid.
Accounting is a similar website to Accountwarehouse. To sell your accounts, you will have to fulfill certain fields that describe your account details like the amount of champions you own, riot point, blue essence, skins owned, etc. After submitting your offer, a manager will review it and send you a quote to your email, provided in the field.
The email will contain an offer to buy your account; you are not obliged to accept the offer and can only accept it if you find the amount of money presented suitable for the account. But once an offer is accepted, you will receive payment instantly.
---
Think before you sell your account

There will never be a way you could retrieve your account after selling it. Many rare skins could be obtained on that account, and many gaming friends can be lost. Make sure to study your account and figure out if it's truly worth selling for the money presented. Many things are better kept for yourself.