Are you looking for the best web scraper to scrape data from Facebook? Then come in and discover some of the best Facebook scrapers that you can use in the market right now.
Let's say you intend to quickly get a large amount of data from a couple of websites within a short period of time. Going about this the traditional way would consume your time and energy with little result to show for it. Irrespective of the task you aim to achieve with this data, one of the fastest and most efficient ways to go about large data gathering is web scraping. Web scraping just makes the job easier and faster.
However, it is no news that data in the 21st century has become a major dictator in decision-making for many small, medium, and large-scale businesses. This data, in its basic form, refers to a collection of information about individuals on the internet. These could include their login details on different platforms, likes, dislikes, comments, areas of interest, and even search activities online. All this data may come from different sources like emails, social platforms, websites, TV stations, etc.
All this culminates in the structured and unstructured data companies can sieve through to make solid business decisions. Also, among many other benefits, brands get to understand their target customers better to create improved brand awareness, generate more traffic, increase product sales, etc.
---
Facebook Scrapers – An Overview
[toc]
With over 2.85 billion monthly active users, Facebook is arguably the most popular social networking website on the planet. As of the first quarter of 2021, this was. It's interesting to note that more than 200 million small businesses use Facebook Pages to advertise their products and services.
As a result, the platform contains a lot of data that companies may use to expand. Moreover, it provides a fantastic platform for organizations to study social behaviors in relation to both their clients and competitors. This is to ascertain what they may be doing right or wrong.
Unfortunately, scraping data from this social platform is quite difficult and even illegal. If at all you must, it requires authorization that involves filling in the form of some sort. The official Facebook API even has sophisticated bots that discourage data scraping.
However, the drive to make data-centered decisions has birthed the design and adoption of web scrapers. Besides, Facebook scrapers are tools that assist individuals in mining data from Facebook's public pages. This data may include things like posts, likes, comments, shares, and reviews.
In this article, we will be discussing web scraping with reference to some of the top-performing Facebook scraping tools. Additionally, we would possibly look into the most requested library in Python.
---
Best Facebook Scrapers
The Facebook scrapers discussed below have been industry tested and have real proof of compatibility. Hence, we should note that not all of these scrapers cater to the anonymity of their users. That means while they help you scrape sensitive websites like Facebook, you are required to keep yourself anonymous and protect your identity on your own. Let's dive right in to see which ones align with your Facebook scraping needs.
---
1. Data Collector (Bright Data) — Overall Best Facebook Scraper
Pricing: Starts at $350 for 100K page loads
Free Trials: Available
Data Output Format: Excel
Supported Platforms: web-based
Data Collector is one of those web scraping tools for Facebook that gives you what you want. Fortunately, it is owned by BrightData, one of the best proxy service providers in the market. However, just like its provider, Data Collector is considered the overall best web scraping tool for Facebook.
With it, users are able to scrape data such as names, profiles, pictures, statuses, views, likes, comments, phone numbers, address timestamps, etc., from Facebook public pages. This enables you to find and monitor the leading trends in your industry.
You might be interested to know that this tool doesn't need any kind of coding. The connectivity with BrightData's proxy service is also set up for you by them. You may protect your anonymity without setting up a separate proxy.
---
Pricing: Starts at $49 per month for 100 Actor compute units
Free Trials: Starter plan comes with 10 Actor compute units
Data Output Format: JSON
Supported OS: cloud-based – accessed via API
Apify is a good web scraping and automation platform. Since Facebook is based on JavaScript, Apify remains the best tool for scraping tool for JavaScript developers. With this tool, a user can crawl and scrape a lot of data from Facebook. They have tools to help scrape the latest posts, comments, and page information.
Users are able to download this scraped data in structured formats like Excel, CSV, JSON, XML, and HTML. Besides, unlike Data Collector, this Facebook scraper would use a residential proxy to gain access. When a user subscribes, they are able to scrape a ton of comments from about 10k–20k posts monthly.
---
3. Phantombuster — Best Code-Free Scraper
Pricing: Starts at $30 monthly for 1h daily and 5 phantom slots
Free Trials: free limited plan available
Data Output Format: CSV, JSON
Supported Platforms: Cloud
Of course, Data Collector is a good code-free Facebook data scraper, but if you are looking for the best code-free Facebook scraper in the world, Phantombuster is the name. It is a cloud-based scraping and automation platform. Phantombuster is great for scraping public Facebook profiles. These profiles may contain a lot of interesting information.
With Phantombuster's "Facebook Group Members Export" phantom service, a user can scrape up to 4k–5k individual group members from a single group they may belong to.
However, you will definitely need to use proxies with Facebook Phantoms. In light of that, you must know that VPNs don't work with Phantombuster, only proxies.
---
4. ScraperAPI — Best Scraping API for Facebook
Pricing: Starts from $49 for 100K Credits
Free Trials: 5K Free Credits
Data Output Format: HTML and JSON
Supported Platform: API
Another tool that takes care of proxy service while scraping data is ScrapAPI. You can confidently scrape data from Facebook with anonymity through their residential proxies, which have great JavaScript rendering and geotargeting features. This API is built in such a way that you can scrape as many pages as you want. Whether it is under 100 pages or over a million pages per month, ScrapeAPI is built for scale.
Assuming you are looking to do the scraping of this data from the pages of customers and competitors fast, ScraperAPI has you covered. With speeds up to 100 Mb/s, it is a perfect tool for speedy web crawlers. Hence, it is obviously the best API out there for scraping Facebook public pages and profiles.
---
5. Proxycrawl — Specialized Scraping API for Facebook
Pricing: Starts from $21 for 10K Regular Pages
Free Trials: Free Credits
Data Output Format: HTML, JSON
Supported Platform: API
Proxycrawl has a unique scraping API that is built on thousands of residential and datacenter proxies. It has an integration of artificial intelligence that allows you to scrape Facebook pages anonymously. This API is quite easy to use for both beginners and experts.
Hence, you can start scraping Facebook in no time. You can scrape news feeds, public groups, page profiles, etc. If you intend to track any changes on your competitors' Facebook pages, this API can help take screenshots of entire Facebook pages. This is possible on any screen resolution while scraping with their Screenshot API. However, these APIs are unique scraping APIs for Facebook data scraping.
---
6. ScrapeStorm — Best Visual Scraper for Facebook
Pricing: Starts at $49.99 per month
Free Trials: Starter plan is free – comes with limitations
Data Output Format: TXT, CSV, Excel, JSON, MySQL, Google Sheets, etc.
Supported Platforms: Desktop, Cloud
ScrapeStorm is another excellent Facebook scraper that can be used to gather data. It's an AI-powered visual web scraping tool. ScrapeStorm happens to be the best visual data scraper for Facebook. It is an easy-to-use tool built by a former Google crawler team with no programming involved. It's a powerful scraping tool that is efficient for professional use both for individuals, teams, or enterprises.
Instead of having to manually establish the rules, ScrapeStorm's AI-based algorithms enable you to automatically recognize forms, links, photos, prices, phone numbers, emails, and list data on any page you want to scrape. Entering the URLs is all that is required, using a visual click process for each.
---
7. Octoparse — Best alternative to Facebook
Pricing: Starts at $75 per month
Free Trials: 14 days of free trial with limitations
Data Output Format: CSV, Excel, JSON, MySQL, SQLServer
Supported Platform: Cloud, Desktop
Octoparse is also a web-based data scraping tool that works well for scraping data from Facebook. It helps turn the pages you aim to scrape into structured spreadsheets to be saved as Excel, CSV, or API. You can also save this data on the cloud.
This service affords users the opportunity to schedule their scraping tasks at daily, weekly, or monthly intervals. The scheduling feature is great for following and keeping up with recent social trends. Octoparse is, however, the best alternative to Facebook.
Additionally, there is an integrated IP rotation proxy feature that guarantees your anonymity while scraping public page profiles and other data on Facebook. With Octoparse, you can rest assured that you can scrape Facebook for your desired dataset without writing any code.
---
8. Parsehub — Free Visual Web Scraper for Facebook
Pricing: Free with a paid plan
Free Trials: Free – advance features come at an extra cost
Data Output Format: Excel, JSON,
Supported Platform: Cloud, Desktop
For those looking for a free web scraping tool to use to harvest data from Facebook, Parsehub is for you. ParseHub helps convert your target Facebook public pages into spreadsheets or APIs. For a free tool, Parsehub is everything you need for your web scraping activities. It's also a visual tool with no programming needed to perform your scraping tasks.
You can also divide your data collection into daily, weekly, monthly, and other intervals. You can download your scraped data in a lot of formats (JSON, Excel, API, CSV, etc.) for analysis. To secure your anonymity and avoid a ban, Parsehub gives you access to a number of IP rotating proxies-all integrated.
---
9. WebHarvy — Powerful Facebook Scraper
Pricing: Starts at $139 for a single user license
Free Trials: Not available
Data Output Format: TXT, CSV, Excel, JSON, XML. TSV, etc.
Supported Platforms: Desktop
WebHarvy is a visual web scraping tool for scraping text, images, emails, phone numbers, etc., from Facebook. They make scraping easy with their point-and-click interface. WebHarvy also supports proxies and scheduling of scraping activity. To avoid being blocked, this scraping tool gives users the option of scraping Facebook via a proxy server or a VPN.
These features make sure that scraping of your Facebook public page is possible with a high level of anonymity. This tool's ability to automatically scrape lists or tabular data without any settings is a plus. This scraper has the lovely benefit of being a one-time fee. There are no ongoing fees to be concerned about.
---
Pricing: Starts at a $99 one-time purchase
Free Trials: 10 days free
Data Output Format: CSV, Excel, JSON, SQLite, etc.
Supported Platforms: Desktop
While scraping data from Facebook, the Helium scraper allows you to focus on your desired data and not on how to scrape it. It is yet another professional web scraping tool that doesn't require programming. It has a simple-to-use UI. Its point-and-click features help users reduce stress by managing the data extraction process much faster.
To scrape complex datasets from Facebook, Helium Scraper can help you perform the task with its JavaScript API. It can automatically detect lists and table rows, so any content on Facebook that is in these categories can be easily scraped.
However, you do not have to source the proxy service yourself; they've got an IP rotation proxy that gives users the confidence to scrape Facebook with high anonymity. Compared to WebHarvy, Helium Scraper offers a one-time payment for its service.
---
11. ScrapeHero — Best Data Scraping Service
Pricing: Starts at $150 for up to 10K pages
Free Trials: No Free Trial
Data Output Format: CSV, Excel, JSON
Supported Platforms: Web
ScrapeHero is a good Facebook scraping tool. It can help convert your target public pages into useful data. With ScrapeHero, you don't need any software, a scraping tool, or a skill. They handle all the data you need from Facebook. They have real-time custom-built APIs that you can integrate into your applications to generate the data you need.
ScrapeHero's data as a service provides users with high-quality structured data to improve business outcomes as well as the ability to make intelligent decisions. Hence, it is obviously the best tool for data scraping services. However, they do have a subscription-based pricing model. However, the cost of their service is on the high side, with a starting price of $150.
---
12. Datahut — Alternative to ScrapeHero
Pricing: Starts at $40 for up to 10K pages
Free Trials: No Free Trial
Data Output Format: CSV, JSON
Supported Platforms: Web
An alternative to ScrapeHero is Datahut. It is a scraping tool that helps users get structured data from websites such as Facebook. This is possible through their cloud-based web scraping platform. When it comes to scraping with Datahut, no coding or expensive software is required.
This is one scraping tool that understands the hassle that comes with scraping data from technical websites like Facebook. Datahut gets you the data in both CSV and JSON file formats, or you can use their APIs to pull data.
This is one scraper that guarantees clean data and your money back if you are not satisfied with the service. They have a simple and flexible payment plan, but the cost of scraping data from social media platforms like Facebook starts at $40.
---
13. Facedominator — Facebook Marketing Tool
Pricing: Starts from $14.95 monthly
Free Trials: Available
Data Output Format: CSV
Supported Platform: Desktop
If you are a digital marketer looking for a custom tool for what you do, Facedominator is the one. It is a Facebook data scraper designed specifically for that purpose. With Facedominator, you can get all the statistics and reports for the activities on your account and other targeted public pages, profiles, comments, and groups.
It has standalone options that enable you to mine information from your Facebook groups, pages, and profiles. This is very important because it is relevant for analyzing your marketing strategies. Interestingly, Facedominator affords users the opportunity to extract data using keywords and URLs. Hence, it has an interesting and friendly UI that is easy to use.
---
14. ScrapingBee — Proxy API for Facebook
Pricing: Starts from $49 for 100K Credits
Free Trials: 5K Free Credits
Data Output Format: HTML, JSON
Supported Platform: API
ScrapingBee is a scraper with APIs that handles rotating proxies and headless browsers on your behalf. This web scraping API is really suitable for scraping Facebook. If you have little or no coding ideas, not to worry. ScrapingBee offers options that allow users to create customized web scraping engines with no code involved.
Reviews from some of the top users have started to show that ScrapingBee simplifies the day-to-day marketing and engineering operations of a lot of businesses and managers of social media platforms like Facebook, digital marketers, etc. While they offer a free trial for those who wish to test it, It comes with 1000 free API calls. However, their lowest tier on the price list is $49.
---
15. ScrapingExpert — Scraper for building Facebook database
Pricing: Starts at a $59 monthly
Free Trials: Free Trial Available
Data Output Format: CSV, Excel
Supported Platforms: Desktop
ScrapingExpert is another scraping tool carefully designed for extracting data from Facebook. With this tool, you are able to scrape important data like names, genders, addresses, emails (if possible), educational status, marital status, etc. One of the interesting things about this tool is that you can scrape Facebook using keywords.
Let's assume you see an interesting public page. ScrapeExpert has the necessary features to help you extract the details of the members of the group. Nevertheless, you want to set up your preferred proxy service to avoid being banned while scraping. As for their pricing, the lowest rental amount is $59. They do, however, offer a free trial for those who are considering their services.
---
How to Scrape Facebook (Using Apify Facebook Scraper)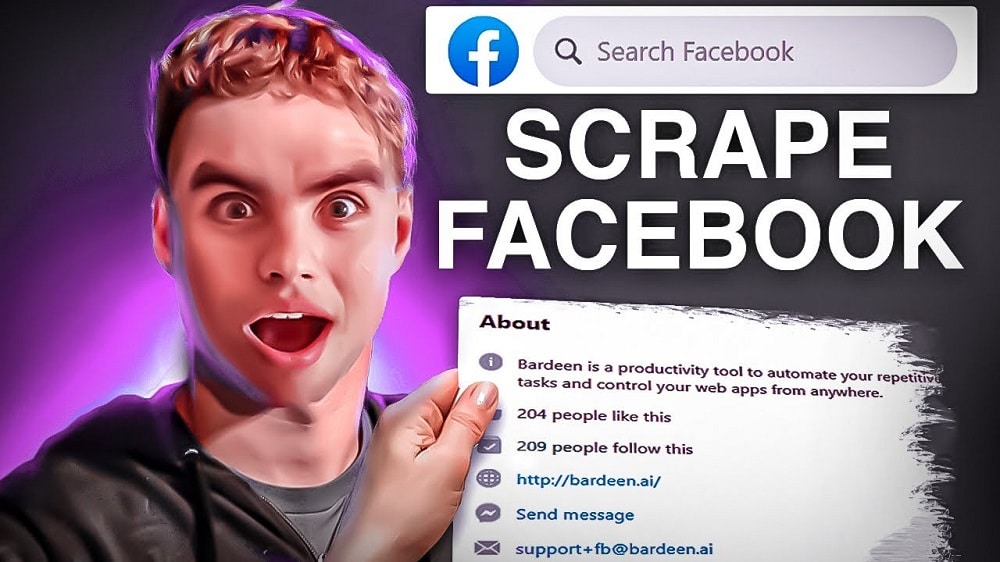 Facebook constantly reinvents itself and is more than just a social network. Moreover, it has evolved into a commercial hub for businesses to communicate and engage with consumers.
Facebook, therefore, has a ton of valuable data to track trends. Facebook's rules and rate limits are rigorously enforced, so you won't be able to extract a lot of information quickly, and you can easily have your API key blocked. However, some of this data is accessible through their official API.
This is the rationale behind the existence of Facebook scrapers like Apify's Facebook page scrapers. We will walk through step-by-step instructions for scraping Facebook pages without using the official API in this part. The pre-built Facebook Pages Scraper from Apify will produce an alternative Facebook API. This would give you far more freedom. Let's begin.
Step 1: Visit Apify's official page and create an account. If you already have an account, you can just ignore it and move on to the next step.
Step 2: After successfully signing up, you will be taken to the Apify Console. Go ahead and click the store button. This is where you will find Apify's ready-made data scraping tools.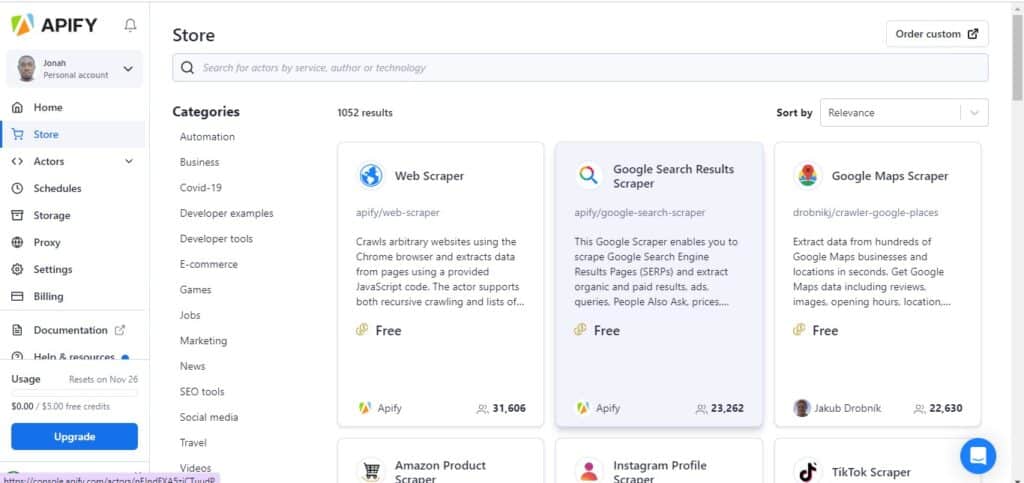 Step 3: Once in the store, use the search bar to search for the keyword "Facebook."
Step 4: On the Facebook Pages Scraper, click "Try for free. This would automatically redirect you back to your Apify console.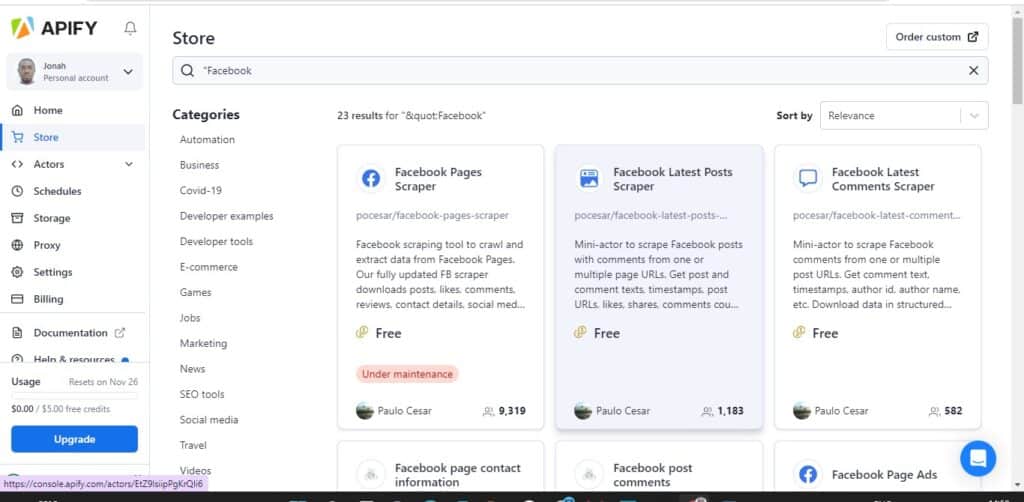 Step 5: When on your Apify Console, a task will be created. This means you can start specifying how you want to scrape data from Facebook.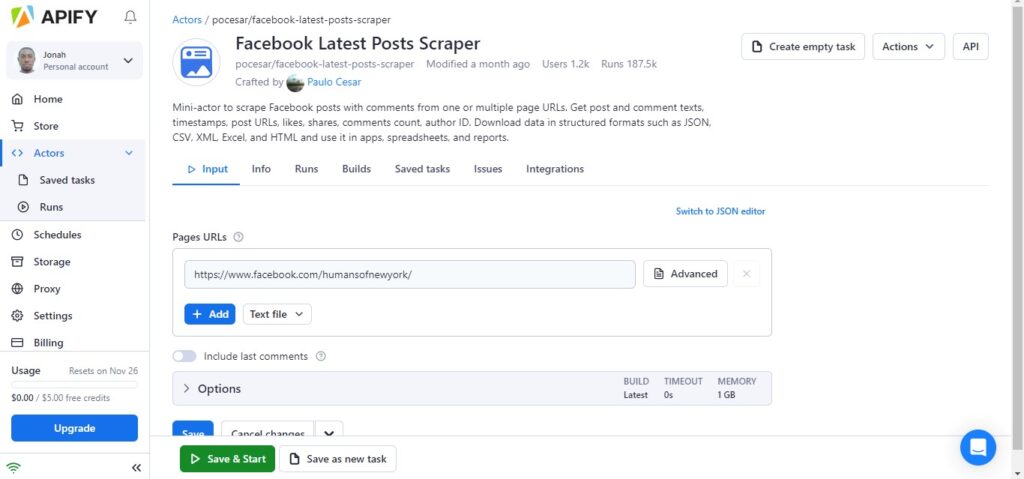 Step 6: The next important step is to now visit Facebook. This is done to identify the page(s) of interest and copy the URL.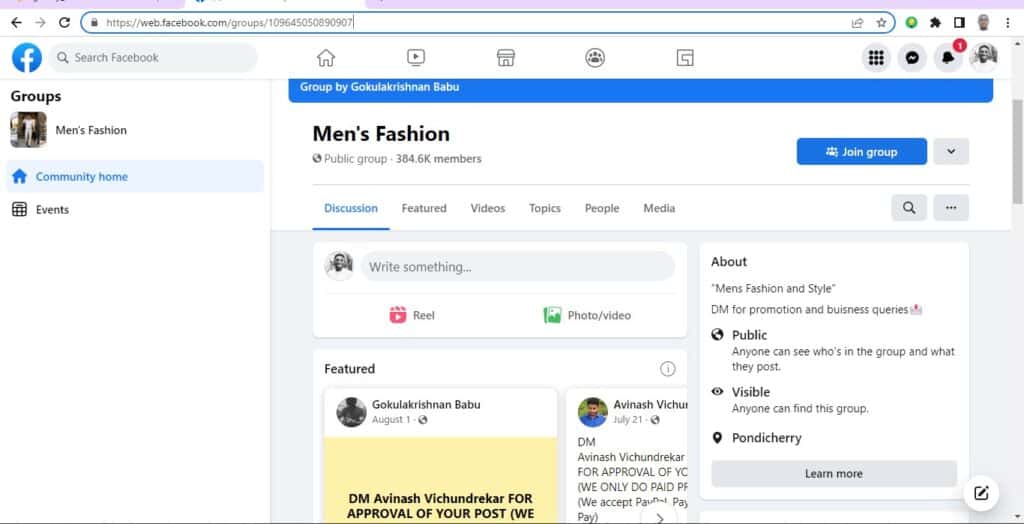 Step 7: Return to the Apify console where the task was previously created. Click "Add URL" and paste your Facebook URL into the field that appears.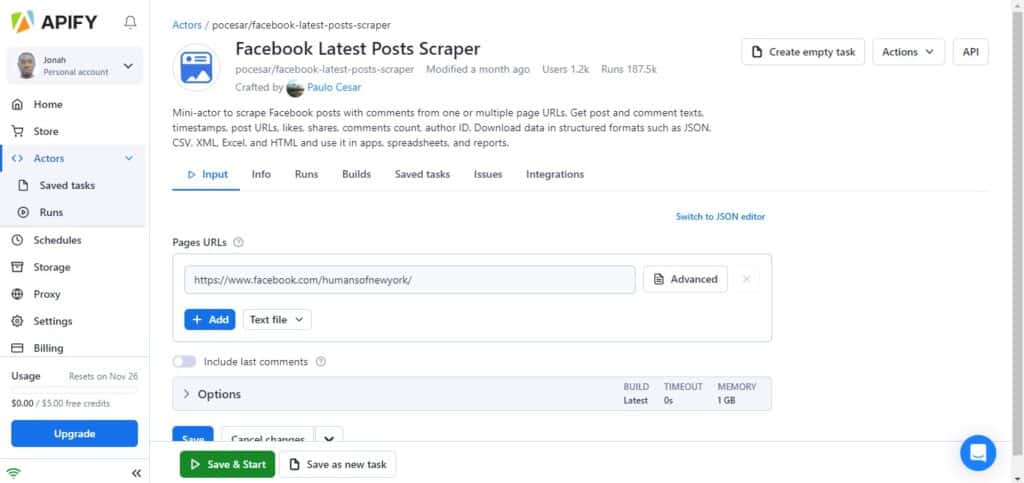 Step 8: You can click on the "Save & Run" button. Wait for the scraping to finish. Your task status will change to show it is running.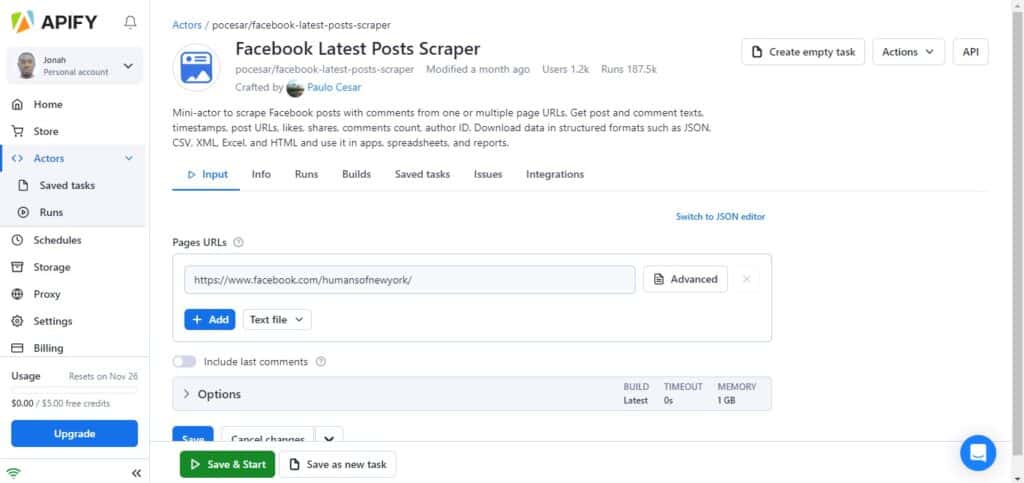 Step 9: Once you see that it succeeded, click on the Dataset tab to see the results of your scraping.
Step 10: The data in the Dataset tab is available to you in useful formats like CSV, Excel, HTML tables, JSON, etc. You can open it by clicking the View or Download button.
You can now use the data however you want,  no limitations.
---
FAQs
Q. Is using web scrapers on Facebook legal?
The issue of legalities around the scraping of data on Facebook is quite a technical one. However, scraping data from Facebook without following proper protocol would be termed illegal. To conduct data scraping on Facebook, you are required to fill out some forms and follow some level of authorization. We believe that some of the Facebook scrapers that assist in extracting data follow ethical procedures.
Q. What are the possible use cases of data scraped from Facebook?
With over 2.8 billion active users, Facebook is arguably the biggest social network. As such, data from this platform can be very useful for decision-making in different aspects of a region's economy and industries. However, some of the most common use cases of these data scraped from Facebook can be seen in business for market research and analysis, product design, business pivoting, etc.
Q. Does scraping Facebook require any coding skills?
With the advancement in scraping activities, many compatible and dedicated Facebook scrapers don't require any form of programming. They are mostly easy to use as visual scraping tools. However, since Facebook is JavaScript-centered, scrapers would need to infuse a few lines of code. This means that for those code-based scraping tools, you would need a bit of programming knowledge.
---
Conclusion
Whether as an individual or a brand, data in this digitally driven age is the new oil. A social platform like Facebook, however, has a lot of activities that generate social behaviors that direct decision-making. As such, Facebook scraping is quite a big deal. It requires a properly planned approach. It can be tiring. However, we would suggest that if you can't keep up with doing it manually, you should take advantage of any of the scrapers we have discussed above.