Are you looking to scrape Instagram profiles, posts, photos, or comments? Check out these excellent Instagram scrapers with amazing features that will help you get your task done easier and faster than you think, whether or not you have coding knowledge.
People scrape websites for different reasons. As a business, you may want to understand how customers perceive your brand and products. Therefore you might want to scrape comments. Or you want to know what's trending and how you can tap into the huge population of young users to grab their attention through hashtags. The reasons are endless.
Scraping data from social media can tend to be a daunting task sometimes, especially when it goes against their Terms of Service. But it is necessary to make your work easier and more fluid. Instagram, as a social media, forbids the use of web scrapers as it goes against their Terms of Service. However, that does not deter people from scraping data from the platform. They keep scraping data unhindered. They can do this because they make use of quality scrapers.
Whether you are a developer or not, what you should be concerned about, too, is ensuring that you get a good paid Instagram scraper. If it comes with a proxy, that's a bigger win because you can break through any restrictions, and your identity is protected.  However, Instagram has strict measures in place for keeping track of and detecting IPs. That is where the best Instagram scrapers come in.
Instagram Scraping—An Overview
Instagram scraping has to do with using automated means of extracting and getting access to publicly available data on Instagram. Some of these web scraper tools mentioned in this article can extract private data too. Though, it is considered criminal to do so without proper procedures.
Generally, Instagram frowns at scraping and thus has put up a strong team to detect and investigate any automated process without permission. If any automated access is detected, the account will be blocked instantly, thereby frustrating the efforts of web scrapers. There are ways to go ahead and scrape data on Instagram, regardless, without being detected or blocked.
Some smart web scrapers in the market can help you achieve this, bypassing the hurdle of a block. They can achieve this with the help of proxies which are incorporated in some of them. The proxies' IPs change very frequently, thereby beating Instagram's anti-bot to its own game.
---
Best Instagram Scrapers
These Instagram scrapers, among others, have special qualities that make them stand out. The qualities include amazing features, undetectability, mode of operation, and pricing. After thorough research and combing through the Internet, we have curated the best Instagram scrapers for your use. We shall be highlighting them one after the other below.
---
Pricing: Starts at $350 for 100K page loads
Free Trials: Available
Data Output Format: Excel
Supported Platforms: web-based
Bright Data prides itself as the world's number one web scraper, helping you extract publicly available data from any website. Being at the forefront of proxy providers, it is considered the overall best Instagram scraper as its products incorporates proxies. Their powerful proxies ensure that you remain undetected. It also allows you to break the barriers of restriction on not only Instagram but on any website during your data collection process.
You can scrape Instagram profiles, posts, and hashtags without having to be tech-savvy or have the knowledge of coding to collect data. Their easy-to-use solution allows you to gather data easily. To begin, you only need to register, login, and commit some money to get the product. The data format is Excel, and it supports only web-based platforms.
---
Pricing: Starts at $49 per month for 100 Actor compute units
Free Trials: Starter plan comes with 10 Actor compute units
Data Output Format: JSON
Supported OS: cloud-based – accessed via API
This Instagram scraper is particularly recommended for Node.js developers. It allows you to scrape and download Instagram posts, profiles, hashtags, places, photos, comments, and even likes. If you have the link to a comment page, you can scrape comments from there. It also supports search queries and URL lists. You can download your data in HTML, table, JSON, CSV, Excel, XML, and RSS feed format. Apify is cloud-based and is accessible through API.
Whether as a business or as a creator, there is no limit to how much public data you can scrape from Instagram. The app gives you back access to scraping data publicly, a function that was removed from the Instagram API in 2020.
---
3. Phantombuster — Best Code-Free Scraper
Pricing: Starts at $30 monthly for 1h daily and 5 phantom slots
Free Trials: free limited plan available
Data Output Format: CSV, JSON
Supported Platforms: Cloud
Whatever Instagram data extraction you want to do, Phantombuster has bots do to the complex work for you. The good thing is that it also helps you scrape data from other social media platforms with no coding required. When it comes to pricing, Phantombuster has a free forever plan. However, the trial lasts for only 10 minutes. If you wish to go for the paid plans, with $30 per month—which is the smallest package anyway—you can utilize five phantoms in one hour per day.
Its bot can only be detected and blocked by the website if you do not configure it properly. Ensure to do so by following the instructions, so you don't get detected and blocked out by Instagram's anti-bot system. It supports desktop and cloud platforms, and scraped data can be exported in JSON or CSV format.
---
4. ScraperAPI — Best Scraping API for Instagram
Pricing: Starts from $49 for 100K Credits
Free Trials: 5K Free Credits
Data Output Format: HTML and JSON
Supported Platform: API
ScraperAPI is one of the best Instagram scrapers in the market due to its unique features. They have a free plan, but it is limited. ScraperAPI can help you scrape data from protected websites and contents, including the ones with integrated security systems such as CAPTCHA. This Instagram scraper is especially handy for people who are just starting with Instagram scraping, as the free plan gives you room to understand its mode of operation.
It also has some advanced features such as Javascript, a custom header, session parameters, and geographical location settings. The free plan has one thousand requests, and you will not be charged any extra fee if the request fails. You can as well send the requests repeatedly but bear in mind that their timeout is 60 seconds.
---
5. Webscraper.io — Best Browser Extension for Scraping Instagram
Pricing: Freemium
Free Trials: Freemium
Data Output Format: CSV, XLSX, and JSON
Supported Platform: Browser extension (Chrome and Firefox)
You don't need to look far if what you are looking for is the best browser extension for scraping Instagram. Webscraper is easy to use, with its point-and-click interface. It does not require you to write codes to extract data.
With Webscraper, you can scrape Instagram profiles, posts, comments, etc—just about anything you want to scrape—and extract the data in a CSV, XLSX, or JSON format. If you want a more automated extraction, you can use their cloud-based scraper.
This helps you schedule scraping at any time, even while you sleep. You can also export scraped data into external storage services such as Google Drive, Dropbox, or Amazon S3. You can manage scraped data via the API.
---
6. Proxycrawl — Specialized Scraping API for Instagram
Pricing: Starts from $21 for 10K Regular Pages
Free Trials: Free Credits
Data Output Format: HTML, JSON
Supported Platform: API
Proxycrawl offers a specialized scrapping solution for Instagram. All you need to do is use its API to collect data from Instagram. Get Instagram data such as profiles, posts, hashtags, captions, locations, and content. Its unlimited bandwidth ensures that your task is not cut short or encountering any glitches. Therefore you do not have to go about extracting large data. It also offers geo-location, letting you scrape data from target cities, countries, or geographical locations.
Its API is easy to use and helps you bypass blocks and hide you from detection. That's not all; with Proxycrawl's incorporated proxy, you can scrape data without being detected or blocked. Proxycrawl has cloud storage where you can move your scraped data into. Its free trial allows you to send 1000 requests without entering your card details.
---
7. Octoparse — Best Visual Scraper for Instagram
Pricing: Starts at $75 per month
Free Trials: 14 days of free trial with limitations
Data Output Format: CSV, Excel, JSON, MySQL, SQLServer
Supported Platform: Cloud, Desktop
This scraper is a handy tool for extracting data from Instagram or other social media and websites. Its selling point lies in the availability of templates that can be used to make your scrapping faster and much easier. Its friendly interface complements Instagram's visual nature, making it the best Instagram visual scraper. To scrape data, you only have to enter the URL of the web page you want to scrape and click on what you want to scrape. You do not need to write codes to extract data with Octoparse.
Octoparse can also help you extract data directly from a database. And just like Webscraper, you can schedule scrapping with Octoparse. You can export your scraped data in CSV, Excel, or API or save it to databases. Octoparse comes with a 14-day free trial.
---
8. Scrapestorm — Best alternative to Instagram
Pricing: Starts at $49.99 per month
Free Trials: Starter plan is free – comes with limitations
Data Output Format: TXT, CSV, Excel, JSON, MySQL, Google Sheets, etc.
Supported Platforms: Desktop, Cloud
Scrapestorm is an app that helps you scrape data from Instagram without you having to write codes. It helps you scrape not only data from Instagram but also available data on any website without disclosing your identity.
It is AI-powered, and thus it detects data points independently. It automatically detects lists, forms, links, images, prices, office numbers, emails, etc., with its artificial intelligence algorithms. It is powerful yet very easy to use. It is suitable for both tech-savvy and non-tech-savvy people.
It exports data for external use in CSV, TXT, JSON, Excel, HTML, MySQL, MongoDB, SQL server, PostgreSQL, WordPress, and Google sheets formats. You can also export data to databases or websites. The app is available for Windows, Mac operating systems, and Linux.
---
9. Parsehub — Free Visual Web Scraper for Instagram
Pricing: Free with a paid plan
Free Trials: Free – advance features come at an extra cost
Data Output Format: Excel, JSON,
Supported Platform: Cloud, Desktop
Given the visual orientation of Instagram, Parsehub is one recommended scraper tool for visually oriented platforms. This scraping tool helps you scrape even the most outdated websites. It is ideal for people with and without coding knowledge. Its excellent features make it stand out among other Instagram scrapping tools.
Their machine-learning relationship engine caters to your complex jobs. You only sit and relax and watch it collect relevant data in seconds after screening the page. You can extract data from protected content such as images, documents, comments, etc. It can also scrape data from Javascript and AJAX pages.
It allows you to extract data with just a few clicks, and you can download extracted data in Excel, JSON, or API format. It has a free plan, but its features are limited. It only allows you to scrape data from 200 pages per run, and customer support is not 100% assured.
---
Pricing: Starts at a $99 one-time purchase
Free Trials: 10 days free
Data Output Format: CSV, Excel, JSON, SQLite, etc.
Supported Platforms: Desktop
Helium Scraper has a user-friendly interface for easy navigation. This makes it scrape data from Instagram and other social media platforms. It is known for its one-time payment of $99 and comes with a 10-day trial. Extracted data can be viewed, extracted, and arranged in a tabular form.
Its easy workflow makes it possible to quickly extract big and complex data within the shortest time available. They can be downloaded in Excel and CSV, XML, SQLite, or JSON format. It's easy to use and does not require you to be a coder to scrape data. Its intuitive point-and-click interface guides even a starter in scraping data.
Helium has a ton of features which include support for big data, SQL generation, API calls, text manipulation, Javascript support, list detection, schedule scrapping, and so on. The app is available for Windows operating systems only.
---
11. ScrapeHero — Best Data Scraping Service
Pricing: Starts at $150 for up to 10K pages
Free Trials: No Free Trial
Data Output Format: CSV, Excel, JSON
Supported Platforms: Web
ScrapeHero has ready-made scrapers that let you download anything you want from the Internet into spreadsheets. Their data services provide high-quality structured data to aid your decision-making process, thus, considered as the best data scraping service. This web scraper scrapes thousands of pages per second and can help extract data from millions of web pages daily. They make large data extraction very easy by handling complex Javascript/ AJAX sites, CAPTCHA, and IP blacklisting.
You can save your extracted data in any format you want, such as JSON, Excel, XML, or CSV. You can as well save them in their cloud storage such as Amazon S3, Dropbox, Microsoft Azure, Google cloud storage, and FTP. This web scraper does not need a special skill to use. They provide much more than just Web scraping services; they can build custom Artificial Intelligence solutions to help analyze the data they have helped you gather.
---
12. DataHut — Best ScrapeHero Alternative
Pricing: Starts at $40 for up to 10K pages
Free Trials: No Free Trial
Data Output Format: CSV, JSON
Supported Platforms: Web
Data makes scraping easy and fun by taking care of all the chaos and letting you scrape data and focus on your business. DataHut has scrapers that can extract data from even the most complex websites with ease. This way, you don't get to miss out on important data you want to extract.
They extract millions of data from hundreds of websites every day 24/7. It is considered the best alternative to ScrapeHero No coding is required. You are guaranteed clean data and money-back—just in case you do not wish to continue with their services, you can extract scraped data in CSV and JSON format.
Even when vendors discontinue their service, you do not have to worry about scraping critical data, as DataHut provides you with a solution.
---
13. Zenscrape — Cheap Scraper API
Pricing: Starts from $30 for 250K Credits
Free Trials: Free Credits
Data Output Format: HTML, JSON
Supported Platform: API
Zenscrape has a lot of features, such as scraping HTML websites with relative ease. Their API is the fastest you will find in the market. No matter how many requests you submit, their API puts up a sufficient performance enough to cater to your requests.
They have a generous pricing plan; they offer free 1000 API for one month. They support all programming languages. You have nothing to fear when it comes to being detected by the Instagram anti-bot, as their large pool of rotating IPs will cover for you. Zenscrape's API is perfect for even websites that have strict security measures such as CAPTCHA, IP blacklisting, or any other anti-bot mechanisms.
---
14. ScrapingBee — Best ScraperAPI Alternative
Pricing: Starts from $49 for 100K Credits
Free Trials: 5K Free Credits
Data Output Format: HTML, JSON
Supported Platform: API
ScrapingBee allows you to scrape both private and public data. You are left to focus on your scraping task while ScrapingBee handles the headless browsers that will eat up your RAM and CPU. They also render Javascript with a simple parameter so you can scrape Instagram or any website, even Single Page Application, Angular.JS, Vue.JS, or any other libraries.
Their constantly rotating proxies help give you a better scraping experience. It ensures that your bot is neither detected nor blocked. It downloads extracted files in HTML and JSON format. You can take a screenshot of the page you want as an alternative to downloading the HTML format. The screenshot feature supports both partial and full pages. You do not need to have coding experience to use ScrapingBee, because you can build custom scrapers without writing a single code.
---
Pricing: $160 one-time payment
Free Trials: No
Data Output Format: Excel, JSON,
Supported Platform: Desktop
Bindlex helps you extract Instagram data such as account names, usernames, bio descriptions, followers, and hashtags, all in one and at the same time. This means that you do not have to scrape each one separately. You can easily filter through all unnecessary data and scrape only the ones you deem necessary. Bindlex is ideal for managing your incoming data, from Instagram posts to customer service interactions.
They have smart and automated bots that perform tasks to reproduce human movement on websites. This will cause the Instagram anti-bot system to think that it's human and, therefore, not block it. Bindlex lets you add specific tags to aid the scraping of email addresses. You can download scraped data in TXT or Excel format.
---
How to Scrape Instagram (Apify)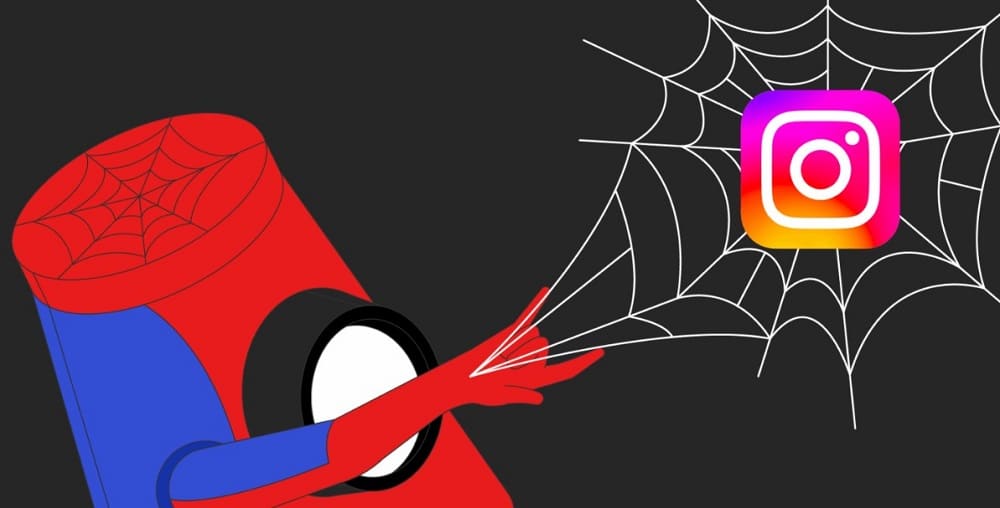 Scraping Instagram public profiles help you get other data about an Instagram account. Extracted data helps you make better decisions and know what your competitors are doing differently. Your results can also be used for research purposes.
So here's how to scrape data from Instagram using Apify.
Step 1: First, visit http://apify.it/instagram-profile
Step 2: You will be taken directly to the Instagram profile scraper page, as seen below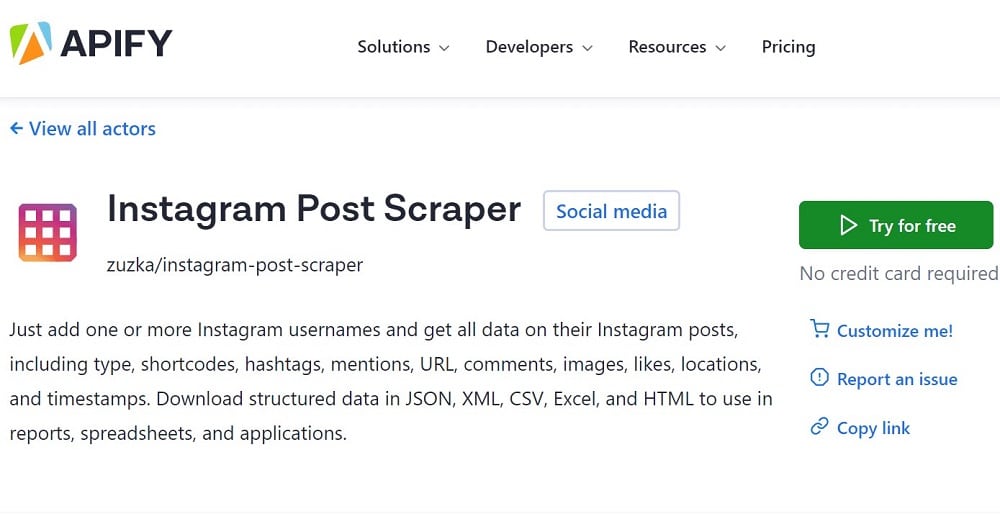 Step 3: Click on the green Try for Free button
Step 4: If you don't already have an Apify account, take a moment to sign up, then log in to continue this process
Step 5: Once at the Instagram scraper page, click on Create a New Task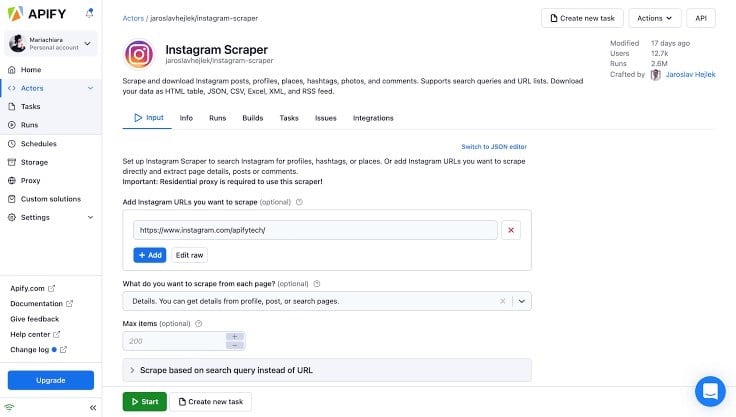 Step 6: Click on the blue Add button, and when the input bar comes up, simply enter the username of the profile you wish to scrape. You can add as many profiles as you want.
Step 7: Next, click on Save & Run
Step 8: Hold on while Apify fetches data.
Step 9: When the page loads, Click on View in Another Tab if you wish to preview the extracted data before downloading. Otherwise, you can just go ahead and click on Download extracted data in your preferred format.
---
FAQs
Q. Do I Need External Proxies for these Instagram Scrapers?
Except for Instagram scrapers that have proxy-integrated services, you may have to use proxies for some of the Instagram scrapers. Some of the scrapers have proxy services where you can get proxies for the scrapers to better conceal your identity and help you break through restricted platforms or websites. Just pay attention to know which scraper has or doesn't have integrated proxies so you can get proxies or not, as the case may be.
Q. What are Scraped Instagram Data Used for?
Scraped data are used for various purposes. Every web scraper has a reason for scraping websites or platforms. In other words, the uses vary from scraper to scraper based on intent. However, some of the popular use of scraped Instagram data includes business intelligence, marketing research, market research, and many others.
Q. Is Scraping Instagram Legal?
Normally, Instagram prohibits any form of scraping, crawling, or caching. That is why they have a strong security infrastructure in place to detect IPs or too many queries. However, there is no law anywhere that relates to these activities. Therefore, it is not illegal. The only repercussion there might be is getting your account banned.
What is considered illegal is scraping private data, copyright, or other law-protected content from websites. If you are going to be scraping the page of a known figure on Instagram, you might have to obtain permission before scraping their content to reuse. Otherwise, you may be prosecuted if caught.
---
Conclusion
Writing codes to scrape Instagram data is efficient, but what makes these scrapers better is that you do not have to write boring codes to scrape the platform. You should pay attention to proxies, though, so your task doesn't get cut short. With the knowledge you may have gained from this article, you can now decide which Instagram scraper to go for.
With the free trials that come with some of them, you'll have room to test them to be sure they are suitable for you before you purchase. Nobody can stop you from scraping that Instagram page you find interesting. Go ahead and have fun.