Getting ideas to write in your Pinterest pins can be a bit stressful. However, you can use Pinterest Description Generators to get the perfect words to use to entice your audience. Pinterest is a great platform to showcase your creativity. You just need to have the perfect post image, title, and description. Many people get enticed by what they see and if you make that a priority you will draw the right audience to your content.
Additionally, to increase your audience reach, providing content tailored to your audience's needs is essential, something they will love to read or watch. You can have different Pinterest pins that you place on niche-specific boards.
Moreover, to keep your audience engaged, try to pin often and add a call to action in your images or descriptions. Ideally, tell people what they need to do next. Otherwise,  they will pass your content.
We have provided 5 of the best Pinterest Description Generators on the internet.
---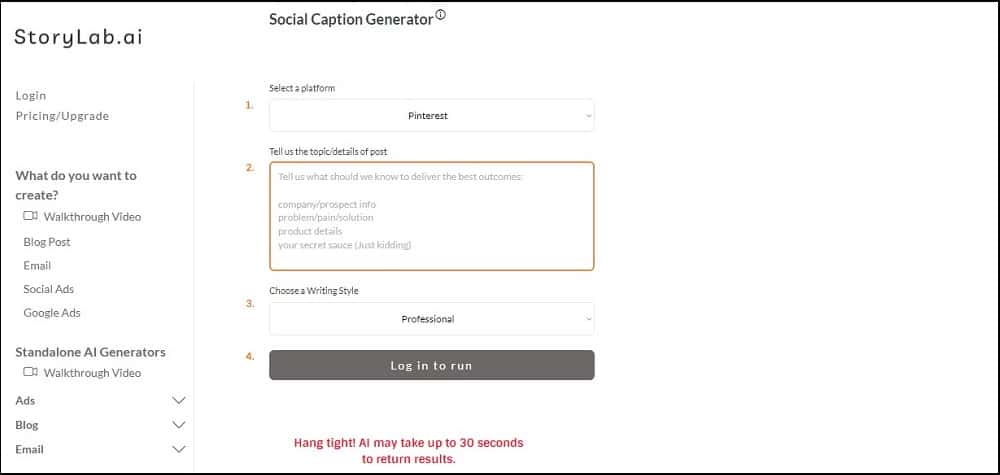 It is easy to run out of ideas when generating the perfect Pinterest post or account description. You can utilize the Storylab Pinterest Description Generator to find the ideal description.
On the generator dashboard, choose the Pinterest platform, describe the post, and choose the perfect writing style. Once done, click the "Inspire me" button to get some examples that you can use.
You can even paraphrase existing Pinterest descriptions and generate new ideas to boost your content rank. Pinterest is very competitive, and you need to stand out from the crowd.
---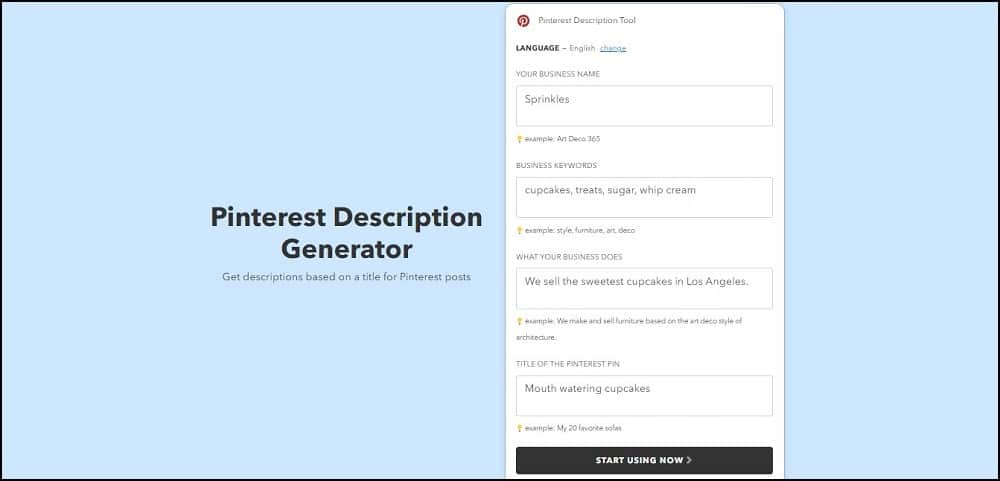 If you quickly run out of ideas when posting a new pin on Pinterest, the Nichess description generator will lift that worry from you. You must provide essential information and get an accurate pin description to entice your audience.
First, create an account on Nichesss, choose the Pinterest Description tool, and fill out the business name, keywords, what your business does, and title of the Pinterest pin.
After that, the AI tool will provide some Pinterest description ideas you can use. Within a short while, you will have the perfect Pinterest description for your pins. Your only work will be to provide great visuals, titles, and call-to-action links to entice the audience.
---

Another great online tool we highly recommend is the CircleBoom AI Powered Pinterest Description Generator. It is a straightforward process as you must create an account through "Circleboom Publish" for free. Choose Pinterest from the list of social media networks to connect with your account.
The beauty of the platform is that you can connect as many accounts as possible. Proceed on to create a new post through Pinterest. You can choose media from any presented platform or upload your media.
The social media text generator creates the perfect Pinterest description with hashtags, emojis, or extra text. Once satisfied, use the text for your Pinterest post. Generate a pin and share it with the relevant audience.
---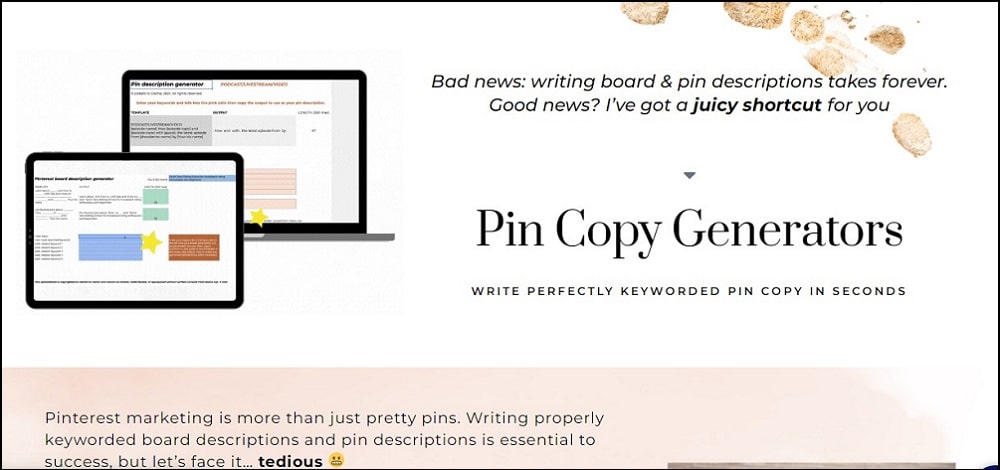 Pinterest is one of the most popular social media platforms that you can use to promote your brand or company. To entice your audience, you will need the perfect description to boost your marketing campaigns. You can get excellent descriptions with the right keywords through the Pin Copy Generators package.
You will get access to the board description generator and pin description generator, plus how to utilize them. The time you would have used to formulate the perfect description can then be used to create new posts.
Therefore, your focus can be shifted while you get more ideas for your next piece of art.
---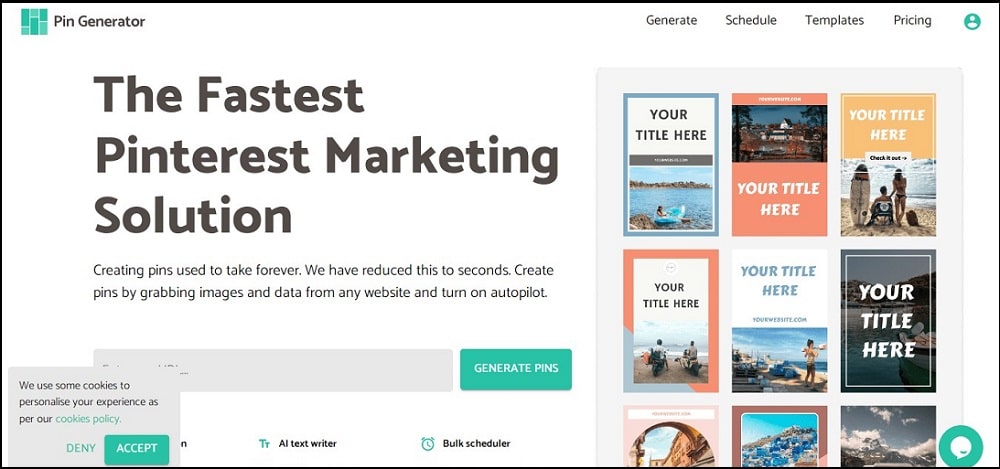 The Pin generator is one of the best tools that you can use to create pins for your marketing strategies. Therefore, you can spend more time being creative to entice your audience. Using the tool automatically creates pin titles and descriptions for you based on the background content you offer.
Whether you want to generate pins for your e-commerce website or blog, the website covers you! You can get images and data from any URL through the online tool. You can also bulk edit pins till you get the most appropriate one.
Through the optimized templates, your work will be made much more accessible. It also has a "scheduler" that you can use to schedule content for a specific time. Through AI, you can create unique pins for your audience.
---
Boost Your Pins With These Amazing Pinterest Description Generators
Pinterest is widespread among different age groups. Therefore, you need to create pins that direct to content that is audience specific. You must keep your audience engaged and even provide enticing content that will bring more people to check out your content.
After creating too much content, you can get writer's block based on descriptions that you can use. That's why using any of these Pinterest Description Generators is recommended. So, what are you waiting for? Try one today!