Have you been searching for the top Kodi builds to simplify your media and streaming viewing? Come in now to discover some of the top 10 Kodi Builds that will make your experience enjoyable.
Overview of Best Kodi Builds
As a media and entertainment nut, you can vouch for the simplicity of Kodi builds. Imagine a pre-configured Kodi media centre software package that includes a certain set of add-ons, skins, and other customizations. These are the main Kodi builds' freakout-inducing characteristics.
The ability to play and stream a range of digital media material, including movies, TV shows, music, and images, is another convenience offered by Kodi builds.  Normally, third-party developers that configure the Kodi software produce Kodi builds.
To make a pre-packaged installation, they are adorned with different add-ons, themes, and settings. As a result, that provides a certain user experience. While certain Kodi builds may highlight a particular user interface or theme, others may be made to make it simple to access a certain type of material.
Making your perspective more streamlined and unique is now easier. So, it is your responsibility as a user to choose a Kodi  build that is safe from threats. In this article, we've listed and discussed the top Kodi builds to make the decision process easier for you. Find out by reading on.
Top 10 Kodi Builds: Elevate Your Streaming Experience
Discover the best Kodi builds of 2023 to enhance your streaming and media experience. Learn about the features, compatibility, and unique traits of each build in our comprehensive guide.
| Kodi Build | Highlights | Suitable For |
| --- | --- | --- |
| Doomzday | Stylish, modern interface, wide range of add-ons, ideal for customization | Overall best Kodi build |
| GrindHouse | Compatibility with low-spec devices, add-on features and themes | Low Specification Devices |
| Fallout | User-friendly design, high streaming quality, consistent updates | Beginners |
| EzzerMan | Offers a variety of pre-installed add-ons and features, user-friendly interface | Alternative for Doomzday |
| Plutonium | Dazzling and colorful backgrounds and themes, ideal for streaming content | Kodi Build with vibrant and flashy themes |
| CMan Wizard | Comprehensive menu, compatible with both low and high-spec devices, fast navigation | Kodi Build with comprehensive menu |
| DaButcher | Neatly structured categories, quick and easy experience, wide variety of pre-installed add-ons | Kodi Build with best-organized categories |
| Luxray | User-friendly and straightforward UI, a wide selection of add-ons | Alternative for CMan Build |
| No Limit Magic | Best for Kodi 18 and below, provides a wide range of streaming content | Kodi 18 and below |
| Atomic Matrix | Ideal for accessing various streaming content, based on the latest Kodi version | Last on the list |
1. Doomzday – Overall Best Kodi Build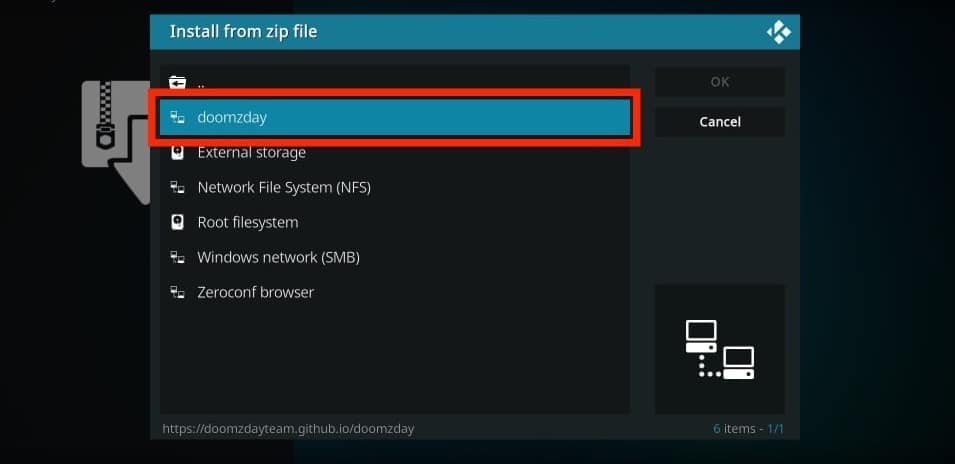 Doomzday stands out among the most famous Kodi builds. It is a well-liked wizard for Kodi media player. Other builds lack a number of features that it provides. As a result, we believe it to be the best Kodi build available. Doomzday is designed with effective user add-ons. As a result, it has a stylish and contemporary interface and a wide selection of video, music, and program add-ons, making it a popular option for people wishing to improve their Kodi experience.
With this build set-up, you will have incredible control to tailor your Kodi media to your personal aesthetic preferences. Also, the program, video, and audio add-ons are fantastic for assisting you with maintaining and recording utilities. The UI is easy to use and installation is straightforward.
---
2. GrindHouse – Most Compatible Kodi Build for Low Specification Device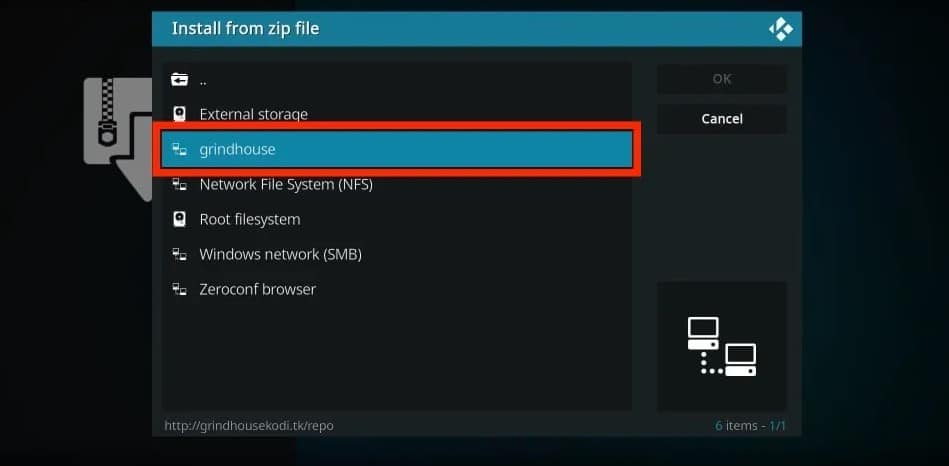 Has your low-spec device been the cause of your unsatisfactory Kodi build experience? The finest option for such devices is right here. The GrindHouse Kodi build was created particularly to bring Kodi media closer to comfortable entertainment. This design effectively manages a variety of entertainment that suits your taste in humour, adventure, and other TV series. For many users, its compatibility with low-end devices makes it a good option.
This customized build, based on a Version, includes add-on features and themes. The users are considered by the designers. As a result, it offers a simple method for arranging your programs and personalizing your views. Also, the installation of add-ons won't trouble you. It has pre-installed audio and video add-ons. You can add your planned content using this build.
---
3. Fallout – Best Kodi Build for a Beginner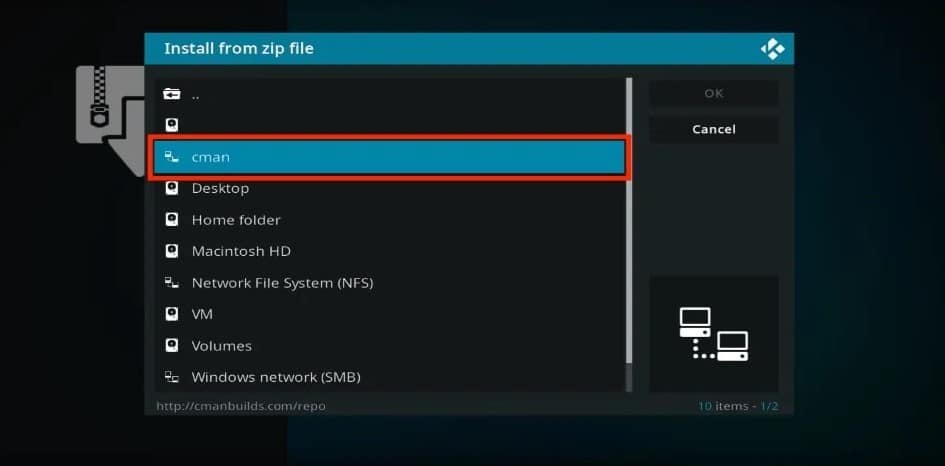 If you're having trouble navigating Kodi builds, it's possible that you're a new user. Stress less. Here is a solid Kodi build recommendation for you. The build is designed to give Kodi media users a fantastic media experience. Particularly, this release stands out from others due to its user-friendly design and consistent updates. Fallout maintains a high streaming quality, unlike some others that might trade off that quality for ease of usage.
You'll like the following add-ons, themes, menu, and background customization options. Also, the installation only requires a few clicks. The add-ons can be used to watch live TV, sports, and movies. This user-friendly interface is a standout feature that draws novice Kodi builders in. Try it out to enhance your media consumption.
---
4. EzzerMan – Alternative for Doomzday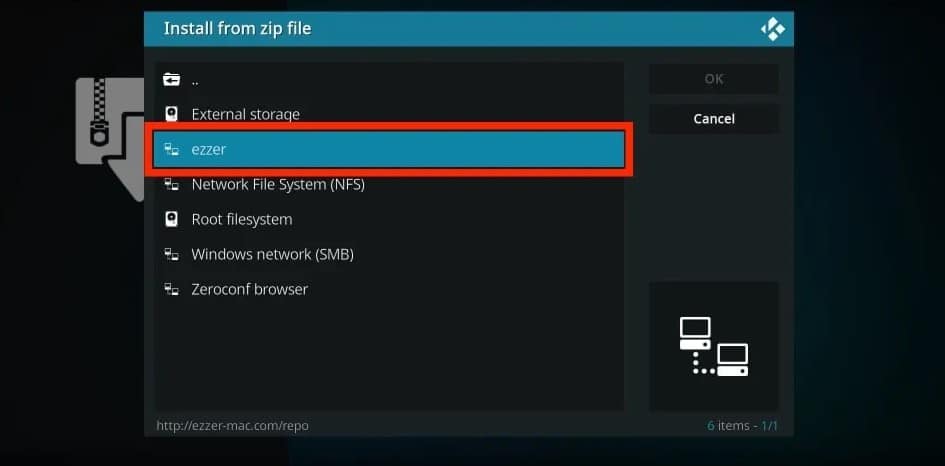 Choose EzzerMan if you want a different all-purpose Kodi build to replace Doomzday wizard. Like EzzerMan, it provides comparable Kodi customization services. This build is set up with a selection of pre-installed add-ons and features so you can manage and customize your Kodi experience.
Hence, it offers a customised viewing and streaming experience. Importantly, EzzerMan makes switching between and among add-ons simple. Like its clone Doomzday, its user interface is thorough but welcoming.
The built-in video and audio options work well to provide you with the ideal theme and background you could want. The experience is fantastic, but some of the add-ons may need to be updated because they are out of date. Hence, there may be a security breach or malware exposure on the device. Therefore, before installing, we suggest performing a complete device and update check.
---
5. Plutonium – Kodi Build with Vibrant and Flashy Themes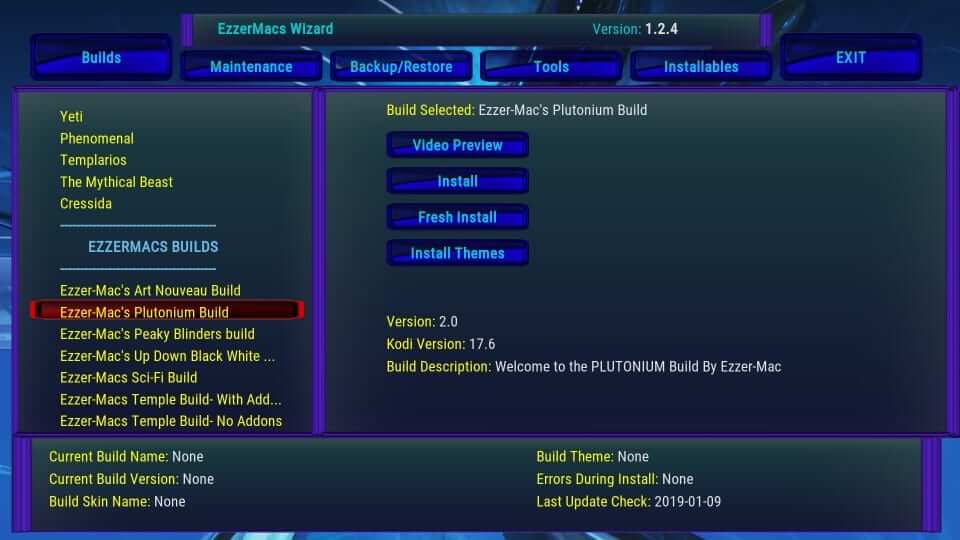 Perhaps you were searching for a Kodi setup that would suit your sense of aesthetics. Here is unquestionably one. Users of the Plutonium Kodi build like it because it has a selection of dazzling and colourful backgrounds and themes. Hence, when you enjoy the media material, it has a distinctive skin and a bright interface. The best selection of add-ons for streaming media content has been chosen by the builders.
These materials come from a variety of sources. TV shows, music, videos, sports, and live performances are all included. Both experienced Kodi users and newcomers will find the customized interface to be appealing. Update notifications, add-on sources and providers, and repository add-ons are additional features. The best themes and skin are found in Plutonium when compared to the other builds on this list.
---
6. CMan Wizard – Kodi Build with Comprehensive Menu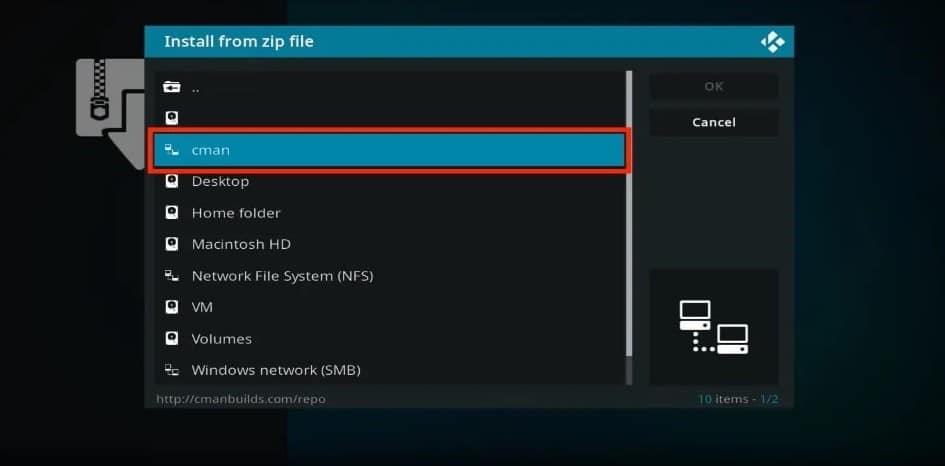 A builder's menu is just as crucial as the actual build. Hence, when you have one, a comprehensive menu is a benefit. This distinguishes CMan from other Kodi builds. Thus, CMan is a well-liked build to have at the tip of your Kodi menu. Also, it is incredibly simple to install and utilize. Thankfully, this build works with both low- and high-spec devices. As a result, you do not need a high-capacity smartphone to take advantage of the fantastic features it provides. CMan shares Plutonium's appealing aesthetic and user interface.
It is well acknowledged to possess the well-liked Estuary skin. This gives it a sleek, contemporary appearance. Moreover, CMan is designed to maximize performance. Hence, navigation will be easy and quick to respond to Live TV and well-known add-on features like Exodus Redux, Magic Dragon, and SportsDevil are available in addition to the customizing tools.
---
7. DaButcher – Kodi Build Best-Organized Categories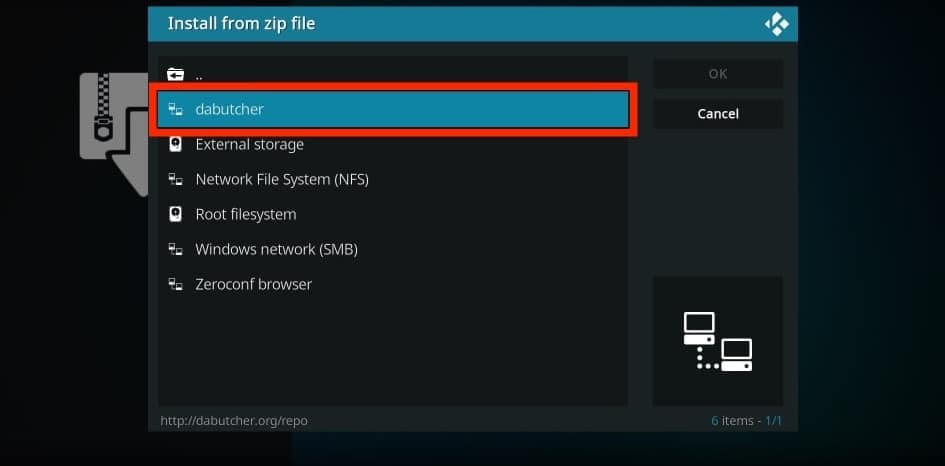 Dabutcher is a well-liked Kodi build among users. It is renowned for its top-notch features, which provide a menu and categories that are neatly structured. These builds were developed by the Dabutcher developer, and they guarantee a quick and easy Kodi experience with a wide variety of add-ons already installed. Do these builds, however, merit your time? They are, indeed. The interface comes with a simple but customisable skin to start with.
A consideration is visual quality. In addition to the quick installation processes, the navigation is made simple by the sections on the home screen. TV Programs, Music, Movies, and more are included in these categories. Thus, searching for any category only requires clicking. Last but not least, pre-installed add-ons have been carefully chosen to provide a great streaming experience.
---
8. Luxray – Best Alternative for CMan Build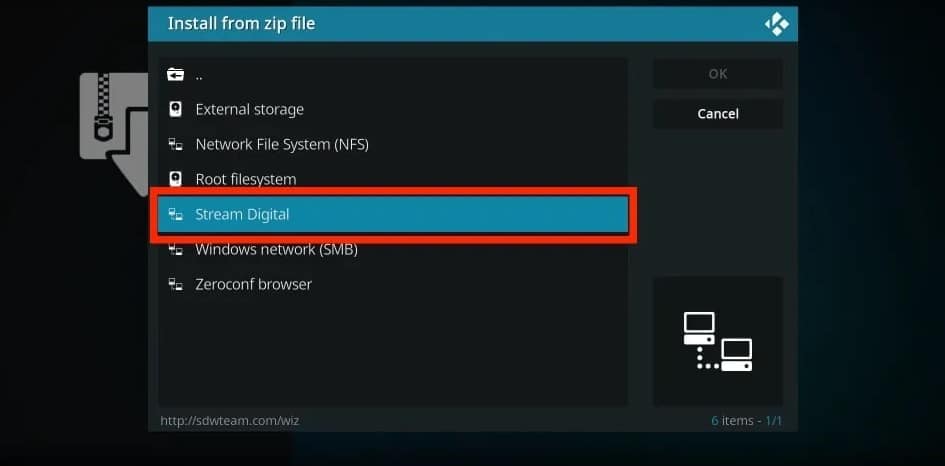 Do you want the best streaming possible? Checking out the Luxray Kodi build is definitely worthwhile. Many consumers are drawn to it by its user-friendly and straightforward UI. Also, this Kodi setup features a strong selection of add-ons that will keep you hooked. Although it performs similarly to CMan and has a more extensive menu, Fallout also has a solid, self-explanatory UI. As a result, it can also replace Fallout in terms of novice usability.
Seren, Magic Dragon, and even Exodus Redux are some of the well-liked pre-configured add-ons. Users have access to a huge library of movies, Live Channels, and TV shows thanks to these add-on features. Also, you can change the skin to fit your preferences and create a unique streaming experience. It also informs users when add-ons and other features have been updated.
---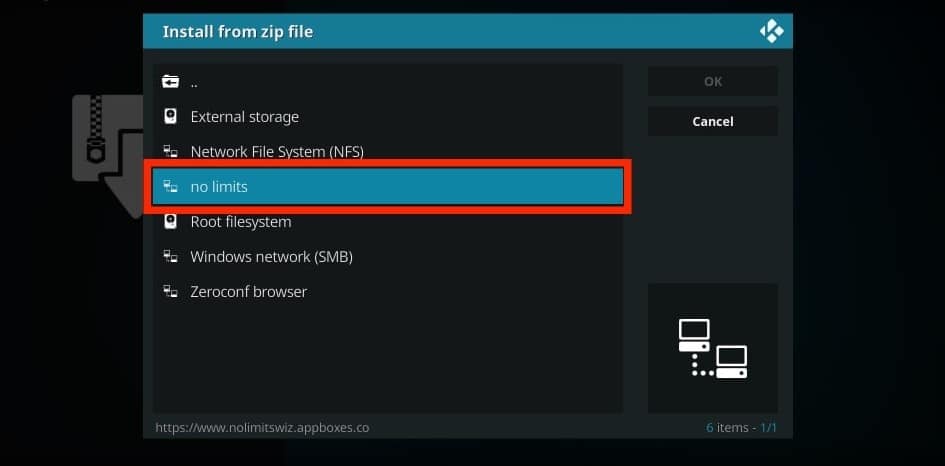 No Limit Magic is one of the greatest Kodi builds that has ever been utilized. As the name implies, it offers a magical Kodi experience. most significantly if you use it on Kodi 18 or before. This does not imply that the design is incompatible with other systems. Nonetheless, Kodi 18 provides the finest performance. With its enchanted infinite add-on features, this build provides users with access to a broad variety of streaming content.
The regular upgrades provided by the creators are an intriguing feature of this model. Also, this build's navigation is simple and seamless. Finding any content won't be a difficulty as a result. The skin can be changed, much like previous builds. There is no buffering, in addition to simple installation. As a result, there is no lag in the streaming experience.
---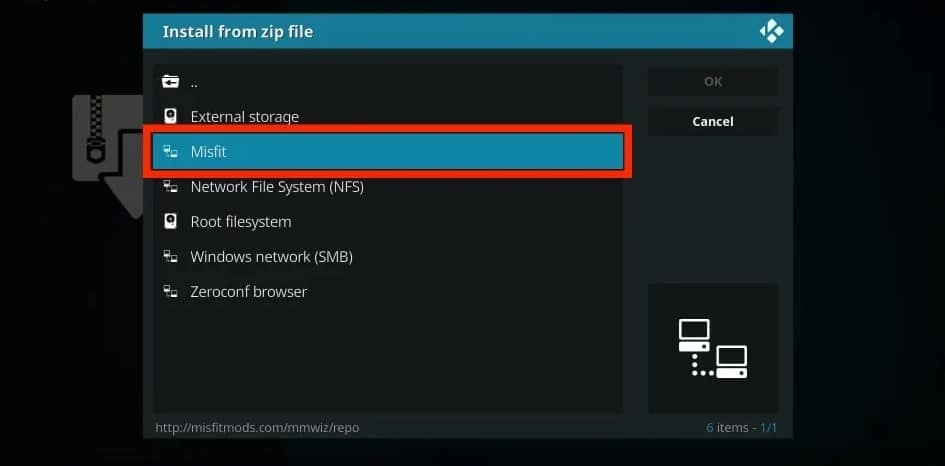 Here is the final but not least, even if you could still be having trouble choosing decisions. Atomic Matrix is a fantastic option for Kodi builds. This preset installation for the Kodi platform works well. Like earlier builds, this one includes a variety of features, skins, settings, and add-ons. As a result, it makes it simple for you to access a variety of streaming content in a way that is unique to you. You will therefore have unrestricted access to TV shows, sports, videos, and live performances.
The most recent Kodi version, a19 matrix, serves as the foundation for the Atomic Matrix build. As a result, it uses the most recent version of Kodi with the newest features. As a result, it is less vulnerable to security concerns than systems with older versions. Finally, there are several skin types to alter the appearance and suit your aesthetic preferences.
---
FAQs
Q. Why Should I Use a Kodi Build?
No matter how much or little experience you have with the Kodi platform, Kodi builds are revolutionaries. Thus, you will enjoy Kodi more if you can tailor your experience. The ease a Kodi build offers its users is just one of many reasons to adopt it. The pre-installed add-ons it offers are clear evidence of this.
Consequently, setting up the software from scratch requires little to no effort. The ability to customize is another crucial one. Your favourite programs can be categorized, organized, and given a theme here. As a result, you receive a visual appeal that you wouldn't normally get.
Q. Is the Use of Kodi Builds Legal?
The legality of Kodi builds is one query that many users love to ask. The usage will determine the solution. The legality or illegality of Kodi builds cannot be determined with certainty. The builds, however, can be used to access content that is protected by copyright and that is not authorized. In this situation, using the gadget is prohibited.
Basically, the builds are just convenience-oriented preconfigured Kodi installations. So, if you have any doubts about the legality of a particular add-on, we urge that you research it. More significantly, various laws might govern how its citizens utilize add-ons. Such merit careful examination.
Q. What Should I Look Out for in a Kodi Build?
Like other installations and configurations, the Kodi build has elements that make it unique. A solid Kodi build should have some of these features, so keep an eye out for them. The add-on functionality is the most crucial.
The level of exclusivity and access you will have depends on the add-ons. It is also the foundation of convenience because they are already installed for you. Another is the capability and standard of customisation.
You can build your own media universe if you have complete control over Kodi. The skin, themes, and background feature is other infallible feature. Here, you can sate your appetite for beauty. The general performance and compatibility with your device should also be taken into account.
---
Conclusion
The excellent Kodi platform experience you will get when using the builds is no longer breaking news. The view and convenience are both excellent. The ability to access external content that is not easily available on the Kodi platform itself is more significant. The choice of Kodi is then your responsibility.
Having read this article, we are confident that you can proceed and make an informed decision based on the data. Last but not least, not all of the media available through Kodi builds is authorized. Due diligence should be taken as a result to prevent going to court.