YouTube video titles can entice your viewers to want to watch your content. If you are short on ideas the YouTube Title Generators can help lift that load from you. YouTube is highly competitive and to stand out you need to put in the extra effort. In as much as you might have the perfect thumbnail, you also need to have a high-quality title that will entice people to view your content.
If you regularly post YouTube videos, you can quickly get a mind block on titles that you can use on your YouTube videos.
Luckily, these incredible 10 YouTube title generators can save you. In the same case that you would be enticed to watch a particular video, it is the same way you should entice others to click on your YouTube video.
---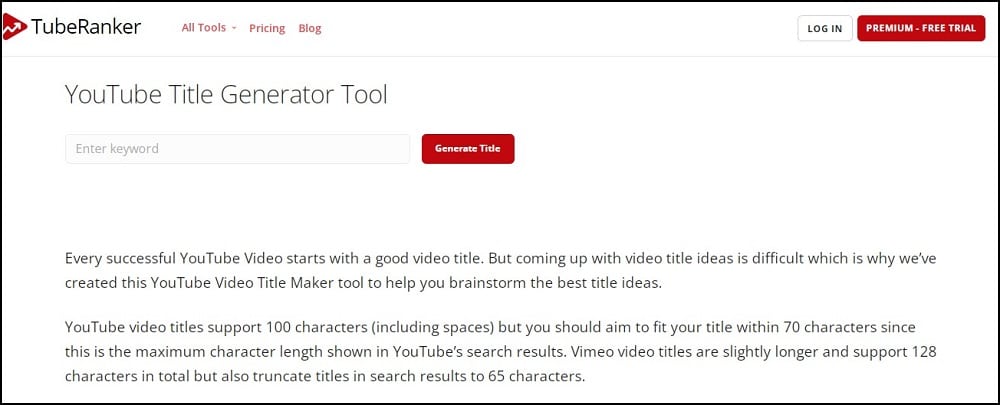 Tuberanker is an online tool that can be used to generate YouTube titles. If you want your YouTube video to get the right audience, then you need to work on using a highly optimized title.
People easily get enticed by titles; if it sparks curiosity, most people are always ready to click. The difficulty comes in developing individual YouTube titles if you continuously create content for your channel.
On the Tuberanker platform, enter the video's keyword and generate the perfect title. A great title will increase your visibility and clickability.
Having a great title that you won't have to change too often is crucial, which can change its metrics.
---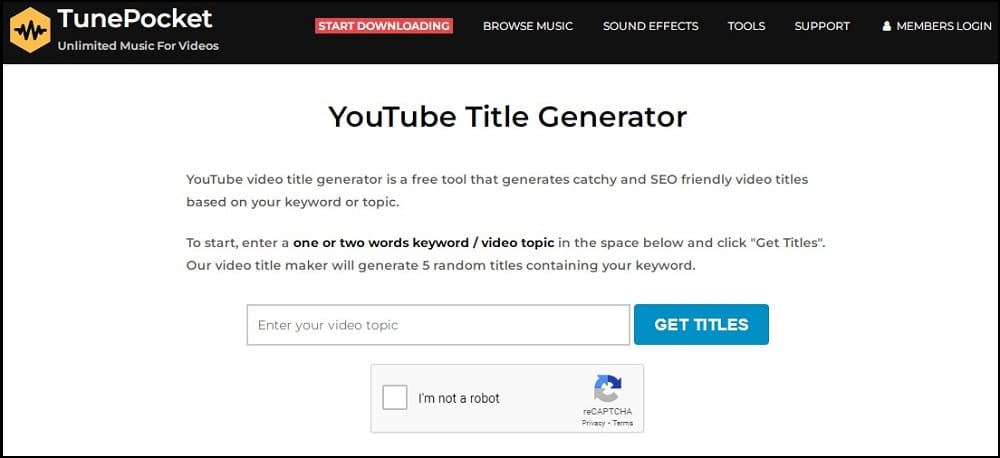 If you change your YouTube title structure, you will note how much the audience will be drawn to you. Therefore, you can use the Tunepocket YouTube Title Generator to generate a catchy and SEO-friendly title.
However, you need to be specific about the keyword or topic to get the most suitable title that resonates with your content. Provide one or two-word keywords or the video topic to generate the perfect title.
You will get access to 5 titles with your preferred keyword. An ideal YouTube title should also include a powerful word to grab attention. However, ensure the tag is between 5–7 words.
Also, ensure the title relates to the video to prevent disappointing your audience, which can lead them to dislike your video, comment negatively, or unsubscribe.
---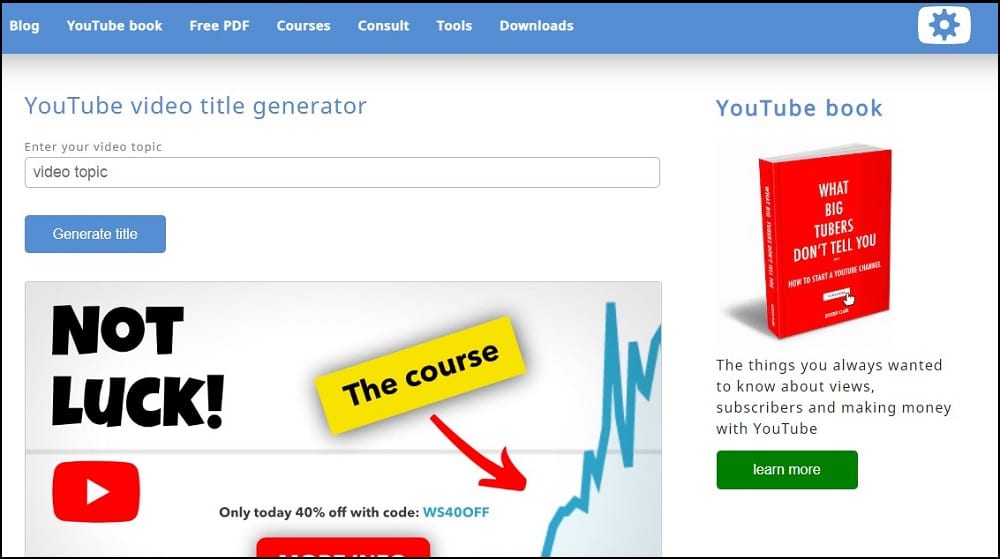 If you regularly post YouTube videos, you may get some mind blocks and not manage to formulate a perfect title. However, you can use the Social Video Plaza title generator to get a highly optimized title to draw more attention to your content.
A great title will win you more subscribers and entice your existing audience. You must input the video topic in the text box and generate. Some title suggestions will be shown.
The title should invoke curiosity, utilize some trigger words, be short, have fewer competitive words, and communicate value. That's the winning YouTube video title that you should use.
---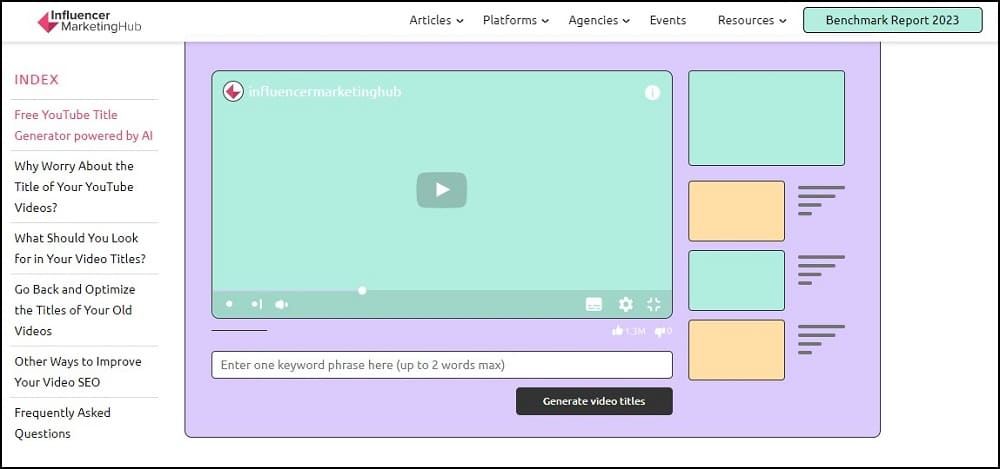 Optimized YouTube video titles draw the right audience to your content. If you are unsure how to proceed, then the Influencer Marketing Hub YouTube Title generator will do the trick. It is advisable to insert a word or two-word phrase for the AI system to generate the perfect title.
You will get some random titles based on the input keywords. Also, remember to ensure the keyword relates to what is in the video. Don't mislead your viewers with a title unrelated to the content.
Also, in most cases, if your title contains a number, it can easily entice viewers or subscribers to watch it. Just ensure the tag is eye-catching to brew some curiosity in your audience.
---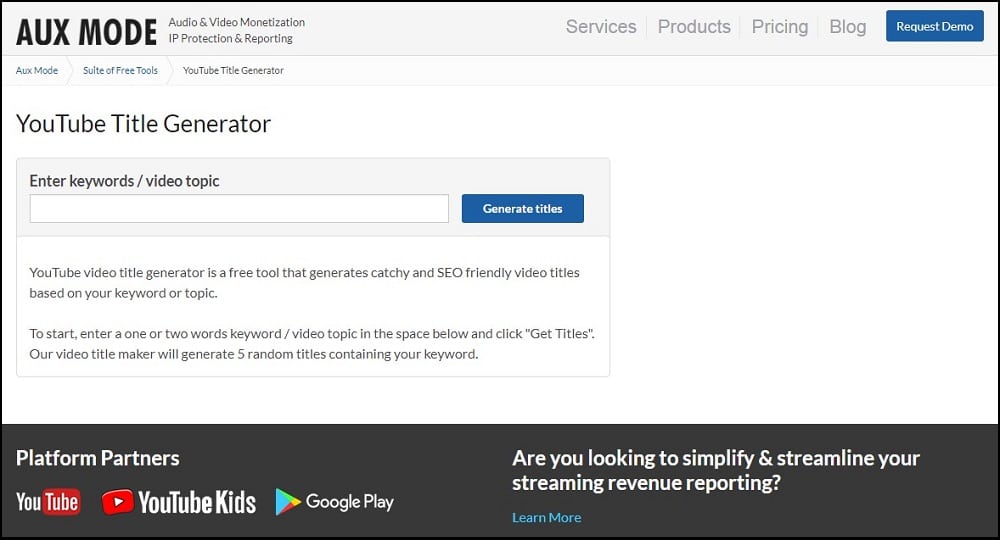 AUX MODE YouTube Title Generator is straightforward and provides high-quality output. You need to insert the video's primary keyword or video topic for the system to generate the perfect title for the video.
You will get 5 random titles based on the input you have given. You can choose the perfect title for your YouTube video based on your results.
Just ensure you choose a title that relates to your content. Also, work on providing high-value content that will benefit your loyal subscribers.
---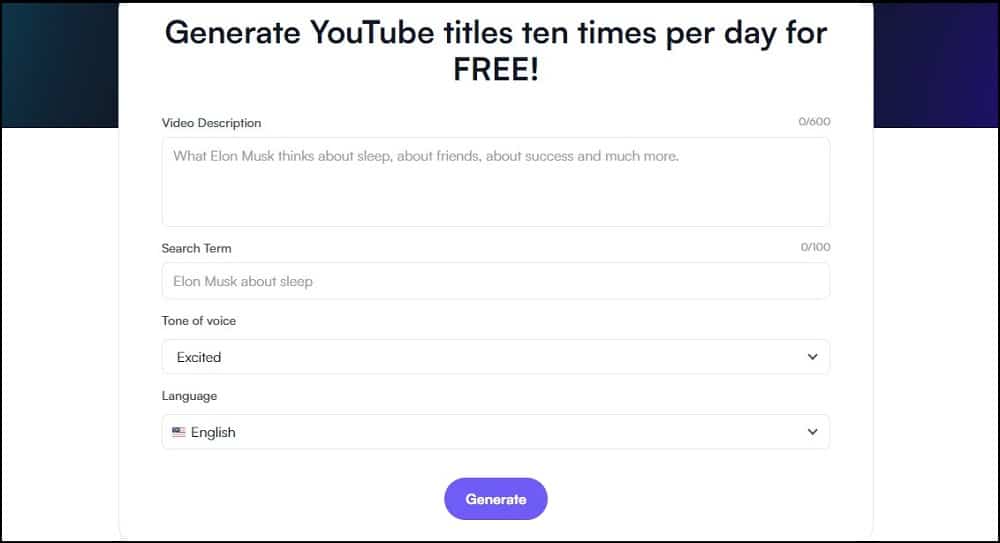 This Writesonic YouTube Titles Generator is among the unique online tools on the internet. It allows you to generate up to 10 YouTube titles daily for free. However, you should get a subscription if you want to generate more.
Provide the video description, search term, tone of voice, and language for a suitable title. If you decide to get a subscription, you can get value for your money based on the output.
It provides some incredible title ideas that you can use. This will be your go-to tool due to the remarkable title generation. Therefore, be ready to get new subscribers to your content. Just ensure you provide informative content.
---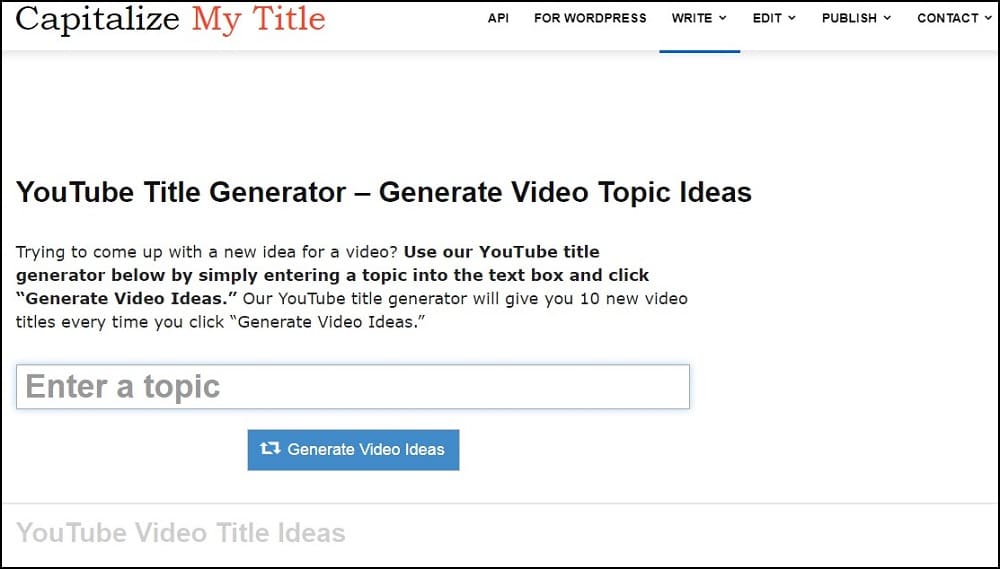 If you are running out of ideas on the perfect YouTube title, you can use this online tool to do the work. Enter the video topic and generate some incredible views. Therefore, you will surely get the perfect titles for your video in real time.
Grabbing your audience's attention plays a huge role in ensuring that you increase your subscribers and even have returning subscribers. The title should build a sense of curiosity in the audience.
In a considerable way, the title should also convey what the video is about. The more powerful the words are, the better!
---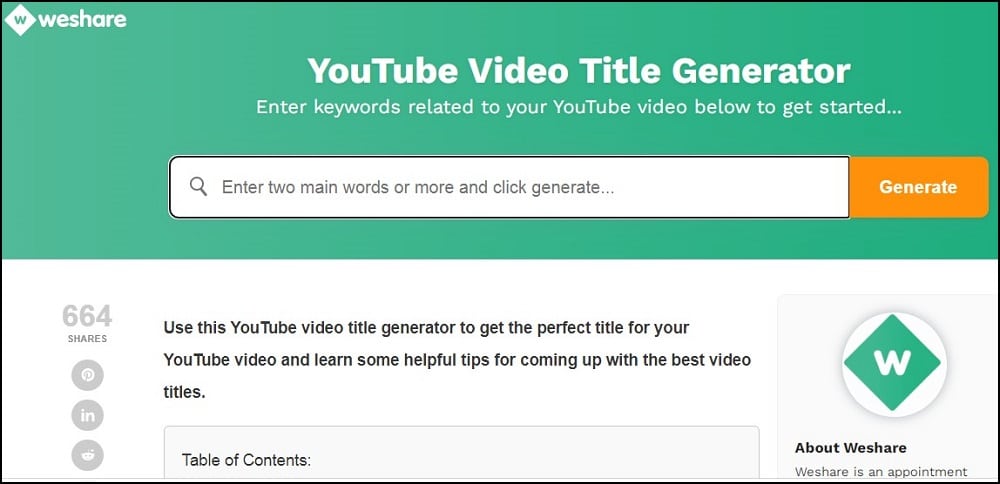 What is your video all about? You can use two main words to generate the perfect title that resonates with your content. People get enticed when they see a YouTube video title. However, you must ensure the title is not misleading to prevent losing viewers or subscribers.
An optimized title draws the proper attention of the audience. Therefore, the YouTube Title generators are perfect for the job if you are unsure what words to use. You can even evaluate the different YouTube video titles to find a unique approach to forming your titles.
What kind of videos draws more attention? How was the video title written? You can even check your competitor's label creation mode and learn something from it. Stand out with your YouTube channel!
---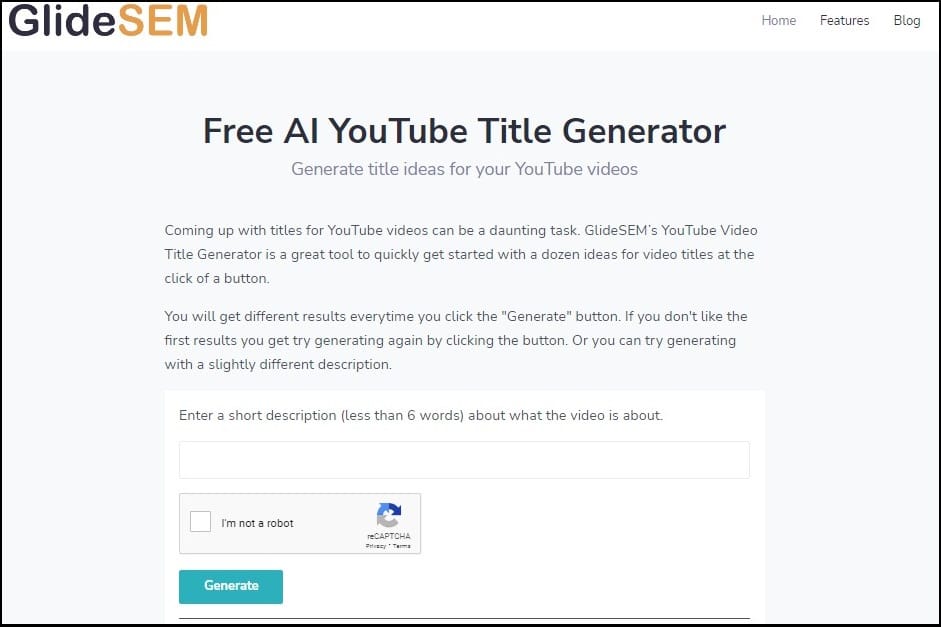 A YouTube video title speaks a lot more than you can imagine. Luckily, the GlideSEM AI YouTube Title generator can help you to get the perfect title for your YouTube video. You must provide keywords or a sentence phrase of fewer than 6 words and generate.
You will get some title examples that you can use in the video. Check all of them and choose one that suits perfectly with your style. The platform uses an advanced language model that understands texts to generate the perfect title for YouTube videos. If you have a great image, the title will also work magic.
---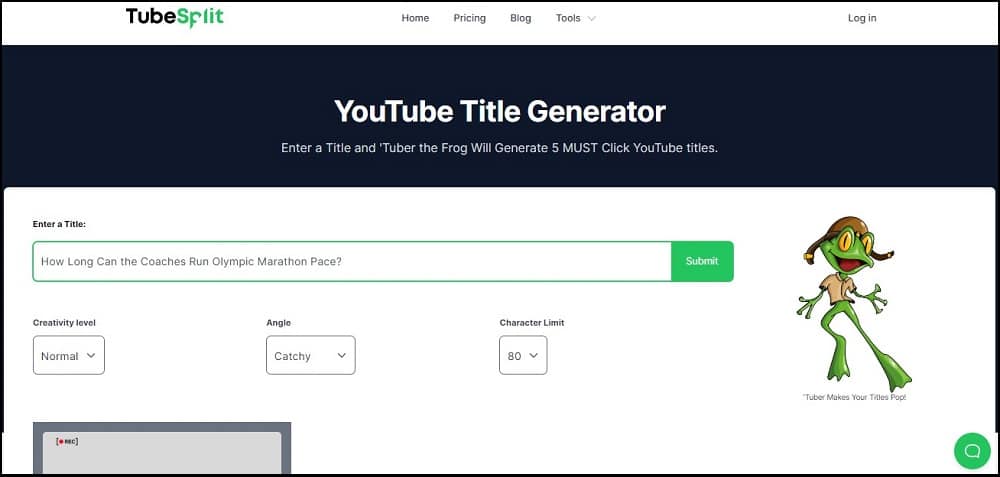 Are you wondering about how to get perfect YouTube titles for your videos? Then Tubesplit YouTube Title Generator is the answer. You must enter your title and choose a creativity level, angle, and character length. It would be best if you then generated to get examples of YouTube video titles that you can use.
It is straightforward to use. Luckily, if you have a thumbnail, you can insert it and get how it will look with the title. Therefore, you can be assured of the final output. Ensure you choose a title that suits your content and doesn't mislead your YouTube audience.
---
Build Your YouTube Subscriber List With Powerful Titles
Proper investment in your YouTube channel can boost the number of new subscribers that you get. People easily get enticed by what they see and read. Therefore, you will draw the right audience if you have an excellent video thumbnail and title.
Properly optimized titles also make your video rank higher in search results. However, the content matters most because if you mislead people about it, they won't hesitate to unsubscribe and not trust your channel again. Therefore, boost your content and video title game to get the best results from YouTube.