Are you looking for the best tracking apps for iPhone that can help you locate and keep an eye on a person's activities or whereabouts? This post will take you through some of the best tracking apps for iPhones.
The rate at which people lose their phones and other portable technological gadgets have always been constant and slightly on the surge in recent times. Losing something as precious as your iPhone, with everything you have invested, is possible and can happen to anyone. Such misfortune can be hard to deal with if you consider the amount of effort and part of our lives that stays on our mobile devices these days. The question that may come to a thoughtful mind at this point is whether there is a way to minimize the risk of losing one's iPhone. Of course, there are.
The thought may have crossed your mind about whether or not it is possible to track your iPhone and how to go about it if you actually can. There are so many ways you can track your mobile phones in modern times. One sure way is by using Trackers. And these trackers are pretty numerous. Thus, we have put together this list of the best iPhone trackers available. You can find them below.
---
1. FamiSafe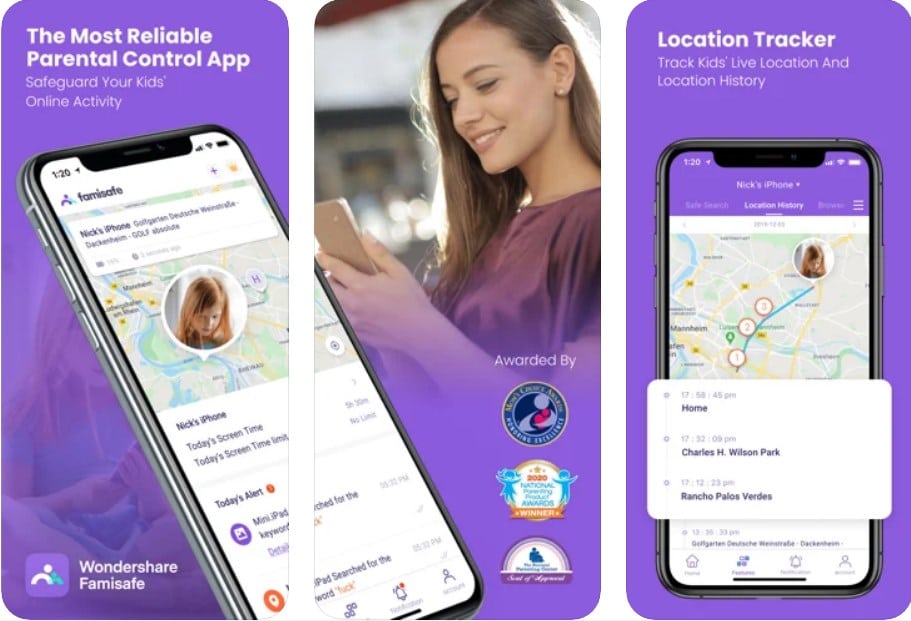 FamiSafe is known as one of the best iPhone tracker apps out there. The tracker's distinct features are among the reasons why this is true. This tracking app, with a great design, allows you access to a device's location and provides its location history. Aside from that, it allows you to dictate when the phone can be used and prohibit some web content. FamiSafe is a good iPhone tracker app that is efficient and has services you will surely enjoy. You can get the app for free on Google Play and App Store.
Thus, FamiSafe's strengths include: web filter & safe search, screen time limit & schedule, location tracking & driving report, app blocker & app activity tracker, YouTube & Tik Tok history monitor; video blocker, social media texts & porn images alerts The tracker works on Mac, Windows, Android, iOS, and Kindle Fire. FamiSafe's features include being able to block your iPhone with the Screen Time feature, view your kid's current location, set up a barrier that alerts you when your kids leave the house, filter and ban unwanted website content, and the Driving Reports can monitor your kid's driving skills and so much more.
Advantages of using FamiSafe include its user-friendly-friendliness, great design, a 3-day free trial, and its works on various OS devices. The only problem with FamiSafe is that it is impossible to keep an eye on texts or other messaging apps if the target device is also an iPhone.
---
2. Spyic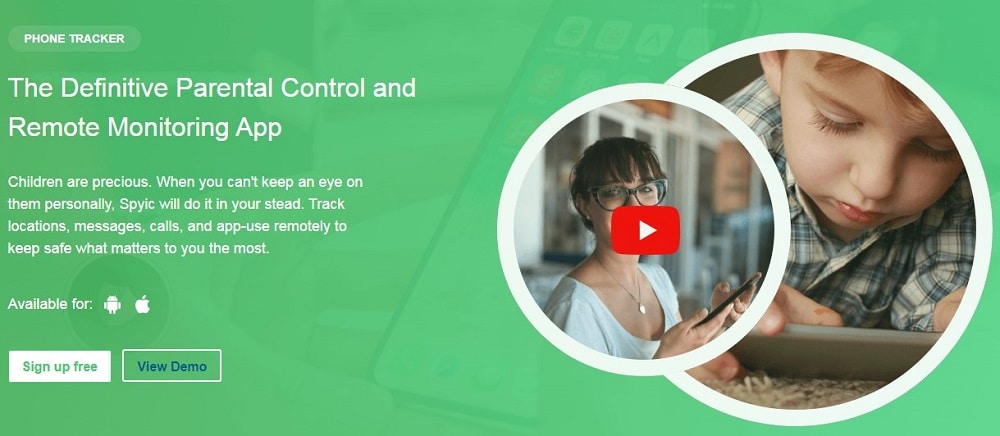 Spyic is on the same pedestal as the best iPhone tracker apps. It helps you keep an eye on your iPhone's location, WhatsApp messages, photos, and other applications on your phone. Spyic is a sophisticated application designed to locate your iPhone in whatever part of the earth it may be.
Spyic's features include social media application monitoring, phone location tracking, call logs tracking, and screenshot capturing. Spyic helps you automatically track your iPhone, and there is no need for an iPhone jailbreak before you can use the service. The downside of using Spyic is that there is no free app version.
---
3. Find My iPhone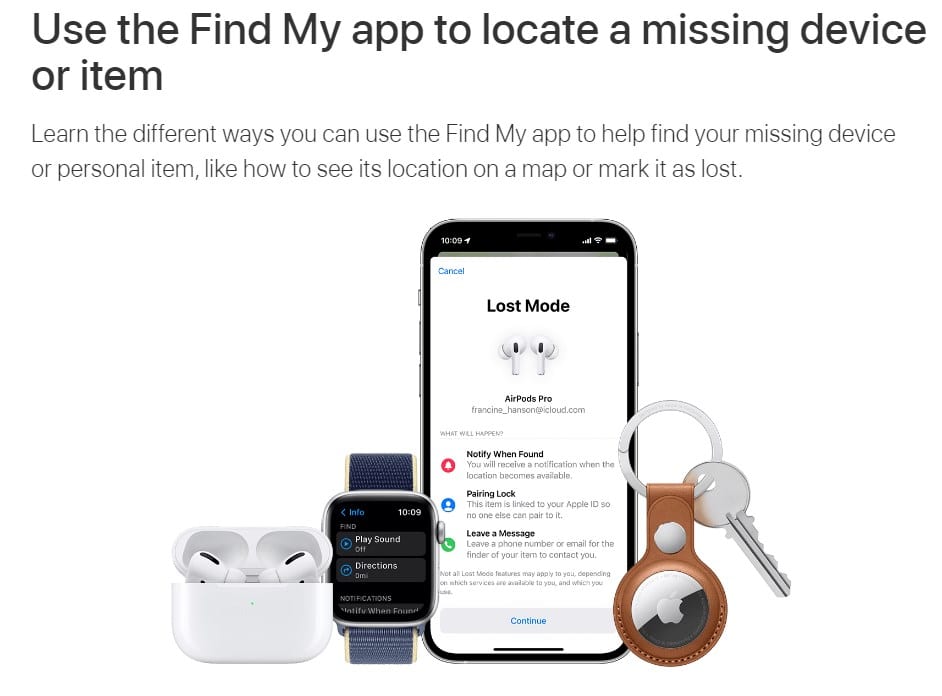 If you are looking for the best iPhone tracker among the list of best, Find My iPhone is certainly the one you should choose. With this tracker, you can locate your iPhone no matter what part of the globe. And you can wipe out any vital information on your device using this tracker whenever you wish.
Find My iPhone's features include automatic content erasure through a Pc or a second phone should your iPhone get missing. The "Play Sound" feature helps you to locate your iPhone. This feature is useful when your iPhone is somewhere nearby but you can't seem to locate it. This feature provokes your iPhone to make a noise at the highest volume possible while it makes light flashes on the screen.
The advantage of this superb tracking device is its distinct features which help you erase information, play sound and locate your iPhone. The only downside to Find My iPhone is that you may get friend requests from strangers who can easily detect your location, which is not cool.
---
4. Phone Tracker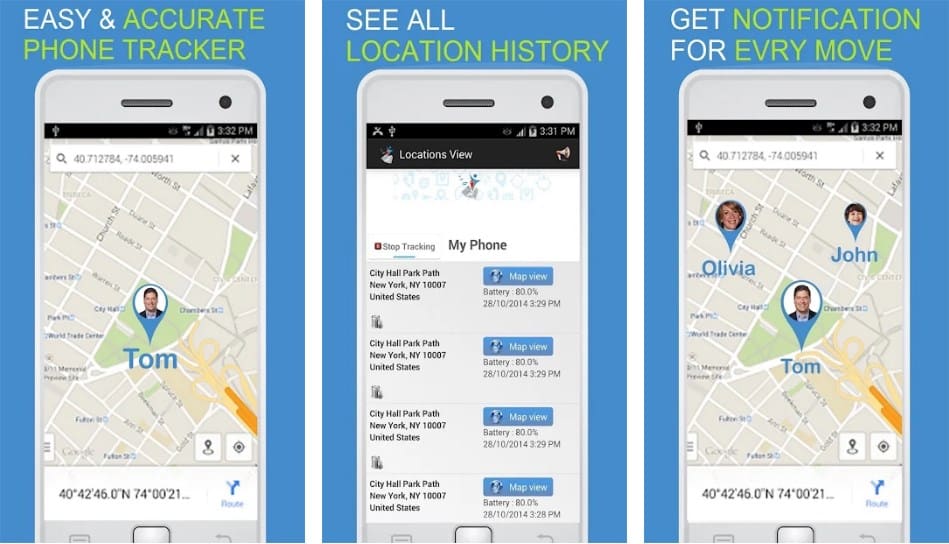 If you are looking for one of the free yet credible iPhone trackers, Phone Tracker should be top of your list. It allows you to keep an eye on a phone's real-time location without the iPhone user's detection. With this tracker, one Apple device can keep track of another Apple device. Phone Tracker limits you to tracking ten iPhone devices at no cost. It has a feature that shows a detailed map of locations. It works on iOS 8 devices or later versions.
The tracker's multiple language features make it quite interesting to use. The tracker also provides you with alerts on your family members' and friends' locations. You can also access your iPhone's 12 hours' previous records. The downside of using Phone Tracker is that it needs the permission of whomever you wish to track before it can work. This method takes away any chance of anonymity. Also, the tracker only works on Apple devices with iOS 8-enabled software or later versions.
---
5. Glympse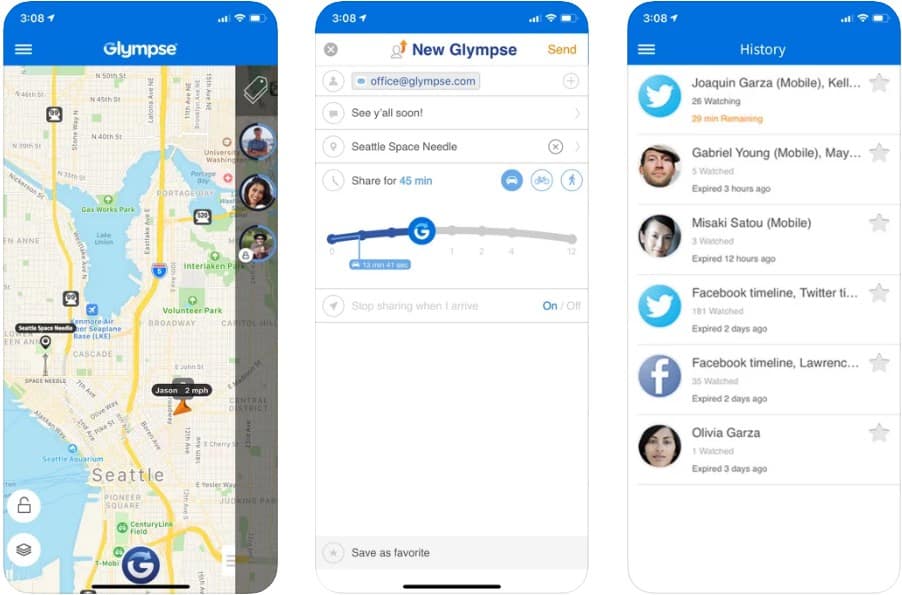 Although new to the tracking industry, Glympse has shown it is no pushover when tracking iPhone devices. The tracker has a reputation for being speedy, competent, and available on the App Store to download and use at no cost. And one good thing is that this tracker needs no permission from whomever you wish to track before it can work. This working method keeps your anonymity intact.
Also, if you and someone close to you both have this app on your Apple devices, you can keep track of each other at any time. And if one of you loses your iPhone, the other person can help you track it using their device. Glympse is equipped with some amazing features. You can access activities like sports, swimming, meetings, or social gatherings, show detailed locations, and have a location updates planner for everyone tied to a specific event or activity.
All these show that Glympse is a versatile app with many features that are well enhanced to serve you well. The only trouble with this tracker app is that recorded data quickly expires, and when this happens, it is difficult to show real-time locations. And this problem persists even after updating your record.
---
6. iCloud – Find My iPhone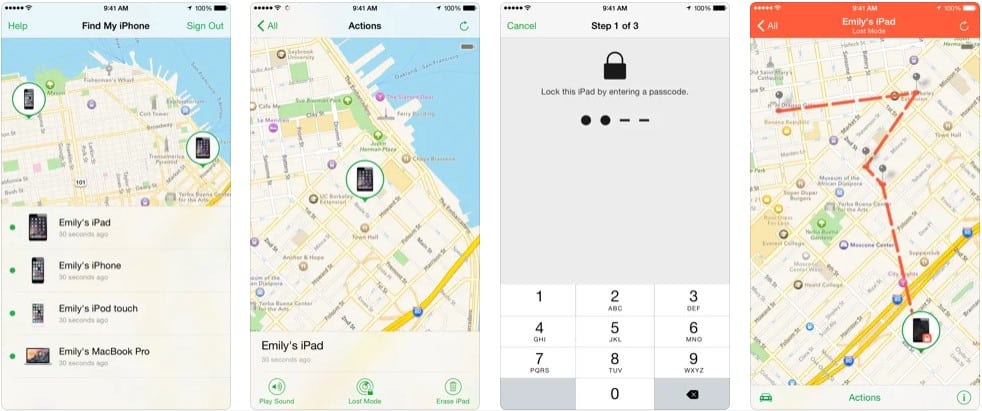 Sometimes, it is impossible to access the target iPhone to install an app. Thus, it would help if you had another means to achieve this. A cloud-based service can help you achieve this aim. And one of the best cloud-based iPhone tracking services you can find is iCloud. It is the most regularly used iPhone tracker if you don't have the luxury of installing a tracking app.
The software is quite easy and efficient to use. As long as the target iPhone uses iCloud, you only need the phone's Apple ID to track it. You can do this by using iCloud's Find My iPhone feature. But this feature must be active on the target device. iCloud keeps your information safe since you can erase any data in the event of theft.
You can check the location of any target device on another iOS device. The tracker also has the Offline Finding and Send Last Location that, if enabled, will help you locate your device, even if its battery is low or offline. The downside of using iCloud is that the service fluctuates, leading to complaints about not accessing locations of devices, server errors, and poor connection.
---
7. Google Maps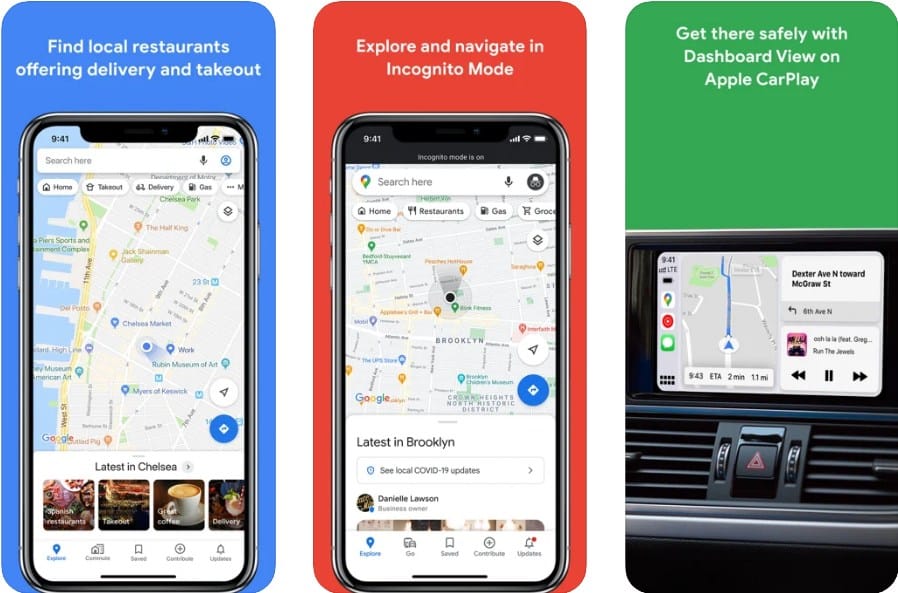 Google seems to have an unquenchable desire to offer solutions to as many conditions as possible. If you have trouble locating your iPhone, Google's Google Maps Timeline can help you. But this can only be effective if the Location Services in your iPhone is active. Google stores information on their Timeline; thus, the Google Timeline would surely have information on your iPhone's location.
With this tracker, you would be able to access your phone's location history. And such information cannot be assessed by someone else. The tracker's interface can be tweaked so that you can change and update information at will. Google Maps Timeline is very efficient and stable to use, and any location information can be assessed on a portable device or desktop. The only negative of this tracker is that you would need to sign in to your Google account for location updates constantly.
---
8. Google Photos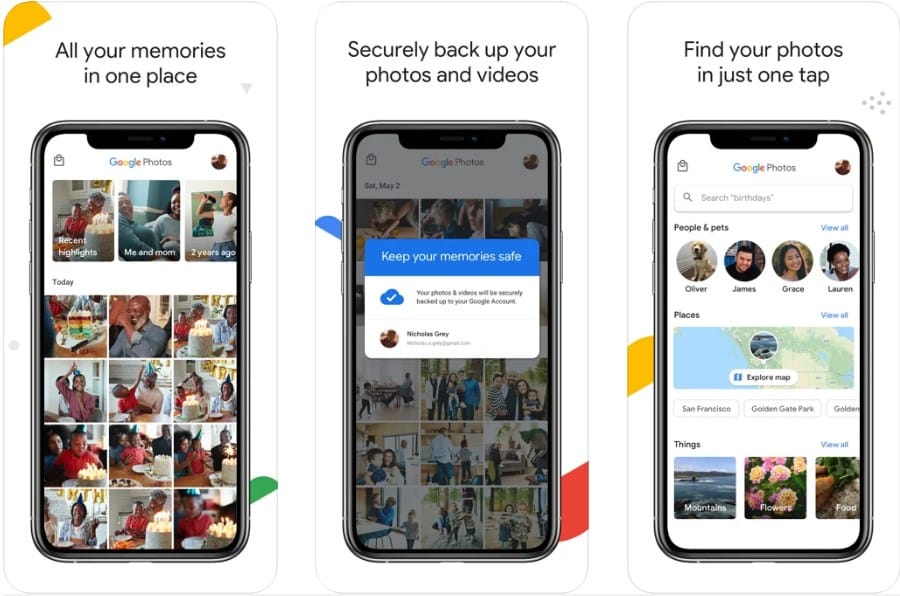 You might be wondering from the name how it can help you locate your iPhone. But Google Photos can help you achieve that. But to work with this method, the Google Photos software needs to be installed on your iPhone, and the automatic feature made active. Although it sounds impractical for someone to take your iPhone and immediately take pictures, this method can come in handy if that is ever the case.
Google Photos as an iPhone tracker, is easy to use. You can obtain any information from it using a PC. The application works by giving you the location of any photo taken. Thus, it is a straightforward tracking method. The problem you can encounter while using this application is that it may not give you the exact location of your iPhone. Thus, there is no certainty that you may recover your phone this way.
---
9. Find My Friends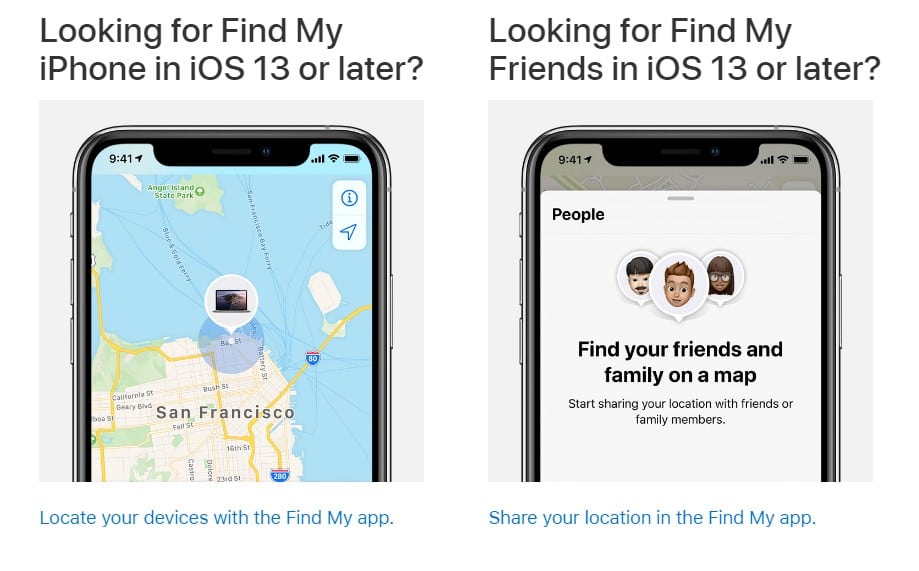 Find My Friends is a unique iPhone tracker that works efficiently. To track an iPhone using this tracker, you need another iPhone, and this iPhone feature must be active on both devices. One good thing about this tracker is that you don't need to download and install it on your iPhone device since it comes with it.
With the Find My Friends feature, it is easy to obtain the location of a missing iPhone as long as the feature is enabled in the target iPhone and the one used for the tracking. You can add friends on the feature who you want to access your location on their own iPhone devices. Thus, they can find your location as long as the feature is active. This feature is available on iOS 9 versions.
---
10. mSpy iPhone Tracker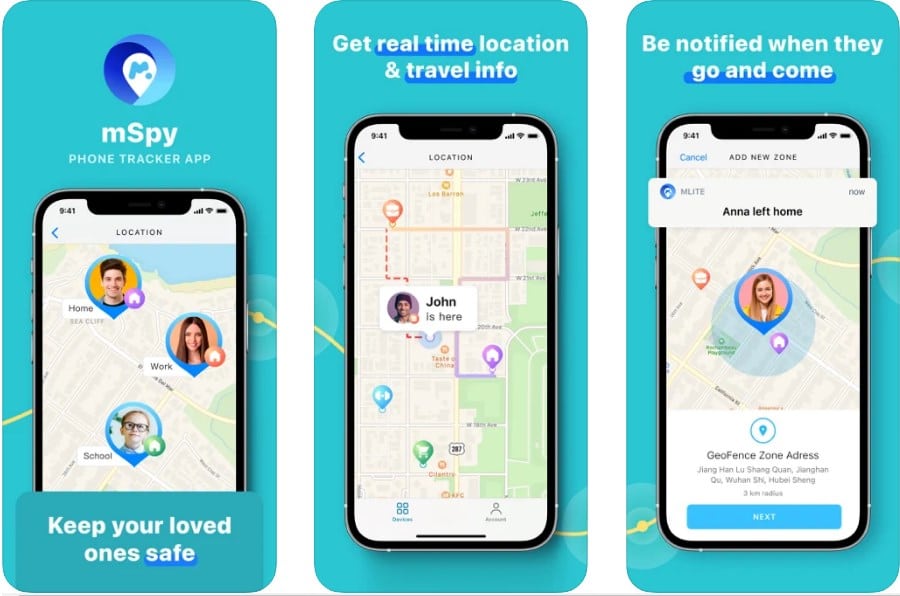 What makes this iPhone tracker stand out is the numerous features it possesses. Thus, it is not just an iPhone tracker; it can do much more. mSpy boasts 25 features. You can access the software using any browser. With mSpy iPhone Tracker, you can keep an eye on emails, calls, and messages.
The tracker is a very reliable one to use. The only problem with mSpy is that it requires a sophisticated computer device before the program can run efficiently.
---
11. GeoZilla
If you are looking for one of the best GPS trackers, look no further than GeoZilla. The iPhone tracker is free to use. You can use it to track your family and friends' current locations. GeoZilla's features are easy to use, and the software's interface has a unique design. One good thing about GeoZilla is that you can be part of a group using the software and keep an eye on each other's locations. This association is a good thing because everyone can be of assistance when one person in the group needs to be tracked.
Interesting features like Notify Me, Get Direction, which helps you reach the address of someone in the group, Emergency Alert, which sends distress signals to group members, and Place Alerts, make GeoZilla a versatile tracking application to use. You can download GeoZilla from either Google Play Store or App Store.
---
12. Life360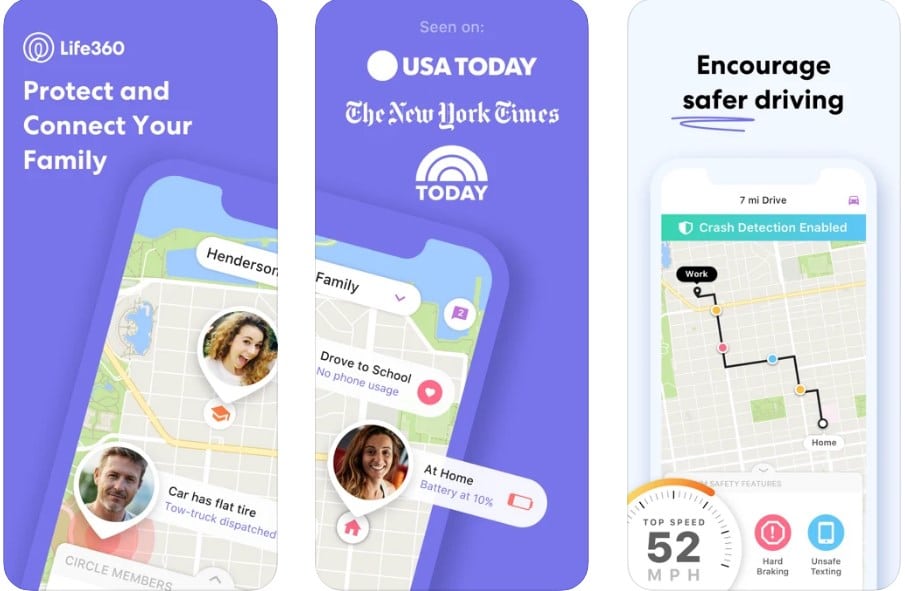 Life360 is another efficient app when it comes to tracking iPhones. And just like GeoZilla, you can be part of a group whose members' locations are accessible to all. This kind of app is suitable for family members as they can create a group where everyone is aware of the other's whereabouts. Thus, you can keep an eye on your kids, siblings, or spouse. Life360 also has an in-built messaging feature that allows you to exchange messages with others on the software.
There is the Emergency SOS feature, too, that allows you to send an emergency alert to your group in case of any problem. You can download Life360 from either Google Play Store or App Store.
---
13. iSharing
iSharing is another unique, free tracking app that can work on iPhones. The software's interface is simple and user-friendly. And the app has every feature that a modern and efficient iPhone tracking device should have. With iSharing, you can share your location with your family and friends.
Other features include displaying a friend's or family member's battery status, providing detailed directions to the current locations of families and friends, sending emergency alerts to members of your group, and many more. You can download iSharing from either Google Play Store or App Store.
---
14. uMobix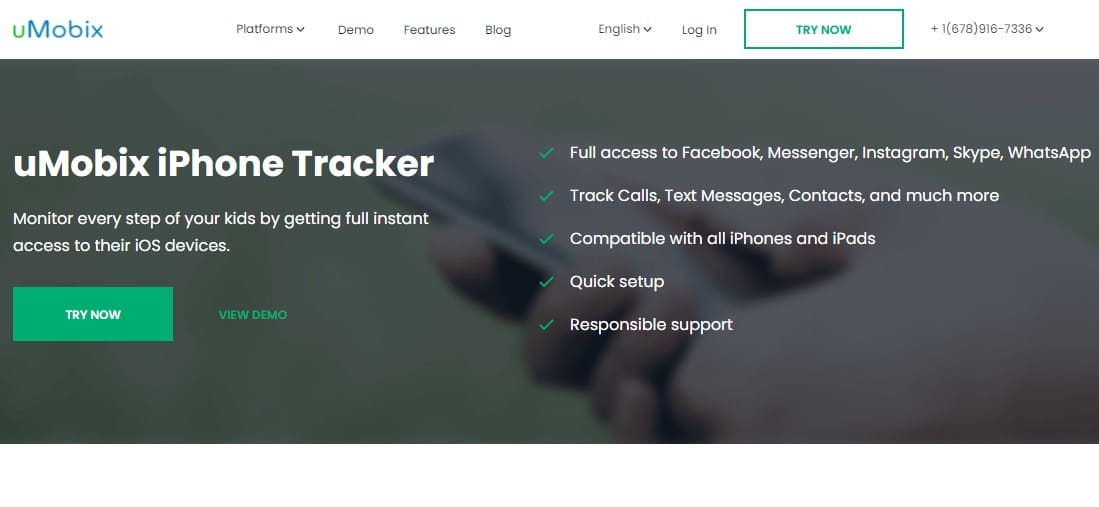 uMobix is another tracking application available to iPhone users. This tracker is good for monitoring the social media activities of someone else. Thus, it is suitable for parents who want to keep an eye on their kids' social media platforms like Instagram and Facebook. uMobix is easy to install and use and allows you to monitor someone's activities without their knowledge.
There isn't any need for jailbreak or rooting before you can use this app on your iPhone. All you need to obtain to work with uMobix is the target device's iCloud login details. The only downside about uMobix is that the tracking app offers no free trials.
---
15. SpyBubble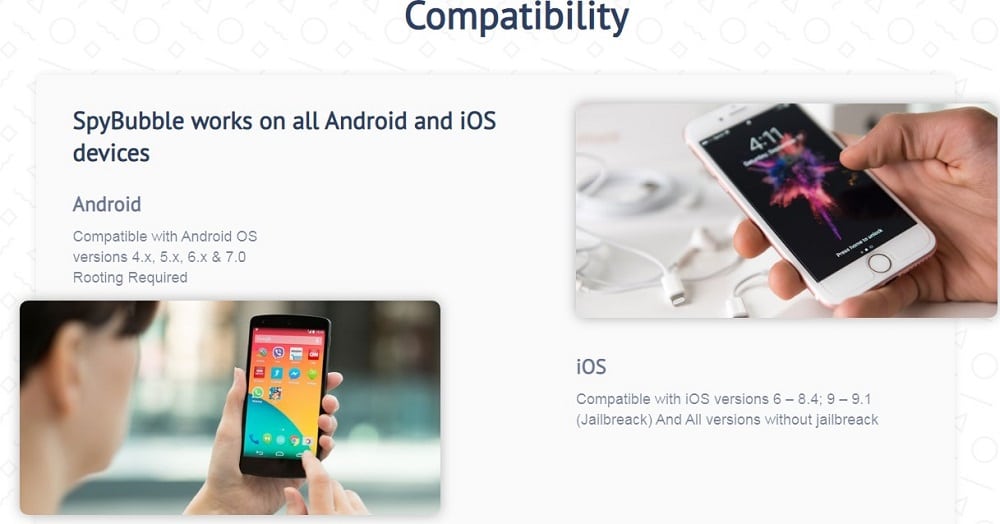 SpyBubble is a tracker that is compatible with so many smartphone devices, including iPhones.  The application is easy to install and has very useful features. With this tracker, you can keep track of messages, photos, calls, locations, and others. One of the problems with SpyBubble is that it cannot prevent unwanted sites, applications, or phone numbers.
SpyBubble works discreetly. Thus, the person being monitored is not aware of it. One good thing about SpyBubble is that it offers a full money-back guarantee of 60 days if you are unsatisfied with its services.
---
16. eyeZy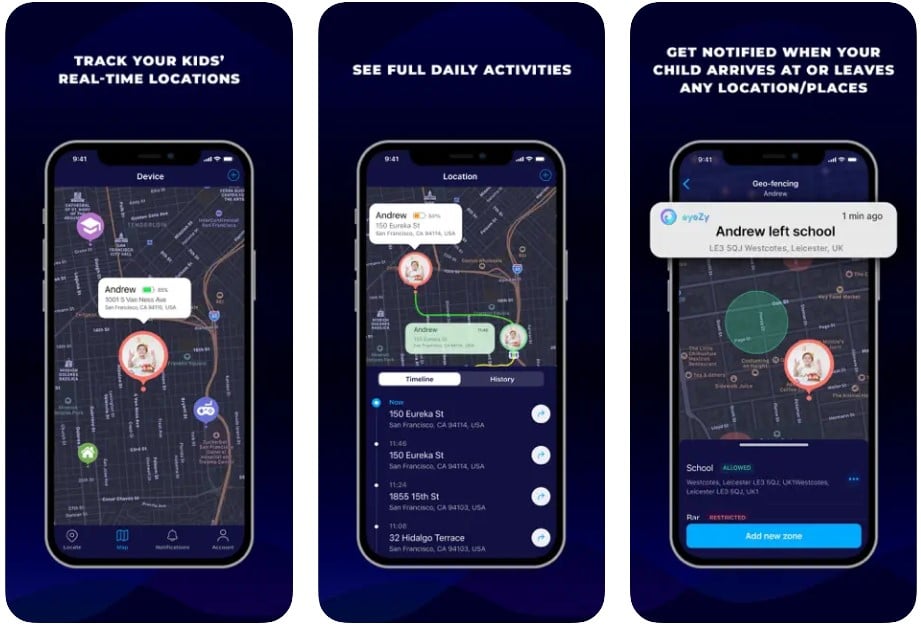 You don't have to worry anymore when you misplace or lose your iPhone. You can use the eyeZy app to track your mobile phone and your family member's phones at all times. If you are a parent, the eyeZy app can help you track your child's whereabouts. It is easy to use, and you won't have to worry about the technicality of the app.
eyeZy lets you track others' whereabouts, their location's history, and uncover suspicious locations any of your family or friends go to. Not only can you track the whereabouts of someone's phone but also monitor Telegram, Snapchat, Call, Text messaging, WhatsApp, Instagram, Facebook Messenger, iMessage, and Kik. Therefore, you can track someone else's chats and online activities in your comfort.
Additionally, eyeZy lets you know when the other person enters a danger zone, track their browser history, and block them from accessing some sites. The Keylogger for iPhone also makes it easier to know what the other person is typing on their phone.
However, for the tracking to work, you will need to have installed an iPhone tracker on their phone. Therefore, you can monitor without any worries as there is encryption on all personal data.
---
17. LocaToWeb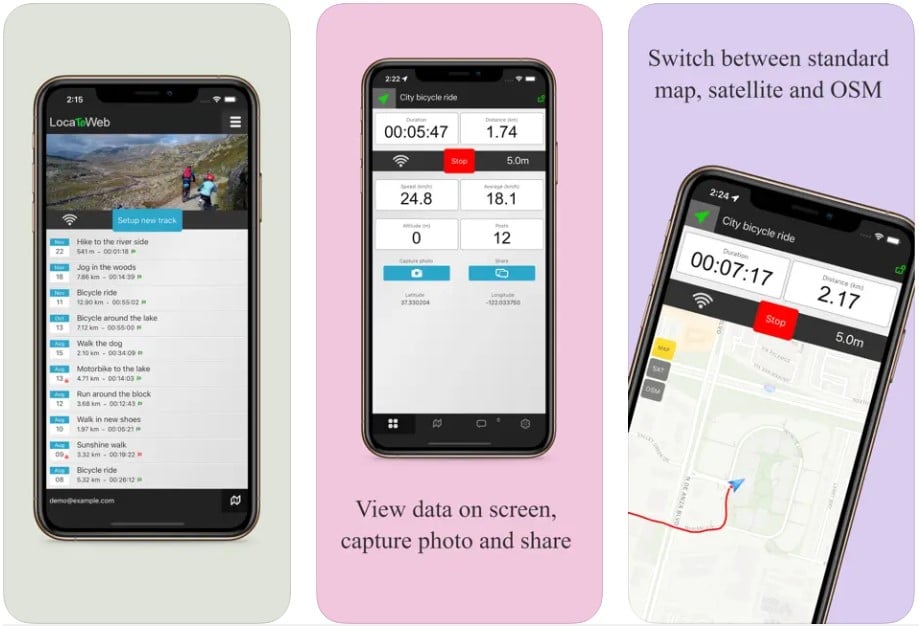 LocaToWeb has one of the best iPhone location-tracking features. You can use it to find your lost phone and even track your loved ones' location. Not only will you see the location, but also the duration, distance, speed, and altitude. Therefore, you can estimate the whereabouts easily.
The privacy features allow you to hide your location whenever you intend to, but can change the option anytime. LocaToWeb is ideal if you are on hiking, riding, or any other type of trip with your friends. Therefore, you can track each other. The dashboard allows you to log in, view, and edit your tracks.
You can also anonymously track others as long as they also have the app. However, it only records your position when a track has started and terminates it when you stop it. Even when you stop a track, you can simply resume it. Luckily, in case of any dangers, your loved ones can track where you are.
LocaToWeb also makes it easier to capture and upload photos while tracking. You can also track multiple users all at once. Therefore, what are you waiting for?
---
18. GPS TRACKER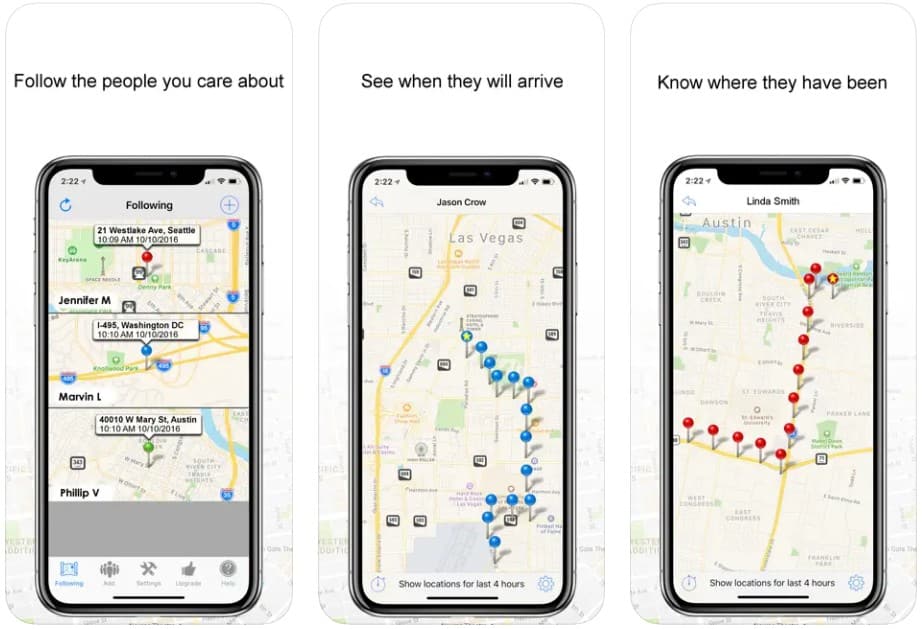 The GPS Tracker iPhone tracking app allows you to locate your phone or family member's whereabouts. The GPS tracker can fetch their tracks for the last 12 hours. The app is ideal when you try to locate a lost or misplaced phone. Unfortunately, it only works on iPhones, therefore, can't work on an Android phone.
Unfortunately, the GPS tracker only works when both parties have allowed sharing of their locations. As a user, you have the freedom to prevent others from tracking your location.
GPS tracker will help you know everyone's whereabouts. Not only can you track an iPhone user's location, but also their movements within 12 hours. Additionally, the GPS option helps reduce battery usage.
---
19. FollowMee GPS Location Tracker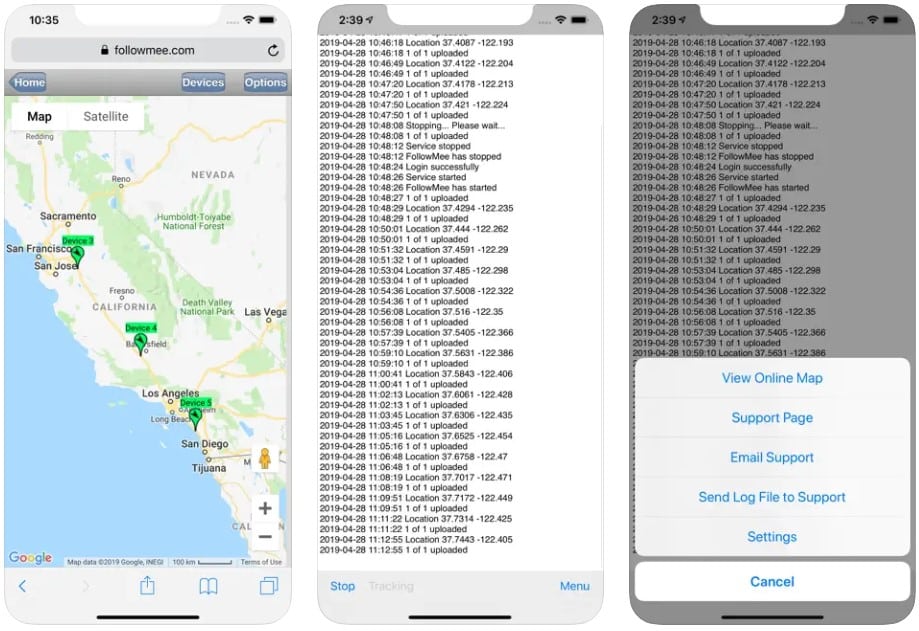 FollowMee GPS Location tracker turns your iPhone into a tracking device. The reputable iPhone tracking app can track a user's location on the map and even check the coordinates that describe the precise location on the map.
It is ideal if you want to track a family's or friend's whereabouts. Additionally, its privacy settings are commendable as no user data is shared with any third parties. When using the app, it doesn't need to be in the foreground, you can run it just in the background.
As a user, you can track multiple devices at a time. Even if in a low data connectivity area, the app can still track the location and upload the data to the servers. Luckily, it doesn't feature any ads, and you can track multiple devices on your account.
---
20. Family Locator and GPS Tracker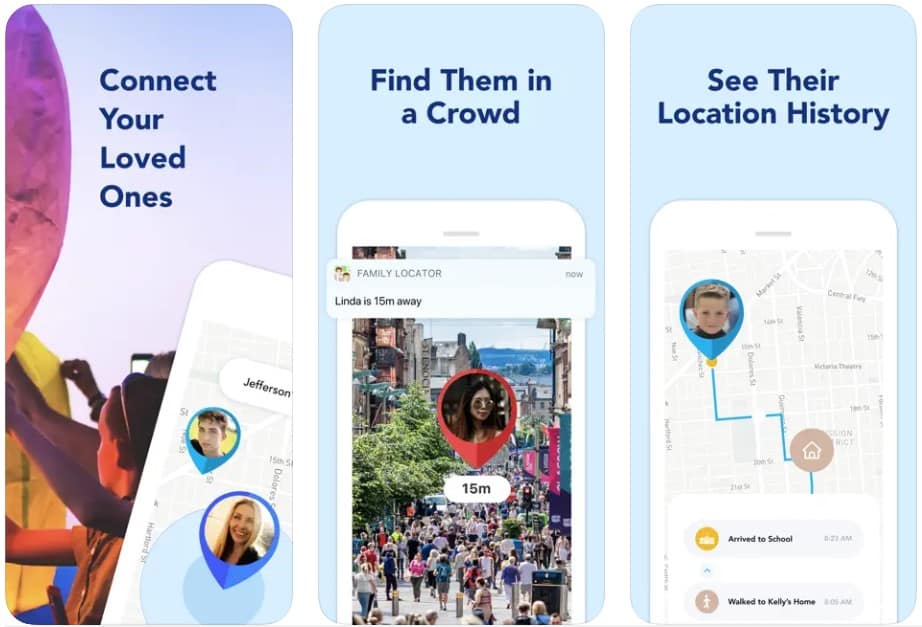 The Family Locator and GPS Tracker ideal for parents who would want to know their children's location. The setup process is easy, and you can track any user with any kind of device as long as they have the app.
In case the user is in any kind of danger, by just tapping SOS, as a parent you will be notified of their precise location and help out. The iPhone tracking app also allows kids to check in to different locations so that their parents or friends can know their whereabouts.
It is free to download the app and add any helpful premium feature. Additionally, you can get notifications when a certain family member reaches a certain destination and even create groups in the app. Furthermore, you can see the location history of family members in the past 7 days.
---
FAQ
1. How can I know if my phone is being monitored?
There are ways to know that your phone is being monitored. These include quicker battery drainage since these tracking/spy apps are constantly active, finding unwanted apps on your phone, increased data drain, suspicious browser history, and disruptive noise when calling. These are red flags that show the possibility of your phone being monitored.
2. Is there a way I can stop my phone from being tracked?
When you feel your phone is being tracked, you must turn on "Airplane Mode" on your device. This move will turn off any transmission ongoing in your phone. Go ahead to disable the phone's GPS radio. Finally, Shut down your phone and remove the battery. These steps should do the trick.
3. Can the apps above help me track my child's iPhone?
All the tracking apps we have given above work well on iOS devices. Thus, they can help you keep track of your child's iPhone device. The only thing is that the trackers have different features, modes of operation, and packages. Thus, you have to find the one that suits your needs the best.
4. What is the best app I can use to track my family members?
GeoZilla, Life360, and iSharing tracker applications are among the best you can use to keep an eye on family members. These apps are suitable because they allow you to create or be part of a group where you can assess the locations of every member. And they have emergency SOS features that can be used to send distress alerts to group members.
5. Which tracker app is best for tracking someone?
All the tracking applications we have listed above are capable of tracking efficiently.
6. How do I know if someone is tracking my iPhone activity?
If you are having doubts about whether someone is tracking your iPhone's activity, check for these signs:
Your phone gets hot so faster than usual and battery drains fast.
Your monthly data usage is higher than for other months.
Your phone reboots randomly and takes longer to shut down.
Your phone has been jailbroken – restrictions to gain access to the phone are removed.
Phone's background noise or electronic interference.
Slow phone operations.
7. Can iPhones be tracked when off?
Yes, it is possible to find your iPhone when off.  However, it is only possible if the Bluetooth location feature had been left on. Also, you can try to track your iPhone using its last known location.
---
Conclusion
Constant innovations and advancements in technology keep finding solutions to many problems and making life easier in so many ways. Your iPhone going missing can be quite a heartbreaking experience to undergo. But through sophisticated and efficient tracking apps, you can now easily find your iPhone. The tracking apps given above have been tried and trusted. Thus, you can choose the one that best suits your iPhone. These trackers can come in handy in the case of an unfortunate occurrence.