Are you a fan of the Bigo social app and want to know other great apps that function like it? This article will guide you through the top best Bigo Live alternatives.
---
What is Bigo Live?
It's a mobile app that combines live video streaming with real-time interaction. With a single click, you can broadcast your daily activities, connect with your friends, fans, and follow your most likely ones. It's an addictive app. With Bigo Live, you can connect and share what's on your mind.
There are currently more than 150 million users worldwide, and that number is steadily rising. Even though it's similar to other social media apps, there are many exciting new features to enjoy. When you're in a multi-guest room, you're able to see what other people are doing and then join in on the conversation.
Apps such as Bigo Live allow users to connect with friends they already have or find new ones through a random matchmaking process. If you want to show the world what you've been up to, this app lets you do it in real-time. Everybody can easily search for real-time interaction, gameplay streaming, broadcasts, and so on.
In this following section, I will take you on a ride to the top best Bigo Live alternatives I have been using.
---
30 Top Best Bigo Live Alternatives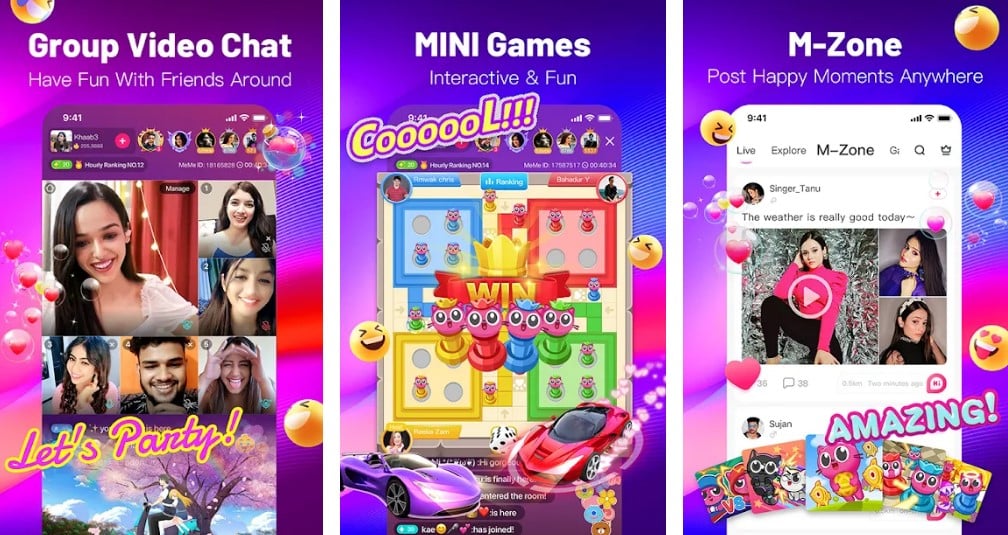 The creation of MeMe Live can be attributed to Next Entertainment Hong Kong Limited. You can have a lot of fun with the app's live show because it's so awesome and diverse. It's an easy-to-use app for anyone looking to showcase their skills, meet new people, and take advantage of a slew of entertaining features.
In comparison to BIGO Live, MeMe Live offers additional features that draw in more viewers worldwide. A wide range of languages is supported and many social media functions. Live streaming can be made more interesting by using the app's advanced filters and effects.
---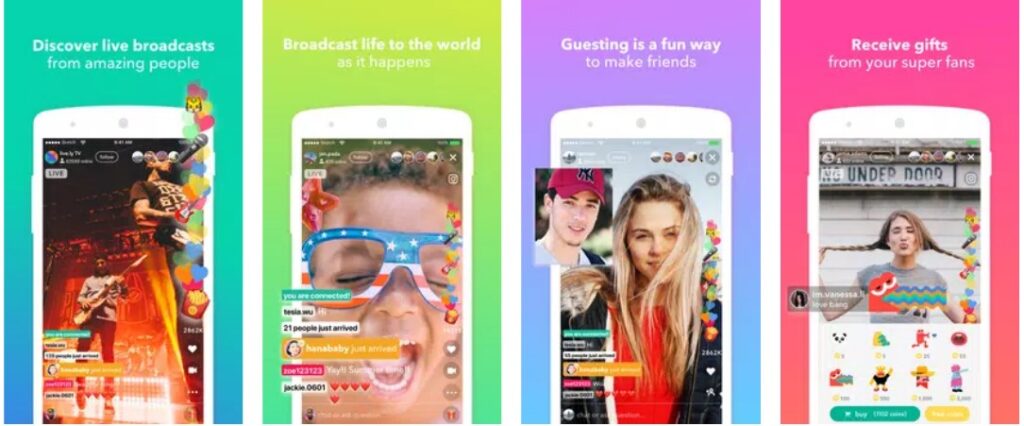 With Live.ly, you can broadcast your daily activities to the world and engage in group video chats with your friends to have a virtual hangout. It has a wide variety of categories, including movies, music, lifestyle, games, fashion, and more. In addition, the app gives users a new way to discover and share local content. By watching ads and earning free coins, players can purchase gifts.
This app's best feature is the abundance of editing tools it provides, which elevates the overall experience for the user. Some of the app's most notable features include starting a group video chat, broadcasting mobile games, receiving fan gifts, broadcasting a specific moment, and the ability to invite your viewers.
If you're a talented person who wants to share your gifts with the world, this app is for you. Live.ly is a platform designed specifically for you to broadcast your daily activities to the world, watch your favorite broadcasts, and showcase your hidden talents.
---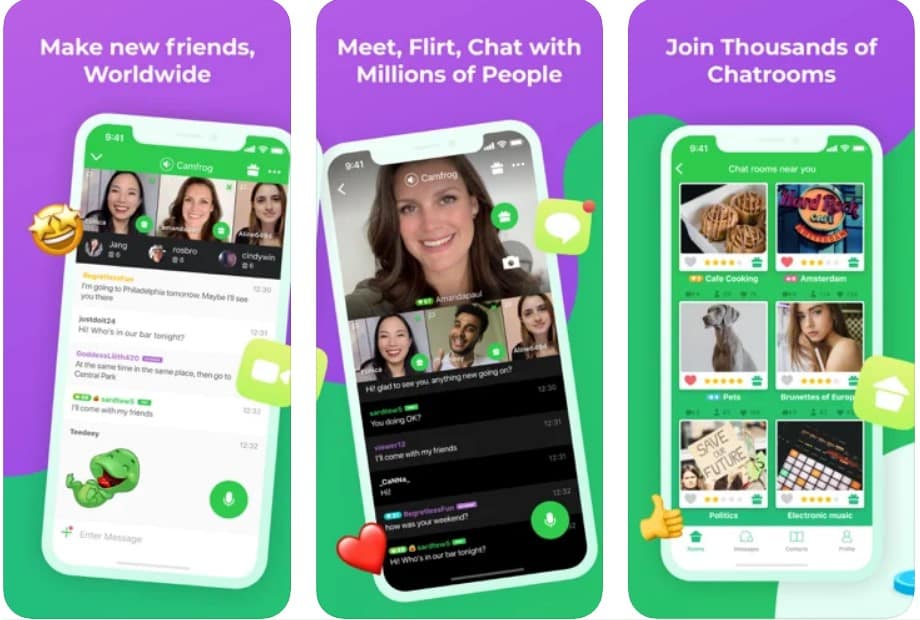 If you need an instant messaging and video-chat app, consider Camfrog. It is one of the most popular and cross-platform video chat services, with millions of users chatting in tens of thousands of video chat rooms every day.
If you have an Android or an iOS device, you can use the app to video chat with anyone in the app's community.  From your mobile device, you can join any chat room and video chat with people worldwide.
To use Camfrog, you must download and install the app on your mobile device, sign up using your email address or Facebook, and begin searching and sharing online streams. It's easy to meet new people from all over the world by video chatting with Camfrog on your mobile phone.
---
This free social networking platform lets you watch Livestream videos and keep up with what's happening around you. With this app, you can share your life's moments with friends and the rest of the world in real-time, all from your smartphone.
What I like about OK Live is that it's available for all devices, no matter where you are or what kind of internet connection you have. This social platform is similar to others, but it offers many advanced features that set it apart, such as the ability to view broadcasts anonymously and for free without registering.
---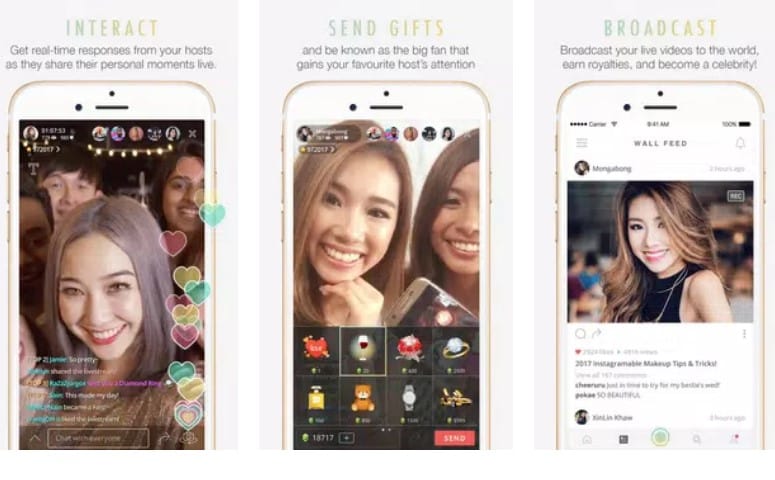 You can connect with people from all over the world using BeLive's sleek, attractive, and impressive interface. BeLive.tv is known to be the developer of this free mobile application. You can join a Facebook Live broadcast using the app.
It's an easy-to-use but powerful tool that enhances your broadcasts. Effects, voice-changing tools, filters, and much more are just a few of the many tools and features available in the app. To use the BeLive app, you must first register with Facebook or a verified email address.
---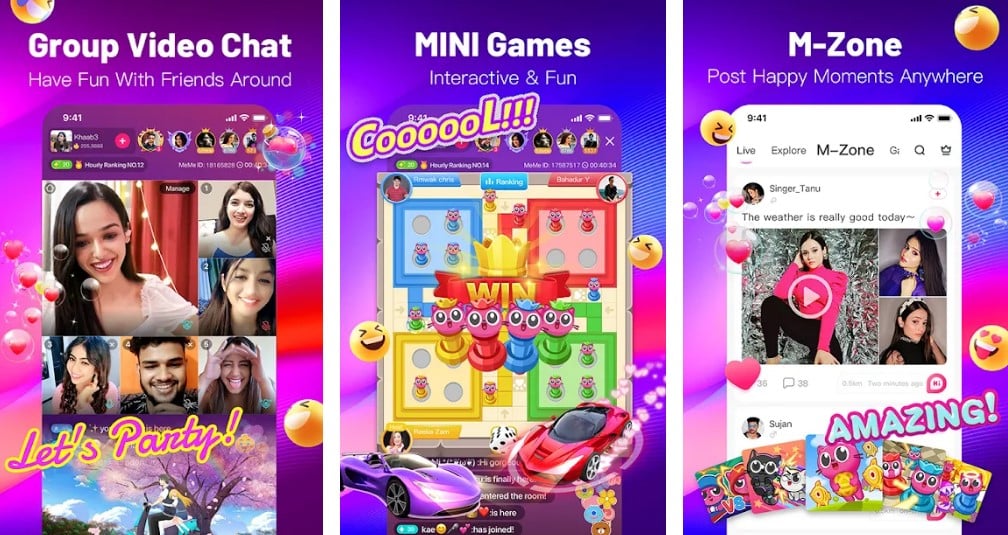 Mi Live is a social network platform developed and published by Xiaomi Inc. specifically for broadcasters who want to showcase their talents in front of the world. If you're looking for a new live-streaming app that's packed with features like video chat and broadcasting, you can bet on Mi Live.
People from all over the world can also broaden their live videos to you via this wonderful platform. Without a doubt, Mi Live is a fast and simple way to interact with fans, host, send, receive, and post images.
---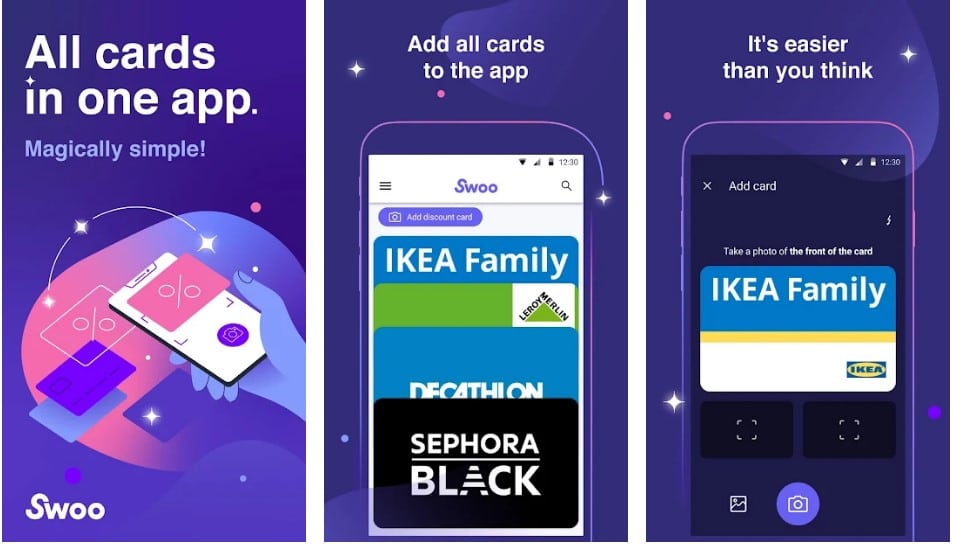 A simple and fast way to show off your talents, whether it's dancing or blogging or entertaining or motivating. Swoo has you covered. Using its live video feeds, you can keep up with the latest news from around the world. There is no cost to use Swoo. What I like about it is that it is available on both Android and iOS.
Educating, motivating, inspiring, and entertaining insights into the lives of your idols can be found in the broadcasts of well-known influencers and experts from around the world. Numerous categories, such as health, music, games, sports, and other aspects of daily life, can be found on the app's countless channels.
---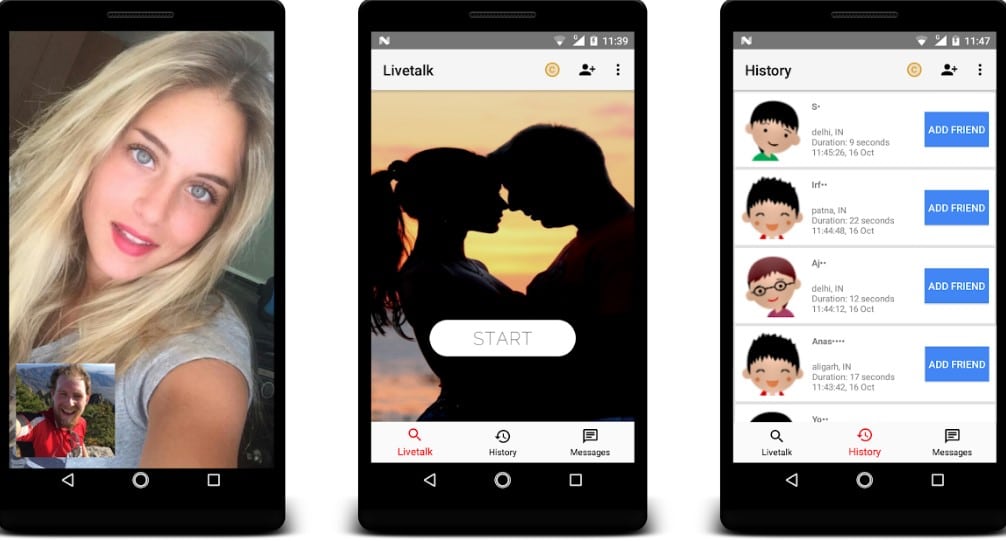 One of my best free video calling apps. Live Talk allows its global users to connect with people from all over the world. It is a unique product that allows you to engage in real-time and video chats with interesting people worldwide. Live Talk is a mobile application developed by Bingo Solutions.
It allows users to communicate via video chat. The app was designed specifically for people who want to keep in touch with loved ones while on the go. What's fascinating about the app is that you can use it anytime from anywhere in the world if you have an Android device.
---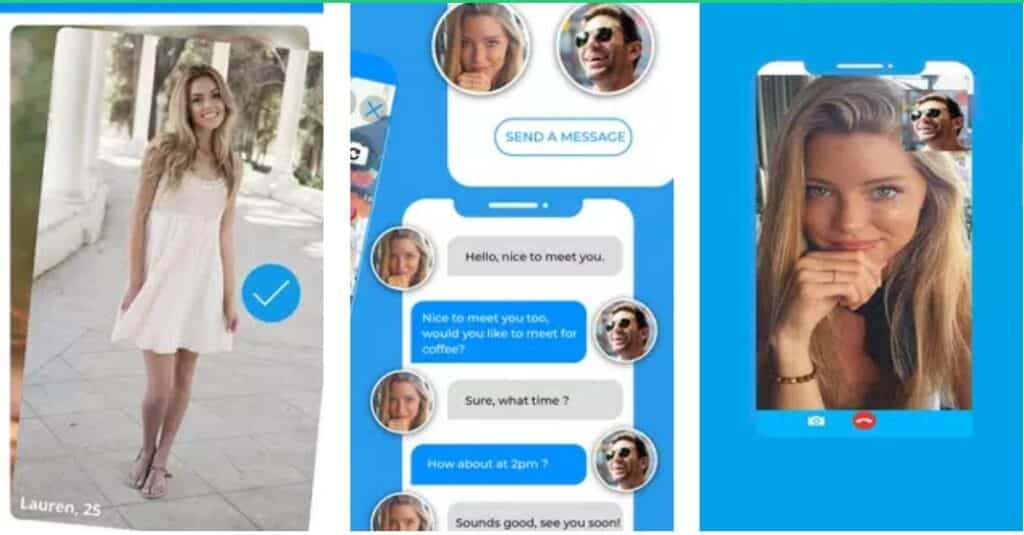 Watch and share live videos, chat with friends, and meet new people worldwide with Vidioo. It offers a quick and easy way to meet new people in the same vicinity. You can use this app to send text messages, make video calls and chat, watch live broadcasts, and so on.
Using Vidioo is one of the best and most user-friendly ways to share videos, images, and locations with your friends. It also allows users to sign up by providing a verified email address, as do the other applications on this list.
Once you've completed the registration process, you'll be able to send and receive friend requests. You'll also be able to initiate video and voice calls once you've become friends.
---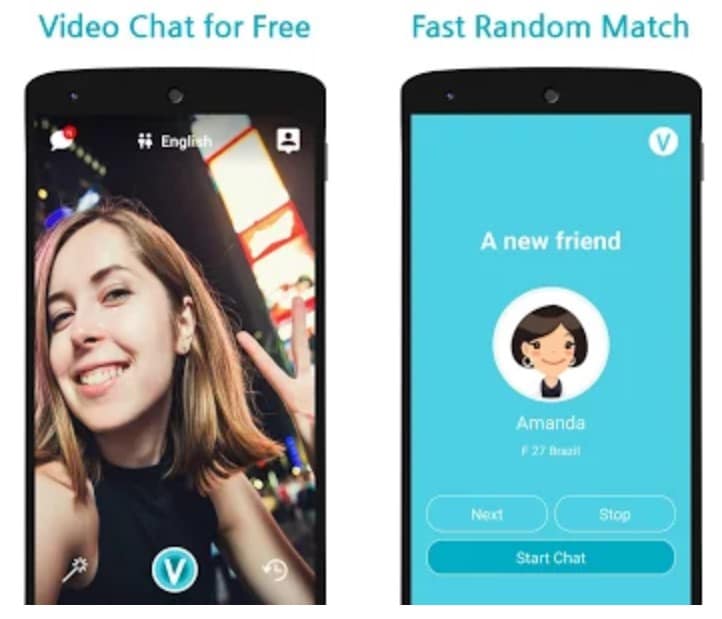 This free video chat app allows you to connect with your friends and meet new people worldwide by providing high-quality free video calls and instant messaging services. With the app, you can connect with people near and far, whether you're at home or at work, and make new friends.
There is no limit to the number of messages you can send or the number of people you can connect with via video calls.
---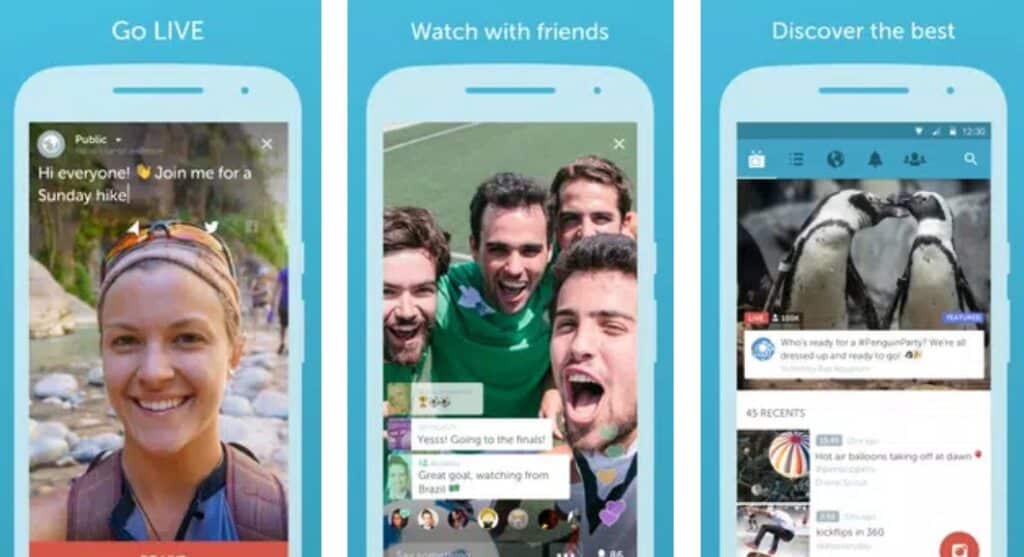 To broadcast and discover the world through other people's live videos, as well as create your own, Periscope is the best mobile app you can use. What I like about it is that it is totally free to use.
Also, you can use the app from anywhere in the world on Android or iOS devices. Using this app, you can get the latest news worldwide, meet new people, discover new places, and share your interests with the people you care about.
---
Providing webcam chat for singles who want to meet and chat with real people from around the world is what ZAKZAK Pro is all about. It functions as an alternative to Bigo Live, but with many more new social communication features.
This app's most notable features include one-on-one video chat, message sending, and receiving, among others. It has a random video chats feature that allows users to meet new people online.
There are options for everyone to make friends, create their own chat room, and participate in group chats.
---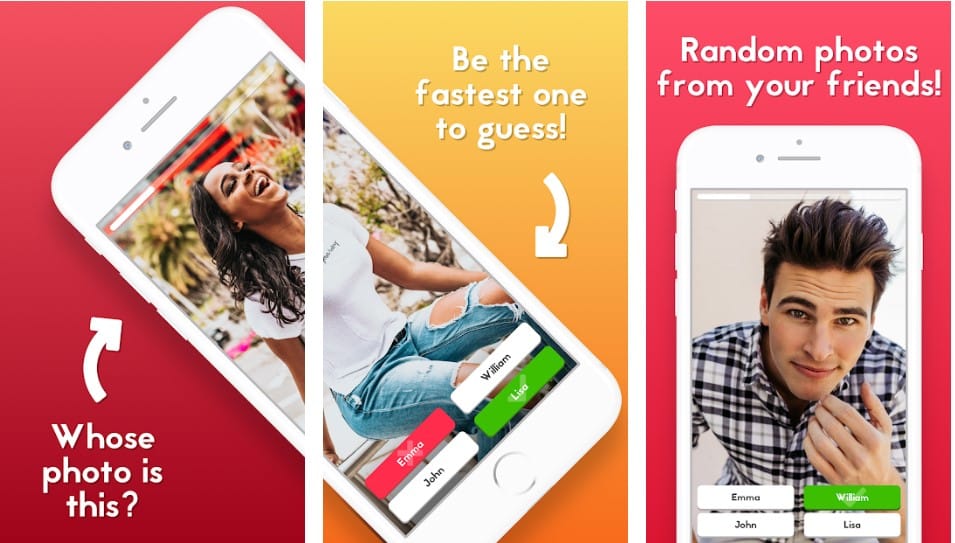 Using Photo Roulette, users can view random photos from their friends' camera rolls. The app is all about having a good time and making new friends, so it's a win-win situation. Users can see how well they know their friends based on random photos that appear on the platform.
In order to protect the privacy of its users' data, Photo Roulette lets them send each other random pictures from their camera rolls. Users can, however, save the image by taking a screenshot of it.
The app's in-app messaging feature also allows users to communicate with one another. You can download it from the App store and enjoy the app's amazing features.
---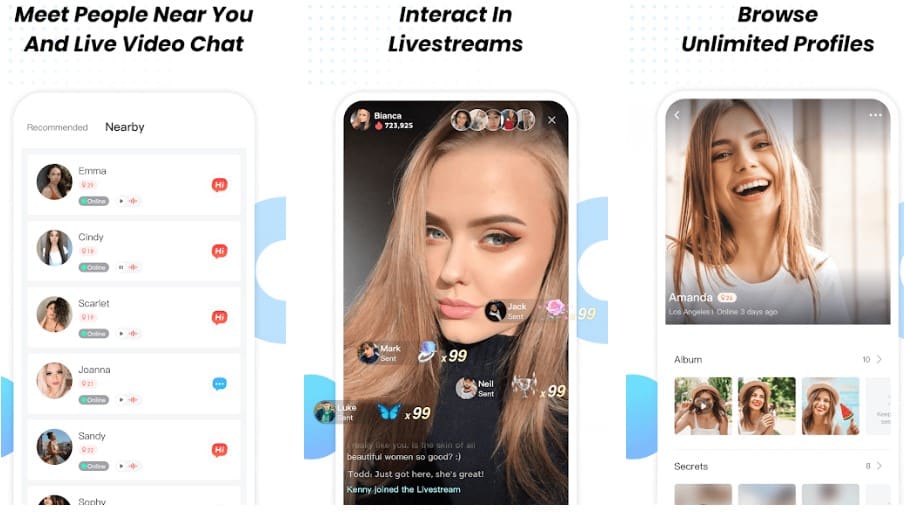 Lamour is a high-level social communication app designed specifically for users who want to meet new people nearby or around the world. New features and tools have been added to the app by its experienced team. Using this app, you'll be able to meet many people who share your interests.
Select the appropriate individual, introduce yourself, and wait for a response. You can join Lamour's most important community and enjoy your singlehood on its love hunt feature, which makes it better than other social networks.
---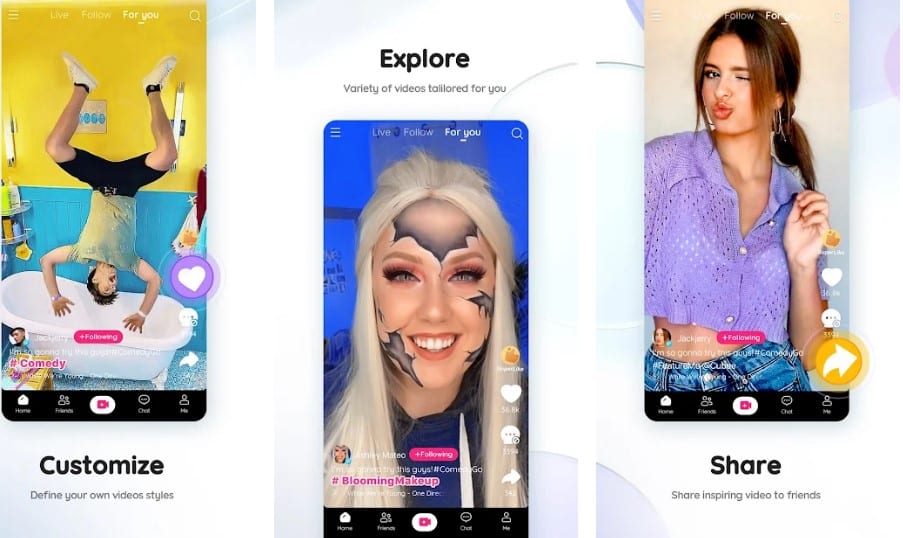 For those who want to share their talents with others and get real-time feedback, Likee is the most popular global video-sharing application for that. It has a lot to offer, including new effects, stickers, and various other features that make it stand out from the rest. The app has thousands of advanced stickers and magical music filters to help you create beautiful content.
Using this app, anyone can become a viral sensation by showcasing their unique talents to their social network. In less than a minute, you can create a blockbuster video and an exclusive piece of music using this app.
---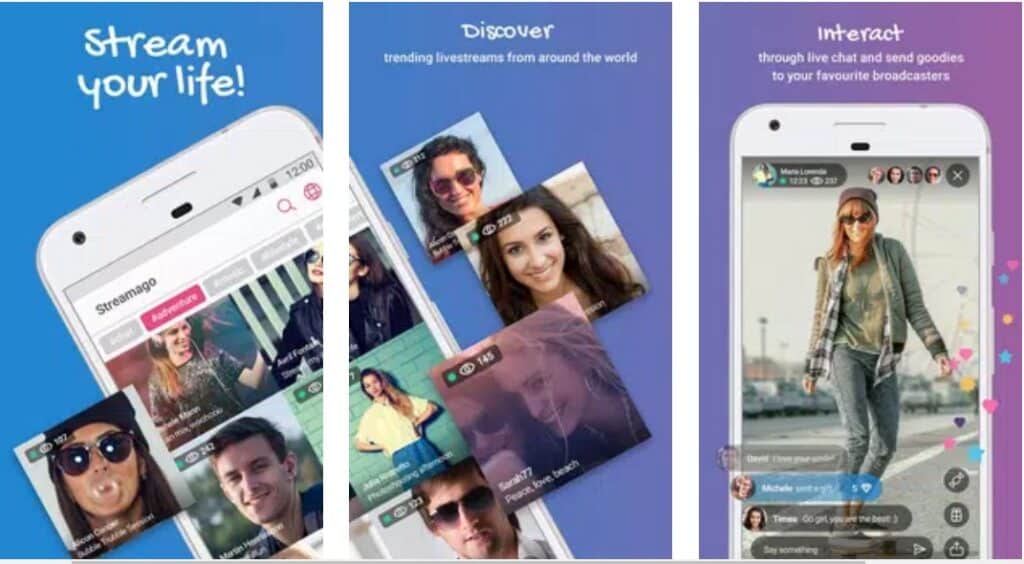 You can go live and share your voice with anyone you want using Streamago. It is a smart live streaming application. You'll be able to meet a wonderful group of boys and girls with whom to share your interests and discover new people. The app allows for both private and public chat groups and the option of inviting a small group of friends or the entire world to join in on the conversation.
What I love about it is that it enables you to access its features irrespective of your location. The addictive features of this app include the ability to go live, show off your skills, interact with others, watch other people's broadcasts, and share them on social media.
---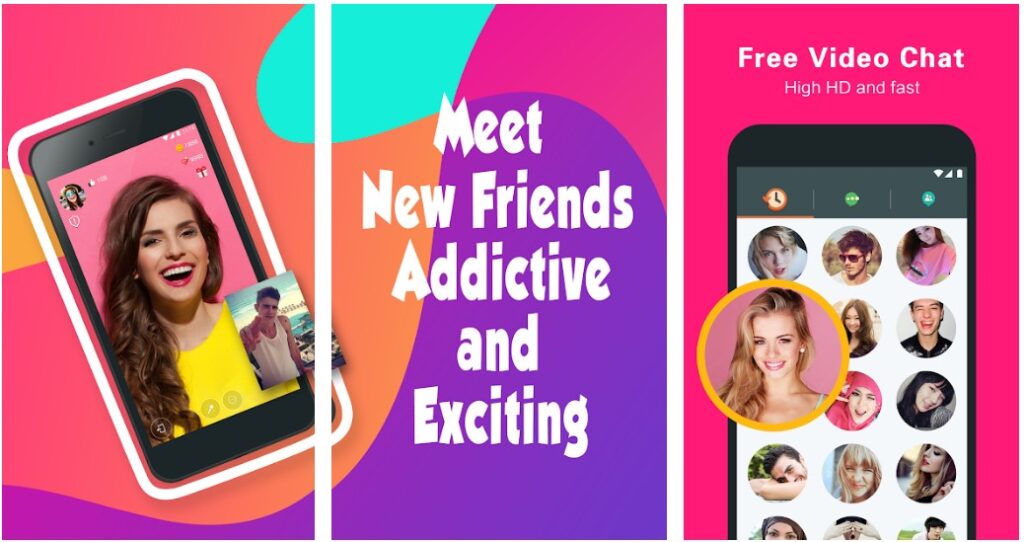 AHA Video Chat is a fantastic way to meet new people and expand your social circle in a way you've never experienced before. AHA Live Chat is a free application that allows you to meet new people from all over the world. It's a video-calling app that's hard to stop using.
Regardless of universal texting apps, it's the best and simplest way to communicate with others and build relationships. In addition to video calling, the app allows you to go live with friends and share your talent with others. You can easily share voice messages, emojis, videos, and photos with the people you care about.
---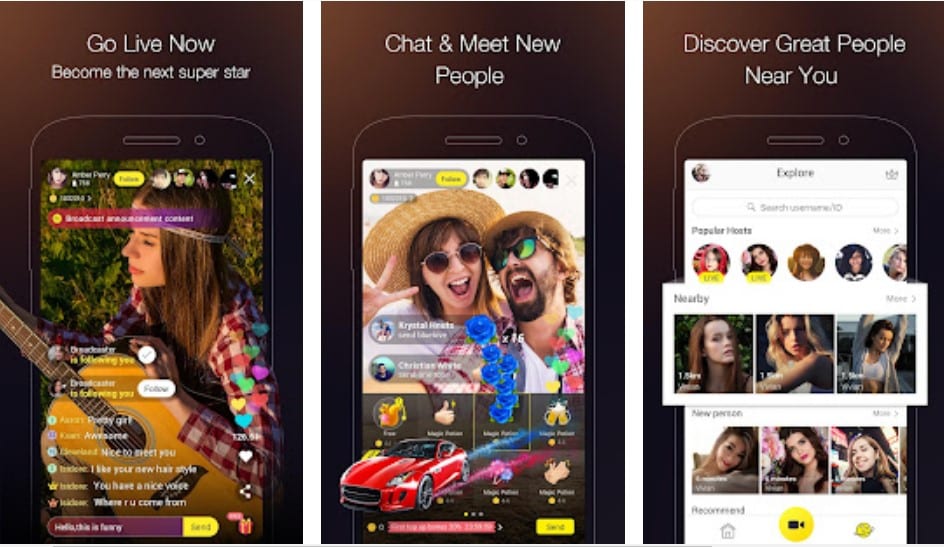 HiClub Live Streaming is the company that created and popular HiClub Live. Live streaming and exploring the world through the eyes of the app's millions of users is one of the app's most appealing features. With this app, you can see what's going on in the world, meet new people, and share your talents with everyone.
Whether you're looking for live commentary on your favorite sports team, live pop music, or the latest hot dance moves, this app has it all. Chat, interact and send awe-inspiring gifts to your favorite broadcasters and cyber celebrities with this simple yet robust mobile app.
Many people in the HiClub Live user community are eager to post, find and share billions of new ideas at any time. It is possible to watch live streaming without a hitch, broadcast your lifestyle, watch live streaming videos from all over the world, send virtual gifts, and share your streaming on social media platforms.
---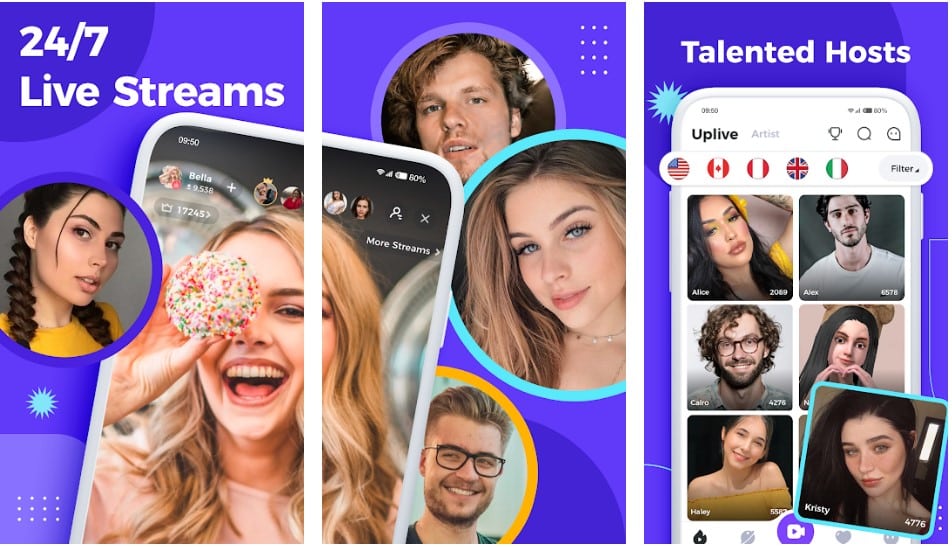 This free and one of the most popular live streaming mobile apps allows you to connect with people in your area and around the globe. From Japan to Taiwan to Vietnam, the app brings together millions of users and thousands of talented hosts worldwide.
More than 5,000 supermodels and part-time hosts adorn the platform, adding to its dynamism and fun. Using Uplive's live-streaming app for Android and iOS, you can showcase your skills and personality while simultaneously broadcasting to the world.
---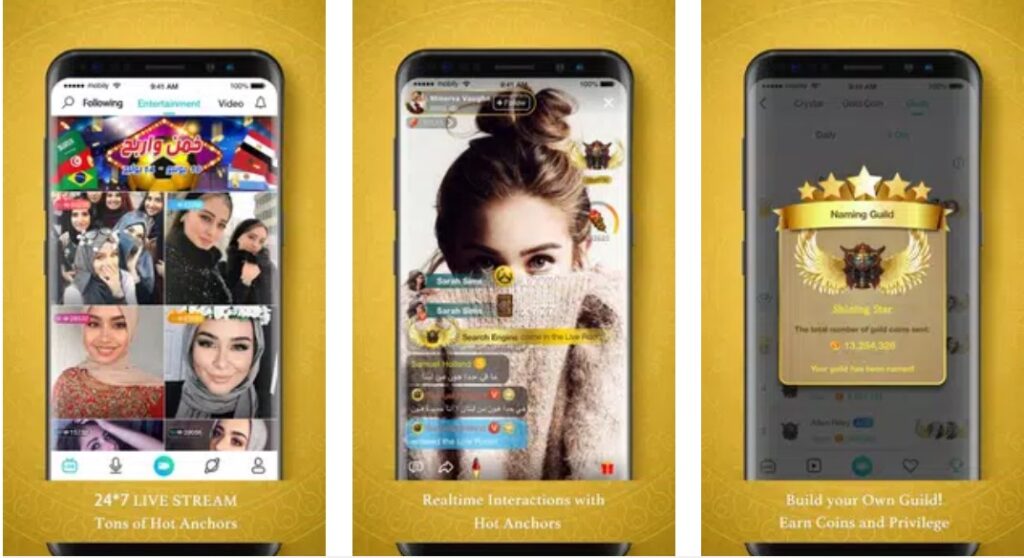 7Nujoom is the first Arabic-language live streaming, voice chat room, and video-sharing app supporting Arabic-language content. With over eleven million fans and numerous awards under its belt, it's easy to see why this app is so popular.
This all-in-one live video streaming app lets you enjoy the premium live stream, chat with strangers in the random chat room, create lip sync videos, and even become a celebrity by live streaming.
---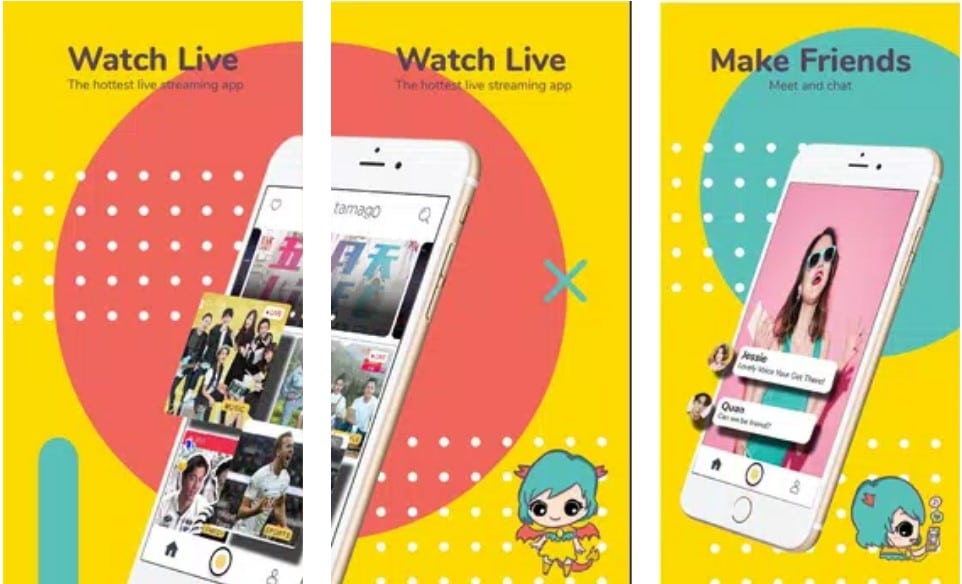 This live streaming social network enables you to watch or broadcast live videos at any time and from any location. You can easily connect with your favorite celebrities, share your best moments, meet new people, and follow your favorite broadcasters with the help of this platform.
The app was designed specifically for users who want to show off their hidden talents. On this platform, you can share your most memorable moments with the world, gain a loyal following, and earn a substantial income. Tamago is the best place to build your audience and get paid for it, whether you're a rock star or a university student.
---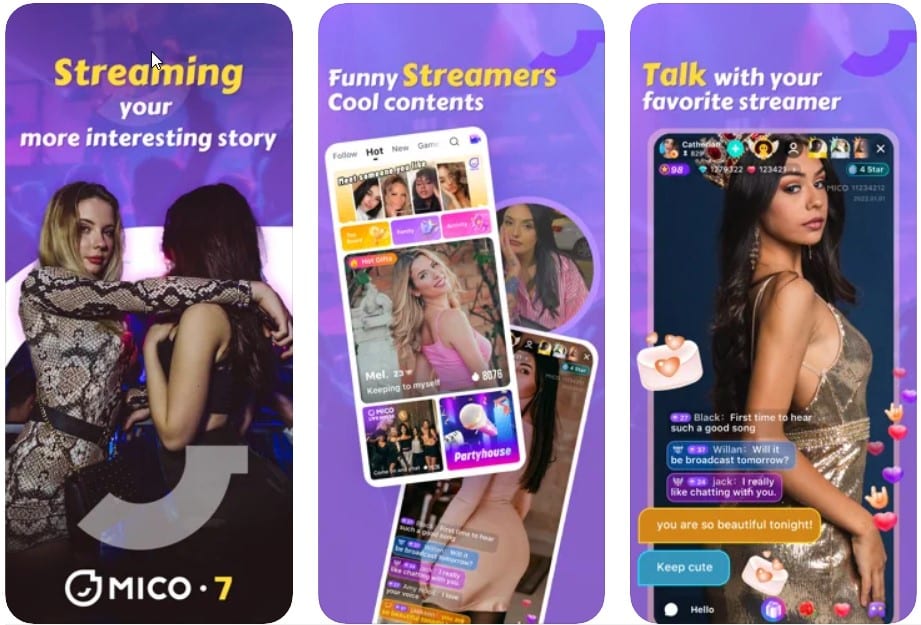 Mico is a widely used social app developed and published by Mico World Limited for both Android and iOS devices. Using its cutting-edge radar, you can learn about people in your immediate environment, as well as people all over the world. If you're looking for a way to connect with new people, this app is exactly what you need.
As a bonus, Mico allows users to stream their performances live in order to get immediate feedback on their skills. In order to use the service, you must first download the app to your phone and then register with an email address and the rest of the requested details. With this app, it's easy to find new friends based on your personal preferences.
---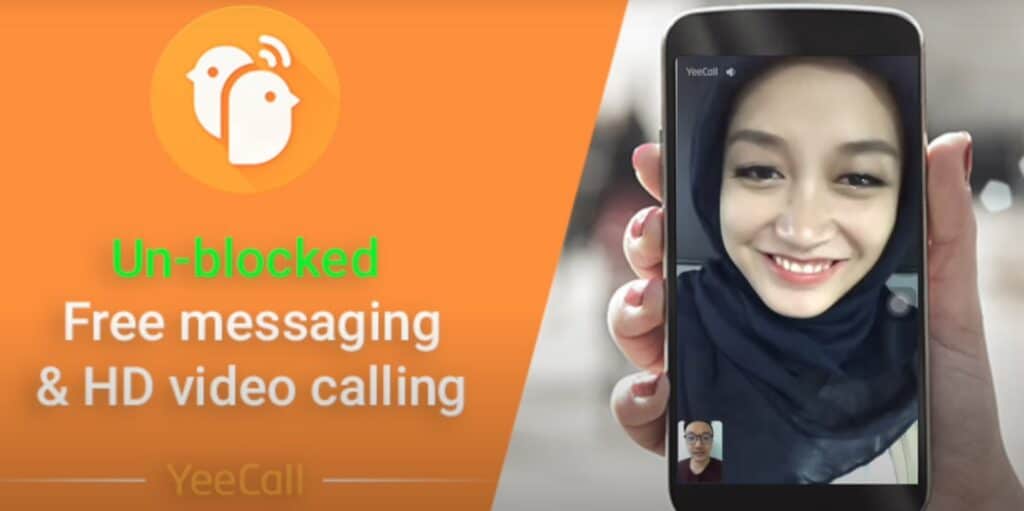 You can use YeeCall to make free calls over 4G, 3G, and 2G networks, as well as WiFi at any time of day or night. Yee Call is a free mobile application that allows users in the United States, Iran, India, UAE, and Pakistan to make unrestricted video and voice calls without the need for a VPN.
It's easy to connect with loved ones worldwide using this app. It also allows you to make free calls to people worldwide. The app can be used on both Android and iOS mobile devices. Its high-quality video and voice calls allow you to clearly hear what the other person says.
---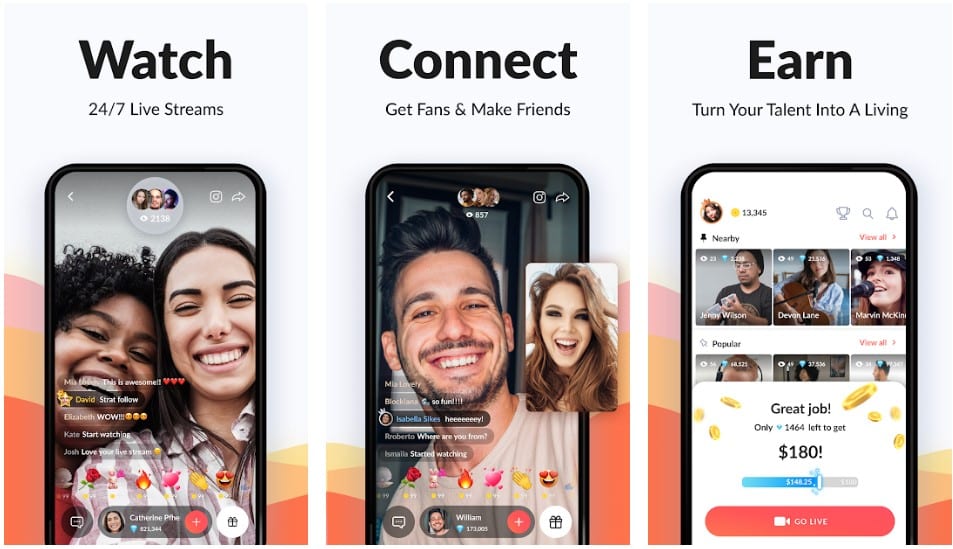 To keep in touch with the people you care about, Tango is a great app specifically for that. Video calling, live streaming, and messaging are all included in this free social networking app. Everything about Tango is free and works well on smartphones and tablets.
More than 350 million people worldwide use it, and each day they post millions of contents. To stay in touch with the people who matter to you most, use Tango. It is regarded as the first and best video calling app. This app, like Big Live, lets you broadcast your talents and stories to a wider audience.
---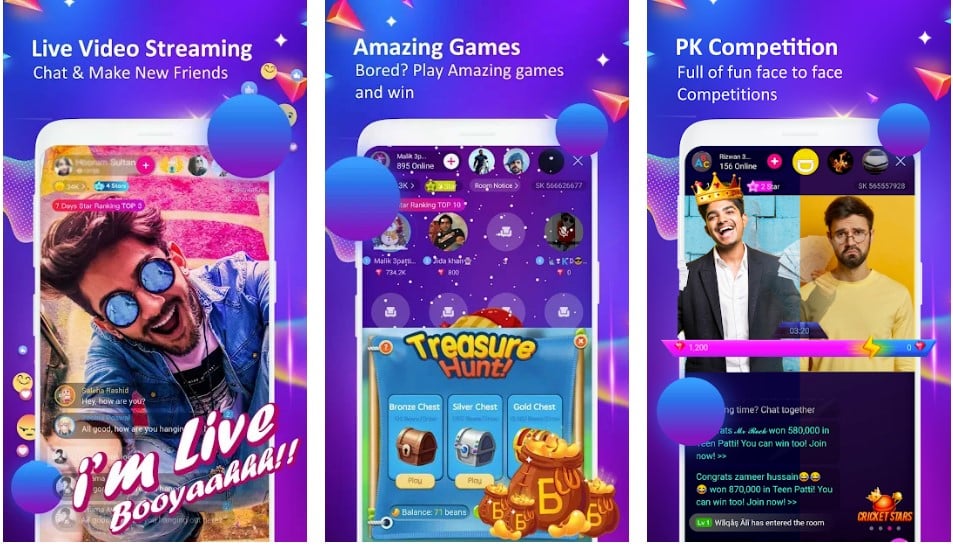 StreamKar is popular audio and live video streaming application. You can watch new live videos every day, broadcast your life, and chat with people from all over the world using this app's live video streaming feature. Anyone can become famous and prominent by showcasing their talents to their friends and the rest of the world.
Compared to other streaming services, StreamKar has many new features and tools that make it more enjoyable. Easily linking all of your social media accounts, such as Instagram, Twitter, and Facebook, is one of the best features of this entertainment app.
---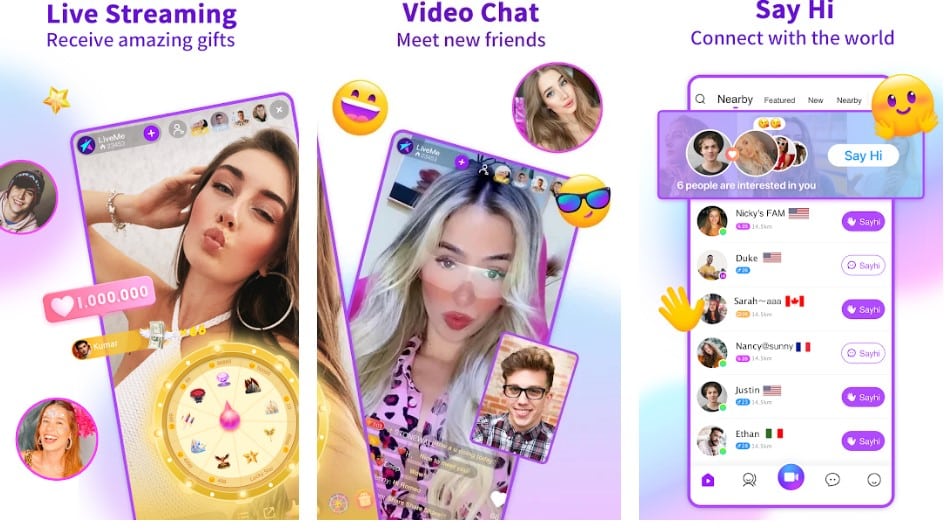 Up to 25 million people from 85 countries can participate in video chats via Live.me. The app is both simple and addictive. By using this app, you can create vlogs, participate in video chats, stream live broadcasts, and connect with a large network filled with like-minded individuals while earning money doing what you love.
All kinds of people can enjoy it, from gamers to music lovers to movie buffs to those who like to chat. Using this app, you can earn virtual gift cards that can be redeemed for real money, share your live streams with others, and meet new people. Live.me is a social mobile app that brings people from all over the world together.
---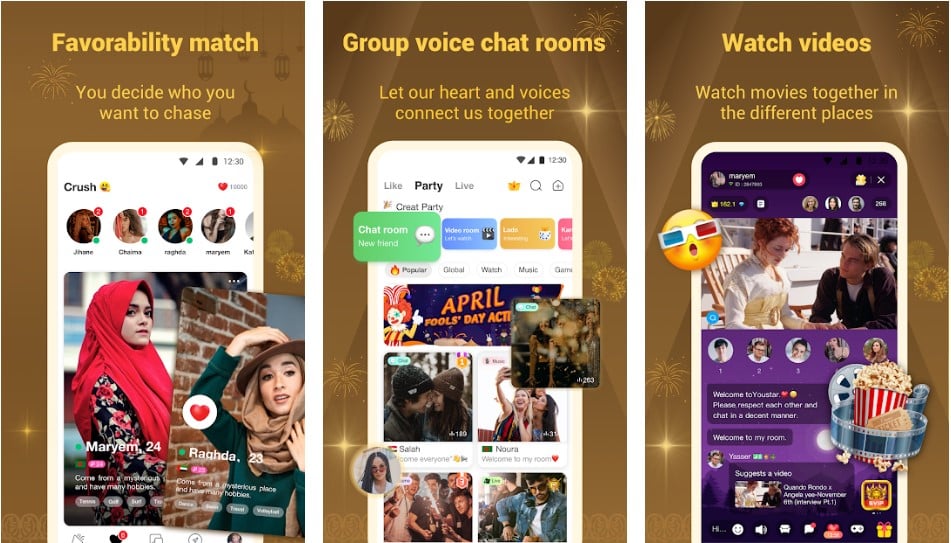 With YouStar, you can meet people worldwide and build a fun social network for your online social life through video chatting. It is a simple social network platform that can be used on both Android and iOS devices, and it can be accessed from any location.
For those who want to share their gifts with the world, this app is the perfect solution. This video chatting service offers you a variety of ways to meet new people, chat and have a good time.
---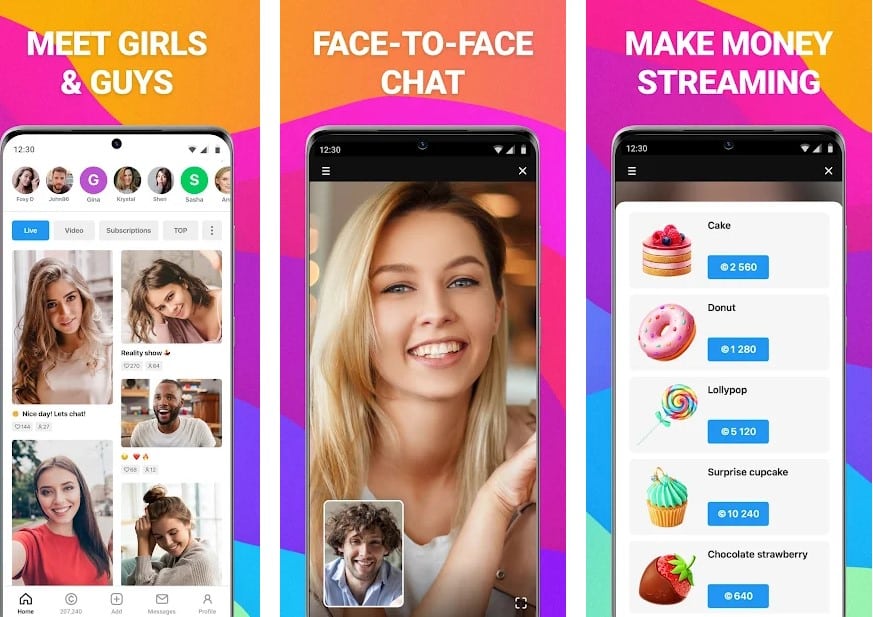 U LIVE is home to a diverse group of people from all over the world who are friendly and fun to be around. Sharing special moments with friends and family has never been easier thanks to this app. Live streaming, unlimited messages, and video chat services are all included in this simple and easy-to-use mobile application.
In addition to scheduling, instant messaging, live streaming, and other features, it's a great Bigo Live alternative. You can use the scheduling feature to post images and videos at the most convenient times. As a user, you can join multiple chat rooms anonymously and receive real-time feedback and opinions.
---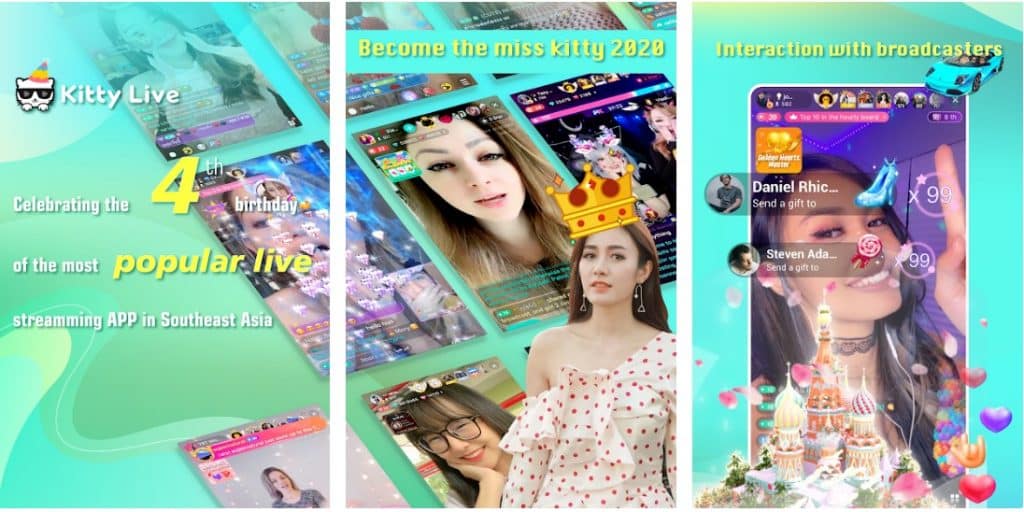 KITTY LIVE is an entertainment application. Two to three times per day, the app features a live game show that can be accessed through the app. To win nearly Ten million USD, you'll need to correctly answer twelve questions using a variety of cutting-edge and exciting features. Twelve questions are posed by the show's host, each with three possible responses.
A time limit of just over 10 seconds dictates that only those players who correctly answer all of the questions will advance to the next round. To win the prize money, a player must correctly answer the final question.  As the game progresses, KITTY LIVE begins with simple questions but becomes increasingly difficult.
The player will be kicked out if he or she commits any errors. To win a massive prize, all players must participate in the live room and answer questions. You can earn money by testing your intelligence with Kitty Live, a fun live streaming trivia app. Playing with your friends and family members is the most addictive aspect of this app.
Aside from these important features, Kitty Live has many others that make it superior to its competitors. Without a doubt, you won't regret giving this app a try.
---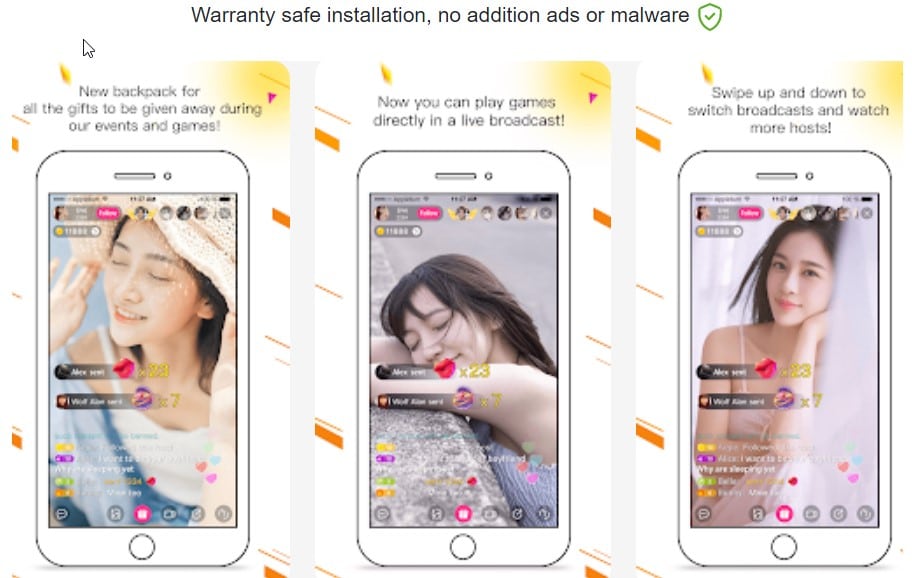 Friday Night Live-Social video is a great app for watching live streaming videos worldwide and enjoying broadcasts from global broadcasters. Those who want to show off their skills and meet new people should use this app. People can easily make their talents known to the world, grow their fan base, and make a name for themselves.
Watch and converse with the best live video stars in the world, or broadcast yourself and become a star yourself, all through the app. You can learn about different cultures, meet new people, and make new friends from all over the world thanks to this platform.
---
FAQs
1. What is the best Bigo Live alternative?
Bigo Live has many alternatives that are ready to serve your social needs and help you increase your presence, meet, and interact with new people. The Bigo Live alternatives in this article are all good. You can try any of them to see which one aligns with your needs the most.
2. Are Bigo Live alternatives free?
Not all Bigo Live alternatives are totally free. Some have both free and paid versions. You can use their free version if you're on a budget.
---
Conclusion
This article has successfully looked into the top best apps like Bigo Live. This list is not exhaustive, as there are thousands of other apps like Bigo Live.
However, for the sake of authenticity, I decided to share these one because they're what I have used and tested. You can try them out to see how they fit your needs.