Are you often facing Anilinkz online stream being temporarily down or unavailable due to technical issues? Due to this, most users often search for alternative platforms to watch their best series and movies.
Anilinkz is an online platform offering free Anime streaming that covers different genres. Anime lovers like this platform mostly because it is free to access, and there is no need to have an account. There have been a lot of complaints about many ads and intrusive banners on the website, which has become annoying to the users. Anilinkz also tends to be unavailable at times, and thus, people have sought alternative platforms.
The Anilinkz website has also changed its domain name to Aniwatcher, so if one wants to use the website, one must go to Aniwatcher.com to access the site. So if you are looking for a better alternative to Anilinkz, consider these alternatives with the best streaming and less disturbance from the ever-popping-up ads.
---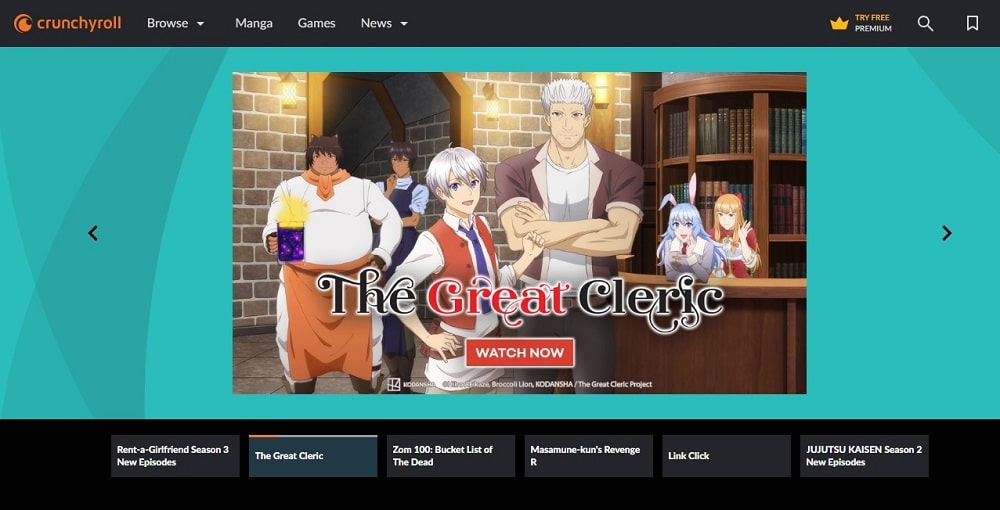 Crunchyroll has become one of the biggest anime sites globally, launched in 2006 with only a few anime series and Asian dramas. Crunchyroll has a user base of 45 million, with 2 million premium subscribers. The site has a vast library of the latest and popular anime series, including simulcasts of the latest episodes from Japan.
To access the website, you must first register or sign up for Crunchyroll. Most Anime and manga on the site are free, but one can choose the premium version. A premium subscription is the way to go if you don't want ads to pop up on your favorite series while watching.
Crunchyroll has a store where fans can buy anime or manga merchandise. There are also blogs where users can read and learn more about their favorite anime series. The site offers high-resolution quality videos with top-notch subtitles and dub versions.
---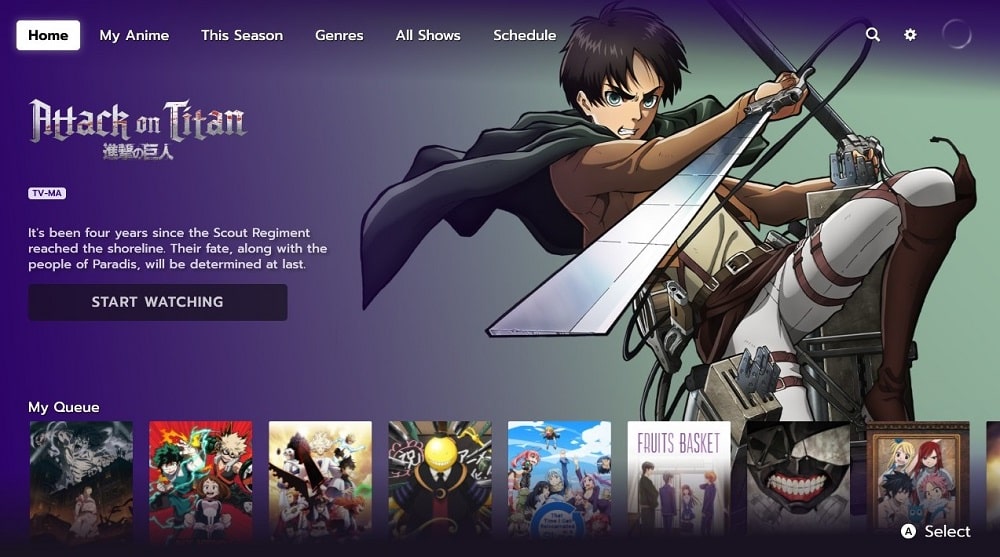 Based in the US and owned by Sony, Funimation began as an anime dubbing and distribution company. The website has grown to be among the giant premium anime streaming sites popularly known for airing Dragon Balls on the shores of the US. Funimation is best known for dubbing Asian anime content into English, favoring the Western audience.
The site offers the latest and classic anime series, with the series being categorized into different genres. Its content is subbed and dubbed, and its user interface is excellent and user-friendly. Funimation is available in a free and premium version, where its premium version is ad-free and has high-quality video and content. The website is only available in the US, Canada, Australia, Ireland, New Zealand, and the United Kingdom.
---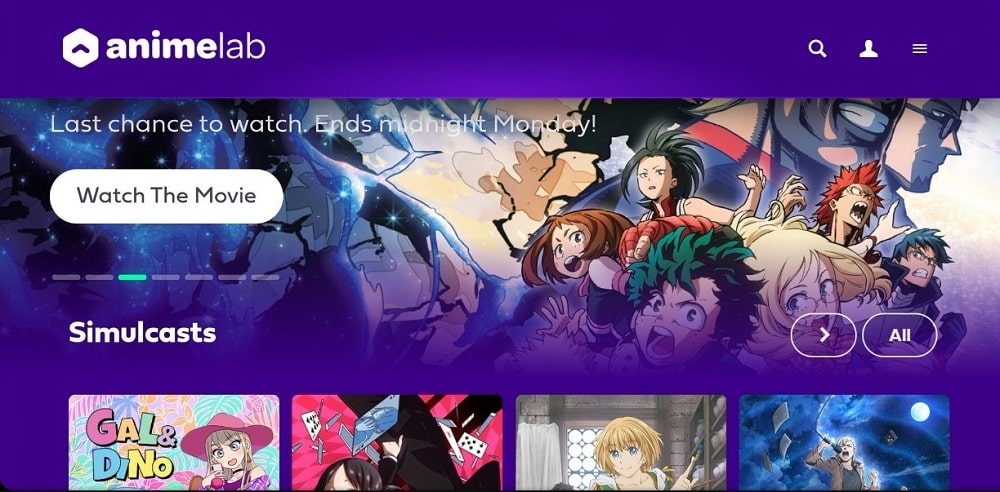 AnimeLab is a website that supports online legal streaming that serves users in Japan, Australia, and New Zealand. It has subbed and dubbed versions of popular anime series with a user-friendly interface where users can navigate easily. Some of the features this platform has are the best speed, regular updates, and good streaming capabilities compared to Anilinkz.
It does not have too much anime series content but is famous for airing the latest episodes. For the free streaming version of AnimeLab, the video has 480p quality, making it better to opt for the premium version. The free streaming version comes with ads, while the premium subscription is ad-free.
---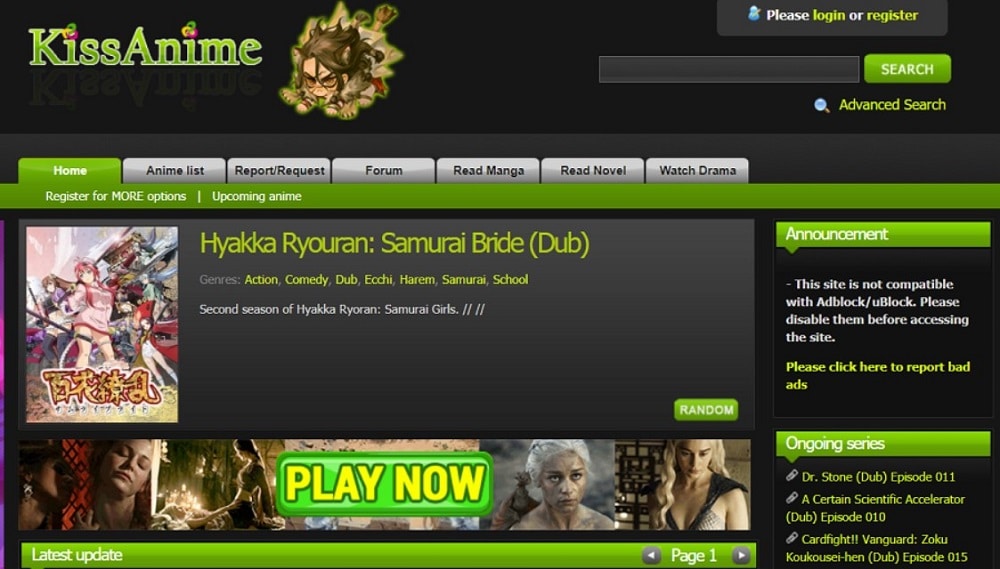 KissAnime is among the famous and best online Anime streaming websites, which offers a collection of the latest and trending Japanese anime series. For over a decade, KissAnime has created a friendly user environment where users can easily use the platform.
The site offers quality anime material with a massive collection of anime series. It is easy to use as it has an alphabetic list available for all anime series and movies, making it easy to navigate. The anime series is subdivided into different genres like action, horror, romance, thriller, suspense, and many more. It lists all complete seasons for every show, and the videos are available in subs and dubs.
You can access the site for free with videos showing from 240p up to 1080p video quality. Uniquely, users are given the option to download their favorite anime series at any resolution. The site also allows users to join a lively community forum and discuss Japanese pop culture. Although the official KissAnime website was shut down due to copyright issues, two working mirrors of KissAnime are available for users. Users can access the sites for free to watch their favorite anime series.
---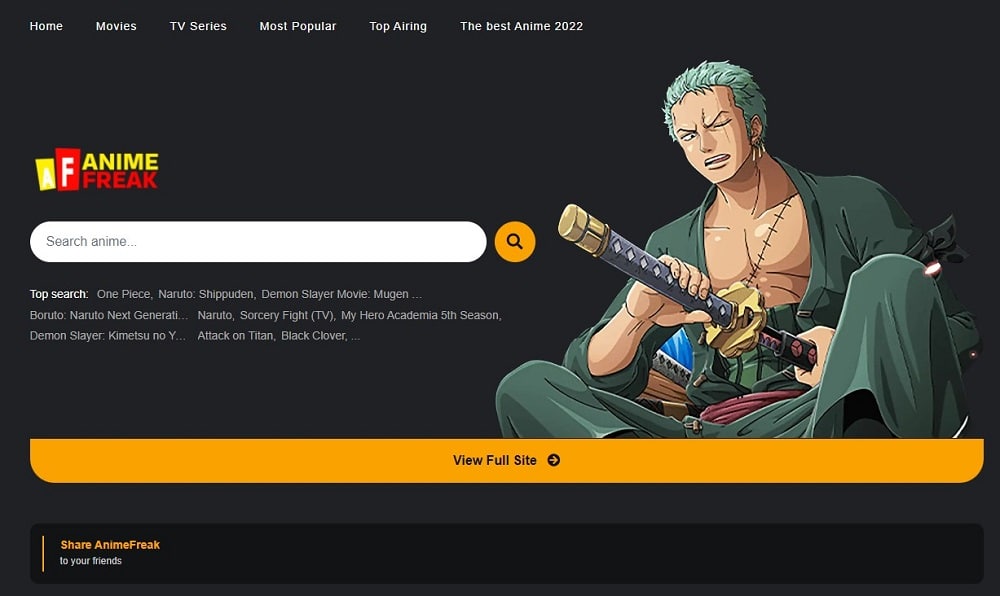 AnimeFreak is an online website that supports free anime series and movie streaming. The site offers the latest OVA series, feature films, and countless anime series and movies. The website has a user-friendly interface similar to other Anime streaming websites.
There are lots of anime series on the site, which are classified into different genres. Users can also change the look of their homepage according to their preference by changing the view of the videos from thumbnails to lists and details. It is also easy to navigate in the platform because the lists are arranged in alphabetic order and have a search option to find your favorite series easily.
AnimeFreak has a forum where users can engage and share ideas on anime-related content or recommend the best anime series. The website offers high-quality streaming services for anime lovers. Comprehensive details about every anime series are provided so users can decide whether to watch it.
For the free premium version, you can find some of the latest and popular Anime like Naruto, Attack on Titan, and Death Note on AnimeFreak. Similar to other anime platforms, ads also pop up while watching.
---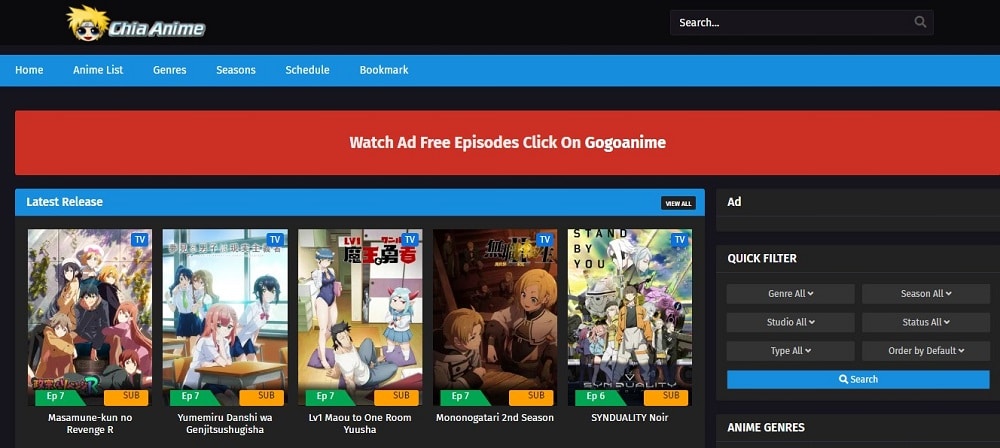 Chia-Anime is an online platform that offers its users Anime shows, Manga titles, and soundtracks. It provides the most trending, latest, and ongoing anime series and movies. Its extensive library has both new and old Anime and manga series.
Its content is subbed with English language and captions making it suitable for people of all ages. Users can easily and quickly search for their favorite anime series using the search box. The content is categorized into different genres, the year it was produced, and its popularity.
Chia-Anime is free to access with no need for sign-up or registration. The site also lets users download their favorite anime series in different resolutions. This website has hosted third-party websites, contributing to the presence of ads most of the time, making the interface unstructured. Despite this, the website is an excellent platform to watch anime series in case your Aniliknz website fails.
---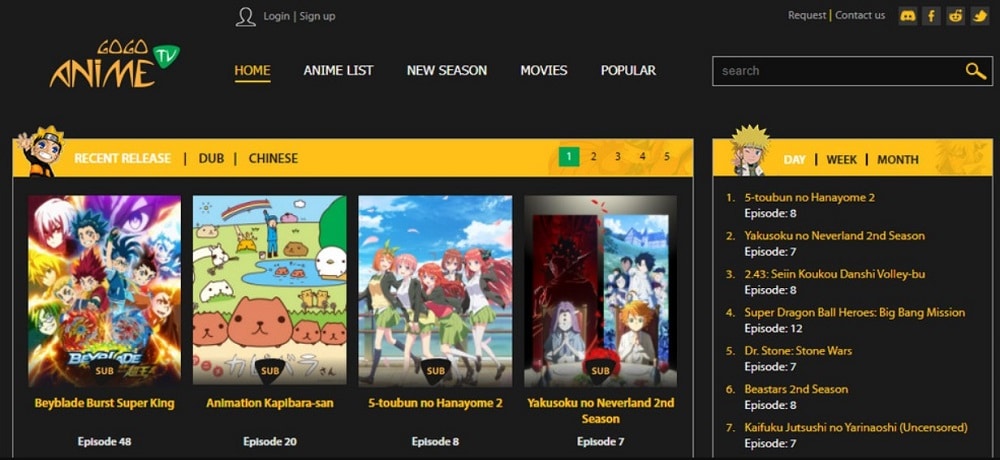 GoGoAnime is an online website offering free anime series streaming and has been available globally since 2014. It provides a vast Anime series, movies, cartoons, and Korean and Japanese dramas.
Its function is impressive as it quickly searches for the titles of the entered keywords and brings titles related to them. The videos are alphabetically categorized in the anime list menu. GoGoAnime offers almost all the old, trending, latest and hottest anime shows.
Its content is primarily unique, and you can rarely find it on other anime streaming platforms. Its content is divided into both subtitled and dubbed series. You also get genre options to search from to make it even easier. The website updates its content daily, and almost all the content is free. Apart from its free content, it does not miss ads and pop-ups.
Its content is available in different languages, including English, French, German, and Spanish.
---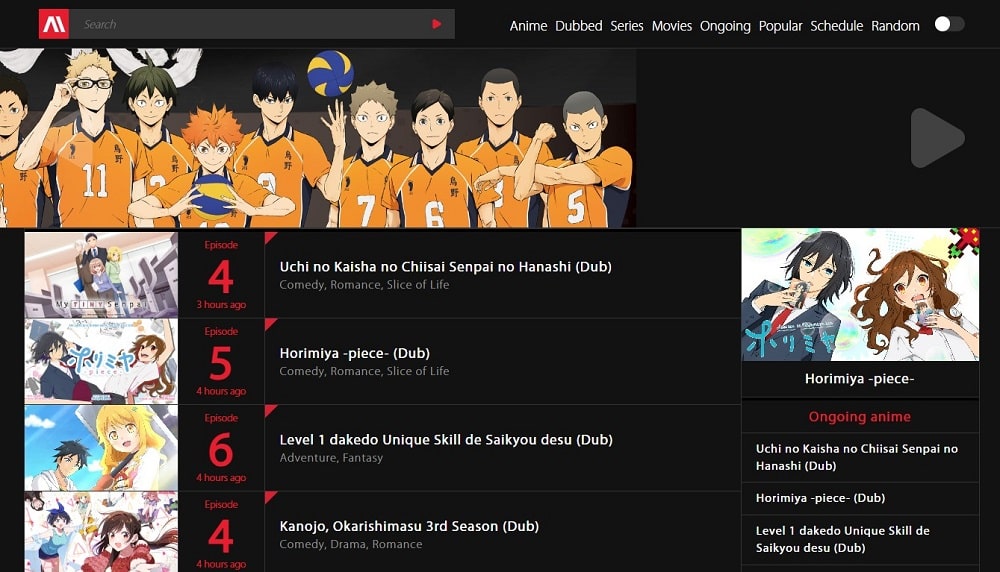 As its name suggests, Animeheaven is an excellent platform to watch your favorite anime series. Anime fans widely love it, and it offers both old and new versions of Anime.
AnimeHeaven categorizes most of its content using date released, genres, ratings, and much more. Its user-friendly interface and high-quality video have contributed to its immense growth. The website ensures that it uploads new episodes as soon as they are aired in Japan. With classic anime content like Naruto and Demon Slayer, AnimeHeaven has an excellent range for everyone to watch.
With its shows being subbed and dubbed, every show's storyline is outlined. A user is not required to create an account or register since its content is free but with a few ads.
---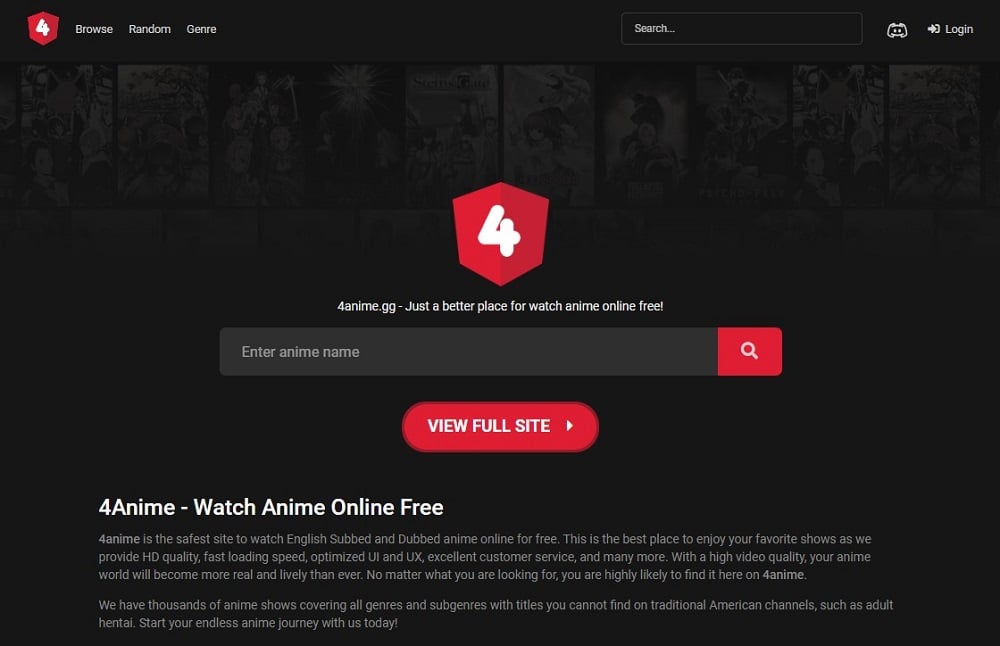 4Anime is among the popular anime streaming platforms that offer a wide range of anime series and movies. It provides the latest and most extensive anime series and movies.
Users on the website can search for their favorite anime videos depending on the genre, rating, release date, and popularity. The unique feature of the website is that it provides all of its anime videos with English subtitles. Its videos are of high-quality and less disturbance from ads.
Despite 4Anime being a free website, it has maintained high-quality standards that one would mistake for a premium service. 4Anime has secured its servers so users' data is protected. Once a user views a specific page, they will be able to have a view of it on their homepage.
With the many anime series on the website, one would need clarification about which movie or series to watch. This is why 4Anime has come with a 'random' button that users can press, and the best anime videos will be recommended to them.
---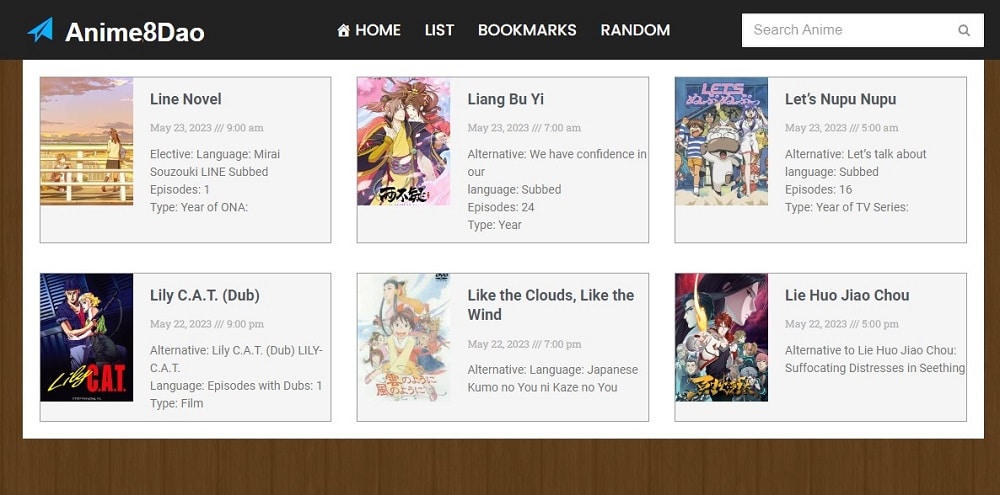 AnimeDao is an online website that is used for streaming anime content. If your Anilinkz platform fails, try AnimeDao. The website is famous for its vast collection of anime series and movies that are updated more often.
The search options make it easy for users to access their favorite shows quickly. Users also find the website better than others as it loads faster. Its content is also divided into different genres and categories.
The best part about AnimeDao is that apart from it being free, users get to watch their shows without any advertisements or interruptions. AnimeDao users also have the option to choose how to watch their shows depending on video quality and device specifications. Its user-friendly interface allows users to access content from around the world.AnimeDao is the most preferred online streaming due to its vast collection of anime shows, easy and free to use, and uninterrupted viewing.
---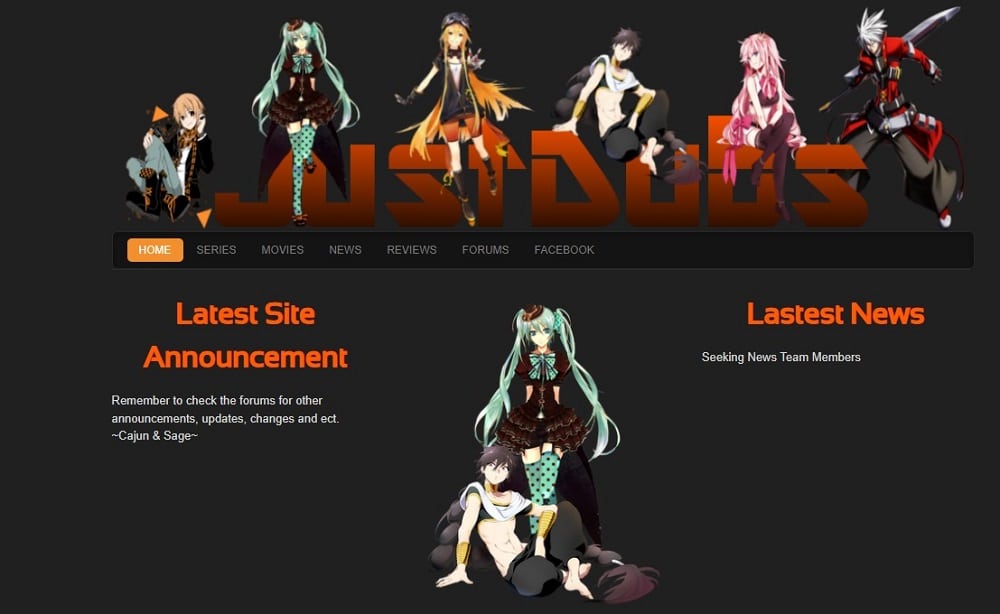 For those who don't understand Japanese, JustDubs is an online streaming platform that offers anime content in English. The site provides anime series and movies for free.
Unlike other platforms with sub and dub versions, JustDubs only showcases dubbed anime content. Despite the site being free, it provides ad-free content, which goes well with most of its users. If you want to watch your favorite anime show without interruption, then JustDubs might be your best choice.
Its content is categorized into different classifications, making finding their favorite shows quickly easy. You must sign up with the platform to watch your favorite series like Naruto on JustDubs.
---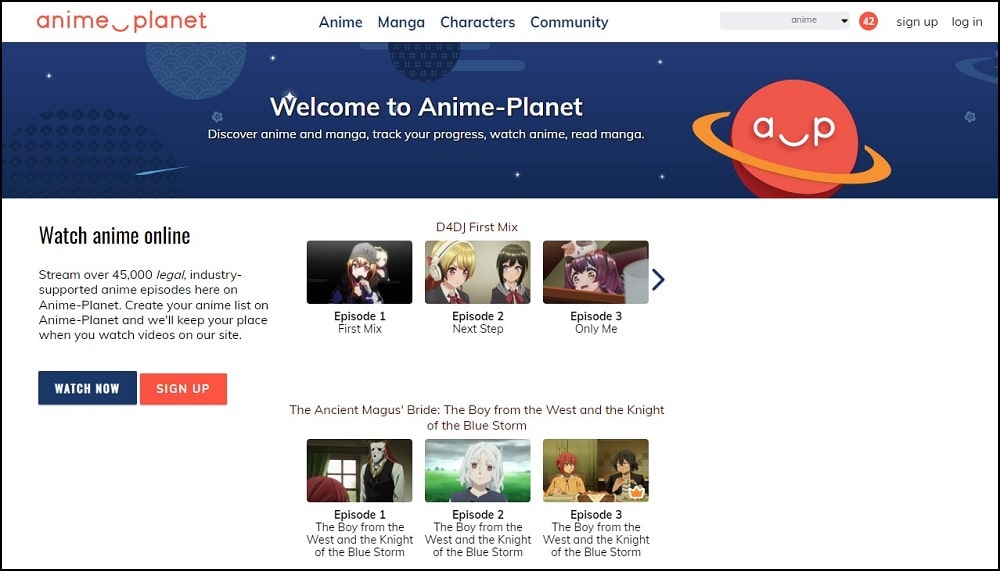 Anime-Planet is an online streaming platform that showcases anime content with over 40,000 episodes. Its content matches those of popular Anime streaming sites like Crunchyroll and Funimation.
It offers detailed information about every anime series and movie. Its users can create watchlists and review titles. A forum on the platform also allows users to connect and share ideas about anime content. The most exciting part about the site is that it suggests new titles to users based on their viewing history, preference, and ratings. This option makes it easy for users to discover new content without the stress of going through every movie to get the best.
Besides its anime content, Anime-Planet offers a section where users can read about manga series. Users can also check out manga game reviews written by other users. The site is free to access, though, with reasonable ads.
---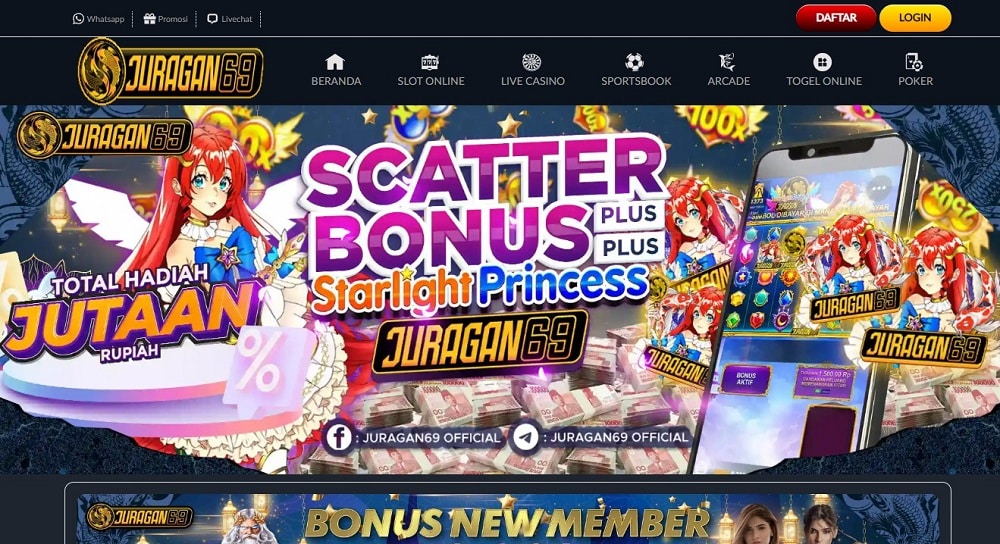 AnimeFrenzy is also an Anilinknz alternative popularly known for airing classic anime series. The site has a user-friendly interface making it an ideal choice for anime fans.
AnimeFenzy streams the latest and trending anime series and movies. It also makes sure that it updates new releases regularly so that fans get all the latest releases. It has popular series like Attack on Titan and Dragon Ball Z.
It also offers dubbed and subbed versions of popular anime series titles. Viewers can select their preferred language depending on the language they understand. Its videos are both in HD quality and low resolution, depending on the user's preference,
One can access the site for free or sign-up to their website. Registered users have a platform to write and share their reviews on certain anime content.
---
Netflix is among the best Anime streaming websites to date. The site offers a massive library of high-demand movies and series. Netflix has become a giant website for airing popular anime shows and has even gone to the extent of producing its anime content.
Because of its global audience, each of its content has audio and subtitle language options for its users to choose from. On Netflix, you can get anime content from the 90s, which you can't get on other anime platforms. To watch anime content on Netflix, you must upgrade to a premium subscription with different costs.
All of its content is of high-definition quality, and no interruptions from ads. Netflix also has robust parental control to keep kids from watching adult content. You also need to sign-up for a Netflix account, and you can have up to five user profiles per account. This helps keep all your anime content in one place.
---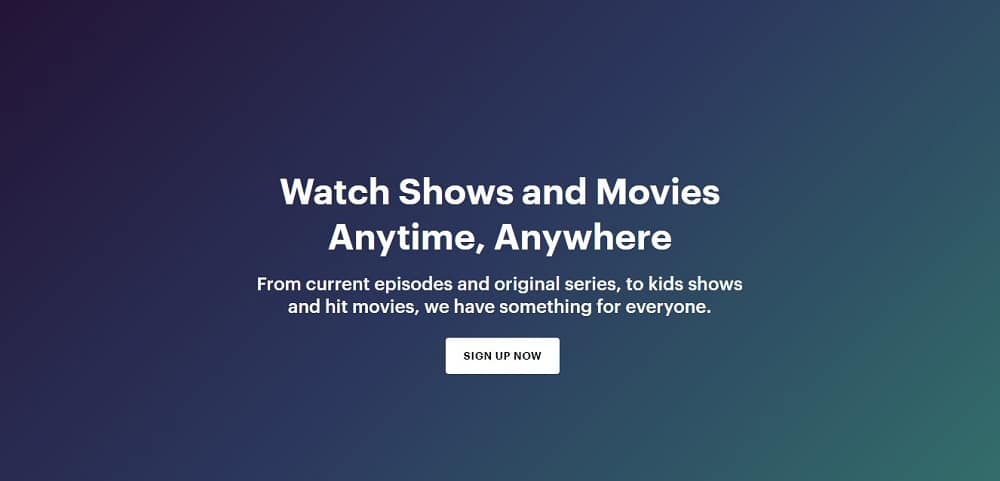 Similar to Netflix, Hulu has more than 300 anime series and movies. In 2018 Hulu signed a partnership deal with Funimation, so it airs most of the biggest Funimation in the US. The site is popularly known for its countless award-winning original movies and series.
Each of its videos is sub or dub and does not have complete seasons for some of the series. Subtitled episodes arrive immediately after release, while dubbed episodes may take quite a long time to be available on the stream. Its content is classified into A-Z alphabetic order classic and simulcasts.
There are two different premium subscriptions on Hulu; one is ad-supported, while the other is ad-free. The ad-supported subscription is much cheaper than the ad-free, while students can get the ad-supported version for a discounted rate. To keep track of your anime content on Hulu, a user can have up to 6 user account with up to 2 streaming screens at a time.
---
FAQ
Q. What is the difference between subbed and dubbed in Anime?
Sub-anime [subtitles] means that the original voice audio is in Japanese, and the subtitles are in English or the viewer's preferred language. Dubbed Anime is when the audio is in English or the viewer's select language with no subtitles.
Most streaming sites are frequently unavailable due to server, legal, traffic, or technical glitches. Due to this, Anilinkz might be unavailable temporarily or disappear permanently.
Q. Are the Anilinkz alternatives free?
Not all Anilinkz alternatives are free; some require a premium subscription. Most premium subscribed sites are better than free sites as they have HD-quality videos and are ad-free.
Q. What makes a good anime website?
A good anime website should provide; a content library, user-friendly interface, HD quality videos, minimal or no ads, consistent availability, and fast loading times.
Q. What is the best anime app to watch for free?
Crunchyroll and Funimation are the best reliable, and most popular anime sites to watch your favorite anime series and movies.
---
Conclusion
If your Anilinkz website is down or unavailable, these 15 websites are worth a try. Each site has advantages and disadvantages, so picking a site that will suit your preference is better. Besides that, all these sites have classic content, the latest and most trending anime content, and there is anything for everyone. Get to pick your favorite Anime streaming website and watch your favorite anime content anywhere and at any time.