While male game streamers dominate, in terms of numbers, on Twitch, the number of females on the platform has seen a steady increase in the recent past. If you are looking for brand ambassadors to promote your products, this post will walk you through some of the top 10 female Twitch streamers that you may wish to check out. Read on for the details…..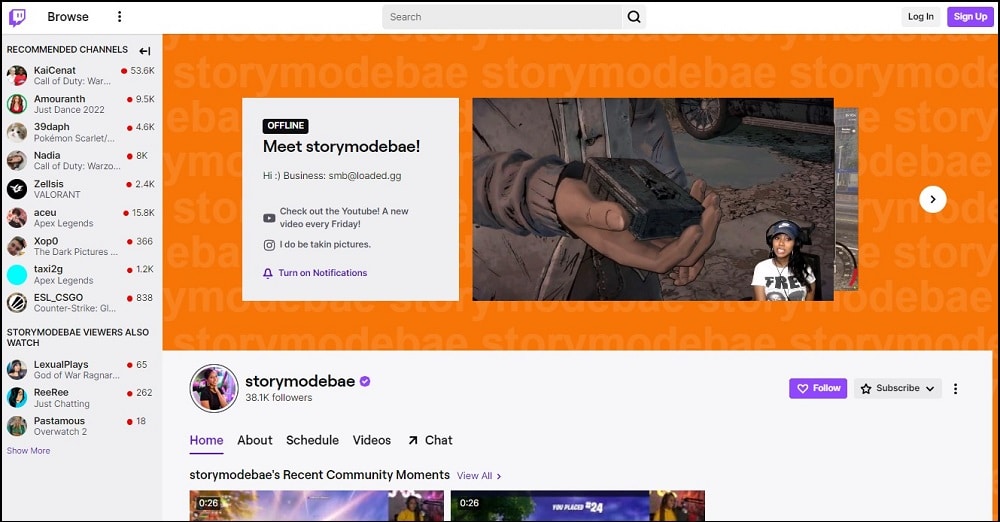 Briana is a very passionate Twitch game streamer, having joined the platform back in 2018. On Twitch, she is famously known as Storymodebae and aims to empower creativity and represent black women on the game streaming platform. She ventured on Twitch a year before graduating from college and some of the top games on her Twitch channel include Mafia3, Dead Redemption 2, and Just Chatting.
Currently, Briana's Twitch channel has 3200 plus active subscribers with a view count of 16,800 and 36k followers. Follow her on Twitter and Instagram to catch the latest game streams and updates.
---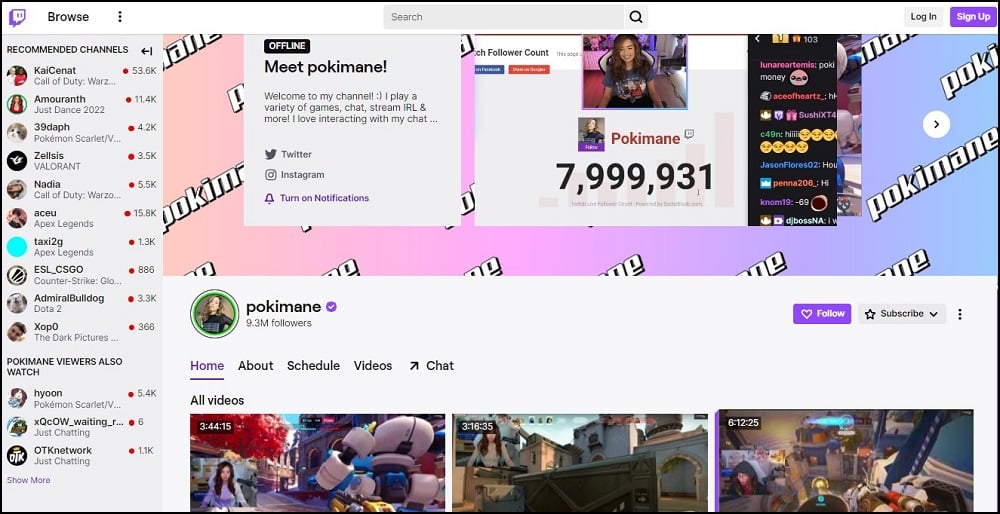 The Twitch celeb is one of the most famous female streamers receiving significant attention from many companies and brands that work with her. The nickname is a combination of her favorite Pokemon and her given name, Imane; Pokimane.
Pokimane is an accomplished gamer, an established female promoter working with many big brands. Her bright character, gaming skills, and unique video style have earned her over 9 billion Twitch followers and 640 million YouTube views.
One of the campaigner's gaming firm's steady collaborations is HyperX, and games like Team Fight and Fortnite are some of her favorites. You can link up with her on her social handles: Twitter and Instagram.
---
Kittyplay, 30 years of age, also known as Kristen, runs her channel by the name Kittyplaygames, and she's one of the most exceptional female streamers on Twitch. On the platform, she is best known for her relaxed and exciting gaming vibes.
Additionally, she has a real-time show called Playtime with Kitty Plays where she interviews outstanding gamers and also plays with them. Moreover, Kittyplay is also the initiator of the Twitch marketing mentorship team called Team Kitty, which aids in creating channels for female content creators.
With more than one million followers, Kristen also shares her cooking, travel, and supercar riding exploits via vlogs on the channel. You can talk to and see more from KittyPlays via her social handles: Twitter and Instagram.
---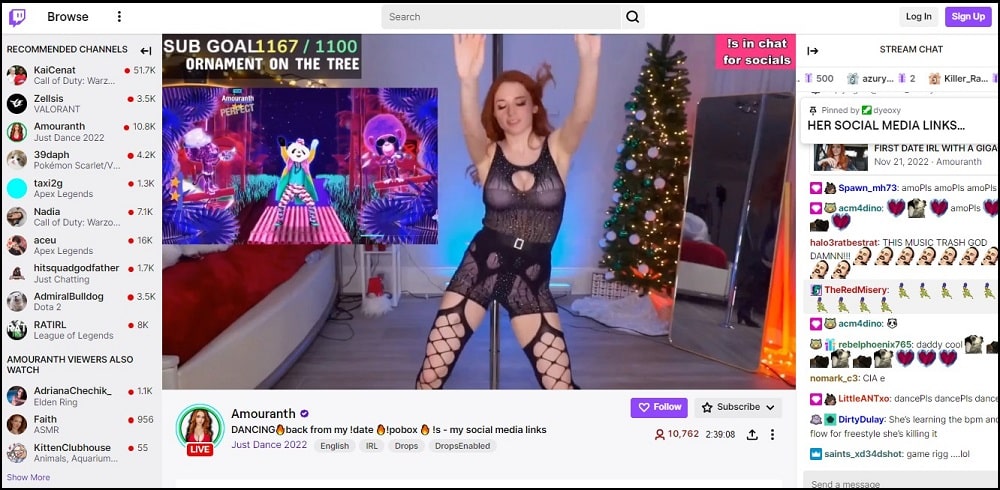 Amouranth is a US Twitch female streamer who joined the platform back in 2016 and quickly rose to fame as a solitary cosplayer.
The streamer has 5.3M+ followers on Twitch and has seen more than 367K rise in follower count this year alone. Besides being popular on Twitch, this female star streamer is also bit on other platforms such as TikTok, YouTube, and OnlyFans. You can get in touch with via her social handles: Twitter and Instagram.
---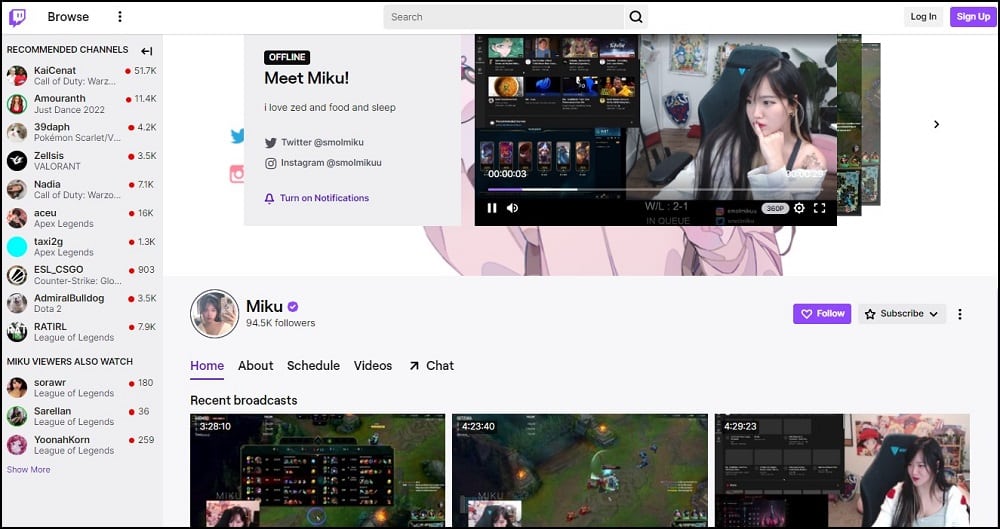 Another popular American Twitch streamer. She gained fame for her exploits at playing League of Legends. She is based in Houston Texas and is still in college. You can catch up on the latest game streams and more via her socials: Twitter & Instagram.
---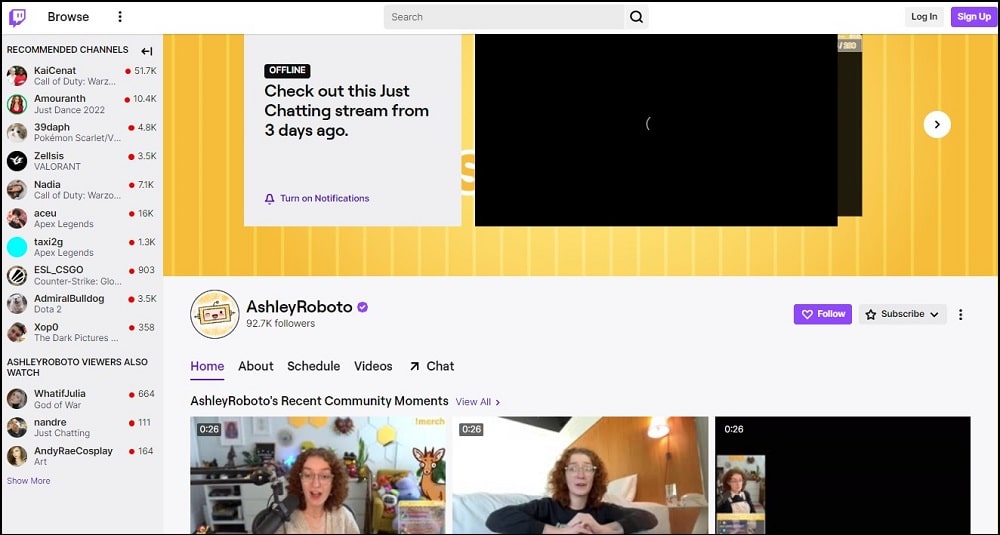 Ashley is a Canadian Twitch streamer known for her funny gaming videos streams and lovely voice. She is a pro at bouncing humor off of games. On her Twitch channel, you will find quite a number of horror games together with some other genres that are popular among her fans. She has quite a sizable audience, thanks to her witty screams.
You can follow her on her social handles: Twitter and Instagram.
---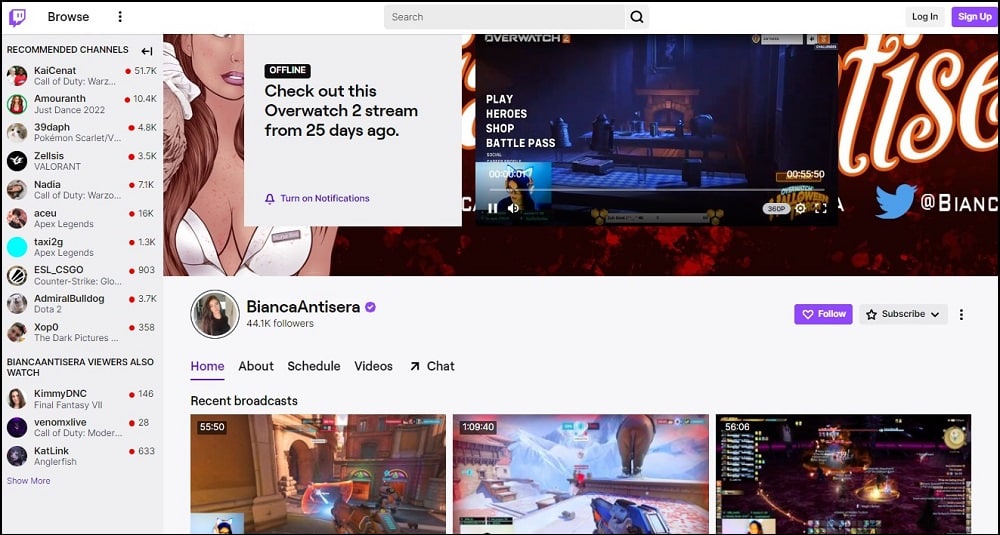 Excelling as a Twitch associate streaming games like overwatch, Bianca Antisera, popularly known as "Bee," is an ER travel nurse and also studying physics.
With over 44K subscribers on her Twitch channel, Bianca's streaming games include; Just Chatting and Volrant.
Catch more of Bianca's content on Instagram and Twitter.
---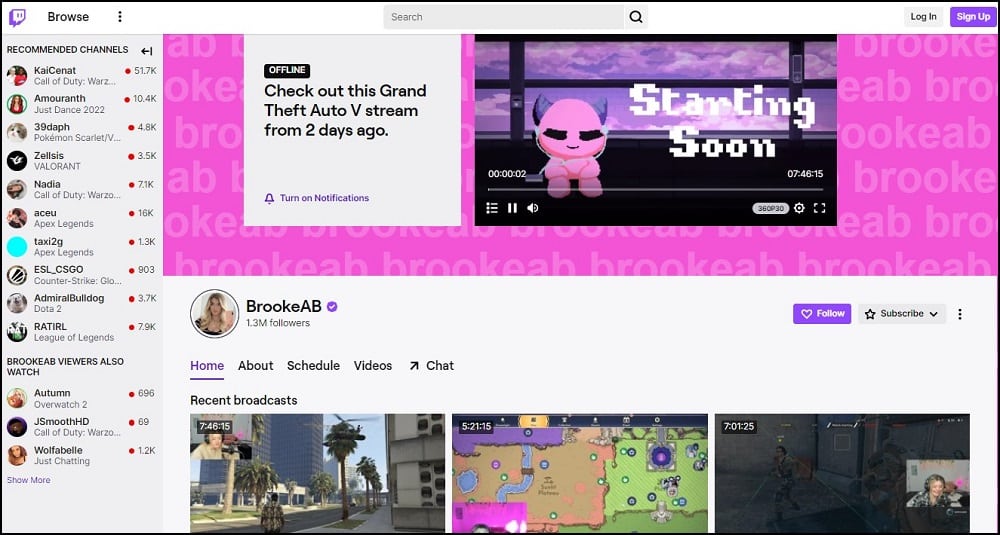 Brooke is best known for streaming top flight games on her Twitch channel. Her style involves freely interacting with her Twitch fans, and sharing her life stories and discussing mental health management. She also does openly shares how she navigates online harassment.
Brooke's Twitch channel in 2022 has over 2500 active subscribers, an estimated net worth of over $1 million, and showcases games like VALORANT and Apex Legends. BrookeAB also shares some of her content on Twitter, Instagram, YouTube, and even TikTok. Check her out on these platforms.
---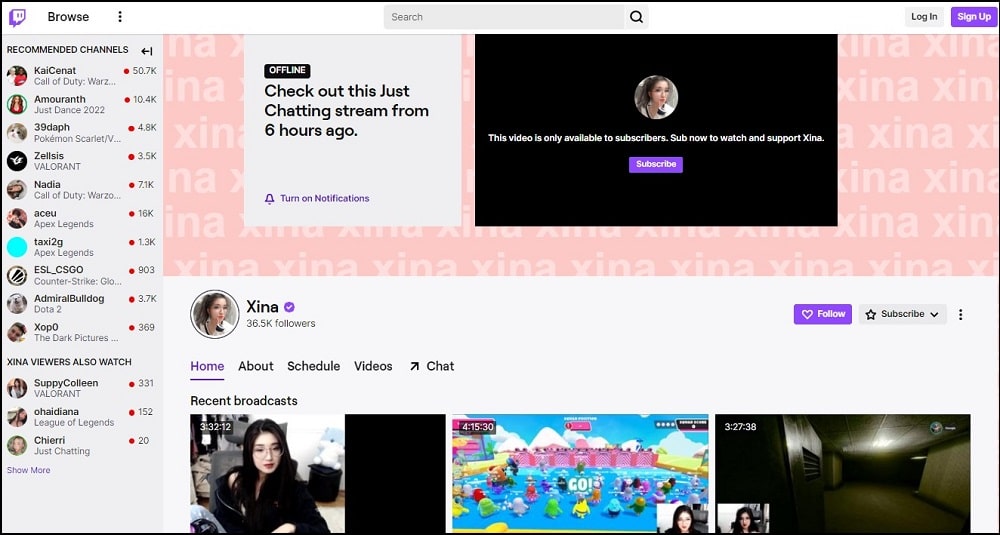 The secret to succeeding on Twitch is focus on a niche and just being exceptional, in whichever way works for you. Xina, knows this too well. The part-time Canadian streamer has gained fame on Twitch by focusing on only two game titles; Valorant and League of Legends.
And when she is not streaming games on Twitch, she is busy on her fashion blog or may be sharing her cooking videos or videos of her chats with fans. Her Twitch channel currently has more than 6K subs and is estimated at close to $200k.
You can catch more of her content on other platforms such as Twitter, Instagram, YouTube, and TikTok.
---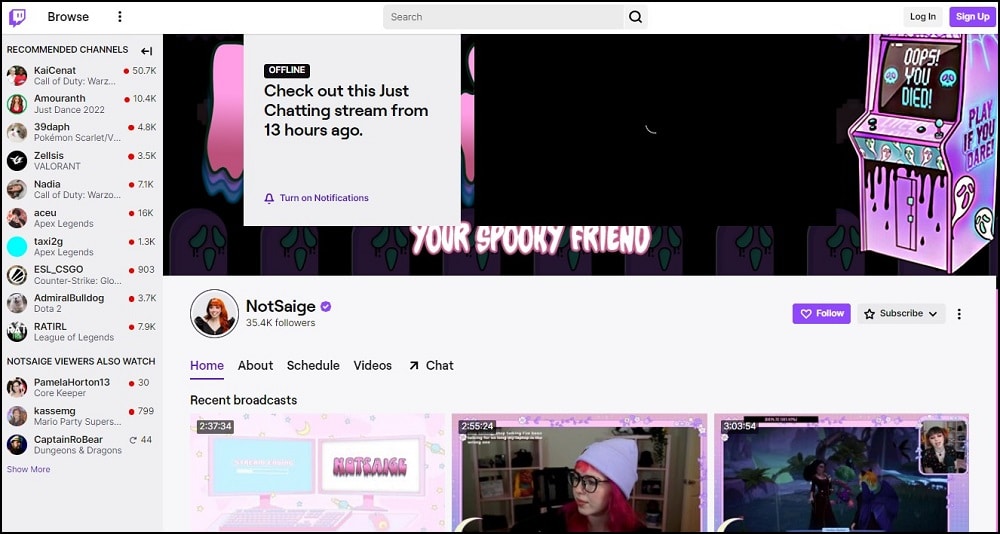 Saige Ryan, popularly known as NotSaige on Twitch, is one of the finest female streamers on the platform. This famous Twitch streamer also doubles as a member of the Pixel Circus and Smosh Games, besides being a Twitch Partner. Most of her Twitch game streams are focused on Dungeons & Dragons. Though her channel is still new, she already has more than 17.4K subscribers.
You can catch up with the Twitch content queen on Twitter and Instagram.
---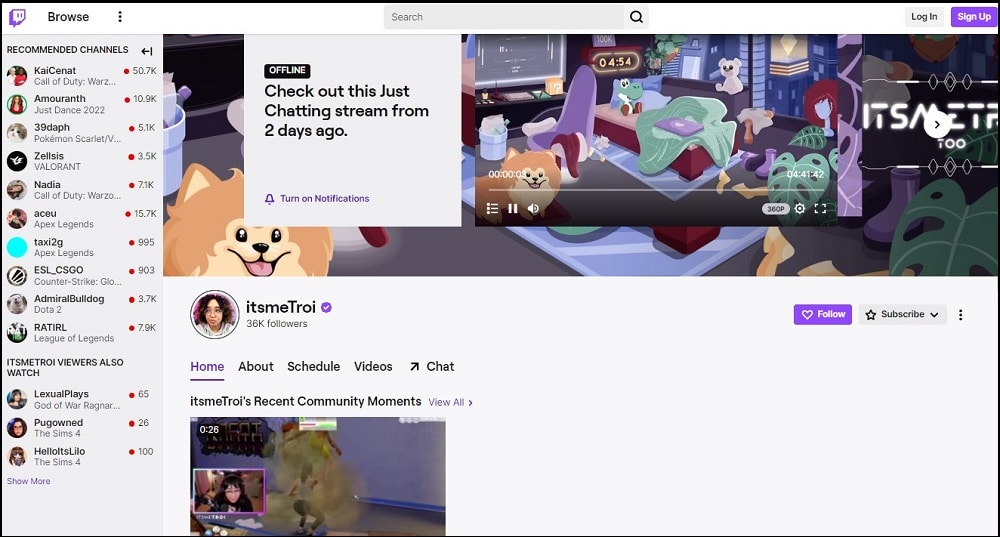 Troi is another promising fames Twitch streamer that also does a great job representing the black games. Currently, she has a little over 3.5K subscribers on her channel. She also does a great work on her YouTube channel. She has worked with a number of brands including AT&T, Snapchat, and even Snapchat.
You can watch more of her content or reach out via social media: Twitter and Instagram.
---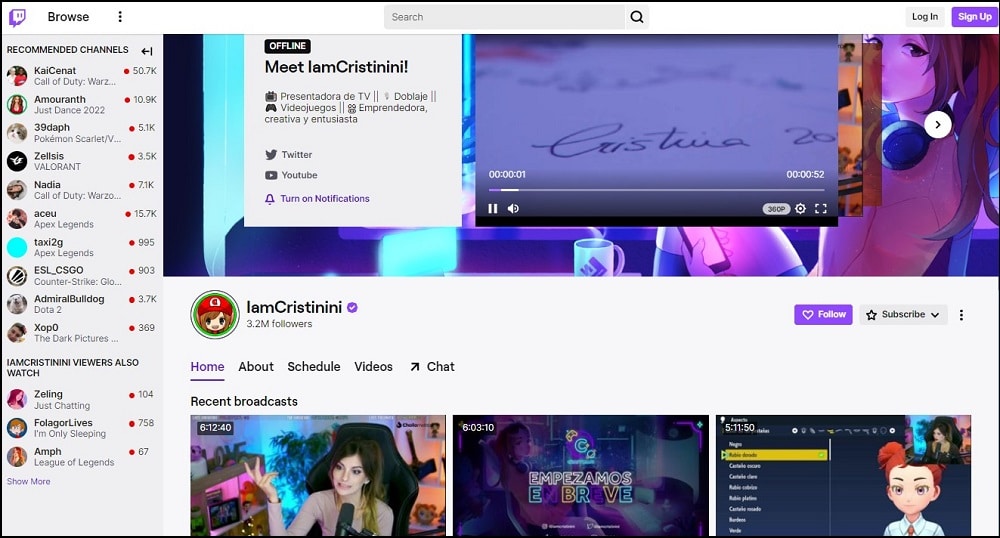 IamCritinini is a popular Spanish-language female Twitch gamer. She spends a considerable amount of time just chatting and dabbling in Minecraft. She was recently sponsored by Crunchyroll, along with sixty other streamers.
As a result of her fame, with about 2.3 million followers, she has a Twitch partnership, though she does speak a little English. Watch more of her content and follow her on social media: Twitter and Instagram.
---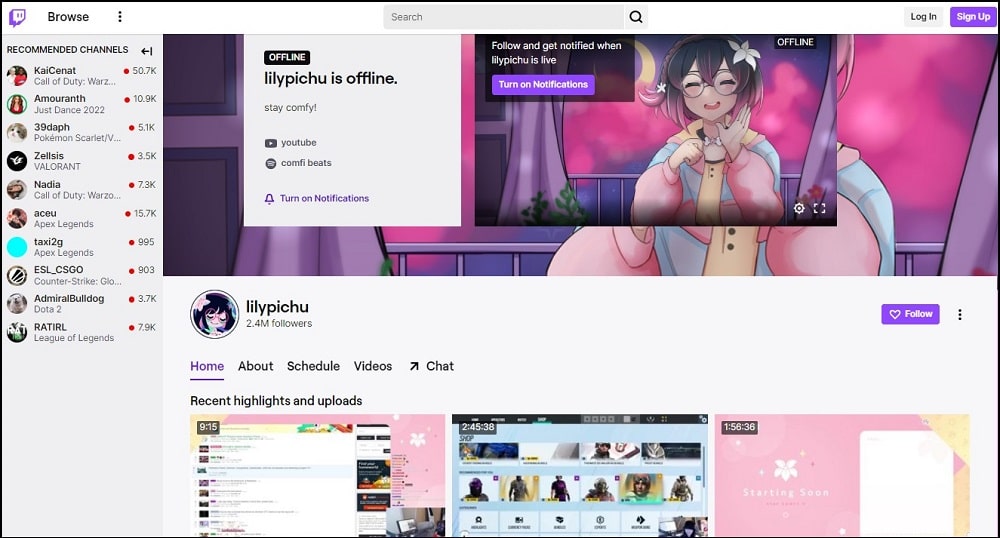 Lily Ki, also known as Lilypichu on Twitch, has a massive following of more than 2.2M. Among her favorite game stream titles include Dungeons and Dragons as well as League of Legends. Besides being a Twitch ambassador, she also enjoys a number of brand deals.
You can follow her on Twitter and on Instagram.
---
Arigameplay is a Mexican gamer who is a well-earning female with a following of almost 10 million across both Twitch and YouTube. Her real name is Abril Garza Alonzo.
He fame on Twitch stems from her game tutorials, including Planet Coaster, Minecraft, and Overwatch. And for all the fame and popularity the Mexican Twitch queen enjoys countless brand deals. If you follow her channel closely, you might have noticed that of late she does a lot of product promotions for a number of big brands such as Lego. Catch more of her on Twitter and Instagram.
---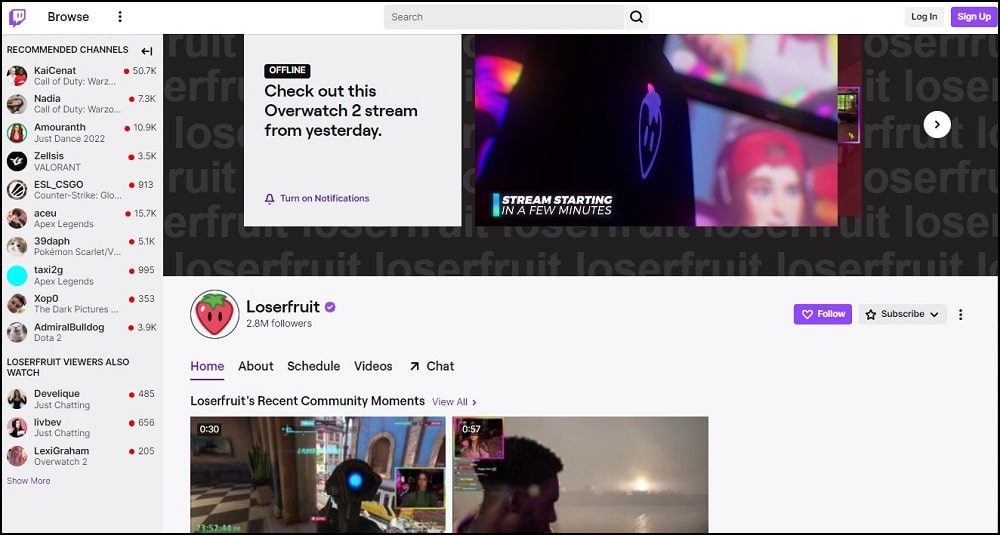 LoserFruit is one of Australia's finest female Twitch streamers with a massive following of more than 2.8 million. Her real name is Kathleen Belsten and she is from Melbourne, Australia. Her success on the game streaming platform is associated with her rich game variety and title diversity. Some of her favorite stream titles include Overwatch, Witcher 3, and Fortnite.
LoserFruit makes game streaming look easy. Her winning strategy is audience centric. And she is also big on other platforms such as YouTube where she has more that 440M video views on her channel. You can get more from her via her social handles: Twitter and Instagram.
---
Final thought
Even though Twitch still has more males than female game streamers, more females have joined the platform in the recent past. If that trend is anything to go by, we can only expect the disparity to shift in favor of female games in the not very distant future. With that being said, we wrap up this post on the top 15 female Twitch streamers. Hope you found it very insightful.