It is impossible to list the top video streaming platforms without mentioning YouTube. YouTube is the leading video streaming platform with a user base cutting across the young and old demographics. It is the best place to find tutorials, funny clips, movies, and more entertaining content from across the globe. This post seeks to highlight how many videos are on YouTube in 2022.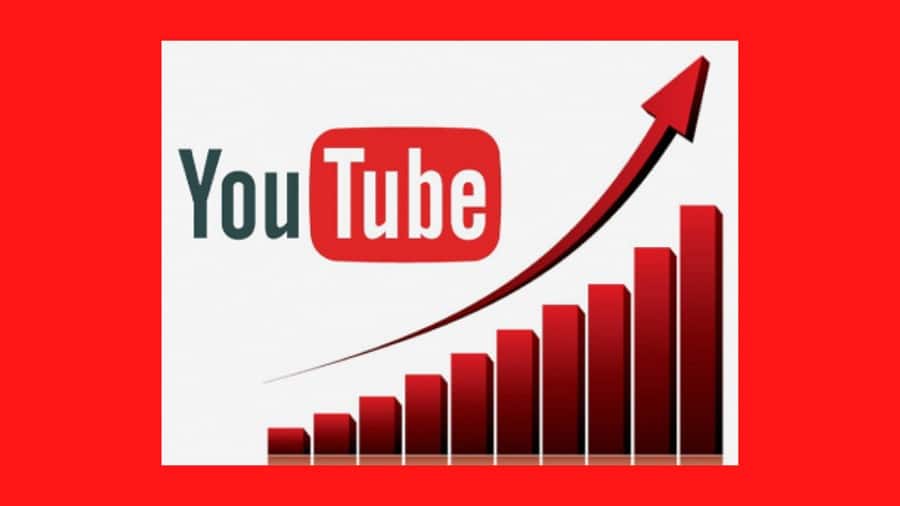 YouTube is one of the few tech companies that withstood the test of time. The video streaming platform is getting faster and more stressful with each passing second. You can watch quality videos seamlessly on YouTube, depending on your internet connection.
You can also hope on a YouTube tutorial and learn a skill in a couple of minutes for free. There is an endless world of possibilities where you can earn a living by creating a YouTube channel. You may want to do your homework and familiarize yourself with statistics before launching your YouTube channel. The article below covers useful YouTube statistics, including how many videos are on YouTube in 2022.
---
How many videos are on YouTube?
The YouTube streaming platform has a huge fan base because of its more than 694 hours of video on its file servers. The videos are classified and tagged with different keywords, and there are also more than 37 million channels hosted on their servers. YouTube servers are estimated to host more than 800 million videos among the 37 million channels available, according to a recent study done in 2021.
There are more than 2 billion active users on the video streaming platform. The 2 billion users keep the site busy, with more than 1 billion videos watched daily. The study also points out that 122 million active users use the video streaming platform daily, spending more than 19 minutes on average streaming videos on YouTube.
It is a fact that YouTube is the second most visited website globally because it registers more than 14 billion monthly visits. YouTube takes the runner-up spot for the most visited websites after its parent company Google takes the first spot for the most visited website worldwide.
---
Categories of popular videos on YouTube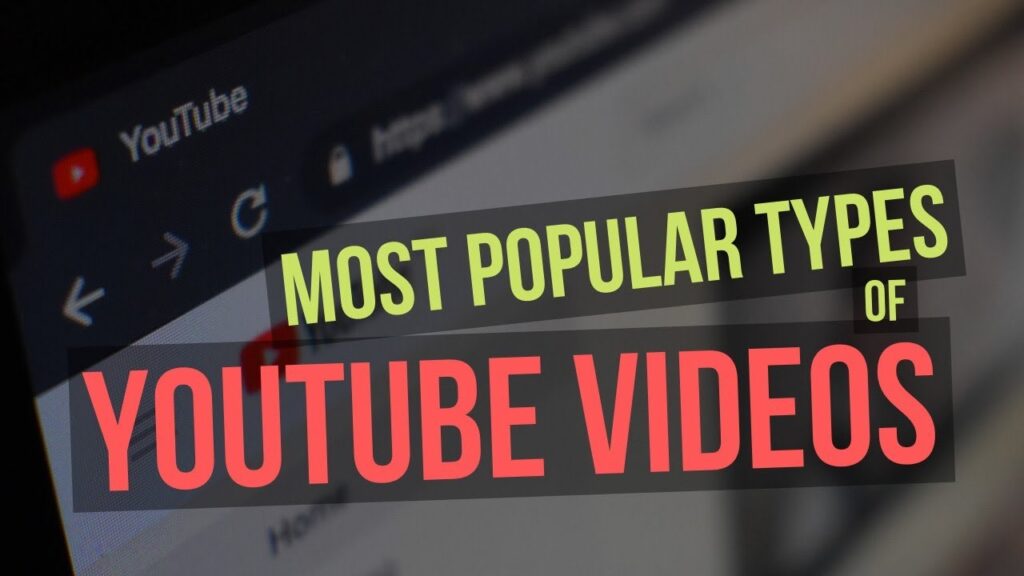 Some videos stand out among the pool of videos available on YouTube. Below are categories of popular videos that you can expect to find on the video streaming platform.
Product reviews – Productive reviews are helpful to customers attempting to buy a particular product. They highlight features of products or services while providing a comprehensive assessment of the product/service, like performance and quality of the product.
DIY – DIY tutorials are the educational content you can watch to learn an art, craft, or technical skill. The tutorials are usually DIY (Do It Yourself) videos, and they can range anywhere from a few minutes to a couple of hours long.
Commentaries – Commentary videos have a huge fan base, usually happening when there is a discussion on a particular topic.
List Topics – Topics are video content curated to highlight and list things on a particular topic. You can expect to watch videos with tags like Top 5 fastest planes in the list category.
Music videos – You can visit the music video category to watch the latest official music video from your favorite musician and keep tabs on new music videos that are trending.
Comedy videos – Comedy videos can vary depending on the type of humor you prefer. You can watch stand-up comedy, short comedy series, or a compilation of funny clips under the comedy video section.
Reacting/reflex videos – Reaction or reflex videos have a smaller fan base and comprise people's reactions towards something. Prank videos are a common feature under the reaction/reflex category.
Gaming/gamers videos – Gaming videos are a place where gamers can go on YouTube and watch professional gamers play or get tips on how to navigate or use cheats on a particular game.
---
How many mobile users visit YouTube?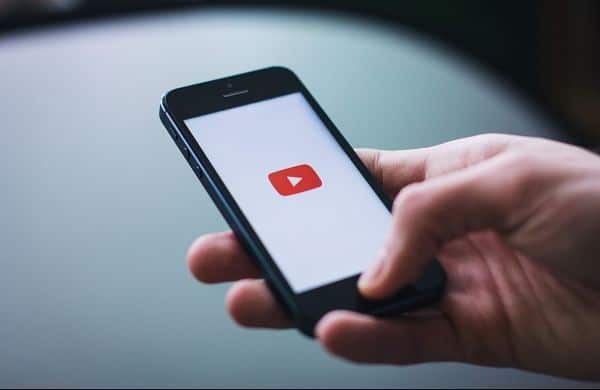 It is a fact that mobile users are likely to visit the same page on YouTube compared to Desktop users. The mobile YouTube app has an average of 4.63-page visits, whereas the Desktop YouTube version has approximately 2.84-page visits. However, you should note that despite YouTube mobile apps having more page visits, users are more likely to visit the video streaming platform on their Desktop rather than on their phones.
Close to 22% of the active users access the video streaming platforms using their mobile phones. 22% of the mobile users spend nearly a minimum of 24 hours monthly streaming their favorite videos. Of the 22% of mobile users, Android users account for spending a minimum of 23.7 hours monthly on YouTube.
Content creators, influencers, and marketers can use mobile statistics to SEO (Search Engine Optimize) their content on YouTube.
---
How many gaming videos can you find on YouTube?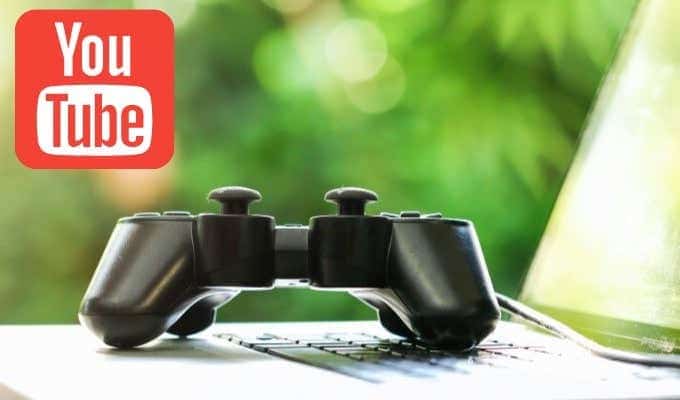 The gaming videos are a hit on YouTube, with over 100 billion hours of gaming videos watched by gamers/game lovers on the video streaming platform in 2020. The statistics point to close to 2.9 billion users playing video games on YouTube by December 2022.
One of the best-performing gaming channels is the Luis Fernando Flores Alvarado (alias Fernanfloo) gaming channel. The gaming channel has more than 44.3 million subscribers, according to a recent study done in January 2022.
---
top 5 countries with YouTube users on YouTube
According to a recent survey conducted in January 2022, India tops the list of countries with the most YouTube users. India has more than 467 million active users on the video streaming platform. The second country is the USA, with more than 240 million users. Indonesia is third, with more than 127 million users, Brazil is the fourth country, with more than 10 million users, and Russia is the fifth country, with more than 99 million users.
---
Distribution of users on YouTube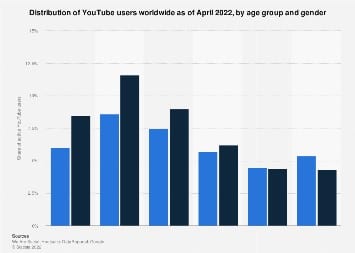 The distribution of users according to gender and age groups is as follows. There are 53.90 male users and 46.10 female users on YouTube. Males between 18-24 years comprise 8.50% of the total users, whereas females comprise 6%. Males between 23-34 years comprise 11.60%, whereas females comprise 8.6%. The distribution of males and females reduces proportionally with the advancement of age groups.
---
Top channels on the YouTube streaming platform
The T-Series channel is the top-ranking YouTube channel with more than 213 million subscribers. The other top-ranking YouTube channels include: YouTube Movies with more than 150 million subscribers, Coco Mellon Nursery rhymes with more than 133 million subscribers, Set India channel with more than 131 million subscribers, and the Music channel with more than 116 million subscribers.
---
Top watched videos on YouTube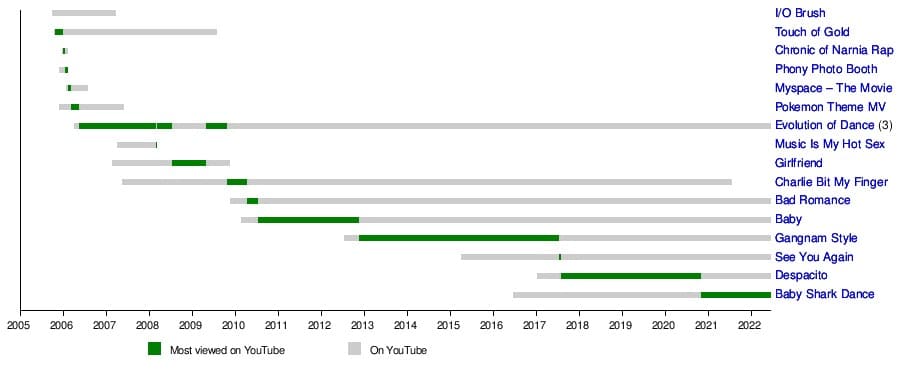 The top-ranking watched videos on the YouTube streaming platform are as follows. The top three videos on YouTube are the Baby Shark Dance with more than 10.44 billion views, the Despacito video with more than 7.80 billion views, and the Johnny Johnny Yes Papa video with more than 6.29 billion views. The fourth and fifth most-watched videos include the Shape of You video with more than 5.67 billion and the See You Again video with more than 5.46 billion views.
---
Conclusion
You need to do your homework and understand the YouTube statistics if you want to earn an income while creating content to watch on YouTube. Understanding the current YouTube statistics can help you predict the trending topics and also help you target your target audience. The better you optimize your content on your YouTube channel, the better you reel in more viewers and earn yourself money with every click and view. You can search for the formula the video streaming platform uses to calculate income for content creators. Knowing the revenue calculation formula and policies helps you stay ahead of the curve while navigating and competing with the countless videos on YouTube.