Are you looking for the best web proxies for you to use to access the Internet without getting your real IP address revealed to web services on the Internet? Then you are on the right page as we would be revealing the top web proxy sites in the article below.
The days you browse the Internet without eavesdroppers, trackers, and malicious actors targeting you are over. It sure existed — but that was in the past. What we have now are Internet Service Providers (ISPs) that are actively tracking you for themselves and the government. The websites you visit are also not left out.
To make things worse, even services you didn't visit or have an interest in such as in the case of advertisements companies will look for a way to keep a tab on you. While that is good for their business, it is an invasion of your privacy and you need to prevent such at all costs. Fortunately for us, web proxy sites are some of the sites that can help us with that.
When it comes to web proxies or sites that offer web proxies, there are a good number of options available to you. Interestingly, most of them are even free to use for their standard usage.
However, it is important you know that web proxies are not meant for accessing sensitive platforms as they also pose their own risks – that is what VPN software is meant for.
---
10 Best Free Proxy Websites for Anonymous Web Browsing
In this article, we would be taking a look at some of the top free web proxy sites in the market that you can use. After the list, there is a FAQs section that provides answers to some of the questions related to web proxies for you to learn from.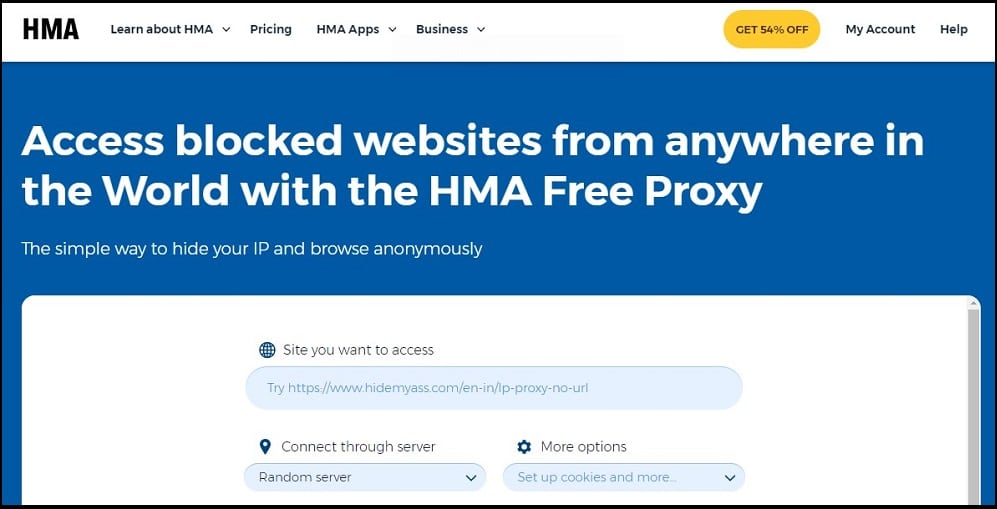 HideMyAss is one of the popular services in the online privacy and security space. The service offers a VPN service that you need to pay for in other to use. However, it offers a free web proxy site through which you can access websites of your choice without your real IP address being seen. By doing this, you are able to remain anonymous about the sites you visit.
The web proxy is one of the best in the market right now and comes with some advanced features such as support for removing scripts, disabling cookies, and encrypting URLs.
The service has got support from about 5 countries. Before using their service, you will have to agree not to use their proxy service for anything illegal and allow them to collect them — only use the service if you agree with these two.
---
The Whoer service is another VPN service that offers a web proxy. Unlike in the case of HMA Web Proxy which is accessed as a website, you need to install the browser extension of this service to make use of its own web proxy.
Also important is the fact that the service is not completely free as it does have a paid version that provides the best of the features. For the free option, you're able to access the Internet only via Netherland locations, and speed is throttled.
However, the speed allowed is still fast for most users. The browser extension is available for Chrome, Firefox, Opera, and Yandex. For their paid version, the service is one of the best out there.
---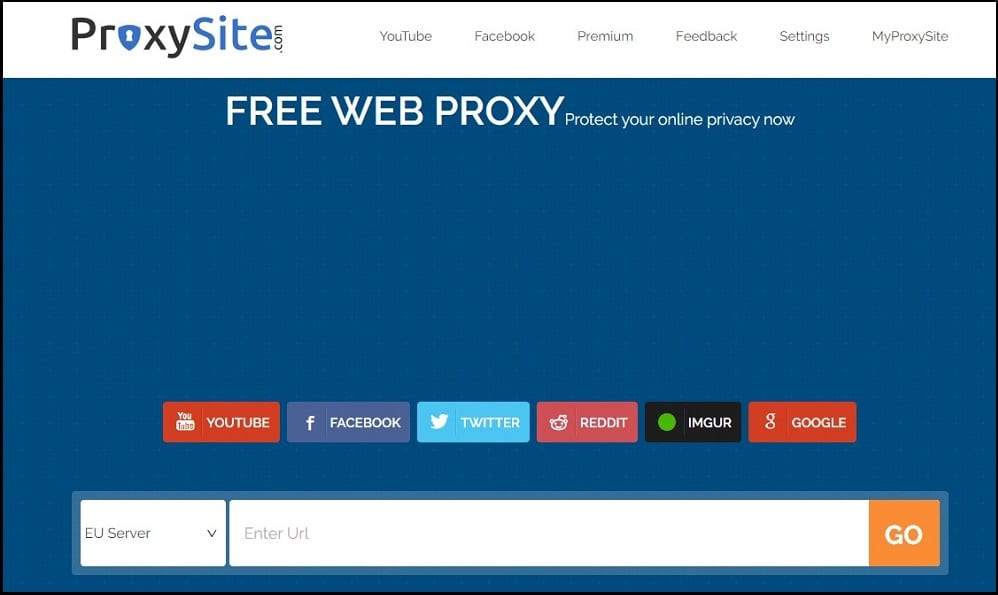 The ProxySite is one of the best web proxies out there. Unlike the other services that are firstly VPN service, this one was specifically set up as a web proxy site and you can tell that even from its name and web address. All you need to do in other to make use of this one is to visit its website and enter the URL of the site you want to visit.
You have the option of choosing between US and EU servers. The service also has some advanced features including disabling cookies to avoid tracking and prevent Javascript execution, among others.
The web proxy can be used to access some of the top websites on the Internet including YouTube, Facebook, and Google, among others. Aside from the free version, this service has a paid VPN service.
---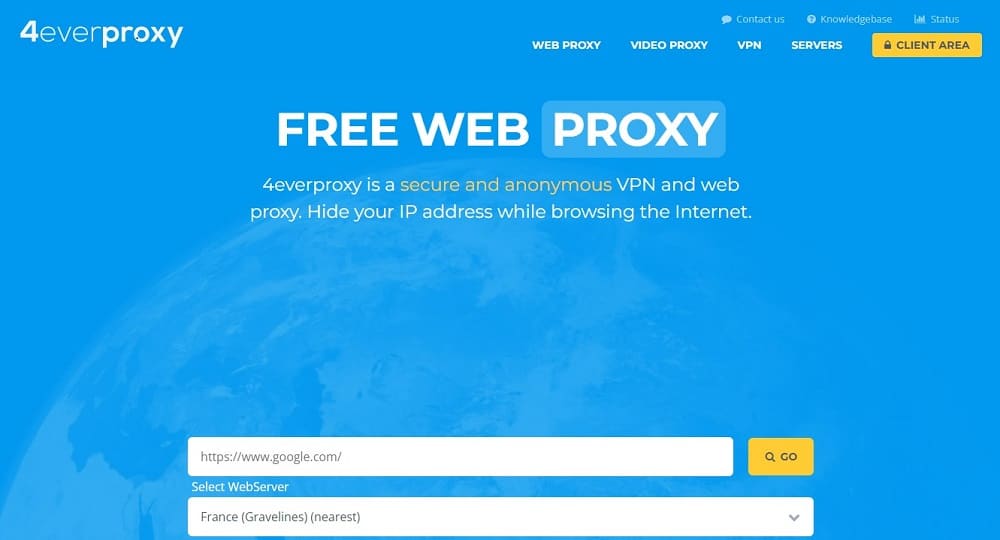 The 4EverProxy service is one of the web proxies you can use to access the Internet. Aside from helping you hide your real IP address, it can help you access geo-targeted content for regions supported and also has the capabilities to help you unblock websites.
The regions supported include the US, UK, Germany, France, Canada, Poland, Australia, Singapore, and Luxembourg, among others. The service has got support for some advanced features such as support for disabling Javascript, removing page titles, disabling cookies, and encrypting pages.
Also important is the fact that the 4EverProxy does support the use of permanent URLs so that you can save and get back to a page later. As with above services, it does have support for a paid VPN service and does show ads on its site to make money from free users.
---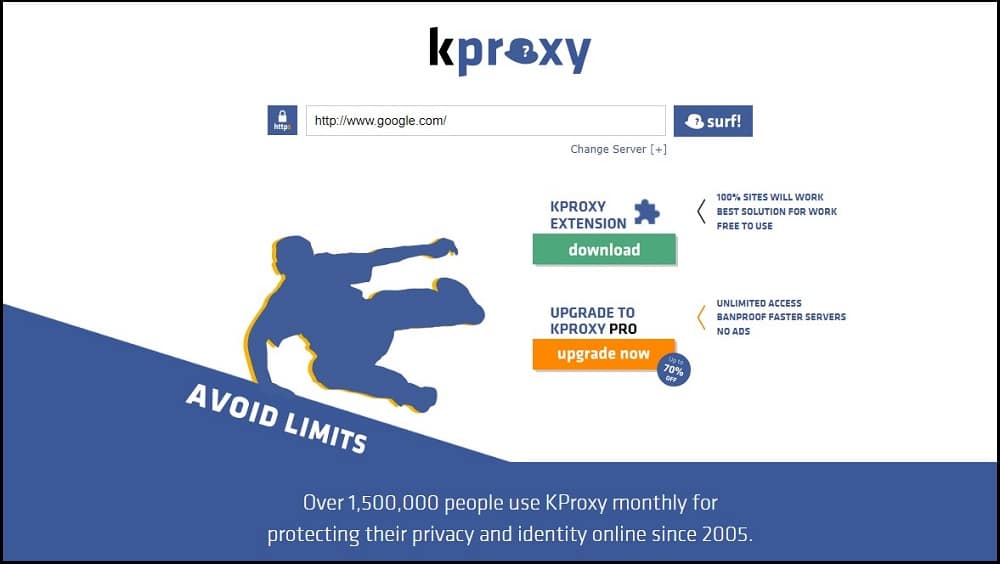 The KProxy is another option for you if you want a web proxy site that will protect your online privacy, keep your IP address hidden from sites on the Internet, unblock websites, and access geo-restricted content for a few locations supported. The service even has a pro version which you can upgrade to in other to stop seeing ads. Ads-free is not the only peck associated with the pro version.
You also enjoy faster connections and your requests are being routed through high-quality proxies which bring down the chances of getting your requests blocked to the minimum. The service does have browser extensions available for Chrome, Firefox, and Edge.
If you are on mobile, you can also use the extension on the Kiwi browser for Android which has support for an extension. The use of the browser extensions is completely free if you do not want to make use of the pro version.
---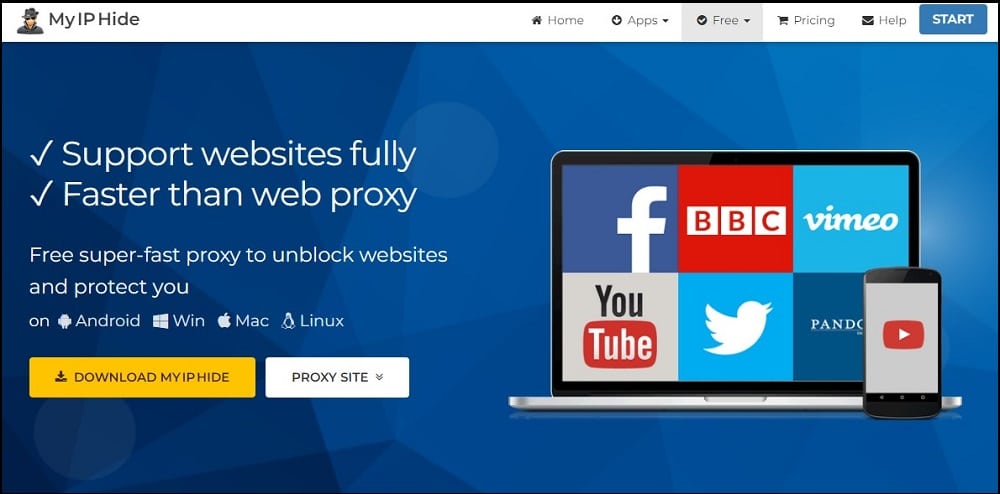 The MyIPHide website is another site that offers users a web proxy service for free. From the name of the service, you can tell what it does — help you hide your IP address from web services you come in contact with on the Internet.
However, aside from doing so, it is also a website unblocker that you can use to unblock websites and access geo-targeted content.
The service does offer a downloadable tool that is basically a web proxy but needs to be installed. Because it does not have the overhead associated with encryption as in the case of VPN software, it is generally faster.
The software is available on Windows, Mac, Android, and Linux. Even without downloading the app, you can use the web proxy provided on their website to access the Internet easily.
---
Related,
---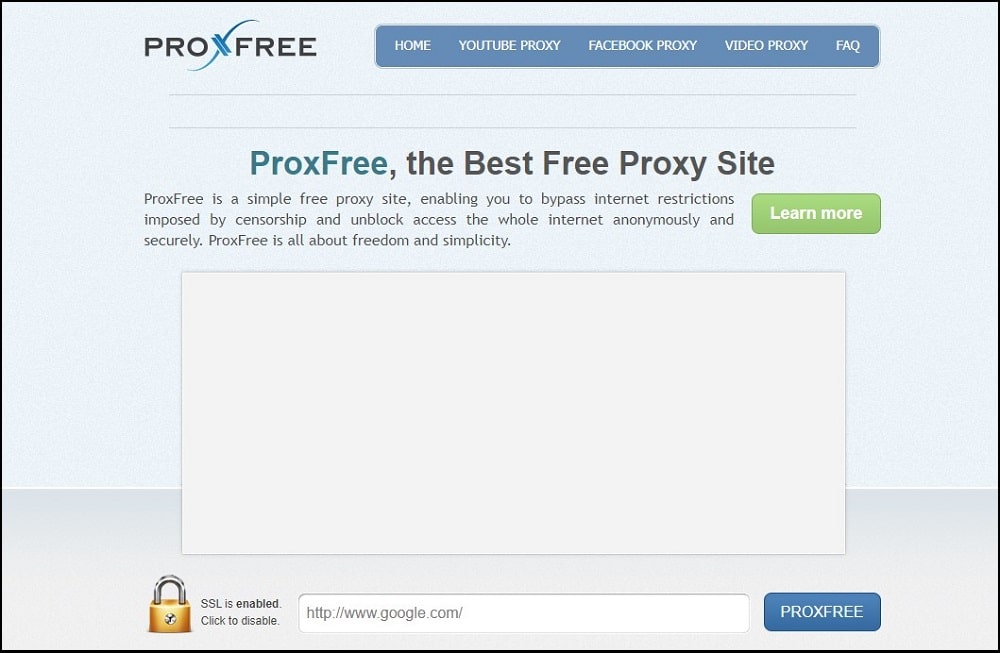 Another web proxy site worthy of mention is the ProxFree proxy website. As with the other web proxies mentioned in the article, you are not required to configure your browser or do any other thing. Just visit the website of this service, enter the URL of the web page you want to access and you are good to go.
The service does have support for configurations such as enabling/disabling cookies, spoofing user agents, removing scripts and Java/Flash objects, removing page titles, and then choosing to make use of referer or not.
Aside from the general web proxy, the service does have a site-specific proxy for sites you might not be able to access using the general option such as YouTube and Facebook.
---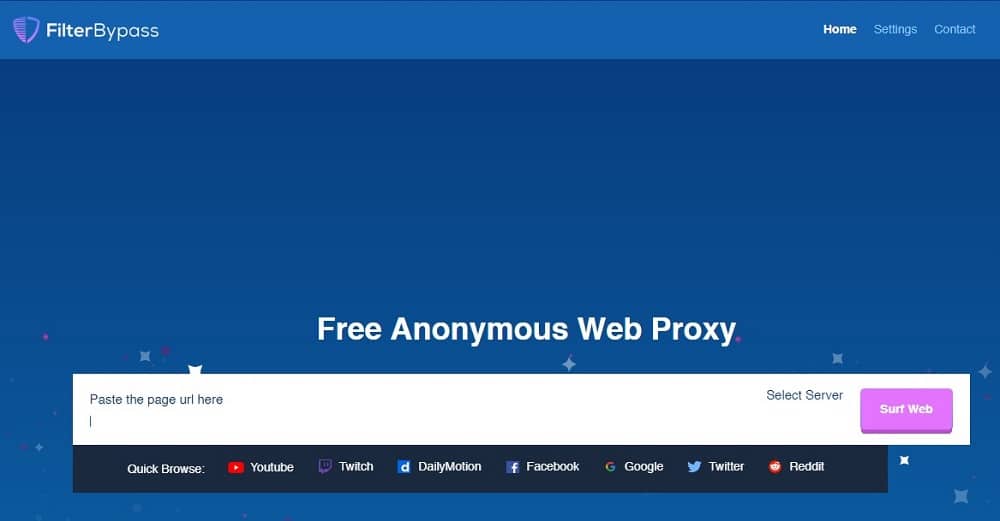 The FilterByPass is basically a proxified website that you can use to access websites on the Internet. All of your actions will be done via their website. As you send a web request, it routes it via its proxy servers and then returns the response within its own Interface.
Using this service is not different from using a regular proxy server. It is quite secure and fast enough for most users if you consider the fact that you are not paying for it.
Because it is free, it does have a good number of ads on its site which is how it makes its own money. In terms of location support, the FilterByPass does have support for only the US and UK which makes it perfect for unblocking sites for these regions.
---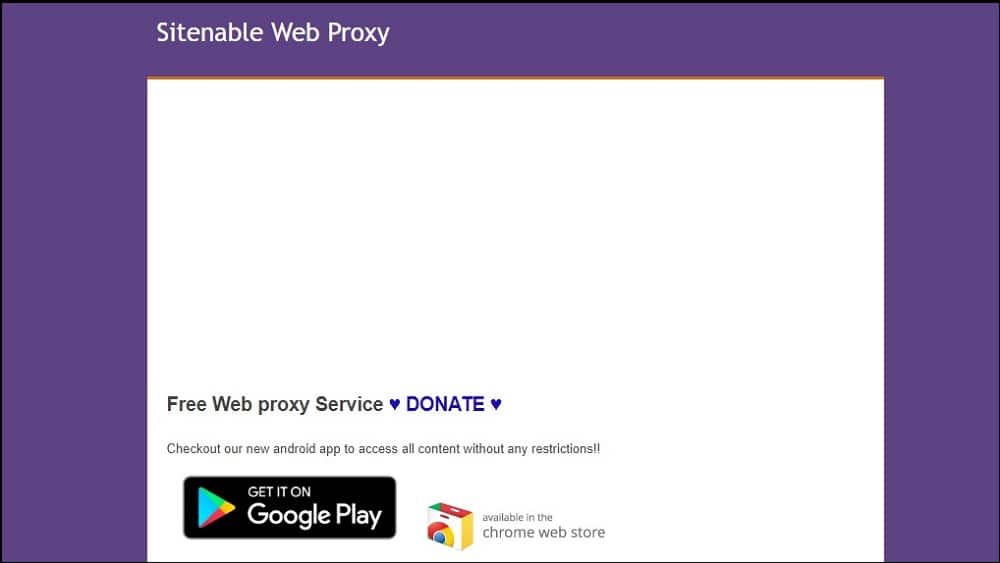 Sitenable is another web proxy site you can use to unblock websites, access geo-targeted websites, and hide your IP address as you surf the web. The service also does have support for security and privacy features that makes it difficult for websites on the Internet to track you or pose any serious security damage provided you enable the features.
These features include the ability to disable cookies and scripts. While disabling cookies can work for all sites, there are sites that depend heavily on Javascript and as such, if you disable Javascript, the functionality of the site might be affected. The service allows you to encrypt both URL and page too.
---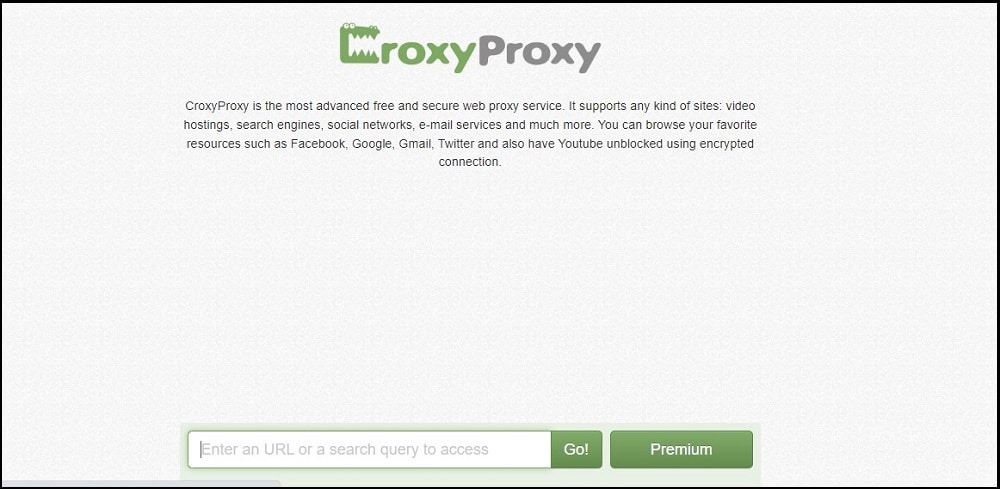 CroxyProxy is one of the top web proxy sites on the Internet. If you want to make use of proxies without necessarily configuring one, you can simply visit this site and then use it to access any other site you want to access. Because the website is a proxified website, your requests can't be linked to your real IP address and as such, you can use it to unlock sites that got your IP address blacklsited.
It is also perfect for accessing sites blocked in our region. Also important is the fact that it hides its proxy status, making it perfect for sites that block proxy traffic. The site is quite basic and easy to use even for first-time users. It is also free but a visit to its homepage will reveal some ads which are how it makes money.
---
FAQs
Q. What is a Web Proxy Site?
Web proxy sites are basically proxified websites. These are websites that you can use to access other websites. They serve as intermediaries between you and websites on the Internet, helping you to route your requests via proxy servers. At the most basic levels, a web proxy site is a proxy server.
However, instead of giving you a proxy address and port to configure, you access it from a web page. The websites you access are embedded in another page, which makes it possible for some of them to ingest ads into the web pages in other to make money.
Q. What are Web Proxy Sites Used for?
Web proxy sites have been set up to act as proxies between you and websites you visit on the Internet. The question is — of what use are they to your internet usage? Since web proxy sites are technically proxies, you can use them for some of the things you need proxies for. The most popular use case of web proxy sites is to unblock sites.
They are also useful for accessing geo-targeted content, not to talk of their ability to help mask your real IP address. Some of them have the capability of preventing tracking and some security breaches by disabling Javascript and Java objects such as Flash.
Q. Is the Use of Web Proxy Site Legal?
The answer to this question is going to be a general one. Not specific to web proxy sites or even proxies, but to other proxy-like systems such as VPN services. Using a tool to mask your real IP address is not illegal in most regions of the world except in a few countries such as China. For this reason, it is safe to say the usage of web proxy sites is legal.
However, it is important you know that websites wouldn't allow you to make use of these sites as a front to access them. Many websites have systems that detect and block them and that is why you need to make use of tested and trusted solutions like the ones described above.
---
More,
---
Conclusion
As a way of concluding this article, I will advise against using web proxy sites for sensitive activities on the Internet. This is because data transmitted are not encrypted and the web proxy site will have access to your login details and banking details if you make use of them for that.
You should only make use of a web proxy site for general usage that does not require you to send sensitive details to avoid getting them compromised. For better privacy and security, you are better off making use of paid VPN software.