You don't have to continue using TeamViewer if you don't like it. Try its alternatives and enjoy similar or even better features.
The TeamViewer is a leading software that allows easy access, control, and maintenance of computers and other devices remotely. It's a copyrighted application that you can use free of charge on personal or non-commercial tasks. You need to install a TeaVviewer on a computer to monitor and control remotely.
Unfortunately, hackers can also use TeamViewer to access people's computers that they want to attack. Are you uncomfortable with TeamViewer, and would you like to try something different? Here are reliable alternatives that you should consider using.
---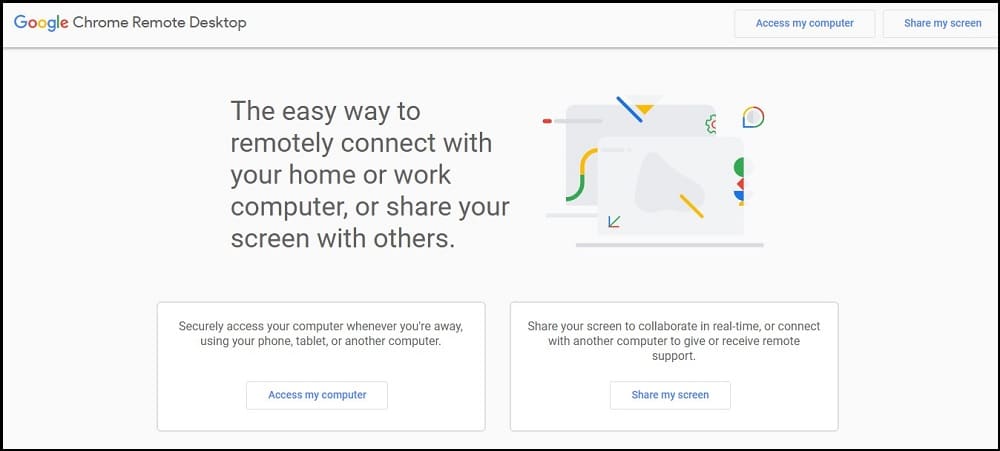 This is a reputable and easy-to-use TeamViewer alternative suitable for beginners and professional users. All you need is to install a Chrome browser and an extension to access any computer remotely using Chrome Remote Desktop.
The tool is compatible with all types of computers and smartphones. This software is secure and lightweight compared to TeamViewer. For instance, Chrome Remote Desktop lacks extra features such as file transfer, text chat, audio, and video calling.
The good thing about this tool is that it's completely free to use. Chrome Remote Desktop also supports clipboard synchronizing and keyboard shortcuts.
---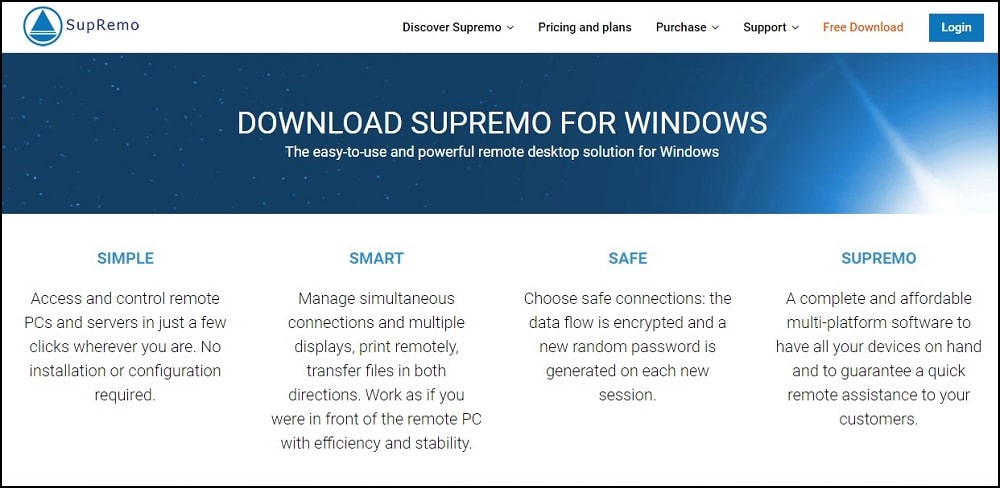 Although this tool is relatively newer in the market compared to TeamViewer and its other alternatives, it's a great one. SupRemo is one of the most reliable tools you should use for a remote desktop assistant if you don't like TeamViewer.
Firstly, the software is lightweight, easy to use, and supports multiple connections from one computer. You don't need to change the settings of your router or firewall to use SupRemo Remote Desktop Assistant.
Unlike other remote desktop apps, you can drag and drop files effortlessly when using SupRemo. You don't have to worry about your privacy when using this tool because it secures all your connections.
---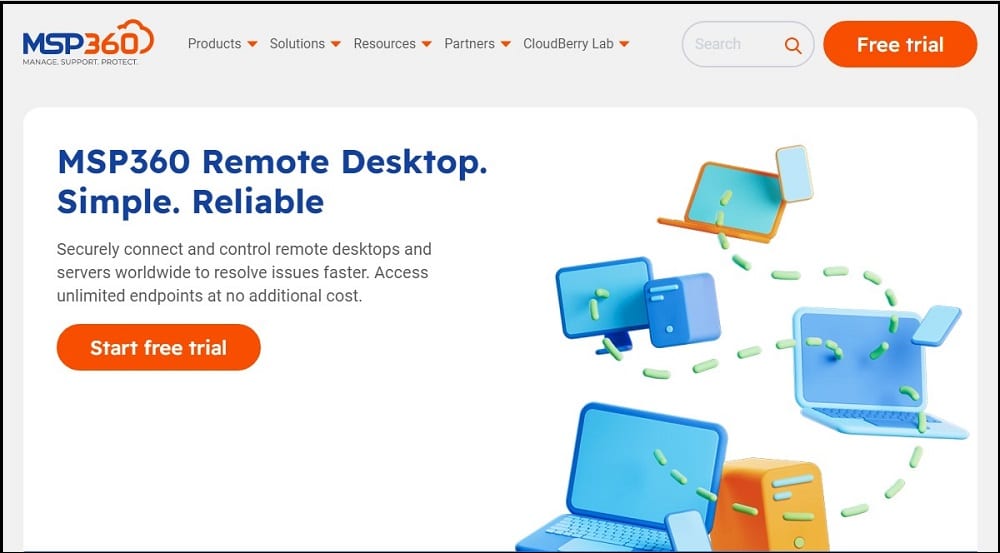 This app is for more secure software for accessing and controlling other devices remotely. MSP360 Remote Desktop secured its connections using SSL encryption to ensure users were safe.
The good thing about this tool is that it is a light remote access software, and it offers a free and paid plan. Additionally, users of the paid plan enjoy a free trial period.
MSP360 also has numerous additional features such as voice and text chat, fast file transfer, and a multi-regional authentication server.
The software offers centralized management, managed analytics, and easy deployment, among other features making it one of the best TeamViewer alternatives.
---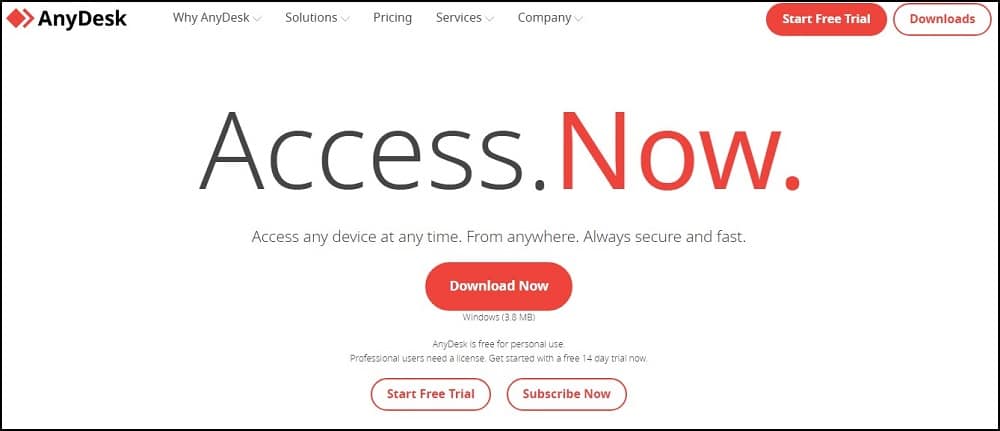 Are you looking for a TeamViewer alternative that offers the fastest data transmission and screen sharing? Then it would help if you went for AnyDesk. The platform is similar to TeamViewer in several aspects.
For instance, it brings low latency, and it supports all major platforms such as Android, Windows, Linux, macOS, and iOS, among others.  AnyDesk offers a great remote support solution, and it offers top-notch security protocols.
Therefore, you don't have to worry about privacy attacks on your computer and remote connections when using AnyDesk. Other features that users of this tool enjoy include cross-platform support, a friendly user interface, and a 14-day free trial period when using paid plans.
---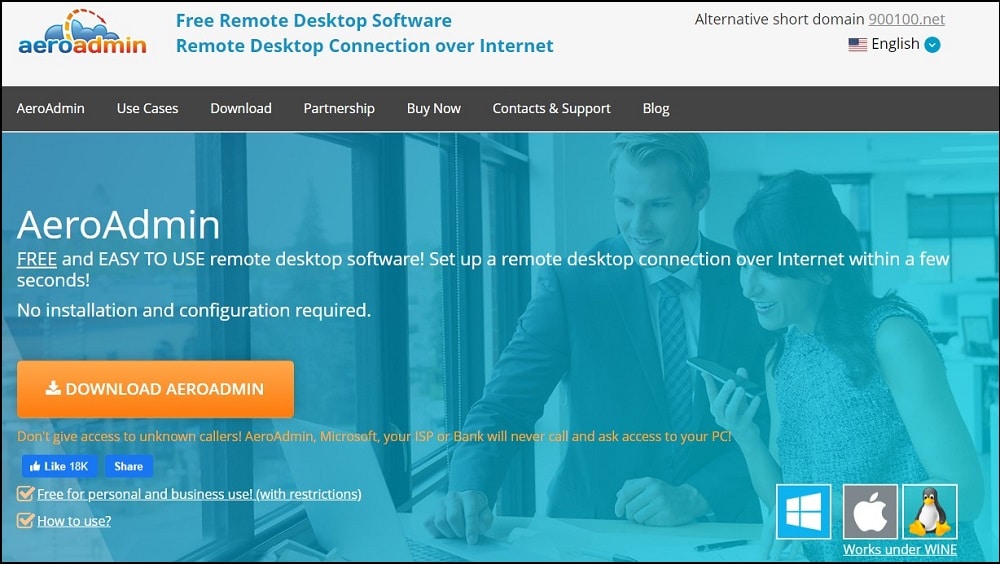 You can solve all your remote access to other devices issues with AeroAdmin if you don't want to use TeamViewer. This tool is suitable for personal use, medium companies, and large companies.
The good thing about AeroAdmin is that it supports parallel sessions, unattended access, offers contacts books, and secure file transfer. You don't pay anything to use this tool for personal use.
Its other superior features include session logs; it supports several languages, multi-monitor support, reliable customer support, and a robust and secure connection.   No installation or configuration is required to use AeroAdmin. Please note that you need to upgrade to paid plans to access all features.
---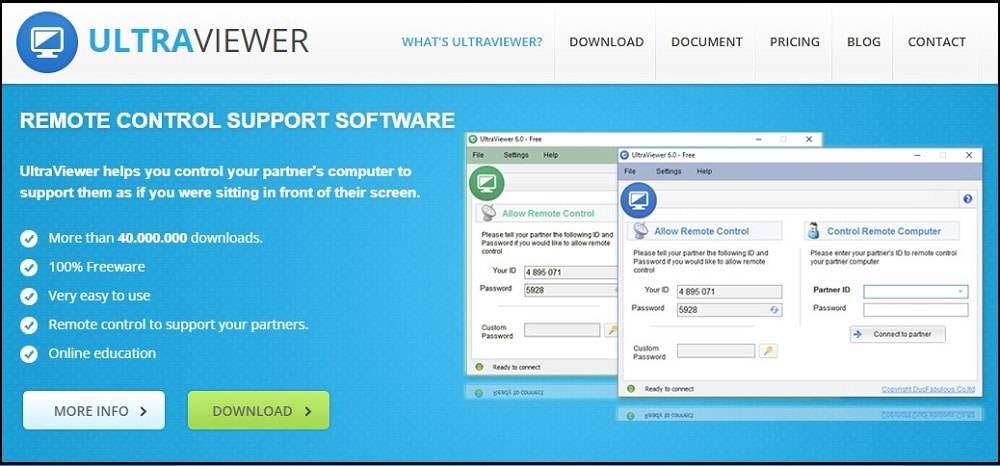 This lightweight remote desktop app offers both free and affordable paid plans. However, it only supports Windows devices. You will find most of the features found on TeamViewer on UltraViewer.
To start with, the software is portable, fast, and responsive. It also supports file sharing multi-computer use and has a chat window. Users of UltraViewer paid plans to access audio chats.
The good thing about this tool is that it is cheaper than other TeamViewer alternatives, thus the best for users with a limited budget. Its lowest-paid plan starts at $3.99 per month, and you can shift from one plan to another as you wish.
---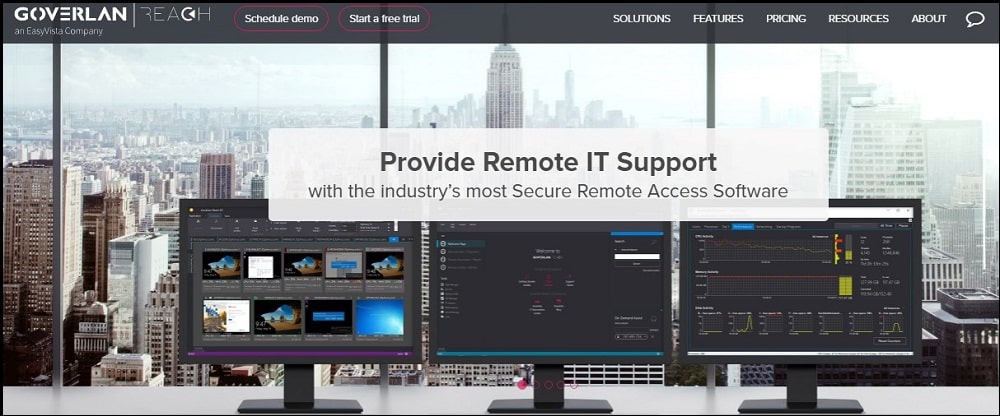 You can never go wrong using Goverlan Reach for desktop support and system management in your company. This tool supports all types of platforms and operating systems. Therefore, you can use it to control all your company's devices remotely and effortlessly, and under one roof.
Goverlan Reach's key features include IT process automation, advanced remote control, IT reporting, active directory management, and background system management.
Similar to UltraViewer, Goverlan Reach is also far more affordable compared to TeamViewer. You can choose its standard plan, pro, or enterprise plan, depending on your needs. Paid plans start at a monthly rate of $29 with no hidden charges.
---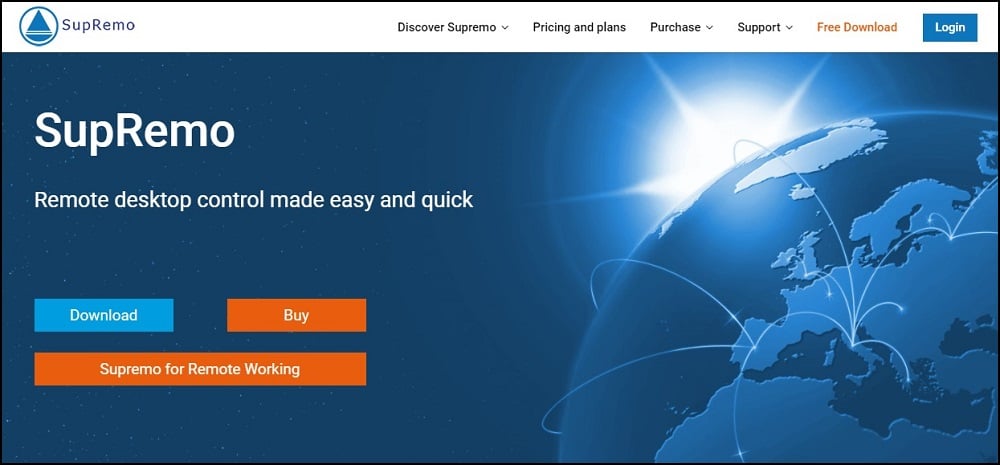 The list of the best TeamViewer alternatives can't be complete without mentioning Supremo Control. This tool offers a solution to all remote desktop control and support needs. The good thing about Supremo Control is that you don't install anything to use it.
Besides that, this tool is safe for both personal and business use. You can customize your interface display using your company's logo. Supremo is easy to use compared to other TeamViewer alternatives, thus suitable for beginners.
Additionally, the software is free for use in local networks, but you have to pay for the license if you want to use it outside local networks.
---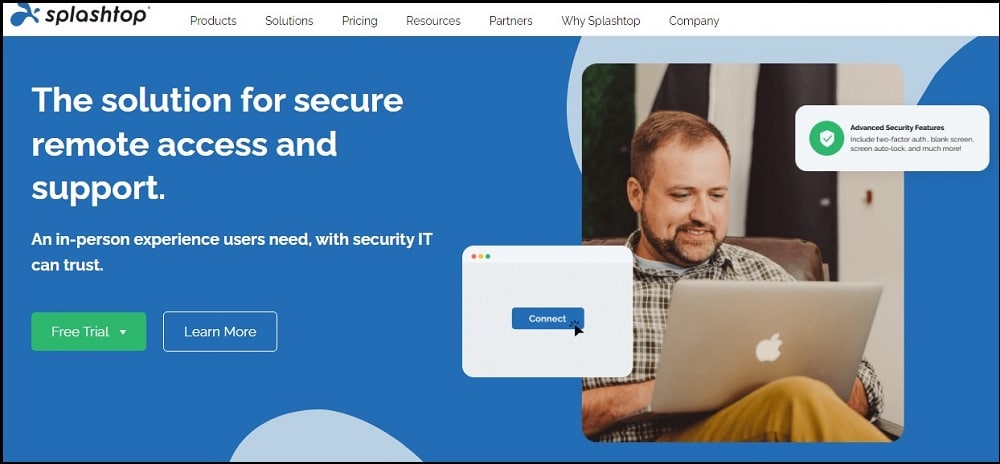 Users of this remote desktop access enjoy top-notch on-demand customer support. The good thing about Splashtop is that it's suitable for business professionals, support teams, IT teams, and individuals.
Additionally, Splashtop is easy to use, cost-effective, simple, and very powerful compared to other TeamViewer alternatives. You don't have to worry about your privacy and security when using Splashtop because it offers a secure connection.
The software supports unattended and attended access.  On top of that, you can easily migrate from other remote desktop services without losing your data.  Splashtop supports all major platforms, and pricing varies from one plan to another.
---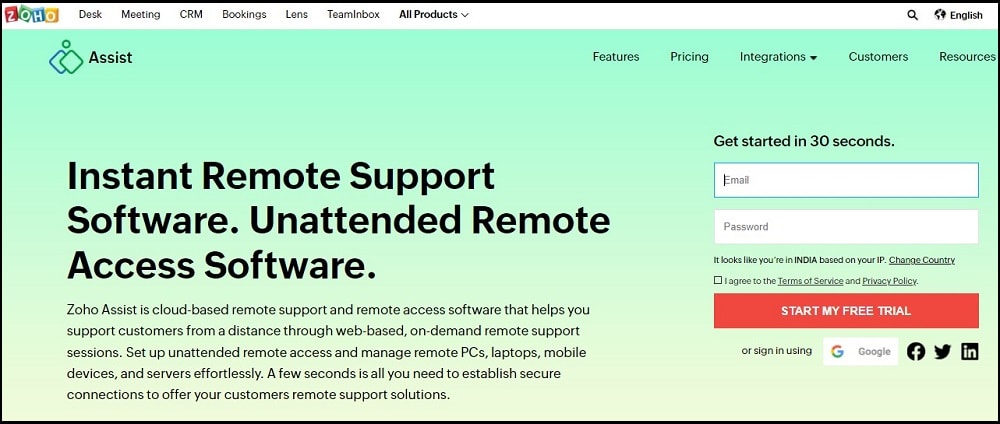 You need to try Zoho Assist if you haven't tried it because it has amazing features for remote access software solutions. This tool is not only a TeamViewer alternative but also its competitor.
Zoho Assist supports screen sharing, whereby you can swap screens and schedule sessions from your computer or smartphone. You can use the software to control any computer from any part of the world without the aid of a remote customer.
Users of Zoho Assist enjoy prioritized security, browser-based sessions, and customizability. You don't have to worry about privacy attacks when using this tool because it secures all your connections. Users can choose the free version or paid plans depending on their needs.
---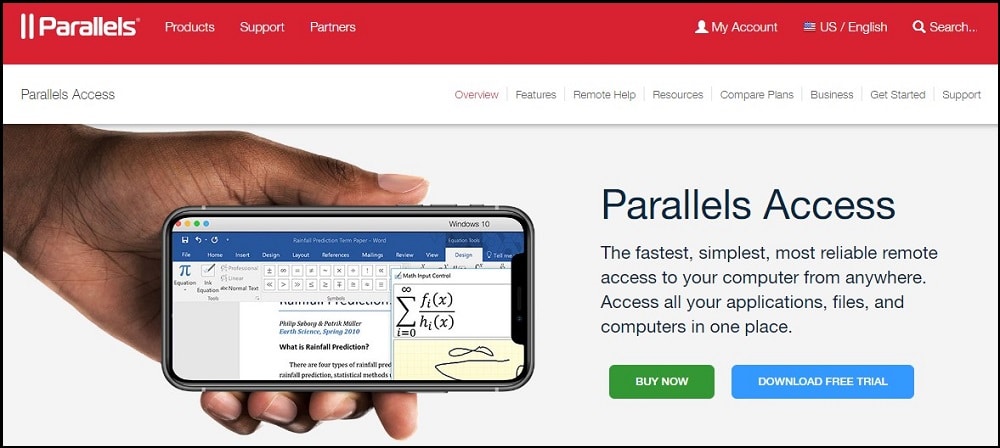 Do you want a fast and easy-to-use reliable remote access software that works as TeamViewer? Then it would help if you went for Parallels Access. This software enables you to access all your connected devices from anywhere in the world.
For instance, you can share files access applications from one place through Parallels Access remote connection. It also has mobile apps that enable users to control access and control their devices on the go straight from their smartphones.
I can bet that you will have the best mobile experience from Parallels Access compared to other TeamViewer alternatives. Its other superior features include gesture support, ease of access from other devices, and outstanding touch control.
---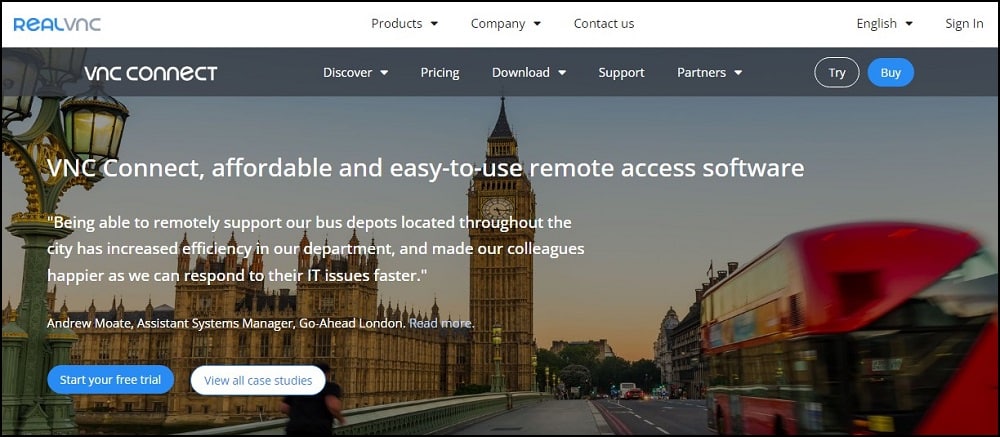 You should consider using VNC Connect as an alternative for TeamViewer if you work in small business sectors. The platform has amazing security features such as two-factor authentication and password protection.
You can use VNC Connect for remote connections in offline and cloud connection and still enjoy high-speed streaming. The basic version lacks key features such as web conferencing, chat, and data transfer. For that reason, you need to upgrade to a paid version to enjoy superior features, just as you would do in TeamViewer.
The home plan is completely free for personal use, but you have to pay a monthly subscription to access the professional and enterprise plans.
---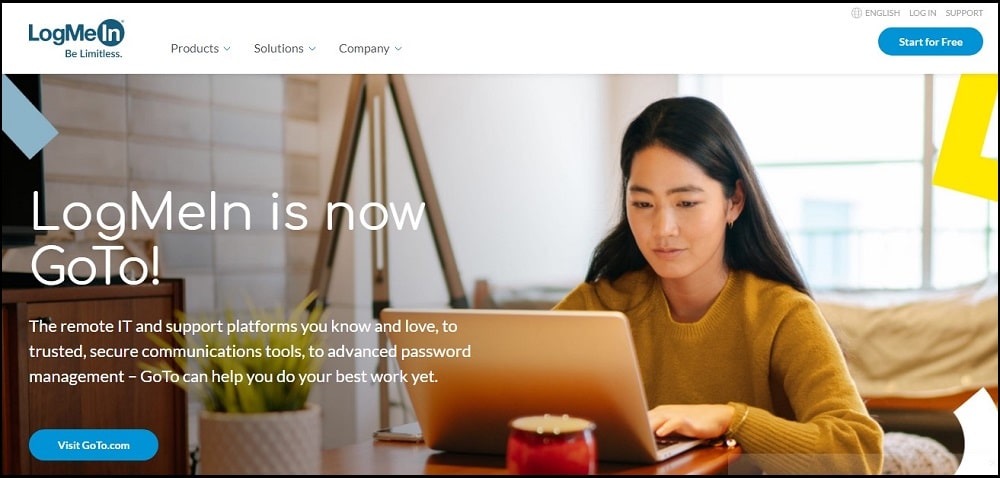 This software is for those looking for cloud-based remote support and endpoint management. LogMeIn offers high-quality services, and it's a strong competitor for TeamViewer.
The good thing about this software is that it supports multi-monitor displays. It also comes with strong password management features to make sure user data is safe.
You enjoy 1TB file storage space when using LogMeIn, and you can print remote documents effortlessly. It also has an antivirus tool called BitDefender to protect users from malware and viruses.
LogMeIn is compatible with major platforms such as Windows, Mac OS, Android, and iOS, among others. Note that their rates are quite high, lacking a free version.
---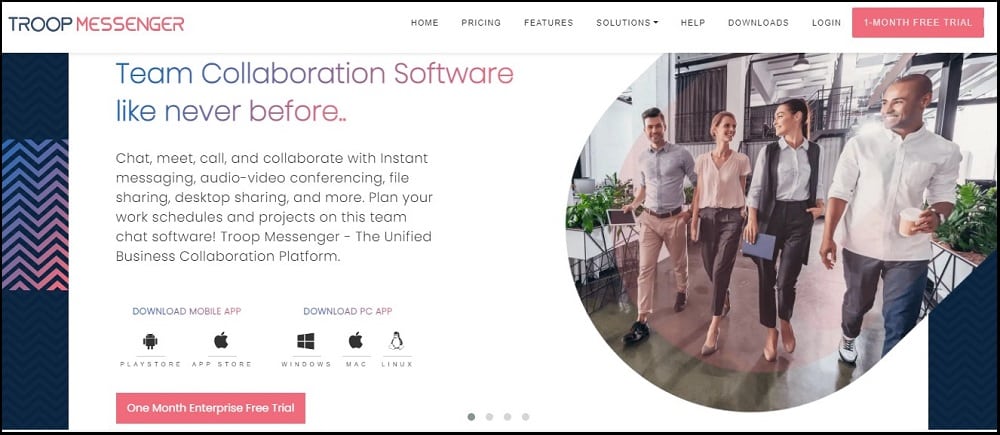 We cannot afford to ignore Troop Messenger when discussing some of the best TeamViewer alternatives in the market. This remote access tool is very fast and offers advanced screen-sharing features that you can't find in other similar apps.
You can easily use Troop Messenger to share your screen with other users from different parts of the world and even highlight the required sections effortlessly. For that reason, the software is suitable for online classes, face-to-face meetings, team meetings, and webinars.
Users of this tool can easily shift from video calling and audio calling, and they can easily add new users to a call in progress.
---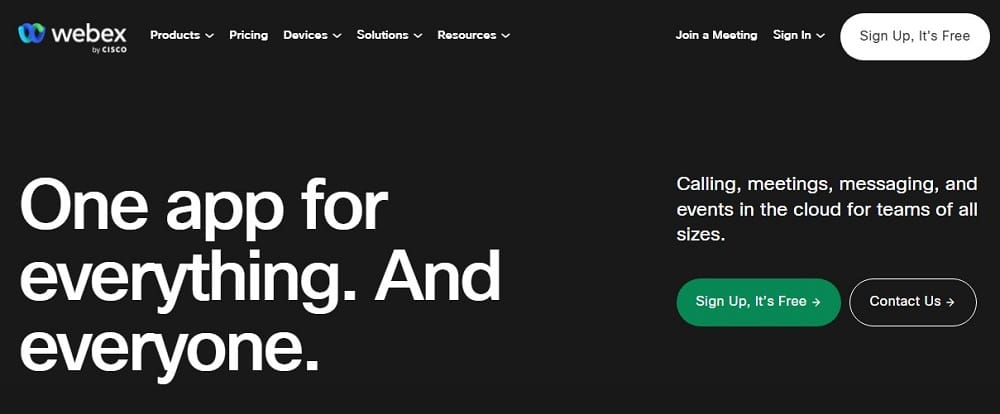 The last on the list is the WebEx Remote tool from Cisco. This premium remote access desktop tool is not only an alternative to TeamViewer but also its competitors. You can easily view other screens in real-time using WebEx Remote.
The software is from a renowned IT firm, and you can use it to manage your company's software and hardware effectively. For instance, you can use it to reboot computers, reconnect and even transfer files remotely.
WebEx Remote supports comprehensive session logs and a drag-and-drop interface when transferring files. It supports multiple computers, works across firewalls, and offers enterprise-grade security.
---
Conclusion
TeamViewer is still a market leader when it comes to remote access, control, and maintenance of other devices.
However, that doesn't mean that you should continue using it even if you don't like it. You can choose an alternative from those listed above and enjoy even better services.
Make sure you pick software that matches your needs. I recommend that you go for the most affordable one and save some money if you're working on a limited budget.