Get inspiring wallpapers for your iPhone, give it a unique appearance and stand out from others.
An iPhone is a great phone and a fancy one. However, you can easily get bored if it appears the same all the time. Fortunately, you can make your iPhone look unique by changing wallpaper frequently.
Here are the best wallpapers apps for iPhone that can come in handy if you want your phone to look different and impressive every time you look at its screen.
---
1. Vellum Wallpapers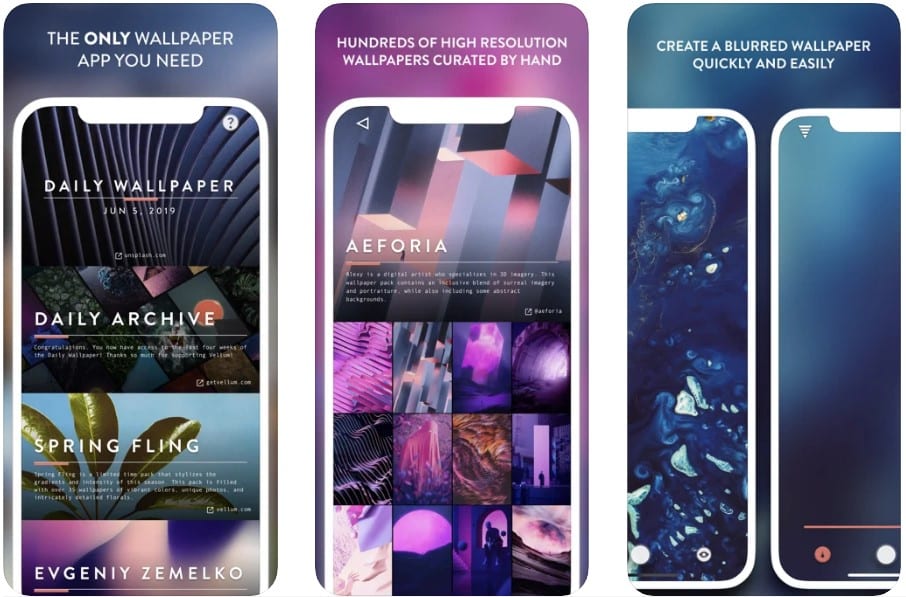 On top of the list is Vellum Wallpapers. This is one of the best free wallpaper apps for the iPhone that also offer in-app purchases. You will get this app on the App Store for iPhone and iPad. Users of Vellum Wallpapers have access to a pack of 54 great wallpapers.
This means that you can change the face of your phone every day in a month without repeating a wallpaper. If you want superior features, you can buy Vellum premium for a one-time fee of $5.49.
The app supports iPhones, iPad, and iPod touch, but iOS 12.0 or later. Another great feature of Vellum Wallpapers is that it supports family sharing, up to six family members.
---
2. Everpix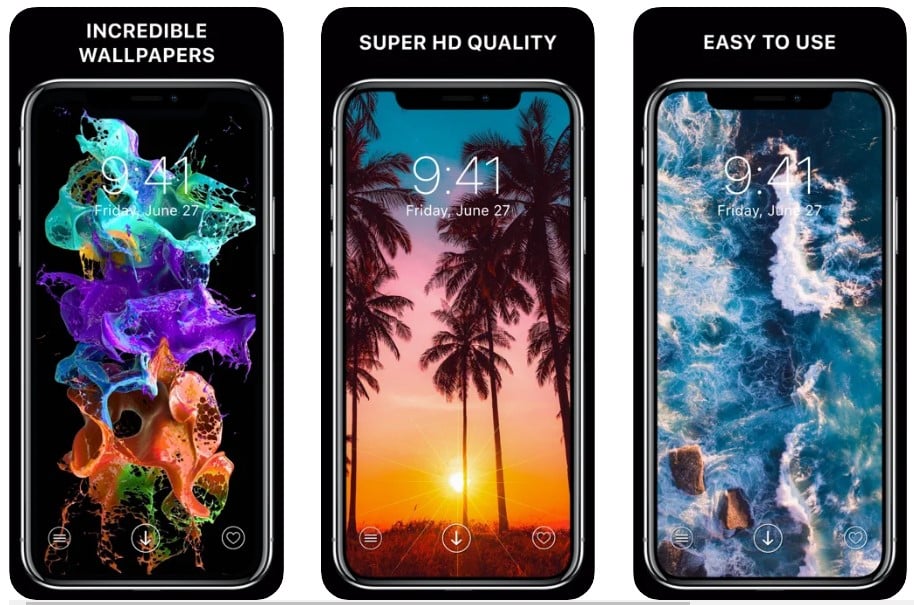 This is the home for free cool screensavers and backgrounds that will make your iPhone appear impressive all the time. You can use the free version or upgrade to paid versions using in-app purchases.
Everpix offers exclusive wallpapers that you can use to make your phone look different all the time. To top it all, all the wallpapers are high-quality HD, and you have access to new wallpapers every day.
Additionally, all Everpix wallpapers are carefully designed to fit the screen of every phone perfectly. The app is compatible with several devices such as Apple Watch, iPhone, iPad, iPod, and Mac.
---
3. Walli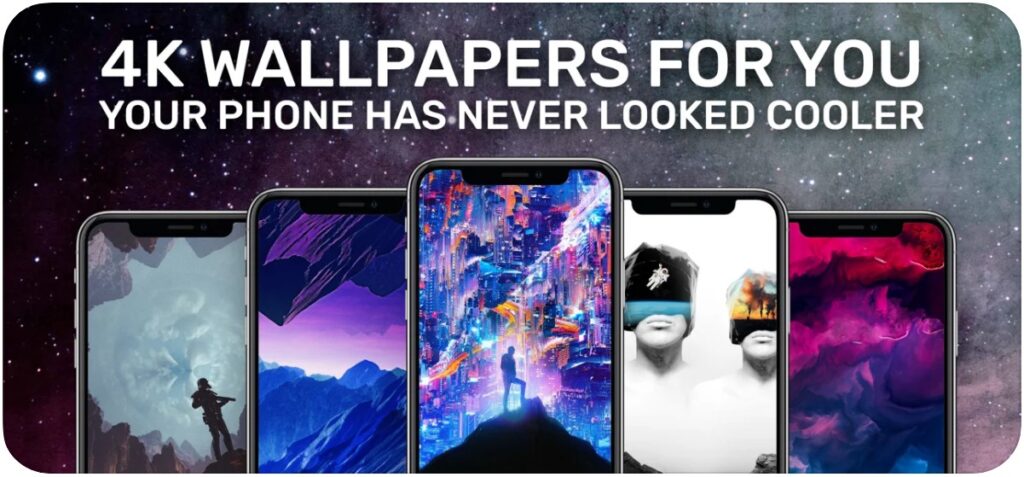 Don't just go for any wallpaper for the iPhone but go for one that respects artists. For that reason, you should join over 8 million users of Walli by installing it on your phone. Here top artists from different parts of the world share images to make sure users enjoy endless amazing wallpapers.
Subsequently, artists make some money, are recognized by millions of users, and everyone benefits. Walli doesn't offer ordinary wallpapers. On the contrary, users have access to a collection of high-quality and unique wallpapers that you can't find somewhere else.
The app categorizes its wallpapers as recent, popular, and the most featured. That way, you can easily browse by category and find your favorite wallpaper.
---
4. Unsplash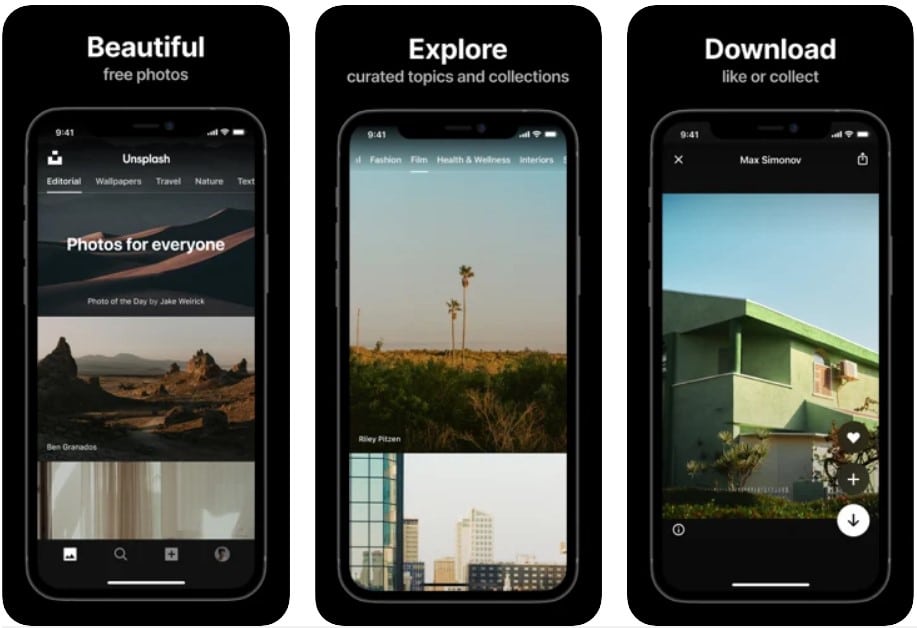 The first thing you see when you look at your phone is the wallpaper. That way, it's good to have wallpapers that can improve your mood and probably give you smiles.
The Unsplash app offers beautiful photos and images that will give you a good feeling every time you look at your phone. Here you have access to over 3 million high-resolution images, and you can never miss something that will lift your spirits.
Unlimited Unsplash access allows collecting photos and accessing them from anywhere from your computer, iPhone, or iPad. You need to create a free account with them. The app also supports family sharing, up to six members.
---
5. Zedge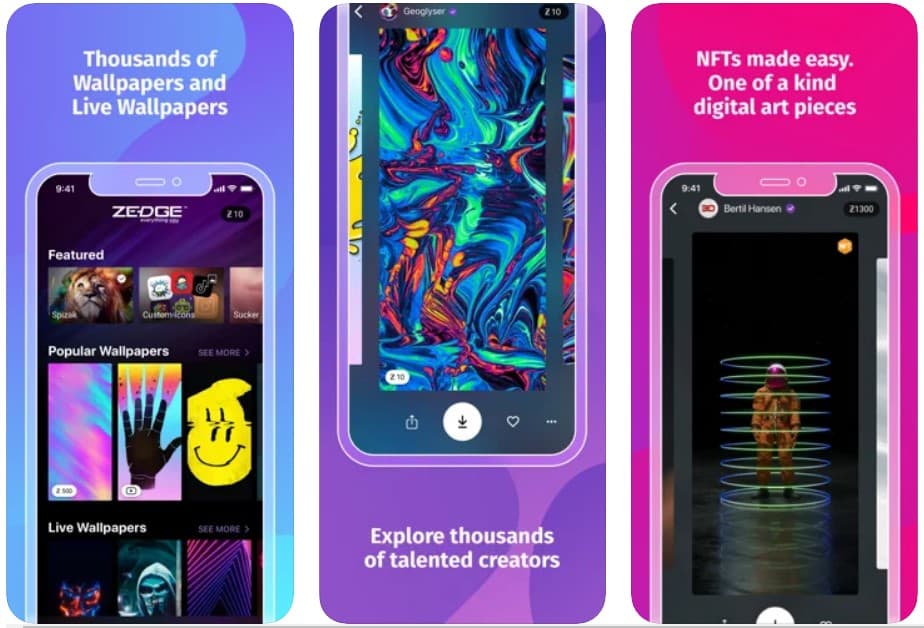 Would you like to use live wallpapers and amazing backgrounds for your iPhone? The Zedge app is all you need so that you can express your feelings through your phone. This free tool comes with in-app purchases.
Zedge also offers other products such as ringtones, icons, and notifications sound, among others. Here you have access to millions of high-quality wallpapers and other products that give you the power to personalize your phone.
For the lovers of live papers, Zedge offers tons of great GIF wallpapers that don't drain your battery. You can also upgrade by buying in-app purchases to access greater features.
---
6. Kappboom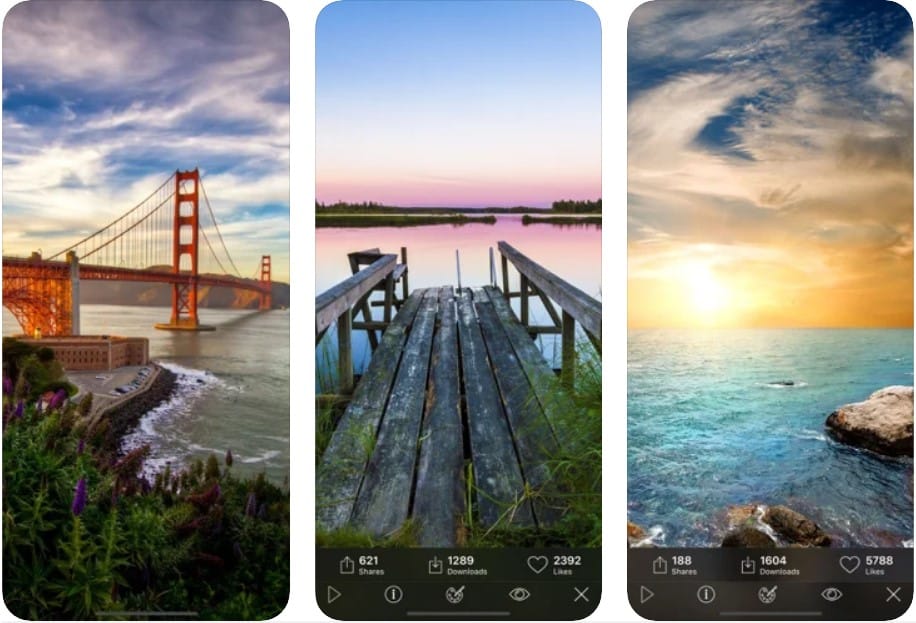 Inspiration is the key to success and a good life. You can get the inspiration you need to live happily straight from your iPhone using Kappboom. The app is completely free, but it offers in-app purchases that you can buy to access superior features.
All you need is to download the Kappboom app and enjoy over 200000 cool wallpapers. Other great features that users of this app enjoy include free cool stickers, cool messages, and new iMessage support, among others.
With Kappboom, you can also share cool wallpapers with family and friends and inspire them. On top of that, you can attach unique wallpapers to your contacts.
---
7. Papers.co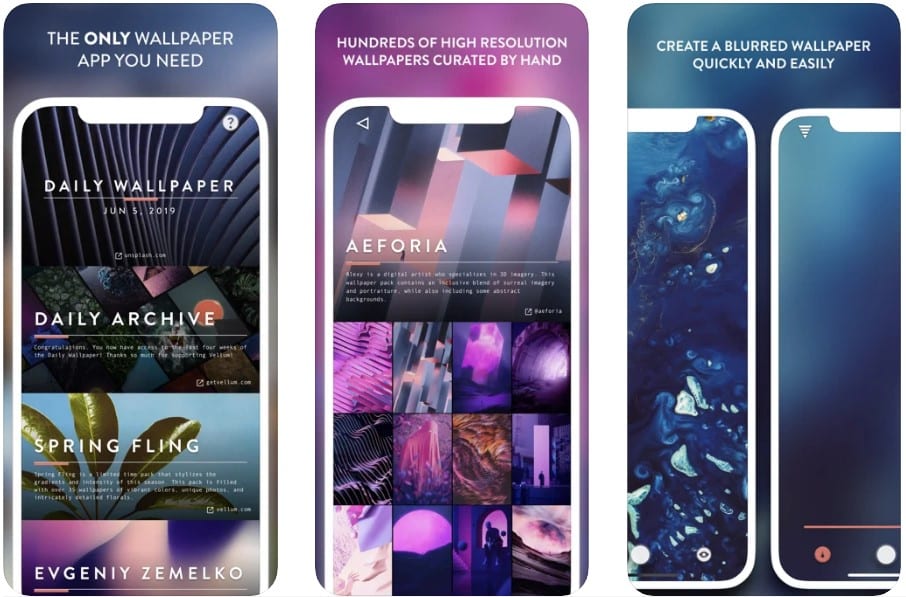 Not every iPhone user is good at using apps. Sometimes you need simple, fast, and easy to use. If you are that kind of person and love wallpapers, thenPapers.co will sort you. The app is free, but you can always upgrade through its in-app purchases to get rid of ads.
The amazing aspect of this tool is that it has a simple UI and supports all types of iPhones and iPads. You can also use the app on your Mac and iPod touch. With Papers.co, you will always be on top of the game because it's updated daily and among the best in the market.
---
8. Live Wallpapers for Me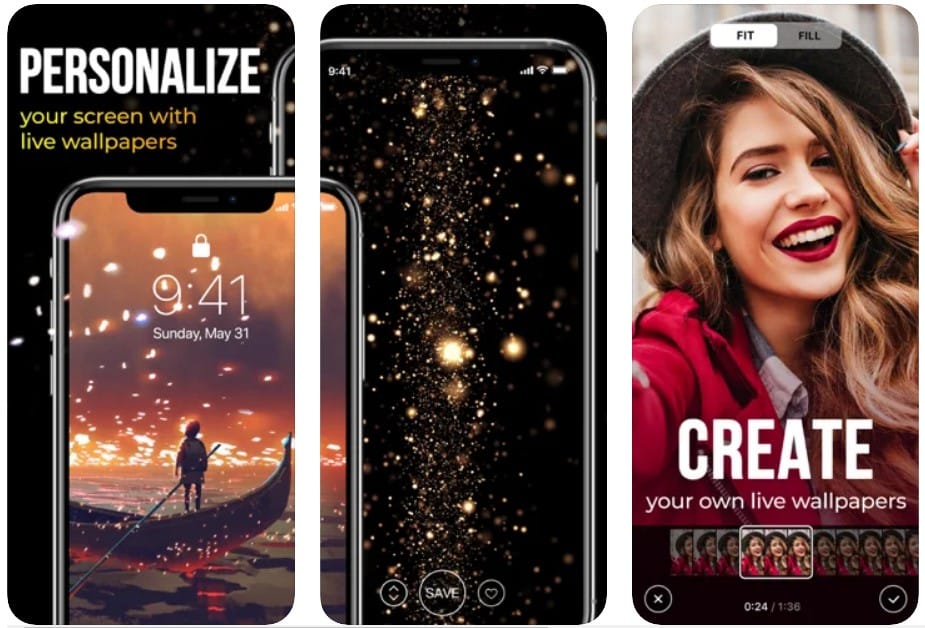 A friend can buy you a good iPhone, but it's your responsibility to customize the phone so that you can enjoy it. With Live Wallpapers for Me, you can easily customize the screen of your phone without paying even a dime. Just download the app, install it on your phone, and you're good to go.
Here you can't miss something amazing to give your iPhone an inspiring appearance because its designers update it regularly. Now listen to this.
You can use the Live Wallpapers for Me app to convert your videos into cool wallpapers. For those who want access to superior features, you can easily do so by upgrading to the premium version of the app.
---
9. Magic Screen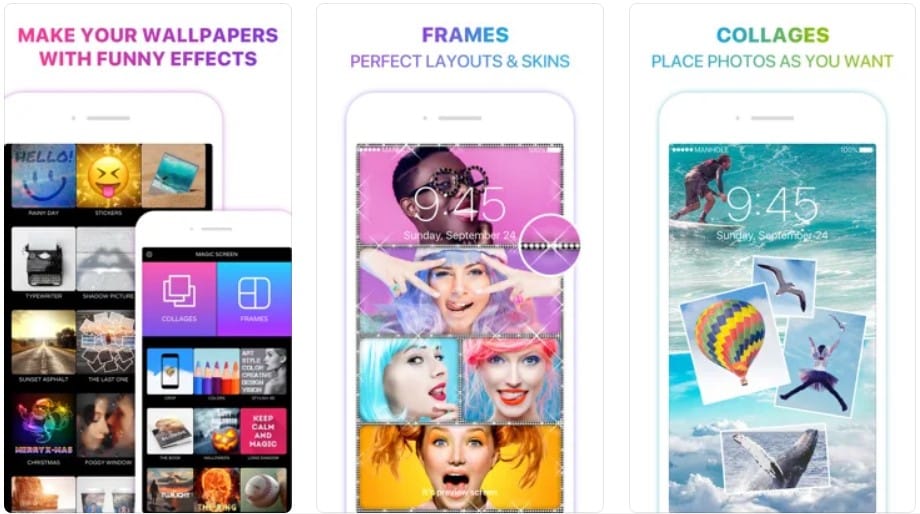 You don't have to use wallpapers created by other designers all the time. On the contrary, you can create your wallpapers for your iPhone using the Magic Screen app.
Its unique features include magic wallpapers, more than 150 font texts, 20 beautiful calendar templates, stickers, and Wi-Fi sharing.
Additionally, you can use Magic Screen to combine several wallpapers to create magic effects. Don't just grab wallpapers online or from other apps when you can use Magic Screen to cast spells, create your wallpapers in seconds, and give your phone an impressive appearance.
---
10. Icon Skins & Themes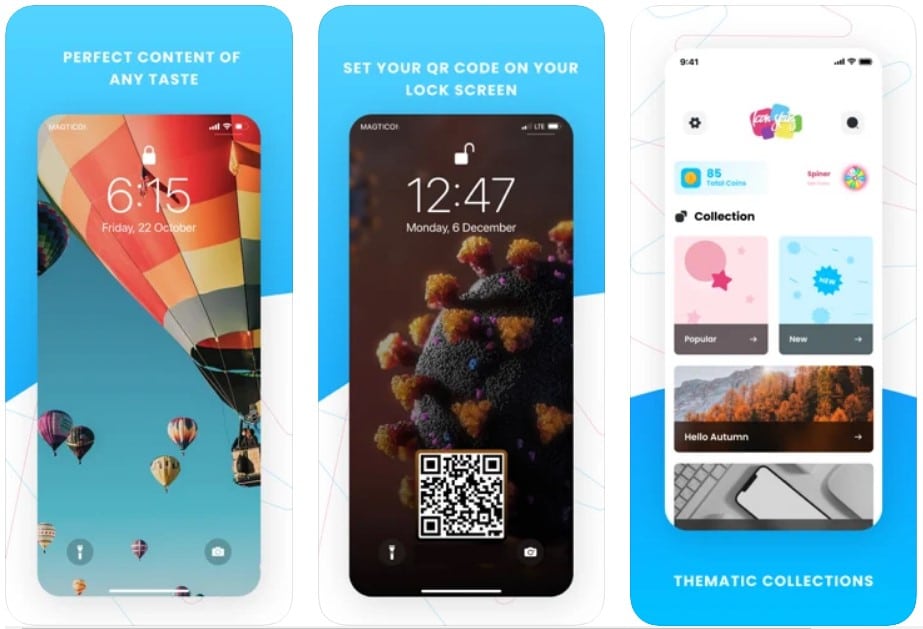 Now, this is something you can find in other wallpaper apps. You can easily place a QR code wallpaper on your iPhone lock screen using the Icon Skins & Themes app. The newly introduced feature makes this app one of the best in the market.
Here you get high-quality and unique wallpapers every week to make sure your phone looks different all the time. Unlike other apps that offer thousands of wallpapers with some flaws, this app offers a small collection of impeccable wallpapers. That way, users don't struggle to find a cool wallpaper to use on their phones.
---
11. Atlas Wallpaper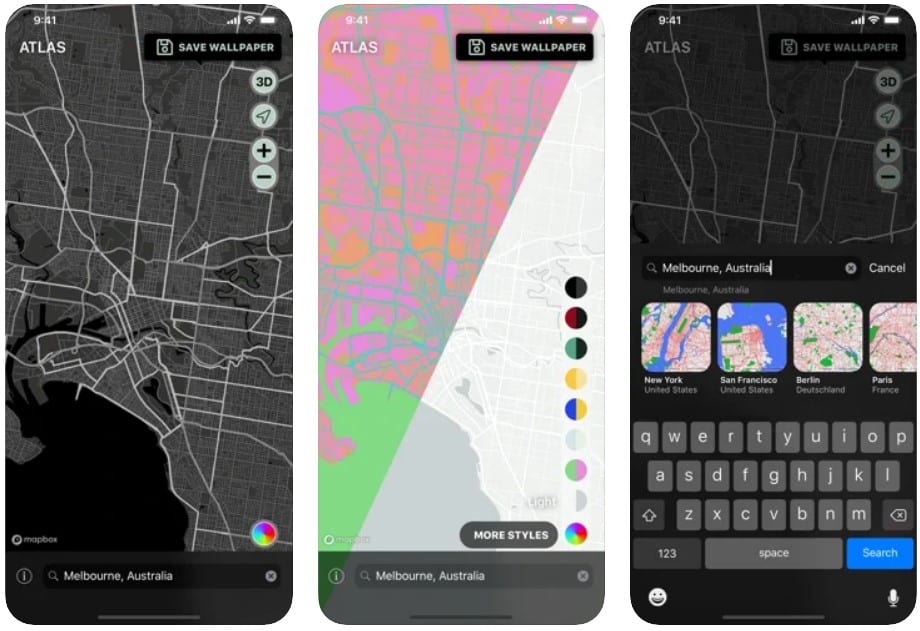 The last one on the list is the Atlas Wallpaper app. However, that doesn't mean that it's the least effective. Atlas Wallpaper is for iPhone users who love maps, and they would like to create beautiful wallpapers from them.
The good thing about this app is that it's easy to use and completely free. You need to search for any location or city in the world, set the map to match screen dimensions, tap the save option, and you're good to go.
Atlas Wallpaper also comes with a wide range of art styles that you can use to create amazing atlas wallpapers. The app is compatible with iPhone, iPad, iPod touch, and Mac.
---
Final Word
Don't just have an expensive iPhone that is no longer appealing to you. You can easily make the screen of your iPhone more attractive and a source of inspiration using wallpapers.
Customize your phone to look different every day using some of the best wallpapers apps for the iPhone in the market. All you need to do is choose an app from those listed above and use it to get ready-made wallpapers or use apps to create original wallpapers yourself.