Are you looking for the best weather apps for iPhone that can learn about weather conditions in your locale and other places? This post will take you through some of the best weather apps for iPhones.
Having your day ruined by bad weather is not a pleasant experience you would love to have. But this misfortune has happened to so many of us before. If we had something that could tell us what the weather would be like, maybe we would have taken extra precautions or planned differently.
That is why having a good weather application on your iPhone or other devices so that you can be aware of weather conditions at all times. These apps will not allow you to be caught off-guard by a sudden change in weather conditions as you would have known beforehand.
Thus we have decided to put together some of the best weather apps that will work seamlessly on your iPhone once installed. These apps are given below in no particular order.
---
Top Best Weather Apps for iPhone
---
1. AccuWeather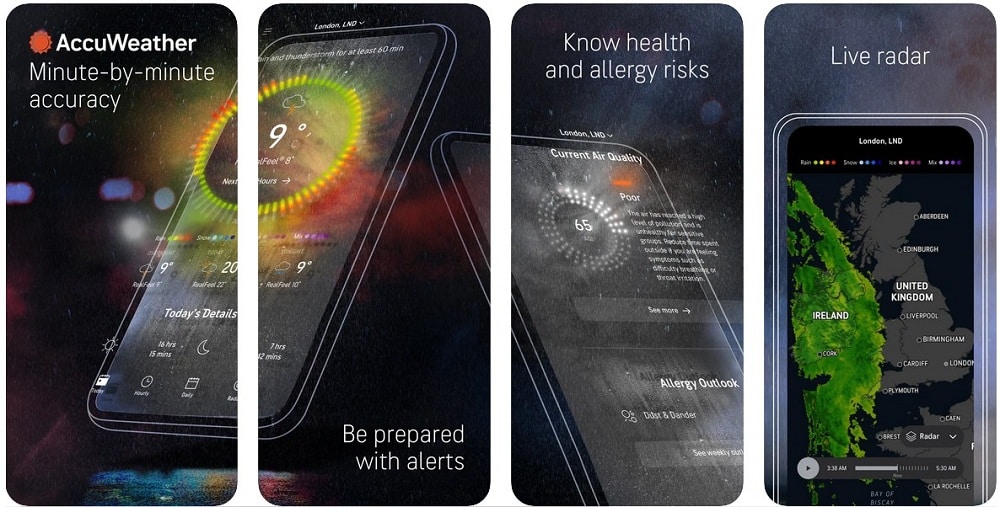 AccuWeather is regarded as one of the top weather app available for iPhone users. If exactness is what you are after, then this weather app will serve you well. The app possesses all the features typical of a modern weather app. These features include current or other location temperature, wind speed, severe weather alerts, and UV index. This weather app feeds you hourly, weekly, and monthly weather predictions, making it easy to plan.
With AccuWeather, you can also obtain information about other atmospheric conditions such as radar, satellite, 5-day precipitation, snowfall forecast, mist and haze, and so on.
---
2. Weather+

If you are looking for a weather app that isn't too sophisticated but is on the simple side, you should try Weather+. This app has a cool look, and its user interface is not clogged with too many features and tools that can make it look unclear. And one other good thing about the app is that it also comes with fewer ads than others.
Weather+ sows you weather forecasts results by displaying a nice HD weather video capable of altering the background based on the weather condition at that time. You can adjust this screen to your tastes. And another thing is that the app comes equipped with Apple Watch support. Weather+ is available for free download from Apps Store.
---
3. Hey Weather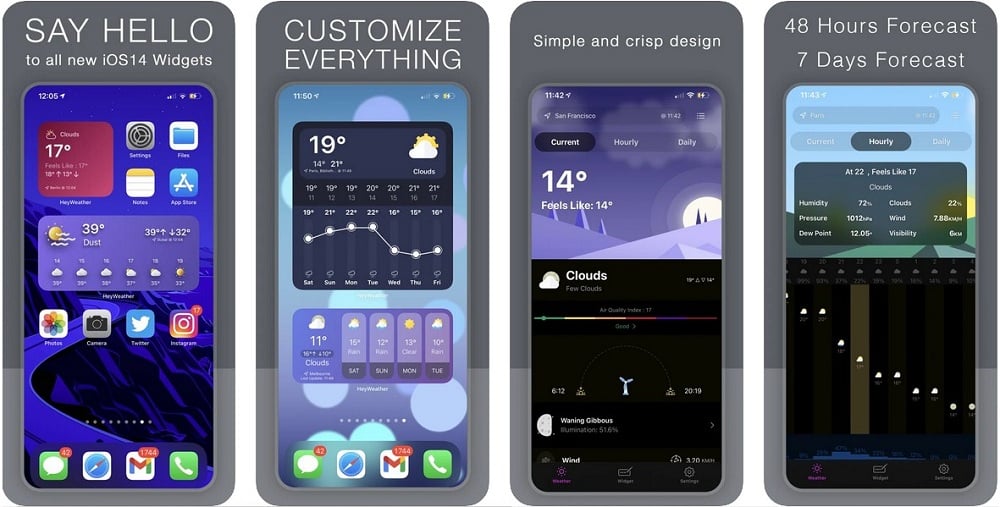 Hey, the weather is regarded as one of the iPhone's top weather apps and widgets that can be integrated seamlessly into your device's home screen. The app boasts the usual three widget sizes, namely, small, medium, and large.
And you can work with any three of your choice and make adjustments too. Some of the widget's features you can change include background color and icon style. The only downside to this weather app is that the features are limited.
Upgrading to a premium plan will give you access to more widgets, colors, icons, and a few other enhanced features. The app feeds you weather conditions in a current, hourly & daily manner. Thus, you will get real-time updates about air quality index, humidity, and other weather conditions.
Therefore, if you want weather reports and nice weather widgets all at once, you will enjoy using Hey Weather. You can download the app on App Store for free.
---
4. Windy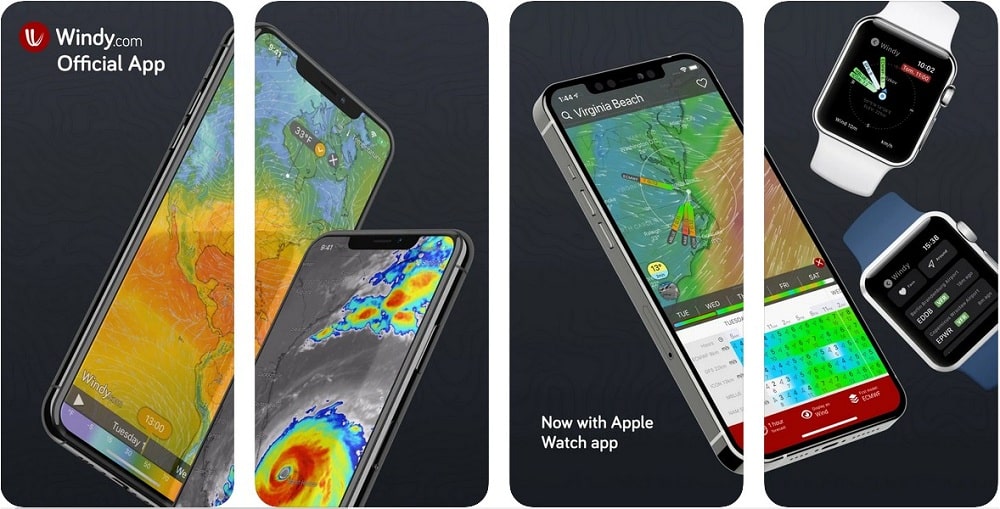 Windy is a weather app that originated in the Czech Republic. This weather app is regarded as one of the best radar-oriented apps for iPhone users. The app is versatile as it isn't limited to just weather predictions but gives a lot of other weather information that you will find much helpful.
With this app, you can get information about air quality, wind, clouds, temperature, rain, radar, and so much more. And all this information takes not much time to obtain as they are displayed on the screen with attractive animations and illustrations.
Thus, all these qualities contribute to why Windy is regarded as one of the best free weather apps. You can download the app on App Store for free.
---
5. Weather by Apple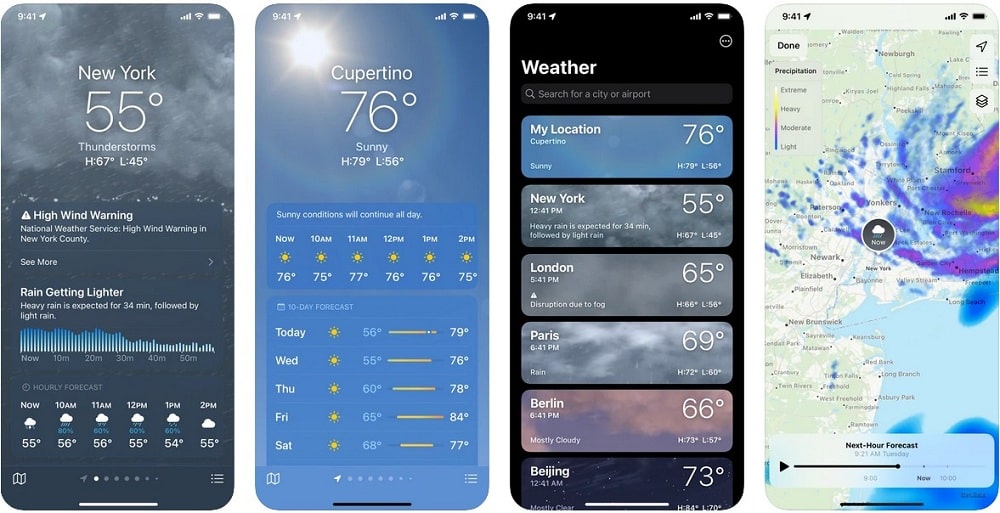 Apple Weather is a free weather app that comes pre-installed with your iPhone. This default inclusion makes the app better than downloading a third-party app. The app boasts a tidy-looking interface and is also ad-free. Information such as the temperature of current or any other locations, air quality report, hourly & daily forecast and precipitation, are some of what you get from Apple Weather.
And another interesting fact is that this app comes with widgets in various sizes, which you can add to your iPhone's home screen. These widgets will display weather-related conditions such as your current location's temperature, the day's high and low temperatures, a six-hour forecast, and weather predictions for the next five days. Apple Weather is available for free download from Apps Store.
---
6. Weather by Luni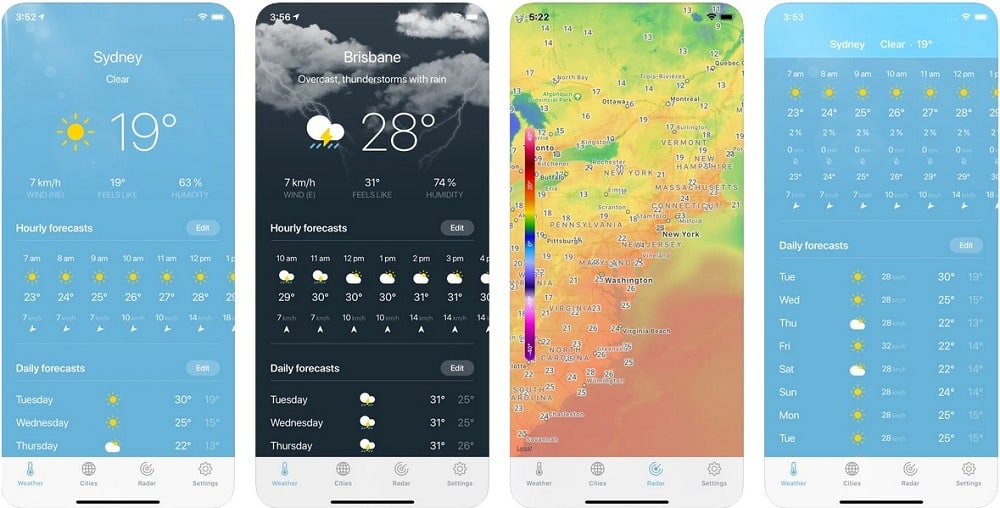 Weather by Luni is a unique free weather app available for iPhone users. The app boasts a not-too-elaborate design which makes it very easy and flexible to use. This app is equipped with just the right features that any good weather app should have. These features include current, hour, and daily weather forecasts.
With this app, you can establish a favorite list of cities whose weather conditions concern you. This feature is very useful if you travel a lot and you intend to go to those places. The list will help you prepare accurately for the weather conditions in those places.
However, the free version of the app has limited features. Subscribing to the app's premium version gives you license to more features such as hourly weather predictions, ad-free experience, a ten-day advance daily forecasts, detailed weather maps, weather alerts, and so much more. Weather by Luni is available for free download from Apps Store.
---
7. The Weather Channel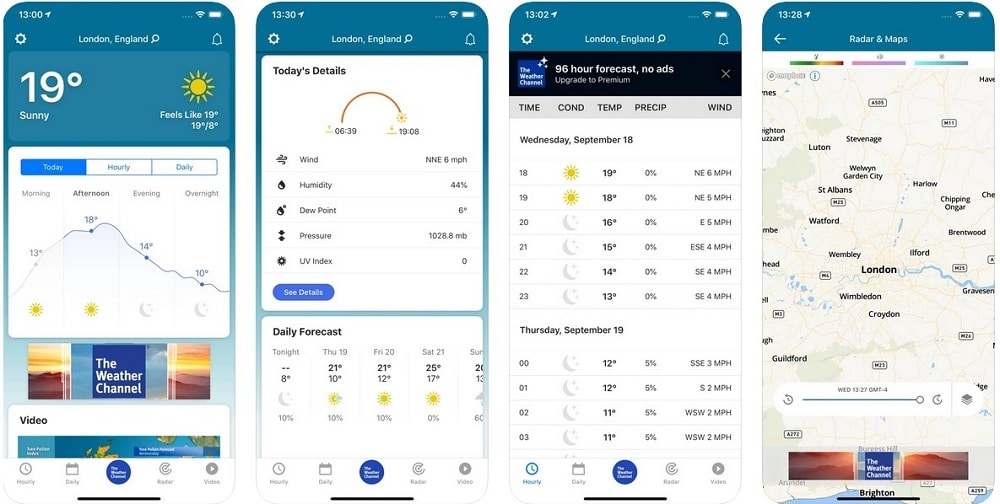 The Weather Channel is one of the top weather apps available to iPhone users. It doubles as one of the most precise weather forecasting apps out there. This app's interface is attractive, and the features are good and easy to use.
The app's important features include current, hourly & daily forecasts, air quality, widgets, and severe weather alerts. The app's weather alerts come with different options like severe weather forecast, real-time rain & snow, lightning strike, government issue alerts, breaking news, etc., which you can find and select from in the settings.
There are other nice features like the animated radar which can help you keep an eye on tropical, severe storms, floods, and winter on an interactive map. Also, you can use the feature to obtain the weather conditions of your location in real-time.
The Weather Channel has a premium plan that offers you an ad-free weather app, 24-hour future radar, advanced radar, 15-minute details, 30-mile lightning alert, Windstream, and 4X hourly forecasts. The Weather Channel is available for free download from Apps Store.
---
8. Weather & Radar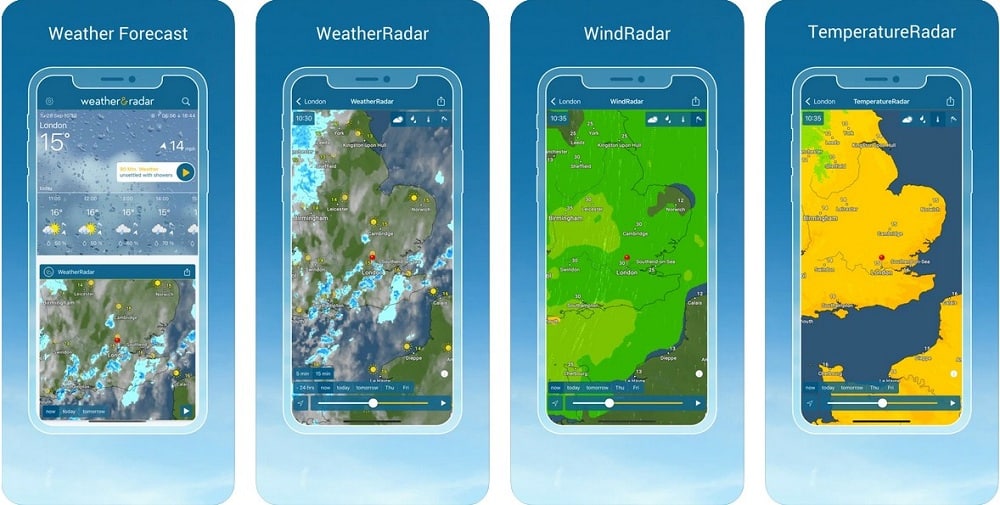 Weather & radar originated in Germany and is regarded as one of the best weather apps for iPhone users. The app is equipped with all the essential features typical of most modern weather apps. These features include weather forecasts of today, tomorrow, or the next 14 days, weather news, severe weather alerts, and a weather map.
Although the free version of this app is already well-fortified with the essential features, there are other things that the premium version will offer you. One of the advantages of a monthly or annual subscription to Weather & Radar's premium version is that all ads are eliminated. Weather &radar is available for free download from Apps Store.
---
9. Yahoo Weather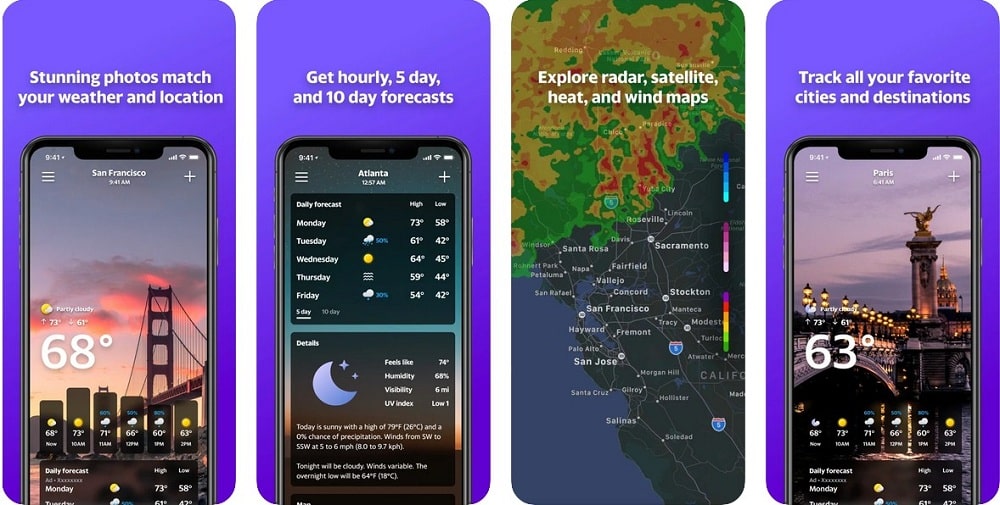 Yahoo Weather is another highly-rated weather app for iPhones. The app's smart but minimal design makes it an interesting app to have. And like most modern weather apps, this one comes with the essential features needed to operate smoothly. These features include detailed weather forecasts, air quality reports, weather maps, and severe weather alerts.
Yahoo Weather allows you to make a favorite list of more than ten cities that will constantly feed you with their weather conditions. This feature is particularly useful if you travel a lot and you intend to go to those places. The list will help you prepare accurately for the weather conditions in those places.
With Yahoo Weather, you are entitled to widgets in different sizes to add to your home screen and make weather information easy to obtain. You can download the app on App Store for free.
---
10. Weather Live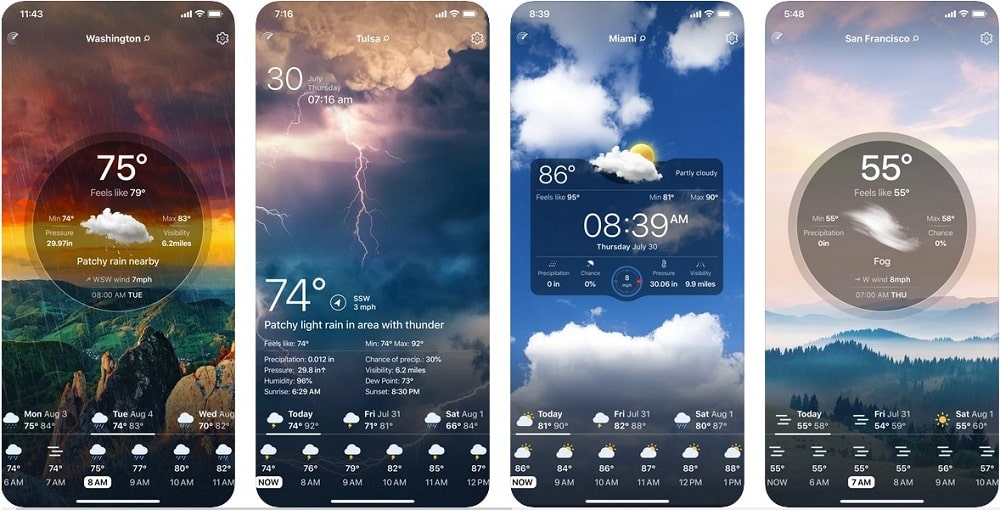 Weather Live is a free weather app that originated in Ireland. This app comes with an attractive design and alters background images based on what the weather is saying. Weather Live comes with all those features typical of any modern weather app. This app is quite efficient, and it offers you information such as current location temperature, next seven days forecasts, and air quality.
You can also make any changes to the features of this weather app, such as the background appearance and remove, or rearrange weather blocks. The app also has a notification feature that, when activated, feeds you with information such as morning or evening reports, lightning, hurricane, and weather change. Weather Live is available for free download from Apps Store.
---
11. RadarScope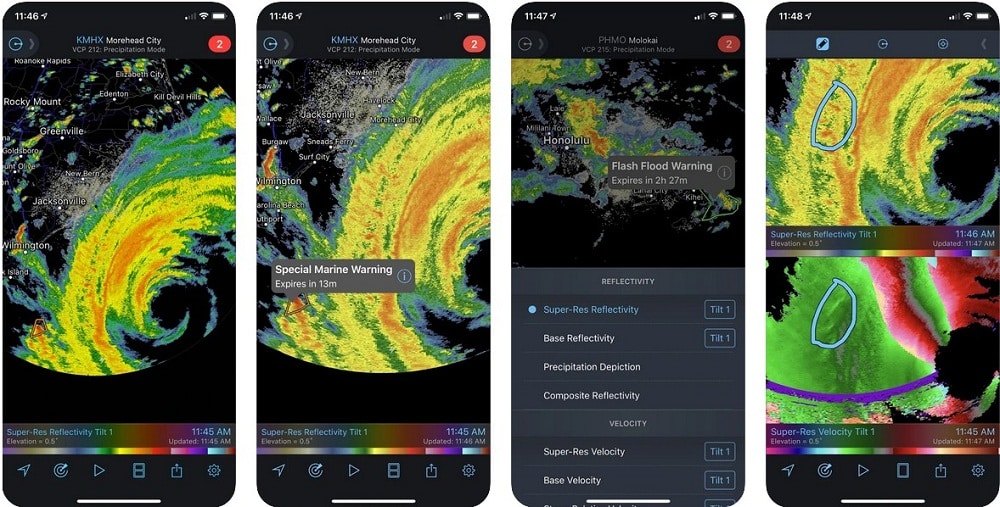 Radar Scope is a unique weather app that is built for serious-minded weather folks. The app gives you weather conditions such as severe weather warnings, lightning alerts, and different storm trackers. If you want extensive coverage and features from this app, you can subscribe monthly to its premium version. This version gives you real-time lightning alerts, extended loops, and lots more.
Radar Scope provides detailed information on reflective velocity, dual-polarization, echo tops, accumulation from any NEXRAD or TDWR radar in the U.S. This sophistication is one of the reasons why the app is highly-rated.
---
12. Hurricane by American Red Cross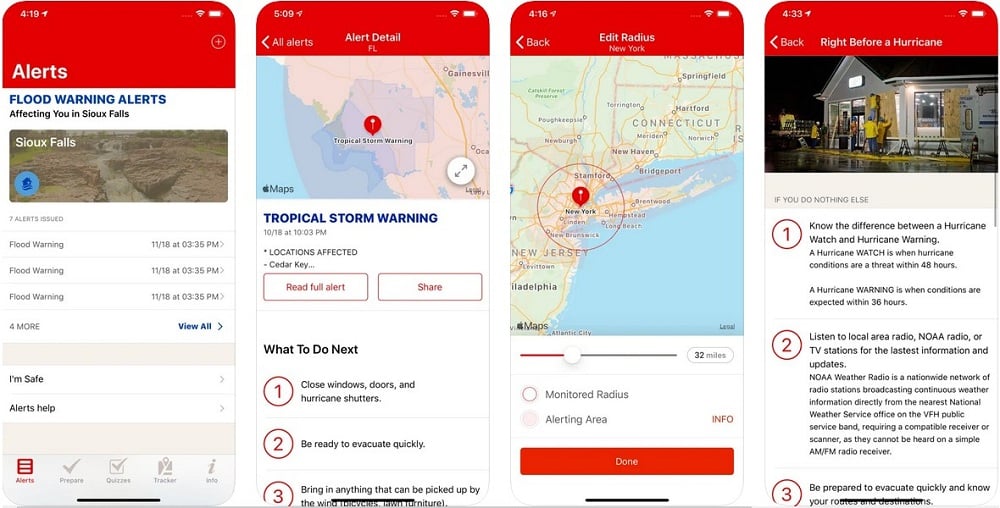 Hurricane by American Red Cross is one of the brainy ideas of this humanitarian medical group. The app is among a list of disaster awareness apps that help keep a keen eye on places where natural disasters like earthquakes, tornadoes, and wildfires are prevalent or likely to occur. Hurricane app is thus, a welcome app that people living in places susceptible to the hurricane will find very useful.
This app will alert you when a hurricane or high-wind storm is brimming close by. The app has some unique features that can induce a flashlight or sound alarm to alert you of any danger, obtain your location, and generate an automatic message to alert your loved ones of your state.
The app is equipped with tips that can tell you what to do in light of a hurricane, react when it comes, and the outcome. The Hurricane app is connected to the NOAA weather radio reports and extensive information on preparing for a hurricane.
---
13. Dark Sky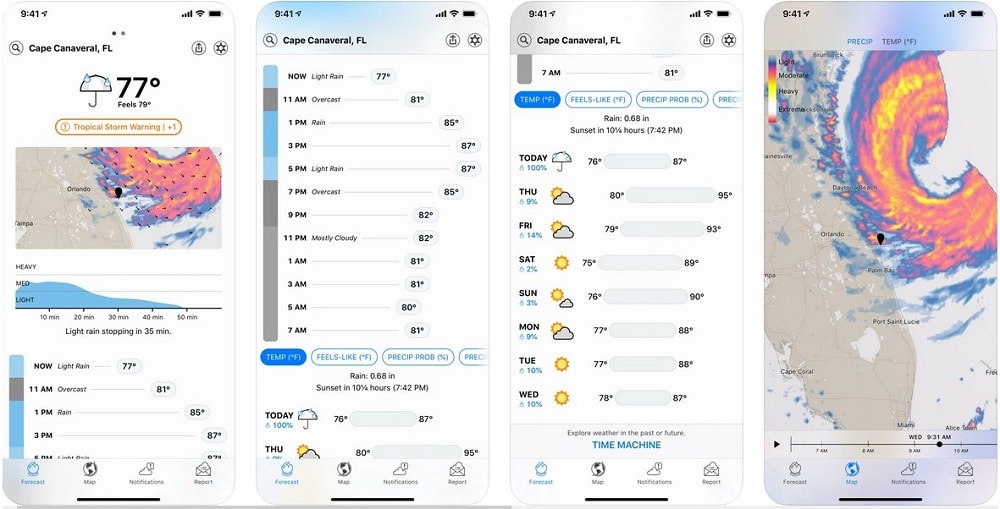 If you are looking for weather reports that are accurate and up to date, Dark Sky should be your weather tool. The app is renowned for its exactness in weather forecasting and abrupt atmospheric changes. Dark Sky gives you a comprehensive daily weather condition and a 7-day prediction.
The app is equipped with a unique precipitation and temperature map that shows you when storms will arrive or how much time you have until the day's temperature increases. These details are displayed when you drag your finger on the map.
If there is a threat of rain, snow, or a storm in your location, the app will let you know how much time you have before such happens. This precision is very useful as it will help you brace up for any unpleasant weather condition.
---
14. WeatherBug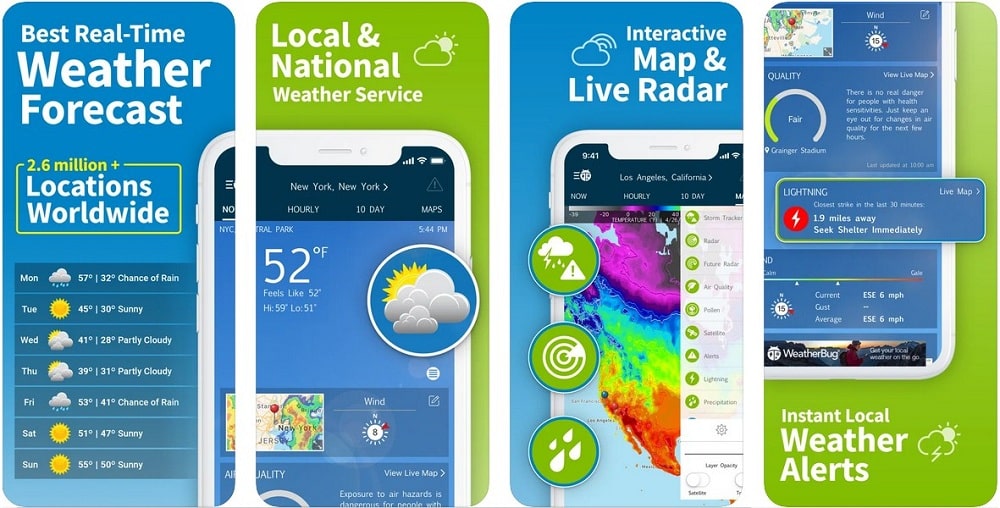 If you are prone to allergies usually caused by atmospheric conditions, WeatherBug will be of invaluable help to you. Aside from giving you detailed daily, hourly, and 10-day forecasts, this free weather app will also provide you with comprehensive information on the daily pollen index and which allergy triggers are prevalent so that you may take extra precautions.
This weather app is also equipped with a unique feature that helps to monitor your domestic energy usage and feed you back with a comprehensive analysis of its findings. This analysis will help you know whether you need adjustments or you are doing just fine. Thus, this weather app is more versatile than most of the others we have seen so far.
---
15. Weather Underground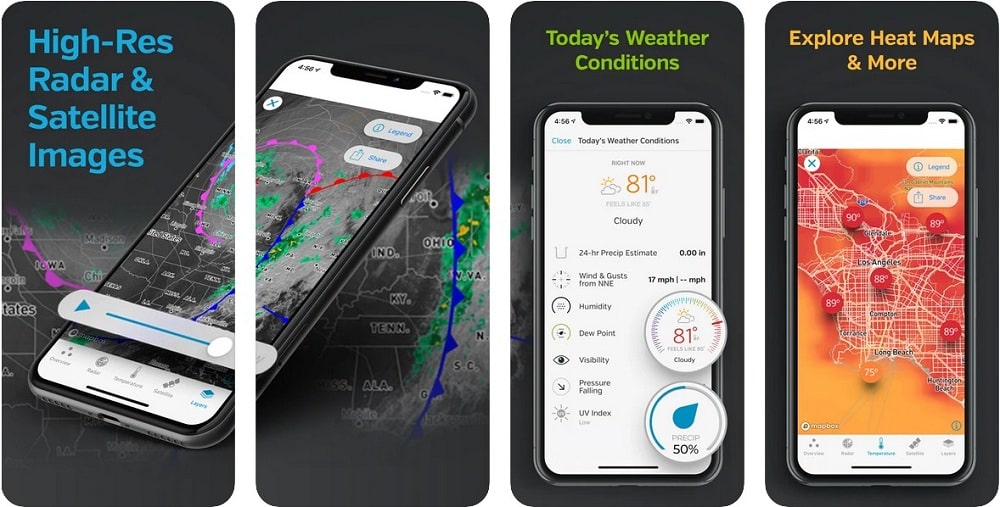 Weather Underground has a unique approach to weather reporting. The app's data comes from about 200,000 independent weather locations overseen by weather fanatics. You are also free to report on weather conditions from your locale, including power outages or flash floods, and this would also be verified and recorded as well.
Other outstanding features that this app offers include a real-time report via the station closest to your location and personal photos of weather conditions in local areas and worldwide submitted by users.
---
16. CARROT Weather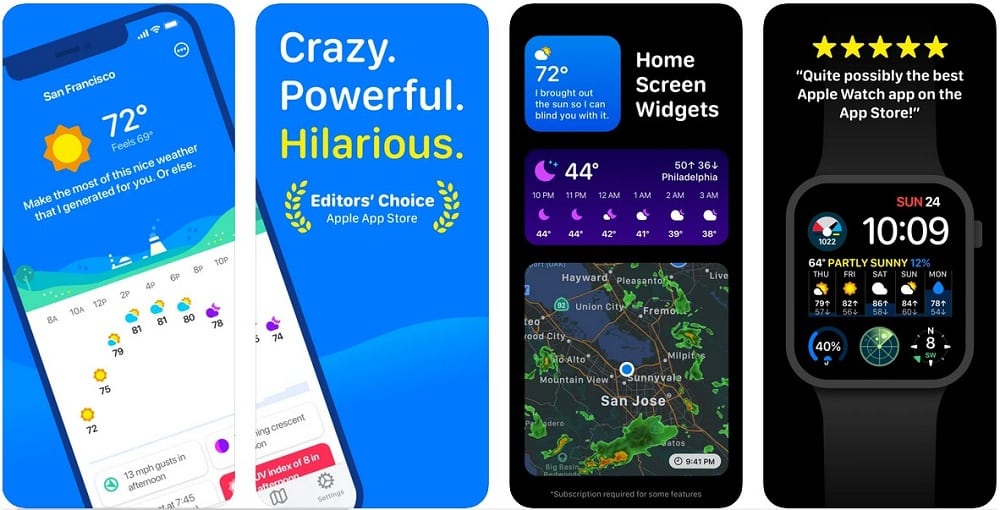 If you want to have fun while still obtaining superb weather reports, then you should look no further than CARROT Weather. This weather app delivers its weather duties with a lot of sarcasm. Disguised as a hateful AI, the weather reports come accompanied with comments like "I hope you get a sunburn" and "Your heating bill is going to bankrupt you." CARROT Weather gives you detailed weather forecasts, which is its primary purpose.
The additional twist is just a fun way to keep users engaged and smiling. Thus, the app is perfect for anyone with a good sense of humor.
---
FAQ
1. Which weather app for iPhone should I use?
All the weather applications we have listed above are capable of working efficiently on iPhone. But some are more sophisticated than others and have certain features that you may not find elsewhere. Thus, you should know what your preferences are before choosing a weather app.
2. Should I pay for a weather app to get better results?
It depends on your purpose for wanting a weather app. Aside from that, you have to decide if you truly want to pay. Although free weather apps can do a decent job, they still have some limitations, most of which are eliminated when you upgrade to an enhanced version of these apps. Thus, if you want top-quality weather forecasting, taking a paid subscription will be the answer.
---
Conclusion
There are numerous weather applications that you can use to learn about weather conditions in your locale and other places. Thus, it isn't easy to know which one to pick. Most of them have similar but wide-ranging features and modes of operation. That is why we decided to develop this list of the best weather apps for iPhone users.
Most of these apps come with both free and paid versions. Features are often limited in the free versions, and there is the issue of ads in some apps, which you would have to put up with. But most paid versions come with enhanced features and an ad-free seamless experience. We are certain that you will find the photo editing app that suits your taste the best from the list given above.