Are you looking for the best browser for Windows 10 that can give you unlimited and smooth access to the internet world? This post will take you through some of the best browser for Windows 10.
Having access to the internet has become necessary if you consider how the internet has changed over the years. That virtual world holds a major chunk of our world and how we live our lives. Browsers are what ensure we have a passage into that world whenever we want. And these browsers come in different styles and packages.
Some web browsers offer you basic features that meet your routine needs. In contrast, others come with sophisticated tools that offer you security by protecting your information from falling into the wrong hands. You may be wondering which will best fit your Windows 10 device. Do not worry; this article contains some of the best browsers for Windows 10. Let us take a look at them.
---
1. Microsoft Edge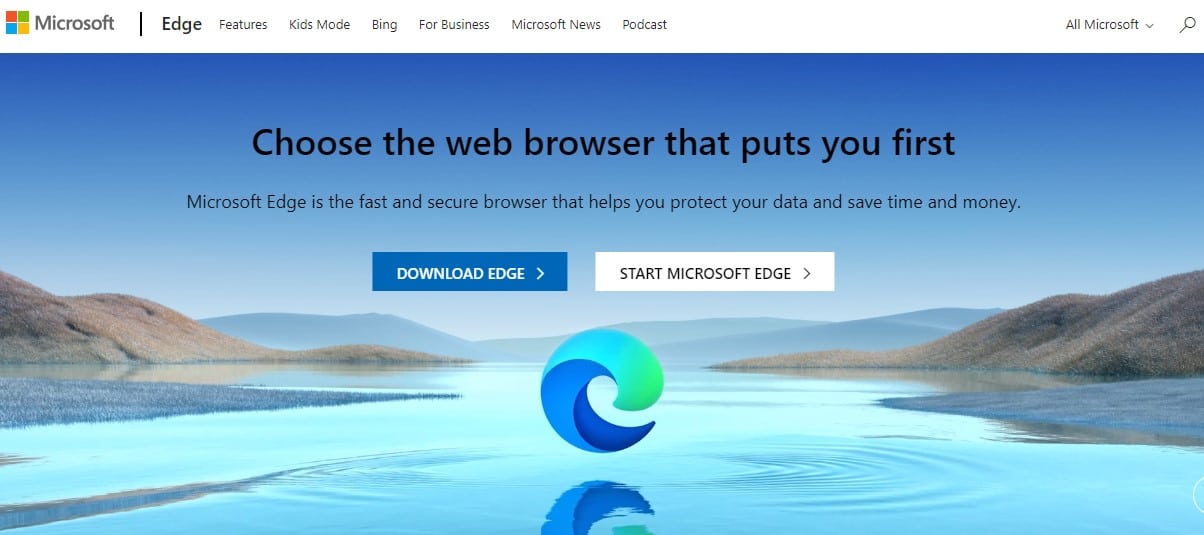 Microsoft Edge browser officially came into being in 2019 when the tech giant Microsoft announced it. Since then, it has been one of the highlights of the company's continued praiseworthy innovations. This browser relies on the Chromium engine, which gives you access to extensions that you can download from the Chrome Web Store. However, downloading extensions from the Edge Add-On Store is also a good option.
And one of the advantages of using the new Edge browser is that it is lenient on your battery compared to Chrome and other browsers. The absence of most Google background services can be fingered as the reason behind Edge browser's lightweight and impressive speed. There is also the presence of a surfing game that you can access online and offline. It works like Chrome's dinosaur game. You are sure to find it fun.
---
2. Mozilla Firefox

Mozilla Firefox is a browser that gives you ultimate privacy on your Windows 10. They are regarded as one of the best when it comes to privacy and security. Mozilla Firefox's Quantum upgrade has further enhanced its status as one of the best browsers around.
This browser is efficient when it comes to privacy issues, which it achieves by restraining the activities of trackers and other harmful content. The fear of a browser sharing your data with third-party organizations is removed here because Firefox is a non-profit and open-source browser. If you are concerned whether you will get credible extensions here, you need first to visit the Firefox Add-Ons Store and see for yourself the richness therein.
---
 3. Google Chrome

Because of Google Chrome's popularity and efficiency, it is hard to make a case for other browsers regarding the top web browser.  One thing that makes this browser stand out is the way it works harmoniously with other Google products. This is not a surprise since all services are coming from one manufacturer. Google Chrome allows you to sync your bookmarks, passwords, and history across devices. Thus, you can access the same pages you opened on your phone also on your PC.
Tons of extensions are compatible with this browser which further gives you an amazing experience. Thus, the Chrome Web Store, which comes with various downloadable themes, is yours to explore. The experience with this browser is great on any Windows PC or Laptop. You will get a faster load time. The only downside is that the browser eats a sizeable chunk of your system's memory.
---
4. Opera Browser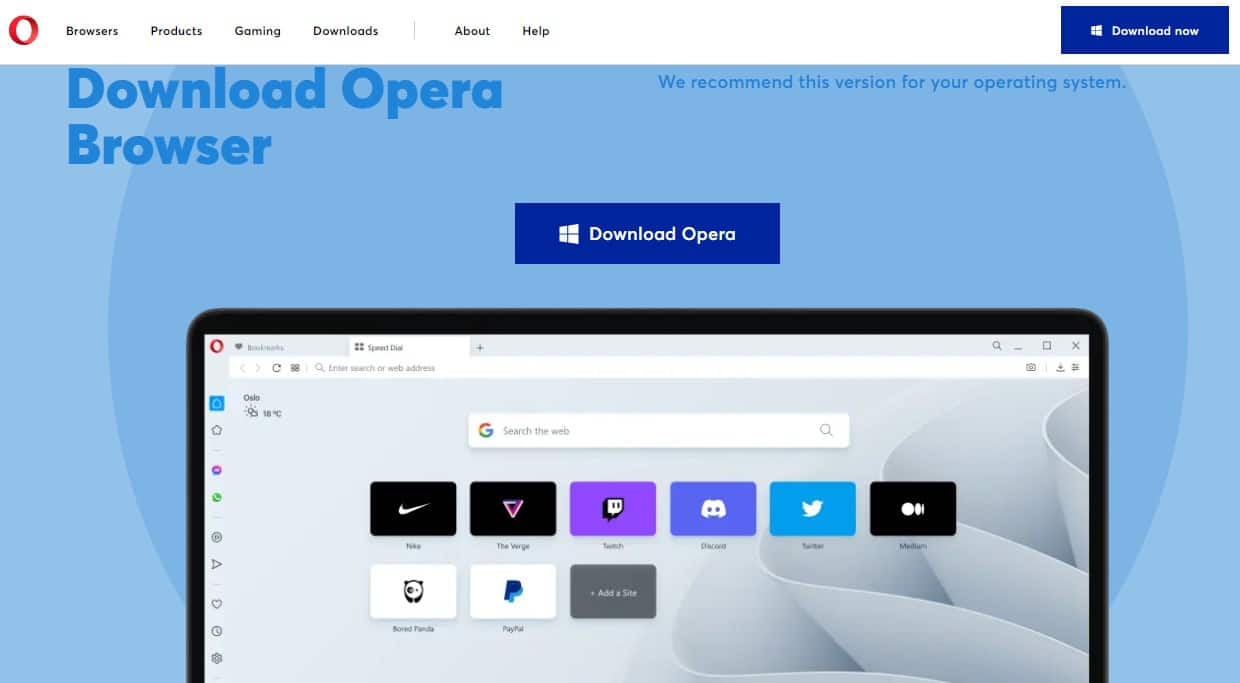 If you are one of many features and tools to make browsing life easier and fun, you should consider using Opera Browser. Since this app is Chromium-based, you have the license to ransack the fully-packed Chrome Web Store for extensions. Thus, anything you get from the Opera Add-Ons Store may feel like a bonus. This browser comes with vast features, which makes it interesting to use.
The start page has a sidebar that can be used to accomplish a vast array of tasks. Popular social media Messengers, including Facebook, Instagram, and WhatsApp, appear as web apps. Extensions can be included in the Sidebar for more functionality. As for security and privacy, Opera has a  built-in ad-blocker that restrains ads and trackers, allowing you to use the internet free of worry.
---
5. Tor Browser

Do you want more extreme privacy and security more than what the popular Firefox can give? If yes, Tor Browser is the one you should consider. It ranks as the top privacy and security-based browser for Windows 10. This browser ensures your privacy and security by automatically deleting cookies and browsing history when you finish using the internet. And that is not where it ends. It also ensures that no site you have previously visited can locate you.
The only trouble with Tor Browser is that its privacy & security features are quite sophisticated, and it may not be easy to figure out how they work quickly. But once you can get the hang of the browser's features, you will find it worthy of your time.
---
6. Brave Browser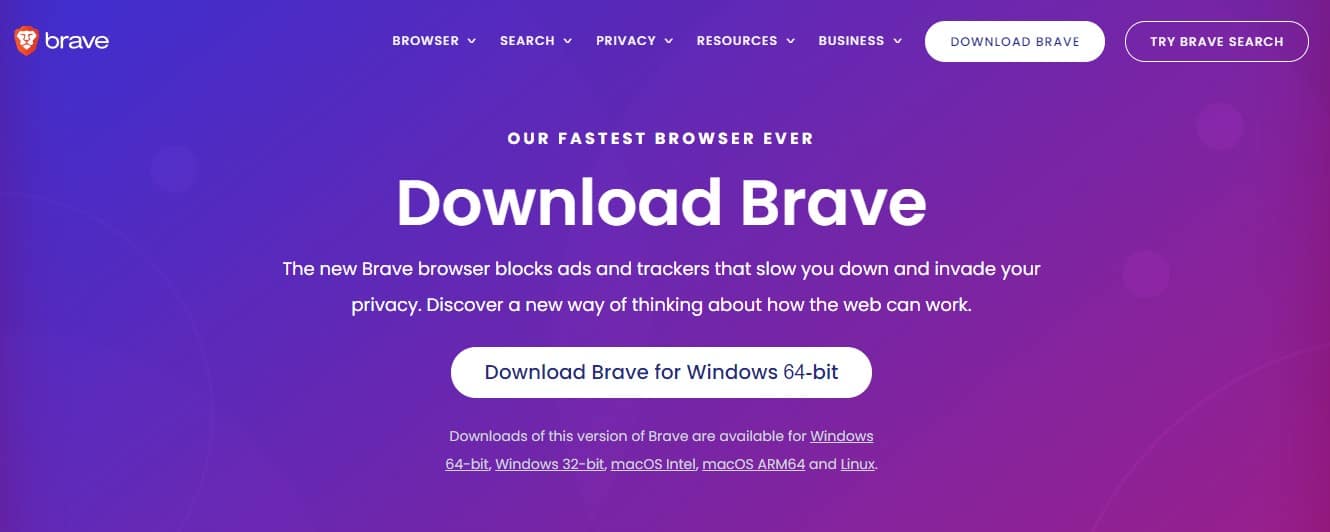 Brave browser is relatively new as compared to other popular browsers we have around. This Chromium-based browser has grown to become one of the best Windows 10 browsers regarding privacy. Its performance is worthy of note too. The browser is efficient and offers an impressive load time, especially on Windows 10.
The browser comes with the trackers and ad-blocking features already active and ensures sites you are visiting are safe by elevating your connections to the more secure HTTPS. Since Brave Browser is Chromium-based, you have full access to extensions and themes in the Chrome Web Store.
---
7. Torch Browser

Torch Browser has made a name for itself regarding the fast and efficient downloading of media content available online.  The browser has a great feature solely dedicated to this purpose. The built-in media grabber feature helps you download visual and audio content from popular sites without restraints.
There is a torrent manager feature, which allows you to do torrent file download with relative ease. Torch Browser works well on Windows 10. Given that the browser is also Chromium-based, its features are quite similar to some browsers out there.
---
8. Vivaldi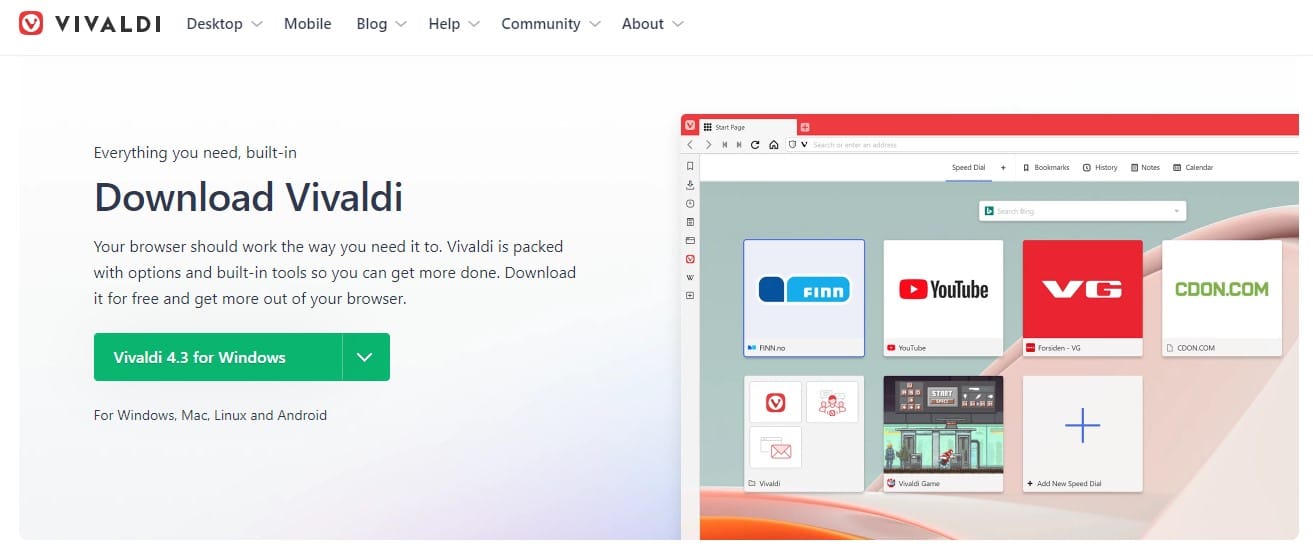 Vivaldi Browser allows you to make a whole lot of modifications to its looks and features. The browser shares some similarities with another customizable browser, Opera. You can change Vivaldi's look by changing the theme, choosing wallpapers from its store, or crafting your own and changing some tools' positions.
Vivaldi Browser also does well when it comes to privacy and security. It comes with an ad-blocking feature that restrains ads and trackers. This also enhances the speed of your browsing and makes pages load quicker.
---
9. Dooble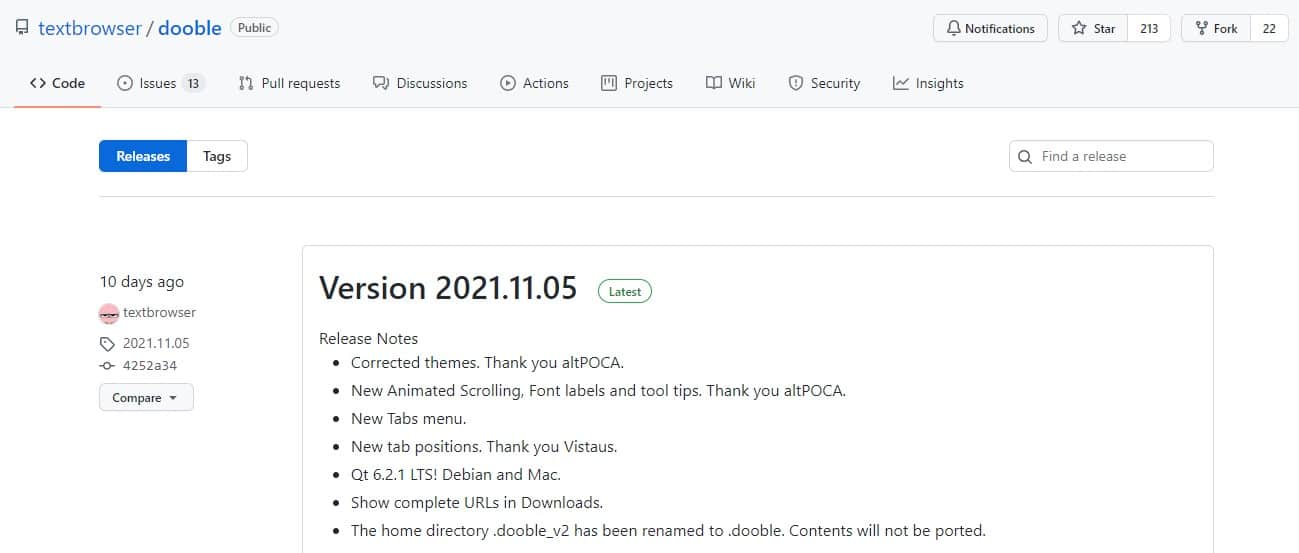 Dooble is another browser that ensures users can browse the internet without fearing their information falling into the wrong hands. Given that it is an open-source and free web browser, users' privacy is ensured.
The browser, which is based on the WebKit engine, was created by the Dooble Project Team. Although  Dooble is not as popular as most of the other browsers on our list, its efficiency is not in doubt, and that is why it is regarded as one of the best browsers for Windows 10.
---
10. Epic Browser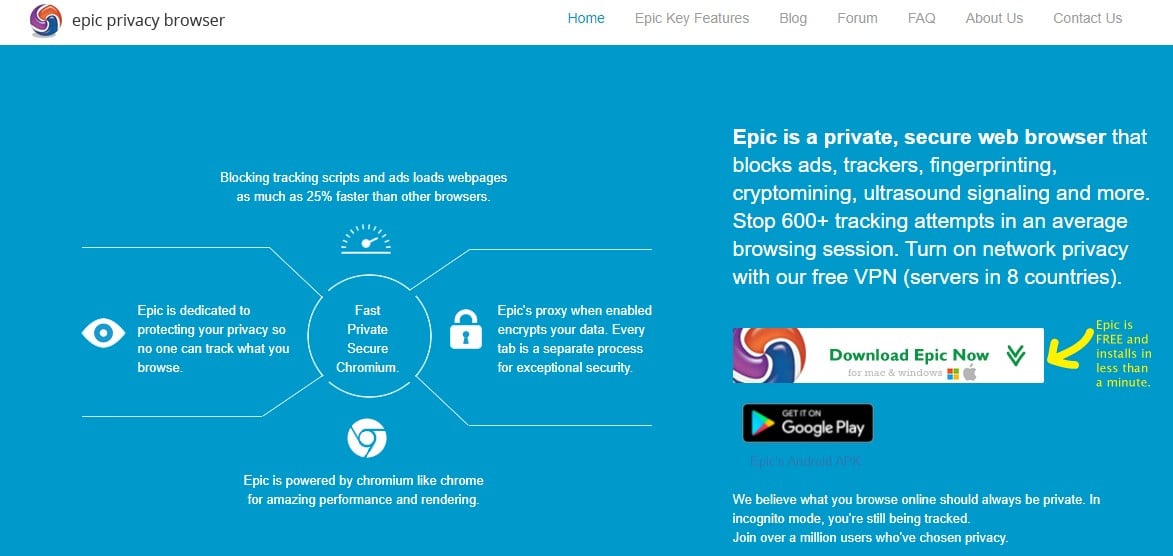 Epic is another privacy-based browser that you will enjoy using if security is a big deal to you. This browser achieves this by not saving your cookies and browser history. It takes a minimalistic approach toward browsing.
Its lightweight and not-too-many features ensure that the browser loads pages quickly when you are browsing. Thus, Epic Browser is one of the best browsers for your Windows 10 that ensures your privacy.
---
11. Safari
When you talk about browsers that give excellent browsing speed, Safari ranks among the best. This web browser works well on Windows 10. Safari was built by Apple and is reliant on the WebKit engine. One of the features that you will find interesting when using Safari is its default privacy feature which works harmoniously with iCloud.
Safari comes with a lot of basic features that make working with the app easy. The browser's lightweight and usability is what makes it one of the best browsers for Windows 10.
---
12. Aloha Browser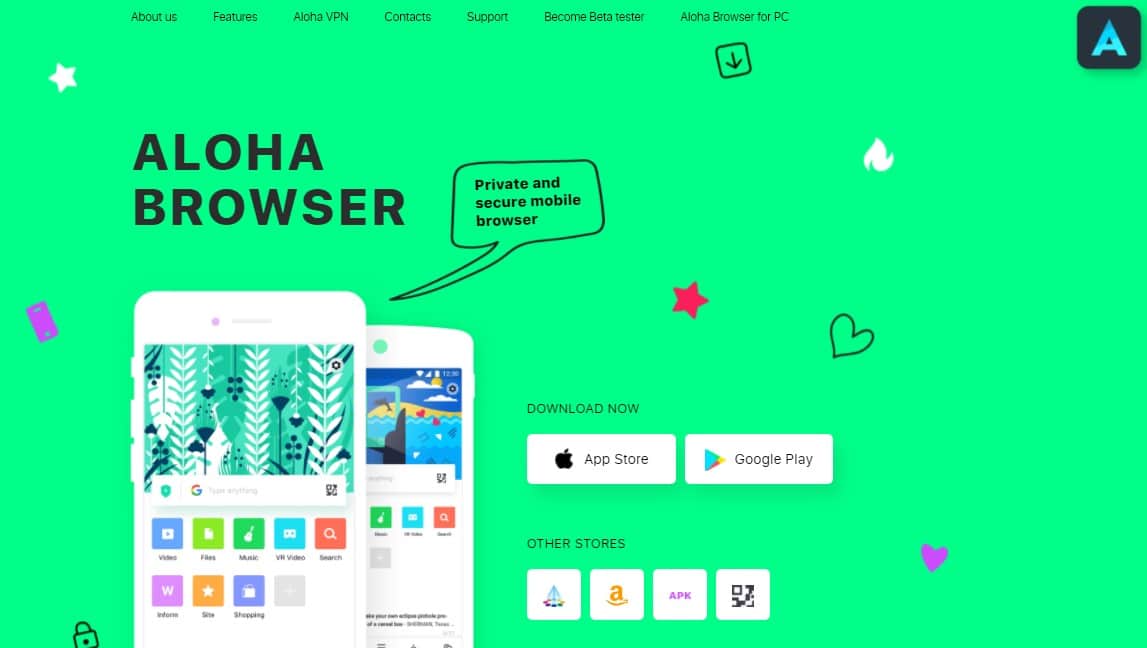 Aloha Browser is a great browser app that will give you a fast browsing experience for Windows 10. Aloha developers created this browser, and since its lunch, it has garnered more than 1 million downloads. It is not just speed that makes this browser thrive, and it also offers you a safe path to explore the internet world without fear of being tracked by any government or agency.
This security is assured as the browser comes with a default Virtual Private Network, which allows you to hide your identity on the web and remain undetected. Thus, you don't need to install another VPN when using this browser on Windows 10. Aloha Browser is one of the best browsers out there.
---
13. Ghostery Privacy Browser
Ghostery Browser is a free browser for Windows 10. This browser will help accelerate your browsing speed, privacy, and security. This app's strategy to increase speed is detecting and prohibiting tracking technologies on any site you visit. This is because the activities of trackers reduce the speed of your browsing. Thus, Ghostery Browser protects your information and lets you browse the internet faster and safer.
The only downsides to this app are that you must have an active Microsoft account before downloading the browser. Also, the browser may be restricted in some countries. Thus, you have to be sure there is no geographical restriction before you try to download it.
---
14. Maxthon Browser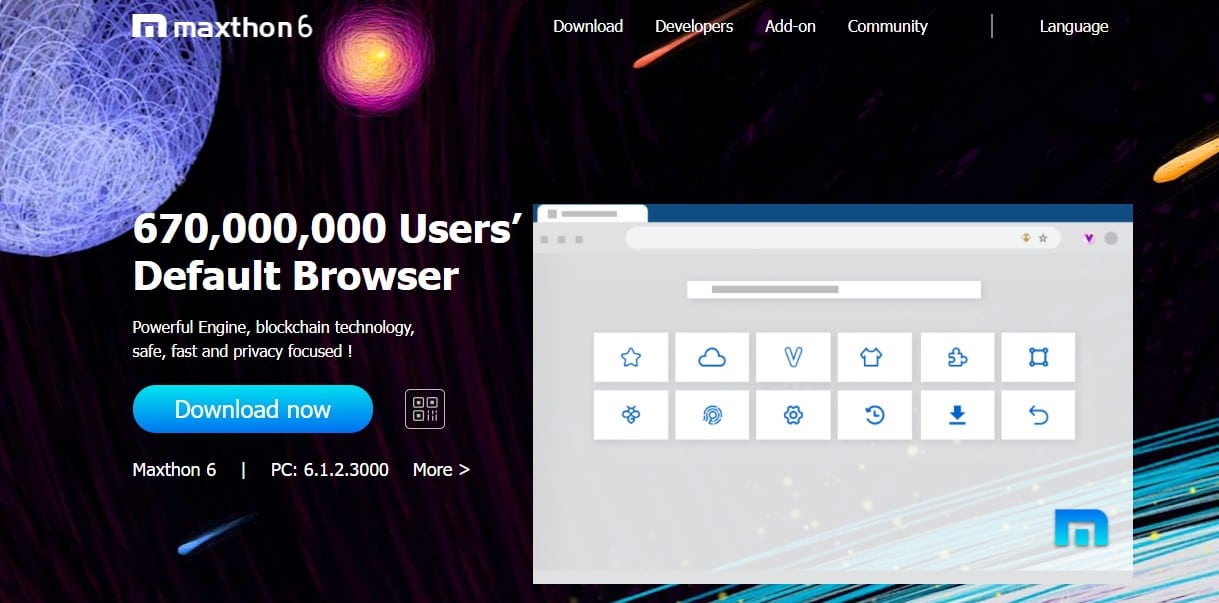 Maxthon Browser is a fast and secure browser that is compatible with Windows 10 64 bit and32 bit. It is a free web browser that has been duly recognized as "Best Browser" for three consecutive years in the past. The browser allows you to use the internet with relative ease.
Maxthon Company is responsible for app development. One good thing is that you won't find annoying ads and pop-ups when using Maxthon Browser. Thus, you get a hitch-free browsing experience. The browser allows you to download videos online easily and supports offline viewing. Therefore, we highly recommend that you use it on your Windows 10.
---
15. Puffin Secure Browser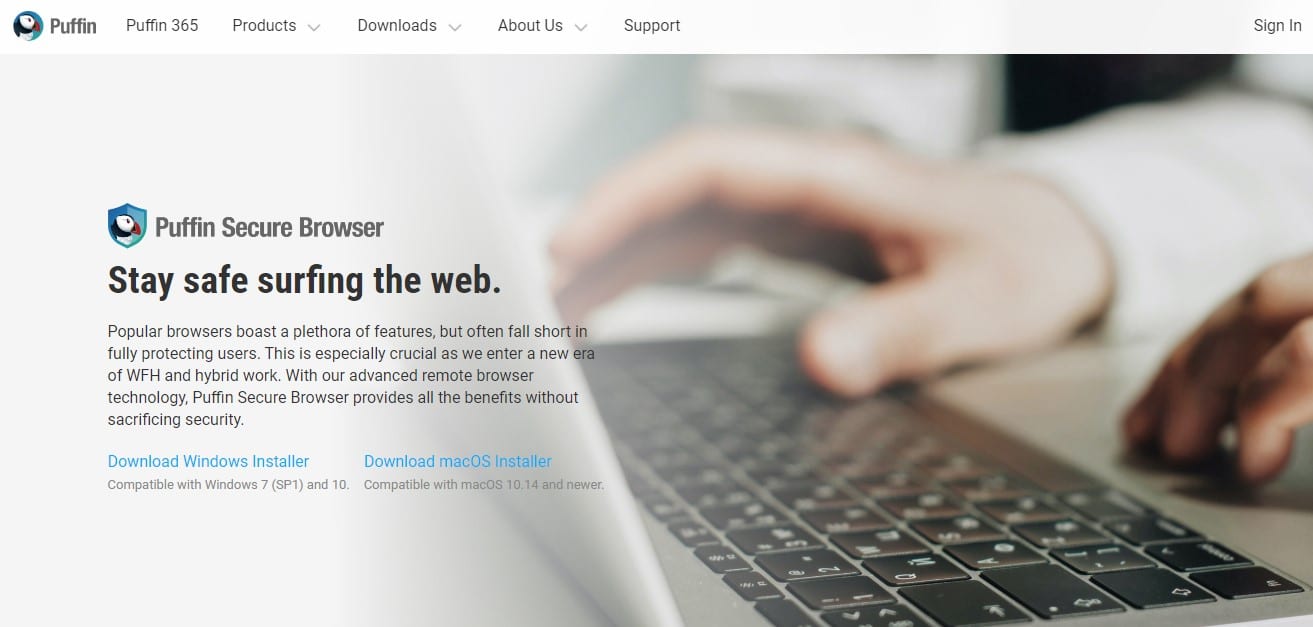 Puffin Secure Browser gives you speed, something that most web users are more concerned about than any other aspect. This browser is a good fit for your Windows 10. The browser allows flash pages since it comes with Adobe Flash. This browser nenables you to browse the internet through the cloud.
Within this app, you will find a compressing feature that increases your browsing speed by compressing pages. You can modify aspects like video quality, image quality, resolution to economize data and speed up the process. This app will work well for anyone running on a strict data budget.
---
FAQs
1. Which Windows 10 browser app should I try?
All the browser applications we have listed above are competent enough on Windows 10. But some can show more sophistication than others and may have some features that are absent elsewhere. Thus, you should know what your preferences are before choosing a browser for Windows 10.
2. Can the apps above help me browse my favorite sites on Windows 10?
All of the browser apps we have given above work well on Windows 10. Thus, they can help you access your favorite sites on your PC. The only thing is that each browser app has different features, modes of operation, and packages. Thus, you have to find the one that suits your needs the best.
3. Which is the safest browser for Windows 10?
Most of the browsers we have seen on the list above possess one form of security and privacy feature or another. But if we choose from the lot, Mozilla Firefox and Brave Browser seem to be the two better options. Some browsers may offer great security but fail woefully in other aspects. Thus, you should find a browser that exhibits a balance between all the needed qualities a browser should have.
4. Is Google Chrome the best browser for Windows 10?
We can't dispute that Google Chrome takes its place when the best browsers are mentioned. Nevertheless, some couple of browsers has surpassed Chrome in performance over the years. Why Google Chrome seems to lead the way is because of its popularity among users. The browser is also reliable and has built a good reputation for itself over the years. And since a greater chunk of the masses relies hugely on Google services for their internet need, Chrome is more like the best option there is.
5. Is there a browser better than Chrome?
Yes. We have seen what the Edge browser is capable of, and we believe it can match chrome pound for pound. If you consider battery and RAM management, you will discover that the Edge browser beats the Chrome browser in those aspects. Aside from that, the Edge browser is fast too, and since it is a chromium-based browser, it has access to the Chrome Web Store, where it can download extensions just like Chrome. And in addition, it has the Edge Add-On Store too. Thus, we believe the Edge browser is better than Chrome.
---
Conclusion
We have come to the end of this article on the best browsers for Windows 10. There are many qualities we look for when deciding on a browser. These qualities include speed, efficiency, security, and privacy when browsing, contributing to a seamless experience.
Some of these web browsers offer you basic features that meet your routine needs. In contrast, others come with sophisticated tools that offer you security by protecting your information from falling into the wrong hands. You have seen how most of these browsers work and what features and tools they come with; thus, we are sure you will find the web browser that best suits your Windows 10 needs.