Are you a fan of Roblox? Then you should consider using any of these name checkers to check whether your preferred username is available. The name should be unique to attract followers.
Roblox is a great online platform where users can play various games. Roblox is not just a single game but a platform that features different types of games made by other developers.
It is actually like Steam or Nintendo Switch, where users purchase games to play in their comfort. The beauty of Roblox is that all its games are made by its users. You have the freedom to either play or make games.
Up to now, its users have published more than twenty million games on the Roblox platform. How much better could it get? It features different kinds of games that you can think of.
Most of the games on Roblox are free. However, you can make some in-game purchases to spice up the game.
---
If you want to get an appealing username that you can use on Roblox, you should probably use the LOL Roblox name checker. It is highly accurate, and you will get the best username instantly.
Just have a list of favorable usernames and try them one by one to see which fits best. If it is available, you will be notified that the "name is probably available". If not, you will get a prompt that the"name will be available after n number of days". Therefore, you can try to use another name and see.
---
If you want a perfect Roblox username, you can use the Namechk Roblox username generator. It is straightforward, and you won't struggle with navigation. All you need to do is to have a list of the usernames that you can think of and input in the search box.
Once you search, you will get many name suggestions. This reduces the struggle of having to think of a unique name. Your only challenge will be signing up on Roblox to use it.
---
Have you figured out a name that you can use on Roblox? Well, you can use the Spinxo Roblox name checker to find an ideal name to use on the platform. You must input a name or nickname you would like to use, your likes, hobbies, important words, and much more.
Once you spin, you will get some name options that you can use as your Roblox username. Ensure it is a name you feel comfortable using while playing or making games on Roblox. Your name creates the first impression. Therefore, you need to be careful about it.

---
The Robloxden Username Generator is easy to use. However, it is more inclusive to ensure you get the best username. You first need to choose a name length, some text you would want to be included in the name, and preferred style and answer questions based on your likes.
The system will then generate a name based on what you chose. Therefore, try to answer the questions accurately to ensure you get a username that clearly shows who you are. You can also refresh as many times as you want until you get the perfect username on Roblox.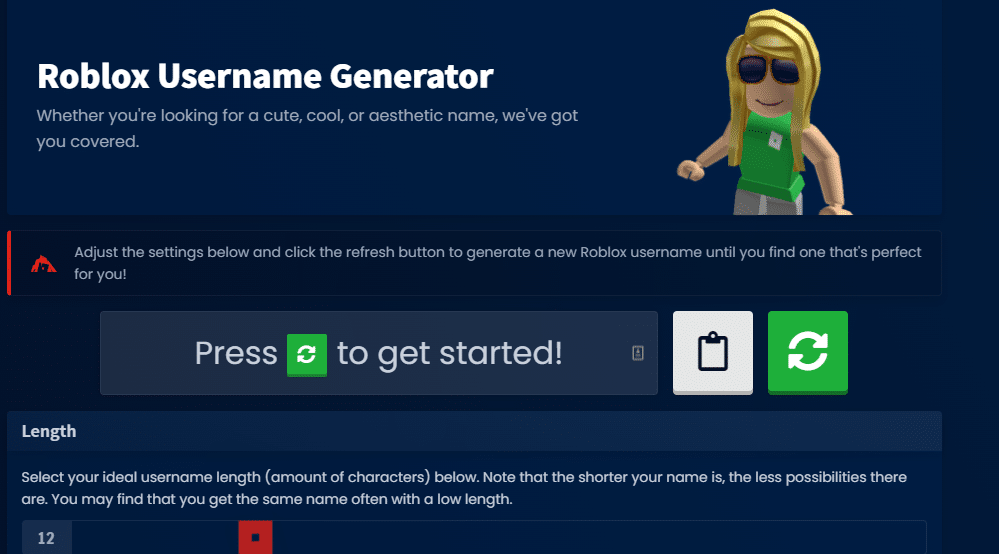 ---
Get the Most Ideal Roblox Username
It is essential to use a name checker to find a perfect name since you will save time that you would have used trying to find one. The unique name also makes you stand out from your competition. You can also utilize different word combinations.
However, you must choose a Roblox username while minding your target audience. If you want a large following, then you will need to have a cool or crazy name. However, ensure it is an age-appropriate name. If you have a brand, you can also consider staying on that line—all the best as you play the Roblox games.