WhatsApp chat generators create conversations that look 100% real. You can use fake WhatsApp chats for pranks, advertisements, product promotion, and much more.
WhatsApp has helped ease communication between people, customers, family, and friends. People actively arrange for events through WhatsApp groups and even promote their businesses in that mode.
Additionally, WhatsApp is widely trusted due to its security features, flexibility, and reliability. Therefore, it is hard for anyone to raise an eyebrow when it comes to it.
We have provided ten of the best WhatsApp chat generators that you can use to prank your friends with some information. However, don't take it too far. Just use the WhatsApp chat generators for pranking or advertisement roles only.
It won't be fair if you share some sensitive details that can lead you to trouble.
---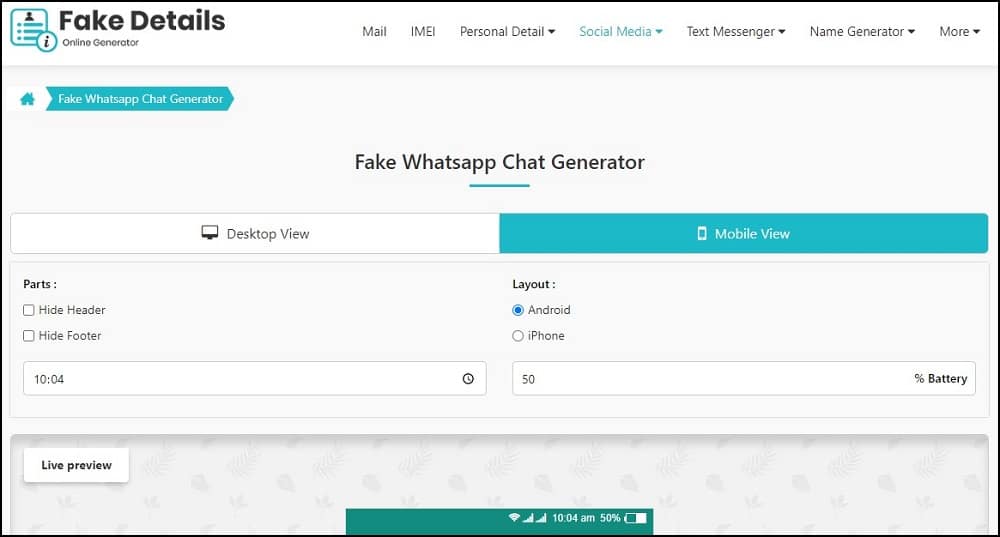 Would you want to prank your friends with a fake WhatsApp message? Then Fake Details WhatsApp chat generator will do the trick for you.
It allows you to generate a fake WhatsApp chat with your preferred customization You can change the receiver's name, profile picture, chat, time, battery charge, and add any other media. You can either customize it for a desktop view or a mobile view.
Once satisfied with the customization, download it to send to the specific recipients that you want. Don't be left out of the fun.
---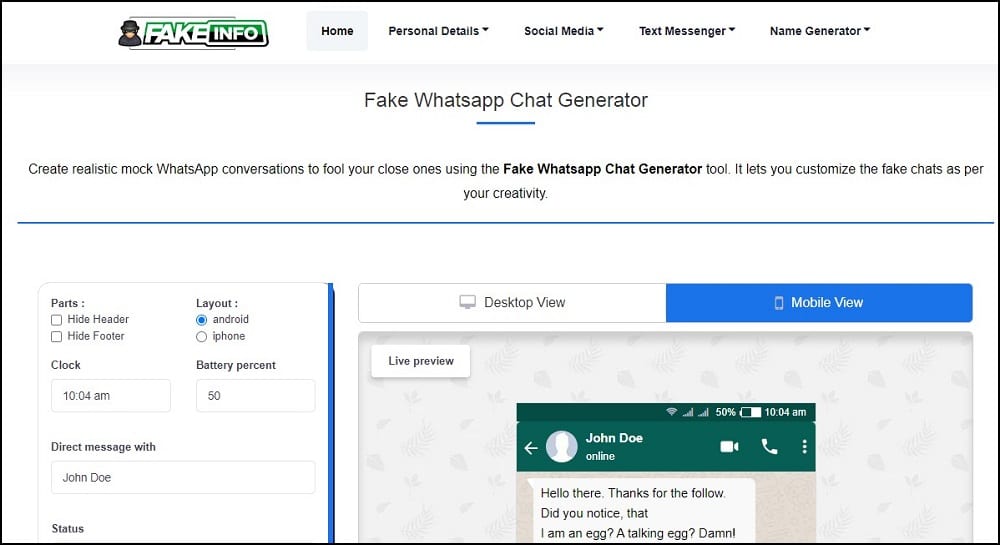 You don't have to have a second WhatsApp account to create a fake chat. You can create a fake WhatsApp chat directly through the Fakeinfo WhatsApp chat generator. It is enjoyable to use it.
You can choose an Android, iPhone, or desktop layout based on your preference. Its flexibility makes it easy to change the clock time, online status, battery percentage, and recipient name and hide the footer & header.
Additionally, you can upload your preferred profile picture to make the conversation look more authentic. Some people are clever and might not fall for your trick if the chat doesn't seem real.
---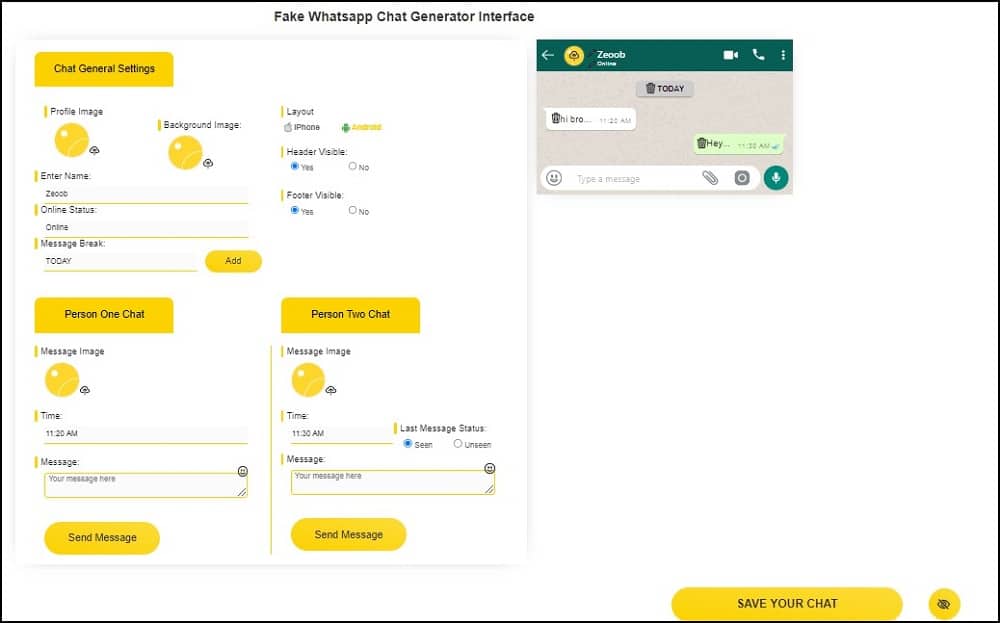 Who would you want to prank next? You can use the Zooeb Fake WhatsApp chat generator to create a fake chat that can convince your friends or family about something. The online platform allows you to add a profile image, background image, name, online status, message break, change layout type, have an invisible header or footer, and modify messages of the two senders.
The editor is easy to use, and you won't have any difficulty. It supports the iOS & Android layout, different background images, emojis, chat design, and live preview of your editing.
It can be so hard for anyone to notice that you are lying. However, you should never use the generated chat screenshot for malicious reasons.
---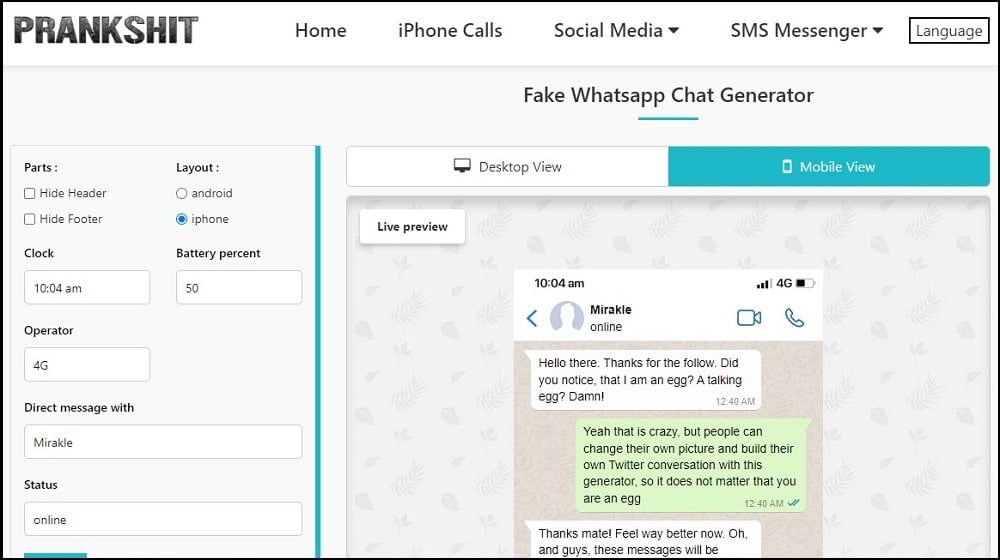 Do you want to formulate a chat and send it to someone to see whether they will fall for the prank? Then generate the perfect fake talk from Prankshit's fake WhatsApp generator. The downloaded screenshot will look like a real conversation for sure.
It allows you to change the recipient name, clock time, online status, battery percentage, and messages and hide the header or footer.
You can download the screenshot in desktop or mobile views based on your liking. So, who are you thinking of pranking next?
---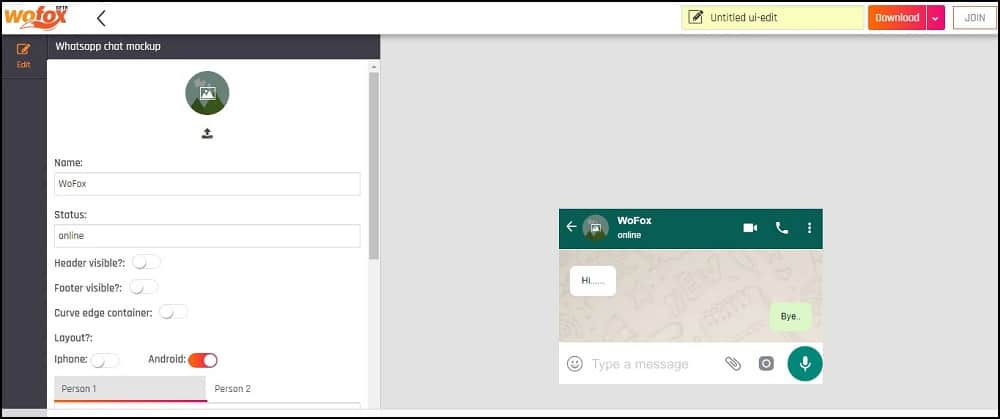 Wofox has one of the simplest user interfaces to amaze you when creating a fake WhatsApp chat. You must know the perfect prank you can use on the intended person.
It resembles a real chat, and you can edit the profile photo, chat name, status, header or footer visibility, layout, and the messages the two people send. Just ensure you customize the messages to seem like two different people if you wouldn't want to be known that you are lying.
Once done, you can download the screenshot and send it to the intended person. Remember to use the right emojis to prevent being caught with a fake chat. Just imagine the facials on your friend when they note that it was just a prank.
---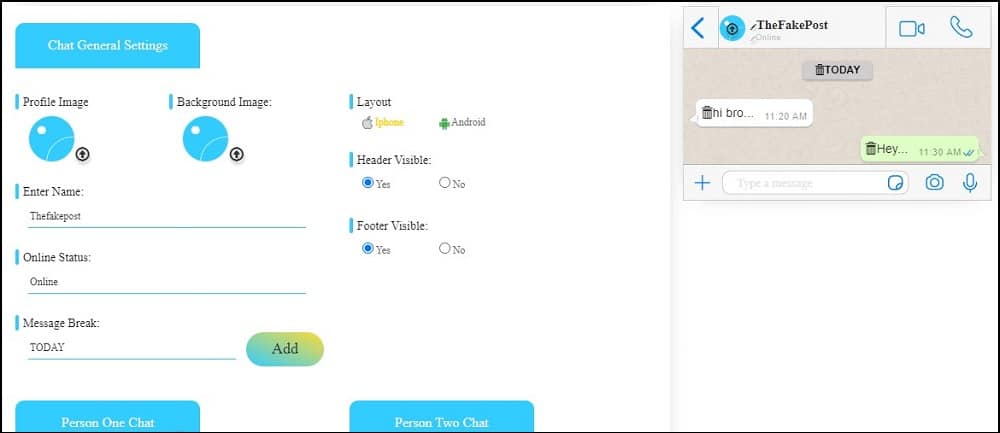 In most cases, people create fake WhatsApp messages for entertainment purposes. However, in some cases, people use them to promote products or brands by faking a chat with a specific influencer or celebrity for the products to sell.
However, it is wiser to use fake chats for pranking friends or family only, but not sharing something so sensitive that it can cause havoc. Like most ideal WhatsApp chat generators, it allows you to change the background image, profile photo image, name, online status, and message.
Social media accounts are great platforms for networking but don't use them for malicious reasons.
---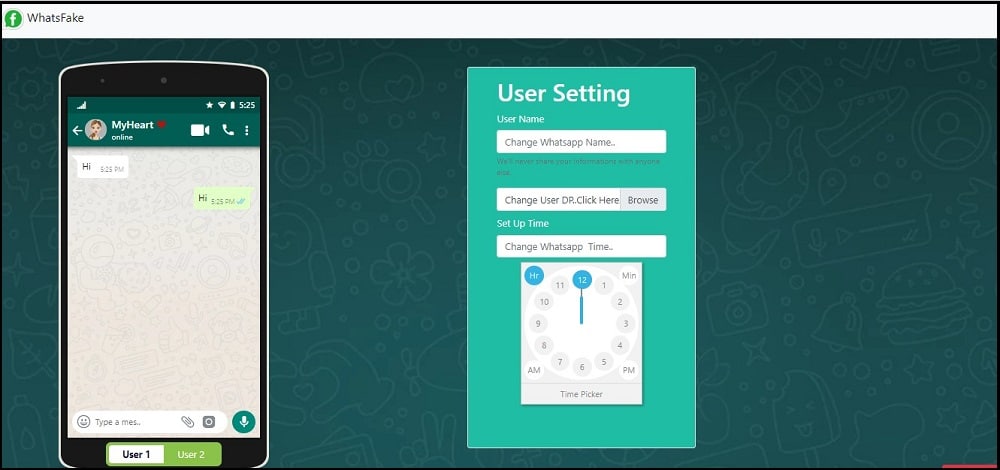 Oflox Fake WhatsApp chat creator allows you to modify the screen as you preview the changes. It will enable you to change the recipient's name, online status, profile picture, and time. Once done with the customization, you can type the user 1 and user 2 messages and make the conversation as realistic as possible.
Therefore, you don't have to worry about being known that it is a fake message. Also, remember to add any relevant emojis, GIFs, pictures, or anything that will convince the recipient that it is real. Therefore, what are you waiting for?
---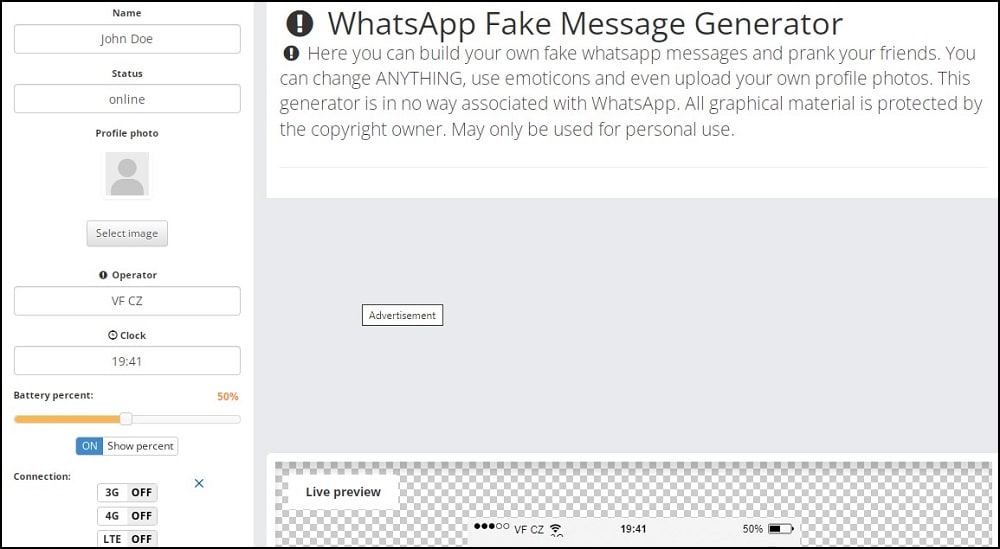 The WhatsApp fake message generator lets you build a fake WhatsApp chat from scratch. You get to modify the recipient's name, profile picture, time, battery percentage, internet connection, setting message, and the message being sent.
At the end of the modification, the chat will look real. You can add any emojis, GIFs, images, audio, or any other media you want to be displayed on the screen. You will be surprised by how hard it will be for anyone to notice the message is fake.
---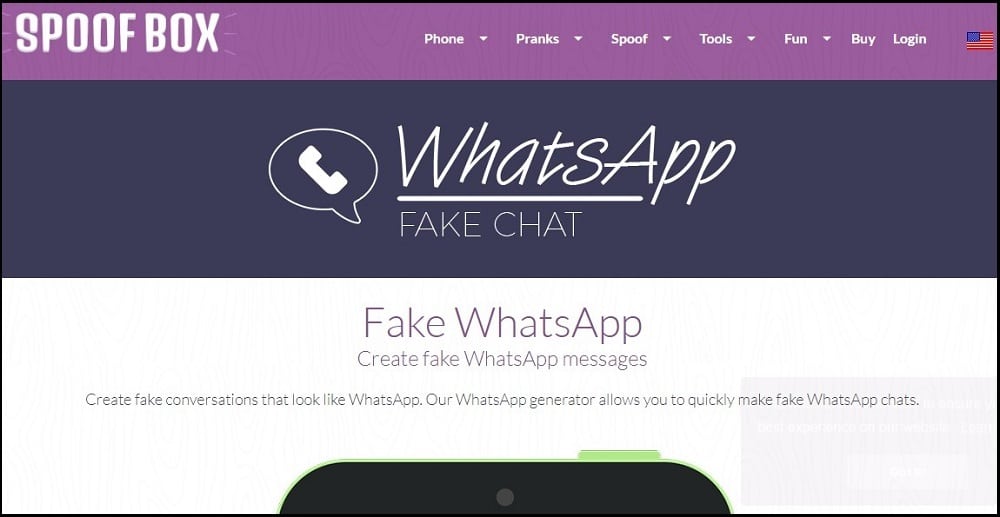 Regardless of why you need to create a fake WhatsApp chat, Spoofbox has got you covered. It allows you to create fake WhatsApp conversations between two users.  Once done, knowing whether it is a fake or genuine WhatsApp chat will be hard.
You can modify time,  delivery status, operator, battery option, and internet connection through the tool. Additionally, you can add images, GIFs, emojis, emoticons, and stickers to make it more interesting. Therefore, you can have the perfect WhatsApp chat screenshot for entertainment, to promote a product, or break certain news.
---
Who is currently on your prank list? Well, we have the perfect solution to pranking them. Why not formulate a fake WhatsApp chat that will leave your friend or family member surprised?
Regardless of the reason, you can always modify a chat to look actual and save it as an image using the Fake chat box WhatsApp chat generator. However, be sure to use it for fun and not to give fake information.
You can change the recipient's username, online status, profile picture, and time through the tool. You will get the perfect screenshot for the pranking role.
---
Prank Your Friends With Clever Tactics
If you want to prank people, you better be smart about it. How will people react when you give out some information? That's where these WhatsApp chat generators come in to help. They allow you to create fake WhatsApp chats that you can use for pranking purposes.
The downloaded image will look like a real conversation, and no one will note till you open up about the lie. Fake conversations can also help in some advertisements or entice people to buy your great product with great reviews from its buyers.
Have fun with these fake WhatsApp chat generators today!