Are you looking for the best username for your Snapchat account? Then you can consider using these username generators and checkers to ensure your brand stands out.
Snapchat is another social media network that you can use to socialize with your friends. When you join Snapchat, you can add your contact friends and even friends of your friends. Snapchat allows you to have an avatar of your face. You can then choose your body size, hair, clothes, facials, and background.
While on Snapchat, people share snaps of photos and videos. While chatting, you can decide for the chats to remain for 24 hours or to get deleted once viewed. Fortunately, you can save chats that you don't want to lose.
You also get notified when the other user takes a screenshot of your chat. This is important to ensure your privacy is not compromised. There is also the option to check your friends in nearby locations.
When registering on Snapchat, you need to have a unique username. You can use these credible platforms to check whether your preferred username is available.
---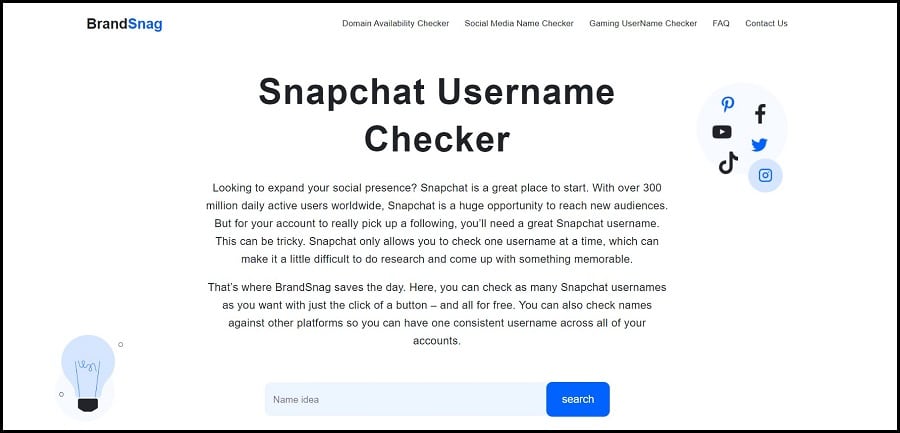 When choosing a username, you need to use one that people will remember. You need to keep it simple and not too complex. Also, try not to use special characters in the username to confuse your users.
The username needs to be consistent in different social media accounts.  This will make it easy for people to engage with you. On the platform, search for the username in the search bar and wait for the results.
You can also use Brandsnag username checker for Facebook, Twitter, YouTube, Instagram, TikTok, Spotify, and much more.
---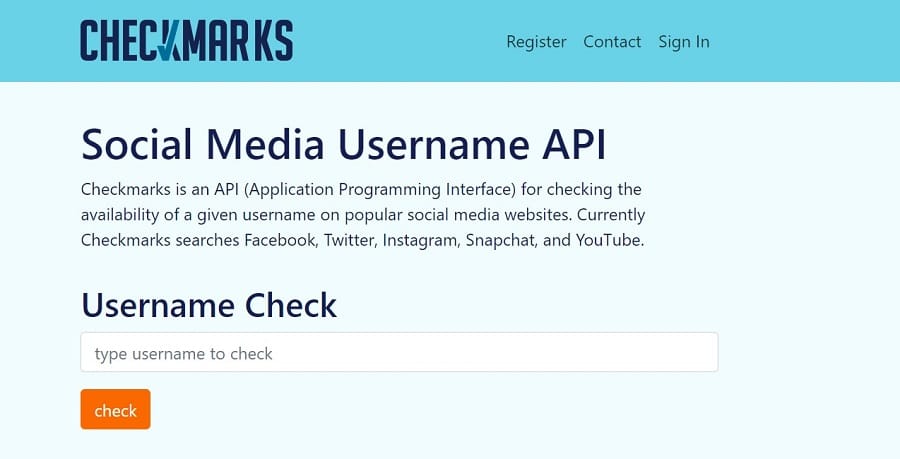 This is an API for checking the availability of various usernames on social media networks. You can use the Checkmarks username checker on Twitter, Instagram, Snapchat, and YouTube. You can either use the free option or the pro plans.
For personal accounts, the free option can work; however, if you are in business, you can choose a premium plan. To use it, you need to have an active API subscription. It may seem complex to use, but that isn't the case.
---

While on Snapchat, you need to find a username that is easy to remember. This will make it easier even for your friends to find you on Snapchat. Also, if you are building a brand, people will be able to relate to it easily, especially if the username is the same on the various platforms.
In addition, the Analyzeid platform supports over 500 websites. Therefore, no matter the social media site that you are using, you can check the username using the platform.
---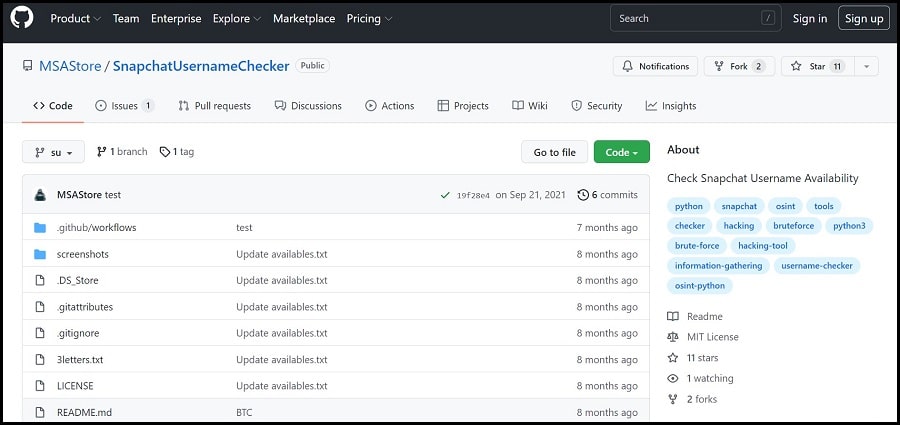 If you are good with coding or python, you can consider using this method to check the Snapchat username. However, you need to follow the procedure to get the right results.
This method is mostly recommended for those who know how to use Github. It will give you accurate results.
---

This is another service you can use to check a Snapchat username availability. In addition, you can use Checkuser to check for domain names and popular media.
You can check whether your preferred username is available on more than 70 social media sites. As a brand, you need to use one username on different platforms. This will make it easier for people to locate you.
---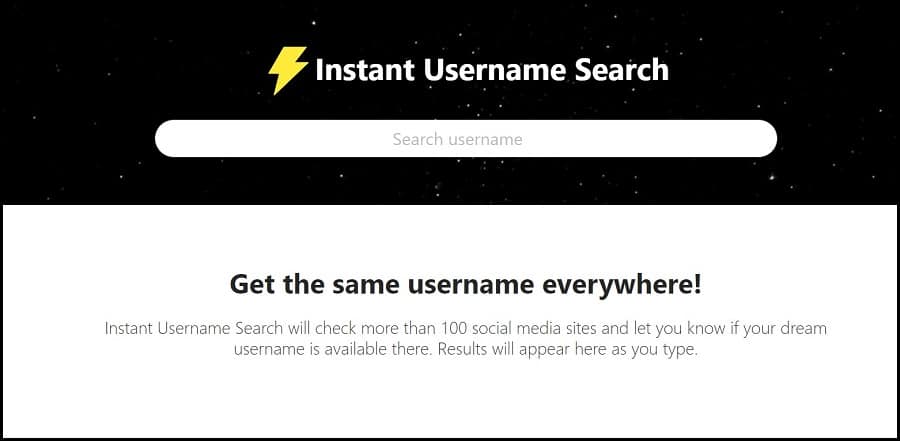 You can use Instantusername to check a username on more than 100 social media sites. When you find your dream username, you can use it on different social media networks.
Use this platform to find the most suitable username of all time. In addition, you can use your creativity to formulate some amazing usernames.
---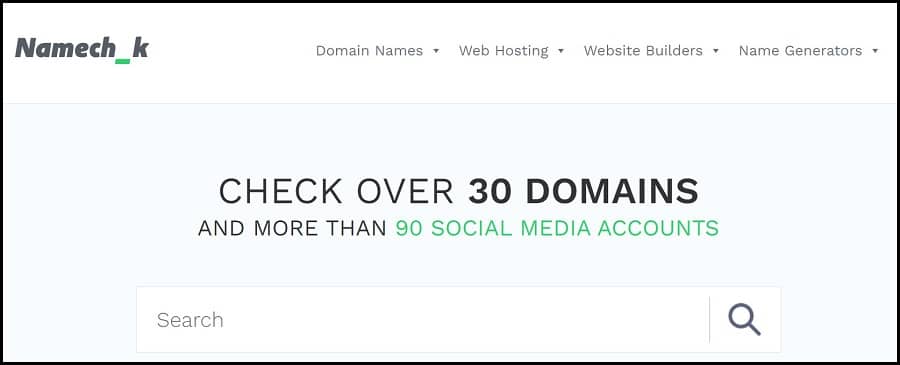 This is another platform you can use to check username availability for more than 90 social media websites. It is also an ideal website for checking domain availability.
While on the platform, start with several name ideas and search. If the username is available, it will show green; if not, the name will be dim. This will make it easier to choose another username creatively.
---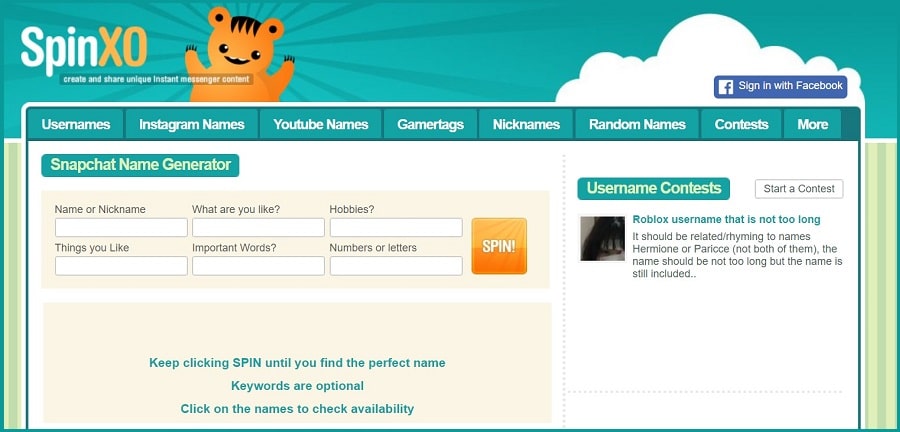 Sphinx is a unique username checker. Not only do you choose a specific username, but also type in your hobbies, interests, things you like, important words, and several letters.
The system will then search for a username that will meet your taste. Additionally, you can use it to check an Instagram username, YouTube username, Gamertags, and nicknames. What more would you ask for?
---
Change Your Username Of Snapchat
When you input a username on Snapchat, it will stick there for a year. You can only change the username once a year. Once you change the username, you can't reverse the change. This is how you can change the username:
Step 1: Open your Snapchat app, click on your profile, and select the ⚙ settings icon.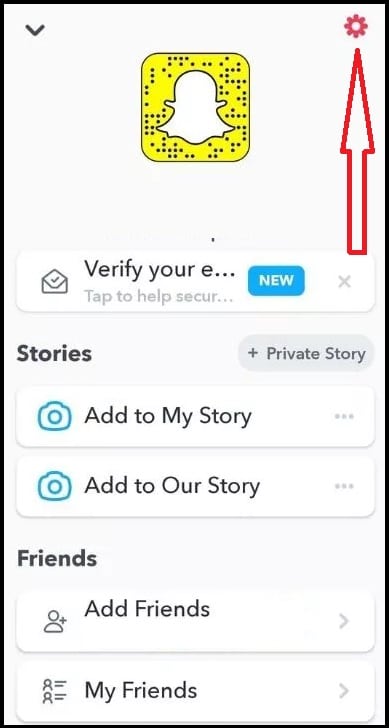 Step 2:  On the "My Account" section, click on "Username".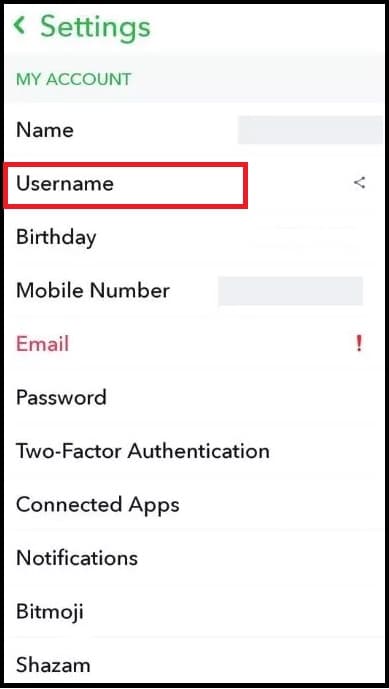 Step 3: Select "Change username". Input the new username and click next.
Step 4: Remember to confirm the username change
Step 5: That's it.
However, only change the username when it's important. Otherwise, it can remain that way.
---
Use The Best Snapchat Username Of All Time.
Snapchat is a great social media website that allows you to socialize with your friends, contacts, and friends of friends. It makes communication easy.
Also, based on your chosen settings, chats can get deleted after 24 hours, meaning you won't have too much baggage from previous chats—all the best as you choose a Snapchat username. Choose a name that stands out to maintain your friend's circle.
---
FAQ – Frequently Asked Questions
Q. Does Snapchat allow you to check username availability?
Snapchat only allows you to check one username at a time; thereby, if it is available, it will stick. You can only change after a year.
Q. Can you change your Snapchat display name?
Yes, you can change your Snapchat display name anytime. However, it is restricted to changing your username.
Q. Are there many active users on Snapchat?
Snapchat has over 300 million active users.