Twitter viewers make it easy to view private accounts, the latest trends, latest hashtags, analyze data, get insights, stalk some Twitter accounts, and get real-time worldwide information.
Twitter is among the most popular social media networks that many users engage in. Twitter gives you the freedom to either have a private or public user account. If you have a public Twitter account, anyone can view your content without necessarily being a follower.
However, you can't view a private Twitter account not unless you are following them. That makes the disparity. Fortunately, there are specific Twitter viewers on the internet that you can use to view private content without necessarily following the accounts.
Twitter viewers can be used to check users' profiles, tweets, retweets, number of followers, active hours, hashtags, and statistics, analyze data, make user account comparisons, and check the latest trends.
We have highlighted the Twitter viewers based on their ease of use, accessibility, effectiveness, power, and features.
---
1. Muskviewer – Best For Checking Real-Time Profile Statistics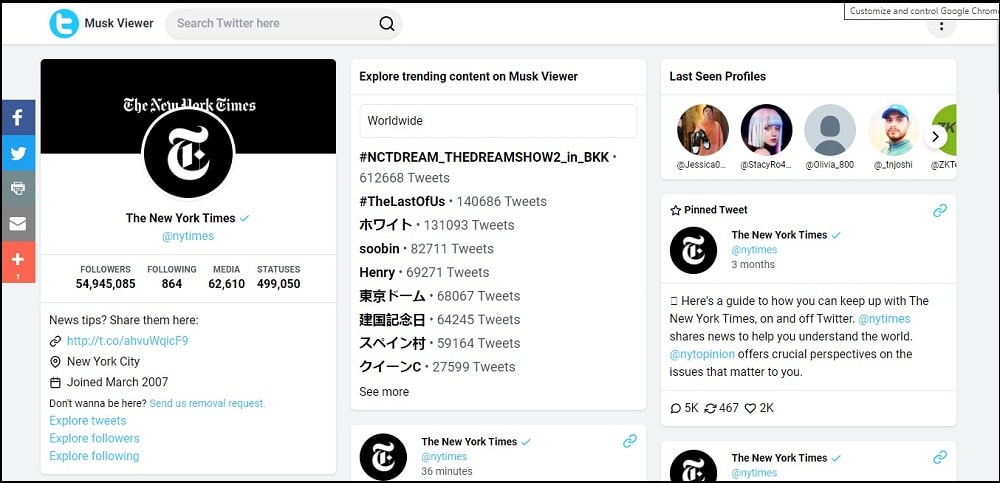 Muskviewer is the perfect platform to learn about certain Twitter accounts. The easy-to-use interface makes it easy to search for a Twitter account, and check the number of followers, following, media, tweets, retweets & statuses in real-time.
Just the same way you get to see the latest trends on Twitter, Muskviewer also shows the latest trends and current tweets. Therefore, you will always be on the know-how.
It provides information on specific hashtags or profiles that you're viewing. Additionally, you can save media from a private account effortlessly.
Features
Muskviewer provides an overview of worldwide statistics.
It allows users to search on Twitter to find detailed information.
It shows the most sought user profiles.
If you have a private account, you can send a removal request to Muskviewer.
It is free to use without needing to sign up.
---

TW stalker is the perfect Twitter web viewer for checking Twitter profiles and analyzing trending hashtags, trending topics, & places. TW Stalker checks both private and public Twitter accounts, therefore, you will get an all-around search.
Additionally, it allows you to download media inside a tweet. It is the perfect stalking Twitter search engine!
Features
It doesn't require any sign-up or login to access the service.
TW Stalker makes downloading media easy.
It shows the latest trends based on your country.
It shows the most famous Twitter profiles.
---
3. Sotwe – Best for Checking the Latest Trends in Your Country.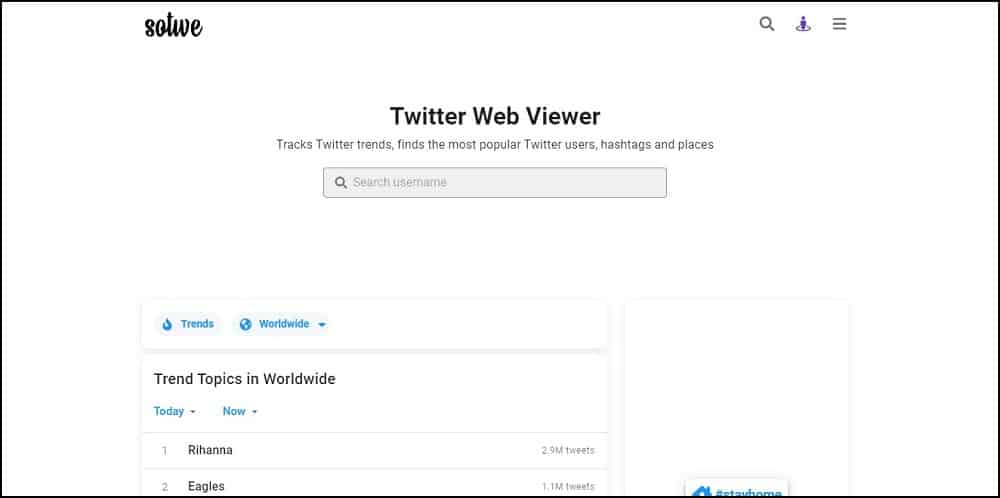 Sotwe works almost the same as TW stalker in that you can use it to find the latest trends, hashtags, profiles, and places. With Sotwe you can search for a specific username and find relevant information on the same.
You can also filter the search based on your country to know the latest trends. It shows the latest trending topics and current tweets about them. Therefore, you will always be updated on what's going on. It has a few ads, however, you can maneuver easily within the website.
Features
It shows some of the most popular profiles.
Sotwe shows the latest hashtags in your country or worldwide.
It allows you to view any Twitter profile in your comfort.
---
4. Tweetbinder – Best Twitter Hashtag Analytics Online Tool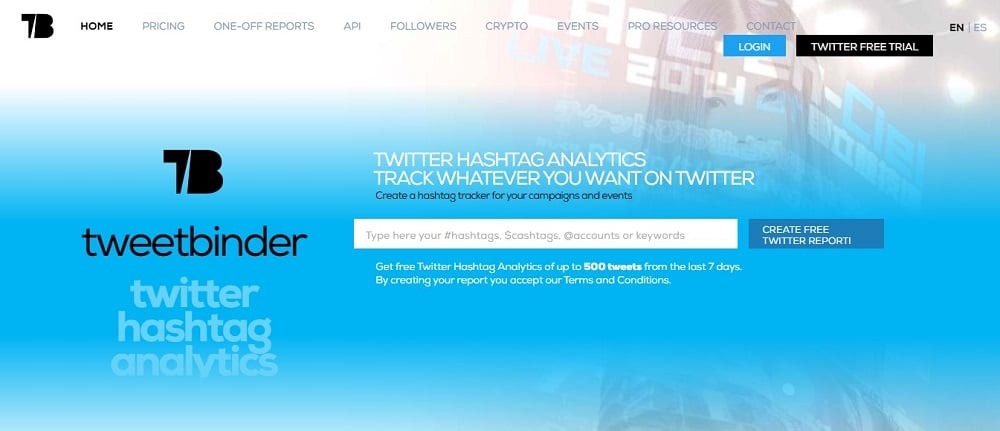 Tweetbinder is a popular online tool mostly used to analyze Twitter accounts' tweets and create reports from the analysis. The Tweetbinder online tool lets you track whatever trends you want on Twitter.
Furthermore, it comes with different packages; the free trial version offers up to 500 tweets from the last 7 days, the 30-day version provides 35,000 tweets/reports, any date range analysis provides up to 140,000 tweets/reports and the 1-year version provides up to 100,000 tweets or reports.
Features
Get as many reports or tweets of up to a year,
Easy data exportation
Get advanced account statistics.
Easily get data based on hashtags, trends, accounts, or keywords.
It can be used by individuals, SMEs, and large companies.
---
5. Foller – Perfect For Gathering Public Profiles Analytics.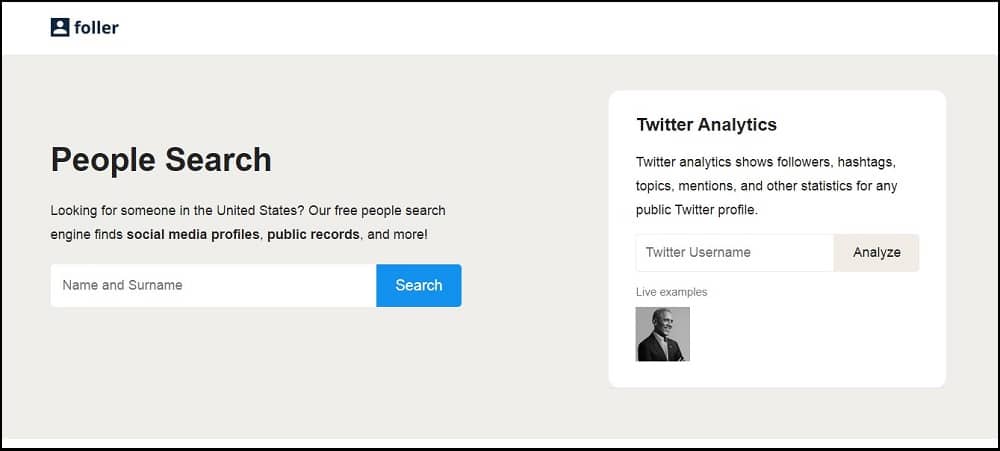 Foller is an effective Twitter viewer that makes it easy to view public profile analytics. You just need to insert the username and analyze.
Once analyzed you get information on their location, language preference, joining date, profile URL, followers, following, ratio, tweets, listed, tweets with mentions, tweets with hashtags, replies, most linked domains, Twitter usage, and activity time.
Features
It provides real-time information about a Twitter user.
It mainly provides information that is allowed to be in the public domain.
It is free to use without needing any sign-up or login.
You can use it to check activity frequency to know the best time to get in touch with the Twitter user.
---
6. Backtweets – Best For Checking Old And Recent Tweets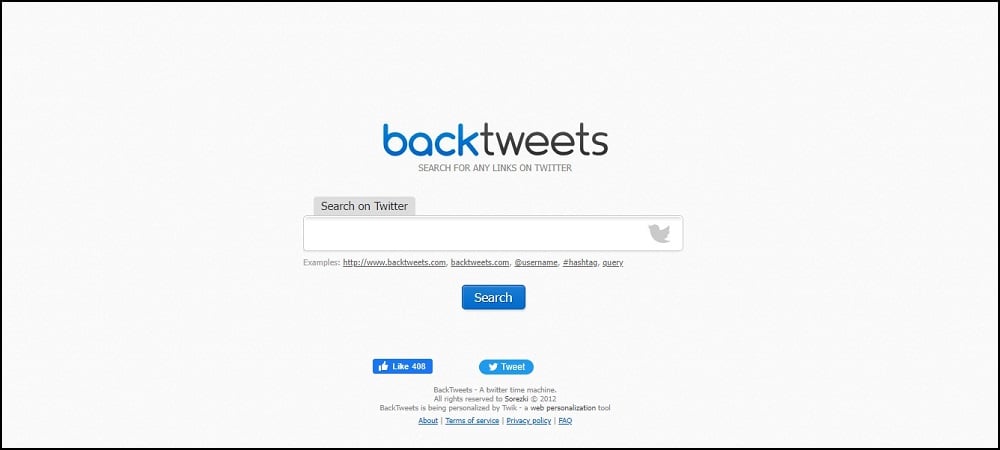 BackTweets is a remarkable online tool that can be used to search through tweets history or those that link back to your website. It is like a database machine that searches for all relevant results based on the username, URL, keyword, or hashtag.
The Backtweets platform makes it easy to get an overview of Twitter results. Therefore, you can know what people are saying about you or your brand.
Feature
It provides the latest tweets and even older tweets.
Get an analysis of the tweets about your website.
It is an easy-to-use free web online tool.
---
7. Profileviewer – Perfect for Getting Twitter Users' Data.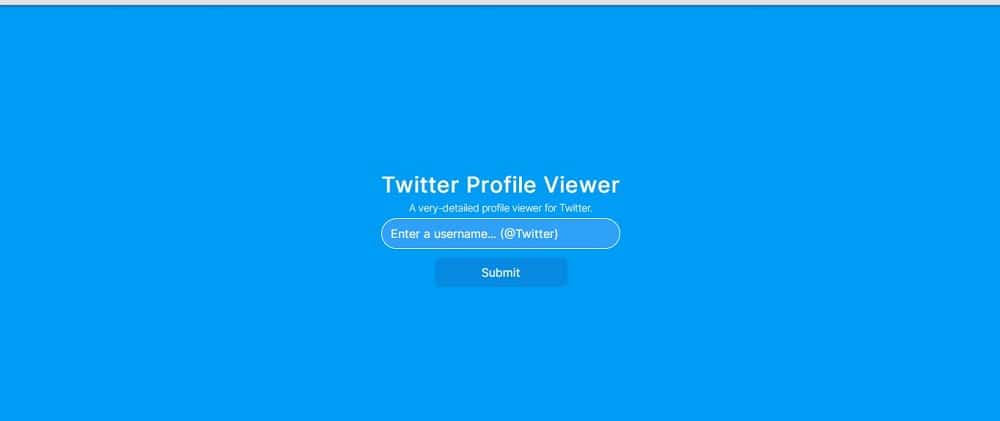 The Twitter profile viewer uses an API to fetch data based on a specific user. Therefore, you can have a list of Twitter users and derive their data through the website in real-time. You just have to be exact about the username to get the correct data.
Features
The easy-to-use interface makes it easy to search for as many users as possible.
It provides real-time insights about specific users.
---
8. TSP Viewer App – Best App for Viewing Twitter Activities on the Phone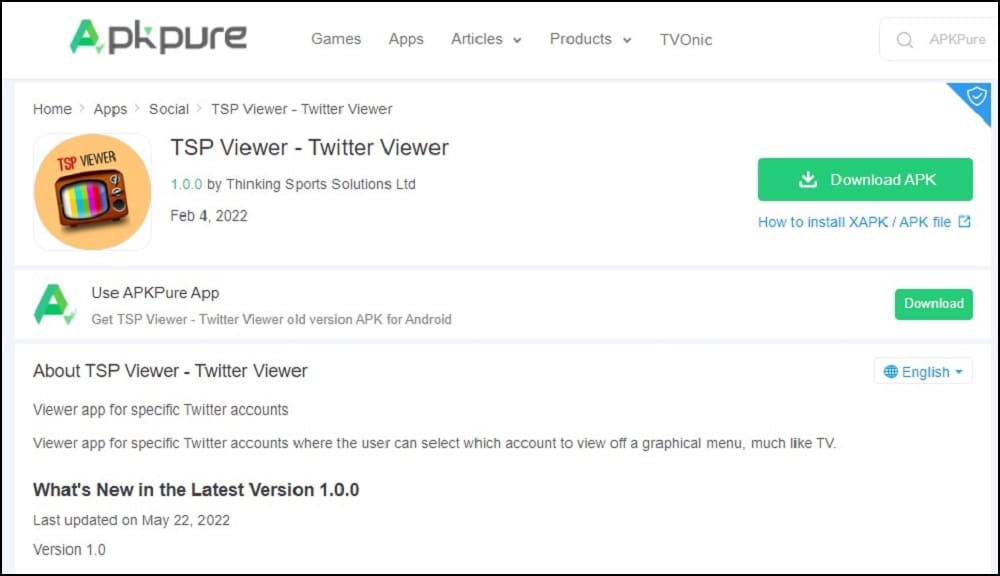 The Twitter viewer app can be downloaded on third-party platforms or Playstore. Once downloaded, you can install and start checking different users' profiles. Therefore, you can check their recent Twitter activity, tweets, media, and much more.
Features
Get to see different users' Twitter account details in real-time without necessarily using Twitter.
Since it is an app, you can use it in the comfort of your phone.
---
9. Followerwonk – Best Online Tool For Twitter Analysis, User Comparison, And Tracking Follows/Followers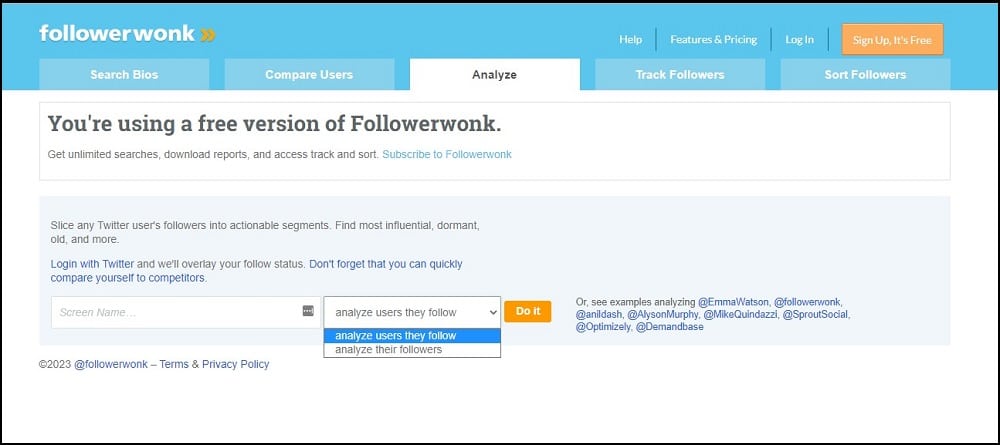 Followerwonk is an ideal platform that you can use to make unlimited Twitter searches, get detailed reports, and track. By just searching usernames you can get an overview of their tweets, following, followers, real name, screen name, Twitter account age, and authority.
You even get a chance to compare different users' followers and following. Additionally, you can use it to analyze a specific user's followers and the users that they follow. You can also track users to know how many followers they have gained within a certain period or who they have followed within a certain period.
Furthermore, you can sort your Twitter followers and following based on name, days on Twitter, Twitter count, and much more. The different pricing packages will allow you to see followers' locations, see what tweets they engage with, know when followers are active, and other features.
Features
Analyze Twitter users' data.
Compare users.
Sort Twitter users.
Track users.
Get an overview of tweets.
---
10. Tweetsmap – Best For Commercial Purposes For Twitter Analysis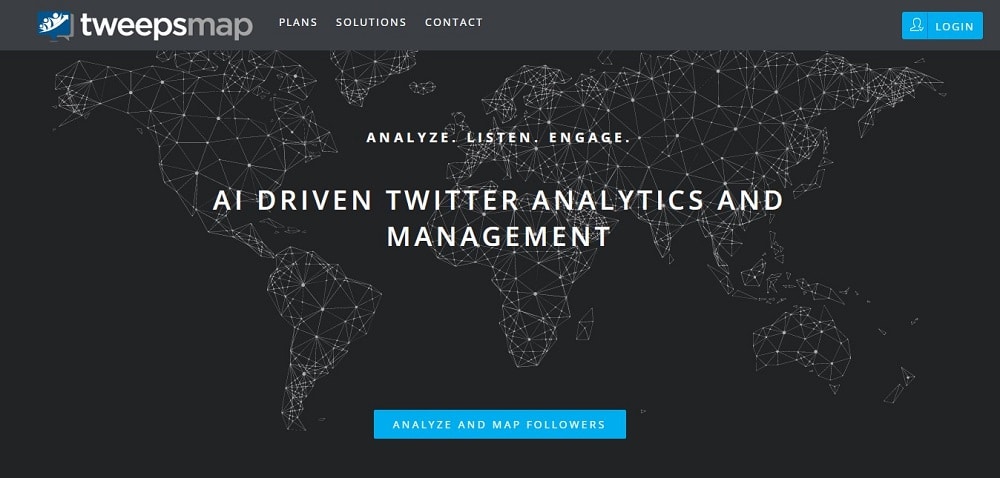 If you are looking for a commercial solution for getting Twitter analytics, Tweepsmap is the perfect online platform for you. It guides you on how best to engage your followers and the best publishing time based on the got analytics.
Tweepsmap makes it easy to understand topics based on location, explore keywords, and measure the reach & impact of any tweet. It allows you to know where your followers are from, segment your followers based on their identity, and build your Twitter community/sphere.
Additionally, Tweepsmap can be used to get reposts in real-time, explore hashtags, explore keywords, get tweet alerts, and measure impact & reach.
Features
Get real-time information on what your followers are discussing, your sentiments, and
It features a post scheduler to make it easy to post at a specific time, automate sharing, and build segmented content.
Get insights on the best time to tweet when your followers are most active.
Get to analyze the status of your Twitter account.
It makes it easy to analyze influencers, learn more about competitors, and get new business leads.
---
11. Twitonomy – Best For Analyzing Your Twitter Followers' Growth And Insights.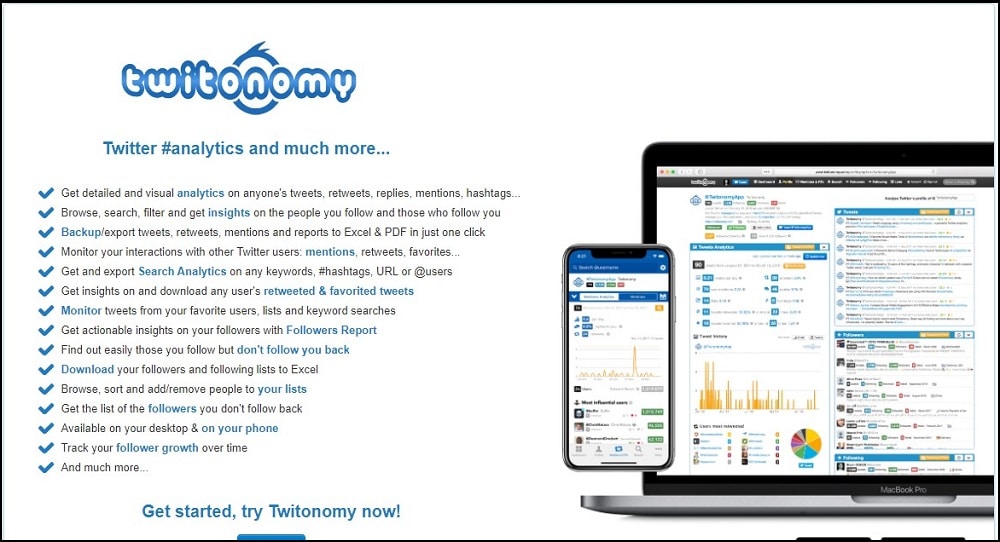 Twitonomy is another great Twitter viewer that makes it easy to get analysis on anyone's tweets, retweets, replies, mentions, and hashtags. Additionally, it can be used to get detailed insights about your followers and following.
Furthermore, you can use it to back up or export data such as tweets, retweets, mentions, and reports in Excel or PDF format.
Features
Easily monitor user interactions with other Twitter users.
Easily export analytics or keywords based on various users or URLs.
Easily find out those you follow but don't follow your account.
Download your followers, remove or add people to your lists, and even track your follower growth.
---
FAQ – Frequently Asked Questions
Q. What is the benefit of using Twitter viewers for a business?
Twitter Viewers can help you know when your audience is most active to know the best time to tweet. Most of them also provide insights and analysis on how your account is fairing. Therefore, you can know what strategies to put in place to increase your following, reduce losing followers, and make better marketing moves.
Q. Are the Twitter viewers' online tools accurate?
Yes, Twitter viewers are accurate and provide real-time analysis of the user profiles, hashtags, trends, and other information based on what you search for.
Q. How can I view a private Twitter account?
You can view private Twitter accounts through the Twitter viewer's online tools. Regardless of whether you are following a private account or not, you can easily view the account's data.
---
Increase Your Engagement On Twitter In Real Time
Twitter is one of the most popular social media platforms that most people love using. These Twitter viewers can come in handy whether you want to boost your personal account's Twitter engagement or for your business.
At times, you may blindly tweet without actually knowing whether anyone is going to view the tweet. Therefore, you can use any of these free/premium tools to get the right insights and analysis based on various trends, hashtags, and other information worldwide.