Instagram frowns a lot at automation but does allow the scheduling of posts. If you need to schedule your posts, then there are apps for you to do that. The article below describes some of the top 25 free Instagram schedulers in the market.
Instagram has come to stay, and the sooner marketers maximize this rewarding social media platform for marketing, the better for their businesses. Instagram is a big space for marketing; thus, marketers are deploying all their marketing arsenal to actualize a befitting ROI.
Having monthly active users of 1.39 billion portrays Instagram as one of the top giants in the social media space. These active users could be influencers, brands, outright marketers, or regular users, each one spending time for different purposes.
Sometimes, these users' schedules can get bulky, and some of them have to let go of one activity and focus on the other. Having to deal with daily activities and making Instagram posts could sometimes be draining. Why not just schedule your posts to be posted at specific times?
In this article, we have curated the best 25 free Instagram schedulers to help you time your Instagram activities when you want them. These tools help you put your posts out there even in your absence and just at the time you want them to.  Now let's check out the various schedulers in no particular order and find out how they work!
---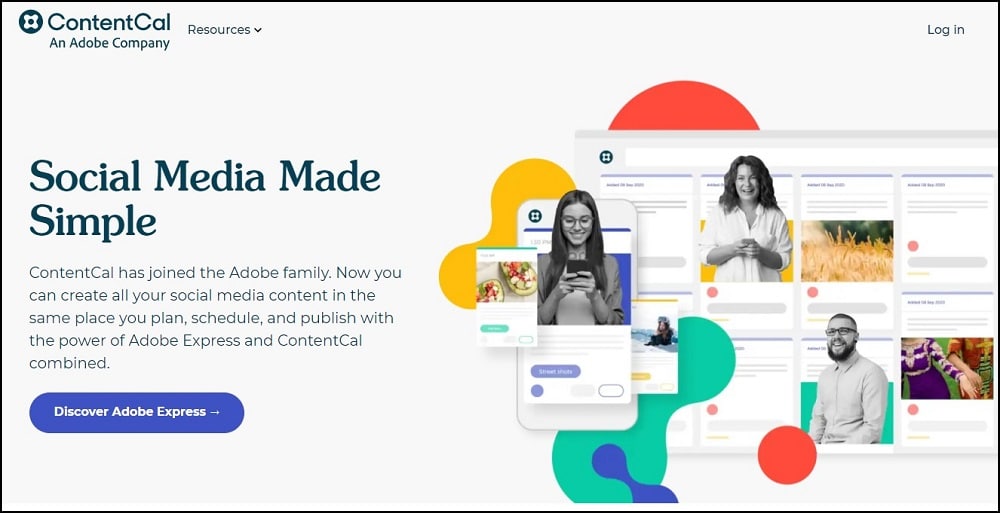 The first on our list is Content Cal. An absolutely free Instagram scheduling tool that helps brands, marketers, influencers, and other users being their businesses to the fore with the content planning. It helps schedule your content for an appointed time and date and posts it just at the time you appointed.
The app works with user permissions and streamlines the approval process helping you manage more than one account in one single place. That, however, is not the most interesting feature of Content Cal; the most interesting feature of this app is that it avails you of huge Instagram template posts exceeding 10 thousand. These templates could be modified and used by you and are sure to generate the desired engagement.
---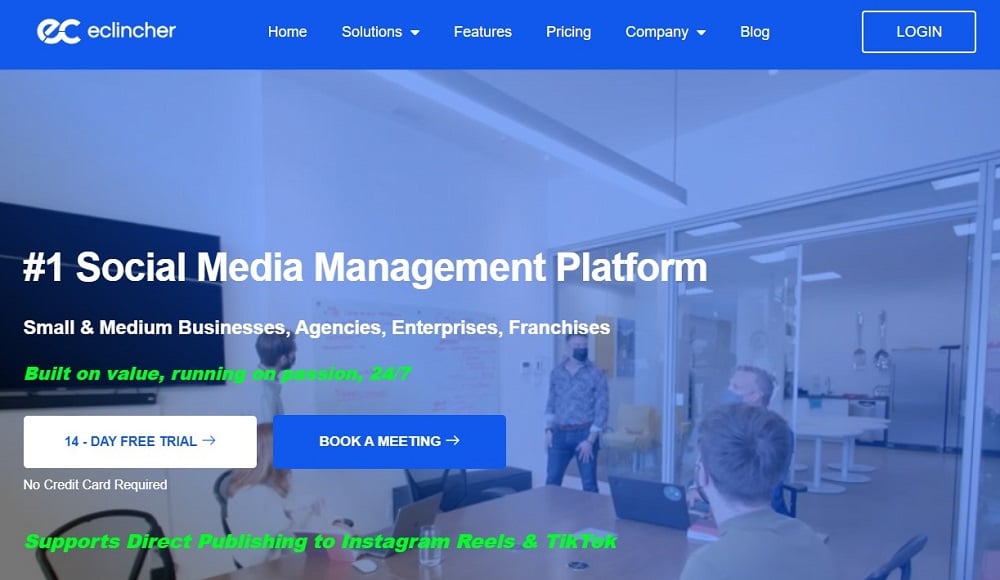 Eclincher is definitely a household name in the scheduling apps industry. Schedule your posts, videos, Stories, etc., with its visual calendar and scheduler feature on various social media platforms and at a time when the engagement rate will be high, based on real data. It is suitable for small and medium-scale businesses.
It allows bulk scheduling uploads of contents all from CSV and excel files. What this means is you can plan and schedule your posts even if they are more than one, at the same time. So all you have to do is just sit back and watch your posts work according to plan. It has a social inbox engagement feature that allows you to engage your audience across all your social media accounts via inbox.
---
Popularly known for being an SEO toolset, Semrush also doubles as a social media scheduling tool, and the thing is, not many users know about this. Semrush is an absolutely free and excellent Instagram scheduling app that lets you plan the timing of your Instagram posts, and you can get semrush PRO 30 days free trial.
One interesting thing about Semrush is that it suggests to you when to post your content based on the activity of your followers. In other words, it suggests you make a post when your followers are most active. Semrush lets you manage all your social media accounts on the app. You can also import RSS feeds, access a built-in URL shortener, and create UTMs (Urchin Tracking Modules).
---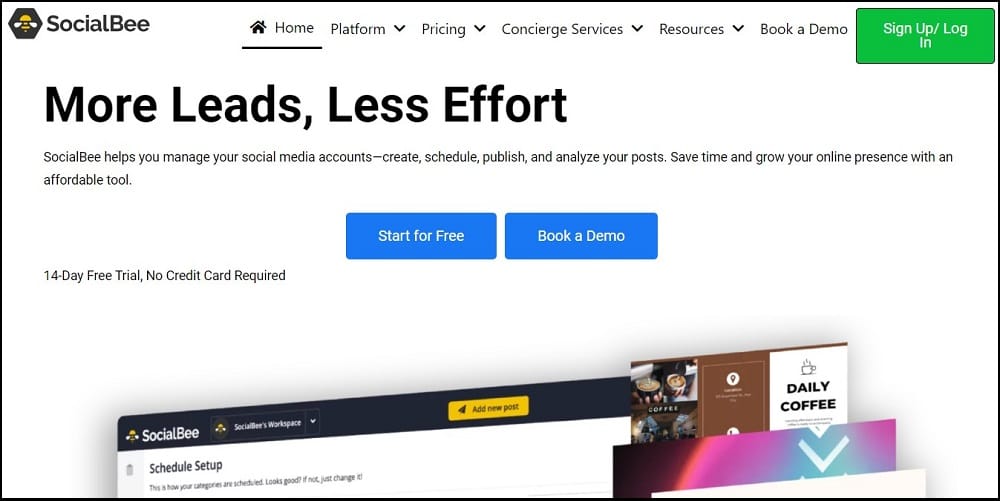 This is a tool that helps plan your content by curating them, it also provides monitoring and analytics features to help you keep track of your progress, then SocialBee is worth mentioning.
Schedule your images, videos, stories, and carousels on your Instagram. You can schedule your content under different categories, such as the Curated and the Engaging Post. You can choose to do a one-off post by expiring a post at a particular date, or you can recycle your evergreen content to be a user over and again. It has a hashtag generator that fishes out hashtags that relate to your photos or videos—as the case may be—helping you get more attention with it.
---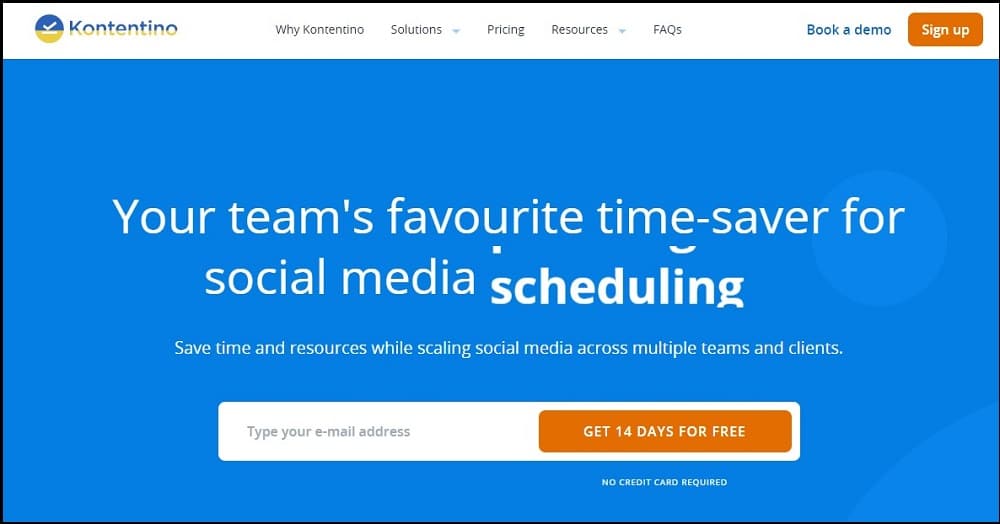 Kontentino is one of the best Instagram scheduling tools on the Internet. It helps you arrange, plan, schedule, and publish automatically, analyze and collaborate, all in a user-friendly interface. It aids in managing interactions and staying informed on your performance with its analytics tool. It is ideal for businesses that want to broaden their reach in regions and countries.
Its social inbox feature takes care of your messages from not just Instagram but all your social media accounts. In addition, like some of the tools in this article, it has a drag-and-drop calendar view which makes scheduling a lot easier. Allowing you to preview your posts to see how they would come out when you eventually post them is one of its pluses.
---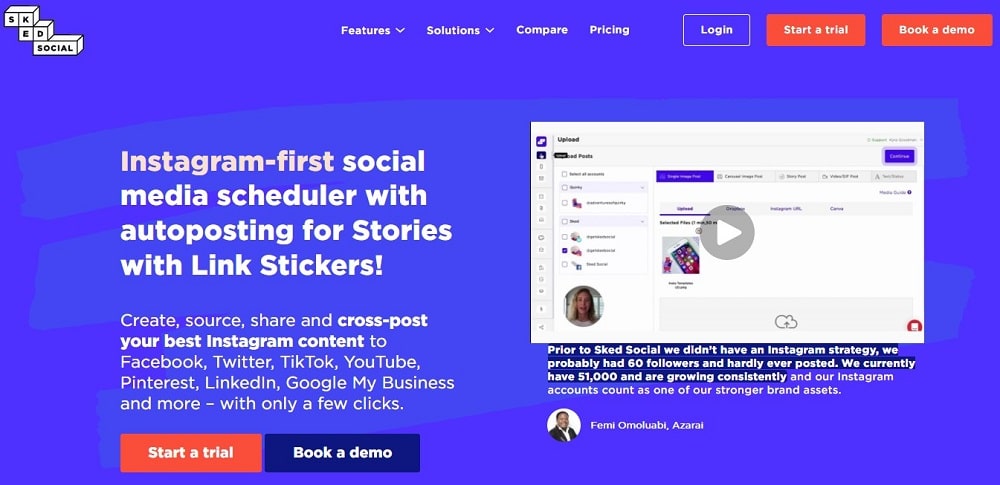 Formerly known as ScheduGram, Sked Social prides itself as Instagram's first scheduling tool. So its amazing tools are only a confirmation of its claim. The tools allow you to automatically schedule posts, stories, carousels, videos, plan feeds, generate hashtags, and analyze results from its social analytics.
The analytics reports your activities with a two-year history, making it ideal for users who intend to analyze their performance on a long-term basis. Another incredible feature that makes Sked Social stand out is that the app is available for both Android and iOS operating systems. Its dashboard has a drag-and-drop visual grid planner that helps plan your schedule neatly. Sked Social provides the post-approval collaboration feature to help you with Internet Marketing.
---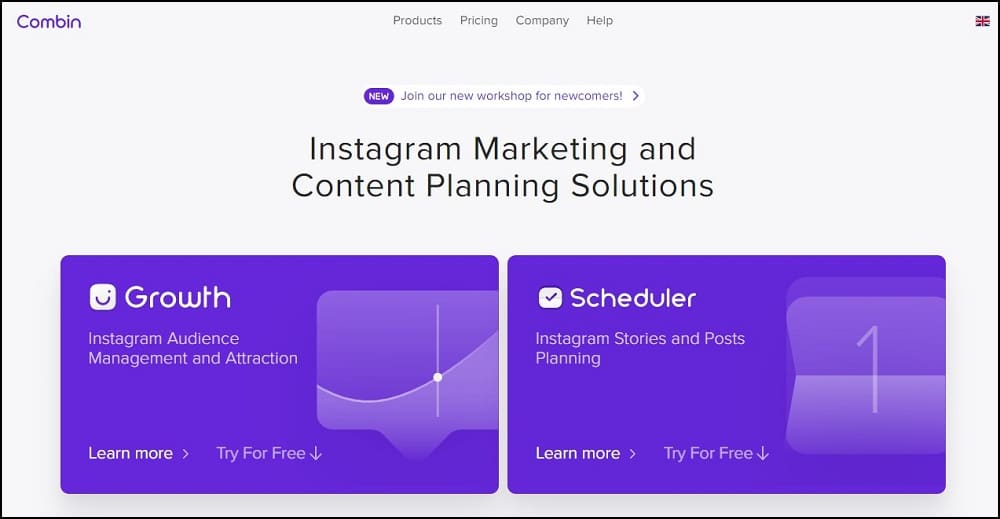 You can't take Combin out when it comes to free schedulers. Combin is ideal for both small and big businesses. This tool offers another service asides from scheduling Instagram posts, which is growing your Instagram audience.
It helps automate your Instagram posts and post them at an appointed time you deem okay. Combin does have the app, so you will have to access it from the computer by visiting their website. It is available on Windows, Mac, and Ubuntu operating systems.  It doesn't end there; Combin has a built-in hashtag search engine that helps you generate the best keywords for your Instagram posts.
---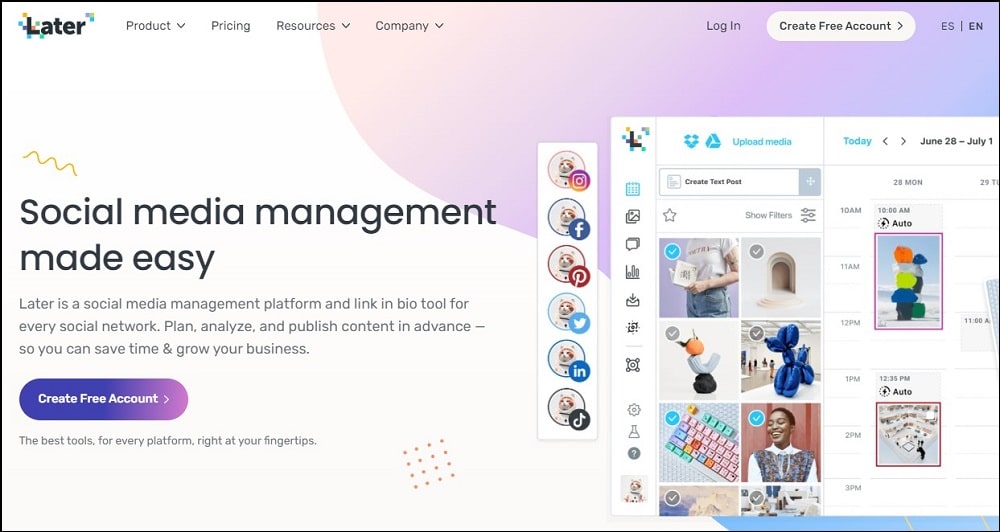 Later is a very useful tool for scheduling your Instagram posts with relative ease. With this tool, you can schedule photo posts, videos, stories, etc., as fluidly as possible. It is a free app to use in managing your Instagram content, but the free plan is limited to scheduling 30 posts per month.
This means if you are a big brand or you wish to schedule-post more than 30 posts monthly, then you might want to subscribe to the paid plans. Later lets you preview your entire Instagram account so you can have an idea of how your post will look like when you make them. Call it a good side benefit for users who want a clean and coordinated account, you will not be wrong.
---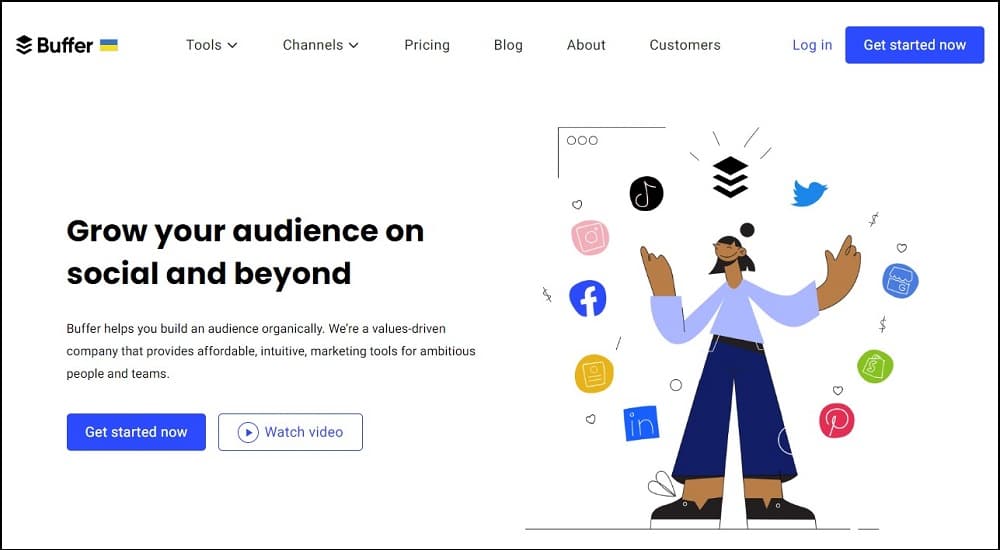 Buffer Publish has a dashboard that lets you view all your scheduled posts in the social calendar.
The app lets you schedule only a single post or video at a time for your Instagram business.
In addition, the company that created the tool summed up its four main functions as follows:
Analyzing and measuring the performance of your Instagram account.
Scheduling and publishing your posts.
Engaging with your followers via comments on Buffer Publish.
Enjoy and celebrate the potential.
Other functions of Buffer Publish involve a Giphy extension, which lets you add your picture with colorful animations.
---
Many small and big businesses that are intent on expanding their market horizon use Hootsuite to achieve that. It is the go-to tool when you are considering auto-posting and customized content creation. Hootsuite suggests the best time to let your post go out based on your previous engagement success and timing.
And although this tool has several features, the two most outstanding features are the realistic preview feature for seeing how your post looks before posting and the bulk schedule. You can also schedule multiple social contents up to 350 posts by adding the posting dates into a CSV file. This helps arrange your content neatly. It also comes with an explanation of how to prepare and upload the CSV file.
---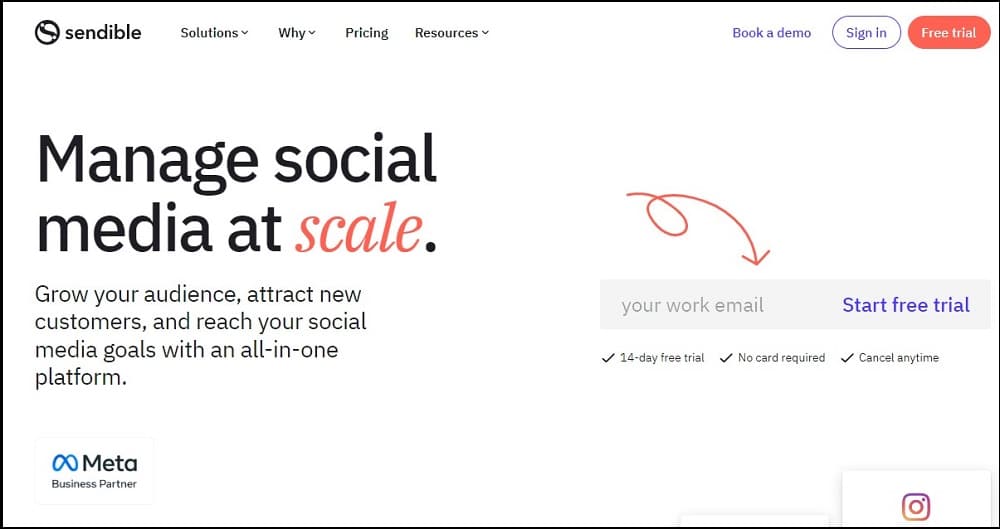 According to Sendible, over 30,000 agencies, marketers, and brand managers rely on them to amplify their brand stories. It allows you to preview your pictures before posting, just so you are satisfied with its outlook before you send it out there. It has a Canva feature that takes care of beautifying your photos. Similar to some of the tools mentioned in this article, Sendible schedules single or multiple contents, and it supports more than one social account. It also allows you to schedule posts for as long as one year ahead, so you are in charge of Sendible. Its Content Suggestion feature can help you bring up posts to engage your audience when you run out of ideas.
---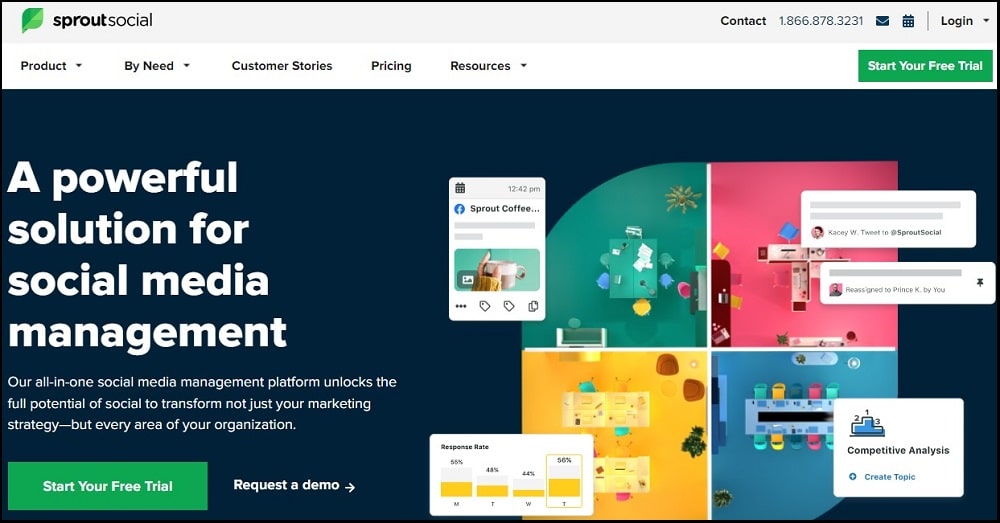 SproutSocial commands excellence with its all-in-one built-in tools that ensures you do not go to a third party. The CRM (Customer Relationship Management) is there for you to integrate with and get a prompt report in that regard. Basically, the app helps you schedule posts, respond to comments, and keep a tab on hashtags. This means you can use that time to do other things and not give your brain a lot of work to do.
Its analytics reportage is second to none. It keeps a tab on the performance of your content not just on Instagram but on other social methods platforms as well. And it sends your a PDF report and exports CSV for you to analyze and make decisions based on the results. This app can be very useful to brands, influencer marketers, or companies that are primarily concerned about how much progress they are making content-wise.
---
Being essentially built on visual appeals, ViralTag is most suitable for visual-based social platforms such as Instagram, Facebook, Twitter, Pinterest, Tumblr, and LinkedIn. This app allows you to schedule your post at the nick of time; when your followers are most active.
You can as well schedule your content for as long as one week to even one month. It means whilst your schedule lasts, you could devote that time to other productive activities and not worry about your Instagram posts. Additionally, you are provided with a built-in tool for your visual content enhancement. ViralTag comes with a 14-day free trial for individuals and small businesses.
---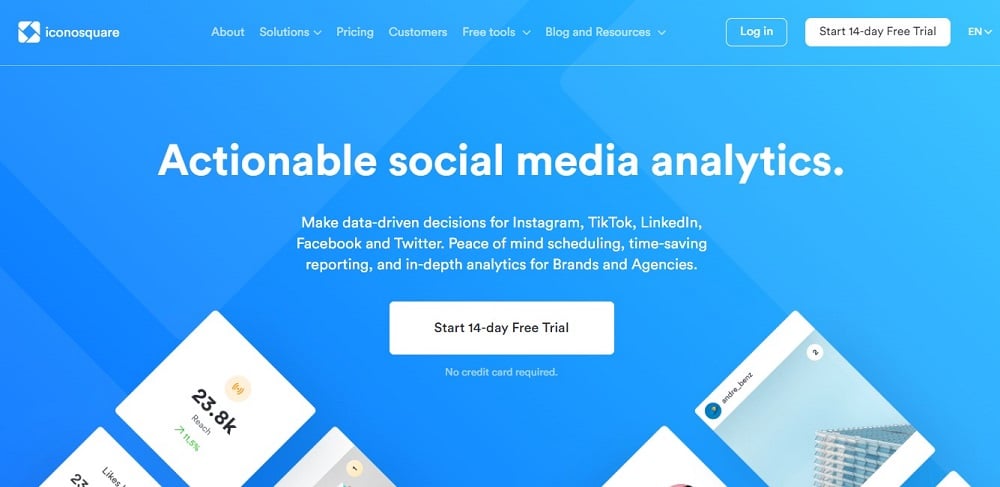 Iconosquare is another great Instagram scheduling tool. It has a visual appeal that suits social media platforms such as Instagram and Twitter perfectly well. It has a "Twinsta" feature that helps you create Instagram posts using the tweets you've posted.
Uploading your photos from Dropbox and bulk-scheduling posts is also possible on Iconosquare. With this app, you can schedule your usual Instagram posts, stories, and carousels too, and preview your posts in a calendar-like view. This enables you to know how your posts will appear when you eventually post them. The analytics feature helps you understand what kind of content interests your audience and adjust accordingly to optimize your engagements.
---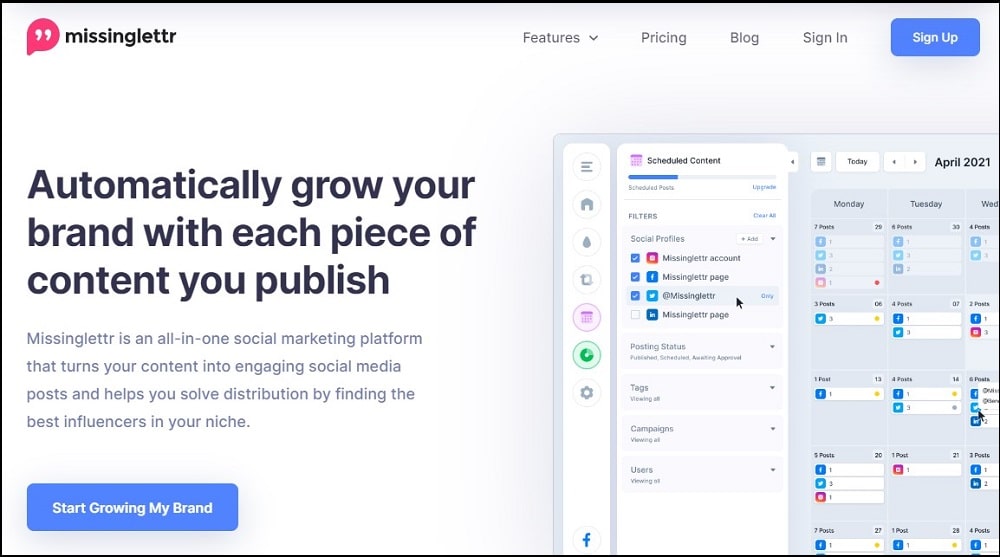 Missing Letrr is built to enhance your social media presence. It's primarily designed for automation. Its function revolves around scanning your big and YouTube posts and extracting useful content such as texts, images, and short clips to last you for one year of consumption.
With its appealing calendar, you can schedule posts even manually and manage your schedule just as you please.  For text posts, the app has a ton of quote templates you can use to engage your followers. You can as well design your templates without leaving your dashboard. The app also has a curating tool that enables you to share content with other users and help each other grow. Not forgetting that the app has a stock image library from Unsplash and Giphy.
---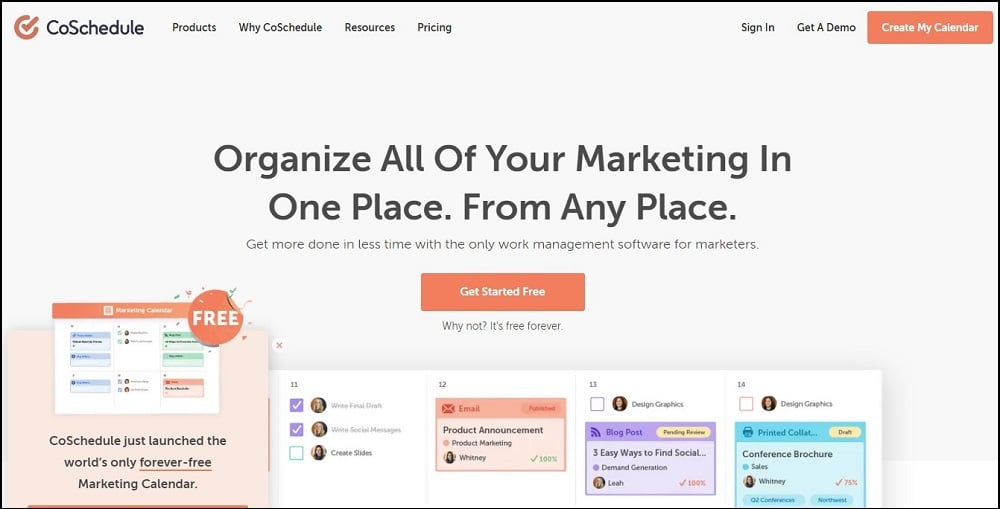 You cannot be wrong with CoSchedule. This social media management tool helps you preprogram your Instagram posts and posts them just in the nick of time. CoSchedule has a Best Time Scheduling feature that will schedule your posts for optimal times based on when engagement will be highest. This helps save you some mental and physical effort. Another interesting selling point of this tool is the Best Messages feature. This feature lets you fill your social calendar with the best messages from CoSchedule. This is known as requeue. Using this feature, you will keep your Instagram audience engaged without having to be on your mobile device. Literally, this feature takes away the constant worry of what to post and keeps your Instagram followers engaged.
---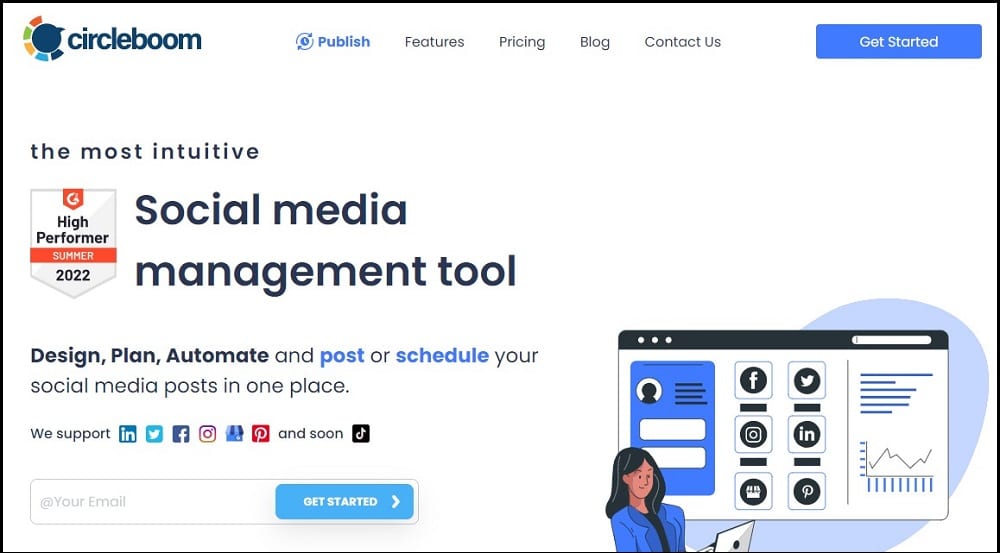 Circleboom is one very user-friendly and credible Instagram management app to use in scheduling your content. If you one more than one account to manage, you need not worry because Circleboom has the solution for you. The app lets you manage more than one account on your dashboard, and it makes scheduling so simple.
Some of the selling points of Circleboom is that it has built-in Canva, Unsplash, and Giphy extensions. The built-in Canva lets you design your photos to catch the eyes of your audience, while Unsplash provides you with over 1 million free photos from professionals. Isn't it quite what you need, given the glamorous culture of Instagram? And, too, Canva's templates get periodically updated to meet modern trends.
---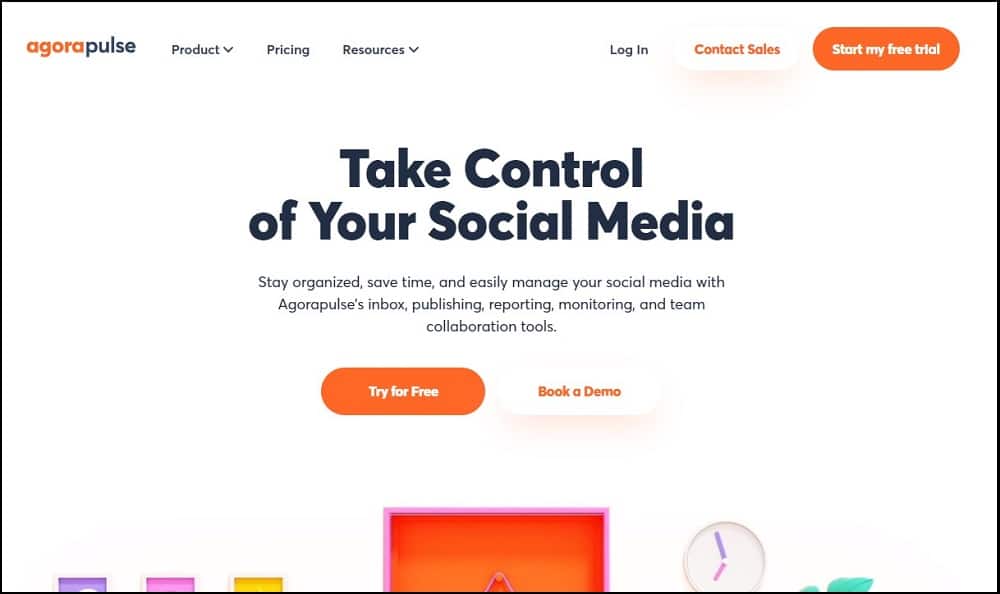 Agorapulse is an ideal tool for managing not only your Instagram account but also so your social media accounts in one space. This app comes with three main advantages: one is that it allows you to tag your friends in your posts.
Secondly, it has a built-in CRM (Customer Relationship Management) feature that will notify you when your followers are engaging with your posts. Thirdly, the app has a social inbox feature that lets you reply to all your direct messages in one place. However, one little con is that Agorapulse does not let you connect directly to your Instagram; you have to connect through your Facebook account. Its free plan comes with a few restrictions, though; it allows users who are on the free plan to schedule 40 posts monthly, along with basic social inbox features.
---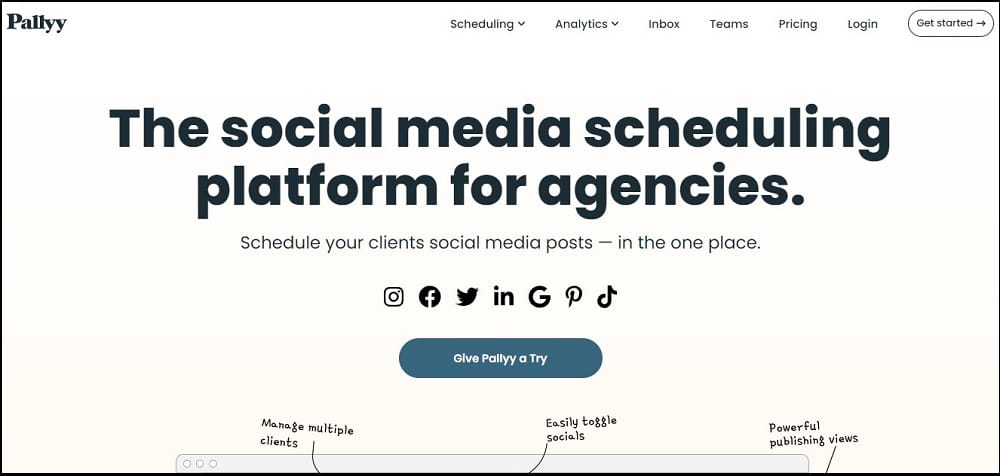 Pallyy is a free and useful social media management tool that is built to focus on visuality. Therefore, Instagram and Pinterest are its main focus. This tool has features such as grid preview and hashtag lists specifically for Instagram. The features do not end there, as you are also provided with built-in Canva to help you with colorful designs and texts so you can meet up with the Instagram trends. Pallyy's media library makes it different from the rest of the scheduling apps. This option lets you save up all your pictures on the app and schedule when to post each one. Its social calendar—which lets you drag your photos—has an appealing grid view.
---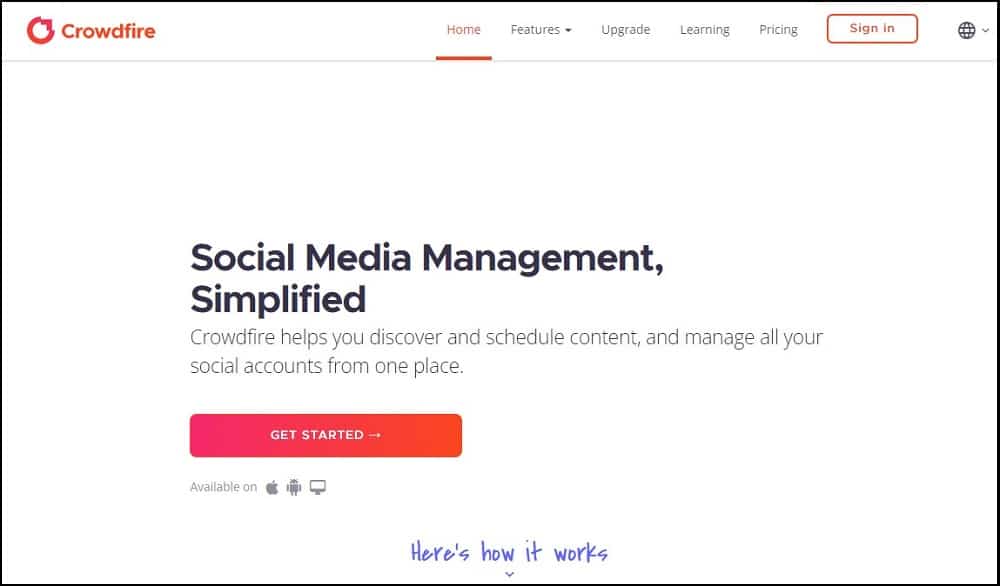 Crowdfire has been on the scheduling scene for quite some time now, and it does the job perfectly well for a free app. This social media management tool supports not only Instagram but also other social accounts such as Shopify, Etsy, and WordPress. And via its built-in Unsplash extension, you could search for millions of pictures if you desire to use them. Another amazing feature of Crowdfire is that it helps you post your content at prime times.
In other words, it suggests that you schedule a post at a time when the engagement will be exceptional. Crowdfire also helps save your previous hashtag so you can readjust and make a post again without hassles. You can also sort these hashtags by their relevance and trends.
---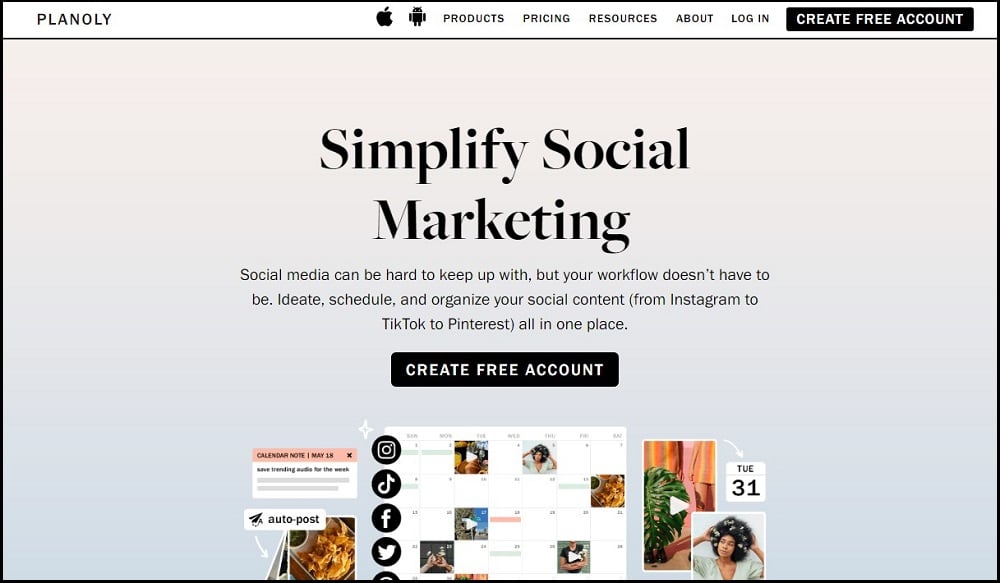 Planoly is one of the oldest social media scheduling tools and is definitely one of the best as well. Its designer-and-editor point of view lets you navigate easily and also helps you neatly plan your content so that your stories and Instagram look really lovely. With the help of the social inbox, you can reply to comments from a single place.
While Planoly allows for auto posts, carousel and Instagram stories cannot be posted automatically, so you might want to decide if you want to proceed with Planoly. But perhaps, the feature that stands out the most in Planoly is the Linkit feature. When you create your linkit gallery, you can put the URL on your bio, reminding your followers in your posts to click on it. When they do, they will be redirected to your linkit gallery.
---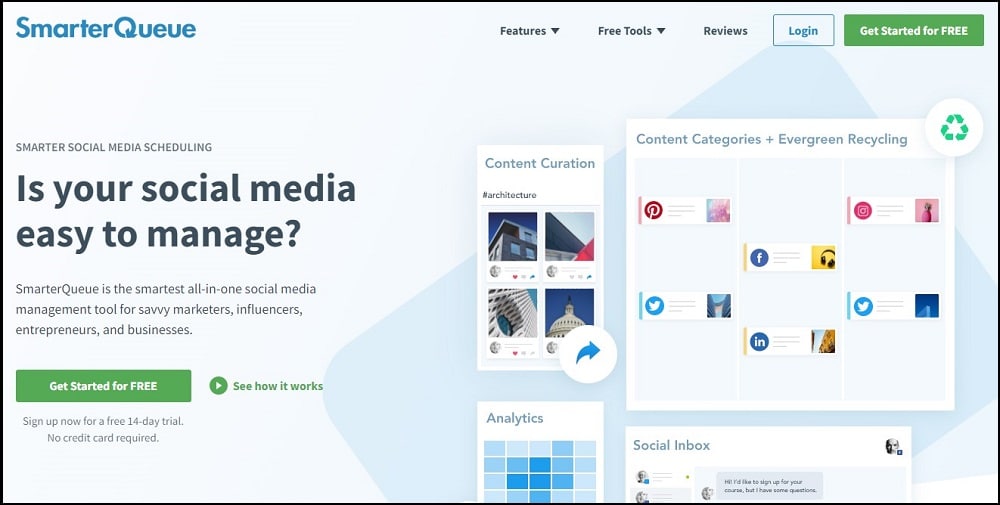 SmarterQueue best suits both small, medium, and large-scale businesses. Influencers and entrepreneurs are not left out as they carters to their social media growth. The key selling point of this app is that it helps recycle your Iconic posts automatically, so you don't have to brainstorm fresh ideas every time you want to make a post. In addition, it allows you to share more than ten images in a single post.
It also lets you include popular hashtags in your post with just a single click. It is one of the best scheduling tools that come with an emoji keyboard. The sight of emojis triggers a response from the audience a lot. For instance, on Instagram, posts with emojis lead up to 47.7% more engagements than posts without emojis.
---

Created by Meta, Creator Studio is an absolutely free scheduling tool to help content creator keep their social media accounts attractive and engaged. Creator Studio helps Instagram users plan their content. It also has an analytics feature to help you track your performances and see where you can adjust accordingly if need be. In addition, it helps you monetize your content. It is a good bet for content creators who are on tight budgets as it will get the job done without putting a hole in your wallet. Instagram inbox, gaining insight into your followers, and post schedules are the three main selling points of this tool.  Creator Studio does not come with a calendar. This makes scheduling a bit clumsy and unorganized. Therefore, overall, Creator Studio may not be the best option for Internet marketers.
---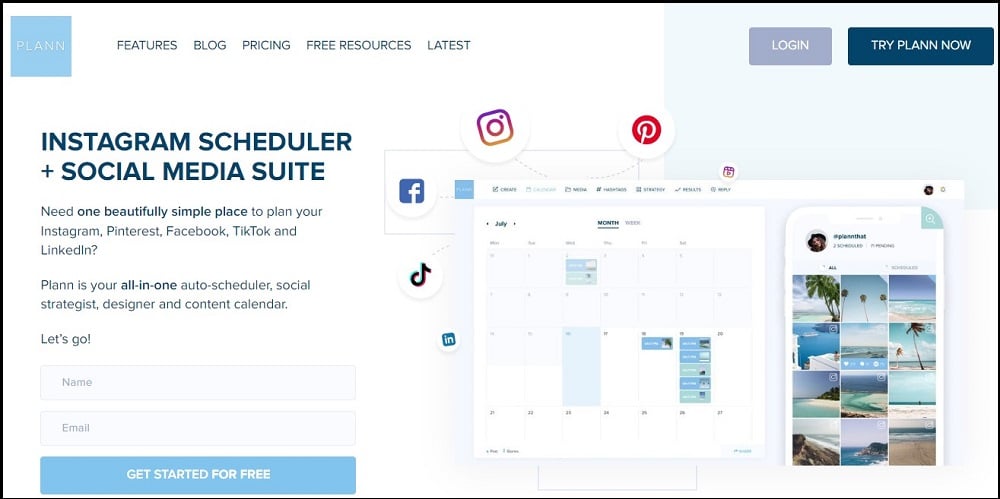 Plann has you covered when it comes to giving your scheduled posts a finesse that comes second to none. It prides itself as one of the best scheduling tools with its built-in Canva, which is sure to make your posts come off as more refined than they would have been without it.
It also has stock images you can make use of to enhance your posts. Plann also offers the 'Plann with team members. Advanced analytics is another feature it offers, letting you in on the performance of your content. It comes with a content calendar to neatly plan your content and prevent clumsiness. Basically, everything goes just the way you want them; in other words, you are in charge.
---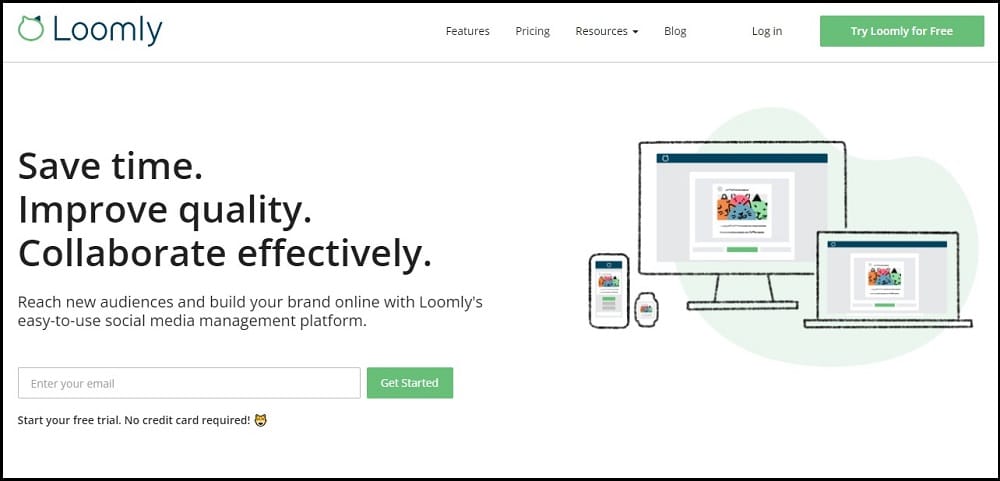 Loomly is known for previewing your contents thoroughly, built-in first comment publishing, and scheduling and planning your Instagram Stories and Reels. It is a good tool for teamwork, and it's essential for small and big businesses.
You are notified when a member of your team comments on content from platforms such as email and Slack.  Loomly helps you neatly plan your Instagram schedule and suggests ideas to you based on social media best practices. And it does not work for Instagram only but also for other social media. Loomly is integrated with Canva to enhance your content better. It also has a UTM generator, Giphy, media library, carousel, and Unsplash integration to give your posts a more visual appeal.
---
FAQ
Q. Why Should I Use An Instagram Scheduler?
Scheduling your Instagram posts is useful in various kind of ways. One is that it relieves you of having to bother about what to post or the time to post it. Secondly, it helps give your posts allure which is sure to attract engagement from your audience, which doing yourself could have been difficult.
It also enhances your photo and video appearance, giving it a classic look, better than what you would have come up with on your own. If you forget to make a post, your scheduler does not forget, it lets out your post at the time you want it to, even in your absence. The list goes on and on.
Q. What Should I Look Out For In Scheduling Tools?
Some scheduling tools look fancy, but that should not deter you from looking out for the most important things, such as their ability to properly and easily help you schedule posts. You should also pay attention to little features which make your scheduled posts look better.
Although not all tools come with that feature, it will be a plus if your tool has them. More importantly, you should look out for its price and be sure it's affordable before you subscribe to its plan. If it is absolutely free, it's a plus, but beware that most of the free ones do not integrate some important features.
Q. Are Scheduling Apps Safe For Use?
To a large extent, most Instagram scheduling apps are safe, but it does not rule out the fact there are fake apps in the market. Such apps are designed to wreak havoc on your Instagram account, so the quicker you know it, the safer you will be.
Authentic scheduling apps do not ask you to save your password with them, and they have an authentic Instagram login page that looks like the image below. Anything that looks too different from the image above could be harmful to your Instagram account. If you overly want to be on the safer side, you should stick with the paid scheduling apps.
---
Conclusion
Originally, the objective of Instagram scheduling apps was to give you the fulfillment you deserve with your Instagram account. It does this by helping you schedule and engages your audience with little effort on your side while it takes the bulk part of the job.
Your free time could be channeled into other productive parts of your life while schedulers stand for you online. It's a two-way win. Caveat! Watch out for non-genuine apps to keep things safe. Good luck.