Are you seeking a stress-free method to scrape data from TikTok? There are a good number of  web scrapers you can use for scraping data from the platform. The article below highlights some of the best TikTok scrapers for you.
The ability to scrape data is one of the conveniences that technology has brought us. Data has traditionally been gathered manually and through a time-consuming process. However, as technology has advanced, getting information and locating sources has become as easy as playing a game.
Scraping on TikTok is one of the conveniences as a result. The methods employed in TikTok data scraping are automated. Thus, the scraper makes several queries to TikTok pages in order to obtain information.
It makes sense that there are a lot of leads you can nurture on the TikTok platform, given that many users use the platform to give their brand the recognition it deserves. Even more so, TikTok has a significant entertainment component. People frequently find information or marketing that is accompanied by music, info-graphs, or videos to be amusing.
Hence, marketers and company owners frequently need to acquire a lot of data on TikTok to learn more about their target markets, customers, and products. Finding the quickest method to accomplish it is, consequently, a task.
Obviously, automated scraping is the greatest method for obtaining this TikTok information. Certain scraping tools have a variety of purposes, some are more specialized. The type of TikTok data you use will therefore define the Scraper you should take into consideration.
Why use Tiktok Scraping Tools?
TikTok is one of the sources of user-generated data. While it is predominantly a video-sharing platform, the comment generated as a result of engagement are goldmines for those that know their value. And it is via TikTok scraping that you can extract them.
TikTok scraping is the process of using automation bots known as web scrapers to extract publicly available data from the TikTok platform. However, TikTok is an easy target for web scrapers. I have tried it in my early days and can tell you that for a fact. This is because the site does not support web scraping and, as such, has anti-bot systems in place to discourage it.
TikTok is one of the services that have its own in-house Captcha system. Aside from the Captcha service, it also has a good number of other systems. With all of these, you can tell that it is not an easy target. But does that mean it can't be scraped? From experience, there is hardly any site that can't be scraped.
And to even put it in perspective, it is not the hardest to scrap. If you are a coder, you can use a combination of high-quality proxies, captcha solvers, and a host of other techniques, such as rotating proxies, to evade detection. If you even want to avoid all of these problems, you can just make use of a scraping API to avoid dealing with all of these.
For non-coders, there are also options available to you. There are TikTok scrapers you can use without writing a single line of code.
---
The Best TikTok Scraper in 2023
With the aid of an automation bot, TikTok scrapers are the finest tool for extracting TikTok data.  Want to know the best tools for extracting TikTok data? They are discussed in this article. Come and learn about them.
---
Pricing: Starts at $350 for 100K page loads
Free Trials: Available
Data Output Format: Excel
Supported Platforms: web-based
Bright Data is arguably a top tech business with expertise in social media management, scrapers, and proxies. Thus, it offers a reliable TikTok data extractor. The intriguing aspect is that using it doesn't require any coding skills or experience. If you are not a programmer or coder, it is the greatest TikTok scraper you can use.
Given its expertise in proxy, its scrapers operate alongside proxy. As a result, there is no need for you to worry about being blacklisted because different IPs will be used to send the request for data harvesting on TikTok.
Bright Data's TikTok Scraper is efficient in obtaining hashtags, views, likes, and comments from posts as well as followers, interests, and even comments on those posts. Before you sign up for a plan, you can also use a free trial offered on their website.
---
2. ScraperAPI – Best Scraping API For TikTok
Pricing: Starts from $49 for 100K Credits
Free Trials: 5K Free Credits
Data Output Format: HTML and JSON
Supported Platform: API
For each type of website you wish to extract data from, ScraperAPI is a service provider that offers automation of such. Therefore, it is not tailored for any particular platform or website. Hence, it is not just a TikTok scraper. As such, the data obtained with this scraper will not be totally specific.
In other words, it will collect all the data from the TikTok URL you entered or the TikTok page, and you may choose the ones you need. It's interesting that you may rely on it to scrape TikTok the best.
This scraping program has the advantage of having a proxy built-in. Thus, if you scrape TikTok with ScraperAPI, IP blocking and location restriction are not issues. It, therefore, handles proxies and uses headless browsers encoded with javascript and handles captcha.
More so, you only pay for the successful request you make. Hence it is a good tool for scraping TikTok profiles and topics. Using its free plan, TikTok data of up to 1000 is just a tap away completely free.
---
3. NetNut – One of the Best TikTok Scraping Tools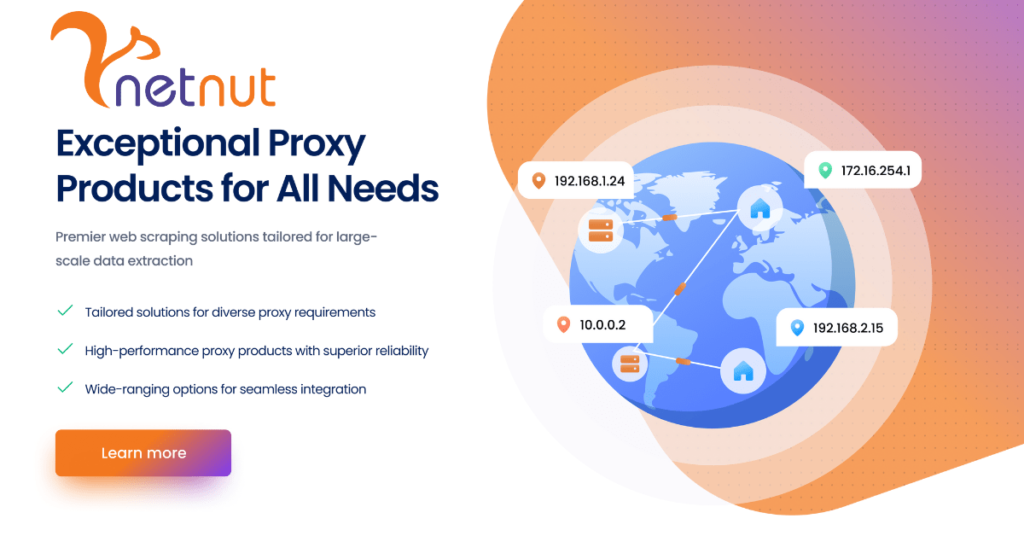 IP Pool Size: 52M+ Residential IPs
Geo Targeting: Global
Permitted Concurrent Connections: Unlimited
Allowed Bandwidth: Starting from 20 GB
Free Trial: 7 Unlimited Days
Cost: Starting at $350/month
NetNut is a leading provider in the market of residential, mobile, and data center proxies with extensive experience in extracting data from various websites. This high-tech company offers a unique experience in social media management, including TikTok.
As a result, you can rely on a reliable and high-speed residential proxy service for TikTok. The most intriguing aspect is that you don't need to have extensive technical knowledge to use these proxies or be well-versed in coding. If you're not a programmer, NetNut's residential proxy for TikTok is highly recommended.
Given its extensive experience as a global proxy provider, you need not worry about being detected or blacklisted while browsing. Currently, NetNut boasts over 52 million residential IPs globally, allowing for automatic IP address rotation after each request.
Thanks to this feature, it's much simpler to extract the necessary information from TikTok and collect data securely. With NetNut's residential proxy service for TikTok, you can gather views, hashtags, likes, post comments, and much more.
While the plans are flexible, ranging from $350 per month for 20GB of bandwidth, you can sign up for a 7-day free trial with no limitations to understand how NetNut's service works.
Advantages of NetNut:
Global coverage with over 52 million residential IPs.
100% anonymity and 24/7 availability.
Unlimited sessions.
Affordable plans and a 7-day free trial with no limitations.
Disadvantages of NetNut:
Inadequate API integration documentation.
---
4. Octoparse – Best Visual Scraper For TikTok
Pricing: Starts at $75 per month
Free Trials: 14 days of free trial with limitations
Data Output Format: CSV, Excel, JSON, MySQL, SQLServer
Supported Platform: Cloud, Desktop
There are numerous platforms and online page scraping solutions. Many of them can only be utilized by people who are programmers or code specialists. However, some of them are also useful to non-programmers and coding novices. Octoparse is the most effective visual scraping tool for TikTok. This scraper only extracts particular data. It differs from API scrapers. You may always adjust it to specific data like TikTok likes, comments, hashtags, and profiles.
Although it is not built to deal with scraping only TikTok or any other media platform. You can also store the data you have collected in your database or download it in CSV, Excel, or API format. You can even schedule scraping with Octopuses. The scraping tool's feature that allows users to perform tests using the tool is an interesting attribute. Therefore, you have two weeks free trial. Above all, it automatically rotates your IPs.
---
5. Webscraper.io – Best Browser Extension For Scraping TikTok
Pricing: Freemium
Free Trials: Freemium
Data Output Format: CSV, XLSX, and JSON
Supported Platform: Browser extension (Chrome and Firefox)
Webscraper has made data extraction simple. Platforms like TikTok are included in this simplicity of data extraction. Point and click scraper is a better name for this scraping tool. Either on TikTok or another site, it is that simple to use.
To scrape data from TikTok, this is the best browser plugin available. As a result, it works with both Chrome and Firefox. Data scraping is one thing, but having the ability to export them in a structured style is quite another.
You can export the data you extract with Webscraper in the format of your choice. Therefore, you have the choice of CSV, XLSX, JSON, or even Google Sheets. So, in addition to automating TikTok data extraction, this tool also enables scheduled data harvesting. Simply put, you can modify it to periodically scrape data. The fact that it employs a proxy to route requests is a benefit. A free trial is also available.
---
6. Apify – Best Scraping Platform For TikTok
Pricing: Starts at $49 per month for 100 Actor compute units
Free Trials: Starter plan comes with 10 Actor compute units
Data Output Format: JSON
Supported OS: cloud-based – accessed via API
One of the greatest options when considering an automation platform is Apify. It is not at all comparable to its counterparts. In reality, it has a history of successful automation. One of the best tasks you can complete on the platform is TikTok data scraping.
This makes it the ideal automation platform to scrape TikTok. Data collection on TikTok, which appears challenging and time-consuming, is simple on Apify. You have two separate TikTok scrapers on this site. While the other is a paid service with a free trial, one is completely free.
These programs effectively extract a wide range of TikTok data, including videos, comments, profiles, names, followers, hashtags, and even heart, and music-related information. It's interesting to note that you may download all of the data in HTML, JSON, CSV, Excel, or XML formats.
---
Pricing: Starts at a $99 one-time purchase
Free Trials: 10 days free
Data Output Format: CSV, Excel, JSON, SQLite, etc.
Supported Platforms: Desktop
Another point-and-click data scraper is available here. Among web scrapers, Helium Scraper is a great tool for gathering data from TikTok. You get to choose which TikTok data you want, be it comments, likes, hearts, or others. The tool's rapid data extraction is one of its key strengths. It does not offer a proxy server, you will need to enter your proxies for effective and anonymous functioning. It gives a one-time payment, which is an intriguing aspect.
Thus, it allows you to pay once and use it for a lifetime. You will also receive data in the structured format of your choice for simple analysis. In addition to all of these, a 10-day trial is available that is completely functioning.
---
8. Parsehub – Best Free TikTok Scraper
Pricing: Free with a paid plan
Free Trials: Free – advance features come at an extra cost
Data Output Format: Excel, JSON,
Supported Platform: Cloud, Desktop
Would you like a TikTok scraper that is simple to operate? Go to Parsehub if you want to. Anyone who can use a device can use this tool. To put it simply, you don't need to know how to code to utilize this. This scraper has shown to be effective at collating TikTok content. As a result, you can extract the desired data from TikTok by downloading ParseHub for free. It makes use of an IP rotating proxy, just like other API scraping programs.
As a result, once you download this scraping tool, you do not need to pay for a proxy server. ParseHub offers the ability to download TikTok data in JSON or Excel for simple analysis. With this program, you can also schedule the collection of TikTok media behind log-in while completing other tasks. The fact that it's free is the best part!
---
9. WebHarvy – Powerful Scraper For TikTok
Pricing: Starts at $139 for a single user license
Free Trials: Not available
Data Output Format: TXT, CSV, Excel, JSON, XML. TSV, etc.
Supported Platforms: Desktop
One of the greatest visual web scraping programs is WebHarvy. All you have to do is choose and click the desired collection of data. It has therefore proven an effective method for scraping TikTok. Do you prefer CSV, HTML, images, text, or even URLs for your TikTok data? You are taken care of by WebHarvy. This service provider asserts to be able to resolve authentication and captcha issues.
You will need to manually complete the captcha even though the logging is readily handled through the browser. If it runs on a proxy router, these would have been simpler. But for extracting text, images, and URLs on TikTok, it is a powerful tool. You should use a proxy server or VPN if you worry that your IP may be blocked while you are scraping the data.
---
Pricing: Starts from €39 for 100K Credits
Free Trials: 100 Free Credits
Data Output Format: HTML and JSON
Supported Platform: API
Scraping Bot is another top TikTok scrapers. This bot has a dedicated TikTok data-gathering API. More than 800 million consumers worldwide have benefited significantly from its data extraction solution. As a result, it is effective in helping you harvest hashtags and profiles from TikTok. It offers a variety of plans to fit your budget. However, it includes a free bundle for you if your assignment is less than 50 scrapes.
The scraped output layout is visible and readable to human eyes. You only need to enter the TikTok profile's URL to get all of its information, including the profile picture. With this scraping bot, you can also collect data about TikTok music and videos.
---
11. ScrapeHero – Best Data Scraping service
Pricing: Starts at $150 for up to 10K pages
Free Trials: No Free Trial
Data Output Format: CSV, Excel, JSON
Supported Platforms: Web
People who use ScrapeHero for specialized purposes are don't joke with it. It is a leading company in data scraping, as the name implies. Scraping TikTok is a wise decision as a result. In fact, it's among the greatest tools available for extracting content from TikTok. The data retention rate for this scraping technique is 98%. Some users just might consider the service's response time of less than an hour to be sluggish.
It contains a feature that automatically notifies users when data changes. You can avoid data disruption by doing this. The infrastructure of the scraper is sophisticated and suitable for extraction from any page in a structured format, including JSON, Excel, CSV, and others.
---
12. Datahut – Alternative to ScrapeHero
Pricing: Starts at $40 for up to 10K pages
Free Trials: No Free Trial
Data Output Format: CSV, JSON
Supported Platforms: Web
Datahut is yet a wonderful tool for scraping TikTok. It is the best available alternative for ScrapeHero. Users who are adapted to scraping with SuperHero find this a handy tool to replace it. It is also a visual scraper. This implies you don't need coding skills to use this scraper. This tool helps you automate the data extraction process with no hassle.
You will only pay for the complete scraping ordered, or you are fully refunded. Good enough, you can choose to use the feature to format your data in CSV/JSON or you make use of the API to pull your data. The provider does not offer a proxy with the tool. You may have to get one for itch-free scraping on TikTok. It also has a live chat feature.
---
13. Proxycrawl – Reliable Scraping Api with Parsing Support
Pricing: Starts from $21 for 10K Regular Pages
Free Trials: Free Credits
Data Output Format: HTML, JSON
Supported Platform: API
Have you been wanting an API with parsing support? Proxycrawl is here for you. This implies that this tool helps you to format unstructured TikTok data to a comprehensible readable format seamlessly. This API is built with a proxy. Thus, it handles CAPTCHA, avoids blocks, and uses a strong infrastructure in scraping TikTok content, such as media and links.
You can use this API for free at first usage. However, you will only be charged for successful data scraping process. It has proven usable on many social and media platforms. It has good language options, and it is easy to use. This tool also helps you screenshot data or screen for visual evidence.
---
Pricing: Provided upon request
Free Trials: No Free Trial
Data Output Format: CSV, Excel, JSON
Supported Platforms: Web
Here comes another specialist in social media scraping. X-byte is engineered to adapt to scraping data on platforms like TikTok. This scraping tool has served many businesses to gather reliable data on several platforms TikTok inclusive. It has several intriguing features.
With X-byte, you have no limit to the number of media data requests you can make, it gives you access to multiple proxies, so, you don't get blocked. It is flexible enough to be customized to your specific use.  This service is usable by small and large-scale firms.
Interestingly, this provider also has a mobile app scrapping service. It has standby backend technical support in case you have a technical challenge.
---
Pricing: Starts at $49.99 per month
Free Trials: Starter plan is free – comes with limitations
Data Output Format: TXT, CSV, Excel, JSON, MySQL, Google Sheets, etc.
Supported Platforms: Desktop, Cloud
For non-coders who want to scrape TikTok, this is the best tool. It has an easy-to-use interface where you visually click and scrape data. It is usable and efficient in extracting TikTok data that are available on the web app. It is strongly built to bypass the anti-scraping algorithms put in place by TikTok. As such, it scrapes TikTok content perfectly.
Hence, you can gather data on media, contacts, links, and hashtags.  You will have a free trial to test the scraper. This scraper works on desktop and cloud platforms. Data extracted with this scraper are made available in local file storage in several formats CSV, Excel, SQL, WordPress, and even Google Sheets.
---
16. Scraping Bee – Best Alternative API For TikTok
Pricing: Starts at $49 monthly for 100K API credits
Free Trials: 1K free API calls
Data Output Format: JSON
Supported Platforms: Web API
Scraping Bee is another all-purpose data scraping API. This scraping program has two functions, just like Scraper API. If the scraper is not proxy-integrated, you might need to get a proxy while utilizing such a scraper. Thankfully, Scraping Bee has a rotating proxy built into it.
As a result, it scrapes data leaving no record of your actual IP. This makes it the finest alternative API scraper for gathering data from TikTok. You can select the data array you want to extract from a variety of TikTok data.
You will receive the data in an understandable format other than codes, which is a useful feature of this scraper. In other words, you can data will be in a JSON-readable format. There are various plans and many of which are dependent on subscriptions. Sadly, free trials are only provided to subscribers at the provider's exclusive discretion.
---
How to Use Scraper on TikTok
Although the list contains several scrapers you can use on TikTok, Apify is one of the most popular, commonly use, easy to navigate, and free for use. Thus, we found it worthwhile that we take you through the processes and steps required in using the scraper.
Apify TikTok Scraper can scrape hashtags, Videos, and other media. For the purpose of this post, we will consider how to scrape hashtags and popular trending with Apify TikTok scraper.
Hence below are step-by-step guidelines you can follow to use this scraper.
Steps
Step 1: Long in on to the Apify official. If you do not have an account, you can create one in a few minutes. Input your email and create a password. Interestingly you will get a $5 credit every month.
Step 2: On the page after logging in, click action and navigate to the Apify store by clicking the menu bar. You then can use the searching tool to run a query of the TikTok Scraper available in the store. Just type TikTok scraper. The results will reveal the TikTok scraper available at the moment. Click the TikTok scraping tool of your choice.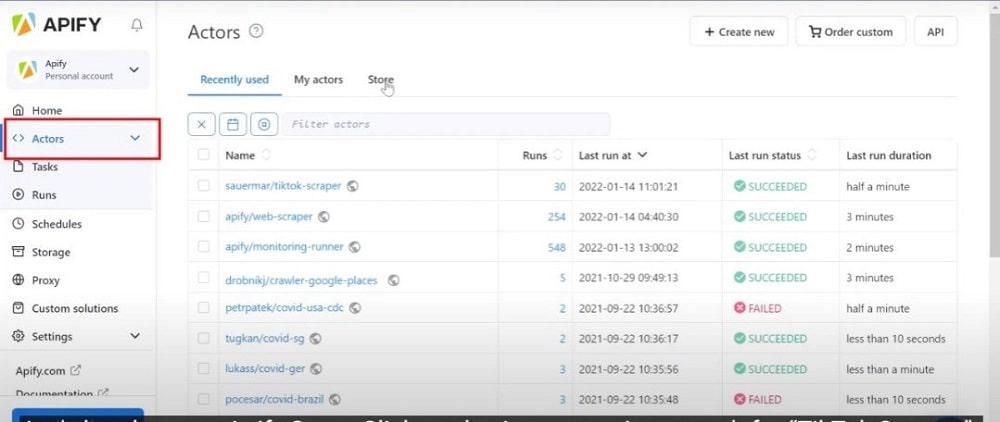 Step 3: On the scraper interface, click create the task. Then, you will find a list of the type of data the scraper can extract on TikTok- Hashtags, videos, etc. Let's click Hashtag for this task and enter the keyword of the trending topic we want.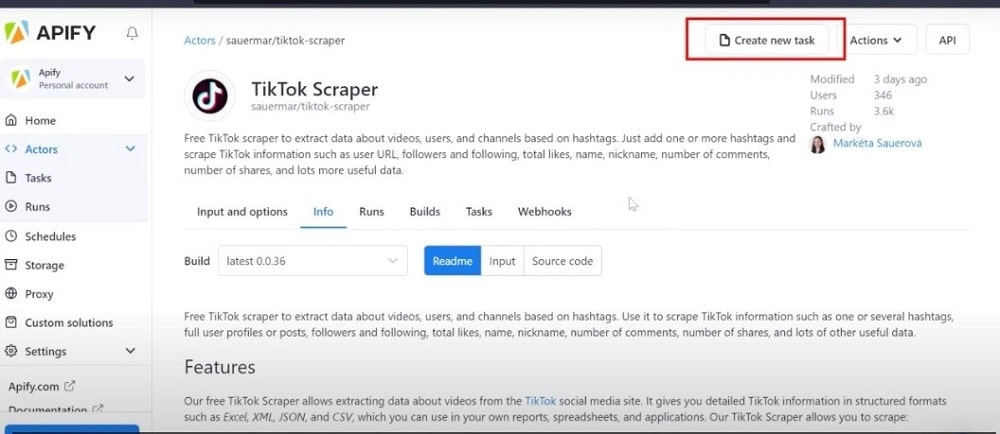 Step 4: Come to the setting icon and keep it as default. Although you can adjust it to suit your taste. Click save and run. If you see any error message, you should contact the customer support team through its live support feature.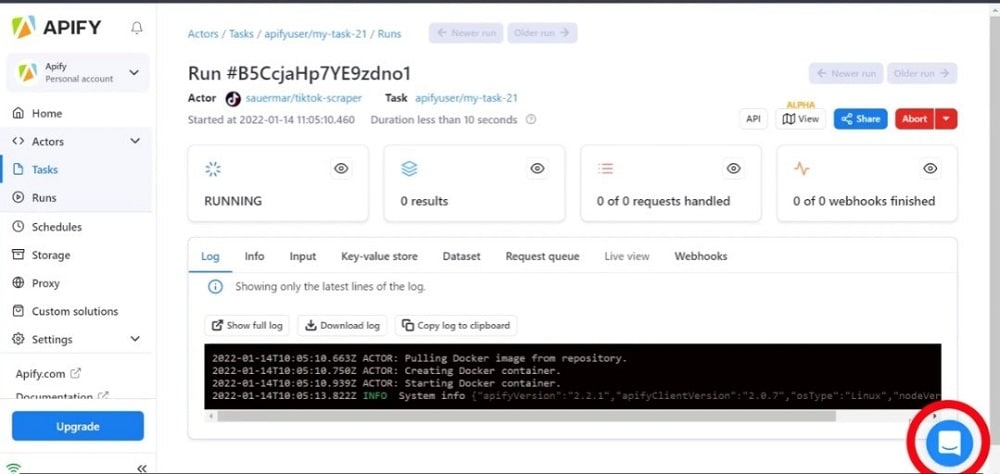 Step 5: The scraping will take some moments. So do not alter or disrupt the progress. When the scraping is complete, it comes up with the data on a new interface. From this page, you can export the data in the format of your choice. It is that easy!
---
FAQs
Q. Is TikTok Data Scraping Legal?
It is, indeed. The same goes for any other social media platform or website. It is lawful to scrape publicly available data. The situation in some regions, though, can be unique. You should constantly take into account the current data privacy laws, rules, and regulations in your city or nation. Most crucially, information concerning a person's personal details may be protected by law, even if it is made public. So, ascertain that. Apart from that, scraping is authorized.
Q. Why Do I Need To Scrape TikTok Data?
There are many factors that could make data scraping necessary. A lot of this information relates to marketing analysis and customer experience. Obtaining market target demographic information, product reviews, market research analysis, online tests, market scanning for items, and even raising awareness of social issues are just a few examples.
Q. To use a data scraper, do I need to be an expert coder or programmer?
No! It is fortunate that end users are primarily the group of individuals who benefit from technological development. To make life easier for the average Joe on the street, programmers have created a number of tools.
Technologies for scraping are open to everybody. As a result, using a data scraper does not require any programming or coding knowledge.
Fortunately, we have covered a few in the post above. However, it is always advantageous if you are familiar with programming or coding. This implies that you can use any and even alter your own.
---
Conclusion
If you don't know what the audience wants or looks like, it could be challenging to make decisions in marketing or campaigns. However, if you have a lot of information at your disposal, you are always in control. Technologies for scraping TikTok data are fantastic resources for navigating the TikTok marketplace. Use one of them when you need data.