YouTube is the fastest-growing social media platform planning to expand its user base up to 400 million in the future.
YouTubers can earn money as they share their content in their channel and gain more subscribers who view their content to earn. Most videos on YouTube have more viewers than programs aired on national Tv in India, making the YouTubers famous and growing in their niche. Here are the top 20 YouTubers in India that you can look for their content.
---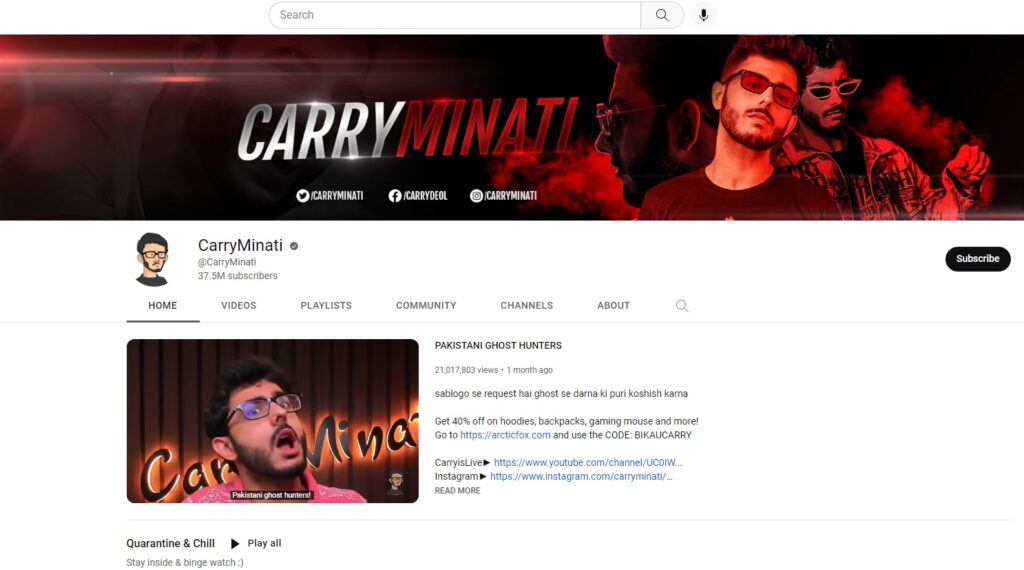 Carry Minati, also known by his real name Ajey Nagr was born on June 12, 1999. He is currently the top YouTuber in India, with over 37.4 million subscribers on his YouTube channel Carry Minati.
Ajey has unique attributes, such as a comedian, rapper, social media influencer, and gamer who uses his skills to create comedy skits, roasting videos, and reaction videos, making him a top YouTuber in India.
When he started his journey as a YouTuber, he began his first YouTube channel, known as "STeaLThFeArzZ," which didn't do well, and started another one called 'Carrydeol," which he renamed "CarryMinati."
---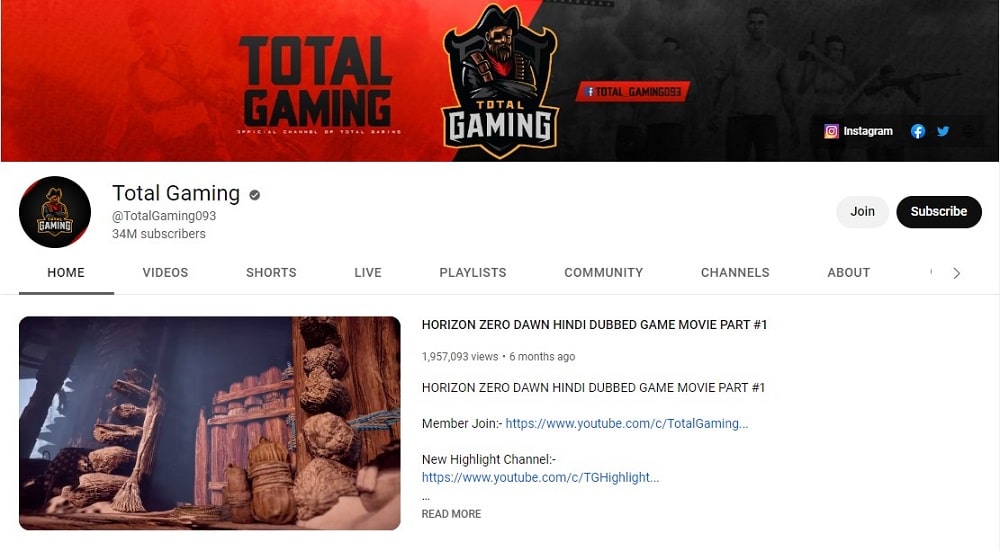 Total Gaming is a YouTube channel created by Ajay on December 2, 2018; he became famous after two years, and his channel it's still growing with new subscribers. He is one of the best Indian gamers who share videos with Hindi commentaries to his native audience on how to have fun in their mobile and PC games.
Ajay is a private person who doesn't display his face on his videos or provide his full name. This has helped him to enjoy a peaceful life away from celebrity fame. Games he enjoys playing are Assassin's Creed Valhalla, God of War, Call of Duty Mobile GTA5, and many more.
---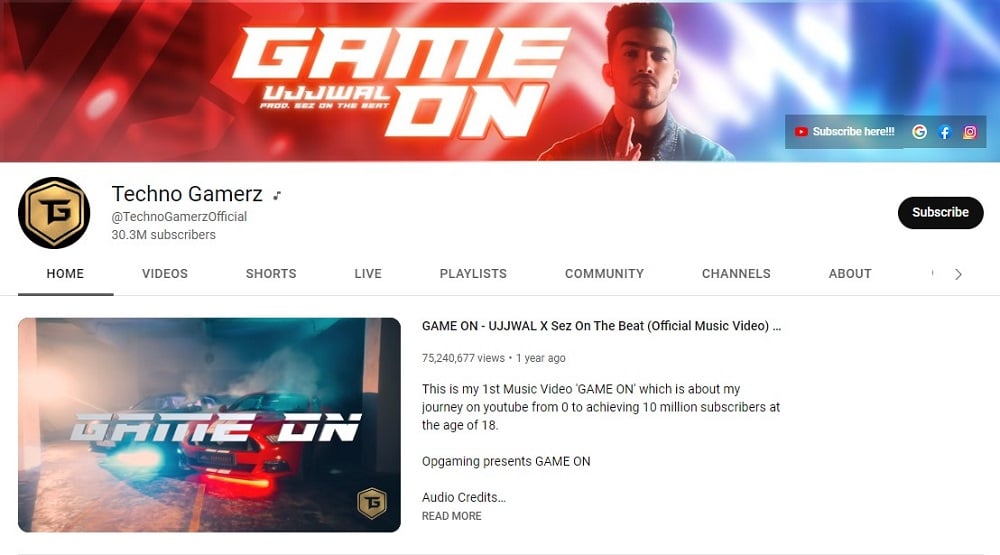 Ujjwal Chaurasia is one of the top Gaming YouTubers in India who is also the gaming world's king. He created his channel Techno Gamerz, posting more than 750 videos on his channel. He received massive followers when he gamed the GTA gameplay web series on his channel.
His subscribers increased when he expanded to other games, such as Resident Evil 3, Minecraft, and Hitman, making him famous. He has another YouTube channel called Ujjwal Gamer, where his dip into mobile Gaming.
---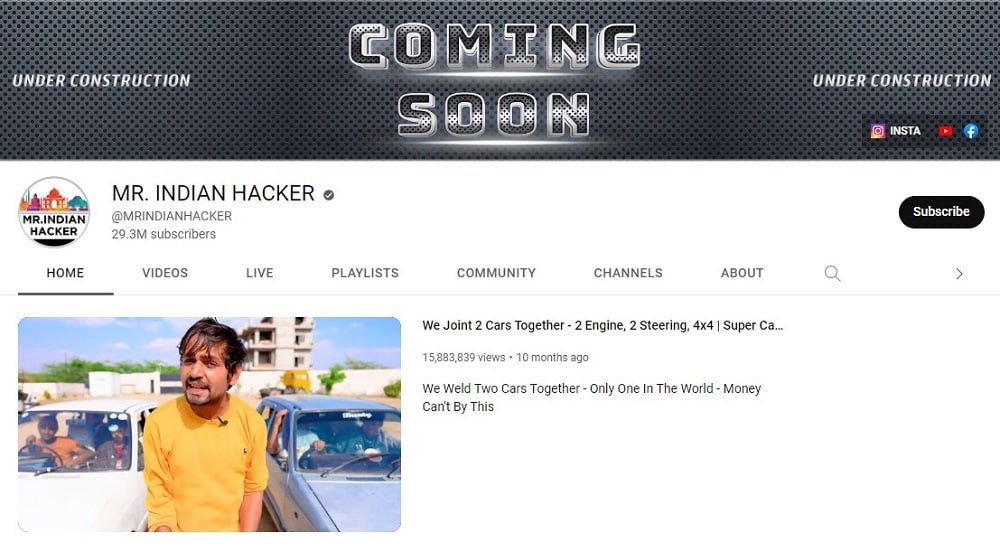 For those who love science experience content that is exciting to watch, look for Mr. Indian Hacker Channel on YouTube and subscribe. Dilraj Singh Rawat, born in Ajmer on January 8, 1996, is the host of the Mr. Indian Hacker channel, created in 2012. His fan base has increased tremendously as most subscribers love his educational experiments.
With over 600 videos he has uploaded to his channel, he has become popular with loyal fans who love his content and has named his fan base Titanium Army. He also created another YouTube channel called Mr. Titanium which has millions of subscribers.
---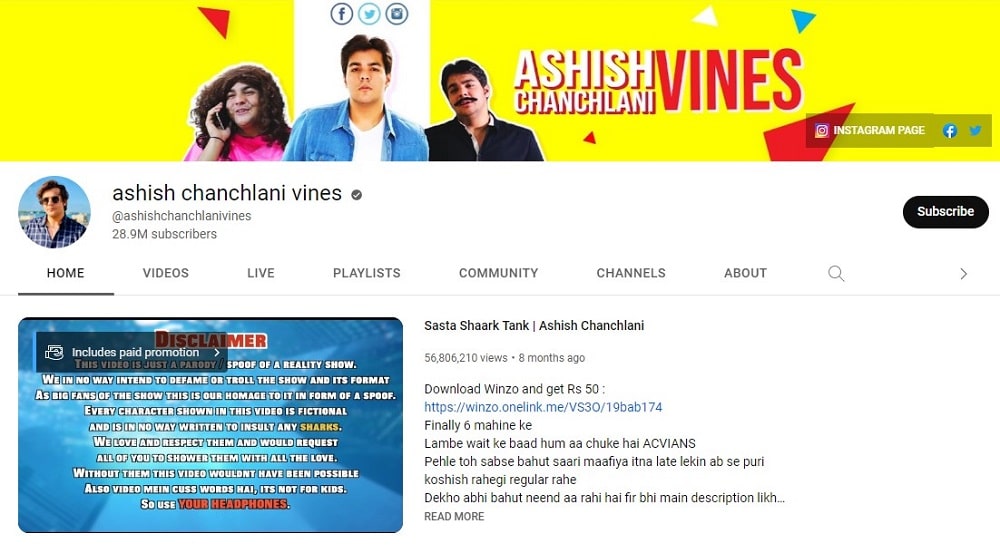 Ashish Chanchlani, known for comic timing videos, is a famous YouTuber born November 7, 1993, in Ulhasnagar, Maharashtra, India. He is an engineer by profession, as he took a B.Tech in Civil Engineering from Datta Megha College of engineering.
He started his YouTube channel in 2009 after he gained fame through the vine and started to upload original content expressed in humor. People love his videos because they can relate to them as his video based on comedy bring into the picture what is happening in our daily activities, relationship, and others.
---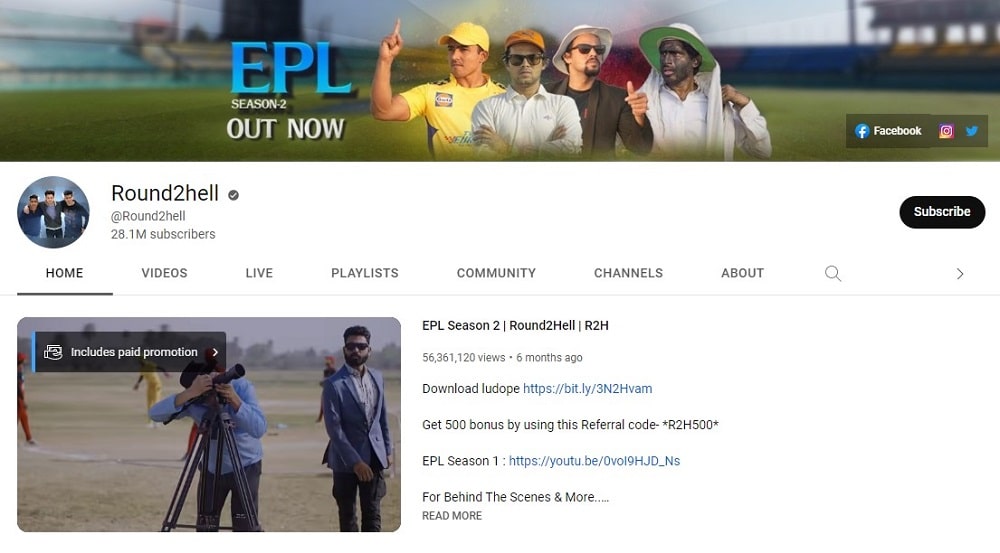 Round2Hell is a popular YouTube channel started in 2015 by Zayn, Wasim, and Nazim. The group has proved that talent pays and can get you far apart from having a degree, a class, and status.
From the group, Zayn is a dropout student from Zakir Hussain College, while the others have completed their Education. They started posting football videos on their channel but became famous with comic videos that people loved.
Their journey to be on the top list of YouTubers in India was challenging because their family didn't support them. However, they eventually became famous as YouTube Fanfest invented them in Delhi.
---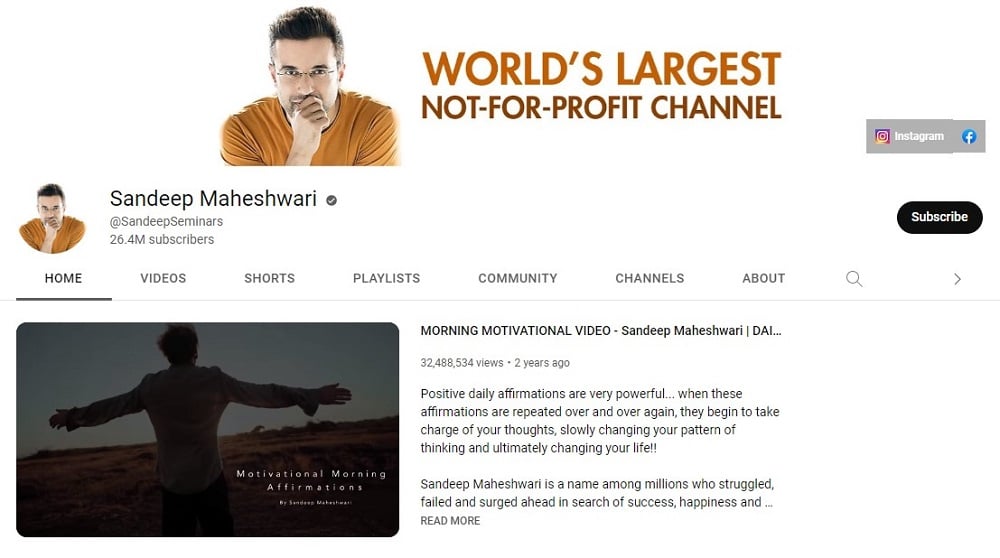 Sandeep Maheshwari is a popular motivational YouTuber who, at the same time, is a successful entrepreneur in India. He is the CEO and founder of imagebazaar.com, which mainly deals with photography.
Sandeep opened two YouTube channels the first one he created in 2012, known as Sandeep Maheshwari, and the second one Sandeep Maheshwari spiritually, was created in 2015.
His main channel content motivates people based on their personality development, fear of something, public speaking, and meditation. He has inspired millions of people who watch his videos to follow and succeed in their dreams.
---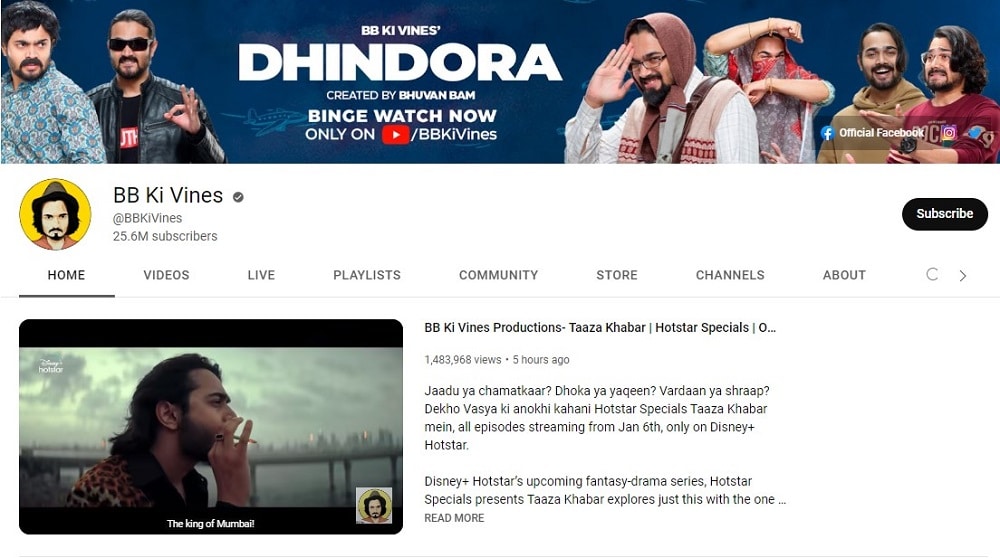 Bhuvan Bam is a famous Indian comedian and YouTuber who has produced comedy content that has cracked our ribs and made us happy even in a bad mood. He was born on January 24, 1994, and is from Delhi.
He opened his YouTube channel, BB ki Vines, where he posts new videos regularly and has vast fans with over 25 million subscribers.
People love his entertainment because he can play multiple characters of 3-4 roles in his videos. Apart from being a comedian is also a great singer, songwriter, and musician who sang at the bar before becoming YouTuber.
---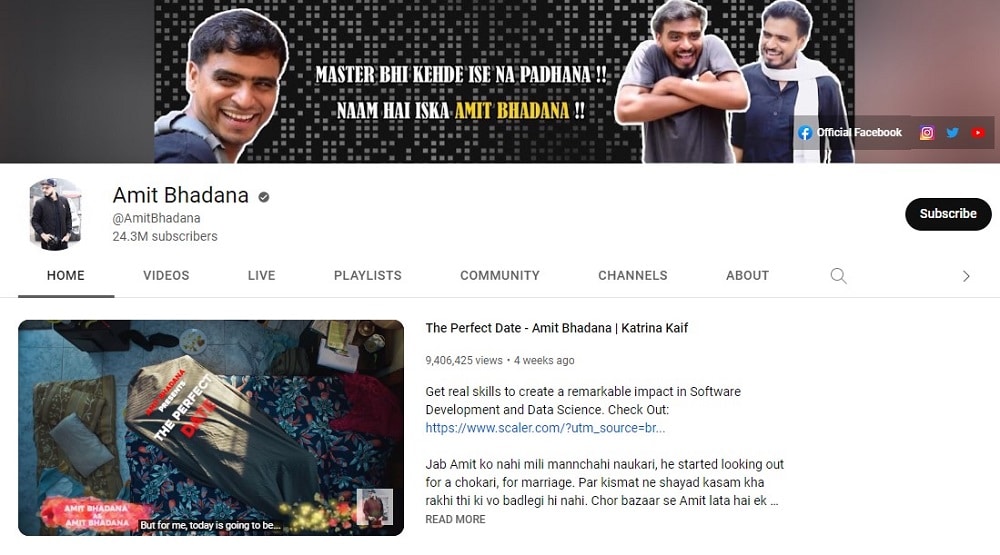 Amit Bhadana is the best YouTuber for short films and Comedy videos. He was born on September 7, 1991, and is a graduate of law degree. His creativity in his short videos is on a top level as he also writes his skits.
The videos he releases on his channel are in the Hindu language and humorous. The topic of his content is creating parodies about his relationship, family, friends, and their daily interactions.
---
If you want to make the right decisions on purchasing gadgets and understanding tech terms in a simplified way, Technical Guruji is the person to come to your mind.
Gaurav Chaudhary created this YouTube channel on October 18, 2015. Guruji has made the tech world look easy as he explains tech terms, as his followers make the right decisions whenever they want to purchase gadgets.
Guruji also reviews the latest release of phones, accessories, smartwatches, cameras, earphones, and other gadgets. People follow him because of his honest reviews of an item as he says the pro and cons of the item for his audience to understand what they want to purchase.
---
Dr. Vivek Bindra is a famous motivational speaker YouTuber who has gained more subscribers on his channel as he posts helpful videos that inspire and train future leaders. His born-on April 5, 1978, and raised in Delhi. He has trained future leaders from 25 countries and is described as the best business coach and motivational speaker.
In 2013 he created his YouTube channel and released inspirational videos, which made him gain more subscribers and become famous with his speech that motivated many people to be successful in their dreams.
---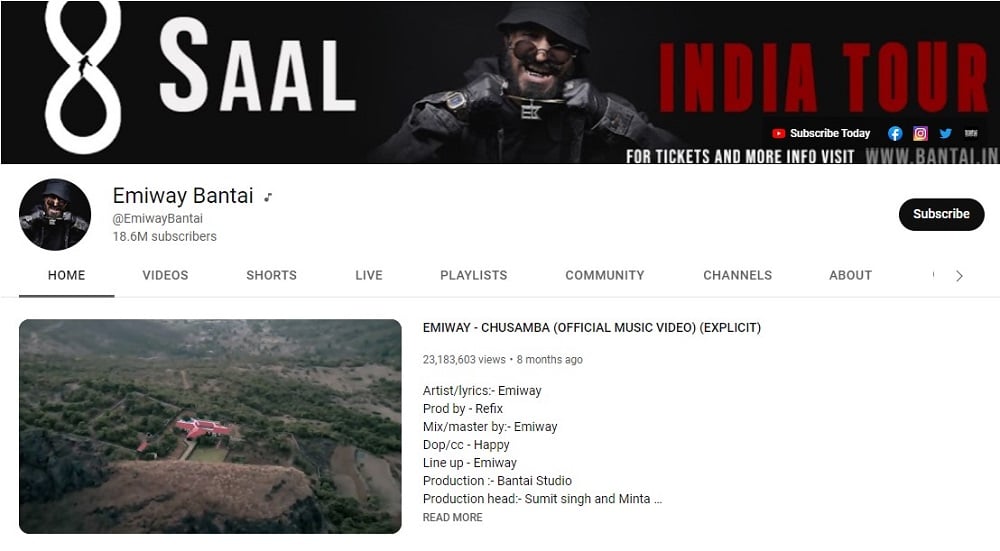 Emiway Bantai, also known as Bilal Shaikh, is a top Indian rapper who raps and produces hit songs. He is famous for his song " Asli hip hop" in the drama movie Gully boy. Apart from being a rapper, he is a singer, editor, dancer, composer, and songwriter. His YouTube channel Emiway Bantai has many subscribers who love his hip-hop music style and how he releases hit songs.
Bilal was born and raised in Bengaluru on November 13, 1995, in a middle-class Muslim family. He became successful on his channel as he released his song Sadak, which gained him a considerable fan base, and he also appeared in gully Boy, which made him more famous.
---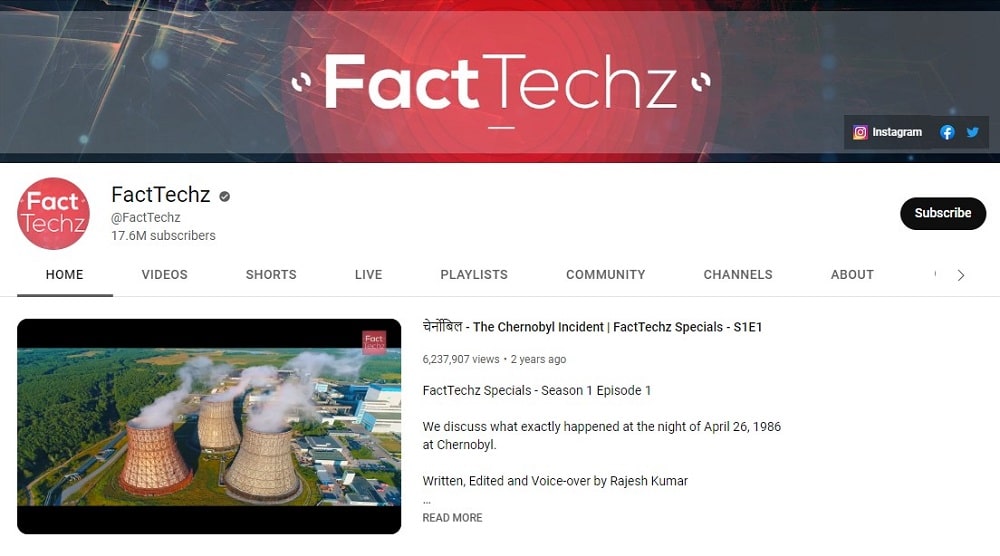 FactTechz is a YouTube channel hosted by Rajesh Kumar, who has released over 500 videos. Rajesh Kumar was born on April 1, 2000, and raised in West Bengal. His content is unique as he covers various topics such as culture, mystery theory, scientific facts, astronomy, etc. His channel has become popular with over 17 million subscribers who love his unique genre.
---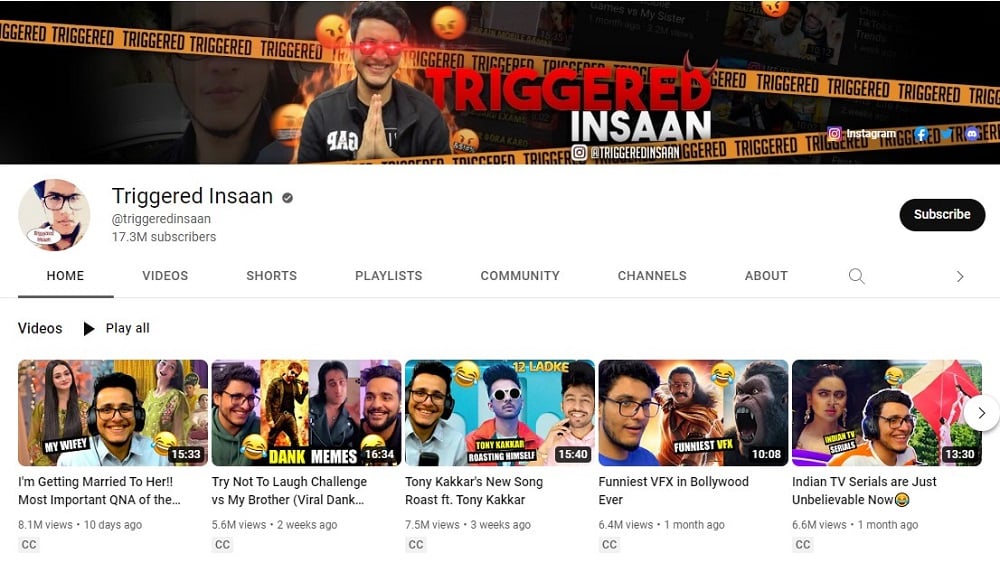 Triggered Insaan, aka Nishchay Malhan, is ranked the top YouTubers in India who have made this list. He has two YouTube channels, Triggered Insaan and Live Insaan. Insaan was born on November 14, 1995, and raised in Delhi. He completed his engineering course at IIIT in Delhi.
After school, he was depressed for two years when he had an internship, worked for only six months, and quit the job due to personal reasons. In his channel, his content mainly deals with roasting videos, rants, and comedy. He uses the Hindi language, making him a famous YouTuber in India.
---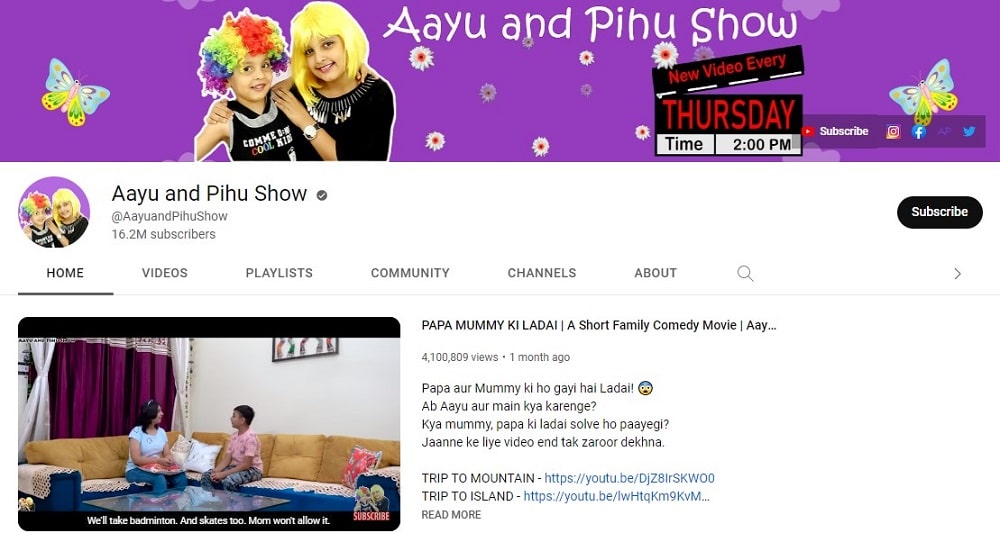 Aayu and Pihu show is the top Indian family comedy show with millions of subscribers. The family comprises four members: dad-Piyush, Mom-Ruchi, daughter-Pihu, and Son – Aayu. The show has inspired many parents who have trouble parenting and having good relationships with their kids.
The family bond in the show is so healthy that any family can wish to have it in their home. The family content is fun as they create games and online challenges and share their unique and entertaining events.
---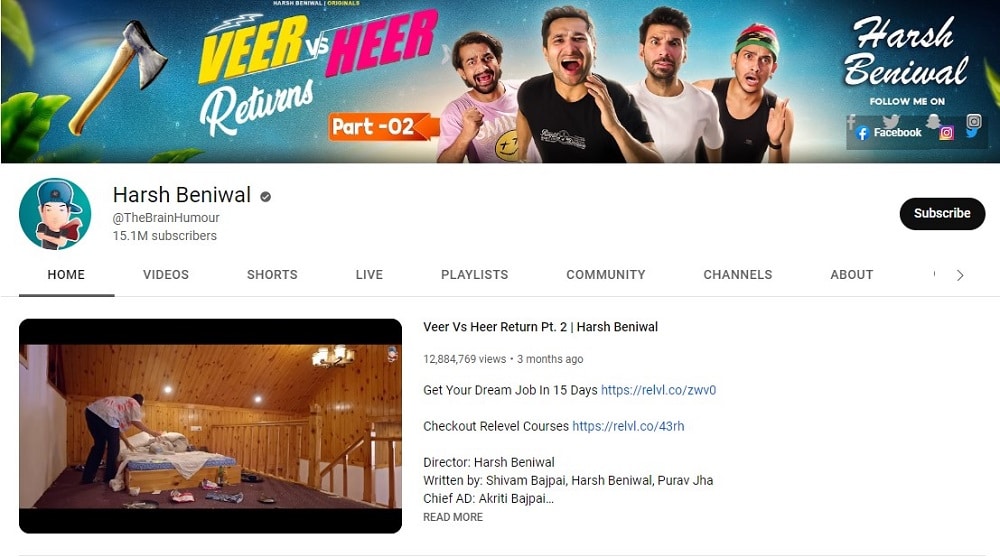 Harsh Beniwal is a top YouTuber in India who does short comic videos. He is an actor and a vine star too, where he appeared in the comedy movie known as a student of the year 2. He was born on February 13, 1996, in Delhi and went to Shri Aurobindo College, where he did B.C.A.
Harsh dreamed of being a Bollywood actor and started his journey as an actor when he joined an acting school. He started making funny Dubsmash videos that went viral and made him famous.
He created his YouTube channel in 2013, where people started to notice him again as he posted hilarious videos and received millions of subscribers on his channel.
---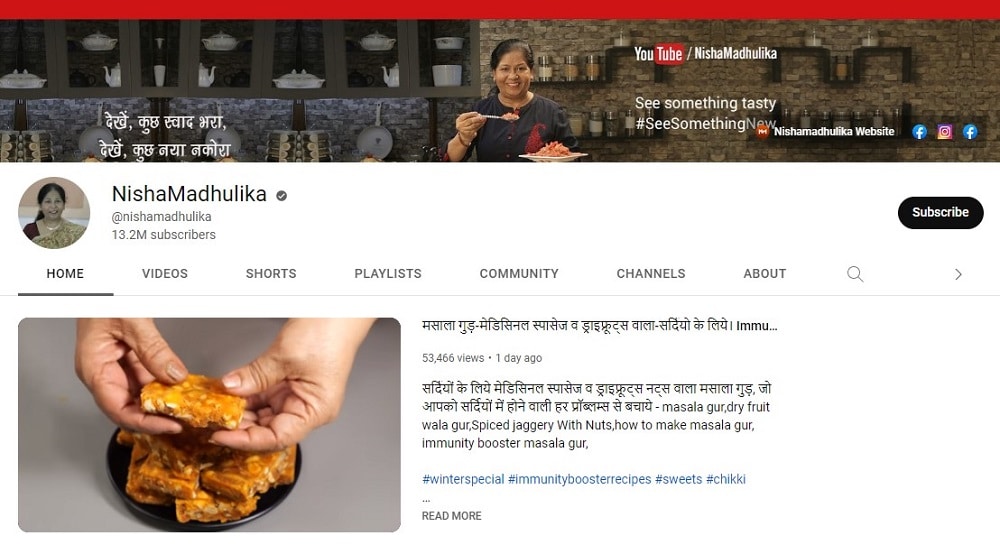 When it comes to the top food YouTubers in India, the person who comes to your mind is Nisha Madhulika. She is known globally and has a real motivational story that most females in India are inspired by.
Her moment of lowness started when her children moved out as they became fully grown people, so she decided to do something productive that is when she started her journey in cooking.
She started as a food blogger for seven years, receiving a lot of attention from people and becoming a top YouTuber in India with millions of subscribers. On her channel, she has uploaded more than 100 recipe videos where she uses basic spices and ingredients to cook delicious food. In her achievement, she was featured on YouTube in the top chef's table book.
---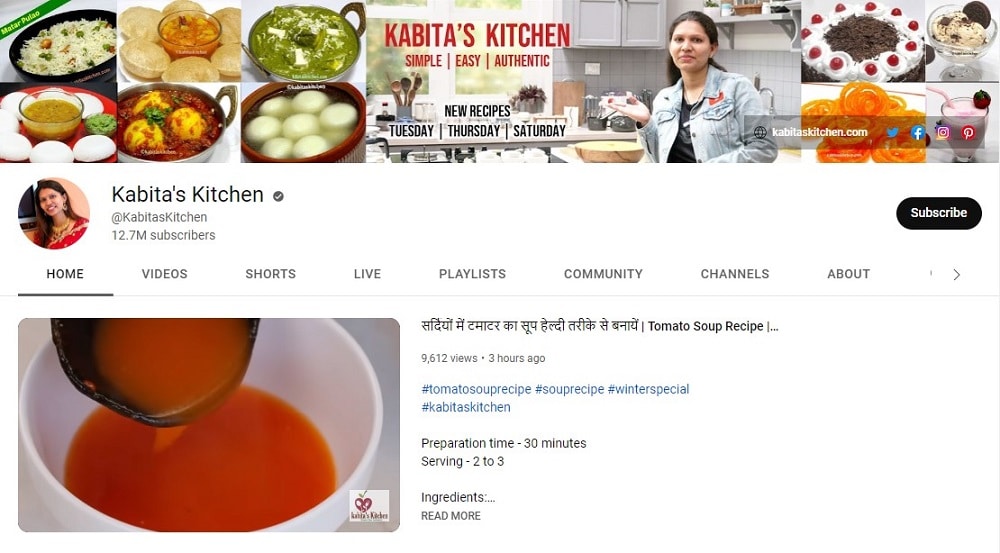 Kabita"s Kitchen is one of the most-watched channels in India regarding cooking and Scrumptious recipes. Kabita is the channel's host and created it on October 7, 2014. She has managed to post over 1000 videos that make recipes using available ingredients at any local market. People love to watch her as she uses easy techniques to recreate dishes and make Indian cuisine.
---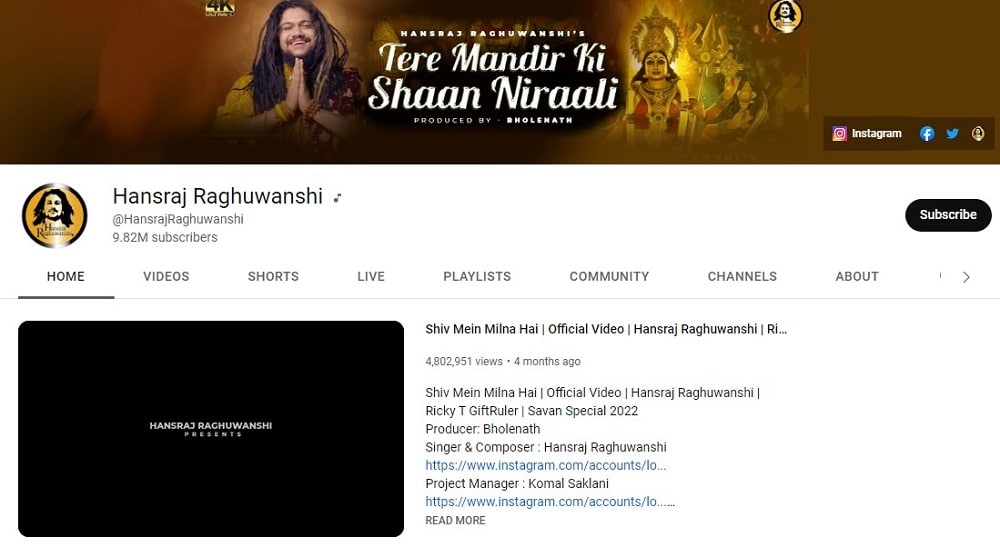 Hansraj is an influencer who does well in the music entertainment industry. He is multi-talented, as he can sing, write songs and even act in his videos on YouTube.
Millions of Indians have subscribed to his channel because of his love of devotional songs, which he loves to sing in the Hindu religion. Hansraj has also released hit songs that are popular in India.
---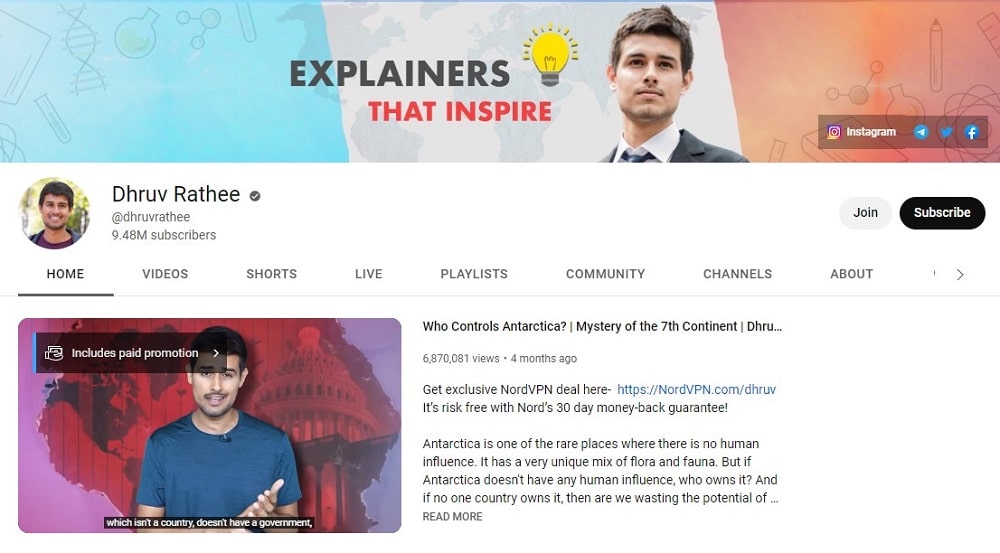 Dhruv Rathee is a top academician YouTuber who talks about topics involving History, Social Sciences, finance, politics, environment, economics, and Education in general. He is based in Germany but has Indian descent and has millions of subscribers in India on his YouTube channel.
The primary purpose of creating his YouTube channel is to explain the complex concepts of the topics mentioned above in more straightforward explanations where most people can get the concept well.
Some concepts he has covered and made easy to understand are the Hiroshima bombing, the capture of China, and many more topics.
---
Conclusion
YouTube has become a fairground where people can earn through their content and become professional YouTubers.
Therefore, for any inspired YouTuber who wants to start this journey, you should not give up; as we can see, the top YouTubers above all started from scratch as they grew to have millions of subscribers in their channels. If you are a fan, kindly support your favorite YouTuber by sharing his videos with your friends, family, and anyone you can reach.