There are a ton of great dog YouTube channels out there, but these are our ten favorites. From funny dogs to cute dogs to dogs in costumes and training dogs.
The channels below have highlighted it all! Just go for what you need to know about dogs; it will save you time to get the best channels faster's
---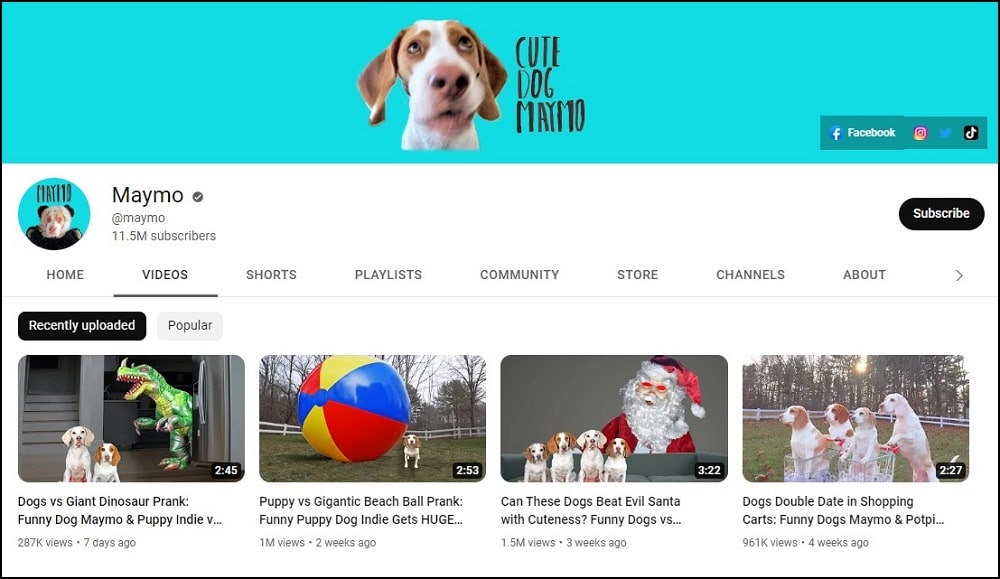 Maymo is a cute lemon beagle that has incredible 9 million subscribers on his dog youtube channel. His main content with his potpie friend has featured playing games, giving pretty pranks, cooking pizza, and dressing costumes. If you want to experience a dog fight with whip up of spaghetti or a fight of a giant duck, this dog YouTube channel is the best to watch.
To find more of this maymo channel, subscribe to the channel and create happiness for yourself while enjoying watching the videos. Due to its popularity, the channel has appeared on several TV shows and websites.
---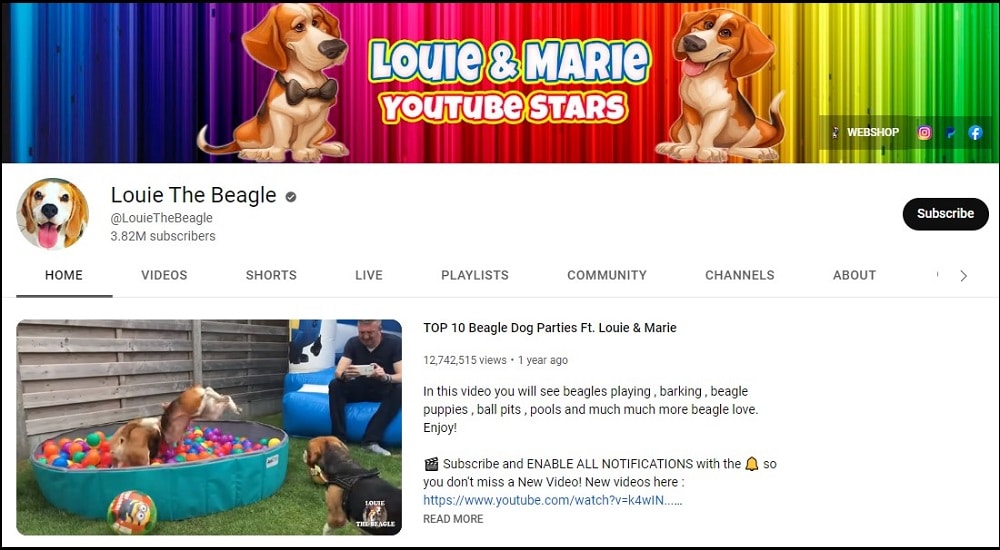 Louie The Beagle is a famous big dog on the YouTube channel where the content of his videos has accumulated views 698 million times. The channel features the cutest and funniest Beagle dog on YouTube. Louie and his sister Marie are the YouTube stars on the channel where a lot of pranks with animation are done, and you will have fun watching the videos. Currently, the channel has over 3.81 million subscribers who follow up on the dog's adventure.
---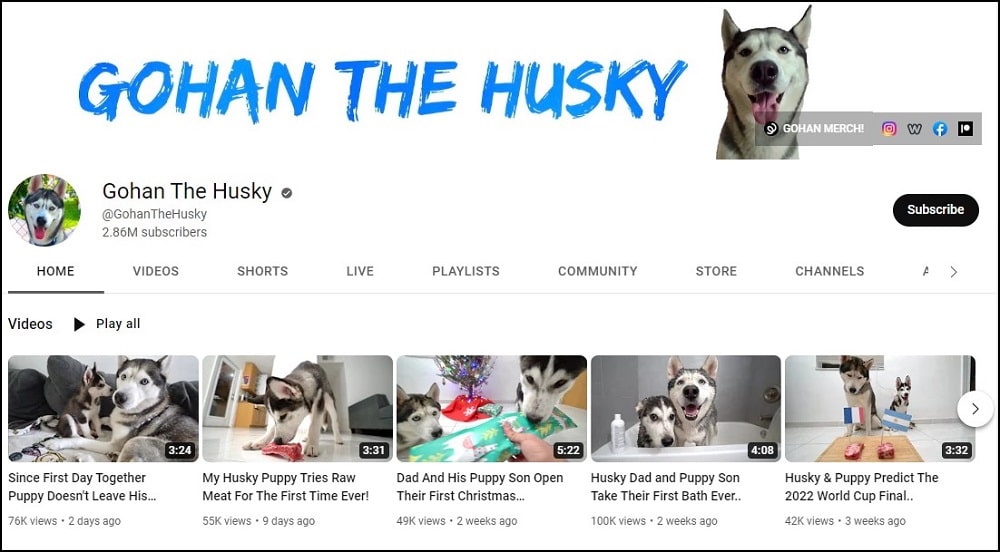 Gohan The Husky is the most popular and followed husky on YouTube with over 2.34 million. His fan base is enormous because he is a goofball who does funny content expertly, which will crack your ribs and have a super cute smile on your face. Gohan does well in the videos where he swims with baby ducks while reviewing the beef steak's price. This portrays how smart he is.
Gohan expresses ways of looking for new adventures daily like other huskies . To enjoy more content from Gohan and have a funny moment, make sure to subscribe to receive all the videos uploaded to the channel.
---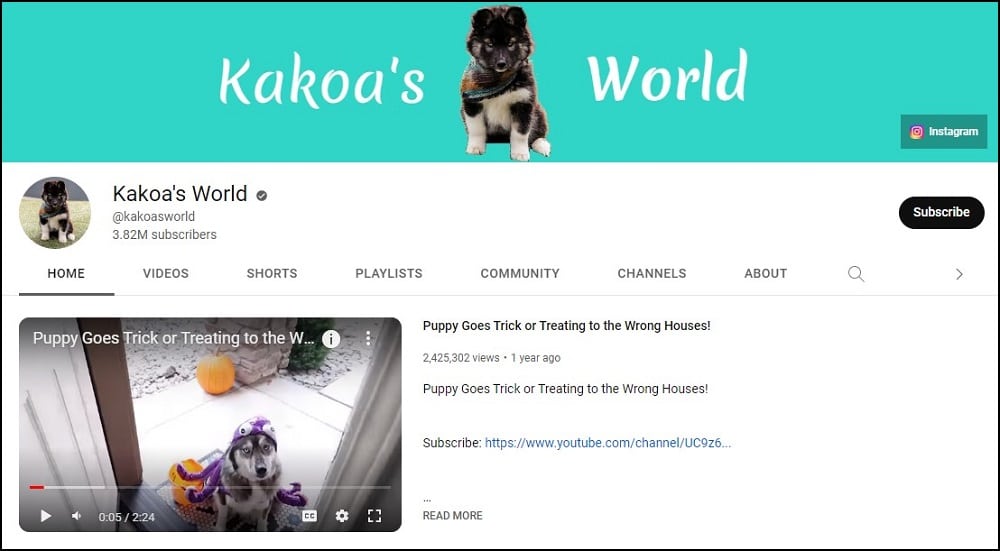 Another famous dog YouTuber in the YouTube world is Kakoa, who has more than 2.5 million subscribers. Kakoa is featured with his fun humans dressed in costumes, for example, superheroes, mermaids, princesses, and whatnot.
If you are fun of watching Disney characters such as marvel, cartoons, and comics, you will relate to and enjoy Kakoa's world channel. His fun base loves to watch the uploaded videos since it puts a smile on their face. Some of the videos they have uploaded are so cute, as you can see the dog playing games with friends, celebrating birthdays, having surprise birthday parties, and enacting roles.
---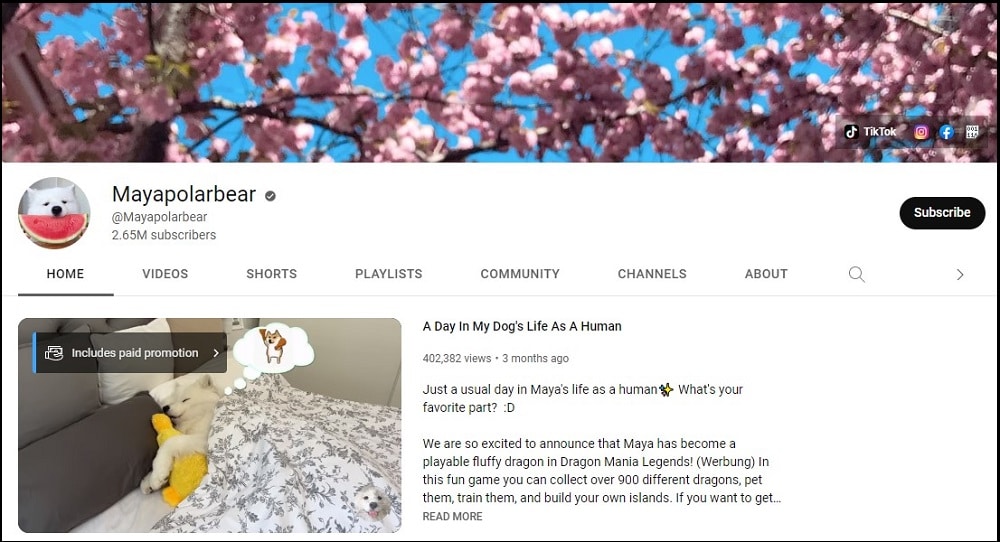 Moyapolarbear is a unique and most loved verified dog YouTube channel with over 1.6 million subscribers. Maya is a fluff ball that brings entertainment in a funny way to her loyal online viewers on her YouTube channel.
Most of the channel's video content is that Maya loves to go out or walk, take revenge on her master, prank friends, explain the situation best, and bring smiles to her viewers. The channels upload videos with helpful content on tips for maintaining dog health, good dog products, and providing the best attention to your dogs.
---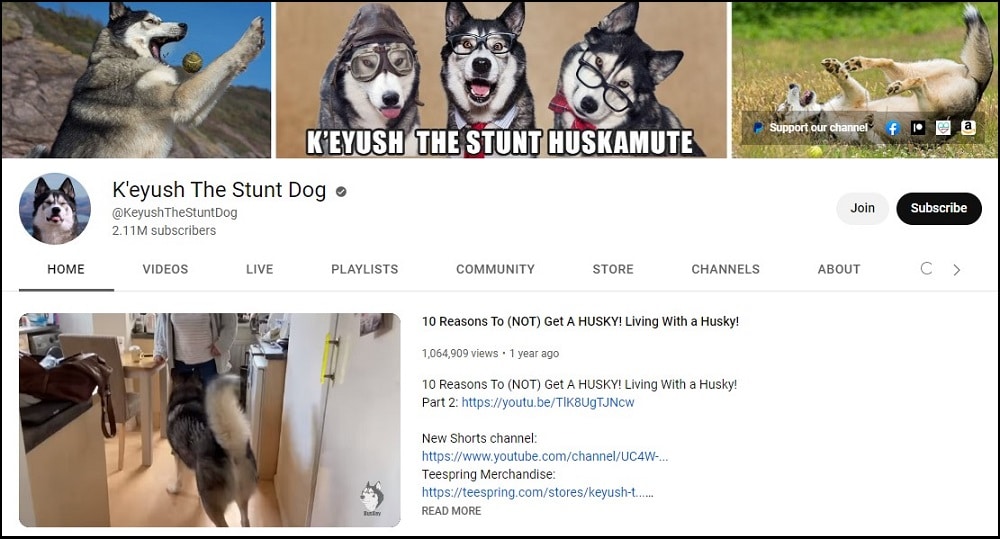 Have you ever thought about what a stunt dog looks like? If not, you need to check out this channel, K'eYush the Stunt Dog. This channel features K'eyush, a unique Husky Malamute cross that performs his stunts like somersaults and skating boards. He is a playful dog who plays around with his friends while doing stunts and hates to be ignored. His videos are primarily funny, as you can see how he is poor in catching fails and shows dramatic expression of opinion against himself and others. The channel has many fans of over  2.11 million subscribers who are his die-hard fans.
---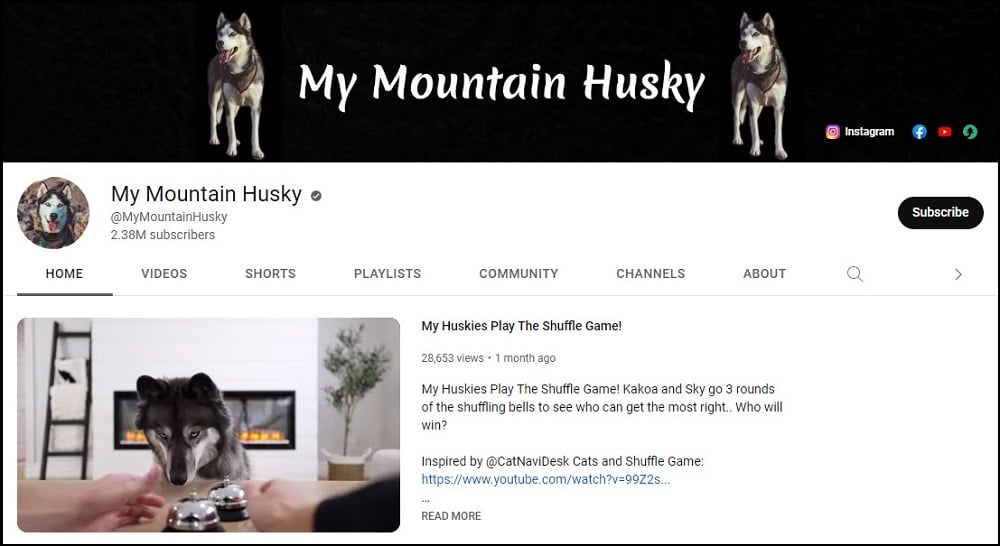 Mountain Husky is one of the most viewed dog channels, which features the adventures of Kakoa and sky related in their personalities. They are adorable creatures who do funny videos and even maintain their fans by playing piano for them. Some of their content is their sleeping pranks, dealing with their shedding seasons, and others. Most of their content has over 170 million viewers, making it one of the top-viewed dog channels on YouTube. To follow up with their new content uploads, always check every Thursday to find a new fun video to watch.
---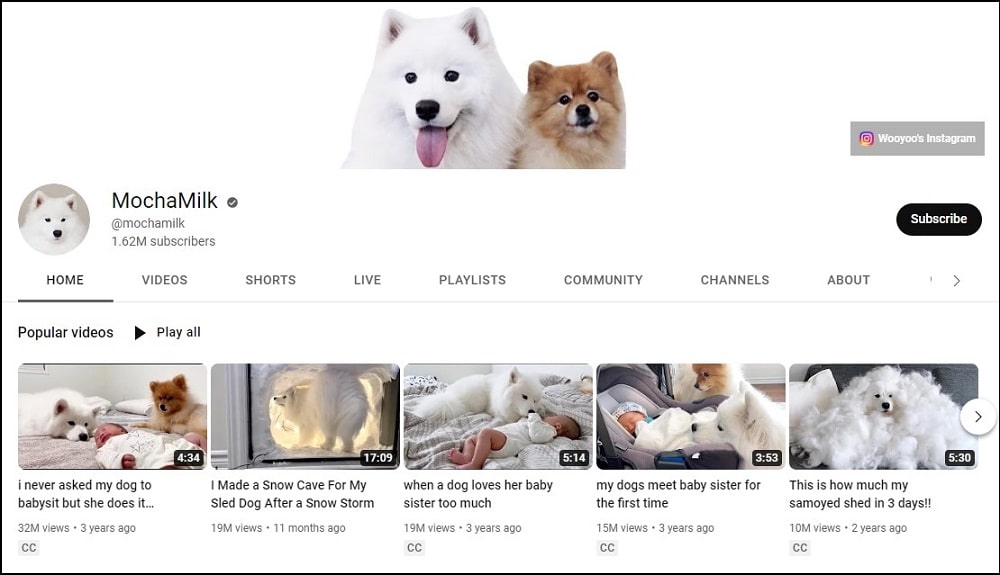 MochaMilk is a cute YouTube dog channel that features two dogs and a baby. The two dogs are Mocha, a Pomeranian Splitz cross, and Milk, a Samoyed who plays with the baby, reacts with pranks and tries out sledding. The channel has 1.61 subscribers who support and enjoy its content. Another beautiful nature of Mocha and milk are caring and constantly feeling worried when the baby starts to cry and trying their best to protect the baby to be safe.
---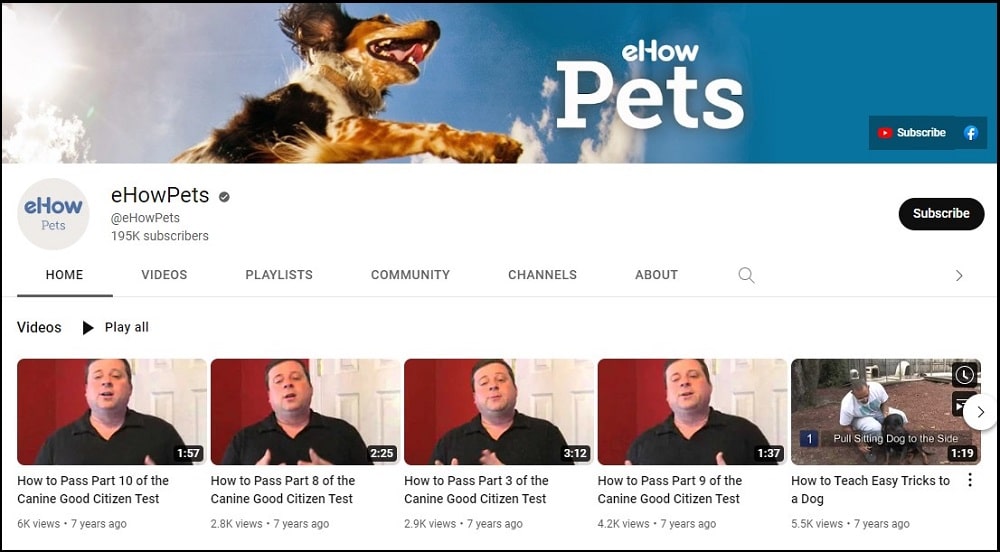 Have you ever needed to seek answers about your dogs? If so, the right channel to focus on is the eHowPets channel on YouTube which will give you all the answers through their videos. The uploaded videos show how to train a puppy, surf dogs, and celebration during holidays with your pets.
During the summer, if you want to enjoy a good time with your dog, you can watch videos on how to surf a dog in the water and apply it to your pets. The channel is still not that popular, but it has
---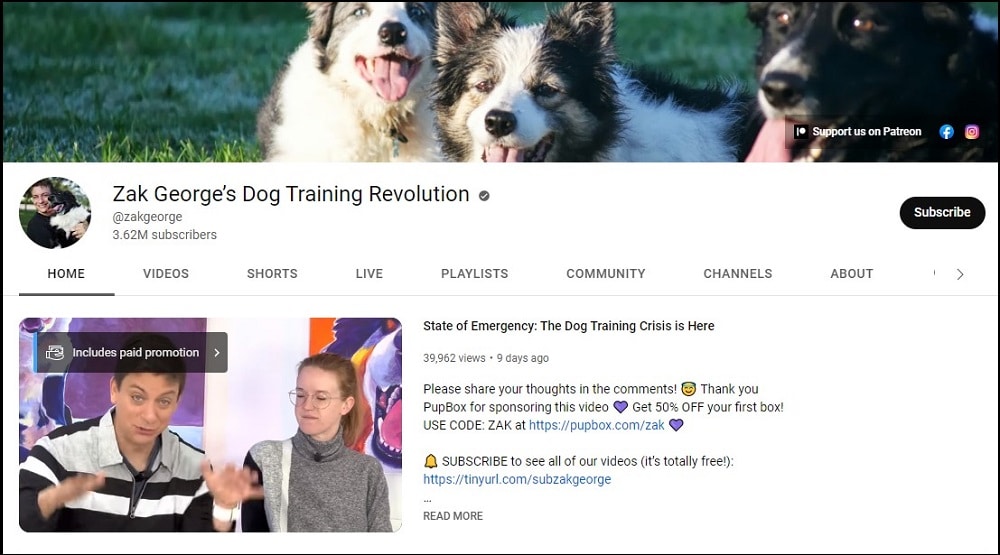 Statistics from most surveys have shown that Zak George's dog training revolution is one of the most followed dogs YouTube channels that are popular. The channel has grown with more subscribers of around 3.61 subscribers, which has garnered a considerable fan base.
Most of the zak uploads in the channel are to keep dogs healthy and to train them. Furthermore, the channel is helpful as it provides information about dogs' behavioral traits, handling techniques, interests, weak and strong points, and many more. Try to follow the channel to get all the tips and tricks to teach your dogs to develop healthy habits that are healthier for everyone.
Many dog YouTube channels can be a great way to learn about different breeds, get training tips, or enjoy some cute dog videos. However, it's important to remember that not all dog channels are created equal. Some are much better than others, so it's essential to do your research before subscribing to any of them.