If you're looking for some travel inspiration or want to see some fantastic places worldwide, check out these 15 great Youtube Travel Channels.
Even though being a travel vlogger is more challenging, we have a rise in vloggers every year who come out with their YouTube channels to take us through their beautiful journeys and give us the best insight about a travel destination, food, and culture.
---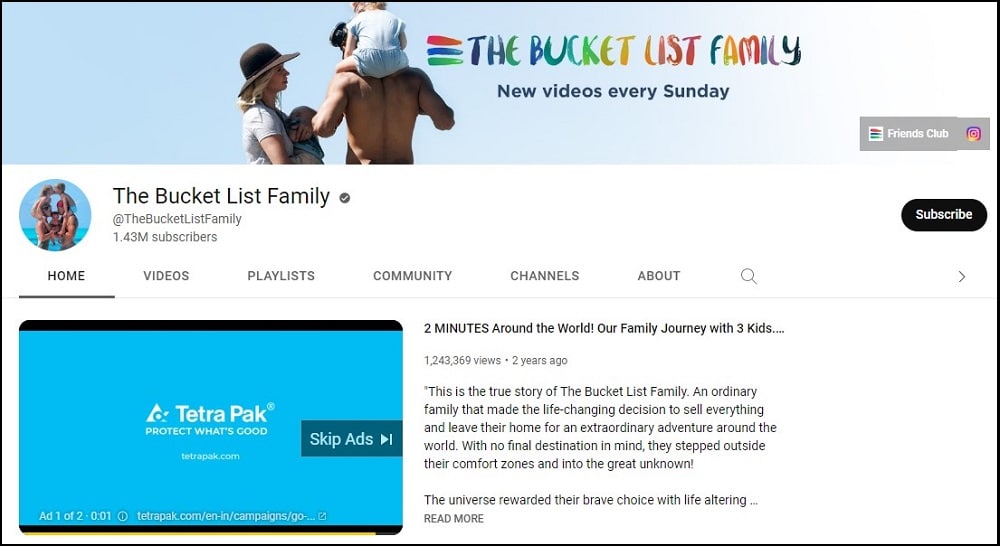 The Bucket List Family is a YouTube channel created by a family of four who quit their jobs, sold everything they owned, and started traveling the world full-time. The family includes parents Garrett Gee and Jessica Gee and their two young children, Dorothy and Manilla.
The family documents their travels on their YouTube channel, which has amassed over 1.5 million subscribers, and their blog, where they share travel tips and advice. After traveling around, the family travel journalists decided they would keep exploring the world and discovering new adventures and opted not to settle down as ordinary families do.
The Bucket List Family has been featured in numerous publications, including The Huffington Post, The Daily Mail, and Business Insider.
---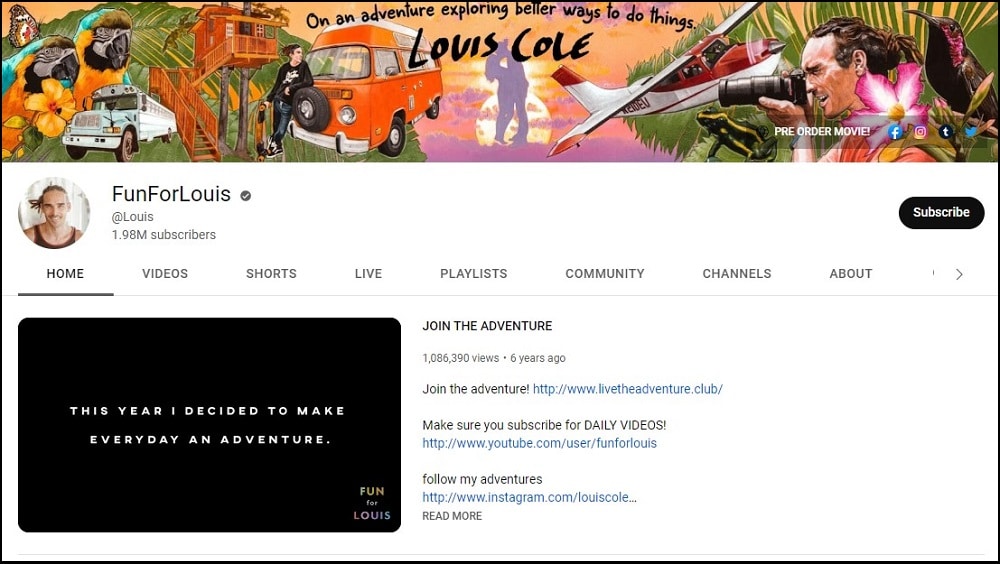 Louis Cole is a popular YouTube travel vlogger who runs the channel '2, Fun for Louis'. He is originally from the UK but currently resides in Los Angeles, USA. Cole's channel focuses on his personal travel experiences around the world. He often films himself solo but sometimes includes footage of his friends and family. As of June 2019, Cole's channel has over 1.9 million subscribers and over 400 million views.
Louis Channel brings charismatic, upbeat video content that makes them fun to watch. He also puts a lot of effort into his non-stop adventure travel vlogs which are engaging, exciting, and entertaining.
---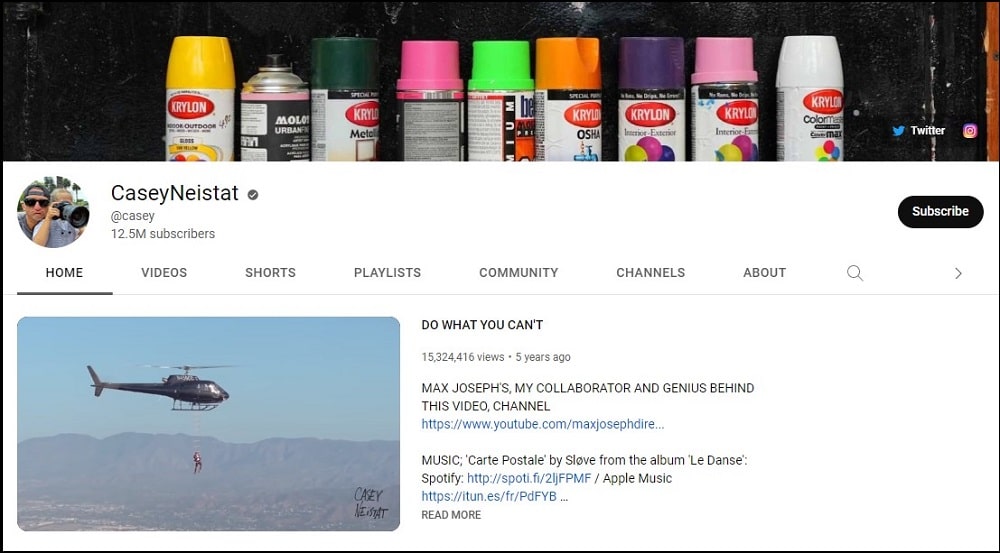 Casey Neistat is one of the most popular travel vloggers on YouTube. He has been making videos for over ten years, and his channel has over 11 million subscribers. Casey's videos are known for their high production value and exciting storytelling. He has been to many countries, and his videos have a unique perspective different from other travel vloggers. Casey's videos are unique and have tasteful shots that you will be glued to watch. Also, he is a great storyteller using his camera skills so that you can stay energized. One of his great videos can watch lifeguard training with Kevin Hart.
---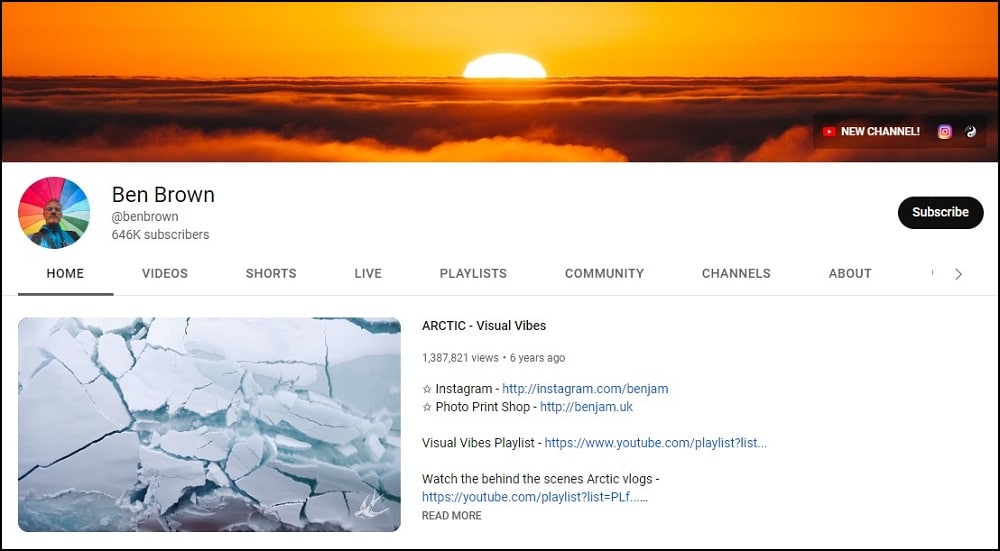 Ben Brown is a known British travel YouTuber and filmmaker who has been to over 100 countries. He started his channel in 2006, making him among the oldest travel vlogger out there, and he has since amassed over 2 million subscribers. His videos are mostly vlogs documenting his skiing, hiking, or motorbiking travels, but he also makes videos about history, culture, and current affairs.
Brown is a good storyteller where; most of his vlogs are partially filmed according to his viewpoint and showcase serious fabulous travel cinematography. He has won numerous awards for his work, including a British Academy Award.
---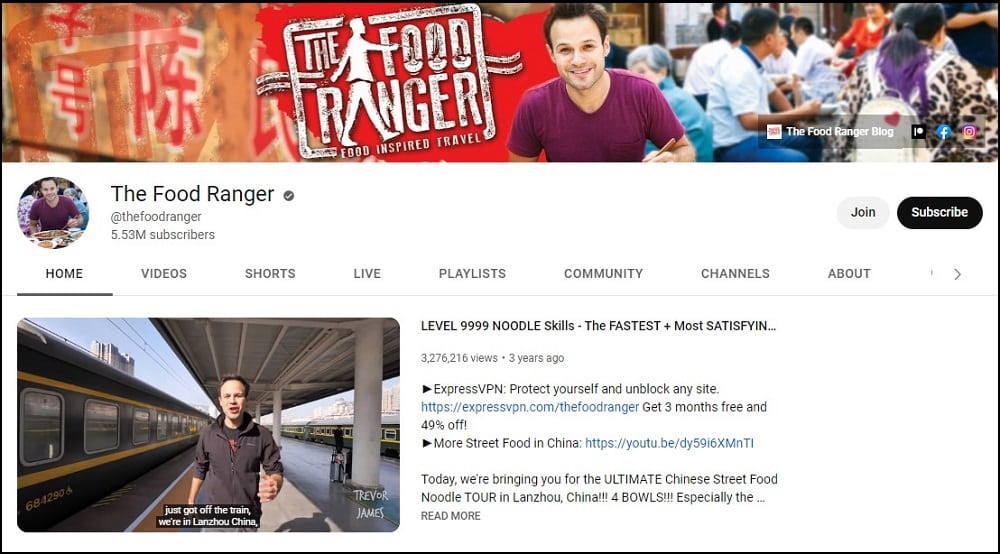 The food ranger is a popular YouTube travel vlogger who focuses on food. He has been to many different countries and tried various other foods. He is known for his adventurous eating habits and love of trying new things. He has also written a book about his experiences called "The Food Ranger's Guide to Eating."
For those who love Asia food, Trevor is the guy to watch on his channel, The Food Ranger. He posts his video content regularly despite being located in China, where YouTube and Google are banned.
---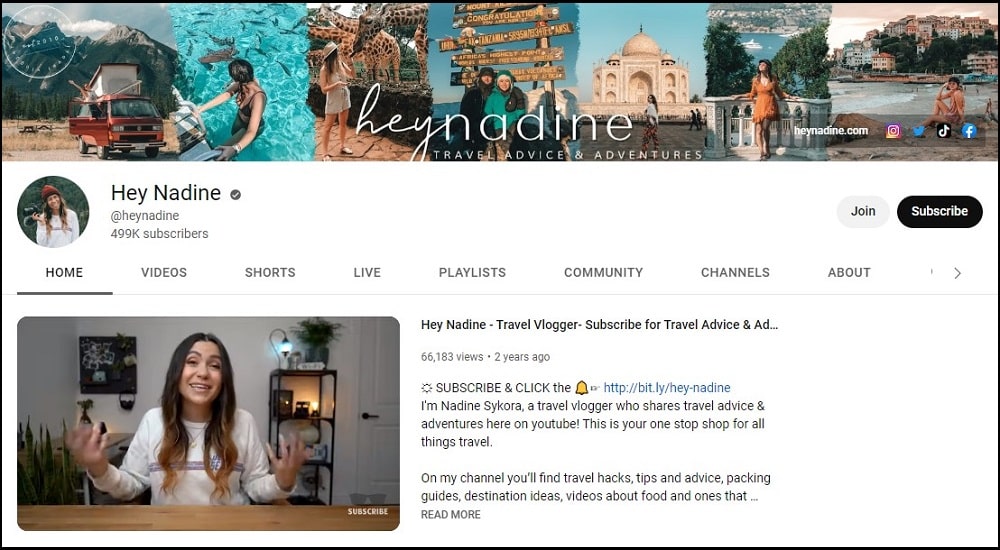 Nadine Sykora is a famous travel vlogger who has traveled to about a quarter of the 200 countries in the world. She created her YouTube channel that mainly gives out content based on her traveling experience, which viewers find the most knowledgeable channel on YouTube. Nadine's videos are humorous travelers, enlightening and inspiring to many viewers as she strongly emphasizes getting the cheapest flights, applying travel-proof makeup, and packing your bag for long journey trips.
Through her epic journey experiences, you can learn many lessons from travel montages, destination guides, and daily food ventures.
---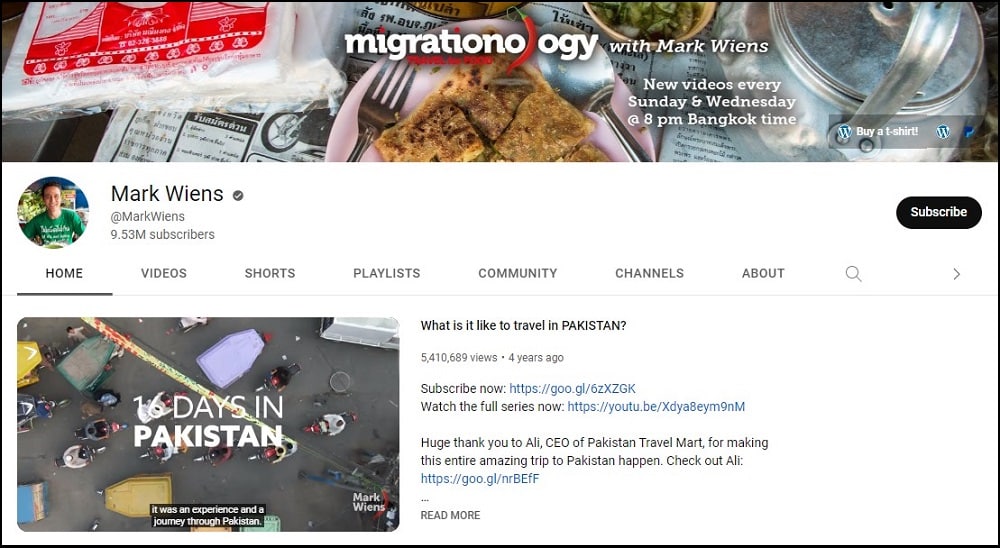 Mark Wiens is a travel vlogger documenting his travels since 2008. He has visited over 100 countries, and his videos focus on the food and culture of the places he sees. Since graduating from the university, he has traveled worldwide to search for village foods, the finest street foods, and restaurants.
Through his exploration and being an audacious foodie, he also managed to get a wife in Thailand, thus making him gain a new travel partner.   He has been featured in several publications, including The Guardian, BBC, and CNN. In 2016, Forbes named him one of the Top 10 Travel Influencers.
---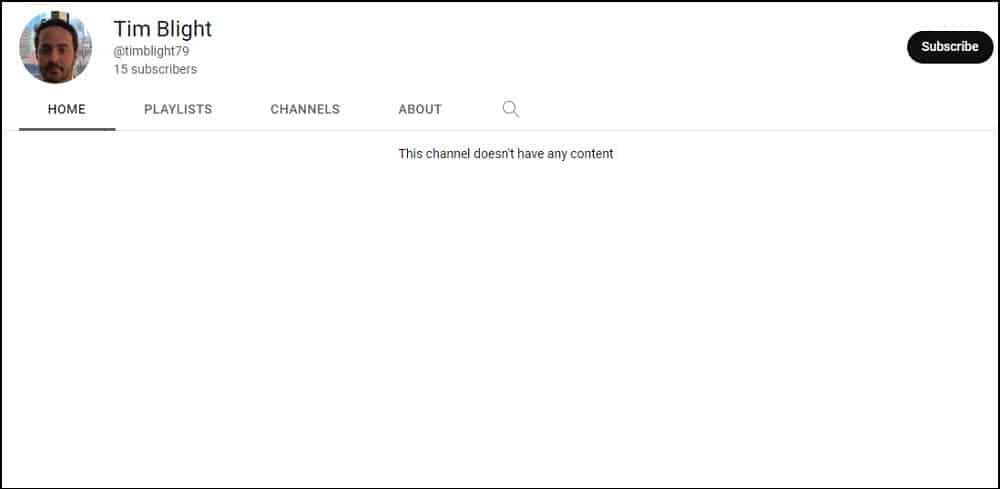 Tim Blight is a Canadian travel vlogger who has been sharing his travel experiences with his YouTube channel since 2011. He has been to over 60 countries, and his videos have been viewed over 50 million times.
Tim's travel vlogs are characterized by his relaxed and easygoing personality, which makes him willing to try new things. He has a great sense of humor, and his videos are often very entertaining. In addition to his vlogs, Tim shares helpful travel tips, and advice on his website and blog.
Tim Blight is worth checking out if you're looking for a fun and informative travel vlogger to follow.
---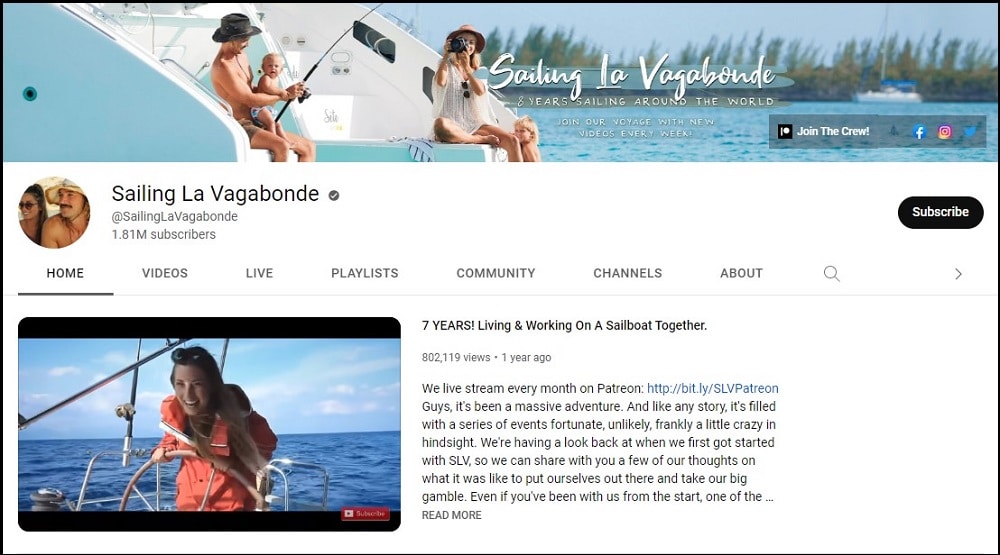 Riley and Elayna are an Australian couple who are travel vloggers who have managed to dedicate their lives to the sea. To be a travel vlogger, you need to be good at adventure, but to be a vlogger in the ocean, you need to be in another special breed that can stay long at sea. Since they launched their YouTube channel, the couples have managed to sail over 60000 nautical miles in the sea, which is an outstanding achievement. It started when Riley bought a yacht where he had no experience in sailing, and he traveled from Italy to Greece, where he met Elayna for the first time and got in love and dated.
The couple started sailing around as amateurs and later became the best who used the sun to guide them and even dominated the ocean abroad, the La Vagabonde.
---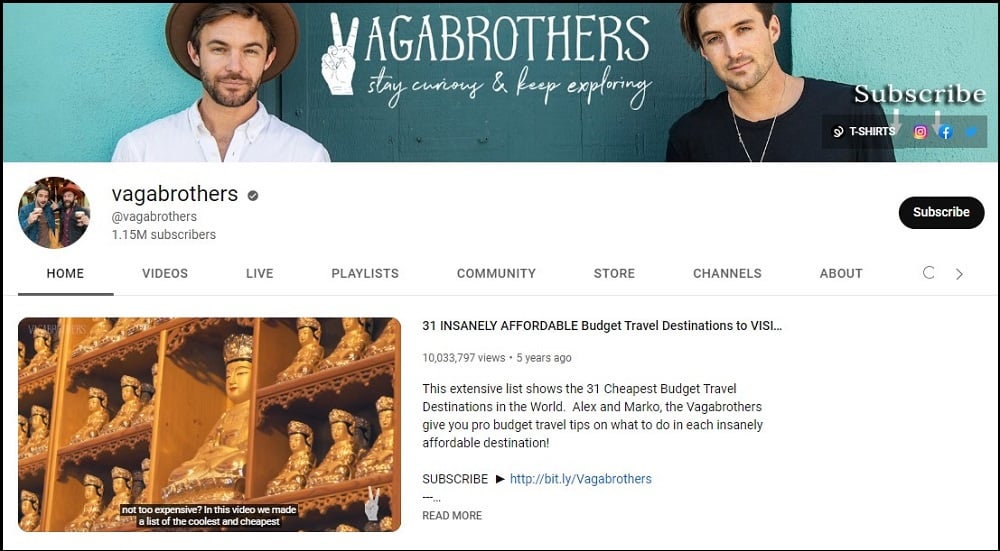 Vagabrothers is a popular YouTube channel that features videos of the two brothers traveling to various locations worldwide. The videos are exciting and informative, and the brothers Marko and Alex have a great rapport with each other. The vagabrothers have roles in their channel where Marko is the producer and Alex is the filmmaker. They enjoy their trips, and their enthusiasm is infectious. Their videos have inspired many people to travel and even won some awards for their work. In their channel, they have a slogan which is "Stay Curious and Keep Exploring." If you're looking for some travel inspiration or want to see some beautiful places, then be sure to check out Vagabrothers.
---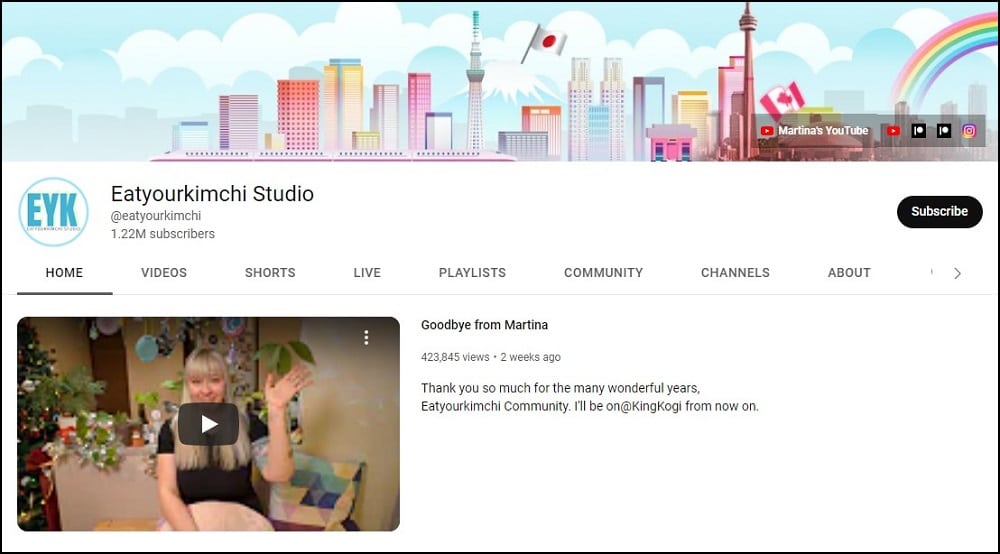 Simon and Martina are a famous YouTube travel vlogger couple from Canada. They started their channel known as "Eatyourkimchi studio" in 2008 when they lived in Korea and documented their life and adventures there. Since then, they've moved to various countries and continue to vlog their travels and experiences. They're known for their fun, energetic personalities and willingness to try new things. Simon and Martina is an excellent choice if you're looking for a travel vlogger couple to follow!
---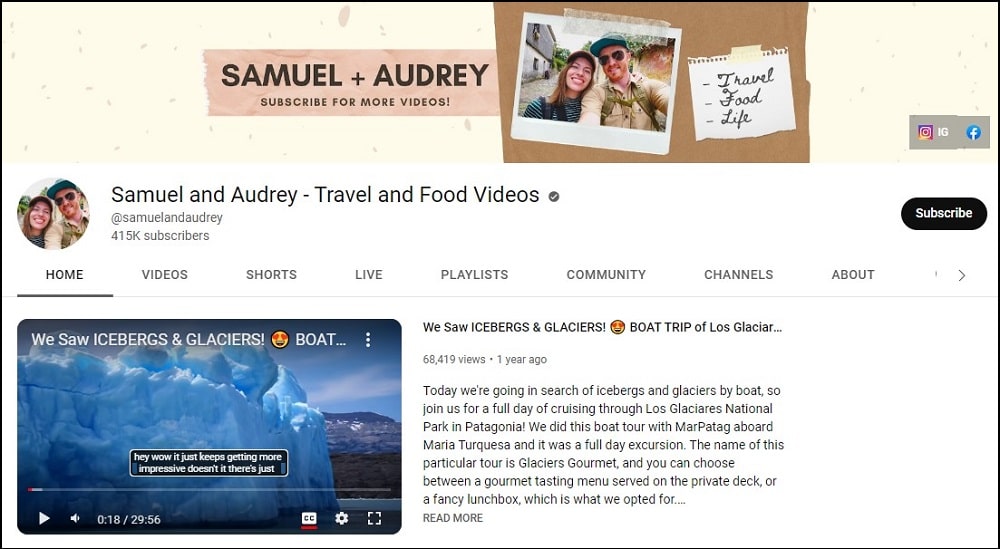 Sam and Audrey, aka  'Nomadic Samuel and That Backpacker," are popular travel and food vlogger. The two are once bloggers on the internet who met in South Korea as they were working as teachers teaching the English language to their learners. They began dating, married, and decided to develop a travel guide youtube channel to inspire people. Their main aim in their channel was to give out detailed travel guides that could picture the best things to do in famous cities like Istanbul, Barcelona London and show the best local eating spots.
People love their content as they are famous for producing food reviews and travel and destination guides. If you plan for your next vacation, consider watching their channel for the best guide.
---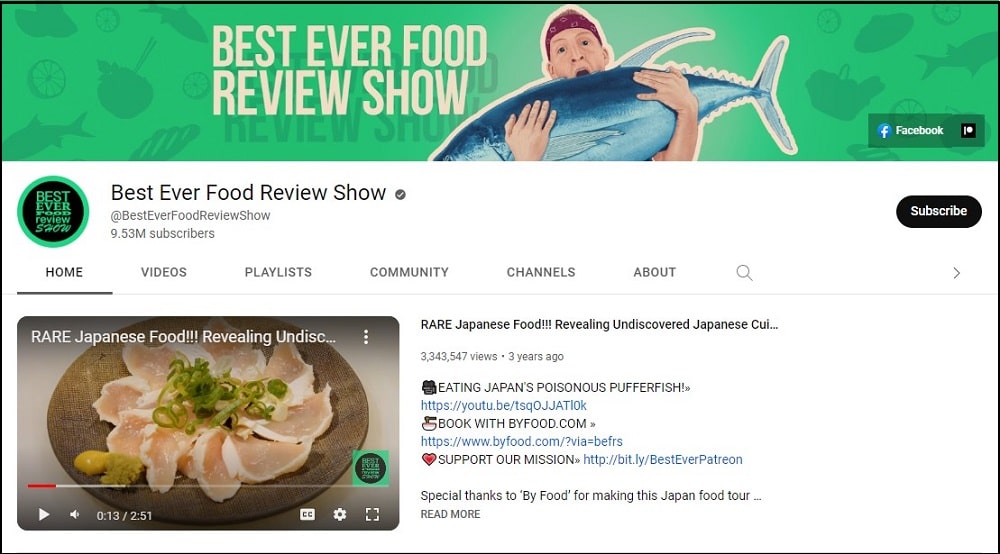 Sonny is a popular travel vlogger who stands true to his documentary episodes where he travels around the world. His channel, known as Best Ever Food Review Show, has over nine million subscribers, and he travels to unique parts of the world to hunt the best delicious food in each country.
He excites his viewers as he goes to new places to try anything new, making it fun to enjoy his content. Some videos he has uploaded to his channel are when trying to consume food worth $100 in one day. The most popular video he has done is when he tried to eat a poisonous pufferfish in Japan, where he had over 27 million views.
---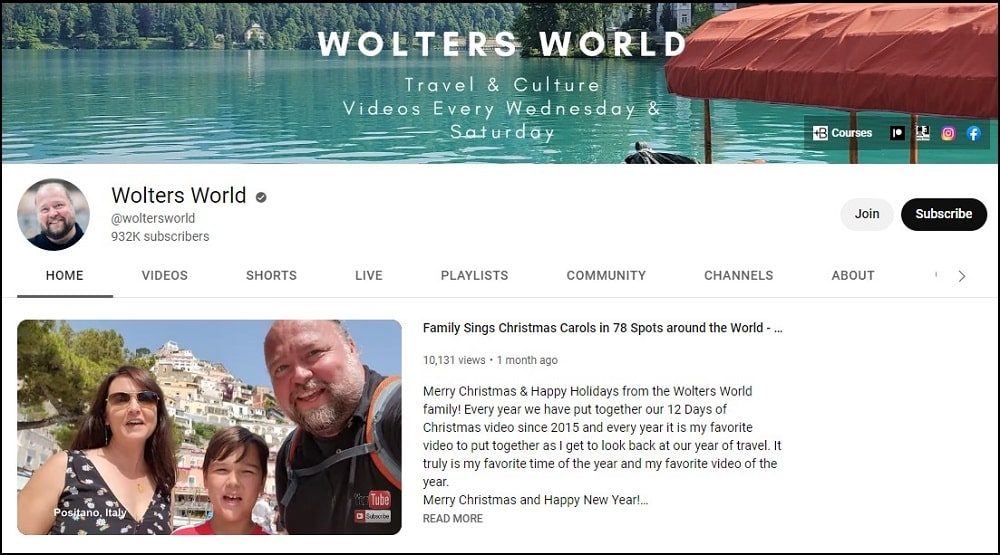 Wolters world is the best travel YouTube channel that shares tips you will love and hate when visiting a particular city. The travel guy in the channel is honest with his opinion about the towns he visited and brings a good picture of what you will love, hate, and be shocked about in each city. The channel is popular, with over 927k subscribers. For any traveler outside there who is planning to visit a particular town, try and watch Wolters world and get honest travel vlogs of places in the beautiful world.
---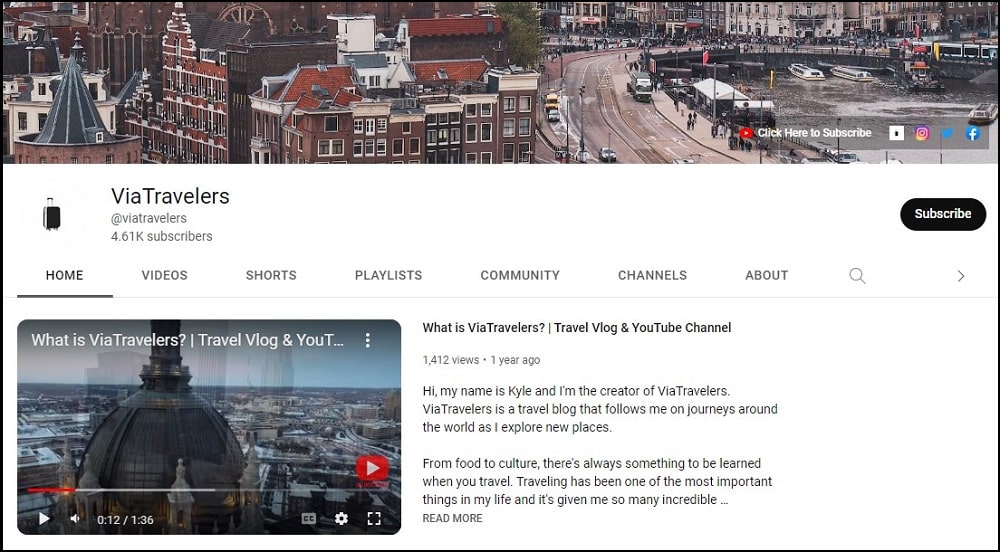 Via Travelers is a great travel YouTube channel that features day trips on the road and provides some fantastic tips for your next trip. Via Travelers have rapidly grown as more subscribers subscribe to their channel. This is because the channel earns organic viewers coming from their email courses.
Via Travelers provide content mainly focusing on the most beautiful tourist attraction places. Therefore, the channel has inspired and motivated more travelers and viewers to have plans to visit the most stunning locations in the world.
---
Conclusion
From the above, there are a lot of great travel YouTubers out there who can provide some fantastic tips and maneuvers for your next trip! However, if you're looking for the best of the best, you need to check out these 15 best YouTube travel vloggers that guide you from budget-friendly tips to finding the best food. These travel experts have got you covered.