Twitch has become one of the most popular services for game streaming. Its immense features allow players to showcase their gaming abilities as they interact with the large community on the platform. Therefore, when it comes to ranking the top Twitch streamers, it comes down to looking at the stats. Let's look at the top 15 best Twitch streamers that will blow your mind with their outstanding gaming skills and commentary.
In addition, Twitch also allows them to earn money through partnerships, subscriptions, and ads. This has made streaming games one of the fastest-growing and most lucrative entertainment forms.
Many top Twitch streamers have attracted millions of followers by incorporating drama and bits of their lives into their gaming skills.
---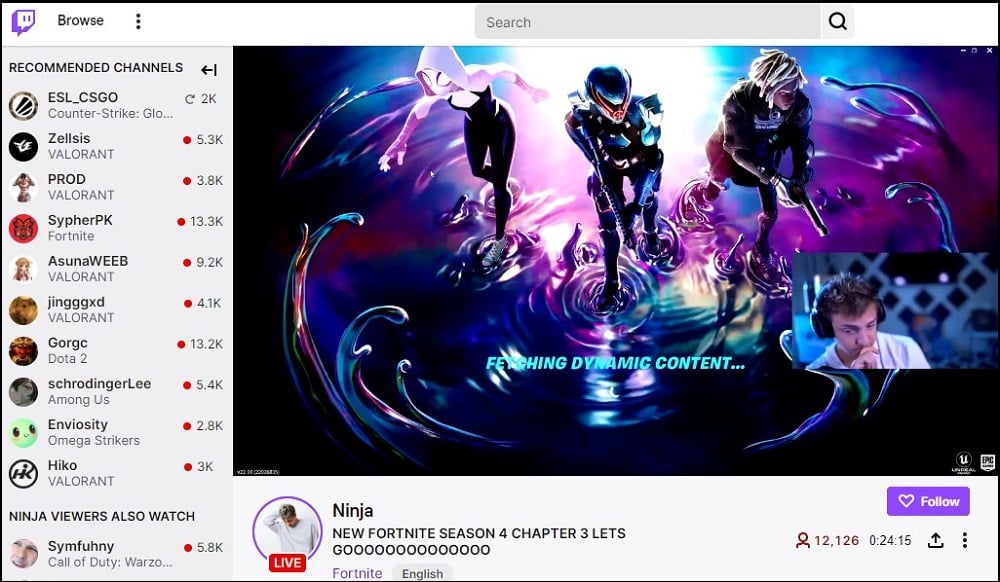 Ninja is, without a doubt, the king of Twitch. He is known for playing Fortnite, among other popular game titles. Ninja rose to fame after taking part in an esports team and playing Battle Royale. He became even more popular after playing Fortnite with Travis Scott and Drake.
Ninja has grown to become the highest-paid and highest-followed streamer on Twitch. He has over 18 million followers, and his streams have been watched for more than 347m hours. This vast fan base and popularity have helped him secure sponsorships from various top brands like Red Bull and Adidas. He even managed to write a book and create his line of merchandise.
---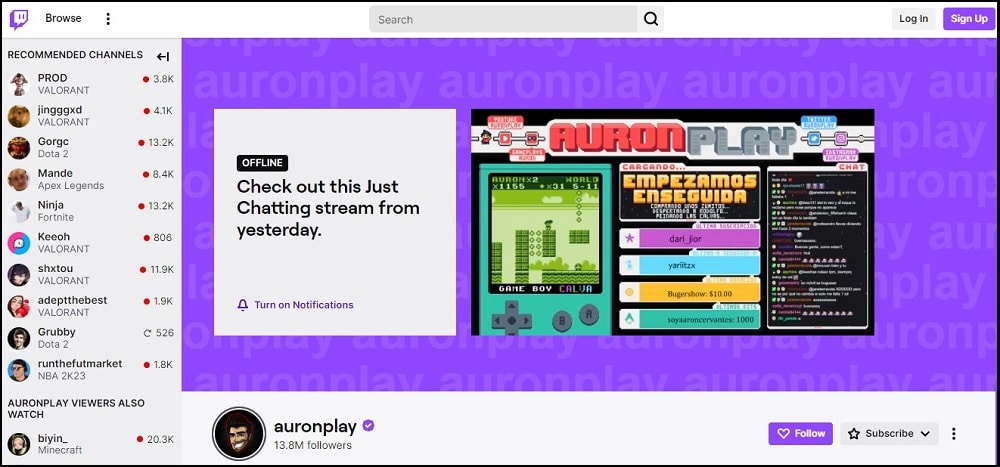 Raul Genes, popularly known as AuronPlay, is another excellent Twitch streamer. He is a Spanish Twitch streamer who has grown from someone working at a printing shop to becoming one of the iconic Twitch streamers. Even though he is a big GTA V streamer, AuronPlay is known for playing a wide range of games.
He is known for starting his videos with the same phrase and trying his best to make everyone laugh. AuronPlay is one of the fans' favorite Twitch streamers.
---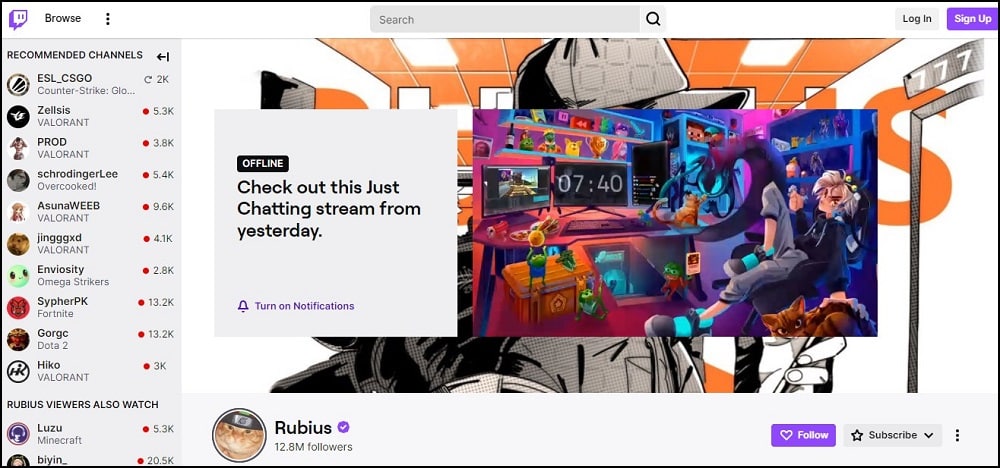 Rubius is the second most followed non-English Twitch streamer after AuronPlay. He has amassed a large following of over 40 million followers on YouTube. With such a big success on YouTube, he also tried out Twitch, becoming one of the top streamers. He even broke the record for most concurrent viewers with his Fortnite stream, which has over 1.1 million viewers.
Even though he mainly focuses on gaming, Rubius shares a wide range of content, from vlogs, challenges, and fan FAQs to sketch comedies. He has also published a comic book and made a documentary about his life.
---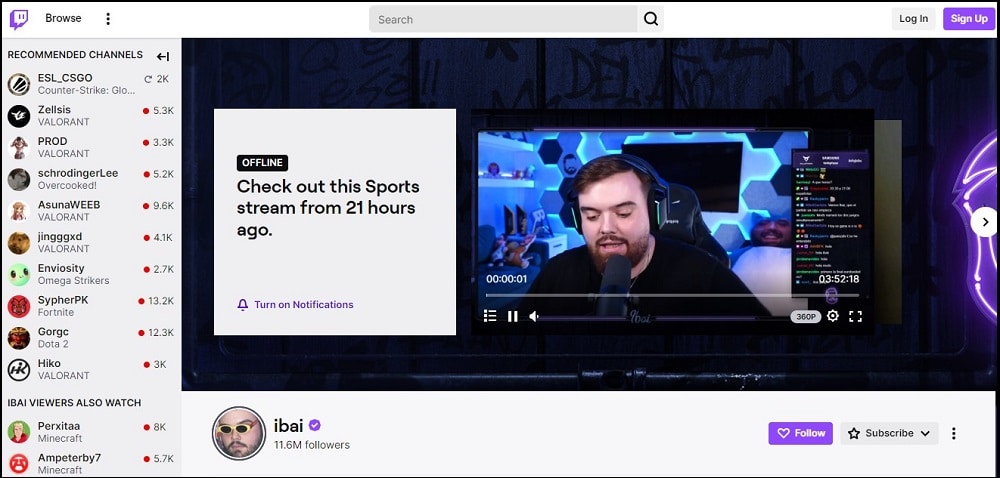 Ibai is another Spanish streamer who ventured into Twitch streaming back in 2014. He started as a League of Legends player before expanding to other big titles. Before joining Twitch, Ibai was a content creator with a remarkable record of being a charismatic host and commentator.
He would feature in League of Legends tournaments, the late-night show Hoy no se sale and also worked for G2 Esports. He would later move on and form his organization, KOI, alongside Gerard Piqué. He also focused on streaming exclusively on Twitch, where he has more than 11 million followers.
---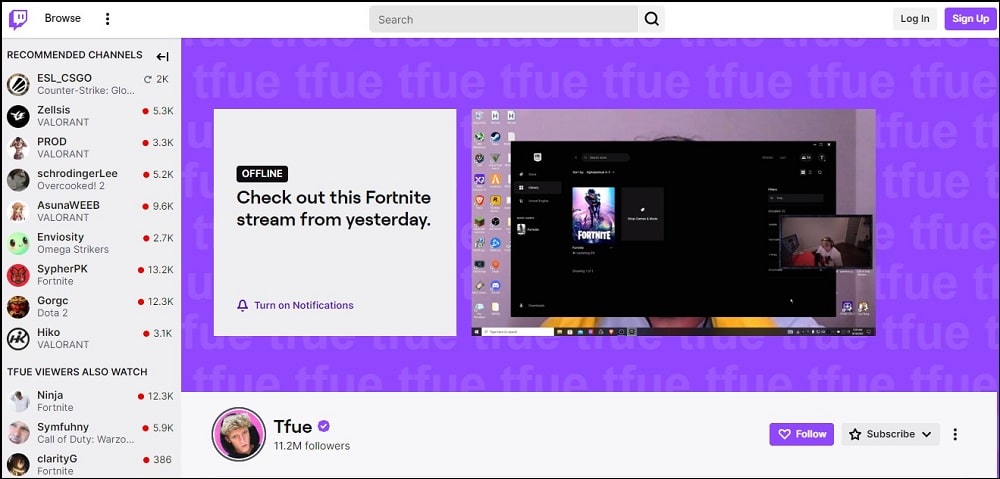 Tfue is an American Twitch streamer known for his controversies and prowess in playing Fortnite. He was the only Fortnite streamer who could match Ninja. Tfue would see his Twitch account face a ban of one month after allegedly making racial remarks in his stream.
He would also get caught up in the Faze clan controversies, which he would later sue for its manipulative contract. All these controversies, in addition to his excellent gaming skills, would help him rise to stardom. He has more than 11 million followers, and his streams have been watched for over 234M hours.
---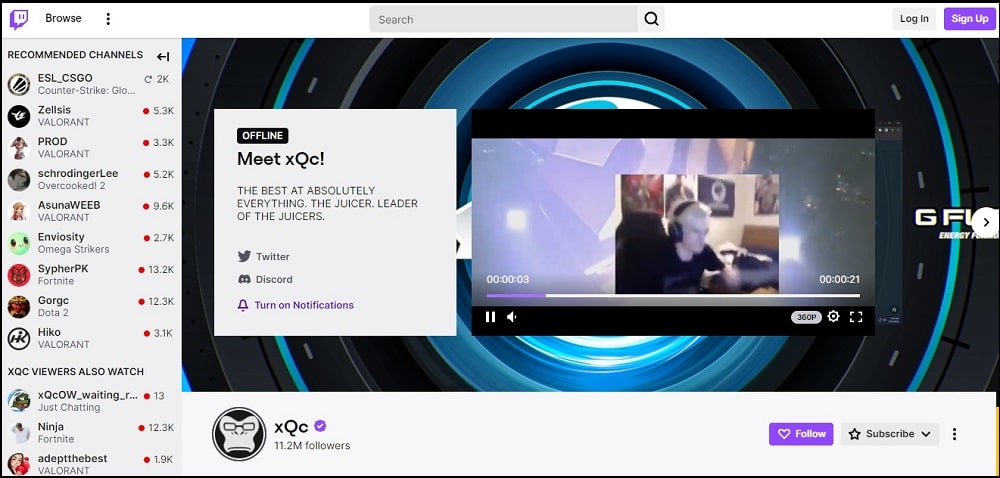 XQC is one of the most-watched streamers on Twitch. He is a French-Canadian streamer who started streaming on Twitch when he was 19. Even though he is known for his love for FPS titles, XQC is always ready to explore various games.
He has played League of Legends, Overwatch, Valorant, and even GTA V. It is estimated that he streams for over 9 hours a day with his streams, whether gaming or just chatting, attracting more than 60000 viewers. His streams have been watched for more than 610M hours.
---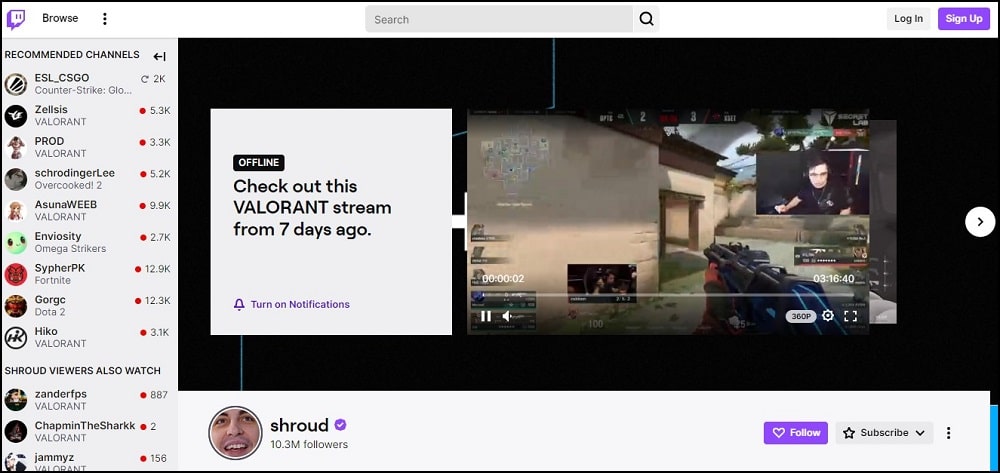 Shroud is another Canadian Twitch streamer known for his prowess in FPS games like Valorant, PUBG, and Escape from Tarkov. He is such an excellent shooter that he gained a reputation as the human aimbot. Like Ninja, Shroud also moved to Mixer but later returned to Twitch after Mixer shut down its operations.
He then partnered with Facebook gaming but eventually joined Twitch, where he streams exclusively. With over 10 million Twitch followers and 343M watch hours, Shroud has won the gamer of the year award in 2022.
---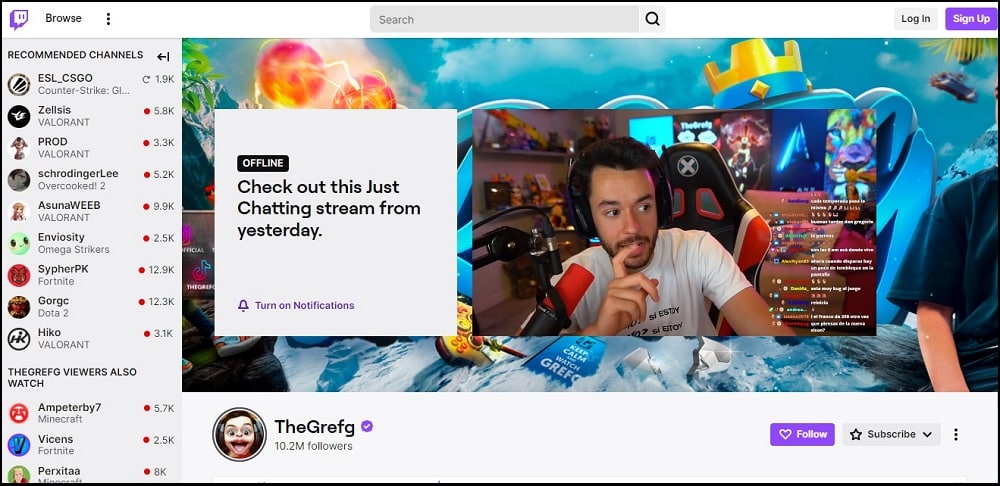 TheGrefg is another Spanish gamer who makes it on our list of top Twitch streamers. He started screaming at 14 but mainly focused on uploading his videos to YouTube. While he mainly streams Fortnite and Minecraft, he also plays Fall Guys and Among Us. TheGrefg's success is one to talk about. He broke the Guinness record for a live stream with over 2.4 million simultaneous viewers.
In addition to that, his exemplary work earned him a place on the Forbes magazine cover. As if that's not enough, he also has his skin on Fortnite. TheGrefg produces some of the best Spanish content you can find on Twitch.
---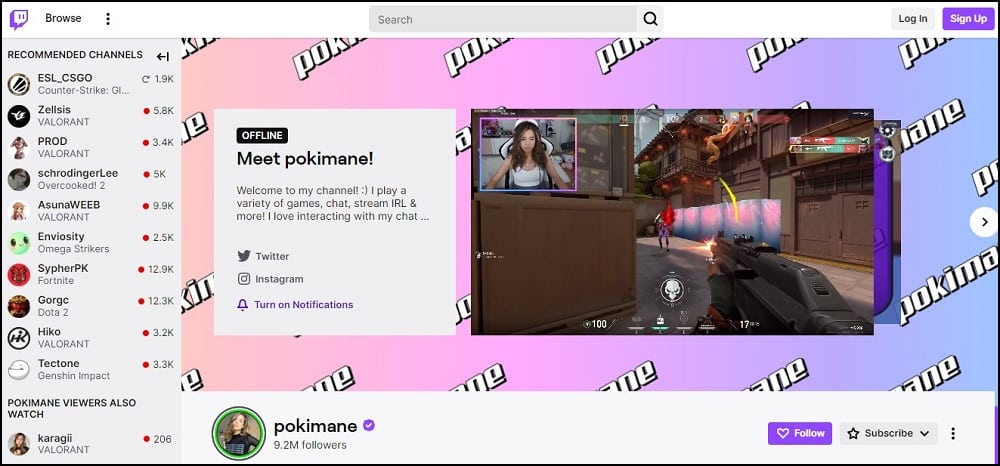 Pokimane is the queen of Twitch. For a long time, she has remained the best female Twitch streamer. Due to her rapid growth, she earned Best Twitch Streamer of the year at the Shorty Awards. This was attributed to how she played and commented during her LoL streams.
With over 9 million followers, Pokimane is the most followed female Twitch streamer. She started as a League of Legends gamer, but her streams now cover various games.
---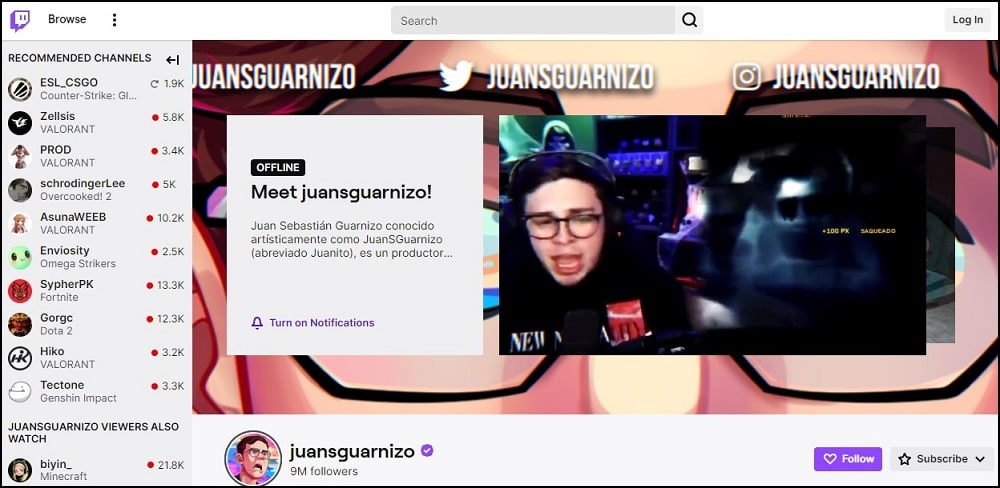 Juan Sebastián is the best South American Twitch streamer. He has over 8 million followers, with most of his fans in Mexico, where he lives. Even though he mainly focuses on Minecraft and GTA, his large following is attributed to his will to try various games. His streams usually attract a large audience.
Juan is a popular Twitch streamer that will leave you mesmerized with his gaming tactics and chatty nature.
---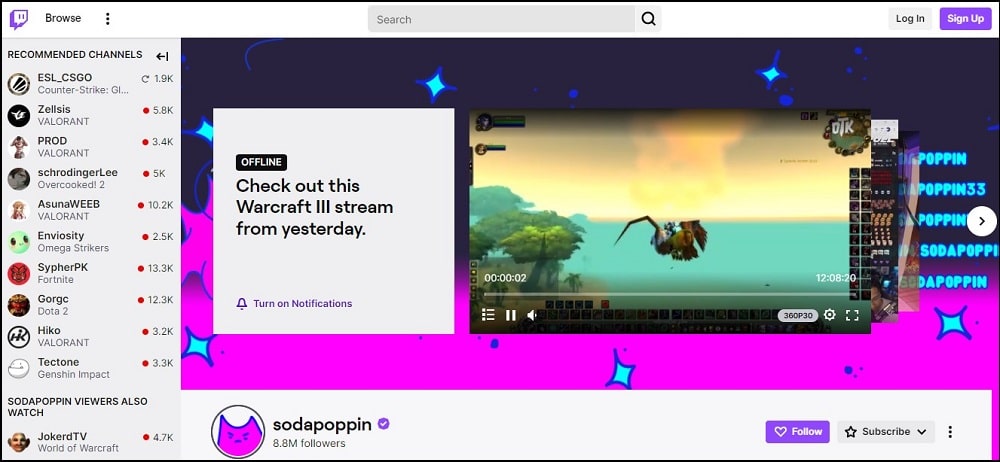 Sodapoppin is an American Twitch streamer and YouTuber who joined the streaming industry in 2011. He grew his online presence by participating in various eSports organizations. He became popular after becoming one of the first streamers to play Among Us.
This not only escalated his fame but also sparked the game's popularity. He boasts of a large following of over 8 million fans on Twitch. He plays various games, making him an entertaining streamer worth following.
---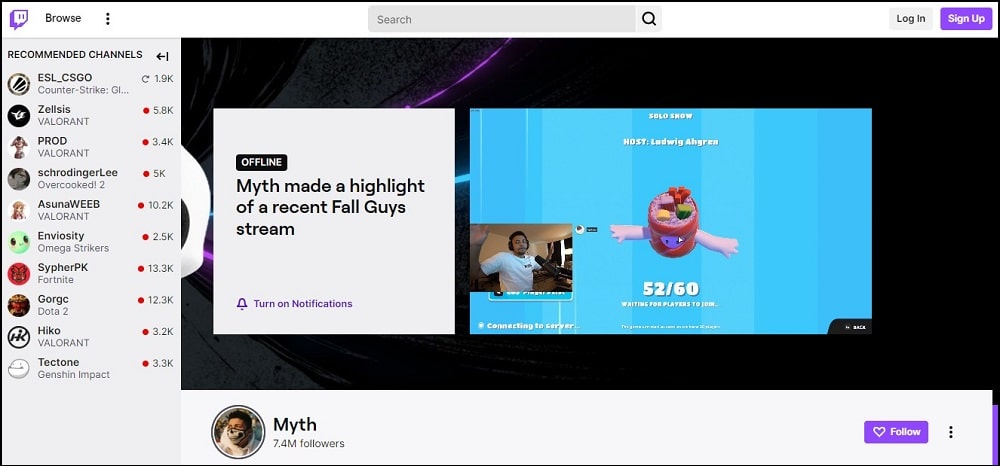 Myth is by far the fastest-growing Twitch streamer. His popularity came after he showcased incredible building skills in Fortnite. He also streams Valorant or sometimes just chats and still manages to attract such a large following.
Unfortunately, Myth is one of the Twitch streamers who have moved to stream exclusively on YouTube. But still, you can find his Twitch account, which has a large following and enticing content.
---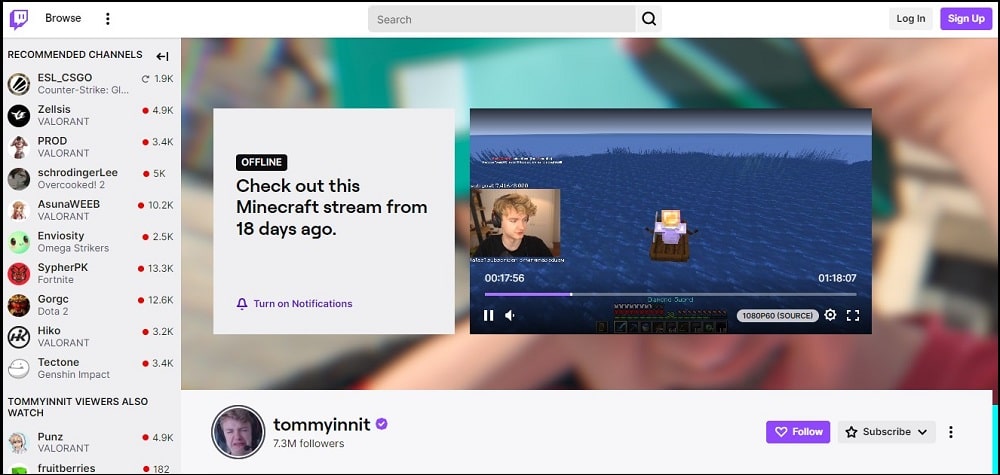 Thomas Simons, better known as TommyInnit, is a British streamer who mainly produces Minecraft streams. TommyInnit became the fan's favorite streamer due to his collaborations with other YouTubers and streamers. At 18, TommyInnit has an impressive follower count of over 7 million followers.
This makes him not only the youngest top streamer but also the most followed Minecraft gamer on Twitch. His popularity is also seen by his massive following on YouTube. Unfortunately, he's considering taking some time away from streaming on Twitch so that he can focus on his YouTube channel.
---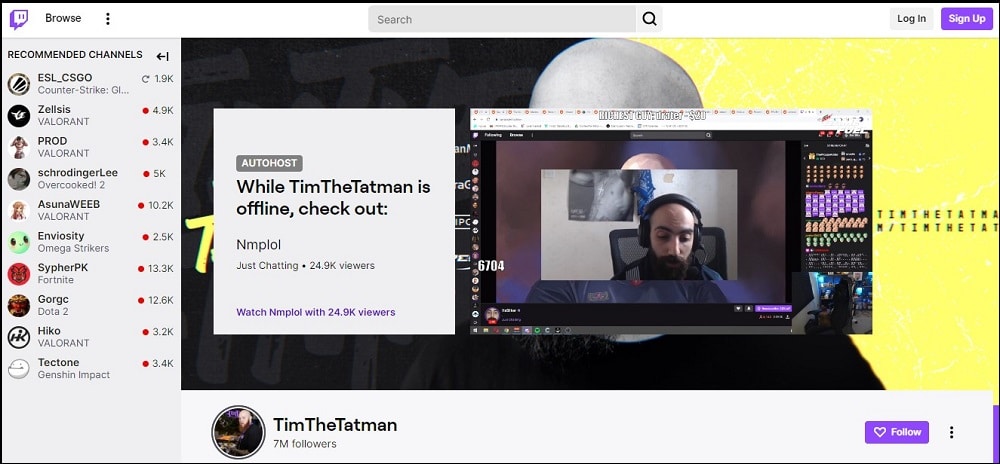 TimTheTatman is another one of the community's favorite streamers. He started streaming on Twitch in 2012 and has managed to garner over 7 million followers and 209M watch hours. Because of how diverse he is, his streams attract thousands of viewers.
He plays a wide range of games ranging from Fortnite, Counter-strike, and Global Offensive to World of Warcraft. However, his favorite game is Call of Duty: Warzone. With such a large following, he chose to become a full-time creator with Twitch and has excelled magnificently.
---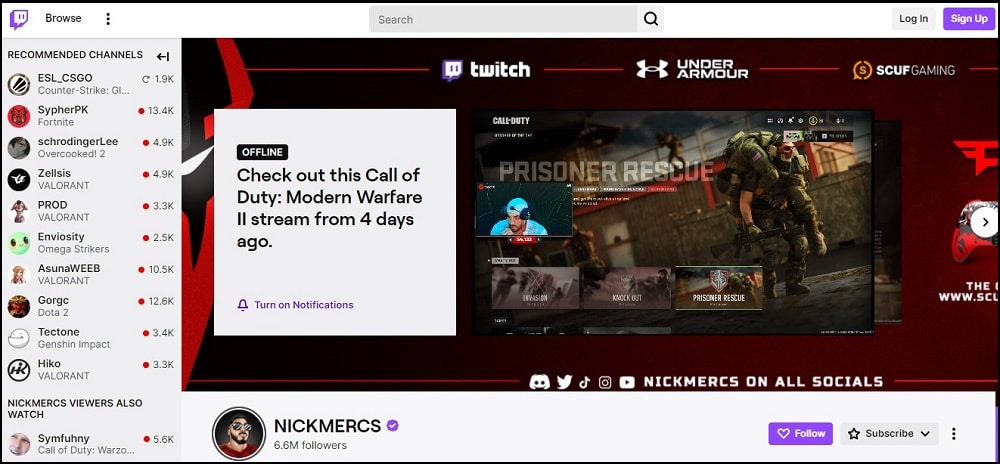 NickMercs is a top Fortnite and Call of Duty streamer known for his aggressive gaming style and domination. He also plays other big titles like Apex Legends, Battle Royale, and War zone. His follower count rose by over 1 million when he decided to start streaming Apex Legends.
NickMercs started as a content creator with 100Thieves before joining the FaZe clan. He is also known for his multiple confrontations and regular trash-talking with Ninja. With his great success, NickMercs is another big Twitch streamer worth following.
---
Conclusion
With so many Twitch streamers broadcasting themselves while playing their favorite video games, choosing who to follow can be quite challenging. We've looked at the top 15 Twitch streamers who have won the hearts of the expansive Twitch community. Their exemplary gaming skills have made them the biggest Twitch stars. You can follow them and watch them play some of the biggest titles in the gaming industry.