How long do you take to create YouTube video scripts? These YouTube Script generators can be the perfect solution for you. Simply provide the topic and video content to generate your script. If you are a content creator on YouTube, you ought to produce regular content to keep your audience enticed. However, what happens when you have too much on your plate and haven't managed to create a video off late?
This is where these YouTube Script generators come in. They can be used to create scripts that you can use in creating videos. Gone are the days you had to sit down to craft a YouTube video script.
A video script is an explanation of the created media. It is the content that will be spoken in the video. A script helps provide a more structured video.
These generators will take your YouTube content to a different level that you will appreciate. You will note how your YouTube engagement improves and gain new followers.
---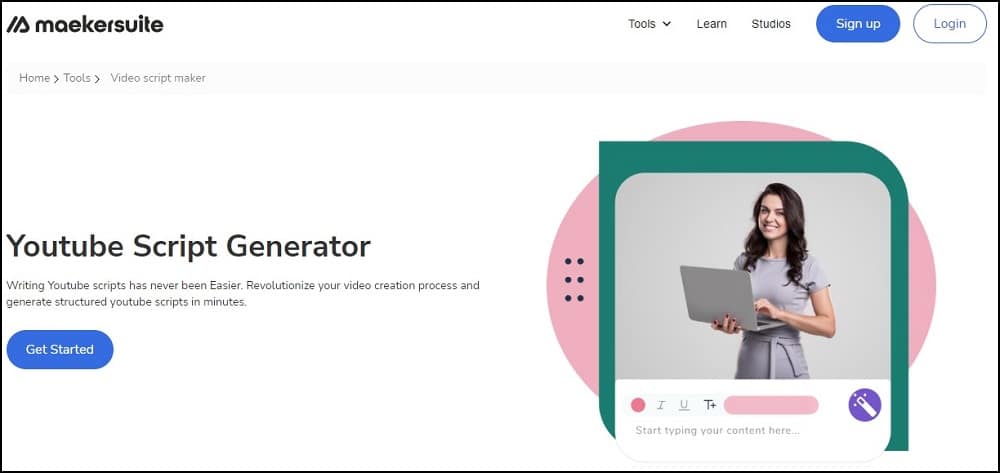 Would you want to take your YouTube content to the next level? Make the Makersuite YouTube Script Generator your go-to tool. The online tool provides structured YouTube scripts in minutes, focusing on specific topics in your chosen niche.
YouTube videos that thrive well follow a particular structure and relate to a specific topic. Therefore, sometimes creating the perfect high-quality script may take longer than usual. However, the Makesuite YouTube script generator will help you research, generate the ideal title ideas, and create outlines.
Through the outline, you can get relevant headings for your engaging content. As much as the generator will help you, you still need to know what you want to discuss.
Also, research relevant keywords or video titles actively being searched for. You have the freedom to choose as many tags as you need. The AI generator will produce the video script within minutes based on the selected keywords, topics, and other relevant information.
---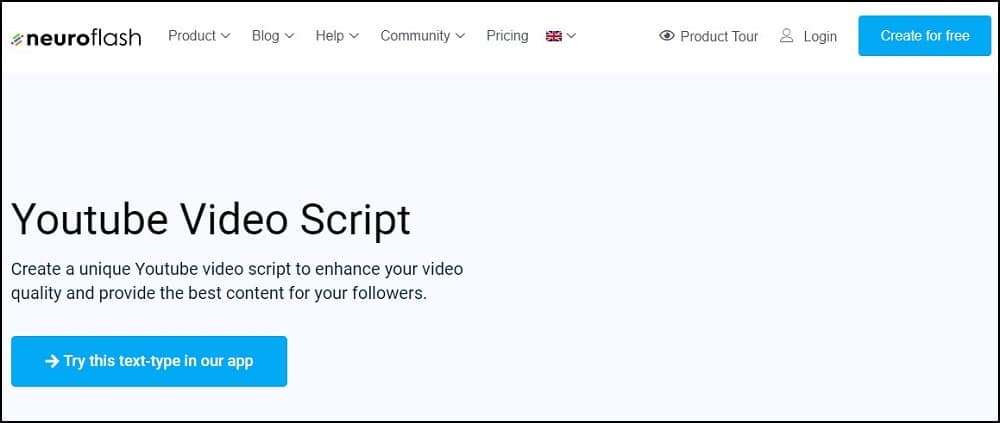 Are you overwhelmed and wondering what content to provide your YouTube subscribers? Then using the Neuroflash YouTube Video Script generator would be the perfect solution. It lets you create a unique video script to provide the best content for your followers.
The platform uses AI to generate high-quality texts for you. To be on the safer side, it is crucial to have a precise brief with relevant keywords that are well separated by commas. However, don't provide too many keywords, as you may not get the perfect structure of the YouTube video. In the "type of the text" section, choose the tone you need for the text, and write more about the video. Ultimately, you will get a script that resonates with your video styles.
---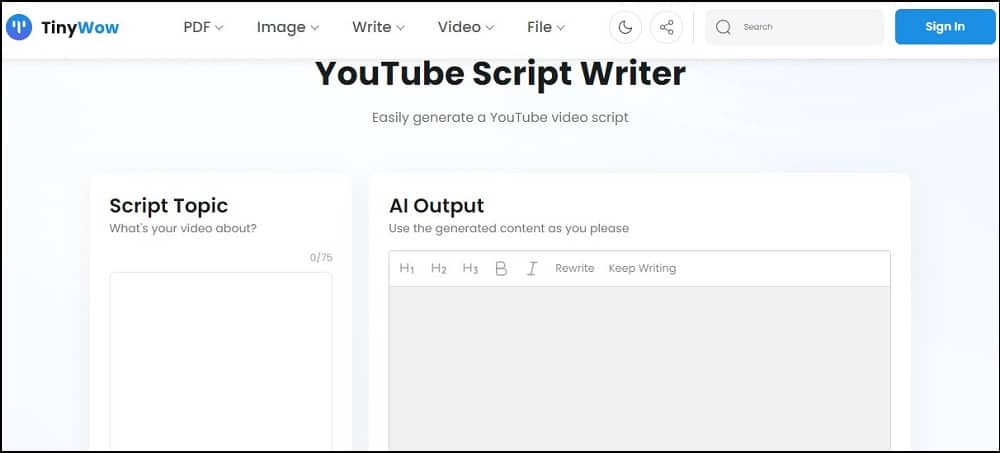 Tinywow is a great platform that can be used to create the perfect YouTube videos. You need to write the Script topic – what is the video about? You will get an output of the script.
The AI output is unique, and you will get the perfect video script you can use in your YouTube videos. Therefore, you are assured of getting the ideal script for creating the video version. You must add your ideal tone and style to ensure the output resonates with your attitude.
So, no more worries about when you will provide a video next since the scripts will be ready, and you need to work on your presentation skills, even if certain graphics need to be added to the video.
---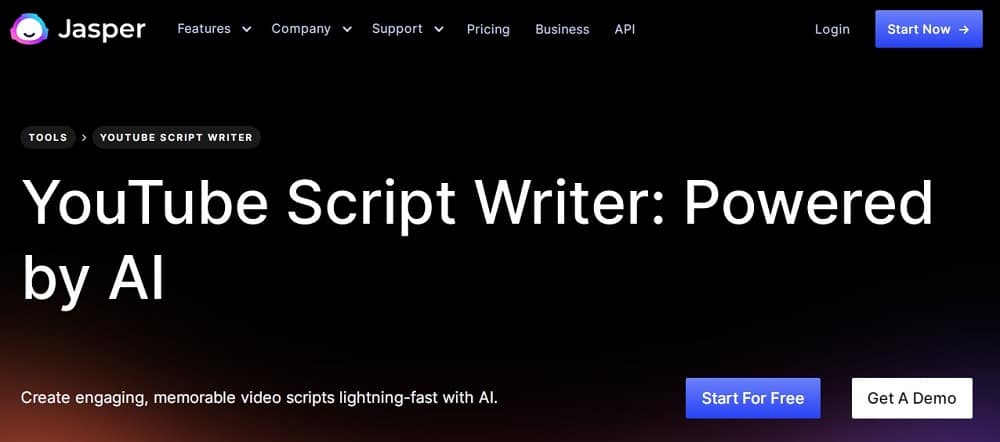 Would you want to create some engaging and memorable video scripts? Then Jasper's YouTube scriptwriter would be the perfect platform for that. Therefore, you can worry more about your presentation skills rather than the kind of content that you will provide to your audience.
If you are often overwhelmed with too much to do, signing up for this AI YouTube script generator would be best. The platform allows you to create video scripts for YouTube using Jasper commands.
Just specify to Jasper AI in plain language what you need in your script and provide your video idea. You will get options that you can use. Luckily, it works in more than 29 languages. Therefore, you can create unique scripts based on your target audience. It is ideal for creators and marketing teams.
---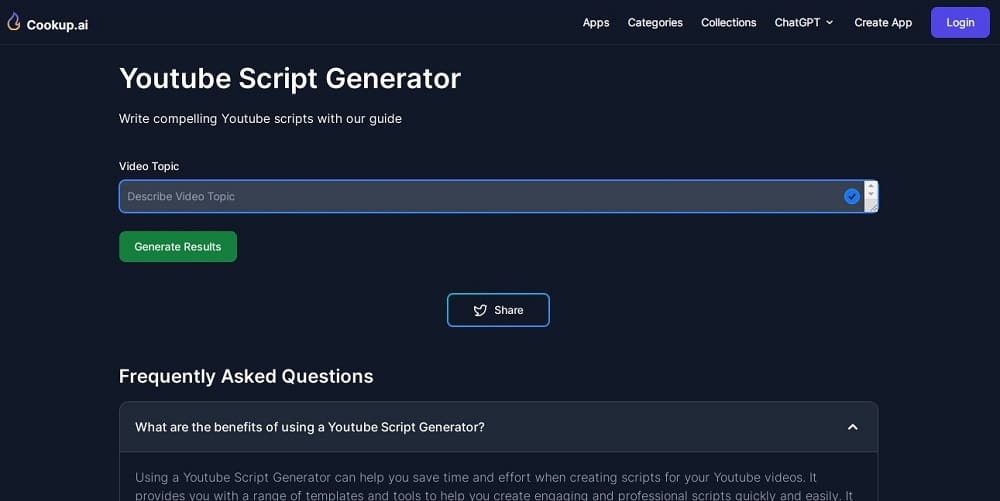 Creating good YouTube content requires more than finding a topic and using the right keywords. It also entails optimizing the content to be well-structured and beneficial to your audience.
Using the Cookup.ai YouTube Script Generator saves you the time and effort you would have used to create a video script. When keywords are in your videos, it becomes easier for search engines to rank them.
Therefore, you can create professional videos just right for your audience. Using the YouTube Script generator is easy. You need to select a template, enter the desired keywords, and fill in what you want in your content.
---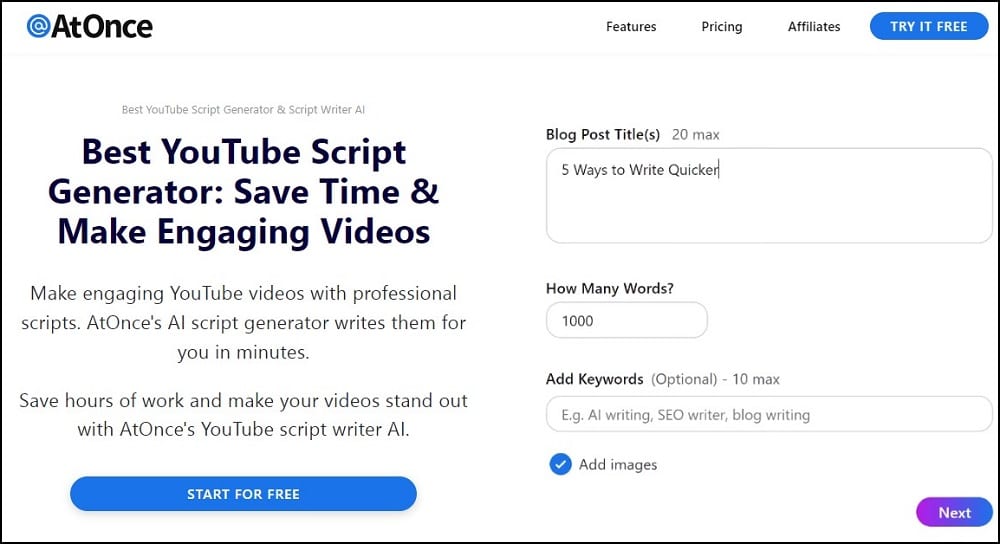 AtOnce is a comprehensive tool that can create different types of content, such as YouTube scripts, blog posts, art, and much more. Using the device, you can create compelling video scripts for YouTube.
Many content creators have used the AI tool, which has helped boost their performance. It will help you save on time and effort that you would have used to create the YouTube video scripts.
The tool is crucial to generate script ideas & outlines in minutes, improving script structure, language, & tone, and helping increase viewer engagement & retention. The video scripts will be tailored to your needs.
---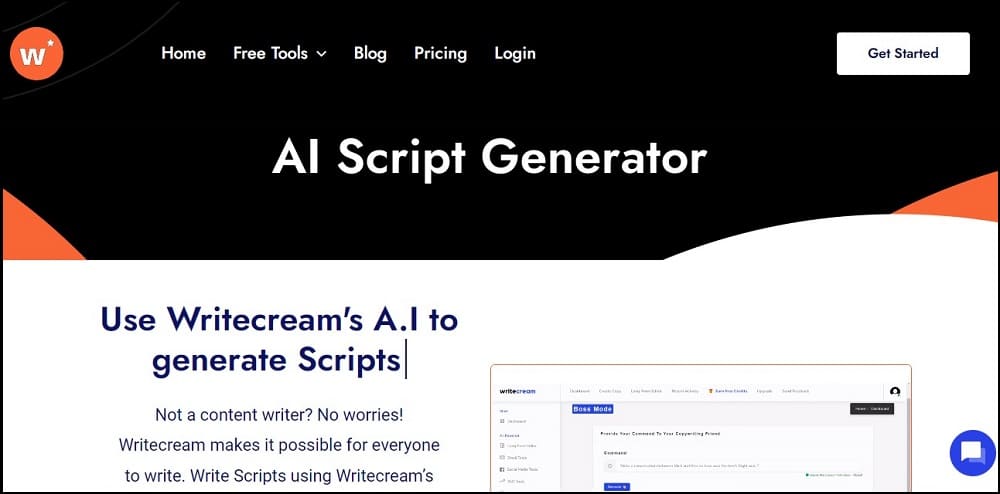 WriteCream is the perfect platform that you can use to generate engaging YouTube scripts. Therefore, regardless of whether you are a content creator, you can have the ideal script in no time.
You can try the online generator for free and see its benefits. Log in to your WriteCream account, select the command mode, and get started to use the tool. Remember to modify the words in the command to fit the video you want to create.
In addition to creating YouTube scripts, you can also create stories, product descriptions, advertisements, and much more. Therefore, you can focus on the video presentation rather than the wording you will use.
---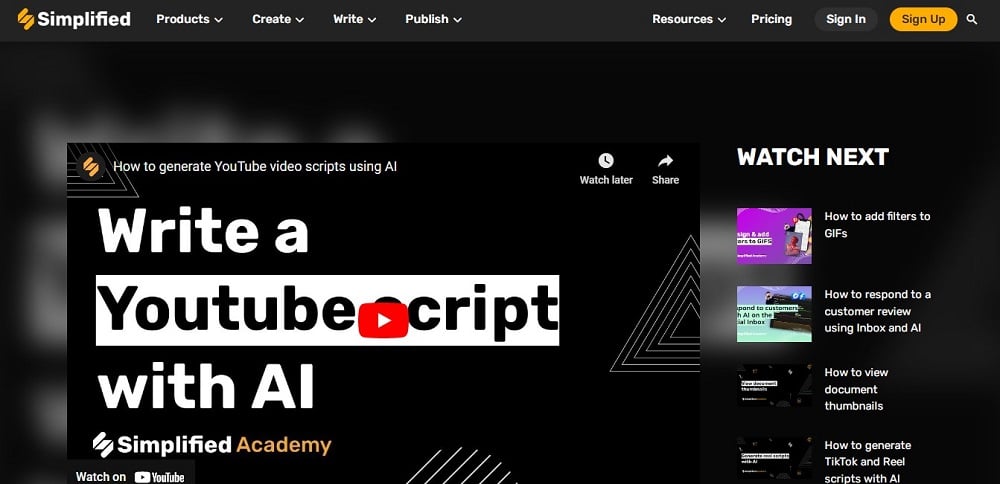 Simplified AI is one of the most credible platforms that you can use to create YouTube Scripts. All you need to do is create an account and select templates for the video on the AI writer homepage. It also depends on whether you want a YouTube script for a video or a YouTube short.
You must choose a title, introduction, and conclusion when writing a video script. Therefore, remember to choose the long-form writer option. Also, remember to select your desired language and describe a bit about the video.
However, ensure you are straight to the point to generate the perfect YouTube script for your video. Additionally, it allows you to share the video with anyone on your team and even brainstorm whether it is an ideal script for your next video.
---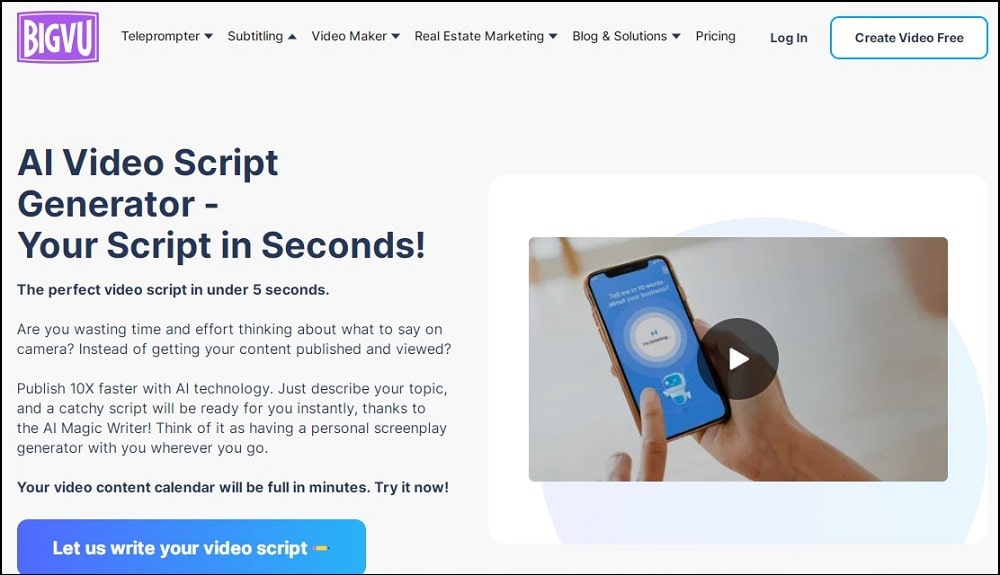 The AI video script generator provides the perfect YouTube script in minutes. Therefore, if you find yourself using too much time and effort to create content for your YouTube video, this YouTube Script generator will do the work for you.
It would be best to describe your topic; you will get a catchy script within minutes. It will provide content customized to your YouTube channel to entice your audience.
You can then create your video as you read the script. Therefore, more time will be used in video creation rather than making the YouTube script.
---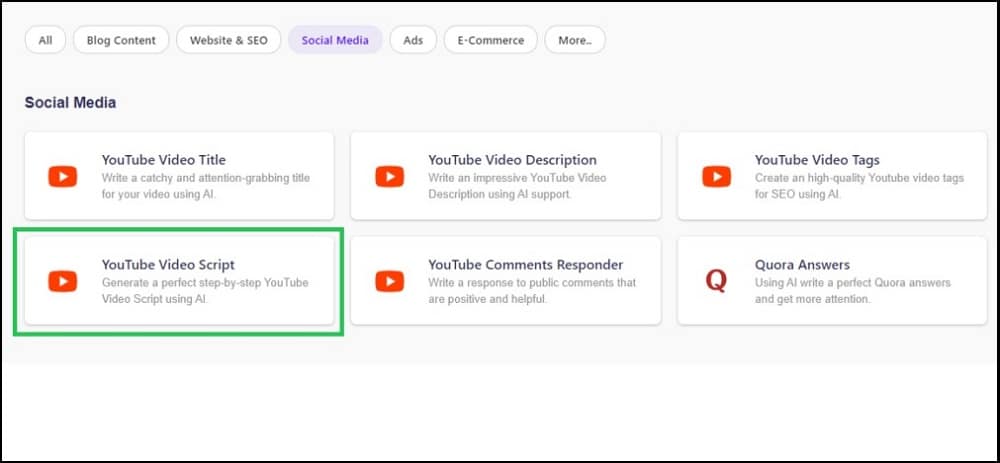 The Wordkraft YouTube, Video Script generator helps create the perfect script for your video. Not only does it help you to create a script, but it also generates responses to the comments given by your audience.
Therefore, all comments will be catered to. To use the generator, log in to the Wordkraft AI app and select the YouTube video script generator. Proceed to write about the video and wait for the AI tool to generate the script.
The AI video script generator will generate excellent content. You will also get some well-thought headlines that you can use for your YouTube video.
---
Increase your YouTube Subscribers Instantly
These YouTube script generators will help you save the time, effort, and money you would have used on content creation.
Additionally, you can create better videos, get more YouTube views & subscribers, boost your brand, increase website traffic, get more leads, make more sales, and be on top.
If you ever get a creator's mind block, these YouTube script generators will help you. Therefore, don't hesitate to use the best tool today!