The best thing about cartoons is the diversity in their character designs. There are cartoon characters of various races and ethnicities as well as of various body types.
In this article, we'll be covering two key characteristics of cartoon characters: obese and African-American. we will take a close look at the 15 best black cartoon characters below;
---
1. Fat Albert Robertson: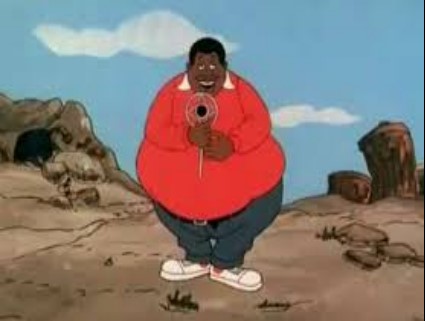 | | |
| --- | --- |
| NAME | Fat Albert |
| YEAR | 1972 |
| SERIES/MOVIE |  The Adventure of Fat Albert and the Cosby Kids. |
| GENDER | Male |
Fat Albert from the 1972 animated series The Adventure of Fat Albert and the Cosby Kids.As his name very clearly suggests, he's an obese black guy who's kind and wise and acts as the voice of reason for the Junkyard Gang.
He also plays bagpipe accordion in the Junkyard Band and is its lead singer. Though Fat Albert has always been a popular character, it's become a fan-favorite in the following years.Thus, we had to include him as one of the most popular fat black cartoon characters.
---
2. Jerome McElroy / Chef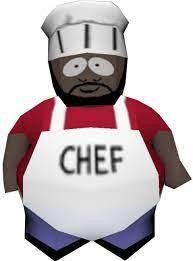 NAME
Jerome McElroy
ALIAS
Chef

Abdul Mohammed Jabar Rauf Kareem Ali

YEAR
1999
SERIES/MOVIE
 South Park
GENDER
Male
OCCUPATION
Cafeteria Chef at South Park Elementary

Dodgeball/Football Coach for the South Park Cows

APPEARANCES
"Cartman Gets an Anal Probe"

"The Return of Chef" (series)

South Park: The Stick of Truth (video game)
Jerome McElroy, aka Chef from South Park. He's an African-American man with obesity who works as a chef in South Park Elementary Cafeteria.The chef is well-liked by the boys in the school, who go to him for advice and such. He has a horrible habit of making up inappropriate songs. Chef also has a habit of stirring up a lot of controversy, including killing a man, escaping from jail, and even propositioning little kids after being brainwashed by the Super Adventure Club.
---
3. Cleveland Brown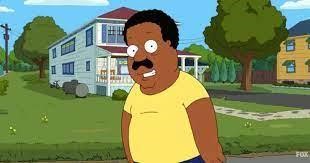 NAME
Cleveland Orenthal Brown, Sr.
YEAR
2009-2013
SERIES/MOVIE
Family Guy, The Cleveland Show
GENDER
Male
OCCUPATION
Owner of Cleveland's Deli until the Pilot of The Cleveland Show

Therapist in "Dr. C & The Women"

Postal worker from "Take a Letter"

Pawtucket Brewery in "Unzipped Code"
Cleveland Brown was introduced as a side character in Family Guy. He later got his spin-off series, The Cleveland Show, in 2008.
Cleveland owns a deli and is a neighbour of the Griffins in Quahog. His first wife is Loretta Brown, with whom he shares a son: Cleveland Brown Jr.After Loretta cheats on Cleveland, they get divorced, and he marries Donna Tubbs, gaining new stepkids, Roberta and Rallo. The Cleveland Show features him moving to a different nei. Cleveland Orenthal Brown Sr. is the main protagonist of the Cleveland Show and also one of the main characters of Family Guy. He was married to Loretta but separated after she had an affair and then remarried his high school crush, Donna Tubbs.
He often offers deep insight that the other characters cannot see. Loretta takes the house, and when Cleveland and his son are in search of a new home, she comes across Donna, who offers them to stay at their house, which results in rekindling the relationship and ending up in marriage.He has a hard time understanding his son and tries to make him act mature. He also has a strained relationship with his stepchildren. He loves baseball and was a player on his high school team, and his jersey number is nine.
---
4. Charlette Proud / Suga Mama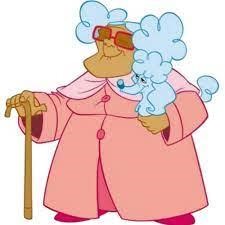 | | |
| --- | --- |
| NAME | Charlette "Suga Mama" Proud (née Towne) |
| ALIAS | Suga Bear,Suga Mummy,Little Bit |
| YEAR | 2005 |
| SERIES/MOVIE | The Proud Family |
| GENDER | FEMALE |
| APPEARANCE | The Proud Family,Lilo & Stitch: The Series (guest appearance),The Proud Family: Louder and Prouder,Chibi Tiny Tales,Chibiverse |
One of the most popular fat black cartoon characters is Suga Mama, aka Charlette Proud from the Proud Family. The matriarch of the titular family is as hilarious as she is sassy.
From constantly throwing sarcastic quips to her son Oscar to being a cool old lady to her granddaughter Penny, Suga Mama never fails to make us laugh. Suga Mama has had a colourful career; from being a pro wrestler to a mechanic, she's done it all.
---
5. Uncle Ruckus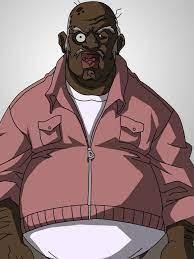 NAME
Uncle Ruckus
ALIAS
Uncle Ruckus, No Relation (he says this to distance himself from his estranged abusive father)

Reverend Father Uncle Ruckus, No Relation (whenever he introduces himself as a priest)

YEAR
2005-2014
SERIES/MOVIE
The Boondocks

GENDER
MALE
OCCUPATION
Various types of low-wage, blue-collar labor jobs

Far-right political activist

Quasi-Christian preacher and exorcist

Police officer (formerly)

Prison guard (formerly)

Car wash manager

Local politician (Woodcrest County Executive, in the reboot series)
The next one of the popular fat black cartoon characters is the horrible and unlikable Uncle Ruckus from The Boondocks. He's an obese black man with one huge glass eye, and despite his heritage, passionately hates all African Americans.
His misdeeds range from supporting slavery to wanting a straight, all-white society. Uncle Ruckus' misdemeanour make his name very apt as he, too, is a nuisance to society.
---
6. Dr. Julius Michael Hibbert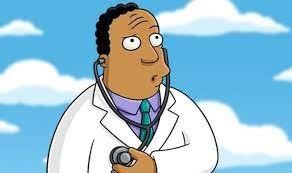 NAME
Dr. Julius Hibber
YEAR
2007
SERIES/MOVIE
The Simpsons
GENDER
Male
OCCUPATION
Doctor at Springfield General Hospital

Owner at M.D. Family Practice
Often, the funniest characters end up becoming the most popular ones. Dr. Julius Hibbert is a good example of that.
This prolific Springfield doctor always has a reason to laugh at every situation, sometimes in wildly inappropriate situations, like giving his patients bad news.Being the best doctor in the city, he charges a lot for his care and is very unashamed of that. But he's also quite kind and provides his patients with the best care. The most memorable thing about Dr. Hibbert is a loud, cheerful laugh.
---
7. Mama Odie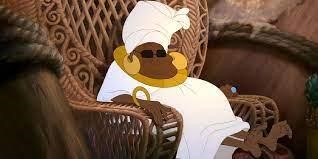 | | |
| --- | --- |
| NAME | Mama Odie |
| ALIAS | Voodoo Queen of the Bayou |
| YEAR | 2009 |
| SERIES/MOVIE | The Princess and the Frog |
| GENDER | Female |
| OCCUPATION | Voodoo Priestess |
| LIKES | Gumbo, candy, providing wisdom, snakes |
| DSILIKE | The close-minded and stubborn, greed, black magic |
How can we not include the amazing and fan-favourite Mama Odie in this list of the most popular fat black cartoon characters?
She's hilarious, smart and a badass. Mama Odie is a voodoo priestess from the Disney movie The Princess and the Frog and lives in the swamps of Louisiana.Despite being blind and 197 years old, Mama Odie has no problem using her supernatural powers. Along with voodoo and some nature magic, she can also communicate with animals. But her biggest charm is her all-knowing wisdom, with which she advises Tiana and Naveen.
---
8. Cobra Bubbles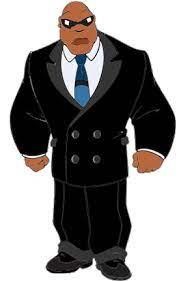 NAME
Cobra Bubbles
YEAR
2002
SERIES/MOVIE
Lilo & Stitch
GENDER
MALE
APPEARANCES
Lilo & Stitch

Stitch! The Movie

Leroy & Stitch (voice only)

Lilo & Stitch (live-action film) (upcoming)

OCCUPATION
CIA agent (formerly)

Social worker

ABILITIES
Immense physical strength, legal authority
Lilo & Stitch will always remain as one of Disney's most endearing movies. In 2002, the movie came out as a breath of fresh air from all the princess movies from Disney.
Among the incredible cast of Lilo & Stitch, we pick Cobra Bubbles as one of the most popular fat black cartoon characters.Cobra Bubbles used to be a CIA agent before he quit the force and became a social worker. He's grumpy and rough around the edges, but he really just wanted to do right by Lilo. Unlike the other characters in this list, Cobra Bubbles isn't extremely obese, but he's quite a huge man.
---
9. Cleveland Brown Jr.
| | |
| --- | --- |
| NAME | Cleveland Brown Jr |
| YEAR | 2009-2013 |
| SERIES/MOVIE |  Family Guy, The Cleveland Show |
| GENDER | MALE |
| OCCUPATION | Student/Student-Council President |
Son of Cleveland and Loretta Brown, Cleveland Brown Jr. or just Cleveland Junior, appears in both Family Guy and its spin-off series, The Cleveland Show, along with his family.
In the original series, Cleveland Jr. was a good-natured pre-teen boy, if only a little slow. He was also quite slight.In The Cleveland Show, his whole appearance and persona changed. From a small boy, he became an obese teenager with a deep voice. His personality also changed to louder and cruder. One of the main characters of the franchise went from being a hyper child to an obese teenager with glasses and a slow voice. He found it difficult to find friends as he had very low self-esteem due to his obesity.He was often used for what he did for others and never was an actual friend except for Ernie. He enjoys doing chores and playing the tuba. His character is also academically talented.
Although he seems shy and reserved, he can rap with ease and can also go straight on while threatening to protect someone. He doesn't believe in God due to his mother Loretta but also does not label himself as an atheist as he has some religious beliefs.
---
10. Wade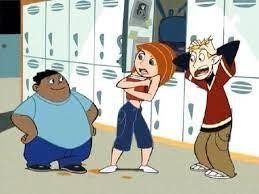 | | |
| --- | --- |
| NAME | Wade |
| YEAR | 2005 |
| SERIES/MOVIE | Kim Possible |
| GENDER | Male |
| OCCUPATION | Computer Genius,Inventor,Hero |
| FRIENDS | Kim Possible,Ron Stoppable,Monique |
One of the most popular fat black cartoon characters is Wade from Kim Possible. He's a genius, having graduated both high school and college at the age of only 10. Wade is good friends with Kim and Ron.
He is the inventor of the Kimmunicator, which is the ultimate support tool for Kim. Though Wade never leaves the house and actively joins battles, he provides technical support for the spy and her sidekick.
---
11. Action Hank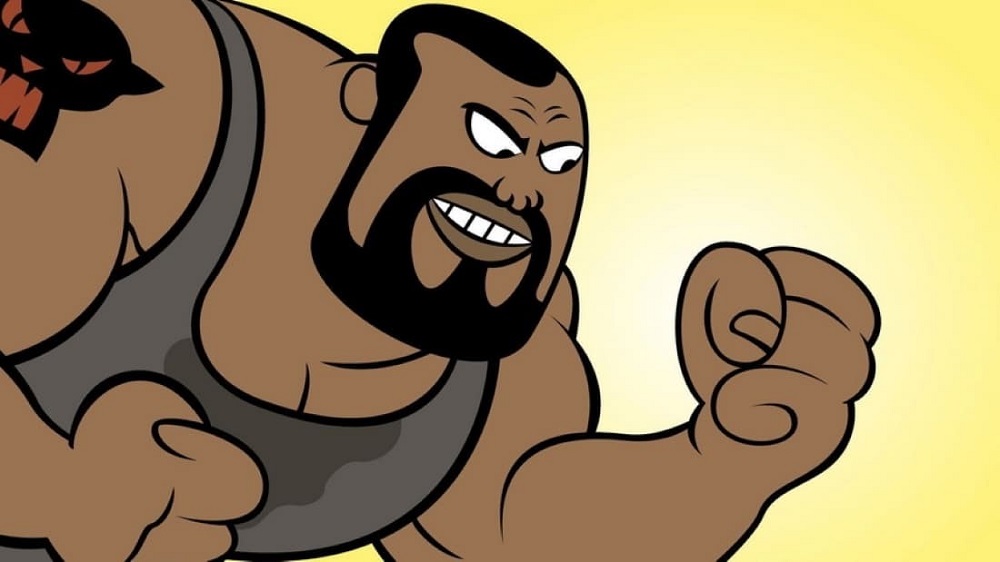 | | |
| --- | --- |
| NAME | Action Hank |
| YEAR | 1995 |
| SERIES/MOVIE | Dexter's Laboratory |
| GENDER | Male |
| OCCUPATION | Crime Fighter |
| INTERESTS | Fighting Crime |
Action Hank is a crime-fighting heroic character who protects people and puts the safety of others before his own. He is very tough he is compared to a soldier with experience.
He loves danger and battles/ duels, especially ones where he is challenged, like being outnumbered. His personality charms the ladies, and his amazing beard is one of the attractive charms that win over the hearts of women.
His character is friendly and warm, unlike his tough and solid appearance. He loves his fans and willingly helps them out. He enjoys the attention and love from fans that he runs his fan club.
This is a guy with a no-nonsense attitude who gets the job done.
---
12. Tolkien Black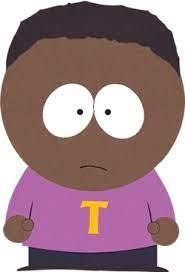 | | |
| --- | --- |
| NAME | Tolkien Black |
| YEAR | 1995 |
| SERIES/MOVIE | Dexter's Laboratory |
| GENDER | Male |
| OCCUPATION | Student,Grade 4 |
| RELIGION | Catholic |
Tolkien Black is a member of Craig's gang and is noticeable for being the only black child in the show. (Except for the cameos and his family)His name represents the phrase "token black guy", a placement to show racial diversity.
He is often portrayed as a calm and level-headed guy who makes rational decisions; also, as an intelligent guy, he has a strong willingness to stand up for himself and his rights as a person who lives in a white-dominated society.His character represents racial inclusion in the show. The character Token Black was one of the four minorities as of the nineteenth season of the show.
---
13. Mr. T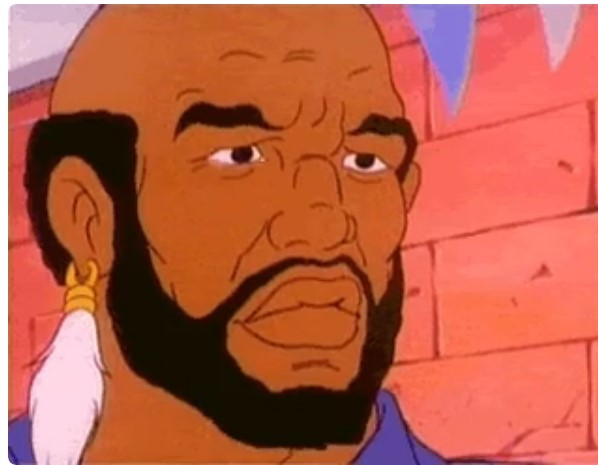 | | |
| --- | --- |
| NAME | Mr.T |
| YEAR | 1995 |
| SERIES/MOVIE | Mr.T |
| GENDER | Male |
Let's keep it a bean: Mr. T is a certified legend! Everything he does is great, and this just added to the legacy. He is the coach of the gymnastics team and also appears to be a licensed bus driver, as he drives the team's bus when Ms Bisby is either unavailable or has run out of driving hours. Being the coach of gymnastics, he has a huge, outstanding physique that announces his presence everywhere he goes.
---
14. Nubia Gross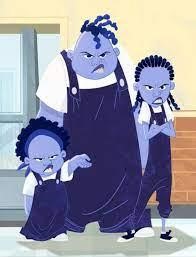 | | |
| --- | --- |
| NAME | Nubia Gross |
| YEAR | 2022 |
| SERIES/MOVIE | The Proud Family |
| GENDER | Female |
| OCCUPATION | Student, Bully ,Rapper |
The Gross Sisters all have blue skin due to their usual colours being ashy and not being able to afford lotion and wear black overalls, white t-shirts, and dark blue and white sneakers. Nubia is lanky and has cornrows; the legs on her overalls are pulled up, and in the original series, she was the tallest. She is also the fattest and meanest in the movie. Olei is shorter and has a bulky build with braces and hair and a messy bun; in the 2022 revival, she's now the tallest and her short hair is done in dreadlocks (with shaved sides). Gina is the shortest and has an Afro hairstyle (with a dark blue headband).
---
15. Mr. Popo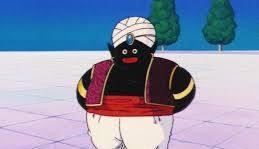 | | |
| --- | --- |
| NAME | Mr. Popo |
| YEAR | 1992-2003 |
| SERIES/MOVIE | Dragon Ball Z, Dragon Ball Super, Dragon Ball GT, Dragon Ball |
| OCCUPATION | Attendant Demigod,Earths Guardian |
Mr. Popo, displayed as a black fat Indian guy, is an assistant deity who serves as the attendant to Earth's Guardian. He also tends the grounds of the Lookout. Although he is bound there eternally as the gardener and caretaker, he can instantaneously travel anywhere in the world when the occasion calls for it by using a magic carpet.
---
Frequently Asked Questions(FAQs)
Q. Are there any challenges or criticisms associated with the portrayal of black cartoon characters?
Yes, there have been criticisms of racial stereotypes and the under-representation of black characters in the world of animation. Some challenges include avoiding caricatures and ensuring that black characters have diverse personalities and roles.
Q. What is the significance of having diverse black cartoon characters?
Having diverse black cartoon characters is significant because it reflects the real-world diversity of people's experiences and backgrounds. It allows viewers, especially young black audiences, to see themselves represented in a positive and relatable way.
Q. Do black cartoon characters primarily appear in shows aimed at black audiences?
No, black cartoon characters appear in a wide range of animated shows and films, and their appeal extends to diverse audiences. While there are shows specifically aimed at black audiences, black characters can be found in various genres and formats.
Black cartoon characters can contribute to positive social messages by addressing issues like diversity, inclusion, and social justice in a relatable and engaging way. They can help promote empathy, understanding, and awareness of different cultures and backgrounds
Q. How do black cartoon characters contribute to diversity in animation?
Black cartoon characters contribute to diversity in animation by offering representation and allowing for storytelling that explores different cultural backgrounds, perspectives, and experiences. This helps broaden the appeal of animated shows and movies.
---
Conclusion
This article was fun to assemble as it touches on most funny and central characters on the shows, and  hopefully you have enjoyed it. We love all these characters for their lovable personalities and unique relationship with food and each other. No matter your body type, there's a fat cartoon character out there for you to relate to.