Are you looking for a TikTok automation bot to grow your TikTok audience base and automate your tasks? Then you are on the right page as we would be recommending some of the top TikTok bots for you in the article below.
In its infancy, none of the other established social media platforms tool TikTok as a serious threat. However, it has proven to be a success that its features are being copied by the same established social media platforms that didn't take it seriously.
Unlike when it started that you quickly grow an audience and monetize that audience, it is no longer the case now. There is huge competition because the number of TikTokers has surged over the years and you will have to do more to see any form of growth. But what if I tell you that there is another way you can grow your TikTok account and get it popular faster? This is by the use of TikTok automation bots.
Some tasks you will want to carry out are repetitive tasks. Some of these tasks include automatically liking videos, viewing videos, and following, and unfollowing users, among others.
With the right strategies, you can get others to start engaging with you and by doing that, grow the audience of your account. If you will not want to deal with a bot, you can just purchase engagements from TikTok promotional services and use that to make your account more popular than it is.
In this article, we would be providing you recommendations on both bots and promotional services as there are only a few bots in the market and some of these bots can also be difficult to manage.
---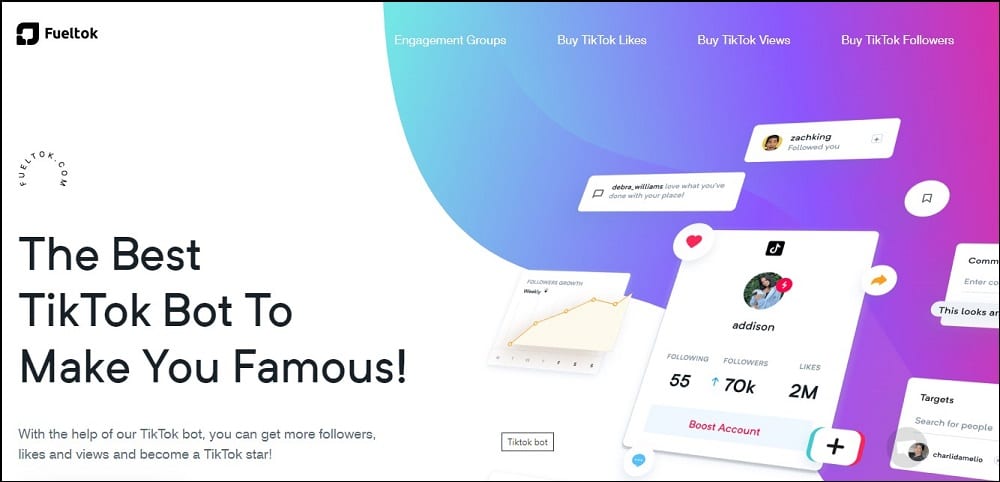 Fueltok is another TikTok bot you can use to grow your account on auto-pilot. Unlike the Auto Social Bots (ASB) that you can use for other tasks, Fueltok has been made specifically for TikTok. It does have support for TikTok automation.
Aside from TikTok automation, you can pay for engagements and they get delivered to you instantly. For the engagements, you can buy followers, likes, and video views at affordable prices from this service. The power, however, is in their automation package.
From any of these packages which are differentiated only by the duration, you get a full automation suite. You can automate actions such as follow/unfollow, as well as liking and viewing videos. The tool does have support for advanced targeting, which makes it possible for you to smartly target the accounts your account interacts with.
---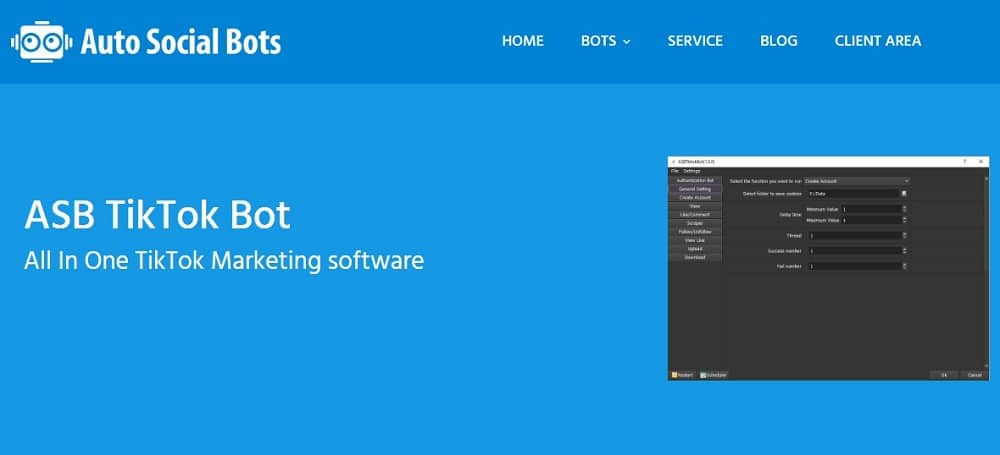 The ASB TikTok Bot is one of the best bots you can use to grow your TikTok account. This bot is available as installable software for Windows. With this bot, you can automate tasks such as video views, like, follow, unfollow, comment, and even upload videos.
The bot does have support for an account creator module that you can use to create as many accounts as you want. Interestingly you can use the bot to manage an unlimited number of accounts with ease. ASB TikTok Bot does have a reputation as it has been in the market for a long and it is not meant for only TikTok as you can use it for other social media platforms as well.
The bot is safe to use and this is one of the reasons this bot is popular among TikTokers. How it does this is simple, it creates and manages your account in an emulated environment like a browser, thereby making it difficult for TikTok to discover you are using a bot as knowing such would lead to you losing your account.
---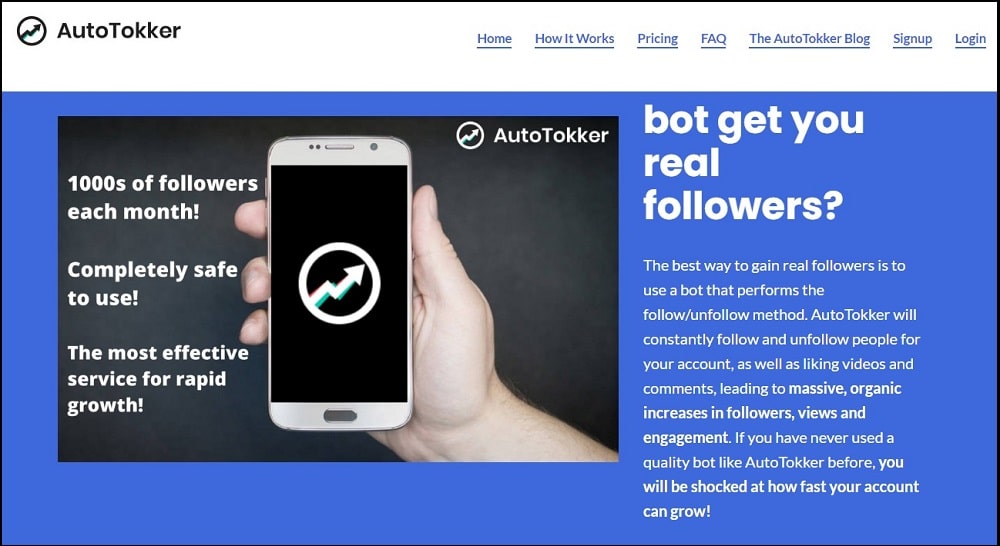 From the name of this service, you can tell that it is a TikTok bot. From our research, it is one of the best bots you can use to gain real followers for your TikTok account.
The bot follows the simple model of the following and unfollowing users otherwise known as the follow-for-follow model. When you follow users on TikTok, some of them feel the urge to replicate such. What this bot does is that it takes advantage of that by following hundreds of accounts in a day and then, later on, unfollowing them.
By this time, they must have followed you already — and the following rate is quite high. While some users keep a track of those that unfollow them to also do the same, the number of TikTokers that do that is quite low and as such, you should retain most of the followers you have gained using the bot. You can also buy followers, views, and likes from this service if you do not want to deal with bots.
---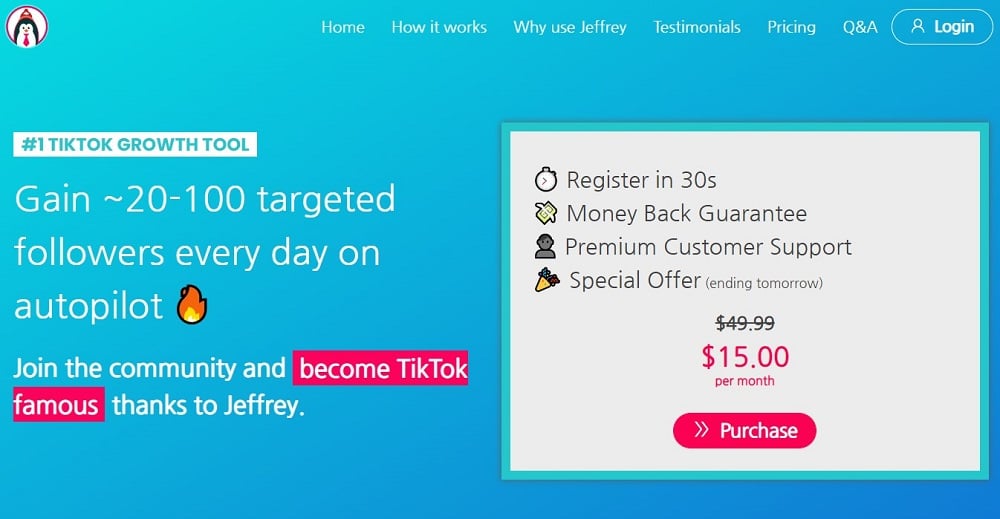 Jeffrey is a service that built software and bots. It does offer a TikTok automation bot which you can use to your advantage to grow your TikTok account. When used right, you can gain between 20 – 100 real followers daily.
I use the word real because that is what you get. It also uses the follow-for-follow model where it follows users hoping you are followed in return. It is important you know that it does not follow users randomly as it does have a tool for targeting users based on interest and hashtags so that you do not end up with followers that will not interact with your content.
The tool provides an analytical feature that you can use to see how your account is growing and has performed over time. The Jefferey TikTok bot can use for managing multiple TikTok accounts.
---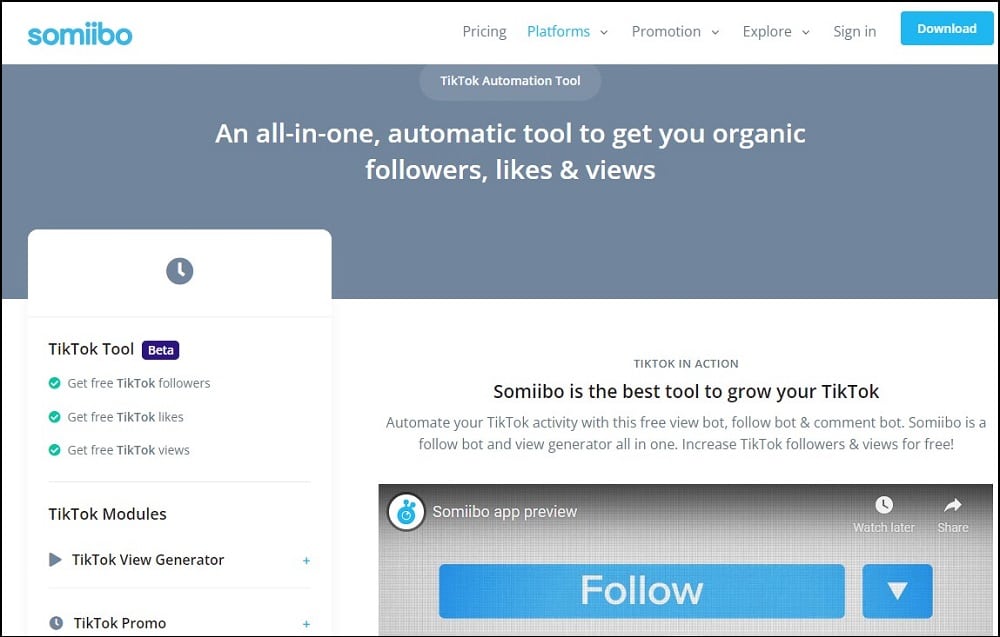 Somiibo is another social media automation bot you can use to automate your actions on TikTok. This service does have support for many of the popular social media platforms. For its TikTok support, you get about 3 modules — follow bot, like bot, and view bot.
The follow bot is for following other users in other to get them to follow you. The like bot also works like the follow bot as it likes the content of other users in a bid to get them to notice you which could also earn you a follow.
In fact, it is less spammy compared to the following model. The last module is the view module that will generate views for your videos. Somiibo does have support for multiple accounts, multithreading, and even support the scheduling of tasks.
---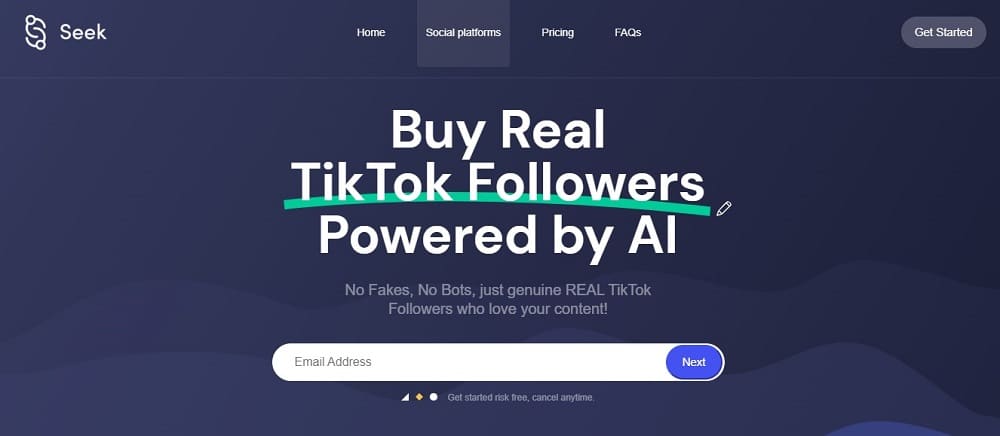 The Seek Socially service is another service of interest to us in this article. You can use this service to grow your TikTok account with little worth on your end which is done at the time of setup. This service is a growth service that takes care of growing your account. Under the hood, the service is using an in-house TikTok bot to manage your account and use it to engage with potential followers.
The bots they use are smart and equally safe, making it easy for you to grow your account without getting them blocked in the process since TikTok does not support the use of bots on their platform. Also interesting is the fact that you can buy followers and views directly if you are not interested in making use of the growth service offered.
---
7. TopUpgrade (Dead)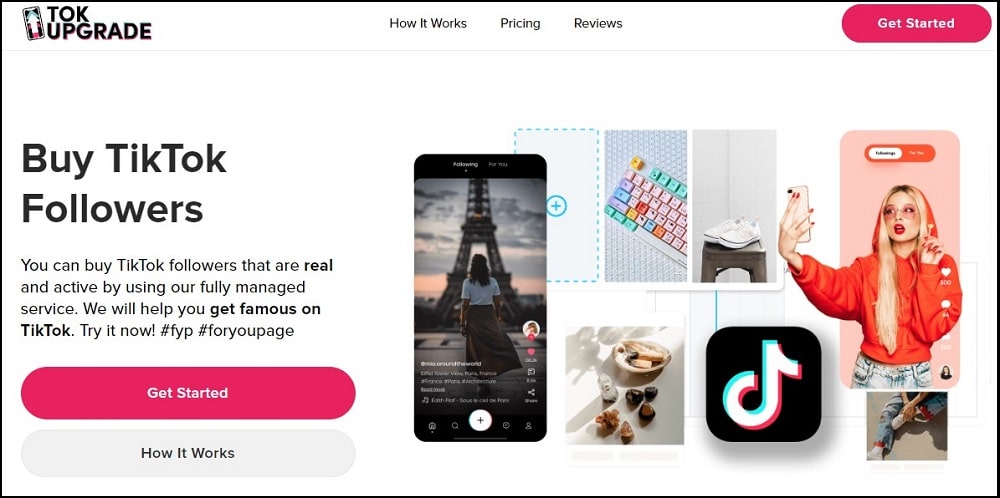 The TopUpgrade service is another TikTok growth service you can use to grow your account. Being a growth service, it does not provide you with a bot.
Instead, all you have to do is subscribe to one of their plans and the service will help you grow your account. However, contrary to what they will want you to believe, they are using a bot under the hood and manual actions are put at a minimum considering the number of clients they have.
Fortunately, this is not all bad as the result they provide would make you want to use their service. The only thing you need to be wary of is that some of the engagements provided are actually bot originating and as such, you can still get a lot of bot or non-engaging followers from using their service.
---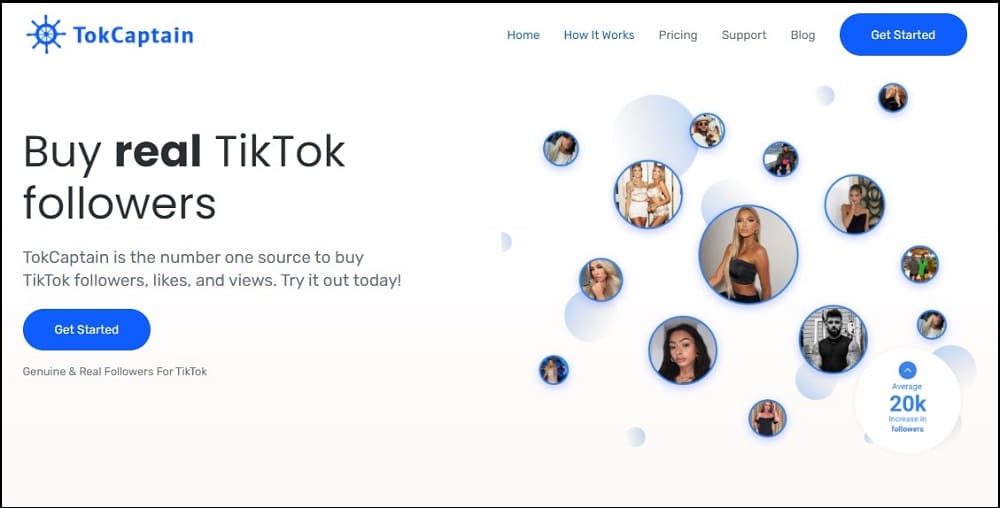 Another service you can use to grow your TikTok account is the TopCaptain service. This service does not provide you a TikTok bot to use nor is it a growth service that will manage your account. Instead, you can see it as a service where you can buy followers and video views from. The service is handy for getting fake engagements. If you take a visit to their website, you will see that they want you to believe that the followers they offer are real followers and not bots.
In reality, that is just a marketing gimmick and you shouldn't expect to get real followers using TokCaptain or any other service that sells you followers for TikTok. We advise you only to use this for gaining social proof and not as your way of gaining followers since the followers are bots and won't engage with your content.
---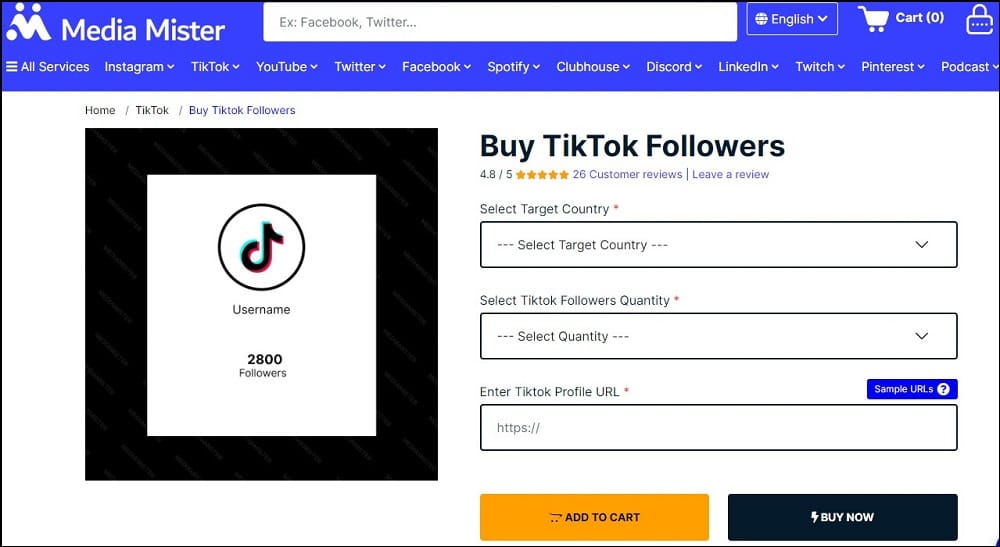 Media Mister is another service you can buy engagements. It uses TikTok bots behind the scene to provide you engagements that will make your account look more popular with activities than it really is. Media Mister has got the best support for buying engagements for most of the social media platforms. For TikTok, you can buy more than just followers. From the service, you can buy likes, comments, views, and even shares. One feature you will come to like in the Media Mister service is its support for location targeting. This makes it possible for you to buy followers from a specific country. The pricing for their engagements is quite affordable and gets cheaper the more engagements you pay for.
---
Looking for a service that will help you grow your TikTok account on autopilot without you dealing with any bot at all. But just know that services that help users grow their TikTok accounts make use of a bot under the hood to achieve that.
Pricing for the service is weekly and you have the option of choosing between moderate growth to maximum growth. As a new user, we recommend you start with the moderate growth plan and see how things turn out before subscribing to their maximum growth plan which is 2 times the cost of the moderate plan. Whichever plan you choose, you will need to define your interest so that the followers you gain will be followers tailored towards your interest.
---
FAQs
Q. What is a TikTok Bot?
A TikTok Bot is a computer program that is developed to carry out specific tasks on TikTok. Usually, such an application is used to manage TikTok account(s) and use them to fake engagements so that real users will want to interact with them. Some of the things you can do with TikTok bots include following/unfollowing users, automatic commenting, viewing videos, and liking videos, among others. If you take a look at the above, you will see that not all of them meet the definition of a TikTok as some of them are only selling TikTok Followers, views, and likes.
Q. Is the Use of TikTok Bot Illegal?
The use of a bot to automate your actions in itself is not illegal. And to put the record straight, except you are trying to defraud people, the use of TikTok bots is not illegal. If all you need a TikTok bot for is to increase engagement for your account so that you could trend and get others to want to interact with you, then you are doing nothing illegal. Where it becomes illegal is when you use the bot to generate views in other to defraud advertisers.
Q. Does TikTok Allow the Use of Bots?
Generally speaking, bots are considered spammy for most social media platforms including TikTok. People are on TikTok to interact with real humans and bots defeat such purpose. Bots send fake signals, drop spammy comments, and reduce the quality of the TikTok community. For these reasons, TikTok does not allow their usage and you risk getting your account suspended if you are caught making use of a bot on the platform. This is the reason you have to make sure you use only an undetectable bot to avoid getting caught.
---
Conclusion
As a way of concluding this article, you need to know that a TikTok bot cannot replace real human engagements and as such, your end goal with a TikTok bot is to generate enough engagements so that real humans will want to interact with you. About that depends solely on bots can easily be identified by an experienced advertiser.
Keeping that aside, you will not want to have an account with hundreds of thousands of followers but with fewer or no organic engagements.