Turning a regular photo into a piece of art with some creative picture montage used to be quite an undertaking.
Nowadays, you don't need to be a skilled editor or own an industry-grade tool like Photoshop. There's plenty of new software that opens up creative forms of photo editing to a casual audience. One such tool you can try right now is PhotoWorks.
Whether you want to slightly polish your photo for Instagram or go deeper and create an artwork, PhotoWorks has got you covered. This photo montage maker has plenty of features to help you exercise your creativity: AI-based background removal, a library of embellishments (frames, stickers, captions), artistic effects and filters, and more. So, let's get down to a little demonstration!
One of the easiest ways to make a photo montage is to swap the background. First thighs first, you need an idea and proper images to make your montage from. You may find interesting backdrops in the program's built-in library, but you still require a base photo of your own. Then you need to download and install the program. Once you have all the pieces at hand, here's how to make a photo montage:
Step 1. Run the program and open the image you wish to edit. You may either drag and drop a file into the program window, or click Open Photo and use the file browser.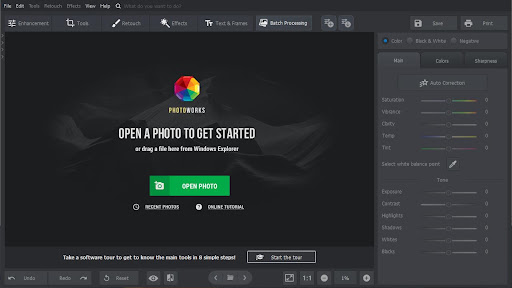 Step 2. Navigate to the Tools tab and pick Change Background. Mark the parts you wish to keep with the green brush. Then mark the background parts with the red brush. No need to be pixel-precise, AI will determine the object borders automatically. Then click Next.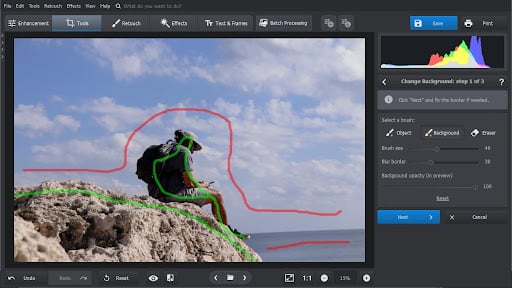 Step 3 (optional). In case AI removes or keeps details you have not intended to, you can fix this with corresponding brushes. Then click Next.
Step 4. Upload an image that will serve as a new background, or pick one from the library. You can adjust the position of the top image and blend colors with one slider. Then click Apply.
Step 5. If you wish, you may use other tools to further enhance your montage of photos. Once everything looks as you want, click Save and export your work.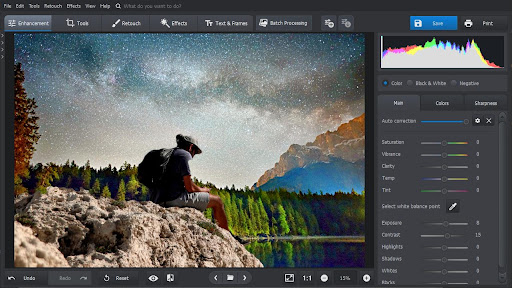 And that's it! As easy as it is, there's always something more to learn about how to create a photo montage. But no matter what idea you have in mind, PhotoWorks will help realize it, regardless of your skill and experience. Just give it a try and explore your reactive side!