Are you looking for the best hashtag apps to use for mapping out your content strategies? Then you should stick to this page and discover the best hashtag tools in the market that you can use to generate trendy hashtags and enhance your content marketing campaign.
When Twitter introduced hashtag usage into its platform in 2007, they never knew it would become so integrated into social media that it would become this powerful. Now, from a tool used on Twitter, the hashtag has grown and become loved by not just Twitter users but users from other social media platforms, with Instagram having one of the best support for hostage usage.
Now, some entire marketing campaigns are designed and developed with hashtags being their major funnels for reaching their audience, and these strategies usually work right when properly planned and executed in the right way.
For you to properly use hashtags, you need careful planning. Some look for the hashtags manually by visiting the target social media platform. While this can work, it is inefficient. One of the best ways to make use of hashtags is to use hashtag apps to generate them, as some of these tools consider a good number of things while also providing you a guide on the best way to make use of hashtags for maximum reach.
In this article, we will be looking at some of the top hashtag apps in the market that you can use. Before into that in detail, let's take a look at why you should use a hashtag app in the first place.
---
Why Use Hashtag Apps?
Hashtag apps, when used right, can enhance your content marketing strategy for free. Below are some of the reasons why you should make use of these apps in planning your content publishing and marketing.
If you want to get noticed in your niche, one of the best ways to do that is by using niche-specific hashtags, which these hashtag apps can generate for you. When you constantly use these hashtags, people in your niche can help, but you need to post high-quality content — and that could even earn you a follow and engagement.
Makes you More Discoverable
Hashtags are some of the methods your content can even get discovered. It is no news that social media users now use hashtags to search for content, and as such, the right use of hashtags will put you in front of your audience.
Very important is the fact that hashtag apps make suggests trendy hashtags for you, which you can use to gain more visibility for your content free of charge. Provided your niche is not too narrow, you can get targeted traffic using hashtag apps.
Carve A Niche For Yourself
Are you aware that you can develop a branded hashtag that people would associate with you and your brand anything they see such a hashtag? That is true, and it is even an effective marketing tool.
Accepted, you could generate one for yourself without using a hashtag tool, but these apps can make the process fluid and take away the guesswork from you.
---
In this section of the article, we will be suggesting some of the top hashtag apps for you to make use of. It might interest you to know that there are a good number of them in the market that you can use.
However, we want to sieve through the noise and provide you with recommendations on the best ones out there.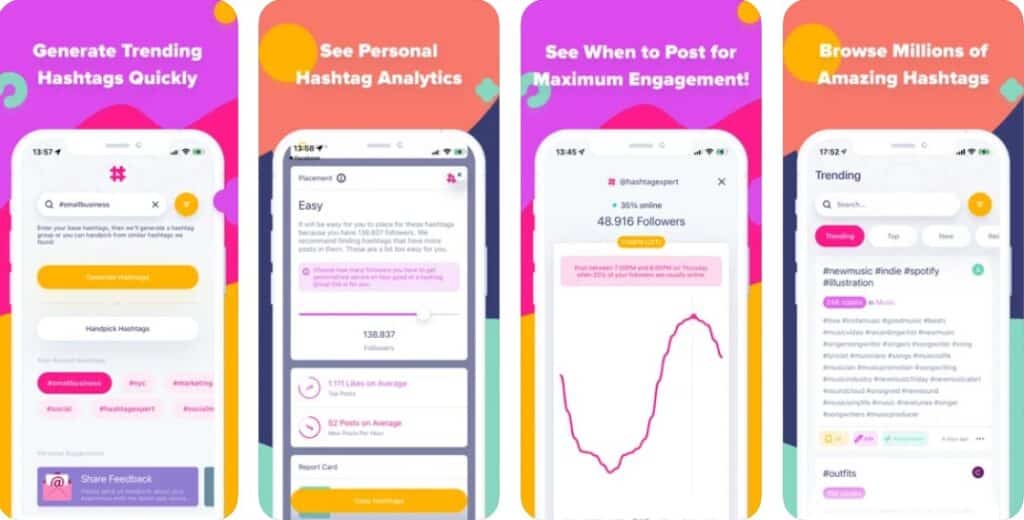 Hashtag Expert is one of the popular hashtag apps in the market you can use for generating hashtags. This hashtag app is available only for iOS and is downloadable from the App Store. This tool uses Artificial Intelligence to find trendy hashtags for your social media growth.
When used right, you can grow your audience and follow with the help of the Hashtag Expert application. How the tool work is simple —- you give it a base hashtag from which it generates a list of other trendy hashtags.
You can then copy the ones you want to use to the social media platform you need them for. This app is not specific to any social media — you can use it on any platform provided it has support for hashtags.
---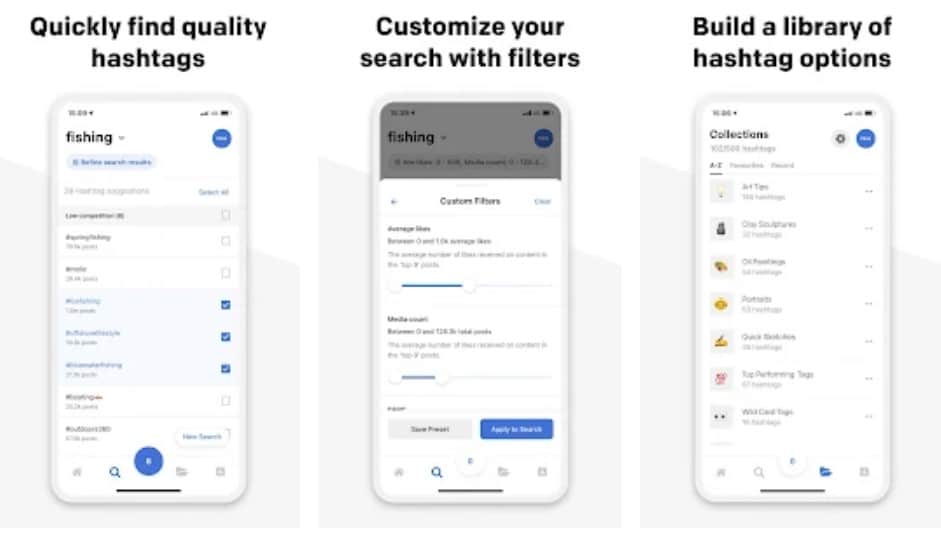 Flick is arguably one of the best Instagram hashtag management and analytic tools out there. It is available as a web-based tool and, as such, can be used on all platforms (mobile and PC). With the Flick tool, you can find, manage, and analyze hashtags for your Instagram posts.
You can find quality hashtags with this tool and it does have support for banned/flagged hashtag checker, works in more than 20 languages, and filters using important metrics. A search can return up to 40 hashtags which you can use.
It also comes with an organization module that makes it easy to manage and copy the hashtags of choice. This tool also has a mobile app that makes it easy to use on mobile.  It is a paid tool but does have a free trial version.
---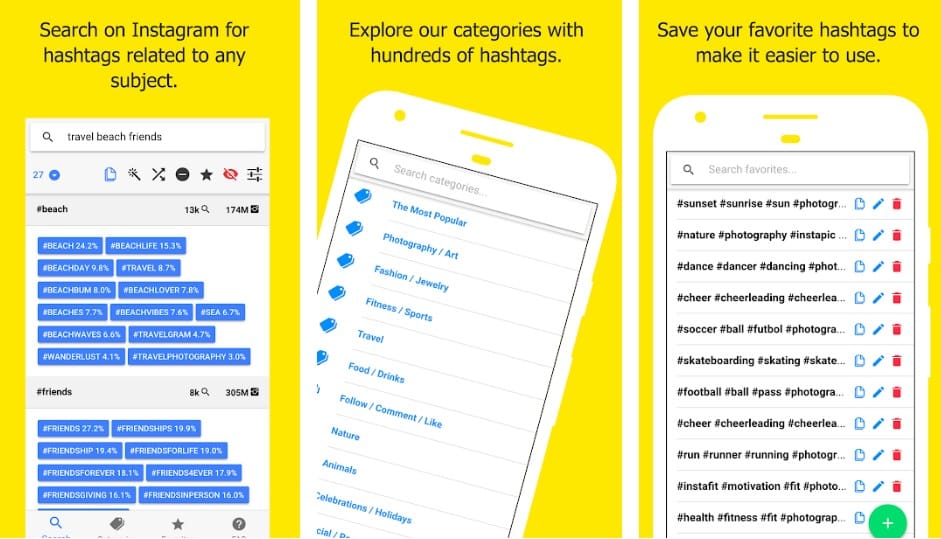 If you are looking for a mobile app that can serve you as a hashtag tool, then the Leetags tool is the tool for you. A visit to the homepage of this app will show you the link to either download the Android version or the iOS version depending on the Operating System of your phone.
Leetags is one of the best hashtag apps in the market that you can use to generate hashtags for your post on social media platforms. Aside from helping you to generate trendy hashtags that would help your content reach more audience, it does have a list of hashtags it manages that you can use.
---
4. Task Ant (Shutdown)
Are you looking for an easy-to-use Instagram hashtag management tool? Then you should take a look at the Task Ant service; a service developed to help you find the best hashtags to use for your Instagram posts to generate more views. A single query using Task Ant will return over 100 suggestions.
As a management tool for hashtags, it does have support for generating and saving hashtag set, makes it easy to copy and paste generated hashtags to Instagram quickly, and even provide you hostage analytics which would help you know when a hashtag is becoming less popular so you can move to the next popular ones in your niche.
With this tool, you can build a hashtag strategy and monitor the hashtags you are ranking on.
---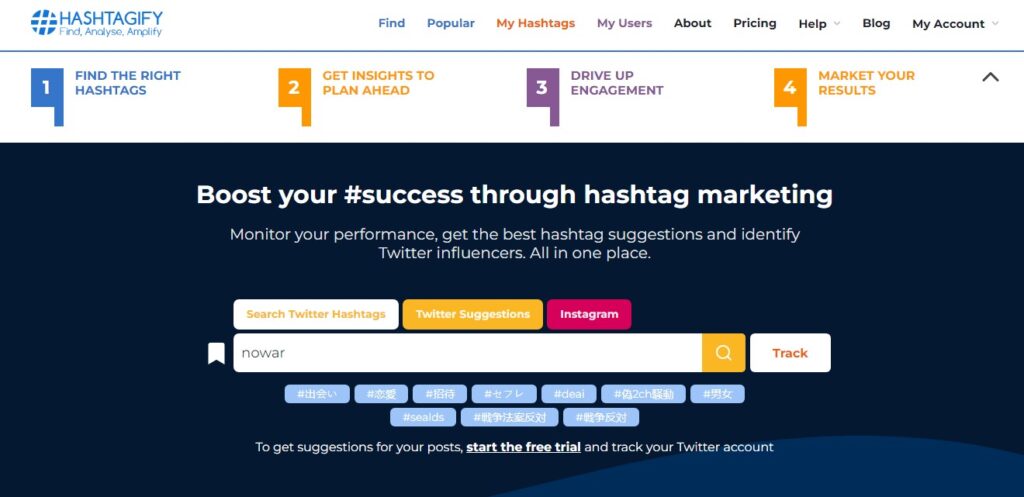 Even though Twitter is the first social media platform to introduce the use of hashtags, it does not enjoy much support from hashtag generation tools except for the general ones. The Hashtagify tool is one of the hashtag apps in the market that is specifically developed for Twitter.
The tool is a hashtag tracking system that helps you find the best hashtags for your tweets and provide suggestions on the best ones to use and how to use them. It also monitors the hashtags you use on Twitter and provides you analytics on their performance.
This will help you make informed decisions  in time to avoid wasting your time on non-performing hashtags. It also helps you with details about the sentiments surrounding a hashtag and enables you to optimize your marketing campaign.
---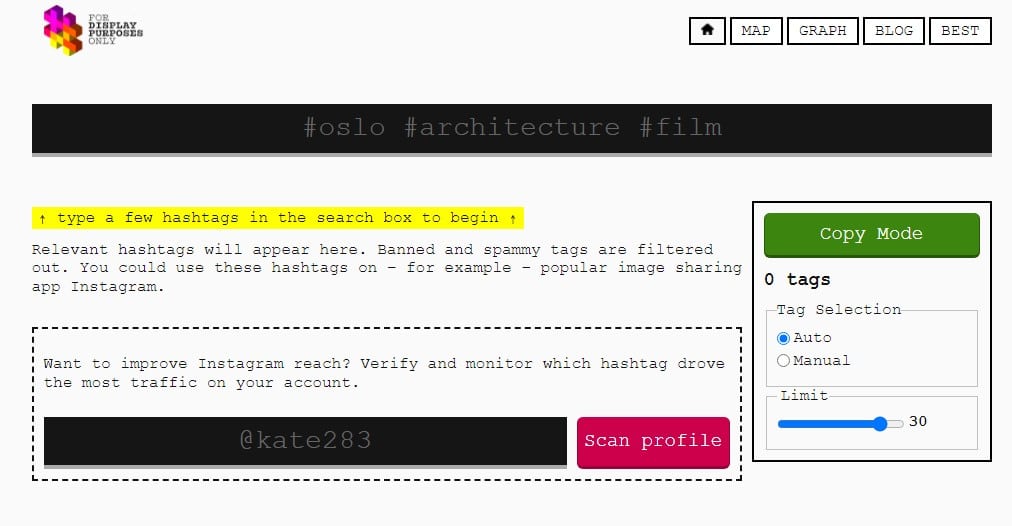 Display Purpose is one of the easiest hashtag apps to use in the market. It is available as a web app accessible using a web browser. In other for this app to work, you need Javascript enabled. With this tool, all you have to do is enter the word or hashtag of your choice, and in return, you get a good number of suggestions for yourself.
Usually, it recommends the popular options first. The tool comes with a filter and you can use it without even registering an account. One feature you will come to like in this app is its support for scanning your profile and then suggesting banned or flagged hashtags to remove from your posts.
---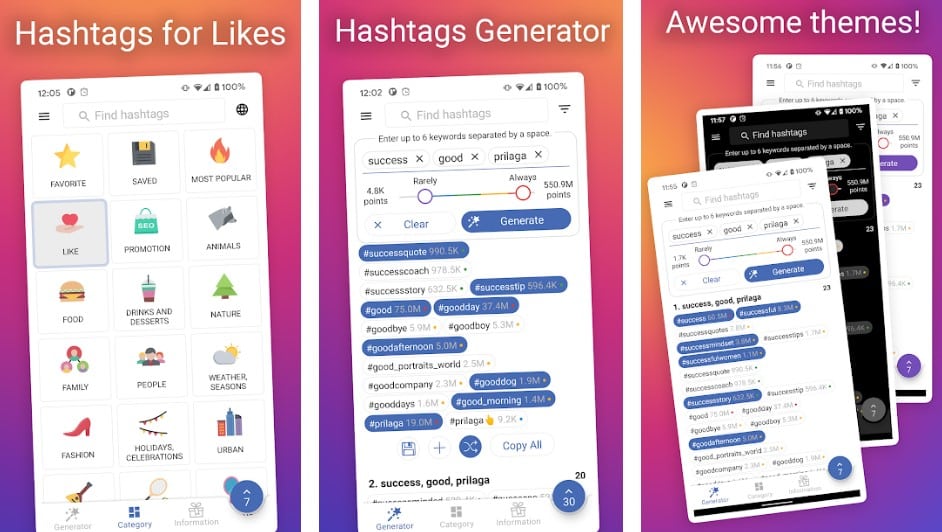 The In Tags mobile application is an Android application that can be used to generate hashtags. This tool has over 26K positive reviews in the Google Play Store, making it one of the best hashtag apps available for Android users. This tool even has its own list of hashtags organized in categories that make it easy for users to find the hashtags for their posts.
Also important is the fact that you can use it to generate and discover hashtags that could skyrocket your content marketing to the next level. In Tags does not only provide you hashtags, it also provides you analytics such as frequency which is used to determine how trendy a hashtag is.
Download:

---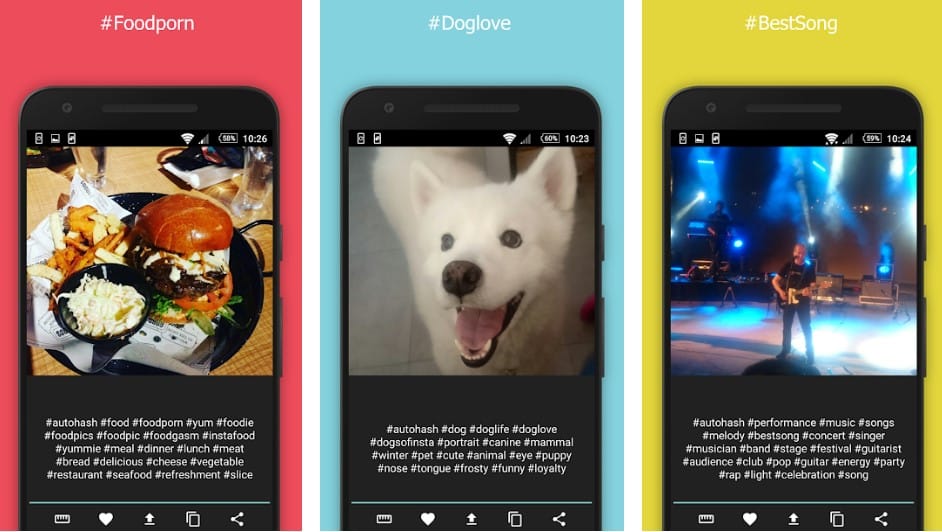 The AutoHash tool is also an Android app. What this tool does is that it helps you automatically find the best hashtags for your post. As you type out content that you want to post, it uses an in-house method to find out the right hashtags to use for better reach.
One feature you will come to like about this tool is its support for locational hashtags which requires GPS turned on. Which GPS on, the app will help you find the best popular hashtag for your location which is great if you intend to attract users from your location.
It comes with some nice to have features such as a clipboard, hashtags counter, and sharing posts directly to Instagram.
Download:

---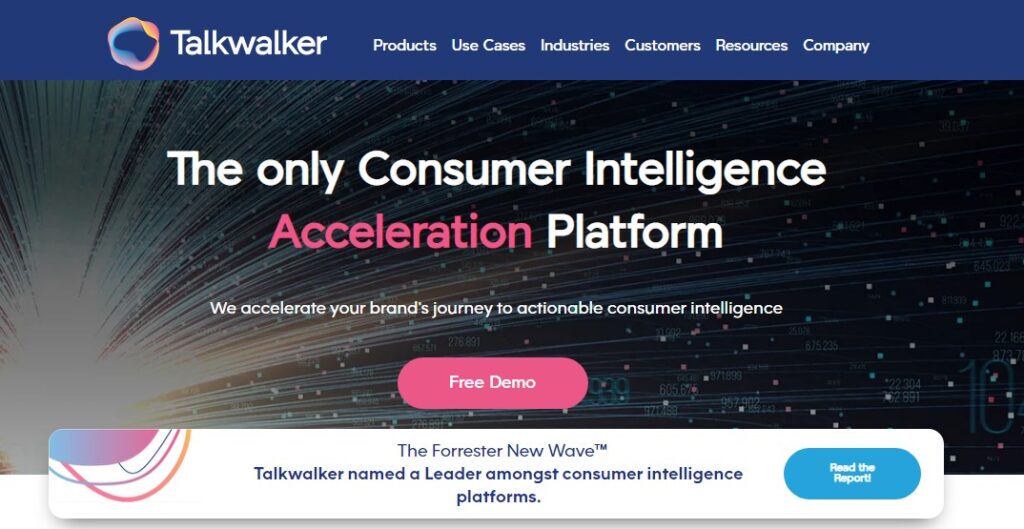 TalkWalker is one of the top services meant for customer intelligence. It comes with a good number of modules and can be used by a diverse group or professional. Suffix to say, it is not your regular hashtag tool — it is a complete suite of tools for customer intelligence with hashtag support incorporated.
However, hashtag support is one of the best you can ever use in the market as it comes with some advanced features such as monitoring hashtags and providing you with the best suggestions possible.
This tool is used by enterprises and as with other tools in its class, it is expensive and as such, you will only want to make use of it if you need the different tools that come with the complete suite.
---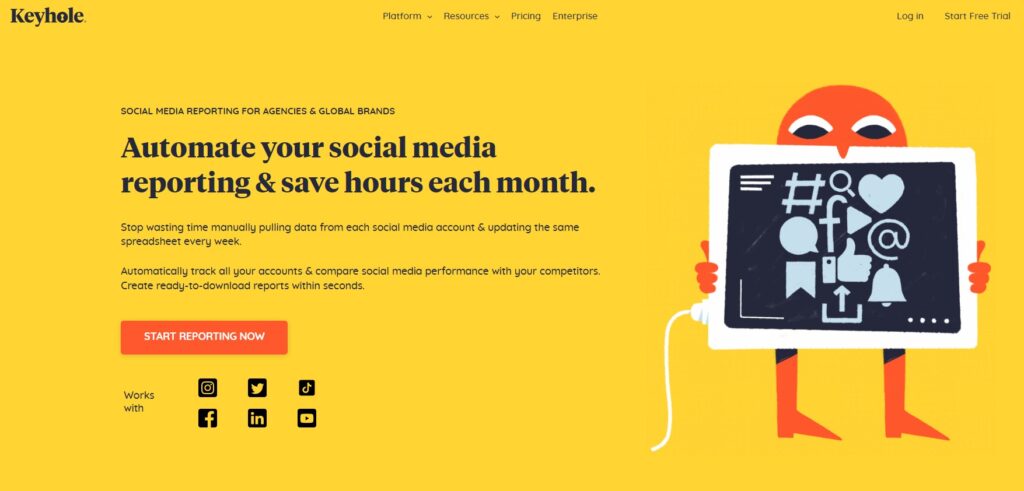 Just like the TalkWalker service, Keyhole is also a complete suite of tools. Keyhole can be described as a social media reporting tool that automates reporting of your social media performance across social media platforms and accounts. One of the modules that come with this tool is the Hashtag tracking and analytics.
This tool can help you keep a tab on hashtags of your choice or even that of your niche and competitors. With this tool, you can tell when hashtags are becoming less popular and act fast.
Also important is the fact that you can use this tool to also find and generate popular hashtags in your niche to help you reach more audiences.
---
FAQs
Hashtags can help your posts reach a wider audience. But this does not mean you should go about stuffing your posts with unrelated hashtags as such a practice can backfire.
The best way to use hashtags is to use specific hashtags that are not too broad that a chance to rank for it is even non-existing and even if you do, searchers might not even be interested in your content.
Aside from being specific in your approach, avoid spamming and stuffing hashtags. Any number between 4 to 11 hashtags is enough.
Q. Why Use Paid Hashtag Apps Instead of the Free Apps?
Money is a scarce resource and as such, wasting it does not make any sense. If a free app can help you generate hashtags, why use another that would cost you money? A good number of the free ones are quite basic and in most cases, would only provide you the hashtags and that is all.
If you need to enjoy advanced features such as tracking and managing hashtags, as well as tracking the performance of your posts and how they rank for certain hashtags, among others, then you will need to pay for it as most free tools do not have support for this.
---
Conclusion
From the above, you can see that there are hashtag generators out there that you can use for planning out your content in other to reach more audiences. One thing with hashtag usage is that you need to be strategic with their usage if you must succeed with them.
No matter how sophisticated a hashtag app is, your content won't go far if you are not strategic with its usage. Remember, use specific hashtags, avoid hashtag stuffing and banned hashtags, and you should be good to go.