Artificial intelligence has made it possible for us to enhance our photos without spending hours in front of a computer.
Batch photo editing software is a handy solution for people who have piles of photos that need to be retouched in a short amount of time and without much hassle. Such programs use AI algorithms to enhance images, remove noise, adjust colors, etc.
Below, you will discover the 7 best batch photo editing tools for PC and Mac available on the market.
---
PhotoWorks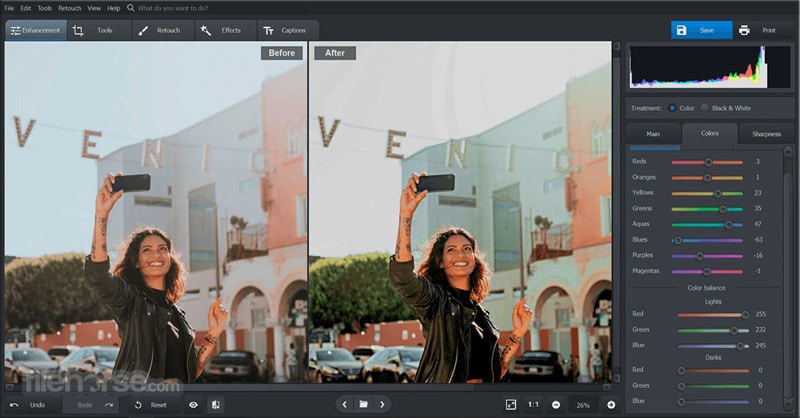 PhotoWorks is a beginner-friendly photo editor for Mac and Windows that lets you enhance multiple images at once. You can get rid of the most common photo issues thanks to content-aware autocorrection with AI.
Stylize your pictures as old film photographs, turn them into shots from famous movies, or simply color-correct your photos with pre-designed filters. Add captions, watermarks, and frames in batch mode effortlessly with live previews.
---
Adobe Lightroom
Lightroom is a pro-level image editing software that is popular among photo enthusiasts. It lets you adjust groups of photos with presets or by using the Syncing function. Thanks to Creative Cloud, you can edit photographs across all your devices.
Despite the photographer's love, Lightroom is not perfect – the UI is cumbersome for novices, and the subscription is quite pricey for infrequent editing.
---
BIMP
BIMP, or Batch Image Manipulation Plugin, transforms GIMP, open-source software, into a free batch photo editor. You can use it on Windows, Mac, and Linux computers. The program allows you to improve photographs in bulk.
Crop, flip, color correct, blur, overlay watermarks, apply captions, and more. You can also convert photos to different file formats. It's slightly limited in tools and features, though.
---
PhotoScape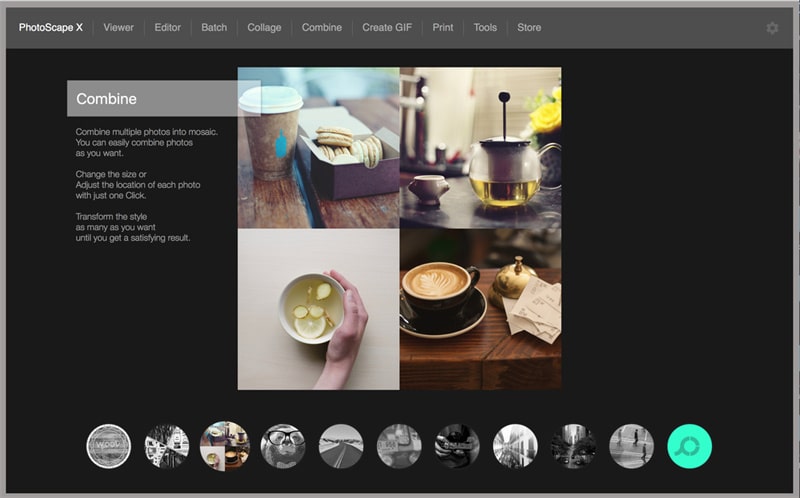 PhotoScape is another free batch image editor available on Windows and Mac. It lets you edit images fast with various automatic adjustments – cropping, overlaying filters, improving colors, and decorating with stickers & frames.
However, you might find its interface a bit outdated and confusing.
---
Picsart
Picsart is a mass photo editing app that can be used on Android, iOS, or Windows smartphones, as well as online. It allows you to erase backgrounds, resize, crop, upscale, apply filters, and overlay watermarks to multiple pictures hassle-free, thanks to artificial intelligence.
Although, the free version has too many annoying ads.
---
Luminar AI
Luminar is user-friendly software that is packed with AI-driven tools and available on Windows and macOS. Resize, sharpen, denoise, and apply presets in a flash. You can also change image formats and adjust the quality in bulk.
However, it has limited functionality in batch mode and may be too slow on low-end computers due to the high system requirements.
---
BatchPhoto
BatchPhoto is photo manipulation software for novice users with computers running on Windows and macOS. It offers photo format conversion, cropping, sharpening, and autocorrection of hundreds of pictures in bulk.
You may also overlay filters, and add watermarks, borders, text, and logos in a snap. However, the free version saves pics with watermarks, and a subscription is quite expensive.
---
Conclusion
Batch AI photo editing software is a great way to enhance your photos quickly and efficiently. In this article, we discussed the 7 best batch photo editors. Each of these programs has its unique features and capabilities.
Whether you are a professional photographer or just someone who enjoys taking photos, there is a program for bulk edits out there that will meet your needs.