Has it been a struggle to scrape or gather data from LinkedIn? In this Article comes a well-described list of LinkedIn Scrapers presently accessible and acquirable to foresee your web workload.
When talking about professional-oriented platforms, LinkedIn is the first that comes to mind. And as such, standing your feet as a marketer on this platform calls for you to be more informed. But how do you do this without keeping a data tab on the in and out of other businesses? The gathering of data is as old as the advent of the internet.
Hence what differentiates the methodology is the advancement in technology. LinkedIn as a social networking site is well-known in the business world. With its global recognition, it has over 55 million companies/businesses leveraging it. As a result of this number, every fortune 500 company has an account on LinkedIn.
As a business-to-business company, data is like the oxygen that keeps you growing, and putting your focus on LinkedIn is the icing on the cake. Unlike other platforms, extracting data from this social platform gives you an edge to be fruition in your setup. This is because there are also high-level businesses using these social networking sites.
However, the punchline here is how can these data be extracted. That's where LinkedIn Scraper comes to play. So if this is your aim, I will urge you to read further — as that's what this writing will be getting down on.
---
LinkedIn Scraping — Overview
[toc]
Scraping of data on LinkedIn is an act that calls for using software or tool to extract data from the social networking site. This data can be extracted based on a specified area of interest or all aspects of the platform.
Though this is viable, it can not be achieved within a limited time frame if it's manually oriented, hence the help of a scraping tool that is compatible with the platform. With that said, in this post, some of these tools will be described. Many websites and social platforms do not give room for data scraping, and LinkedIn is not an exception.
Although this scraping activity is not illegal, LinkedIn does not appreciate being scraped. They update their AI tools and automation bot, among others, to keep an edge against any web scraping activities. However, since publicly available data is allowed to be scrapped, you can still work on this part but with a more powerful tool.
To any business-to-business company, data harvesting is very crucial, and LinkedIn is a sure goldmine for getting this data. Even though this does not require you to be a programmer or coder, most times, it's not what it seems without the right suitable software or tool. Hence, why scrapers are vital and should be leveraged.
---
Best LinkedIn Scrapers
With the millions of businesses on LinkedIn, harvesting or extraction of data is like a routine check-up — but how do you go about this? In this article, we will recommend to you some LinkedIn Scrapers that are best to foresee any part of the platform you wish to scrape data from. Now let's look at them.
---
1. Data Collector — Overall Best LinkedIn Scraper
Pricing: Starts at $350 for 100K page loads
Free Trials: Available
Data Output Format: Excel
Supported Platforms: web-based
If you need a top-rated LinkedIn Scraper, then Data Collector by Bright Data is presently the best. Having worked on its tool, it is predesigned to be suitable for LinkedIn platforms. On using this service, data is harvested following the laws governing the social site.
Although they have a week free trial to grip you into using their service, what sets them above others is that the scraping tool is proxy-integrated — hence no worries of any detection initiating ban. As a result, thousands of public data are being collected swiftly and reliably within seconds.
On top of that, data can be scraped differently, starting from individual posts, listed jobs, profiles, keywords, etcetera. Since data scraping is a no-no for LinkedIn, it updates its structure more often, trying to keep an eagle eye on such activities. While on it, Bright Data also updates its code to surpass the platform strength. And as such, making the social site more accessible to be scrapped.
---
2. Phantombuster — Code-Free LinkedIn Scraper
Pricing: Starts at $30 monthly for 1h daily and 5 phantom slots
Free Trials: free limited plan available
Data Output Format: CSV, JSON
Supported Platforms: Cloud
PhantomBuster is a scraping tool with LinkedIn compatibility. This provider tool can help extract the entire profile of a LinkedIn user without any calls for alarm. With the trust gained from thousands of users so far, their service is given credibility as the aspect of its usage requires no coding.
Looking at how easily their tool can be automated, extracting users from any LinkedIn searches, groups, and other websites comes even easier. As a result, lead generation on any ground of sales can be achieved — hence giving a good lift to business growth.
Aside from these, more to value about PhantomBuster is its Google map which aids faster access to a list of locations to scrape and find available contacts and social media information.
Meanwhile, in terms of your presence, it could be worrisome, but, excitingly, there is a recommendation of using an ISP proxy alongside the tool to create anonymity and mask your identity. Additionally, you don't have to doubt if the service will work or not — there is a 14-day free trial before settling on any paid package.
---
3. Dripify — Best Specialized LinkedIn Profile Scraper
Pricing: Starts at a $39 Monthly
Free Trials: Free
Data Output Format: CSV
Supported Platforms: Web
Are you looking for a less-pricey scraping tool to toss you far on LinkedIn? Then Dripify is for you. Whether you're a Fortune 500 company or a startup, they know exactly what your data desires are. Taking a stroll on their website, even though this company came on board in 2020, their success reviews are commendable. Their specifications lie mainly for LinkedIn, so if you target this social platform, rest assured your money will have an ROI.
Being an automated software, all activities are completely on autopilot. However, with its cloud-based features, a sales funnel can be set in minutes, and the tool will work as programmed.
Arguably, what makes Dripify more appreciated is the unique IP address it assigns to users' accounts to keep you safe and secure while extracting this data. Also, its integration with over 1000 software like Google sheet, SalesForce, and Asana, among others — through Zapier is another take-home.
---
4. Apify — Best Scraping Platform for NodeJS Developers
Pricing: Starts at $49 per month for 100 Actor compute units
Free Trials: Starter plan comes with 10 Actor compute units
Data Output Format: JSON
Supported OS: cloud-based – accessed via API
Another good option for data extraction on LinkedIn is Apify. This provider does not work like others. Its tools operate on two mediums, paid packages with a free trial and completely free ones. Apify tools are pre-designed in an already-made form and automated for your web activities.
When it comes to scraping data from LinkedIn, it can be by URLs, people, sending connection requests, and company. Although non-coders can use their tools, developers will enjoy it more. Hence, there is a need for JavaScrip, Node.Js, programming, or coding skills.
Therefore, if you pick interest in them as a non-coder, all you need to do is to pay for their already-designed tool to aid you in scraping and filter data from LinkedIn either with or without login details. In addition, data scraped can further be previewed or downloaded in your choice of document format, be it  HTML, RSS, JSON, CSV, Excel, or XML.
---
5. ScraperAPI — Best Scraping API for LinkedIn
Pricing: Starts from $49 for 100K Credits
Free Trials: 5K Free Credits
Data Output Format: HTML and JSON
Supported Platform: API
If you need an all-in-one scraping tool, do not hesitate to go for ScraperAPI. It does not have any limit in terms of the website; thus, it cuts across any website of interest. Going through LinkedIn, which is our focus, ScraperAPI suits just perfectly. Given that it has several paid plans, the business plan gives you access to over 50 geo-targeting locations with unlimited bandwidth. Although very expensive, many businesses opt for it, knowing how exclusively outstanding its web activities are. But if you're having a rethink, you can use its free plan for a week's trial.
Consequently, regardless of your business, data will be scraped diligently without any trace. What will interest you more is that every package comes with in-built proxies of over 40 million rotating IP pools to safeguard your activities, mask any CAPTCHA or detection, and bypass bans irrespective of the data harvested scale.
---
6. Octoparse — Best  General Purpose web scraper
Pricing: Starts at $75 per month
Free Trials: 14 days of free trial with limitations
Data Output Format: CSV, Excel, JSON, MySQL, SQLServer
Supported Platform: Cloud, Desktop
Octoparse is a general-purpose tool that has optimized data scraping beyond the manual level. Thus, it scrapes data beyond just the LinkedIn platform i.e. it deals with all websites. One fine feature of this tool is that it is a cloud-based extraction tool with auto IP rotation. Hence, it bypasses any website ban or restrictions. Opting for this tool for your LinkedIn scraping will surely see you through whichever data target you wish to extract.
Also, due to the flexibility of the data extraction method, many people tend to use the tool more. Although not pocket-friendly, many businesses still prefer it because it schedules specific times to scrape data periodically. The plans kickstart from $75, depending on the amount of data you want to extract. Though there is a free trial. Aside from that, data scraped is downloaded as either CSV, Excel, or API or saved to databases.
---
7. WebHarvy — Visual Web Scraper with Advanced Features
Pricing: Starts at $139 for a single user license
Free Trials: Not available
Data Output Format: TXT, CSV, Excel, JSON, XML. TSV, etc.
Supported Platforms: Desktop
WebHarvy is a visual scraping software that can easily scrape Text, HTML, Images, URLs, and Emails from any website. Using WebHarvy on the LinkedIn platform is like a point-and-click interface. Thus, no need to write code or scripts to harvest its data. With this tool, all you need to do is mouse-click to highlight the data you desire to harvest from any part of the social platform. As a result, the inbuilt browser will load the requested information or data.
With a single configuration, you can scrape data by categories and subcategories. Meaning that you scrape a data link and other similar data within the same website. In terms of privacy and security, there is an option to access target websites via proxy or VPN. It can either be a single proxy or a list of proxies that may be used, and this is a fine attribute to prevent unwanted blocks.
---
8. ScrapeStorm — AI-Powered Visual Web Scraper for LinkedIn
Pricing: Starts at $49.99 per month
Free Trials: Starter plan is free – comes with limitations
Data Output Format: TXT, CSV, Excel, JSON, MySQL, Google Sheets, etc.
Supported Platforms: Desktop, Cloud
ScrapStorm is yet another highly-rated LinkedIn scraping tool that is AI-based. It is an easy-to-use visual operation tool built by an ex-Google crawler team. When it comes to data scraping, all that is needed is the URLs, and ScrapeStorm will intelligently identify List Data, Tabular Data, BioData, and profiles, to mention a few, without having to manually set any rules.
Hence it is AI-powered. The uniqueness that comes with this tool is its compatibility with all system types, be it Windows, Mac, or Linux operating systems — all versions of any of them. As a result, switching platforms is a welcome idea.
Consequently, upon registering an account with them, all your scraping tasks will automatically be saved to the cloud server, so no loss of data. On top of that, the tool can be used on several systems simultaneously. Mind you, no programming skills are needed. Packages cut across any demand and file type, and there is a 5-day money-back guarantee on all plans if you're not satisfied with the tool.
---
9. ScrapeHero — Best Data Scraping Service
Pricing: Starts at $150 for up to 10K pages
Free Trials: No Free Trial
Data Output Format: CSV, Excel, JSON
Supported Platforms: Web
ScrapeHero is a company that provides high-quality structured data to oversee businesses. Browsing through their websites, by usage, they have over 7050 customers that trust them. One uniqueness of this provider is that having outsourced to them, you don't need any scraping tools, software, hardware, or even coding skills — everything is handled, and full data service is provided.
The other fine attribute is they are perfect for any use case. So as a business seeking to scrape LinkedIn, they're a good choice. Why? Because they scrape in-depth and extract active data. With them, you can easily keep a tab on other businesses' prices and reviews, among others. When it comes to pricing, it's based on the number of sites, pages, resources, either shared or dedicated, and as well site complexity.
---
10. Datahut — Alternative to ScrapeHero
Pricing: Starts at $40 for up to 10K pages
Free Trials: No Free Trial
Data Output Format: CSV, JSON
Supported Platforms: Web
If you're looking for a more business-like tool, Datahut will do just fine. Starting from what they offer, they can harvest data from any website, of which LinkedIn is not excluded. The fact that payment is by what you need is fantastic — as not everyone can afford a full package. Hence, the data extraction process becomes painless.
The Take-home is that the services are hassle-free; they do everything, so you can focus on your business. The data extracted are well-structured. As a result, they are a suitable alternative for ScrapeHero. Since pricing is by use-case, it starts at $40/Website. However, data delivery is by CSV, JSON, or Via API for all packages. In addition, they promise clean data, or you get your money back.
---
11. ParseHub — Free LinkedIn Scraper
Pricing: Free with a paid plan
Free Trials: Free – advance features come at an extra cost
Data Output Format: Excel, JSON,
Supported Platform: Cloud, Desktop
If your purpose of gathering data is to perform market research, do not overlook ParseHub. ParseHub is inclined with any website. Hence data gathering is easier. Using the tool does not call for coding. Fortunately, it doesn't cost any pay. It is a DIY tool compatible with LinkedIn. If you're acquainted with it, you will save yourself some cash.
It is a free, easy-to-use tool that can fetch data from any website. On top of that, with their advanced web scraper, extracting data is as easy as clicking on the data you need, even from the most delicate sites. There are IP rotation proxies to enable the scraping of millions of data and thousands of links possible without any ban.
---
12. Webscraper.io — Best Browser Extension for LinkedIn Scraping
Pricing: Freemium
Free Trials: Freemium
Data Output Format: CSV, XLSX, and JSON
Supported Platform: Browser extension (Chrome and Firefox)
If you're looking for a LinkedIn scraping tool that supports Chrome Extension, then WebScraper is the perfect tool for you. This is a point-and-click tool that makes the extraction of data very easy and accessible upon installation, and LinkedIn is not an exception. Trusted by thousands of users, WebScraper is surely a solid data extraction tool for many.
Knowing how LinkedIn as a platform disregards data scraping, this tool makes activities more flexible and easy. It has a scheduler for periodically setting data scraping time. The top benefit of extracting data with this tool is the integration of rotating proxies that comes with every plan. With that, your web activities become even more appealing and hitch-free. And as follows, the scraped data can be exported and saved in your choice of document format.
---
13. Proxycrawl — Reliable Scraping API with Parsing support
Pricing: Starts from $21 for 10K Regular Pages
Free Trials: Free Credits
Data Output Format: HTML, JSON
Supported Platform: API
Proxycrawl is an all-rounder data crawling and scraping tool for business developers and marketers. Taking a bounce on its LinkedIn scraping, it can scrape data for company research and keep a tab on competitors' profiles and dealings. Since extracting data from LinkedIn is not always easy, Proxycrawl has network proxies that help bypass any advanced technology the platform is using and pull out people and data anonymously.
The tool is trusted by thousands and used by the world's most innovative businesses, regardless of size. It is developed to give room for internet data freedom, hence content can be scraped on demand. With its crawler and scraper API, large data can be gathered and structured to foster business usage.
---
14. Xbyte.io — Web Crawling and Scraping API for Business Enterprise
Pricing: Provided upon request
Free Trials: No Free Trial
Data Output Format: CSV, Excel, JSON
Supported Platforms: Web
Xbyte is a leading web scraping services provider in the USA. They have been in existence since 2012. On scanning through their site, they have got good reviews. Their web scraping tool can crawl and extract data from both websites and Mobile devices. They have several use cases across different platforms ranging from e-commerce, streaming sites, social media, estate, and many more.
Having a cloud-based automated data harvesting ecosystem, they aim to become the largest data scraping company. While outsourcing their service, data is extracted based on your specifications. For instance, if you aim to gather data on e-commerce stores, data will be extracted on product prices, availability, reviews, brand reputation, etcetera. This process applies to all the services they render.
---
15. Helium Scraper — One-time payment option
Pricing: Starts at a $99 one-time purchase
Free Trials: 10 days free
Data Output Format: CSV, Excel, JSON, SQLite, etc.
Supported Platforms: Desktop
Last on our list is Helium Scraper. This is a data scraping tool that is compatible with LinkedIn. Having researched its usage,  just like Webscraper.io, this is a point-and-click that allows and aids the collection of data from LinkedIn. And further exported and saved to CSV, Excel, XML, JSON, or SQLite.
Getting down on its packages, the payment is one-time, and usage lasts forever, irrespective of the plan. What this means is that no financial commitment, and as a result plan will constantly be upgraded by desired packages. However, users' license after payment as well differs by package type. Plans start from $99 for one user license to  $699 for 10 users license. Although, the tool comes with a functional 10-day free trial.
---
How to Use LinkedIn Scraper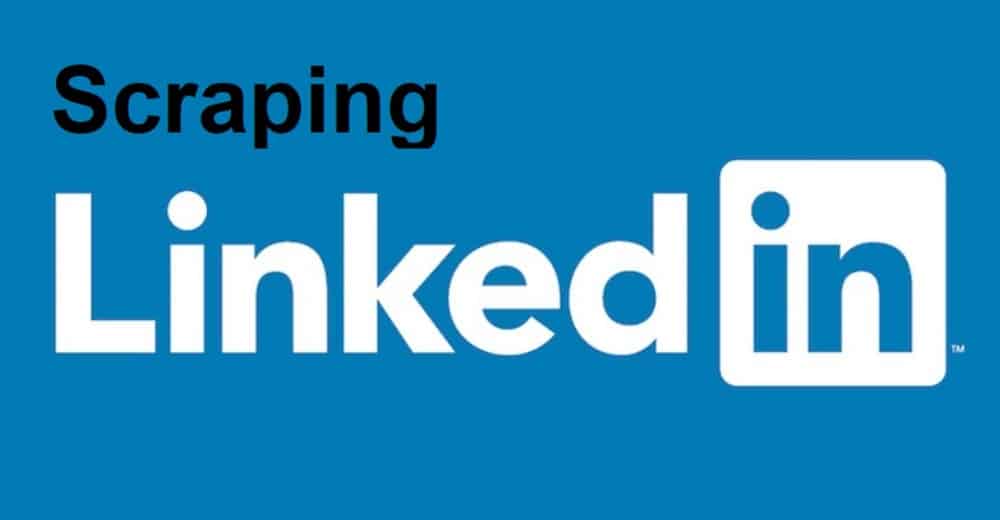 In this step-by-step guide on how to use LinkedIn Scraper, we will be focusing on PhantomBuster. Let's get started.
Steps
Step 1: Install PhantomBuster LinkedIn scraper Chrome Extension.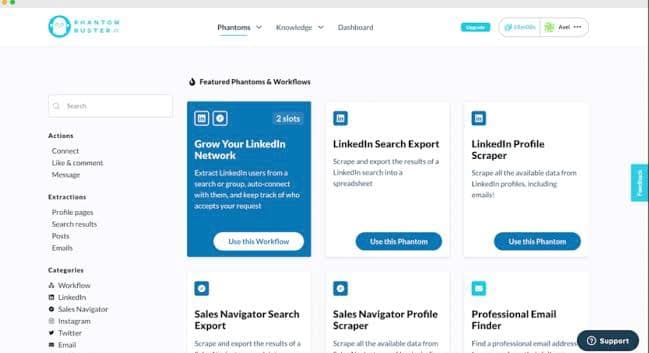 Step 2: Click on connect to LinkedIn. Make sure your LinkedIn account is logged in.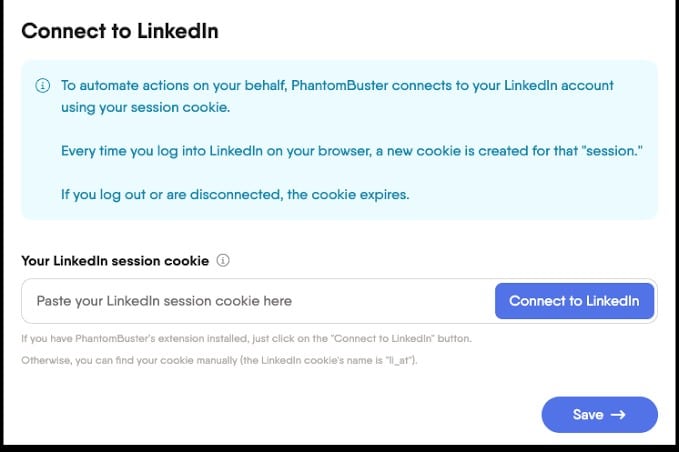 Step 3: Click save. Minimize your scraper and go to the site you want to scrape and copy the link. Go back to your PhantomBuster, and click on the URL. Paste the copied links to the URL link. Make sure the links are up to 10 because that is the least recommended number to kickstart scraping at a time.
Step 4: Click save.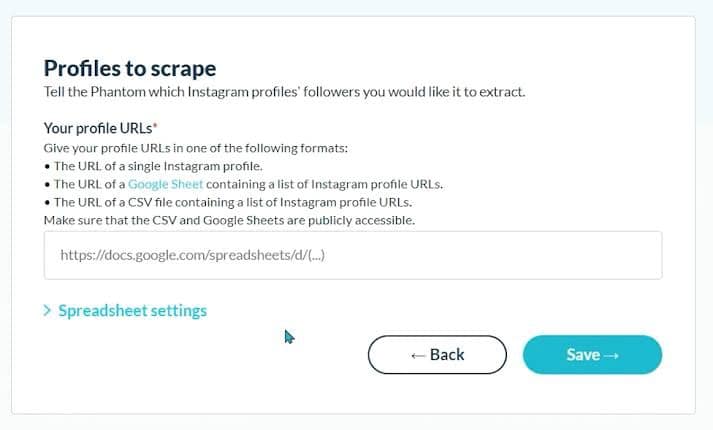 Step 5: Now go to the email discovery part. Although this step is optional, if you're looking to find the professional email of the sites and profiles you want to scrape, use the PhantomBuster email discovery to find the email included in your plan. Click save.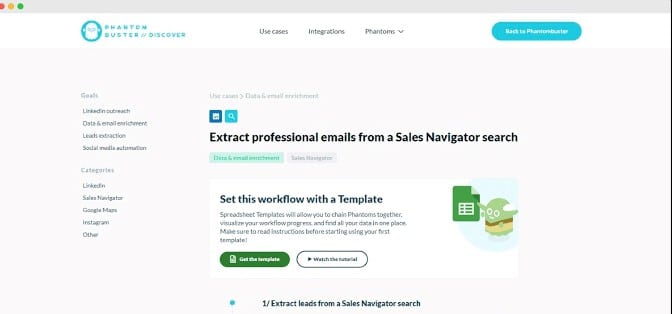 Step 6: Select the settings of how you want the link to be scraped, either manually or not.

Step 7: Then click save. This will take you to the PhantomBuster launch page.
Step 8: Click on launch. It will take some time, depending on how large the LinkedIn list you want to scrape is.
Step 9: When the launch is completed, scroll down to the result-CSV file and click on download.
Step 10: Click on the down arrow button and click on your preferred storage location.
Step 11: Go to the file menu, click on Google sheets, click on import, upload and drag the CSV file to the upload section.
Step 12: Click on replace the current sheet, then
Step 13: Click on Import Data.
---
FAQs
Q. Is Scraping Data from LinkedIn Illegal?
No, it's not. Web scraping is legal if you scrape data publicly available on the internet. But some kinds of data are protected by international regulations, so be careful not to scrape personal data, intellectual property, or confidential data. LinkedIn, as a social platform deeply dislikes and goes against data scraping.
They even go as far as upgrading their internal automation tools to detect these activities, but their hands are tied. This is because publicly available data on a social site doesn't have a privacy policy. As such, data scraping doesn't violate any privacy rights, hence no hassle.
Q. Why is it Integral to Scrape Data from LinkedIn?
LinkedIn is one of the most popular social networking sites when talking about business-to-business platforms. It has over 90 million senior-level influencers and over 55 million businesses on the platform. Pressing on these numbers, it will be down to you how important scraping data from this platform will be of good help to your business.
As a starter, environmental scanning is very vital, and collecting data is the starting point to help you know how other businesses operate and why they are well known. Hence why, it is integral to extract data from a business-oriented platform like LinkedIn.
Q. How Do I Know the Best and most Compatible LinkedIn Scraper to Use?
There are several scraping tools or software compatible with LinkedIn, and the few described above are the best choice. No need to be a programmer or coder to use them.
One way to know if a scraper tool will be suitable for your LinkedIn platform is to opt for a provider that has a free trial attached to their packages. With that, you can use the tool and have a firsthand experience of it to help in your decision-making.
---
Conclusion
Gathering data is as relevant as the business you are trying to grow, and LinkedIn, as a platform, has a lot of information to help uplift your business. But how do you scrape this data, knowing how strict and discouraging LinkedIn perceives data scraping? In this article, we have described some of these tools. Take a stroll on them and enjoy easy scraping.