Facebook is a socializing hub for billions of people all over the world. Individuals who join FB from different parts of the world come there to primarily make new friends, interact, and secondarily do business. When you set up a profile on the platform, anyone can view your personal/public details because the default privacy setting of FB is public. Apart from feeling discomfort at the thought of a stranger viewing or having access to your data, retaining a public privacy status could lead to several debilitating outcomes.
Facebook has experienced numerous security violations like the 2018 Cambridge analytical outrage. These security infringements called for regular changes in security/privacy terms. Unfortunately, many users do not know the impressive control they can wield over their profiles.
Although the giant social media platforms provide different privacy protections options for various levels, your identity or details remains public unless you turn it off yourself. It is vital to ensure that your data and privacy on any social media network are protected according to your preference if you do not know how you will learn it in this article.
---
Levels of privacy on Facebook
The apex social network has different privacy levels relating to various content allowing individuals to restrict access to their profiles and modify their privacy setup. The objective is to permit users certain access regarding who can see your specified content.
Public: This is the default privacy that allows users and non-users to view your data/privacy. It means you are literarily exposed to the world. Fortunately, you can change the privacy setting.
Friends: If you are not satisfied with the default privacy setup, you can restrict it to friends only. The friend-only setting means that only friends can view your profile and content.
Friends of Friends: This level means that friends you have mutual friends can view your profile.
Only me: If you desire to stay invisible or private, only my privacy options give you that opportunity. But why go completely private in a bustling place like Facebook when you can control your privacy exposure.
---
Change the Facebook sharing default via privacy settings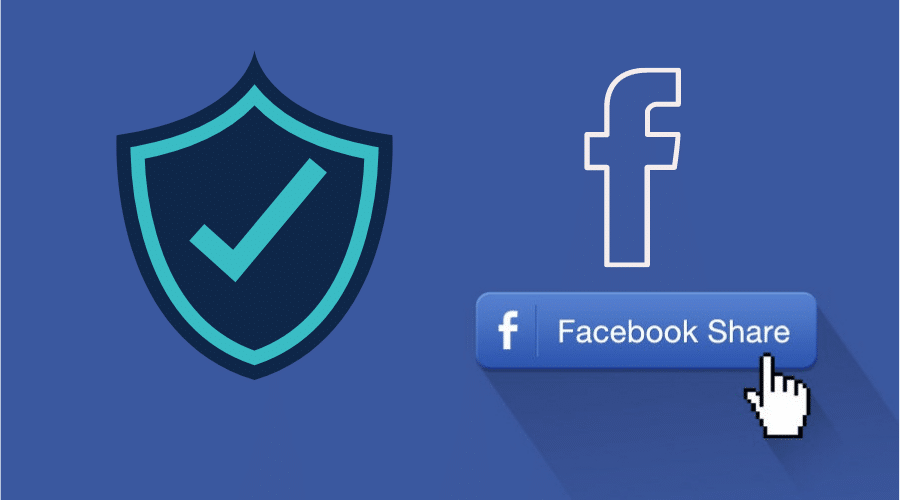 Before we start disclosing some privacy filters and how to use them, you need to know where the privacy menu is – this is where the magic begins.
Locating the Facebook privacy menu:
Step 1: Through your browser, enter the Facebook website and sign in to your account, and if you do not have any already, signup for an account, it is free.
Step 2: Locate the arrow at the upper right angle, and click on the privacy and setting tab.
Step 3: On the setting, locate privacy at the left bar; this will take you to the privacy and tool page, where you will see many options.
Now that you know how to locate the privacy menu, you are ready to learn how to change the Facebook sharing default via privacy settings.
Facebook gives you complete control over who views the content you share. Here is how to locate the sharing default through the privacy setting.
Step 1: Fro your homepage, locate the triangle icon on the left menu bar beside the notification (bell-like icon), click on it; you will see setting and privacy on a drop-down menu, click on it, and take it to you to the setting window.
Step 2: At the setting, click on "public post."
Step 3: Next, look for public posts and filters and click on the "friends" button at the top-left angle to change your privacy from "public to friends." These privacy settings allow only your friends to view what you share.
---
Make your profile picture private on Facebook.
When people on Facebook view your profile, your picture is the first thing they see. If you do not like the thought of anybody seeing your pix, you can change the options. Here is how to change your picture profile status.
Step 1: Sign in to your Facebook account and click on your profile pix at the upper right part of the screen.
Step 2: Locate your pix and click on it.
Step 3: At the right part of your photo, locate "comments and other info, look for 3-horizontal points at the top right side, and click on the
Step 4: Find the audience icon and click on the edit
Step 5: Choose the selections that fit your need. For instance, you can select the privacy option to guarantee that your profile pix is invisible to prying eyes (public), or customize it to make the access to friends only, etc.
---
Make Facebook Friends List private
You might need to shield your friend's privacy and not know how to. The good news is you can control who views your friends on your list for your benefit or even theirs. Here is how to do it.
Step 1: Locate your profile page and click on the friend's link
Step 2: Tap on the edit button, a pencil-like icon, and click on edit privacy
Step 3: Next, at the drop-down button, pick "audience for your friend's list." On the audience windows, you can change from the default setting (public) to friends. If you choose friends, it means only your friends can view it, but you can still change this to "only me" so that you alone can view your friend list.
---
Review your Facebook Profile Privacy settings
If you wish to edit your privacy setting whenever you want, you can follow these steps.
Step 1: Locate your account button on the upper left angle of your FB
Step 2: Click on settings and privacy
Step 3: Tap on Settings, and click on privacy
---
Use the Inline Audience selector On Facebook
The audience picker on the platform enables you to pick the user you prefer to see your post or updates. The common configuration for sharing an update includes showing it to all friends; however, you might desire certain friends in your list to see your post. In this case, use the audience selector, which gives you useful options.
Step 1: Click on the audience picker button as it will showcase the choices available to you to select your audience, and they are:
Step 1: Public, which is the default option – you can change it if it is not your preference.
Step 1: Friends: This enables you to change the setting to allow only your friends to see your updates
Step 1: Only me: Only you can view your profile.
Step 1: Custom: it provides options you can control and select which friends can view or not view your list.
---
Change Photo Album Privacy settings on Facebook
Step 1: From your FB page, click on your name
Step 2: Scroll down and click on your picture
Step 3: Then click on "Albums" at the upper right angle
Step 4: Click and pick edit
Step 5: Click the present privacy setup (friends)
Step 6: Click and select a new audience
Step 7: Click done
---
Make your profile private on Facebook Mobile
Step 1: Download and start the Facebook application
Step 2: Click on the 3-dots menu
Step 3: Navigate downward and locate privacy and settings
Step 4: Click on the settings tab
Step 5: below the privacy button, tap on the privacy
Step 6: Click on the "check a few important things"
Step 7: Under privacy, choose "who can view what you post (or share)
Step 8: Click continue
Step 9: Navigate down and locate the "friends and following" icon and click next and friends; your friends alone can see your friends lists.
Step 10: Tap next
Step 11: Click on the future posts or stories and edit to friends
Step 12: Click on next
---
Make future content private from strangers
Step 1: Sign in to your Facebook account
Step 2: Locate the arrow icon at the top angle of your screen and tap it
Step 3: Click on settings and privacy ——à settings
Step 4: Tap on privacy from the right menu
Step 5: Next, check under "your activity" for "who can see your future post" and click on edit
Step 6: Tap public ——-à friends
---
Frequently Asked Questions
Q. Can people see my profile picture on Facebook if I set my profile to private?
Ans: No, they cannot because FB keeps changing their privacy/security terms, and once you activate the privacy status of your profile, it stays that way.
Q. How do I see what my profile looks like to strangers on Facebook?
Ans: From your FB page, click on the 3 dots beside your cover pix, a pop-up menu will appear, click on "view as," and your profile will reload so you can see the public view.
Q. How do I make my Facebook completely private?
Ans: You can make your Facebook private by changing your privacy to "only me" status. Only you can see your profile until you decide to change it.