Without a doubt, social media platforms are great for businesses to reach new audiences, engage with their customer base, and generally improve business-to-customer relations.
But to make that happen, you'll need to always come up with fresh content ideas, react to feedback, and find ways to keep your audience engaged— something which may be easier said than done if you do it all by yourself.
That's where social media management tools like Sendible come in. In this article, we'll have a look at what Sendible is, its key features, and its advantages/drawbacks.
So let's dive in!
---
What is Sendible?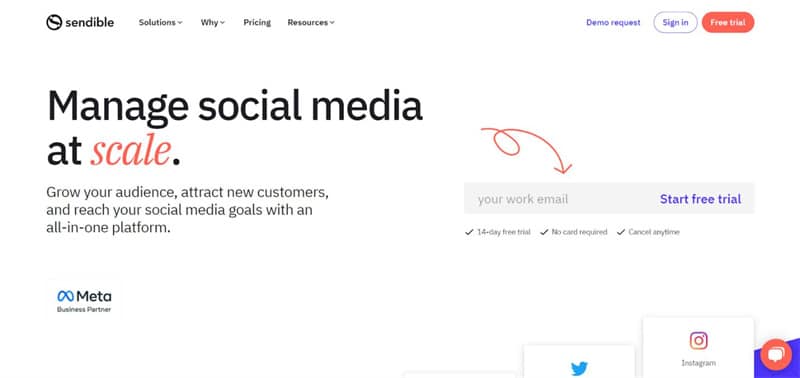 In short, Sendible is a social media management tool that supports the following platforms:
Facebook
Instagram
LinkedIn
Twitter
Youtube
WordPress
Google My Business
Aside from the usual features you'd expect to find in social media management tools like post-scheduling and analytics, Sendible also provides some stand-out features.
For instance, the platform allows you to measure the ROI for specific social media channels or campaigns.
Moreover, there are its in-depth reporting capabilities. With just a few clicks, you can generate comprehensive reports to help you keep track of the KPIs that matter the most.
The platform includes over 250 report templates. You can also integrate it with Google Analytics to see the bigger picture in cross-channel analytics.
All of these features are packed into an easy-to-use dashboard.
---
How Much is Sendible?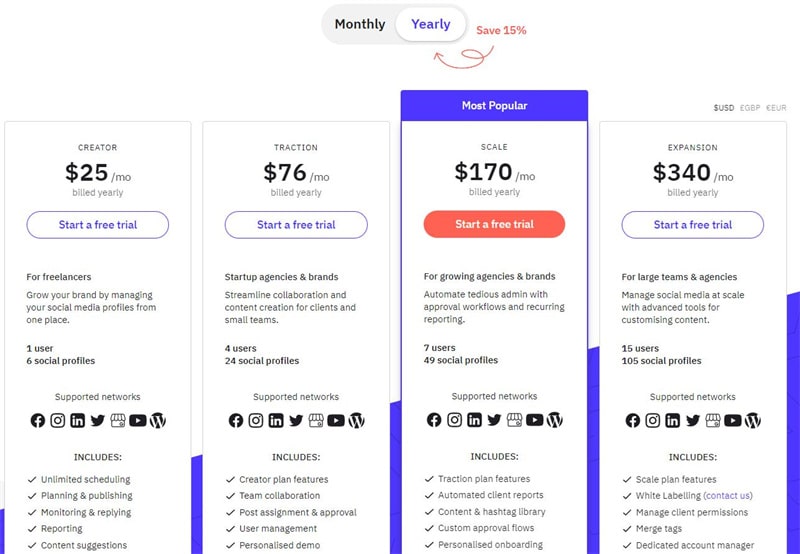 Sendible covers four pricing plans:
Creator – from $25/month (for 1 user and 6 social media profiles)
Traction – from $76/month (for 4 users and 24 social media profiles)
Scale – from $170/month (for 7 users and 49 social media profiles)
Expansion – from $340/month (for 15 users and 105 social media profiles)
In other words, Sendible's pricing makes this platform suitable for businesses both large and small. Moreover, with DontPayFull.com, you can get an extra 10% off any pricing plan.
---
Key Features 
Social Listening 
Sendible's social listening tool allows you to track post engagement, monitor competitors, and identify your audience's sentiment. Moreover, you can reply to comments from any social platform directly within Sendible's dashboard.
To put it differently, this feature is pretty handy. It's convenient and offers valuable insights in terms of what the target audience thinks about your business.
You can also set up keyword monitoring to better organize your data. For instance, you can choose to track positive or negative comments specifically.
Or perhaps, you might want to tune in to customer conversations regarding one of your products. With Sendible's keyword monitoring tool, you can do just that.
You'll then receive notifications through Slack, email, and Sendible's dashboard.
Suggested Content 
Sendible's content suggestion feature takes the tedious part of content curation out of the equation—finding relevant content. In short, this functionality analyzes your activity and post engagement to share content based on your social media profile.
You can browse through various categories or find the content you're looking for by typing in a keyword. Distributing the content is as easy as on any other social media platform: Simply click the Share button, write a bit of text, and that's it!
Moreover, you can share content on multiple social media channels simultaneously.
Aside from that, you can find relevant influencers within your niche. The platform allows you to filter influencers by industry, topic, and geographical location.
Team Collaboration 
Sendible's team collaboration feature works similar to a project management tool. More specifically, you can create multiple teams and assign team members various tasks.
You can also track task progress and approve social media posts before they're published. Meanwhile, team members can mention each other and leave comments on each task.
Another notable feature is that you can grant team members different levels of access, so you have control over who gets to see what.
Speaking of access, your clients can also chime in to monitor your campaigns and leave feedback directly within the platform. This saves a lot of time that would have otherwise been spent on going back and forth between the client and your team.
---
Pros and Cons     
Pros 
Time-saving features
Mobile app available
Ease of use
Overall, Sendible is user-friendly and convenient. Setting up the platform is a matter of entering your account details and selecting the social media platforms you'd like to use, which takes a few minutes. Meanwhile, its dashboard is easy to navigate, so you will get used to it in no time.
In terms of saving time, Sendible eliminates most manual tasks. As mentioned, its content suggestion functionality gets the job of finding relevant content to share off your hands.
Aside from that, you can easily schedule and post content automatically. The platform also automatically generates custom reports. You can easily select one of the 250+ available report templates, and customize it to your needs via a drag-and-drop interface.
Lastly, the platform's mobile app allows you to manage and post content, track analytics, and reply to comments at any given place, during any given time.
Cons 
Steep pricing
Lackluster customer support
Although the Creator plan might look appealing for small businesses, as it's inexpensive and covers the basics, note that it's restricted to one user.
That said, if you've got a small team, you'll need to upgrade to the Traction plan, regardless of whether you need its extra features. Since Traction is triple the price of the Creator plan, small businesses may have a tough time deciding if the platform is worth it.
Moreover, none of the pricing plans include 24/7 live chat support. Meanwhile, the average email response time takes up to six business hours.
Although the platform includes a resource center where you can find plenty of guides, quicker support would've been nice to solve sudden issues in a pinch.
---
Takeaways
Overall, Sendible is a solid social media management platform. It's easy to use and includes plenty of stand-out features, like the ability to measure the ROI for specific social media channels, or campaigns.
The platform is also designed to save you plenty of time. Coupled with its ease of use, this may seem like the perfect option for small businesses and start-ups looking to grow their social media presence.
The pricing says otherwise, though. There are more accessible alternatives for small companies, like Buffer or SocialPilot. Still, Sendible hits the nail on the head for medium companies or small businesses with larger budgets.