Android devices have online fax apps that assist users in sending and receiving fax files at ease at any time they want. You can imagine you have taken a vacation and need to send essential fax documents. It doesn't mean you need to carry your fax machine; you need to download the online fax apps below, which have excellent features and fax files with no inconveniences.
---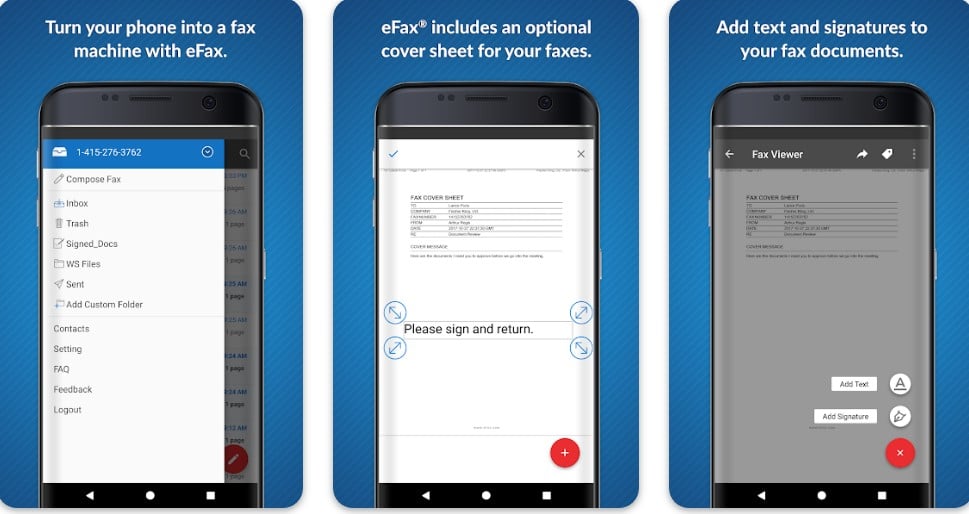 eFax has a long history of being the top trusted android app in online Fax with millions of users worldwide. You can use the app anywhere to send and receive fax documents. You don't need a fax machine to use the app. eFax app provides an actual private fax number that is unique and private and not tied to any locations.
The app is free, and no payment is made for line rental on the fax number. The app quickly sends and receives fax files and is economical since it saves money and time, and it faxes faster. The app has a contact book where you can add or update your contacts and an optional cover sheet for your faxes.
Features
Sign and edit faxes
You can fax by website or email
A fax can be sent to over 200 countries worldwide
Enhanced fax viewer for scanning faxes.
It contains a custom fax cover page which is optional
Fax numbers are provided
Use Google Cloud Print to print faxes.
Price
It has a free trial of 7 days and a subscription starting at less than $20 a month.
---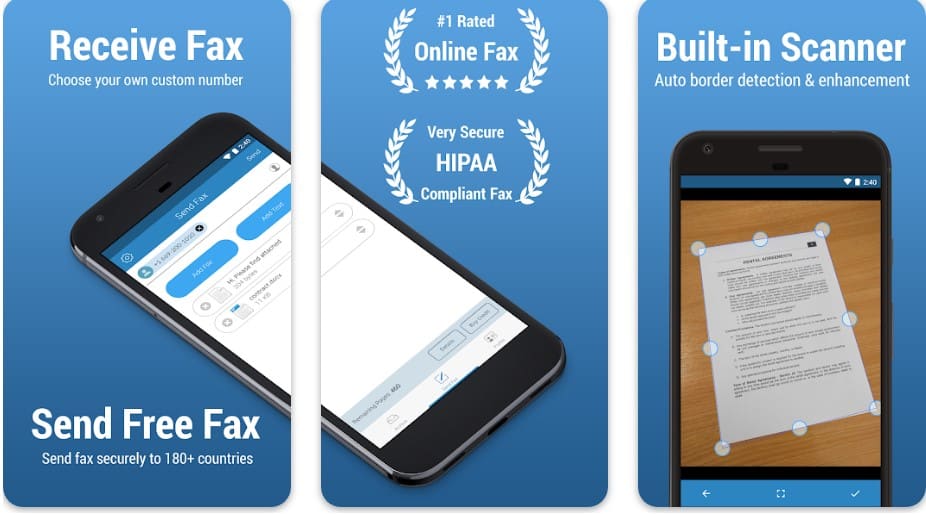 FAX.PLUS is an online fax service rated the best app to send and receive Fax from Android phones or tablets. It's considered an easy, fast, and secure app. It has millions of users worldwide.
Send your fax documents is easily managed by preparing your documents using your mobile camera for scanning the documents or importing documents from the local device or cloud storage such as google drive, dropbox, and others.
It also provides a dedicated fax number that can receive fax online from over 40 + countries, and it has a push notification that notifies you when you receive new fax.
Features
Send Fax from email.
Built-in scanner for scanning documents in your phone camera
Send faxes for free and receive faxes on your android phone.
HIPAA compliant Fax
Sign documents.
Send Fax from email
A cover page is provided.
Secure Archive on the cloud.
Price
Send the first ten pages for free with the Fax and a monthly subscription plan as low as $4.99.
---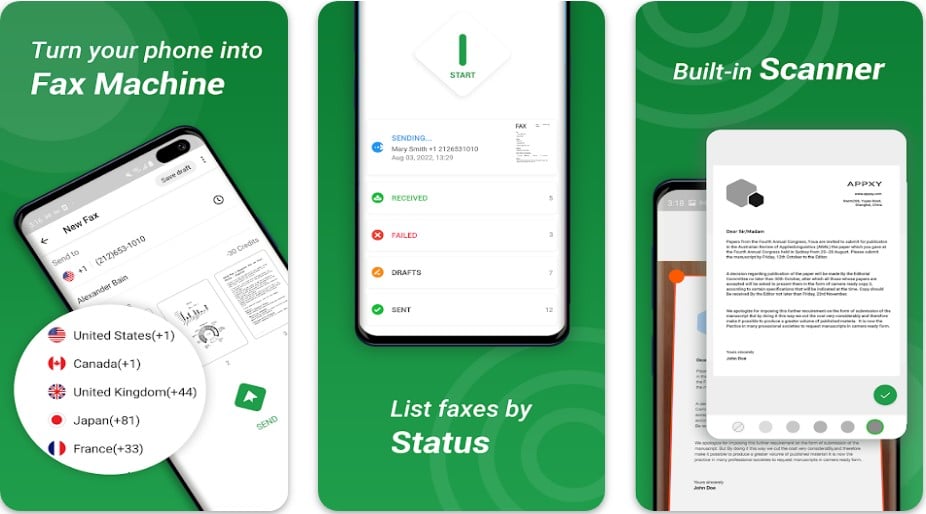 Tiny Fax is an online fax app that turns your phone into a fax machine where you can send and receive faxes anywhere and anytime. It has a simple interface that is easy to use and manage your faxes. It is considered fast and reliable for use. Tiny Fax shows a list of faxes with their status; for instance, it has grouped the fax status from sending, received, failed, draft, and sent.
It has a built-in scanner which makes scanning documents easy and allows the importation of files from cloud storage such as Google Drive, Dropbox, etc. It has a professional cover page suitable for professional faxes and provides real-time notification.
Features
Built-in scanner for scanning files using your camera
Multiple files can be Fax out at once
Shows the status of list faxes.
Documents can be faxed from google drive, Dropbox, Box, and OneDrive easily from the cloud.
Faxes are sent automatically at a scheduled time.
It supports multiple formats -TXT, PDF, HTML, JPG, and PNG.
Price
It has an unlimited subscription starting from $ 14.99 per month.
---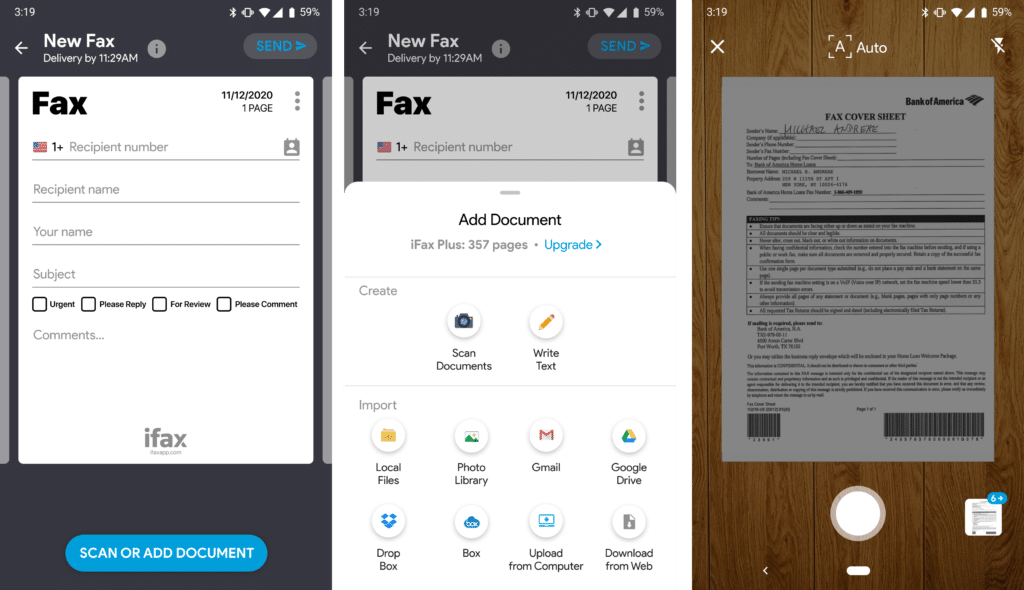 iFax is the most downloaded fax app, providing an effortless, lightening, fast online fax service. It is considered cheap, fast, secure, and reliable, and the sign-up process is unnecessary. Sending faxes is free and easy, like sending an email without complications. You can design your cover page according to your needs, and it has enterprise-grade fax technology and online features such as an inbuilt scanner and digital signatures that is effective. You don't need an actual fax machine to send and receive fax; download iFax, and your work will be simple.
Features
Supports integrated cloud storage platforms such as Google Drive and Dropbox.
HIPAA compliance to secure your data
Provides free incoming fax number.
Send and receiving Fax is effortless since no account is needed with your personal or business information.
Supports unlimited outgoing Fax for free.
Sign documents and has an inbuilt scanner for scanning documents.
Price
It has a free trial of 7 days. It has a monthly basic subscription plan of $24.99 per month with a maximum of 200 pages.
---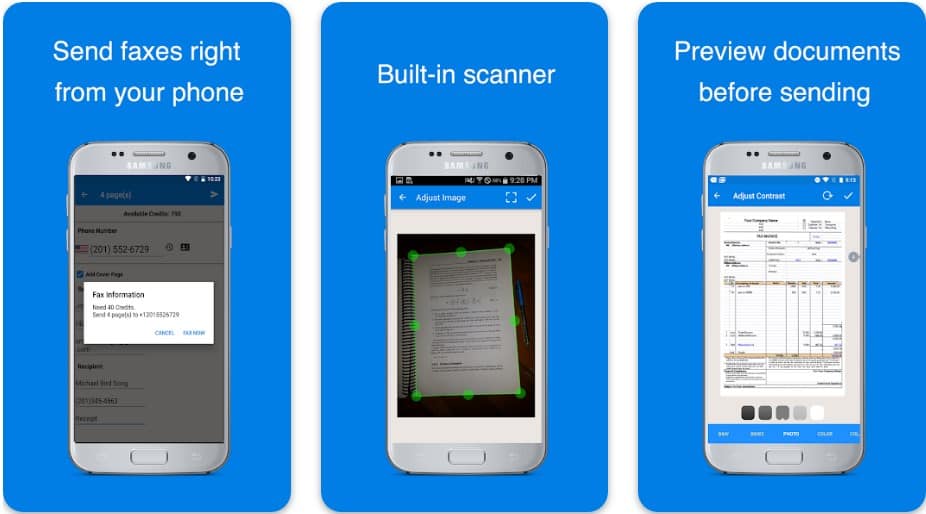 Easy Fax enables your android smartphone to function as a powerful fax machine for faxing documents, receipts, and images. It's swift and easy to use anywhere. Send a fax using your phone is now easy using easy fax, and it has an inbuilt scanner where you can scan documents you want to send in the fax. Before sending a fax, the app previews your documents first, and after sending the fax, it tracks the sent documents fax to show if they are successful, failed, or drafted.
Features
Scan images using a phone camera or faxing gallery images.
Provides notifications for your faxes in emails.
Fax-imported documents directly from other apps
Fax documents files from cloud storage like Google Drive, Dropbox, Evernote, etc.
Price
Easy Fax will provide users credits for faxing. For the first login, users will be awarded 15  free credits. Countries like US and Canada require $ 10 credits for a page, while other countries are high with a rate of $25 per page. The rate of each fax page ranges between $0.25 and $0.50 depending on the purchase you have made at once.
---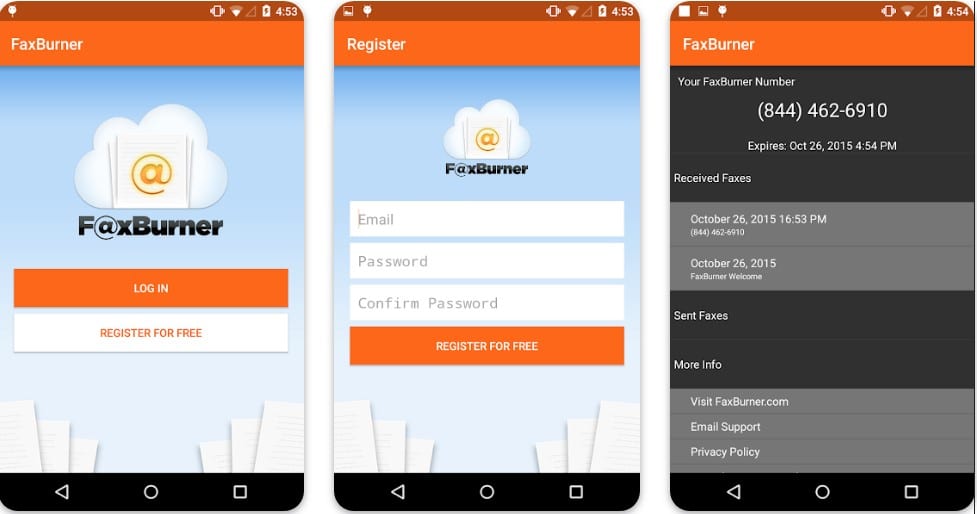 It's a free app that can turn your android smartphone into a fax machine. Whenever you want to fax using the app, you push one button, and you will get a toll-free fax number. You can choose the fax number you want to use before it expires after 24 hrs, and you will have to have a new fax number afterward. When you receive a fax, it stores the fax in your phone and forwards the fax to your email. Note that this app is working only for US numbers only.
Features
Keeps faxes safe and secure with a backup.
The app is easy to use and set up.
Notification alerts of received faxes are instantly
Supports US and Canada fax numbers.
Price
It's limited to sending 5 pages and receiving 25 pages of Fax in a month in the free version. It has a basic subscription plan starting from $12.95 per month.
---
MyFax is an android app that empowers your android device to function as a fax machine. You can send and receive Fax for free anywhere and at any time. The app has a great user interface and is easy to use; for instance, when you want to send a fax, you add your fax contact and fill in the optional cover page and attach documents from the local device or cloud storage, and can send the fax.
In the inbox section, it shows all received fax indicating each received fax file with the number of pages in it. In the fax viewer section, you can view the fax, and you can forward it to a fax recipient or an email recipient.
Feature
Tracks send and receive faxes.
Scan and upload documents using a phone camera to fax
Uses Google Cloud Print to print faxes.
Fax by app, email, or on the web
Select a local or toll-free fax number.
Management of your fax contacts.
Fax documents are stored and accessed in the cloud storage.
Price
New users get a 7day free trial after downloading and installing the app. Its subscription plan begins at $ 8,33 per month.
---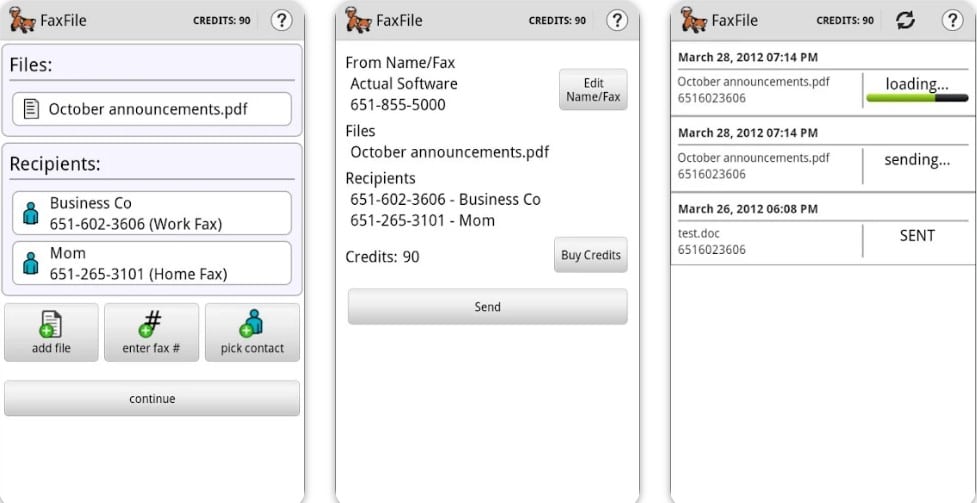 FaxFile is a fax app that supports sending Fax in pdf files and word documents stored on your android device. When you want to send a new fax, it's easy where you select the contact, attach files, and proceed to fax. The app shows the status of each fax sent as either sent, failed, delivered, or still loading, so you can track your fax easily.
It uses credits to send a fax and displays the amount of available credit on your app screen. It has a FaxFile international pricing page listing all the countries with their code and the amount of credit per page. It also has a buying fax credit feature to buy new fax credits.
Features
It's HIPAA Compliant.
Users' location is supported from the US or Canada
Scanning documents is possible using a mobile camera.
Returns Fax status for every Fax done.
Supports off Fax for typed-in fax numbers.
Price
It has no monthly subscription needed to send faxes. When you have started faxing, credit fax is purchased through the google play store and is non-refundable.
---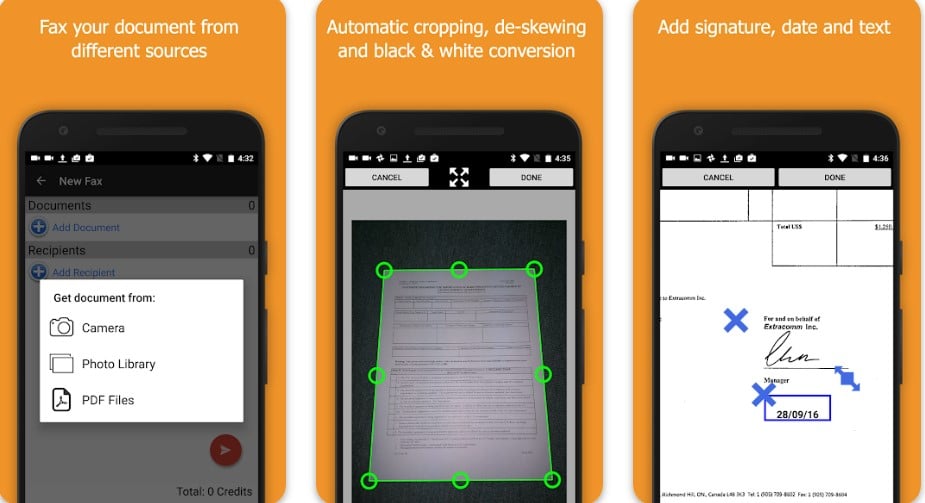 SnapFax is one of the famous and highly rated online fax apps that turns your android or tablet device into a fax machine. Faxing is done easily as you can add your documents from different sources, such as photo libraries, PDF files, and a camera.
You can scan a hard copy and automatically crop the document, de-skew the file, and convert the black and white document. Before sending, you can add your signature, text, and date. You can also hide important information in your fax before sending the fax.
Features
An advanced scanner contains a built-in camera that scans hardcopy documents and faxes them.
Multiple documents are combined into a single Fax.
Fax direct documents like PDFs from cloud services. ( Dropbox, Box, Google Drive, e.t.c)
Sign fax documents online with text input
Track the status of the sent Fax with no difficulties.
Provides detailed transmission fax report for your record.
Sensitive Fax information can be hidden
Save draft fax for future sending.
Price
Pricing depends on the user's needs and starts from 4 Fax Credits: $1.99($0.5/credit) to 200 Fax Credits: $49.99($0.25/credit)
---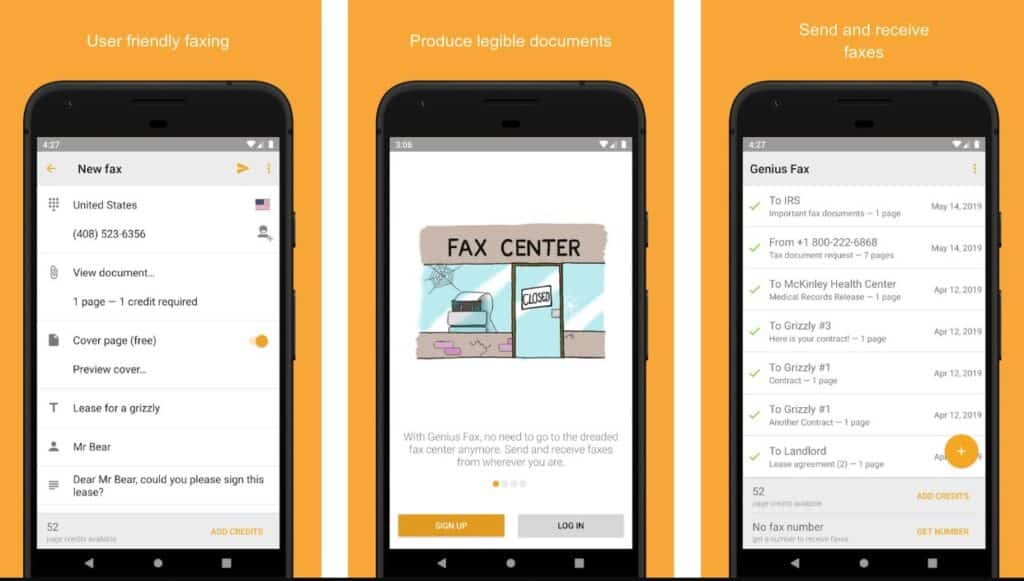 Genius Fax is an online fax app that is fast and straightforward for Android devices. It's less costly to send and receive faxes. When you want to send a fax, it is user-friendly, where you can enter your text and attach files from your sources, and it shows you the number of pages you are about to send and how much credit is needed for the fax. If you have limited credit to send a fax, you can click the add credit button to buy new credit. When you successfully send a fax, it shows you the status at first glance.
Features
Free cover Page.
Fax documents directly from the cloud or another app.
Send an international fax
Receives Faxes
Simple and beautiful User Interface.
Shows notification for failed and successful Fax sent.
Fax history is quickly deleted.
Price
A fax credit is charged for sending and receiving a pdf file. One fax credits cost at least $0.39 and a monthly of $3.49 per month.
---
Conclusion
The above android fax apps are of good help to many users since one can fax on the go from anywhere with ease with no worry of carrying an actual fax machine, and it's cost-effective. The features of each fax app are of great importance and make faxing easy. For example, you can easily access files from cloud storage and fax the selected files in a few minutes.