In this era of the digital generation where social media platforms have become a powerful tool for people to connect, have fun, and make money online using their content.
Many youngsters and old guys have used the opportunity of social media platforms and become professional as a Youtuber and earn highly along with enjoying what they love doing.
Here we look at the top 15 Youtubers in India with the amount they have earned through YouTube and the number of subscribers they have in 2022. The amount earned highlighted to each YouTuber is an approximate amount but not their actual amount since no one has ever disclosed their exact net amount.
---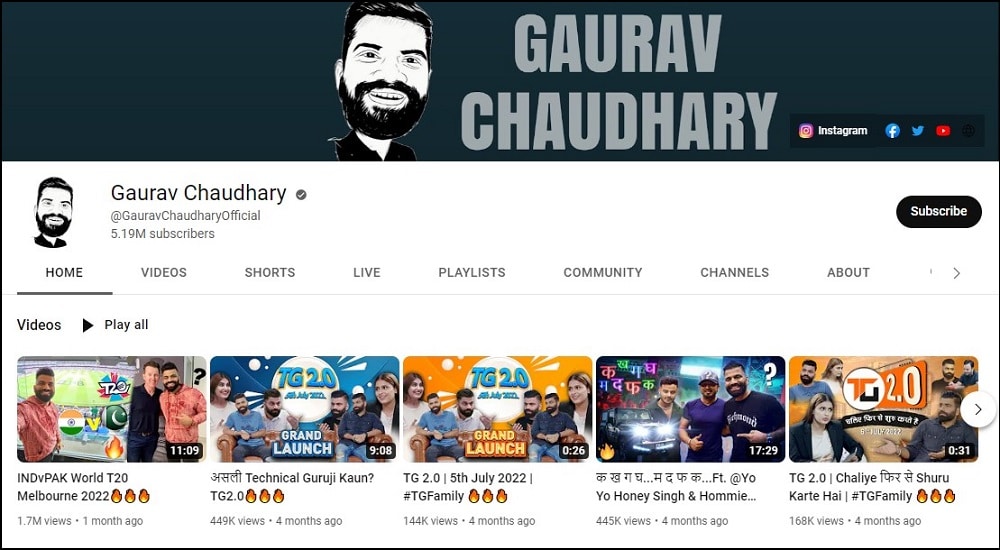 Earned: USD 45 million
Subscribers: 27.29 Million
Gaurav Chaudhary is an Indian YouTuber born and raised in Ajmer, Rajasthan, India, on May 7, 1991. He pursued his education courses in B.Tech in Bikaner city and pursued another campus known as BITS Pilani in Dubai, taking micro-electronics (M.Tech).
He is popularly known as Technical Guruji as he first opened his first youtube channel in 2015. On his youtube channel Technical Guruji, he uploaded videos about smartphones, technology, reviews, etc., in Hindi.
Whenever you think of sourcing gadget reviews or reliable technology, his Channel first comes to mind. Other channels he has opened are Gaurav Chaudhary and TG shorts. He is also listed under 30 in Forbes India.
---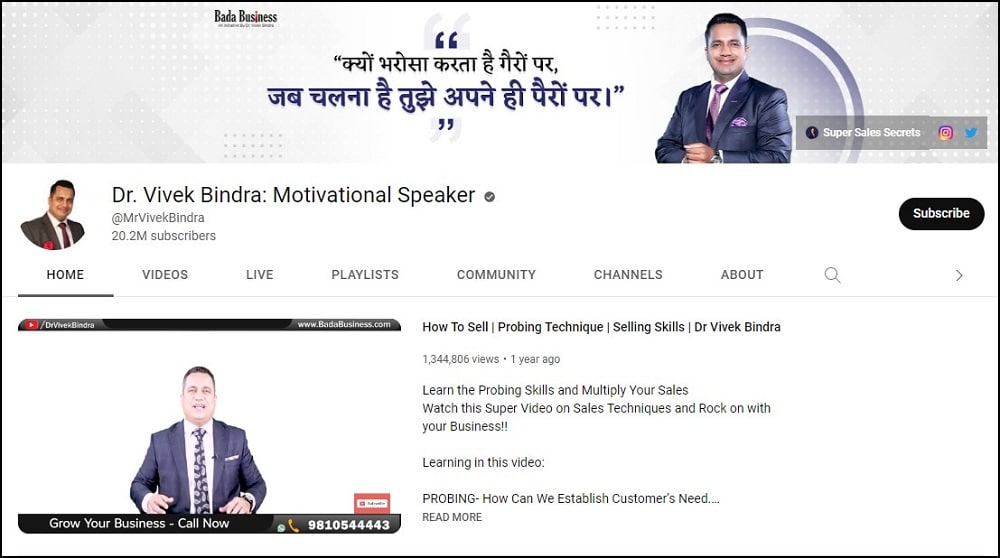 Earned: USD 6.5 Million
Subscribers: 20.1 Million
Dr. Vivek Bindra is one of the famous motivational speakers on youtube and is considered one of the wealthiest YouTubers in India. He was born on April 5, 1978, and raised in Delhi.
He created his youtube channel known as Dr. Vivek Bindra: Motivational Speaker, where he trains people and inspires people to become great leaders.
His motivational speech on his Channel has touched many people and encouraged them to attain their goals and reach their dreams.
---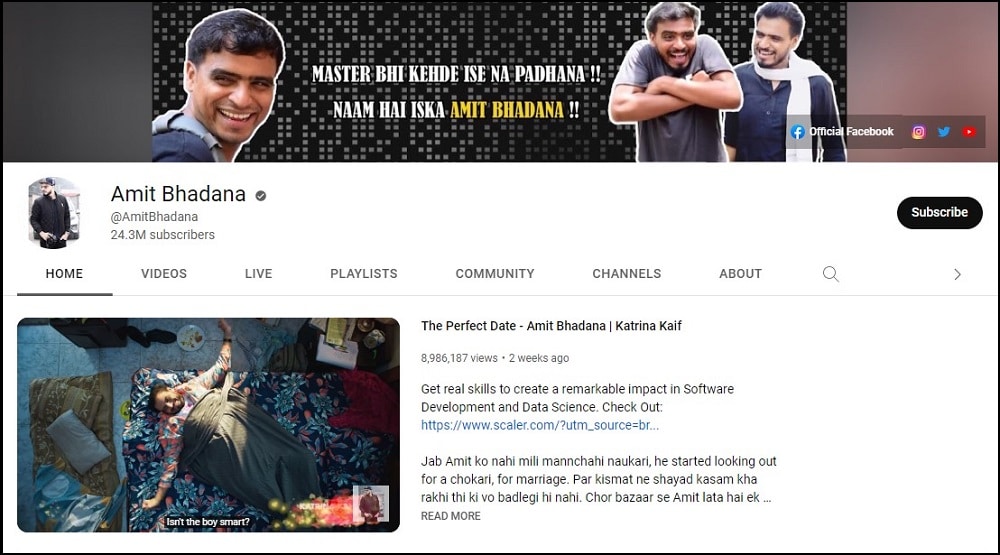 Earned: USD 6.3 million
Subscribers: 24 Million
Amit Bhadana is a famous YouTuber comedian born on September 7, 1994. He graduated from the University of Delhi, taking a law course. His journey as a YouTuber started when he first uploaded his video in Dubmash featuring one of his college friends, and the video went viral after a few days.
He continued making more comedy videos until he opened his youtube channel, Amit Bhadana. He was the first YouTuber video content creator to surpass 20 million subscribers in May 2020.
---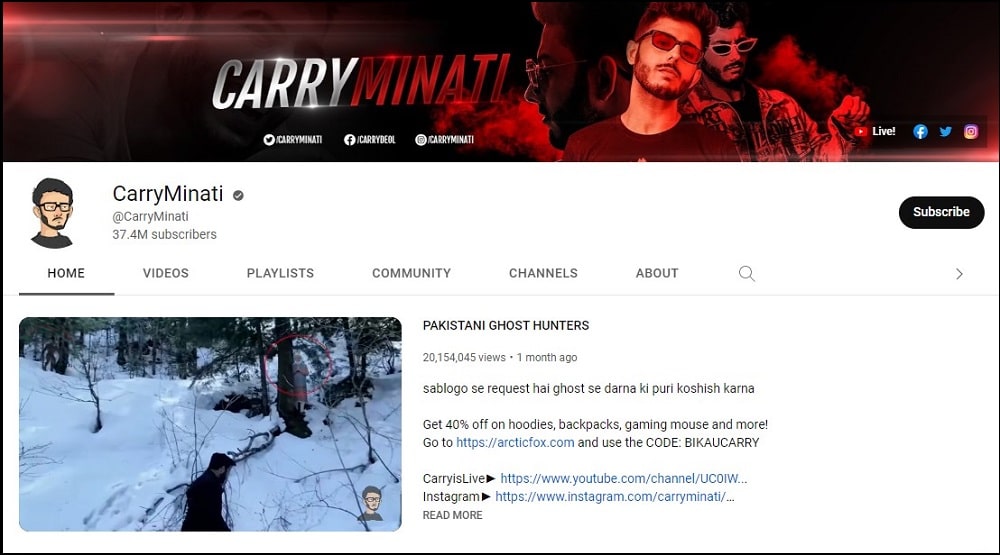 Earned: USD 4 million
Subscribers: 47.55 Million
Ajey Nagar, Also known as Carry Minati, is one of the top YouTubers in India with a popular channel known as Carry Minati. He was born on 12th June 1999 and raised in Faridabad, India. He had a first channel known as "STeaaLThFeArzZ," which didn't go well with him and rename it to 'Carrydeol" and later changed it to 'CarryMinati .".
Currently, he has two channels; one is Carry Minati, whose content is about making funny videos, roasting videos, and reacting to online topics. The second one is CarryisLive for making gaming and live streaming videos. In May 2020, he was named to Forbes ' 30 Under 30 Asia list.
---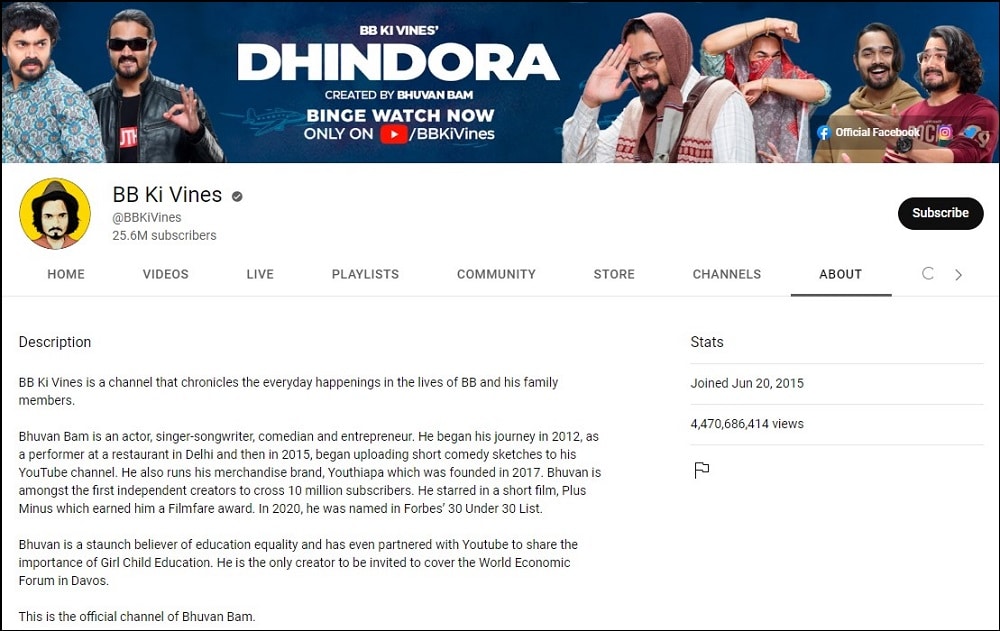 Earned: USD 4 million
Subscribers: 25.5 Million
Bhuvan Bam is a popular YouTuber with a sense of humor and originality in his video content. He was born on January 21, 1994, and raised in New Delhi. He graduated from Shaheed Bhagat Singh College. Bhutan, before he started his YouTube career, he was a singer who sang at bars.
His comedian, singer, writer, and composer skills have enabled him to create good content on his Channel BB Ki Vines. He is one of the top YouTubers in India and In 2016 he was awarded an award for the most popular Channel on YouTube in Webstvasia Awards.
---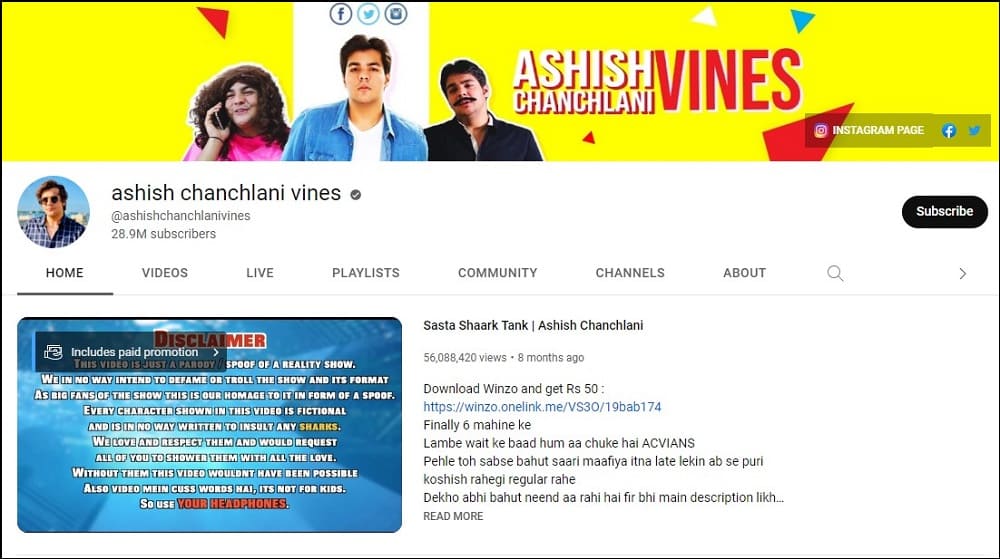 Earned: USD 4 million
Subscribers: 28.4 Million
Ashish Chandchiani, also known as Ashu, is a famous social media personality who has massive success on his YouTube channel known as Ashish Chanchlani Ki Vines. He was born on December 8, 1993, in Ulhasnagar, Maharashtra, India, and studied B.Tech degree in Civil Engineering from Datta Meghe college, but he later dropout.
He created his first YouTube channel on July 6, 2009, and uploaded his first video in 2014. Since that time, he has never ceased posting his content on YouTube. His content is mostly comedy videos.
---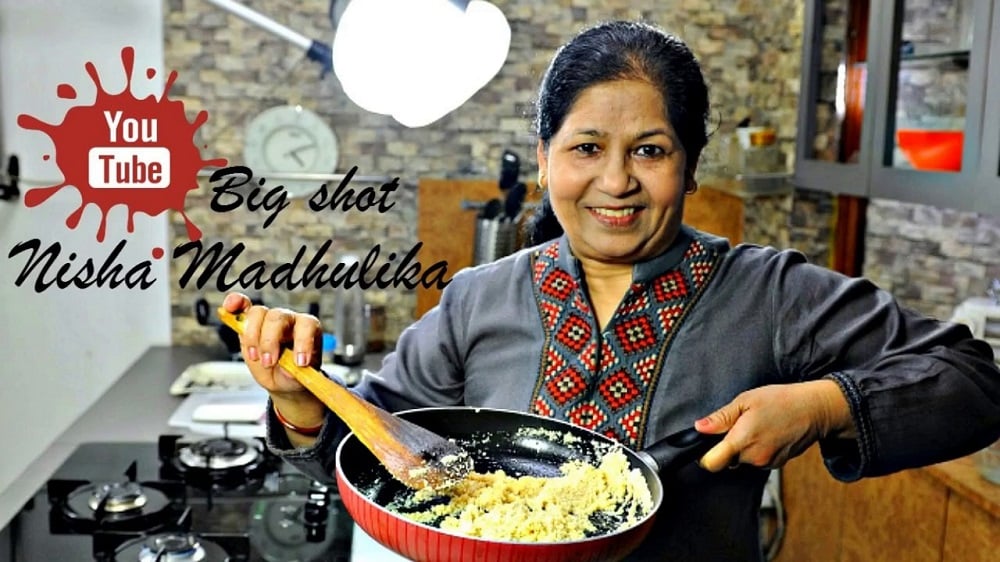 Earned: USD 4 million
Subscribers: 13.1 million
For all food lovers, when it comes to watching food video content, the person to go to your mind is Nisha Madhulika. She was also known as "Namaskar " due to her humble nature and was born on August 25, 1959.
She started as a blog writer passionate about food and joined the journey of a YouTuber in 2007, showcasing her cooking video, where she later gained attention and love from the audience. Her YouTube channel is known as Nisha Madhulika. On her achievements, she was featured in the coffee table book on Youtube's top chefs.
---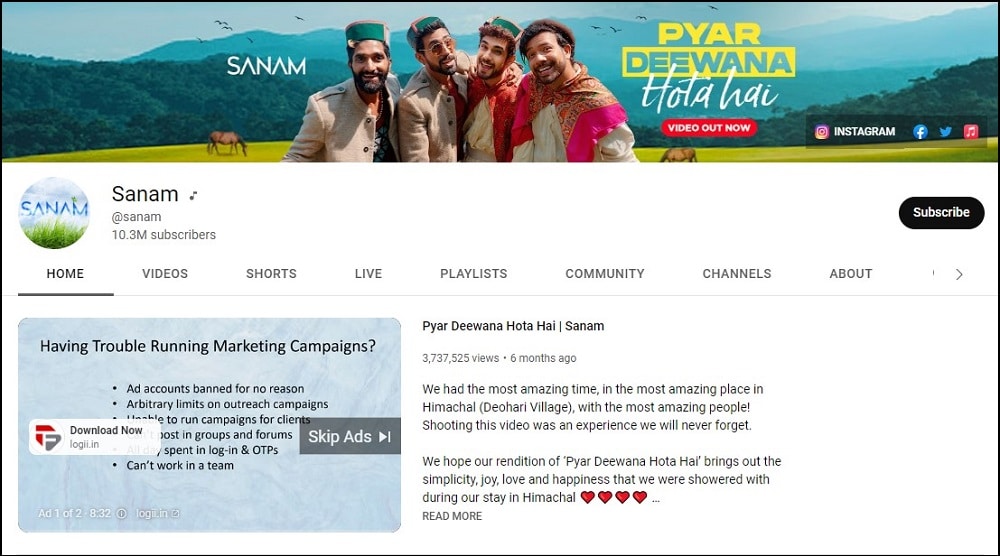 Earned: 4 USD million
Subscribers: 10.3 million
Sanam is an Indian band, a popular YouTube people group with Indian content based in Mumbai, India. The group consists of Sanam Puri (lead vocalist), Samar Puri (Lead guitar), Venky S (Bass guitar), and Dhanraj (Acoustic Drum Kit). Sanam joined YouTube in 2010 ad their official Channel known as SANAM.
At the start, the group used to upload a reprise of the old classic Indian melodies of Bollywood songs. Slowly they transformed into creating their unique music. In Indian industry and entertainment, the Sanam channel has become the most viewed on YouTube.
---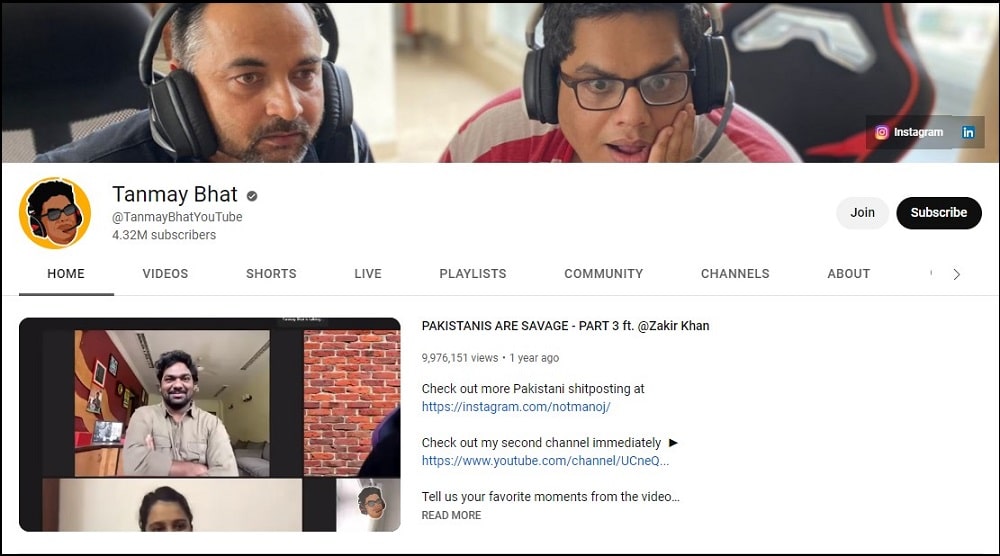 Earned: 3.39 USD million
Subscribers: 4.31 million
Tanmay is a multitalented and popular YouTuber born on June 23, 1987, in Mumbai and completed his education at R. D. National College, where he pursued a bachelor's degree in Advertising. He is also known as AIB (All India Bakchod) guy, and this name came because of his blends of controversial issues in India with humor.
He started as a standup comedian in 2009 when he performed in a show in Mumbai and is now one of the best standup comedians. In 2006 he joined YouTube and created his Channel Tanmay Bhat, where he uploads reaction videos, vlogs, and entertainment videos.
---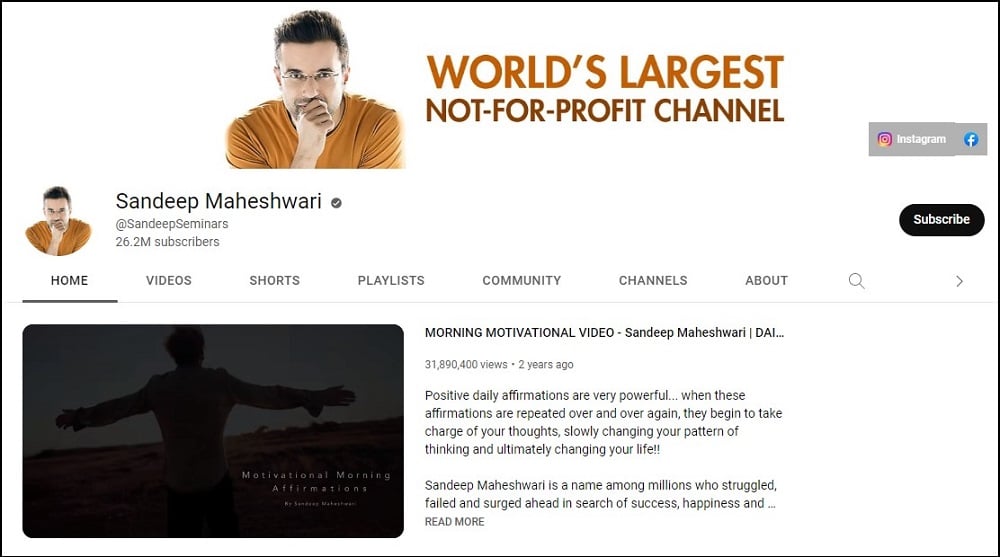 Earned: USD 3.5 million
Subscribers: 26.1 million
Sandeep Maheshwari is a famous motivational speaker and the highest-paid YouTuber. He started his YouTube channel in 2010 and made content based on motivational, Entrepreneurship, inspirational business, and self-development videos. Before joining YouTube, he was a trainer, motivational speaker, and Businessman.
By 2020, he had more than 10 million subscribers, which was a great success as a YouTuber. His achievement he is the founder and CEO of ImagesBazaar company which has the most extensive collection of Indian images and was awarded the best motivational speaker by Forbes in 2018.
---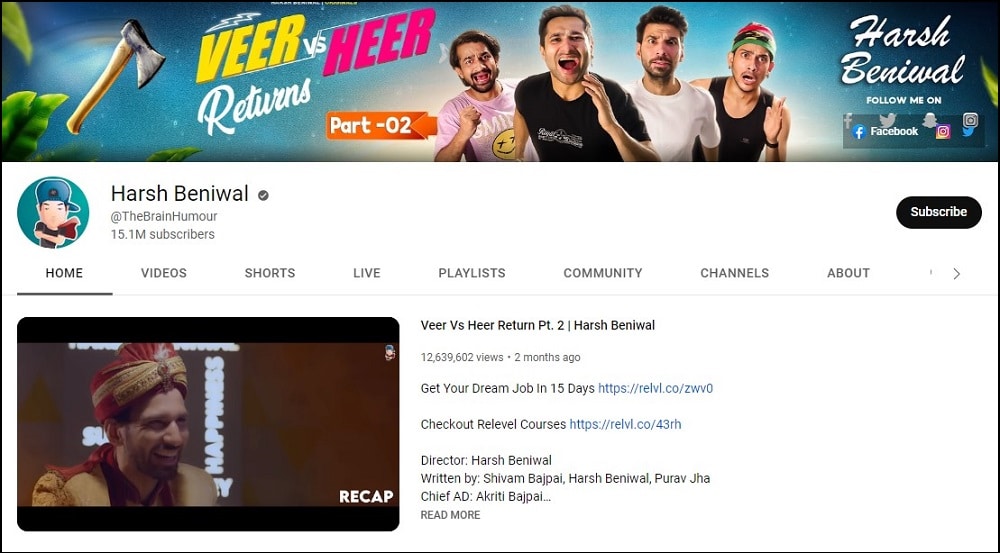 Earned: USD 2.7 million
Subscribers: 15.1 million
Harsh Beniwal, also known as Harsh, is one of the highest-paid YouTubers and a YouTuber vine star. Born in New Delhi on February 13, 1996, to a middle-class family (Sikh), Harsh is an alumnus of Delhi University, where he made clever Dubsmash recordings.
He started his YouTube journey in 2015, when he wasn't as famous as he was but became at its peak and gained fame and much attention from subscribers. On his YouTube channel, known as Harsh Beniwal, he makes vine videos where the recording is clever and funny.
---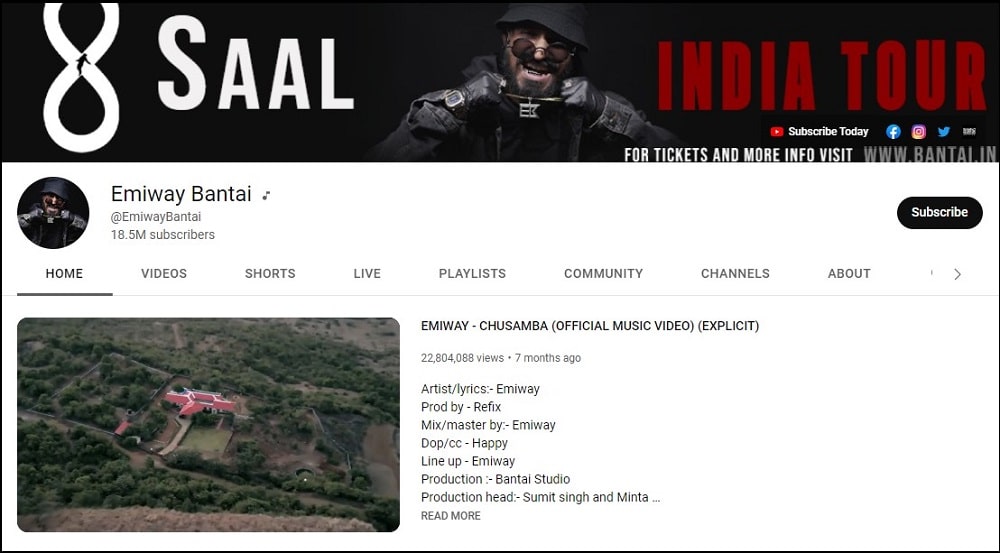 Earned: USD 2.5 million
Subscribers: 18.5 million
Emiway Bantai, also known as Bilal Shaikh, is a rapper, dancer, songwriter, dancer, music composer, and editor. He came to light and captured the audience's attention with his best song, "Asli Hip Hop .". Bilal, having Muslim roots, was born on November 13, 1995, in Bengaluru, Karnataka, India.
He learned rapping from hip-hop music and started to create his rap videos, which were well received by the audience and got noticed and made rapping severe. Bilal began along the way by auditioning for a reality show India Got Talent. On his YouTube channel, his songs such as Later Gully Boy, Sadak, and others made his breakthrough.
---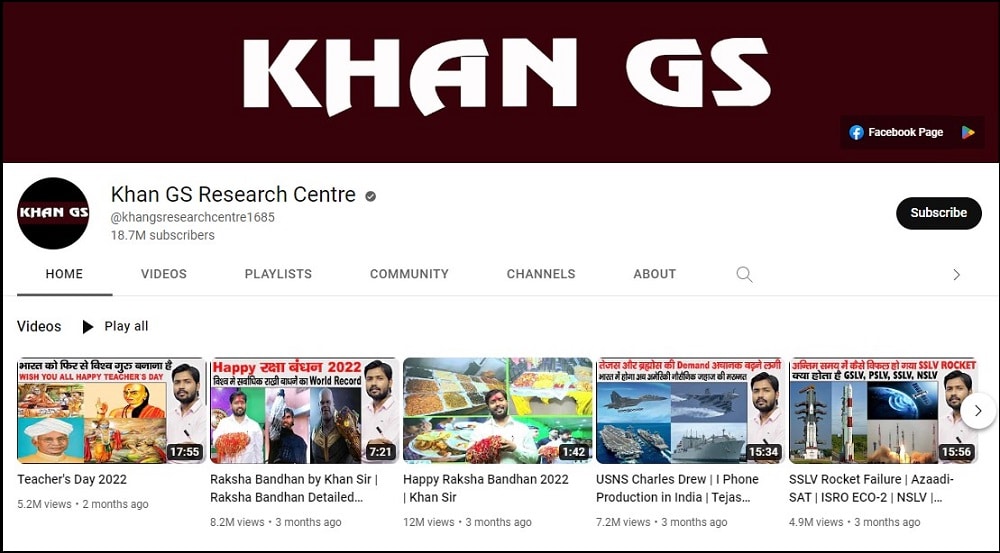 Earned: 2.2 USD million
Subscribers: 18.6 million
Khan sir is a well-known and fastest-growing YouTuber in India and also runs an institute and library in Patna, Bilha. His real name is Faizal Khan, and he was born in Gorakhpur, Utter Pradesh. Started his YouTube channel, known as Khan GS Research Centre, on April 25, 2019.
He graduated from Allahabad university taking a bachelor of science. His content on his YouTube channel is to teach in his Academy Khan GS Research Centre, and many people love his teaching style, which made him famous during the corona period.
---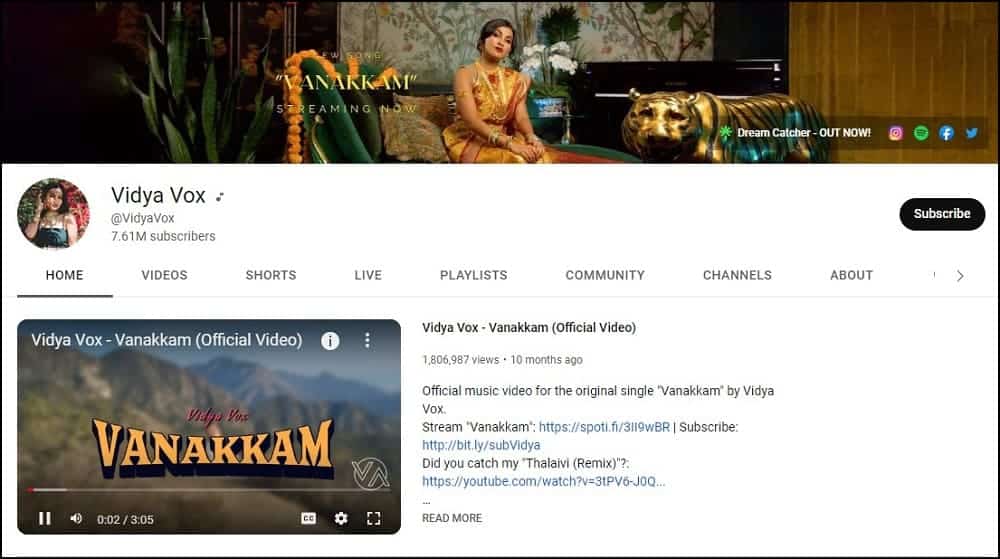 Earned: USD 1.3 million
Subscribers: 7.6 million
Vidya vox is a singer who goes by the real name Vidya Iyer. She was born on September 26, 1990, in Chennai, Tamil Nadu, India. She has a YouTube music channel called Vidya Vox that was created in 2015.
Currently, she is settled in Los Angeles in the USA, where she actively releases a mix of western pop music. Bollywood hits, electronic dance music, and Indian classical music. She has performed on many occasions, such as at the White House, National Centre for the Performing Arts (India).
---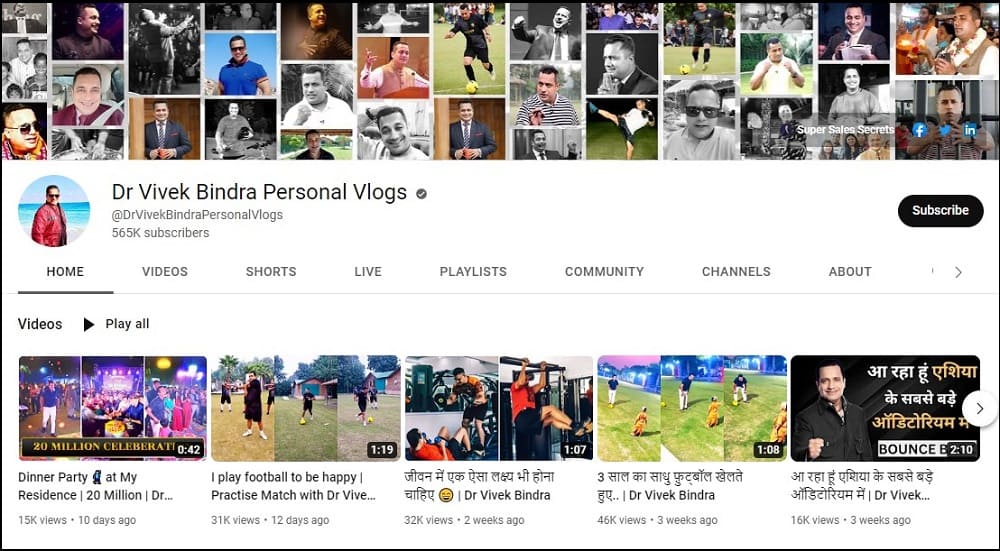 Earned: $4000- $69000 Per month.
Subscribers: 20.1 million
Dr. Vivek Bindra is among India's most significant influencers and international motivational speakers. As a popular and highest-paid YouTuber for his content of motivational speakers in India, he first created his YouTube channel known as Vivek Bindra: Motivational Speaker in 2013.
He inspires millions of subscribers on his Channel with his motivational speech that touches many individuals and helps them reach their goals and fulfill their dreams. Vivek has ventured into Bada Business as the CEO and also a business coach. He has achieved 8 Guinness World Records for having the most extensive webinars on various topics.