Do you want to reset your Nintendo Switch Lite but don't know how? We're here to help. In this post, we'll discuss all the details that appertain to how to reset your Nintendo Switch Lite either to improve its gaming performance or to get it ready for a resale or donation. Keep reading to discover how to go about it step by step with no step skipped…..
Having a game crash during an interactive level can be very frustrating. It takes away the joy of owning a Nintendo Switch Lite. Fortunately, you can reset your convertible console to return to its factory mode and reinstall your games. Resetting your console is also essential when you want to donate or sell it. You don't want the new owner to access your data or intrude on your browsing history. Regardless of the reason, resetting a Nintendo Switch Lite is pretty straightforward. Here, we'll mention three main methods of resetting your Nintendo Switch Lite. The three methods include:
Soft reset
Hard/ complete/ factory reset
Resetting Nintendo Switch Lite without wiping crucial game data.
To fully understand the details of each of these methods, we'll discuss each right below.
---
Reset a Nintendo Switch Lite – Soft reset
A soft reset comes in handy if your Nintendo Switch has performance issues during the game. Some typical performance-related issues that can be fixed via soft reset include game freezing and lagging. If your Nintendo Switch Lite is experiencing any of these glitches, then consider following these quick steps to soft reset it and get back to the game in no time:
Long press the Power Button on your Nintendo Switch Lite for about 20 seconds.
After 20 seconds, press the power button to switch on the device.
This procedure should solve minor issues such as freezing or experiencing errors during gameplay. And it does not wipe away your data. It's like a forced shutdown and restart of the system.
---
Factory Reset a Nintendo Switch Lite – Hard Reset
If you want to wipe out personal data on your console, conduct a complete reset/ hard reset/ full reset/ factory reset. This form of resetting is ideal when you want to sell, donate, or take your Nintendo Switch Lite for repair. It's also the best fix for any console that doesn't seem to respond even after long pressing the power button for 20 seconds and then restarting the device. Here is how to perform a factory reset on your Nintendo Switch Lite:
Step 1: Open the Settings menu by clicking the gear icon on the home screen's bottom row.
Step 2: On the Settings Screen, scroll downwards to the bottom of the menu and tap on
Step 3: Next, choose the Formatting Options. At this point, you'll have to input your PIN if you had it set. The formatting options menu allows you to decide whether to Format micro SD card or Restore Factory Settings.
Step 4: Navigate downwards and select Restore Factory Settings at the bottom of the page. This will trigger two pop-up menus asking you to confirm your factory resetting decision.
Step 5: Tap to confirm your decision, and then the console will start the factory resetting process.
Pro Tip! By resetting your Nintendo Switch Lite, you will lose all the game data permanently. Because the data erasure that comes with factory reset is permanent, it is advisable to back up any information you might want to use before proceeding with the factory reset.
---
Factory Reset Nintendo Switch Lite Without Wiping Out Data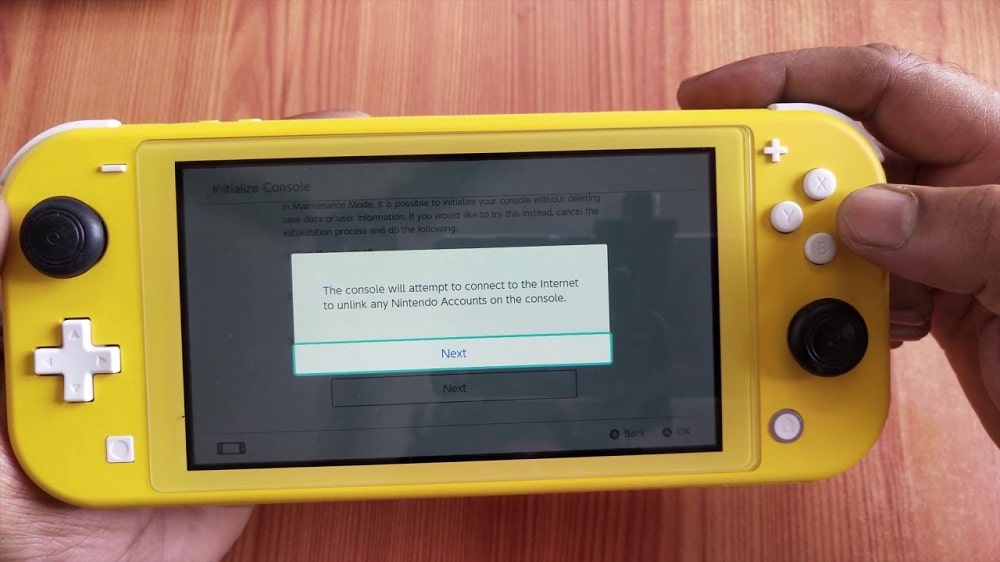 This form of factory resetting allows you to keep your saved data, but it resets your settings and wipes out game install data. This option comes in handy when you want to create space on your console. Here is how to do it:
Step 1: Exit any unsuspended game to save your progress.
Step 2: Shut down your Nintendo device by holding the Power Button for about 3 seconds.
Step 3: On the menu that pops up, choose Power Options, then tap Power Off.
Step 4: With the device off, long-press the Power Button + Up & Down Volume Buttons till a recovery mode menu pops up.
Step 5: Proceed to choose Restore Factory Settings Without Deleting Save Data. Key in your PIN if you have to.
Step 6: Confirm your choice, and the reset process will start.
This form of factory resetting is different from the entire format in that it preserves your data. Meaning all your saved games will be preserved. However, all your game settings will be wiped.
---
Frequently Asked Questions
Q. Can you factory reset a locked Nintendo Switch?
Yes. Long press the Volume Buttons (up & down) simultaneously and press the power button until a Maintenance Mode pops up. Proceed and select Initialize/Reset Console Without Deleting Save Data and tap OK. The device will start resetting.
Q. Will resetting my Nintendo switch lite erase my saved data?
This depends on the reset mode you are going to choose. You can select Restore Factory Settings, which wipes out everything, or select Restore Factory Settings Without Deleting Save Data if you don't want to erase your saved data.
Q. How do I back up my data before resetting my Nintendo Switch Lite?
Before resetting your console, you should back up any information you don't want to lose. To do this, transfer the files to a computer or upload them to the cloud.
---
Final Thought
There you have it – three ways to reset your Nintendo Switch Lite. Whether you only want to wipe your game data, reset your settings, or preserve your data, there's a way for you to do it. Try out the steps and see which one works best for you. With that said, we wrapped up the post on resetting a Nintendo Switch Lite. I hope you found the article very useful. If you have any questions or suggestions, feel free to drop us a line in the comments section below.