Back then, the Fax machine was popularly used in many organizations, but it's not as common as before; this is due to the emergence of modern technology in communications.
You don't need to look to the web for a physical fax machine since we have alternative fax apps supported by iPhone devices. For now, faxing someone is simple; if you download the online app and install it on your iPhone device, you can send faxes to other recipients' fax numbers.
Here are third-party apps you can download on your iPhone device:
---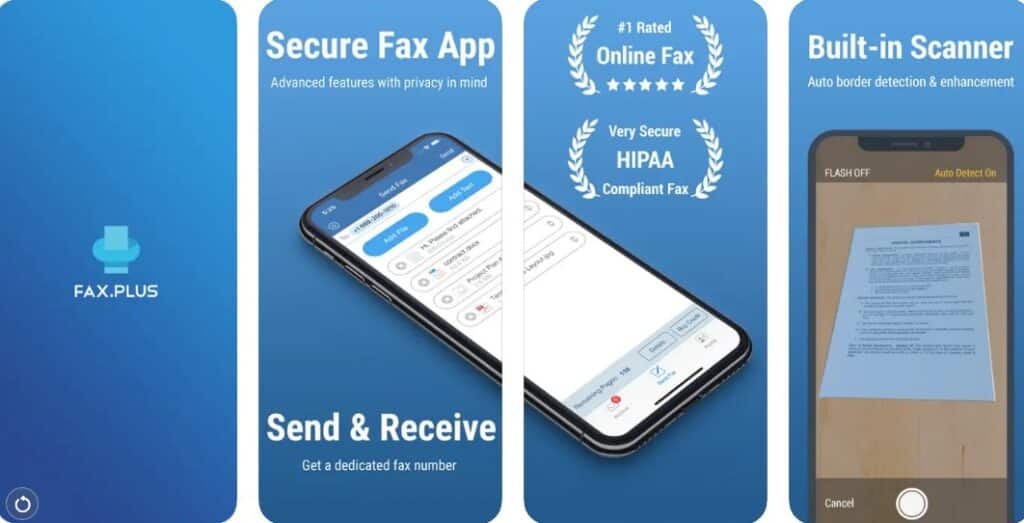 FAX.PLUS is an excellent and best mobile app that offers online fax services from your iPhone, where you can securely send and receive Fax from an iPad or iPhone. It has a range of plans depending on your needs; we have a  free plan where you can buy credits to send files and another range of plans starting from $ 4.99 per month, and you can have your local fax number to reach out to over 40 countries.
It contains advanced features such as; advanced security, which has complied with HIPAA that controls your faxing online, electronic signature that signs documents on the go without you physically signing the documents, an inbuilt scanner that you can physically scan your documents, and many more. The app is top-rated, and you can follow the steps below on how to use it;
Step 1: Download and install the app on your iPhone and sign up.
Step 2: Sign up by creating a free or other plans account, depending on your needs.
Step 3: enter your profile information in the profile tab and the recipient fax number in the send fax section.
Step 4: Attach your scanned fax files and add an optional cover page.
Step 5: Send your Fax online and receive a push notification status.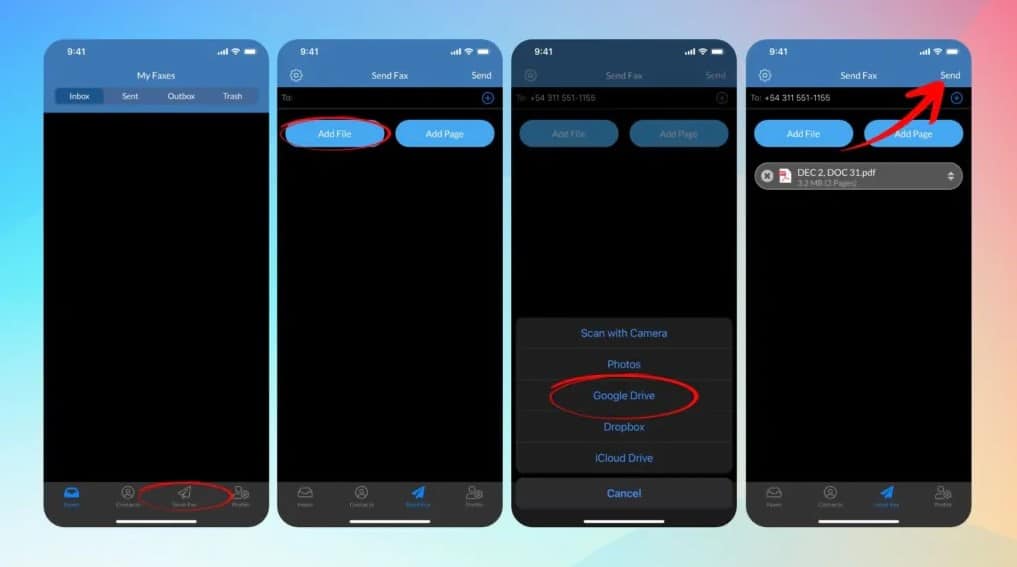 ---
It's a powerful iPhone app that is fast and easy to use. It has features such as sending and receiving faxes from the iPhone.The app can upload different fax files (PDF,JPG,HTML,PNG & TIFF ,DOC) and can upload documents in (iCloud,Dropbox,Box and other sources).
It offers subscription plans with ranges from weekly, monthly, and yearly with their price range. It has an advanced document scanner and an online image-processing feature for faxing files. To use this app, follow the steps below :
Step 1: Download the app from the app store, install it on your iPhone, and sign up with your email.
Step 2: Tap the send fax tab to create a Fax.
Step 3: Add the recipient's fax number
Step 4: Select the files to be faxed
Step 5: Tap the 'Send ' button
---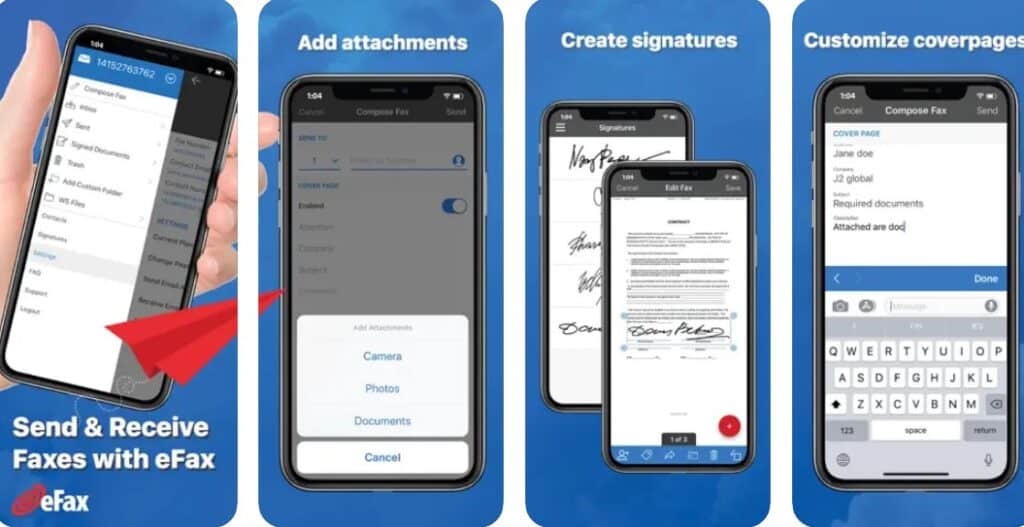 The best app to look for Faxing online on your iPhone, eFax will sort your needs in sending and receiving faxes online in a couple of minutes. eFax app is the leading online faxing app with millions of users across the globe. Apart from sending and receiving faxes, it also has additional options to fax from the website or by email.
eFax provides a more accessible and fastest way of turning your iPhone into a portable fax machine. It has exciting features such as editing, signing faxes, scanning documents and uploading files from the device, and many others. However, you need to know their subscription plans for the free and the monthly fee of $16.99. How To use this app effectively
Step 1: Download and install the app and open it.
Step 2: Tap  Send Faxes
Step 3: Choose the document from your device that you want to fax, and the recipient
Step 4: After attaching the file, tap the send button.
---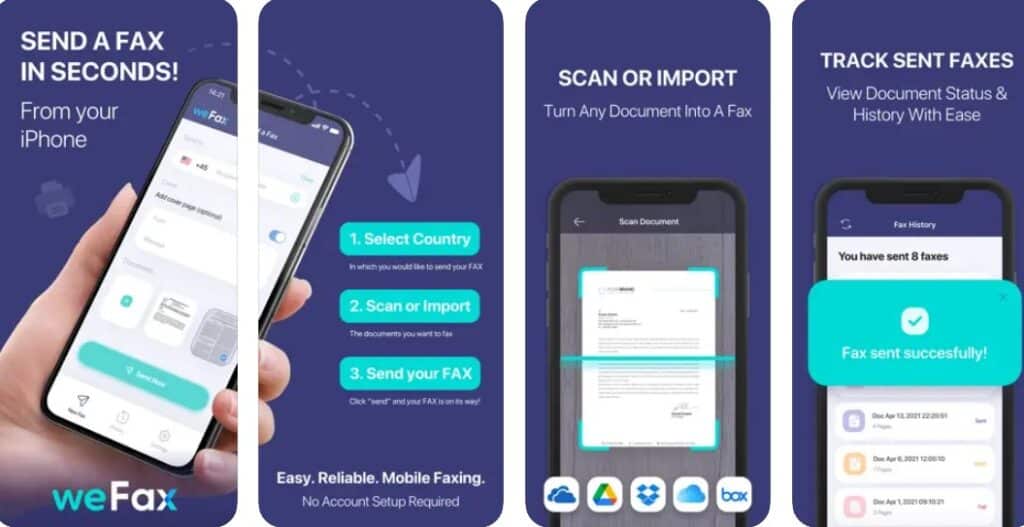 Save time and money by using WeFax instead of old-school fax machines. WeFax is an online fax app which you can send a fax on the go, and it is easy to use since it has no account setup or verification process. It has an excellent overall design interface for a great faxing experience, and it is compliant with HIPAA meaning your online Fax is secured.
With WeFax, you can merge multiple files into single Fax, and also it can scan documents and track the previously sent fax status with no challenges. How to use WeFax on iPhone;
Step 1: Account setup is not required
Step 2: Open the app and scan the  files  or create faxes
Step 3: Use the address book  to locate the recipient number
Step 4: Confirm your document before sending
Step 5: Select the sending fax to the recipient number and track it.
---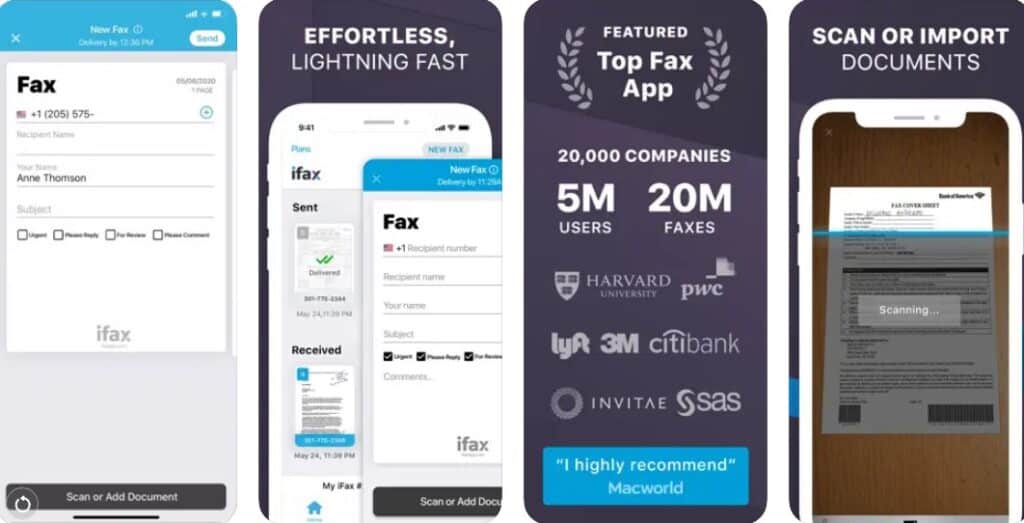 Over the decade, iFax has become the most popular online faxing app for the iPhone, with over 20 million taxes. It sends quick faxes regardless of how many millions of faxes you have done. It has an awesome interface layout for easier use by its customers. With the app, you can get 7 days of free faxes and a free fax number depending on your country. How to fax from iFax using iPhone :
Step 1: Open the iFax app
Step 2: Sign Up for an account, fill in your details, and tap the tab 'Send Fax.'
Step 3: In The field 'to' in the layout, add the recipient's fax number
Step 4: Insert a new document by selecting from your device to be faxed.
Step 5: Finally, tap send.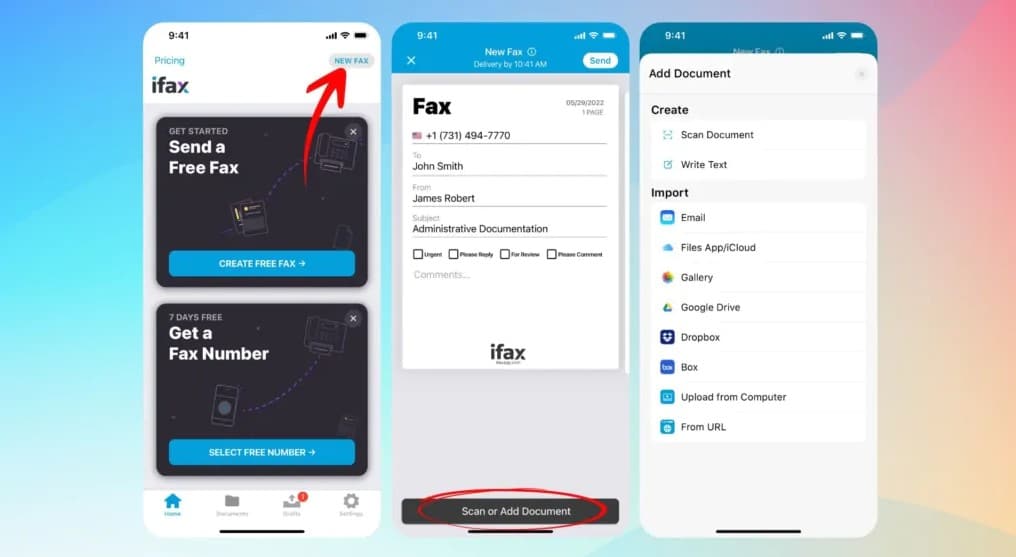 ---
Conclusion
The apps above are used for online faxing, which can quickly assist you in faxing other individuals. If you don't need to use physical machine fax, you can try the online fax app mentioned above on your iPhone. Since the apps above are supported in iPhone as third-party apps am certain Apple will have their in-built fax app in ios or iCloud.