Are you looking for the best TikTok username checker? These ideal platforms can help you. This will save you time that you would have used in guessing different TikTok usernames for your account.
TikTok is a social media network where you can create, share and discover short videos. It is an excellent place for people to express themselves through singing, dancing, comedy, and much more. People also start challenges that are then done with various people. These kinds of videos go viral fast because of the excitement in them.
Also, people love using TikTok during their free time to learn new things interestingly. It is just like YouTube but features shorter videos. Like the other social media networks, you need to have an ideal username to use TikTok. Considering that you want to gain followers, using an ideal username can help. These are some of the best platforms that you can use:
---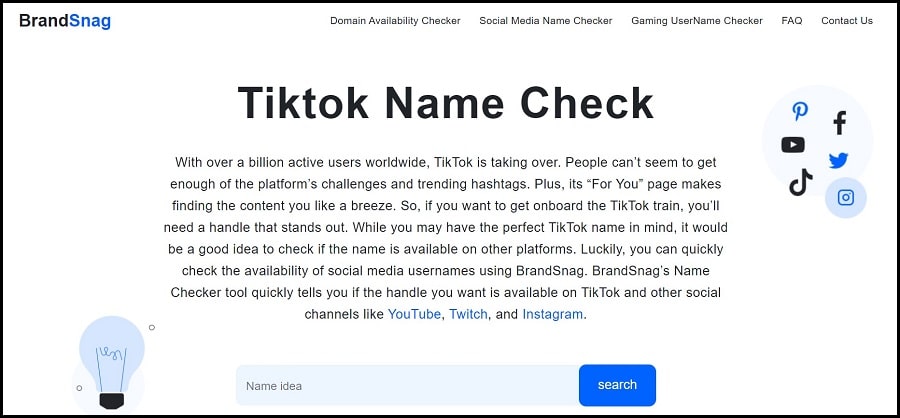 TikTok has over a billion active users. This is because of the entertainment you can get on the platform. It has popular challenges and trending hashtags. You can either enter TikTok as a creator or as an audience. It depends on what you prefer most.
However, due to the wide number of TikTok users, it is essential to check the username availability to prevent using one already in use. When you use Brandsnag TikTok Username Checker, you are assured of getting the right TikTok username. It can also check for Snapchat, YouTube, Instagram, and much more.
By checking through Brandsnag, you save the time you would have used in typing in usernames on TikTok that get rejected. Try to choose a name based on your interests.
---

Are you looking for a platform that you can use to find an ideal username? Then you can try using Analyzeid! You need to input your preferred username on the search bar and check for its availability on TikTok.
Therefore, you can creatively search for different usernames till you find the most ideal for your user account. Even if you want to garner followers, you need to use a simple username that stands out.
---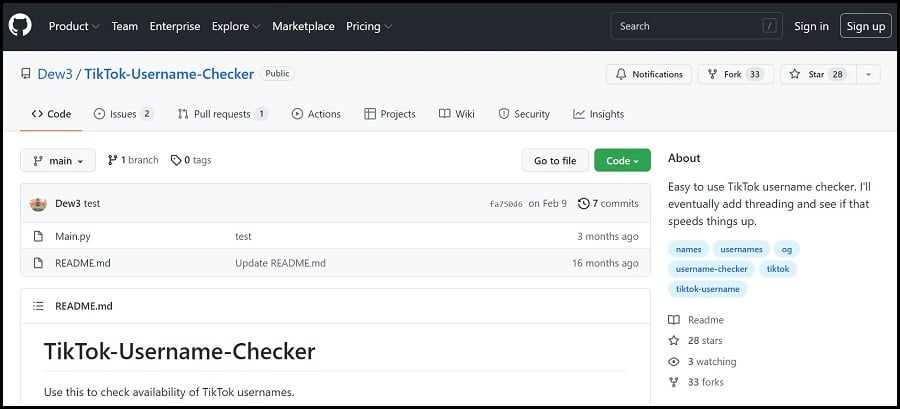 This is a TikTok – Username – Checker program in Github designed by a programmer which helps to check the TikTok usernames if they are available or taken. This program will create two txt files: username.txt and available.txt files.
To use:
Step 1: Add all usernames you need to check in the "usernames.txt" file. Each username added should be on its line.
Step 2: After checking all the usernames well, rerun the program.
Step 3: The program will eventually print out all the available and taken usernames in the console.
Step 4: After running the program, the available usernames will be saved in the "available.txt" file.
Note that usernames with more than 24 characters are not checked in the program since they are out of TikTok character requirements.
---

It is a common search tool for username handles on social media platforms. You can use this website to check the availability of your preferred name on TikTok. When you enter the username and search, it will list all the social media platforms that are available and taken as well.
To check, enter the preferred name and click the search button. It will be highlighted in green if available and dim if it isn't available. The tool is easy to use; free and provides detailed results and quick search.
---
Get The Best TikTok Username
If you are a new user of TikTok, you won't spend too much time finding an ideal username. All these websites are ideal, simple to use, and efficient.
You can think about all the creative usernames globally and use the platforms to search for them. As a TikTok creative, try to provide content regularly to ensure your followers don't drop out. All the best as you choose a TikTok username!
---
FAQ – Frequently Asked Questions
Q. Why do you need to use a TikTok Username checker?
To avoid checking usernames manually, which is time-consuming and tiresome. While checking, you can also get ideas of other names that you can use.
Q. Is TikTok ideal for all user's ages?
Yes, TikTok is appropriate for different age groups. However, as a parent, you need to restrict and monitor the kind of content that your children check.